Brenden Aaronson: America's Next Star in Europe?
 Brenden Aaronson could be the next MLS player to make a move to Europe this summer window. If reports are to be believed, the 19-year-old is being closely monitored by Bundesliga clubs Borussia Mönchengladbach, Hoffenheim and Freiburg, Scottish Champions Celtic and Belgian Champions Club Brugge. But who is the Philadelphia Union starlet, and why is he so in demand amongst some of Europe's smartest teams?
Background
A native of Medford, New Jersey, Aaronson joined the Philadelphia Union's YSC Academy in 2015 at the age of 15. He impressed in the YSC Academy and earned the opportunity to play for the Union's USL team the Bethlehem Steel, making his debut at the age of 16. Aaronson made 24 appearances for the Steel in the USL, scoring 1 goal which came against Atlanta United's 2nd team. 
On September 17, 2018, the Philadelphia Union announced that the then-17-year-old Aaronson would be joining the senior squad for the 2019 Major League Soccer campaign. Aaronson made his first appearance for Philadelphia on March 17, 2019 against Atlanta United, where the youngster scored his first MLS goal, wrong-footing Brad Guzan with a shot from outside the area.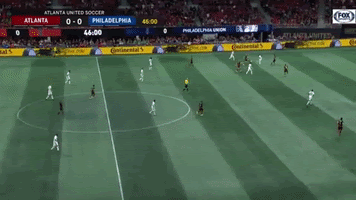 Aaronson would go on to cement his starting place for the Philadelphia Union and came 2nd in the MLS Rookie of the Year award, only losing to Colorado Rapids's Andre Shinyashiki, whilst recording a Non-Penalty Expected Goals and Assists of 0.32 per 90. Since then Aaronson has gone on to make his debut for the United States Men's National Team during a 1-0 friendly win over Costa Rica in February 2020. 
Breakthrough Performance in MLS is Back Tournament
When the MLS returned for its MLS is Back tournament, many had earmarked Aaronson to be an essential part of Jim Curtin's side and any success they may have in the tournament. Aaronson lined up in the Number 10 role in Philadelphia's 4-3-1-2 (4-4-2 Diamond), acting as the primary link between Philadelphia's midfielders and their strikers Sergio Santos and Kacper Przybyłko, for the duration of the tournament.
For the MLS is Back Tournament, Philadelphia were placed in a group with New York City FC, newcomers Inter Miami CF and Orlando City SC. Let's analyse Aaronson's performances throughout the Tournament.
Game 1 – New York City FC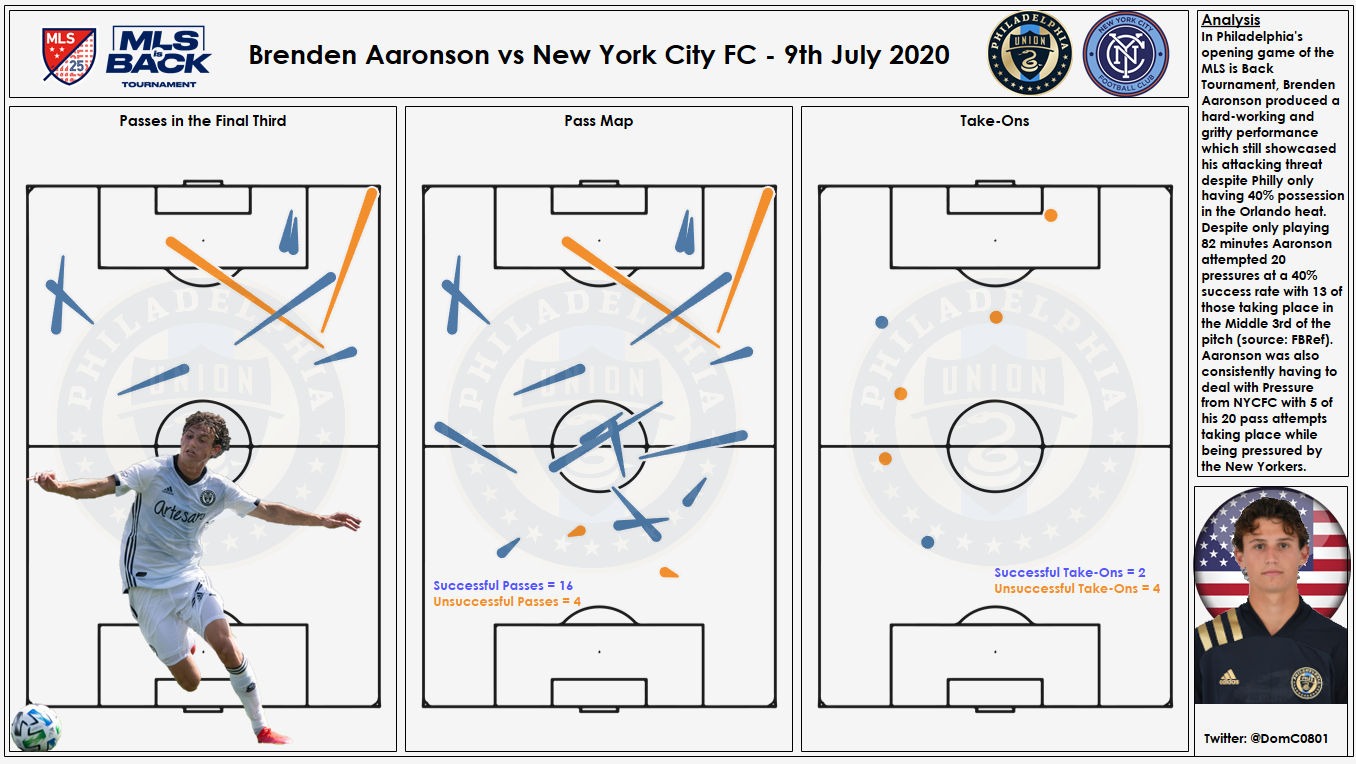 In Philadelphia's first group stage match of the MLS is Back Tournament against New York City FC, Aaronson helped the Union start in the right way, as an Alejandro Bedoya goal sealed a 1-0 win for the Union over the Pigeons. Aaronson played a key role in the goal, recycling possession before making a great late run into the box from the left wing, where his deflected shot settled at Bedoya's feet for him to finish.
He was a constant thorn in NYC's side as he recorded 20 attempted pressures, with 13 of those taking place in the Middle 3rd of the pitch according to FBRef. Aaronson drifted around the pitch, making it difficult for the NYC midfielders to mark him.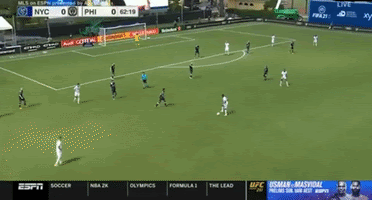 Game 2 – Inter Miami CF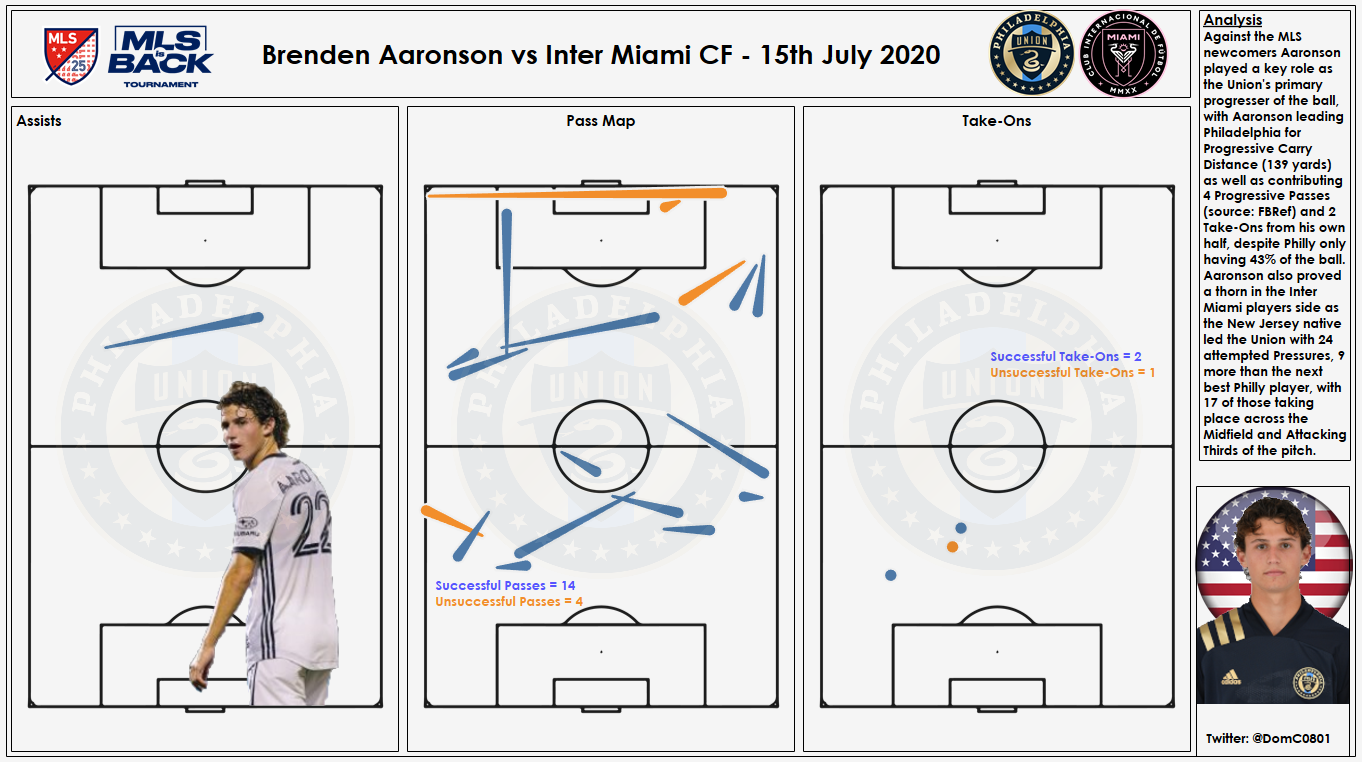 In their second group stage match, Philadelphia came up against MLS newcomers Inter Miami CF, with Aaronson playing a key role in their 2-1 win. Curtin's side flattered to deceive for much of the game and struggled to get into their rhythm, with Inter Miami dominating possession.
As a result, Aaronson was forced to drop deep to receive the ball as the supply to him was restricted. Aaronson dropping deeper allowed Philadelphia to utilise his great pace and dribbling ability on the counter and Aaronson acted as Philly's primary route of ball progression.
Aaronson's counter-attacking ability was also on display as he quickly latched onto a clearance from a Miami corner to drive up the left-hand side of the pitch, committing Miami's last-man before switching the ball to the right hand side where Kacper Przybyłko finished brilliantly.
Despite this good performance Aaronson displayed his perfectionist attitude in an interview with the Philadelphia Inquirer where the New Jersey native said, "It wasn't our best game, it was kind of frustrating, we need to improve in some aspects of just playing simple. … The game was for sure entertaining, but it wasn't entertaining for us."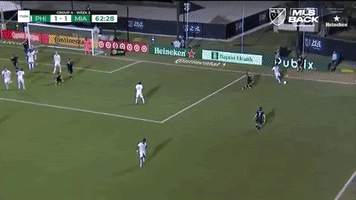 Game 3 – Orlando City SC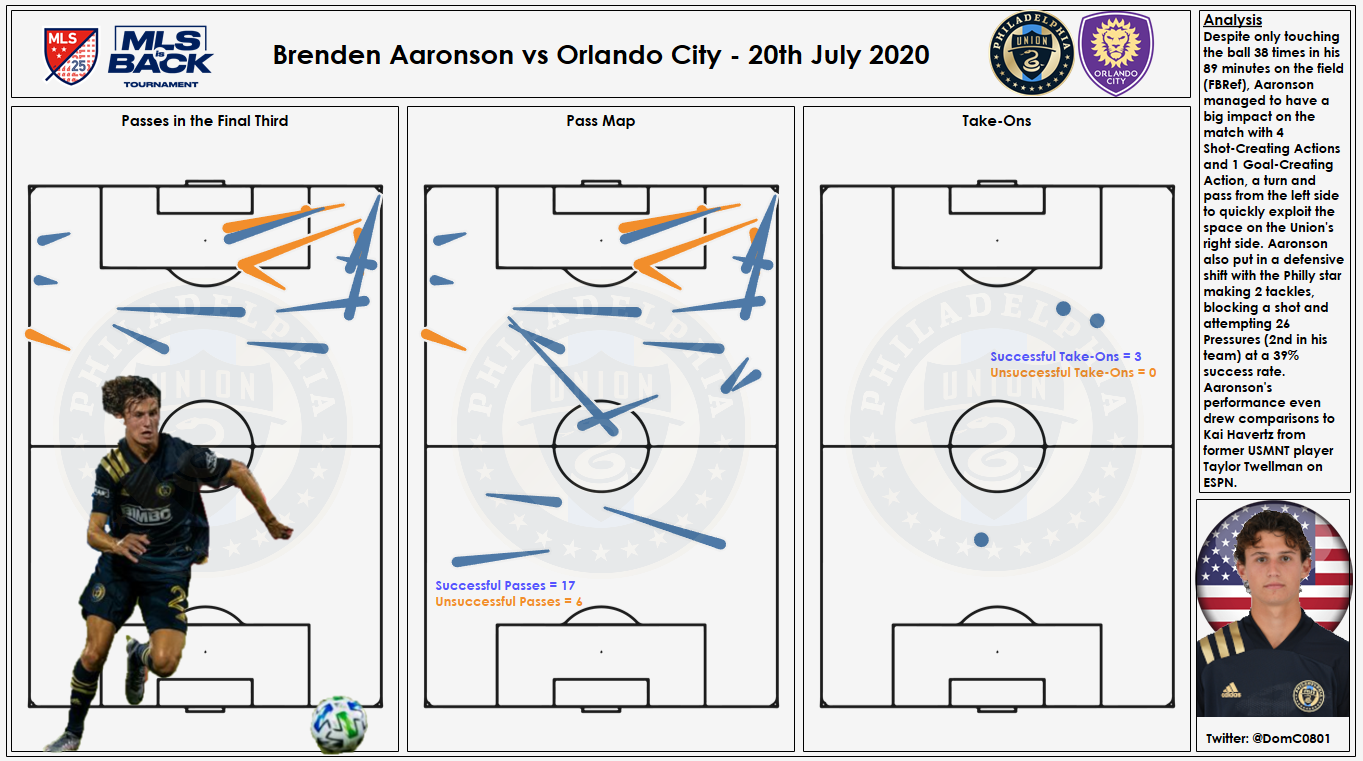 Philadelphia's third and final Group Stage game was against eventual finalists Orlando City SC. Aaronson put in an absolutely magnificent performance which drew comparisons to Bayer Leverkusen and Germany star Kai Havertz, with former US international Taylor Twellman saying on ESPN, "I am not saying he is at the same level but there are shades of Havertz in his game."
Aaronson had a great creative performance, contributing 4 Shot-Creating Actions and a Goal-Scoring Action according to FBRef. Below we can see Aaronson again picks the ball up on the left and draws in the Orlando defenders with a good dribble inside before quickly getting the ball to Bedoya who shifts it to Ilsinho in space to score. 
His ability to keep his head up while dribbling is one of his best traits as he is capable of taking advantage of the space that defenders leave free when the shift over to cover the space Aaronson is attacking.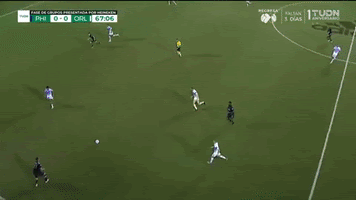 Game 4 – Round of 16 vs New England Revolution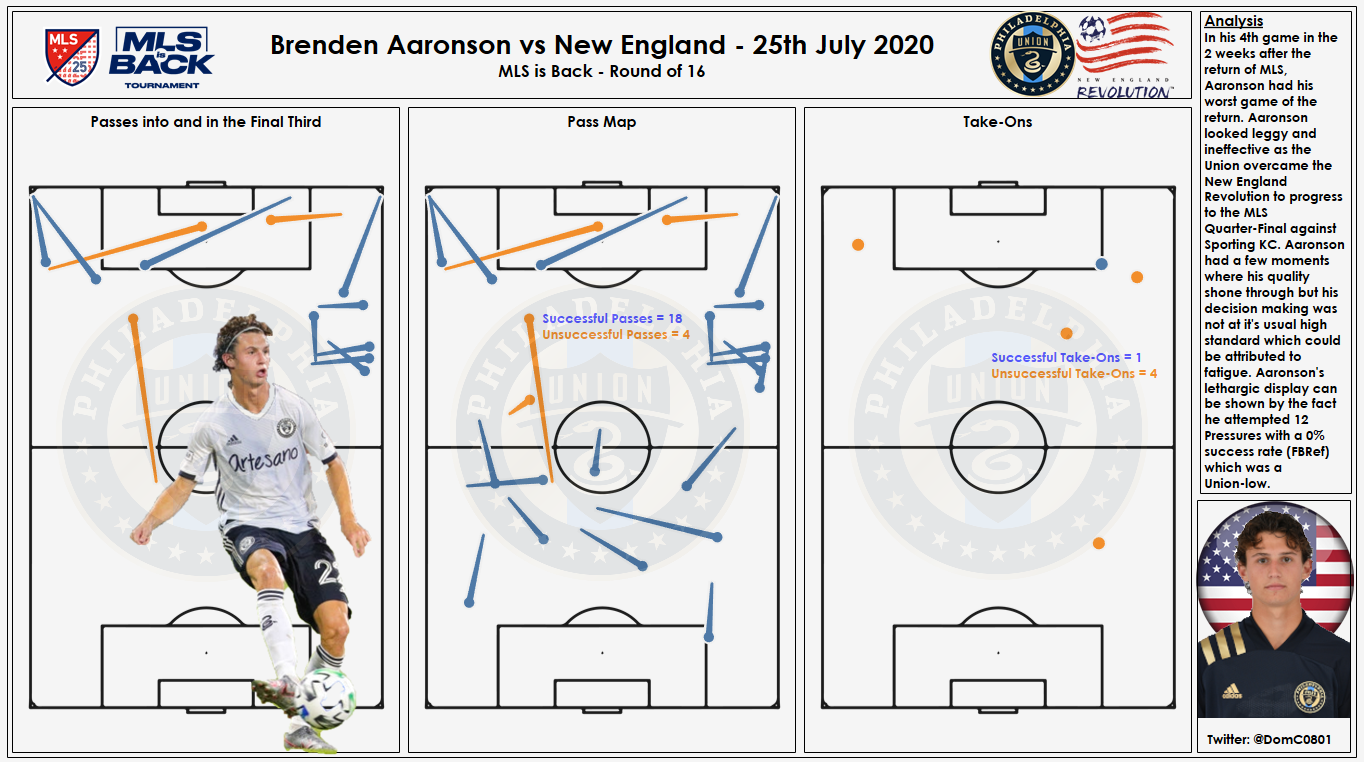 Upon Philadelphia qualifying from their group into the Round of 16, they were drawn to play against the New England Revolution. In his worst showing of the MLS is Back, Aaronson struggled to make an impact in his 4th game in 2 weeks in the Orlando heat.
Aaronson completed 0% of his pressures and appeared to be laboured in possession, with only 1 of his 5 attempted take-ons being successful. He still showed his quality in flashes but his decision making appeared very affected by fatigue as shown below. Despite Aaronson's relatively poor performance the Union still advanced to the Quarter-Finals.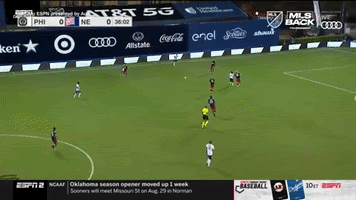 Game 5 – Quarter-Final vs Sporting Kansas City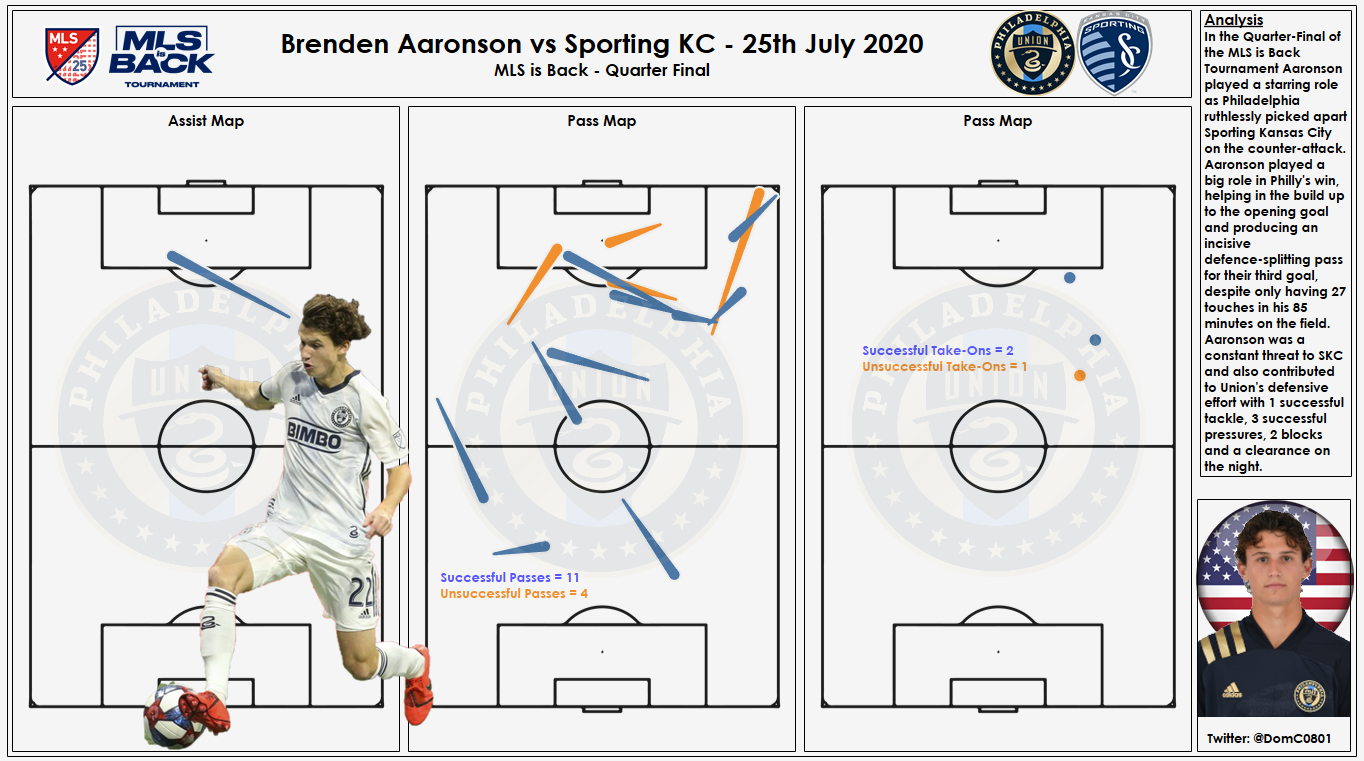 In probably his best performance of the Tournament, Aaronson produced a counter-attacking masterclass as the Union beat Sporting Kansas City to progress to the Semi-Final of the MLS is Back Tournament, with the Union star showcasing his dribbling and ball-carrying to drive the Union forward on the counter-attack at will.
Aaronson almost scored a great solo goal when Philly were 2-0 up, showcasing his ability to beat a man one-on-one which has made one of MLS's most dangerous and exciting young talents.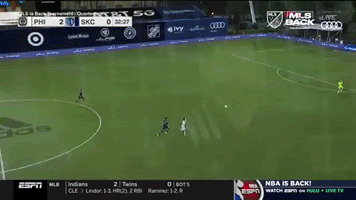 Aaronson ended up producing a sublime pass to set up Sergio Santos for Philadelphia's 3rd goal of the game. Not only does Aaronson turn brilliantly to beat two men, but he also keeps his head and plays an incisive pass between SKC's stretched defence.
This is something that is apparent whenever you watch Aaronson, with the young American always scanning the field while dribbling looking for any teammates in a better position. This level of awareness at such a young age bodes well for his future development and international aspirations.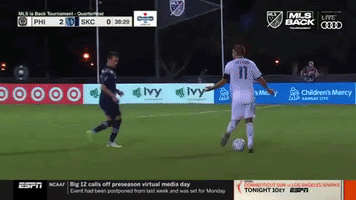 Game 6: Semi-Final vs Portland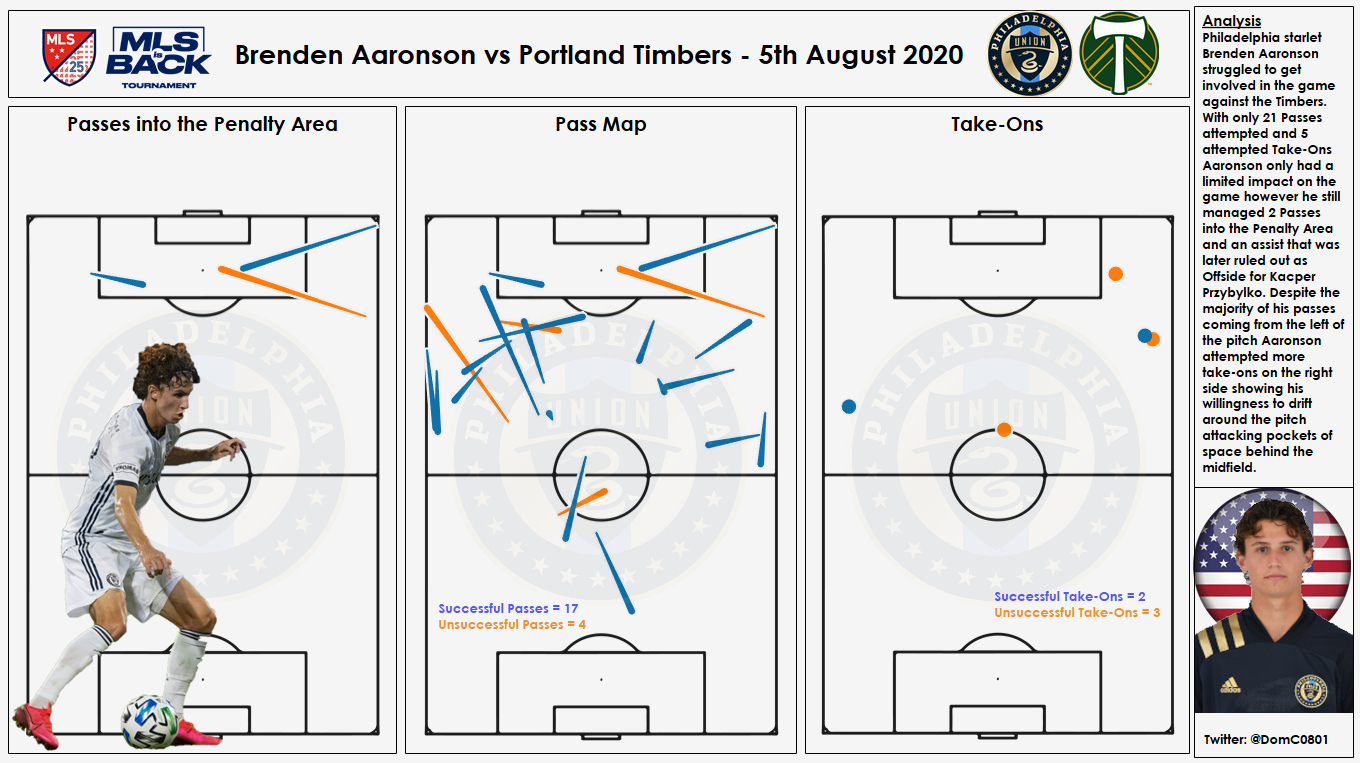 In a 2-1 loss to eventual champions Portland Timbers, Aaronson struggled to make an impact on the game for the most part. Despite an impressive two Passes into the penalty area, Aaronson did not have a direct creative impact on the game due to the fact his assist to Przybyłko was ruled out for offside controversially.
The assist that never was is a great showing of all of Aaronson's best qualities as he dribbles through the centre of the pitch before showing for a pass later in the move and dribbling through the Portland defence, drawing in four Timbers defenders in the process, before slipping the ball through to the marginally offside Polish striker.
Just an excellent sequence from Aaronson. Phew pic.twitter.com/m5jhxhfc9Y

— Sanjiv (@USMNTvideos) August 6, 2020
Strengths
Aaronson's main strength is undoubtedly his dribbling, with the youngster completing on average 2.17 dribbles per 90. Aaronson has also averaged above 2 Shot-Creating Actions per 90 in a predominantly counter-attacking Union team showing his ability to create.
But one of the main reasons he may be in such high demand is undoubtedly his pressing ability, where he averages between 7.5-8 successful pressures per 90 over the last two campaigns. These skills would undoubtedly be in high demand in European football and seem tailor made for success in the Bundesliga given the league's high-pressing style.
He is a perfect player to use in transition as his athleticism and intelligence while dribbling is key in turning transitions into scoring opportunities. Aaronson has very good decision making for a player his age as displayed by his decisive passes to open space against SKC and Orlando and also excels on the half-turn while under pressure where he can use his top-level agility to wrong foot defenders and open up space for himself.
Aaronson also has good footballing intelligence, with the US international often drifting into pockets of space off the ball where he can provide an option into a less-congested passing lane for a teammate or drag an opposition player out of position leaving space for his teammates to exploit.
Weaknesses
Whether down to the system he plays in or not, Aaronson touches the ball at a surprisingly low rate, with the Union star averaging around 40 touches a game from the number 10 role. If he were to move across to Europe I would imagine Aaronson will be played out wide where this would become less of a problem and his dribbling could be utilised more effectively.
Another area for improvement for Aaronson is in his shot volume. Despite averaging a Goal every 3rd Shot on Target, the New Jersey native shoots around 1.5 times per 90. If he were to be a success in Europe this shot volume would undoubtedly need to go up.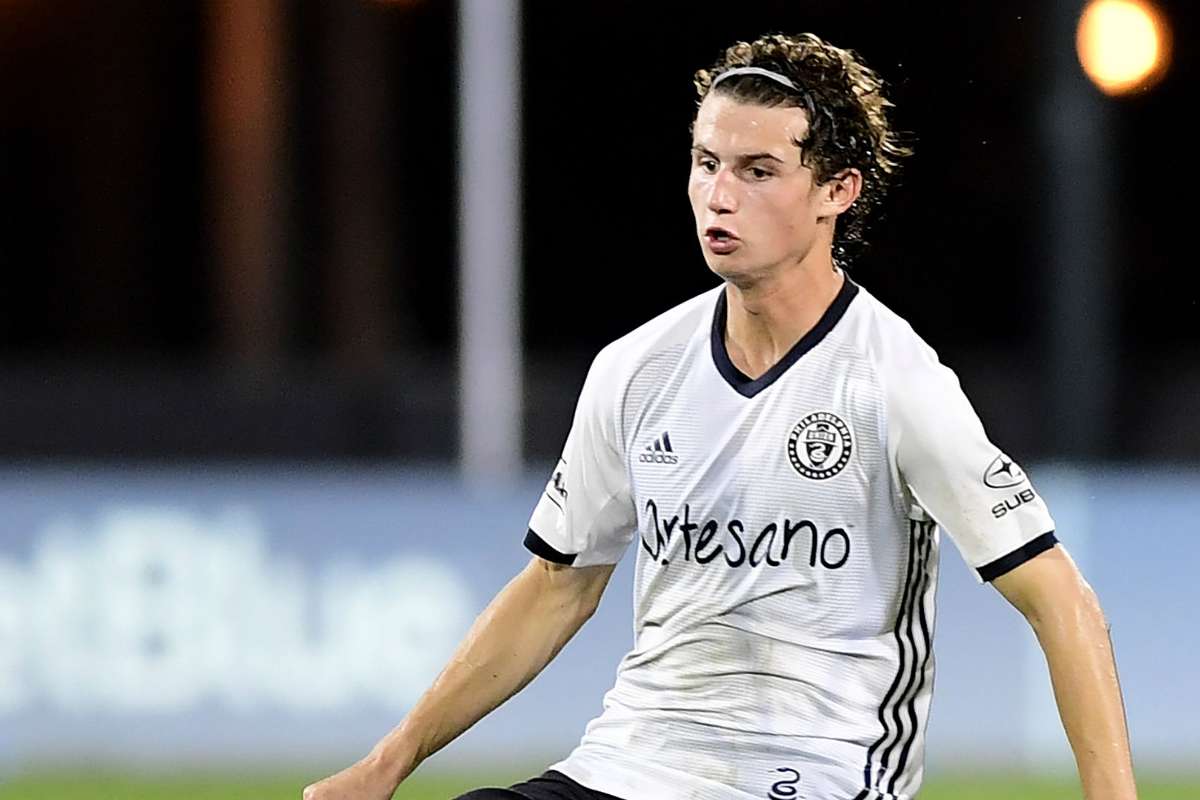 Photo: Getty Images
Aaronson also favours his right foot massively, with his dribbling and first touch also looking to shift the ball to his stronger right foot. If Aaronson moves to Europe he needs to develop his weaker foot to avoid becoming a one-dimensional dribbler and to increase his attacking threat. 
Conclusion
It is easy to see why Aaronson is so strongly linked to European clubs and a move to Europe would definitely benefit him, with his style especially suited to the Bundesliga. However, if he were to stay at the Union for another campaign, it might do him well in the long-run as he can grow at a level he is comfortable playing at already without the weight of a nation holding him down.
Aaronson will undoubtedly be in the thoughts of USMNT manager Gregg Berhalter's thoughts with the CONCACAF Gold Cup set to take place in the summer of 2021.
Player Comparison – Julian Brandt
While the popular comparison in the US Media for Aaronson has been Bayer Leverkusen's Kai Havertz, I would instead compare the American to another of Leverkusen's youth products, current Borussia Dortmund and Germany star Julian Brandt.
Aaronson reminds me of a young Julian Brandt breaking through at Leverkusen as an athletically gifted, intelligent heads-up dribbler with a good work ethic to match. If the kid from Medford can be half as good in Europe as the German, then the US could have a star on their hands.
By: @DomC0801
Featured Image: @GabFoligno / Greg Carroccio via Sideline Photos