Scouting Report: Julian Brandt
On May 22nd, 2019, Borussia Dortmund announced two signings within five hours of each other. The first, Thorgan Hazard, has proven to be an important signing for the Black and Yellow since joining from Borussia Mönchengladbach. The second signing, Julian Brandt, arriving from Bayer Leverkusen, has proven to be one of the best signings in the entire summer transfer window. 
At the start of the season, neither Brandt nor Hazard made a major impact on the team and struggled massively to fit into Lucien Favre's side. While Brandt scored in his first league match for Dortmund, it took him exactly four months to record the next. In 34 appearances, Brandt has scored a total of seven goals while adding 10 assists for Dortmund. 
Despite a rocky start to life in North Rhine-Westphalia, Brandt has become one of the first names on the team sheet thanks to a formation change that has suited his strengths more. 
Dortmund's Shift in Formation
During Dortmund's dismal first half of the season, they suffered a defeat to Barcelona on November 27, 2019. Up until this point in the season, Dortmund had used a 4-2-3-1 formation, where Brandt often lined up as a left midfielder. After this defeat, though, Dortmund switched to a 3-4-3 formation, which has seen Brandt drop deeper into the midfield pairing with Axel Witsel.
This formational change has worked wonders to help Brandt rediscover the form that made him into one of Germany's premium talents at Leverkusen.
As the primary creator in midfield, Brandt is tasked with finding players along the wing where Dortmund has created an overload. This is seen through their attacking action zones, which demonstrates that nearly 80% of their attacking is done in the wide areas.
Witsel, on the other hand, is a competent player on both ends of the pitch, and both him and Brandt have an impressive ability to occupy space in the center of the pitch. This allows Dortmund to maintain defensive stability while still having players in the wide areas.
Recently, Favre has made another shift that has seen them stick with the 3-4-3, but rather than wingers, the two wide players tuck in as inverted forwards or central attacking midfielders. This switch came about from the January arrival of Emre Can, who slotted into the double pivot, with Brandt tucking into the left flank.
Despite missing both Can and Witsel at this month's Revierderby, Favre stuck to this formation, with Mahmoud Dahoud and Thomas Delaney acting as the central midfielders. Brandt ran rampant against Schalke's defense, providing two assists as well as two pre-assists.
Statistical Analysis
In the chart below, Brandt stacks up favorably as a central midfielder, despite it not being his natural position.
It must be noted that his low amount of forward passes is due to Dortmund's play style; Favre has instructed his center midfielders to be more focused on recycling possession rather than wasting it on deep long balls, and this is seen in his high volume of passes per game.
While he struggles in the defensive categories, Brandt surpasses the average in both the attacking and creativity categories. His passing and ball progression numbers come up short, but this is mostly due to Dortmund's playing style.
Analyzing Brandt's Strengths
One-Touch Passing: One of the most impressive skills that Brandt boasts is his ability to play one-touch passes with a high amount of accuracy and venom, often using a single pass to split an entire defense open.
Not only is this quality found in the attack, but in the center of the pitch, where Brandt uses one-touch passing to retain possession. As one of the two midfielders, Brandt has a responsibility to make sure he doesn't lose possession in a dangerous position.
Spatial Awareness: Arguably the strongest aspect of Brandt's game is his spatial awareness, which he excels at by checking over his shoulder constantly. Due to his rapid scanning of the game, Brandt is hyper-aware of his opponent's locations as well as his teammates's.
In the build-up, Brandt is often found dropping between the forward and midfield line, or the half-space. This gives him the space to turn and play the ball forward, and forge an attack by slicing through lines.
Thanks to his positional awareness and cunning movement, Dortmund are able to launch quick counters via Brandt's penchant for long passes and through-balls, which can carve open defenses and put his attacking teammates in dangerous positions.
The defensive half-space is not the only place that Brandt occupies, though. As mentioned earlier, Dortmund's recent shift to tighten its wingers has allowed Brandt to operate further up the pitch.
While playing in this advanced half-space, Brandt has turned into a much more proactive creator. He's begun to take more risks, and in turn, has been able to add further goals and assists to his tally. Whilst the likes of Witsel remain in the center of the pitch, Brandt operates in the half-spaces, as seen in the heat map below.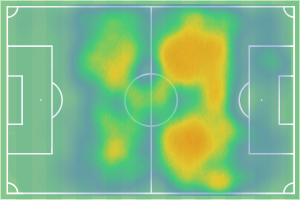 In this advanced role, he can utilize his spatial awareness to stretch the field and create gaps for other players, and he did so to perfection against Schalke. In the first half, Schalke struggled massively in midfield, causing manager David Wagner to make a formational switch to beef up their options in the center of the pitch. Nevertheless, Brandt ruthlessly punished Schalke, instigating a 4-0 victory.
In this image, Brandt stays in the wider area of the pitch after BVB regain possession. This poses a dilemma for Schalke, who are forced to either mark him or leave him unguarded. By leaving him wide open on the wing, Schalke potentially expose themselves to his creativity in an unmanned area.
Fortunately for them, Brandt did not receive the ball as BVB continued to drive down the left. Nonetheless, Brandt's width drew out Bastian Oczipka and eventually opened a gap which could have easily resulted in a goal.
Creativity: Brandt's ability to create something out of nothing makes him one of the most dangerous offensive threats in the Bundesliga. He does this is by being hyper aware of his surroundings and scanning the pitch, but also by having a deadly mix of precision and creativity while on the ball. This allows him to make passes that many players wouldn't see, or be able to escape pressure that most players wouldn't be able to evade.
His confidence on the ball can cause issues though, as Brandt can sometimes take unnecessary risks in midfield, turning over possession in the process and allowing the opposition a deadly attacking opportunity.
This is seen in his 1.59 dispossession per game and 2.39 miscontrols per game, along with losing the ball 9.11 times per game in his own half. It comes in stark contrast to Witsel, who averages 0.45 miscontrols per game and 1.39 dispossessions per game. 
Fortunately, Brandt's ability to create has compensated for these unnecessary risks, with the German ranking in the 90th percentile or higher for passes into the box, pass completion rate, and dribble success among attacking midfielders and wingers. Furthermore, when compared to central/defensive midfielders, Brandt places in the 98th percentile for expected assists as well as 95th for shot-creating actions.
Photo: Getty
Defending: One area that Julian Brandt must is his defensive contributions to the team. Brandt's positioning and work-rate while out of possession can often let his team down, with Dortmund often finding themselves caught out because Brandt is either walking back or simply out of position. 
That being said, since Can's deadline day move from Juventus, Dortmund have been able to compensate for this. By playing him further up the pitch in the half-spaces, Brandt is able to slouch his defensive responsibilities. This decreases his workload and allows him to focus on the attacking side of his game, where he'll need to be at his best given Reus's season-ending injury.
Conclusion
Whilst Hazard and Reus both played at Gladbach prior to joining BVB, it is Brandt who is Reus's long-term replacement, rather than the Belgian. Dortmund's captain has given the Yellow Wall plenty of memories, but he'll be 31 years old on Sunday, and his rotten luck of injuries shows no sign of stopping.
With Reus's best days in the rearview mirror, Brandt will be expected to carry the creative load for Dortmund in the coming years, especially as Sancho looks destined for a move abroad. He'll need to be at his best today against Bayern Munich, as Dortmund attempt to hang onto their title chase.
By: @jwzfootball
Photo: @GabFoligno