Scouting Report: Cheick Doucouré
A first-round European Cup tie on a chilly October evening hung in the balance. It was 1969 and the Stade Geoffroy-Guichard was packed to the rafters. There was no doubt that Saint-Étienne had fought hard and, despite levelling up the 2-0 advantage Bayern Munich held from the first leg, the imperious German outfit still remained favourites. They had Franz Beckenbauer marshalling their backline and could always count on a goal from Gerd Müller. It seemed inevitable. 
What they weren't counting on was the aerial prowess of 5'9″ Malian Salif Keïta. Unmarked and some twelve yards out, his 81st-minute glancing header floated beyond future World Cup winner and Germany's 'Goalkeeper of the Century' Sepp Maier, giving Étienne a night to remember. Whilst Keïta's performance on the pitch had legendary French manager Albert Batteux on his knees, what he did once his playing career had ended was almost as impressive.
Travelling back to his native Mali in 1995, Keïta created the first training centre for young professional footballers in Bamako, the capital. Not only this, but he also made a general effort to ensure that young players were at least given a chance to develop.
27 years later and his efforts to improve the quality of players coming out of Mali has most certainly come to fruition. Moussa Djénépo (Southampton), Yves Bissouma (Brighton & Hove Albion), Amadou Haidara (RB Leipzig) and Sékou Koïta (Red Bull Salzburg) were all born in West Africa and have been making a name for themselves in Europe's top leagues. But now there's another top prospect creating waves, this time in Ligue 1. Cheick Doucouré.
Doucouré spent his youth career at the JMG Academy Bamako. You have no choice but to smile at the concept of the JMG Academy. It has become such a positive in the lives of young footballers trying to make their way from countries that may lack the facilities and coaching for their incredibly talented players. Gervinho, Kolo Touré, Salomon Kalou, Jason Denayer are just a few that have had their career kickstarted by this academy. 
In 2018, RC Lens picked up Doucouré for an undisclosed fee, giving him his debut in the same season, aged 19. His capability of playing as a central defender, but more prominently as a ball-winning holding midfielder, soon made him a mainstay in the Lens side.
Fast-forward two years and you'll see a mature 21-year-old central midfielder operating in a double-pivot in a 3-4-1-2 formation, under the tutelage of manager Franck Haise. With most of the eyes on rising star Facundo Medina at the back, Doucouré may often go under-appreciated, but the Malian's performances have been nothing short of fantastic.
If I had to pick out a particular defining display for Doucouré, it would have to be that outstanding show against Montpellier at the tail end of January. It began with a small ounce of fortune: a ricochet that allowed the ball to sit up on the half volley around twenty-five yards out. I'll confidently say that what happened next was one of the cleanest strikes you'll ever see.
So rarely do you see a player hit the ball so low and so clean, driven with the force of an Apollo rocket. No hesitation. No backlift. Bottom corner. Dimitry Bertaud in the Montpellier goal should be inducted into the hall of fame for even getting within a touching distance of that strike. Of course, this is all exaggerated, but Doucouré's overall performance was sublime.
The assist for Lens' second goal had more of a Sergio Busquets – Lionel Messi air to it, but the sharp control, the flicked, outside of the foot pass inside; Doucouré does the basics perfectly. It's easy to measure the tangibles: four tackles, six interceptions in that Montpellier game, for example. But unless you dive deep into more passive statistics, you rarely see how effective a player like he can be.
In Haise's 3-4-1-2 shape, Doucouré has regularly found himself paired with Ivorian and former Manchester City academy graduate Seko Fofana. The 25-year-old didn't play a game for City, spending two years on loan at Fulham and French side Bastia. Now at Lens after four years in Italy, he has joined Doucouré to form an effective presence in midfield for Haise's side.
Doucouré is certainly more proactive defensively than Fofana, making almost double the ball recoveries per 90 (9.35 v 5.85), but the way they are both so adaptable to their team's shape is what makes the Lens machine work so well. A great example of this is in the wingbacks.
Photo:  Twenty3/Wyscout
By comparing the defensive action areas of both Doucouré and Fofana, you get a greater idea of the responsibilities either midfielder has, both defensively and going forward. To add context to these graphics, Lens' right wingback is Jonathan Clauss. Clauss is not only third in ball progressions of any full-back/wingback per 90 in Ligue 1 (3.18), he also attempts more crosses than any other player in the French top-flight (5.83 per 90).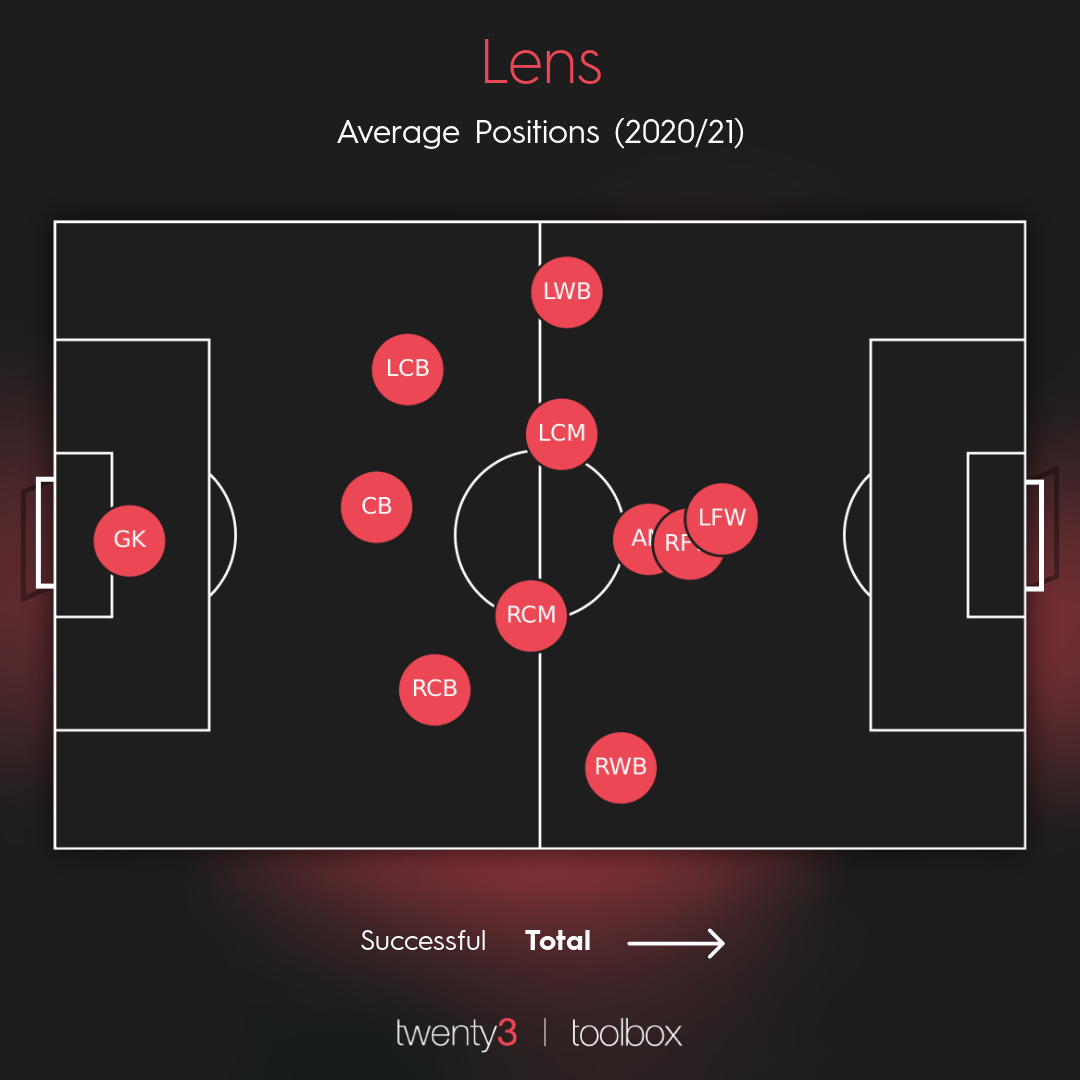 Photo:  Twenty3/Wyscout
Consequently, there is space left behind for the opposition to exploit in transition. This is where you get an idea of the sheer quantity of work Doucouré gets through on the pitch. As you can see, the majority of his defensive actions come in the central areas, where, in the absence of Clauss during a counter-attack, he drops into the back three to make it a back four, allowing the right central-defender (usually Jonathan Gradit) to fill in as an auxiliary right-back.
Looking at the average position's in Haise's 3-4-1-2, you see that Gradit (RWB) is dragged wider and that space opens up for Doucouré (RCM) to cover. This is not only a testament to Doucouré's incredible work-rate and concentration but also Haise for maximising his team's attacking output by playing to the strengths of the central midfielders.
Lens were 2nd in Ligue 2 before the 2019/20 season abruptly ended due to the COVID-19 pandemic, and whilst last season's Ligue 2 champions Lorient are currently hovering above the relegation zone after an impressive run of form under manager Christophe Pélissier, Sang et Or currently sit sixth in the table, despite the fact that star striker Ignatius Ganago has had his season curtailed with various injuries. Crucial to their form has been Doucouré, who at 21 is emerging as one of the finest box-to-box midfielders in France.
Haise's system is effective and every player is important to it working. Fofana shifts onto the left-hand side to support Issiaga Sylla whilst Doucouré covers the bombarding runs of Clauss. It's a fine-tuned, team effort. However, Doucouré should still be recognised as a crucial cog, allowing Lens to function at full capacity.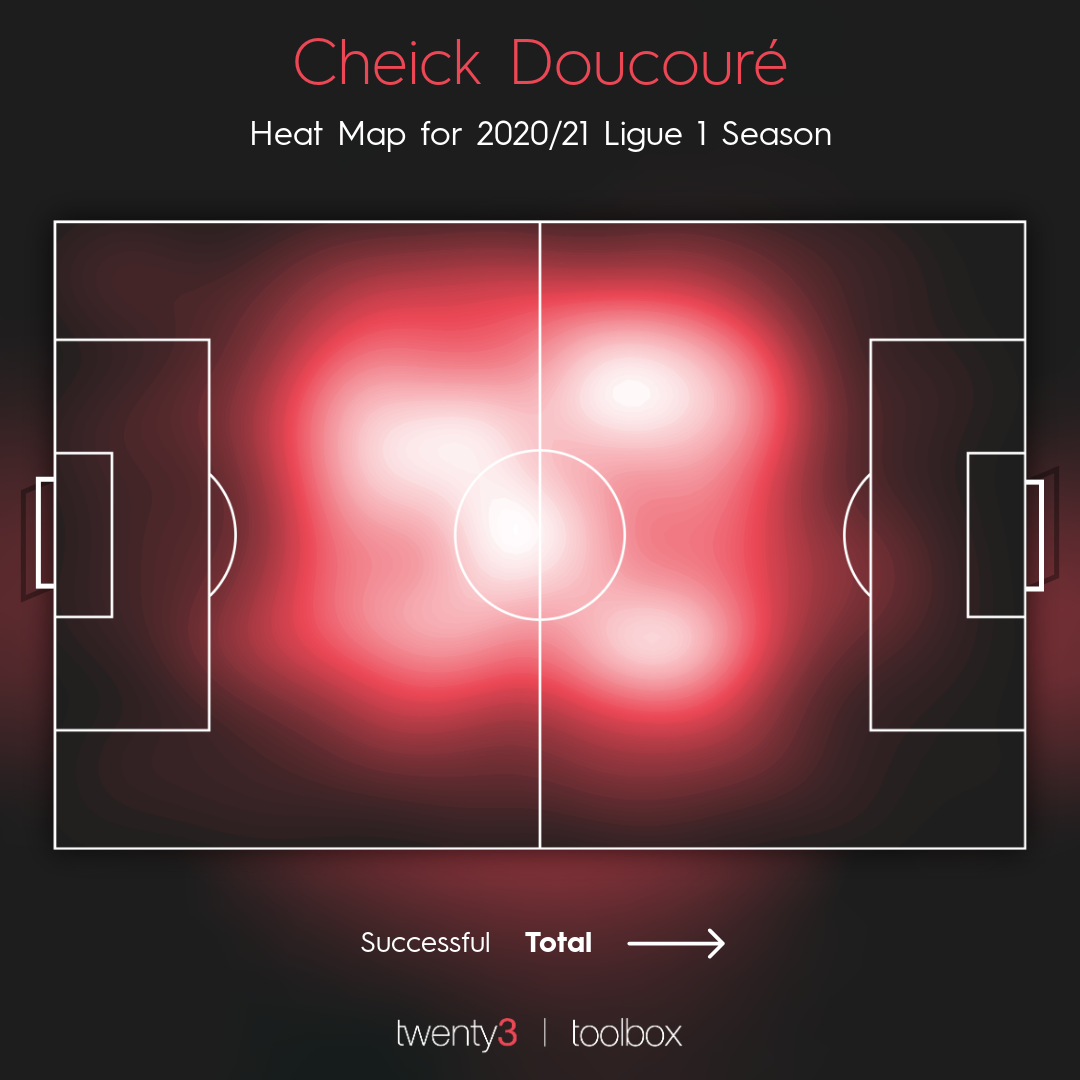 Photo:  Twenty3/Wyscout
If there's a stylistic summary for you to take away from this article, let it be this: Cheick Doucouré works incredibly hard, covering large areas of the pitch in both a defensive and attacking sense, but he's also both technically and mentally very acute.
His concentration and defensive awareness to proactively disrupt the opposition and retain possession in a simple but highly effective manner make him an incredibly underrated talent emerging from France. He can also test the goalkeeper with well-struck curling efforts, as Bertaud, Anthony Lopes and Denis Petrić have found out in recent weeks. Keep an eye on him, and Lens as the season progresses.
By: Tom Quartly
Featured Image: @GabFoligno / Alexandre Dimou – Icon Sport