Scouting Report: Juan Musso
To the surprise of many, Juventus goalkeeper Wojciech Szczęsny was given the Best Goalkeeper Award of by Lega Serie A following the completion of the 2019/2020 season. The Poland #1 hasn't committed any cringe-worthy mistakes during the run towards Bianconeri's ninth consecutive Scudetto, but at the same time, he didn't accomplish anything extraordinary. Despite winning the league title, Juventus still conceded seven more goals than Inter and one more than Lazio. 
As highlighted by Lega Serie A, the award was given based on the league's official stats, although if it was based on other criteria, a certain Argentine would have likely stole the trophy from Szczęsny's grasp. In his second season in Italy, Udinese goalkeeper Juan Musso has proven to be a consistent performer between the sticks, and at 26 years old, he's ready for a big move.
Not only did Musso keep more clean sheets (14) than any other goalkeeper in the league this season, he's also registered the second-most saves, making a whopping 157 saves in 208 shots on goal.
In many of his saves, you'll notice that Musso stands tall. Any time he takes his position to prepare for a shot, he doesn't bend his knees too much. Instead, he prefers to stand just a little bit inclined, allowing himself to react as quickly as possible.
He's incredibly fast in moving his arms and this helps him to quickly cover parts of goal that were previously uncovered during the build-up to the shot. However, his goalkeeping style can leave him vulnerable to certain types of shots.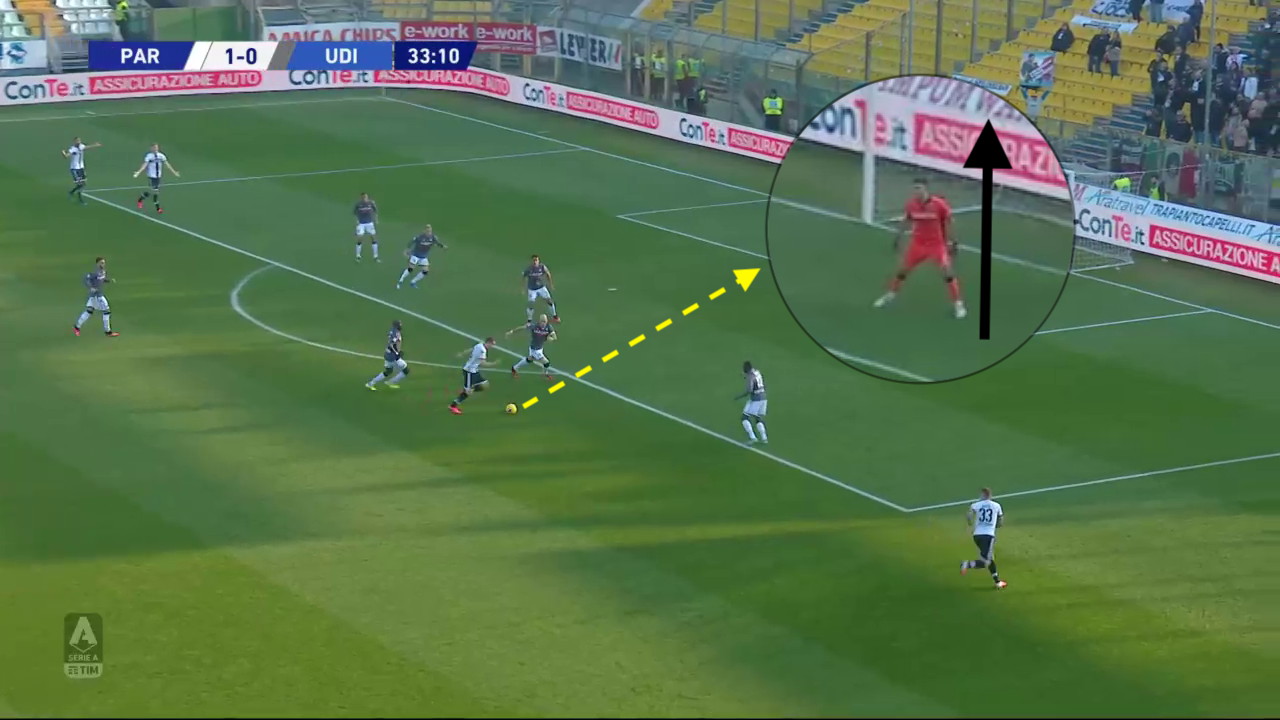 In the above example, Parma's Dejan Kulusevski is already preparing his right foot to blast a shot but Musso is still standing even though he can see clearly what it's about to happen. If Kulusevski's shot goes high or reaches mid-height, then Musso would be in the perfect position to make a save. Unfortunately for him, the Swede's shot is low albeit soft, and Musso is too slow to get his body in a position to save the shot. Kulusevski's shot bounced past him and into goal, with Parma going on to win 2-0.
When it comes to saving, Musso often makes the gamble that the shot will be mid-air or higher and thanks to his 6′ 3″ frame, he will be always in a good position to save it. Translating this theory in numbers, 47% of Musso's saves from the 2019/20 season came thanks to his reflexes.
Another great skill that he showed game after game is his timing, especially when it came to catching the high shots. He can read almost every trajectory with perfection, giving you the impression that any time he leaves the goal line, he's going to collect the ball or catapult it away with his fists. It's a sign of confidence that help his defenders to trust him.
At the same time, the numbers tell us that he doesn't like too much to leave the goal line much: 56 times in total during the season (4th overall in Serie A) and only 1.37 time every 90 minutes (11th in Serie A). You could say that he's a calculator, someone who minimizes the risk of making a mistake.
This is due to his style of play: by staying on the goal line, he feels like he has a better chance to save a goal, instead of taking his chances by going out and missing the ball completely and hence giving the opponents a dangerous goalscoring opportunity. 
When he was signed from Racing Club in the summer of 2018, he was fairly raw on the ball and would often turn over possession when put under intense pressure. However, he has taken leaps and strides in his ability in possession this season, often electing to maneuver out of the pressure and recycle the ball to his nearest teammate. It comes as no surprise that he finished the season with a 98.5% short pass accuracy.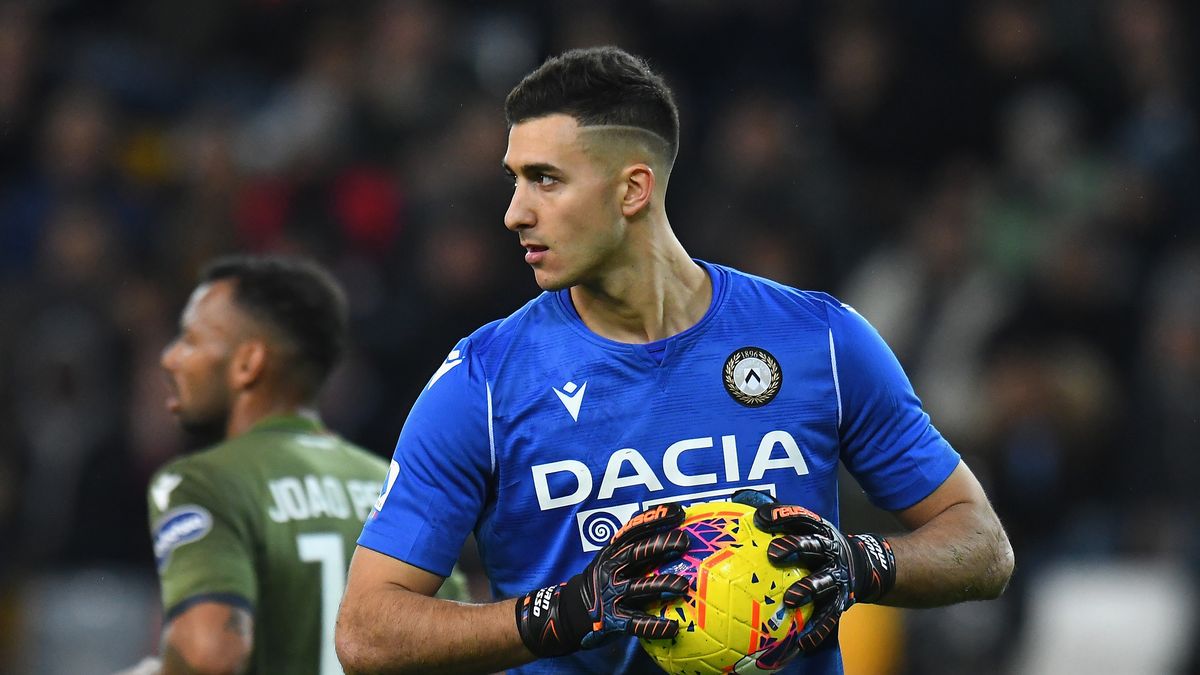 Photo: Alessandro Sabattini / Getty
The stats regarding his long passes (6.92 per game, 67% accuracy) demonstrate that if he has time and space to read the situation, he's not afraid to find a teammate behind the first line of pressing. Since the managerial appointment of Luca Gotti in November, Udinese have sought to attract their opponents with short passes out the back before playing long balls up to target man Kevin Lasagna. Musso has the ability to break the lines with a laser pass and find the Italian international in open space, thus unleashing a dangerous counterattack.
At 26 years of age, Musso is entering his prime years as a goalkeeper and he can't stick at 13th-placed Udinese for much longer; it would behoove him to seek a move this summer. Musso has been linked with a bevy of moves to AC Milan, Inter, and Watford, and there is a possibility that notoriously stingy owner Giampaolo Pozzo will look to cash in on him this summer. The only question is, where?
Inter recently renewed the contract of first-choice goalkeeper Samir Handanović, 36, to 2022, and with Andrei Radu and Daniele Padelli in rotation, it seems unlikely that they would meet Udinese's reported asking price of €30 million with so many other gaping holes in the squad. Moreover, Milan and Gianluigi Donnarumma are reportedly negotiating an extension that will see him remain at the club until 2023, so they could be eliminated from the search along with Watford, following the English club's relegation to the Championship.
One potential destination could be West London, where Chelsea find themselves in need of a new goalkeeper. Since arriving for a club record £71 million fee in the summer of 2018, Kepa Arrizabalaga has failed to impress, with manager Frank Lampard benching him for the final two games of the season — a 2-1 loss to Arsenal in the FA Cup Final and a 4-1 loss to Bayern Munich in the second leg of their Round of 16 Champions League fixture — in favor of 38-year-old Argentine goalkeeper Willy Caballero.
Price will be a concern for the Blues, who have already spent £83.7 million this summer with the signings of Hakim Ziyech and Timo Werner and look set to smash their own transfer record with a move for Bayer Leverkusen's Kai Havertz. Musso would cost less than other options such as Atlético Madrid's Jan Oblak Burnley's Nick Pope and Manchester United's Dean Henderson, and could prove to be the answer between the sticks.
Both Alisson and Ederson turned Manchester City and Liverpool into champions; Musso could be the next South American goalkeeper to replicate the feat.
By: Andrea Agostinelli
Featured Image: @GabFoligno