Scouting Report: Sandro Tonali
Since being promoted to Italy's top flight last year, Brescia have struggled to make the step up in Serie A, with Le Rondinelle currently bottom of the table, sitting nine points away from safety. However, despite their woes, they have the most exciting young midfielder in Italy: Sandro Tonali.
The young Italian was a crucial part of Brescia's promotion campaign and has been the shining light for them in a dismal 2019/20 season. Tonali is among the first names on the team sheet, featuring in all but two of the club's Serie A encounters this season. 
Operating at the base of midfield as the Lombardy side's regista, the 20-year-old dictates play and is not afraid to take risks with the ball at his feet. In many ways, the Biancazzurri's play flows entirely through Tonali.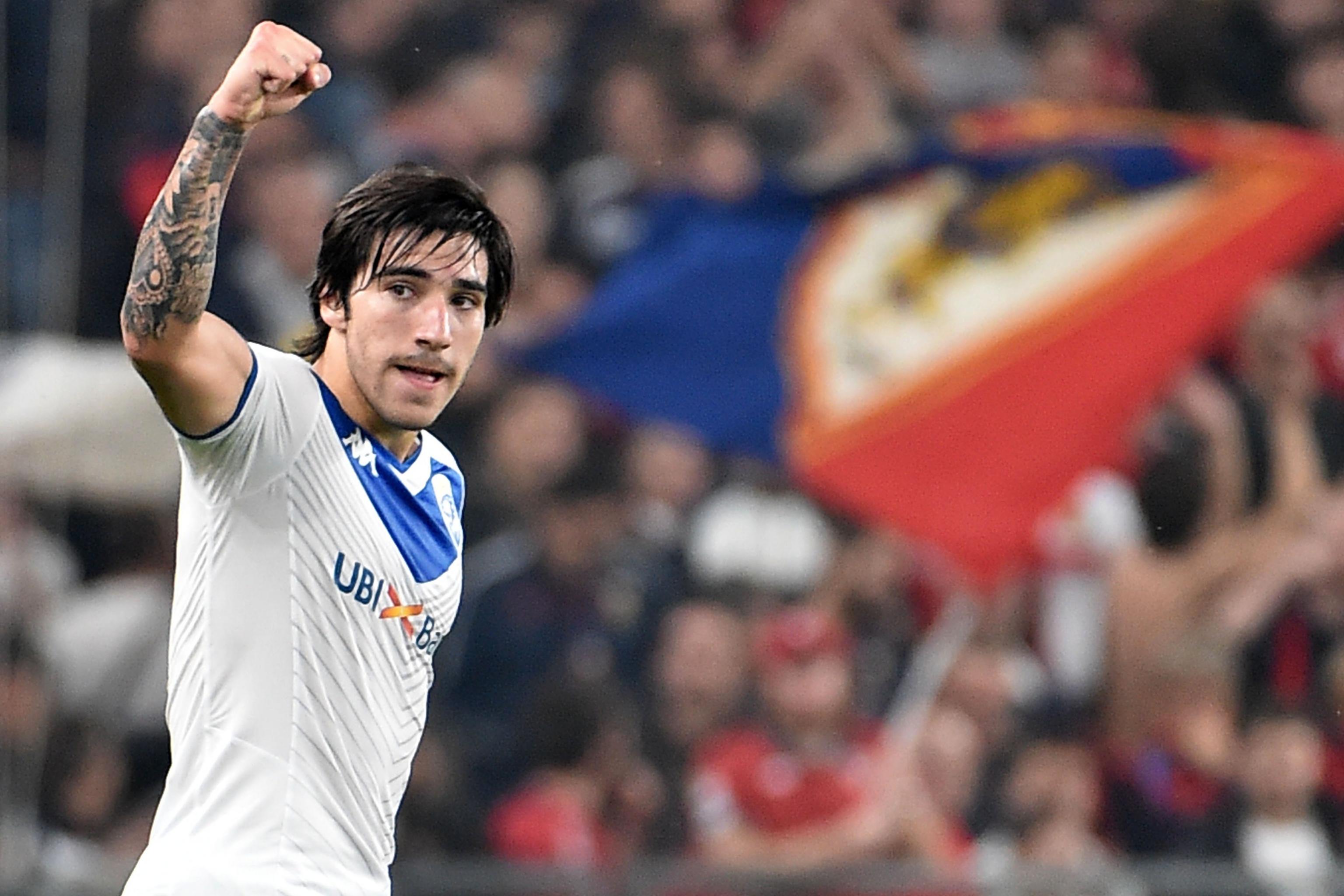 Photo: Getty
He hasn't let the ongoing coaching carousel, which has seen three managerial changes this season, affect his game, establishing himself as one of the league's most creative young midfielders and earning several Italy caps and lofty comparisons to the legendary Andrea Pirlo.
However, Pirlo insists that Tonali is a different player to him and suggests that comparisons have only arisen because Pirlo also rose to prominence at Brescia and they both share the same long hair: 
"They say Tonali may be my heir, in my opinion, as a type of footballer he doesn't look like me, he looks more like me with his long hair and for the fact that he plays in Brescia. For me, he is another type of player, much more complete, both in defence and in approach – it's a mix between me and other players.

"He is certainly the most promising of the midfielders in Italy. I don't see him as an heir because his way of playing is different, but he will certainly become a great player."
Tonali also sees these comparisons as inaccurate, stating that "It's just the hair. Having similarities is one thing, but then on the pitch everything is different. Maybe I'm more like Gennaro Gattuso."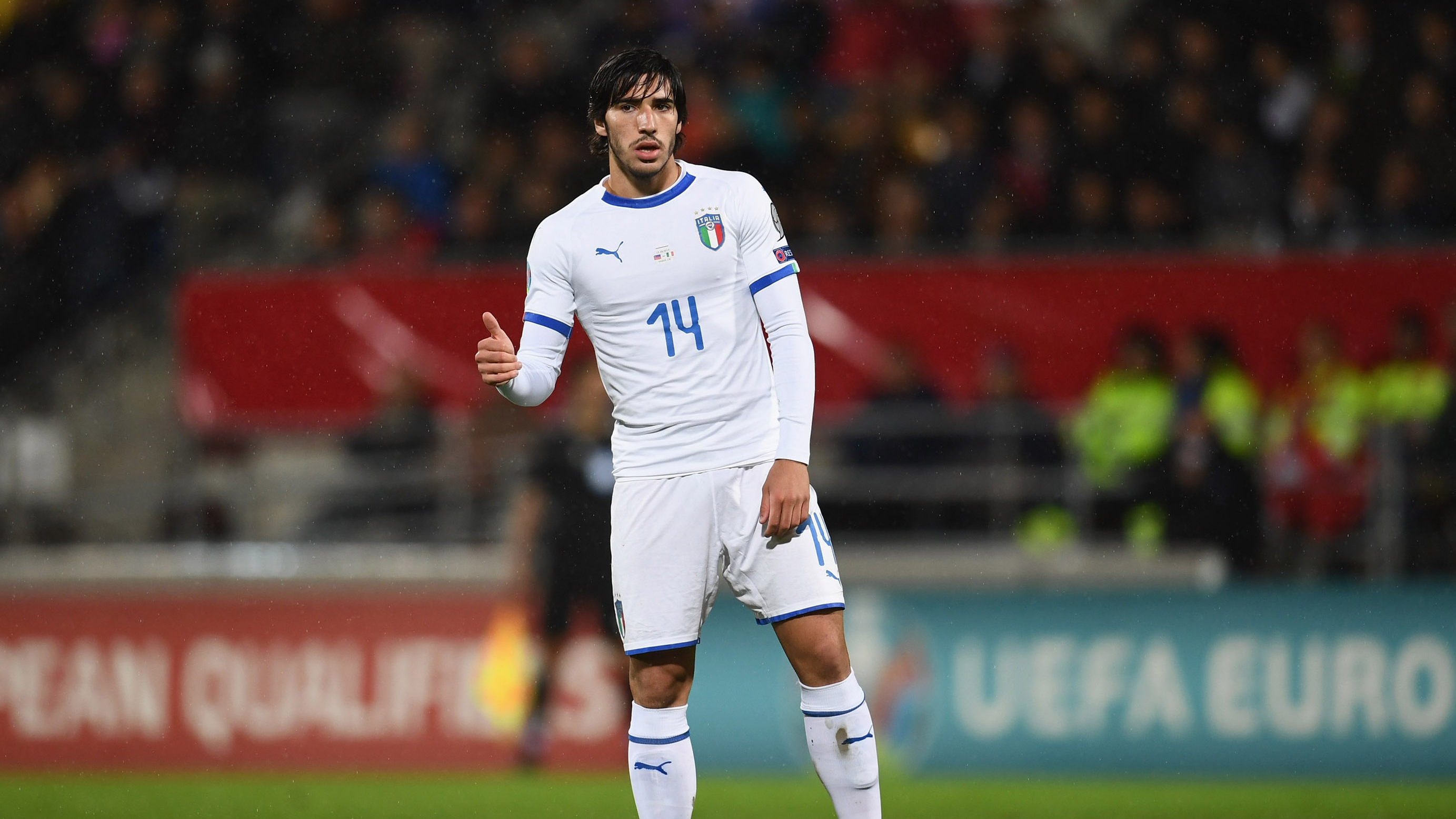 Photo: Getty 
The Italian international originally came through the youth ranks at Brescia after growing up in Lombardy. He spent five seasons with the Primavera side before debuting for the club in 2017.
It wasn't long before Brescia recognised Tonali's potential, and they slowly integrated him into their senior setup when he was 17 years old. The following season, Tonali became the heartbeat of the side, registering 7 assists in 34 appearances as he led Brescia to a first-place finish and promotion to Serie A.
Last season under Eugenio Corini, Brescia lined up in a 4-3-1-2 formation that saw three central midfielders screening the space in front of the back four. 
At times, this could be seen as a 4-1-2-1-2 diamond shape with Emanuele Ndoj and Dimitri Bisoli playing just behind the Brazilian midfielder Rômulo. Tonali was implemented as the deepest midfielder in the 'regista' role and this format has been mirrored this season under Fabio Grosso, Corini (in his second spell), and now Diego López.
Tonali's fantastic passing range and technical ability allow him to get involved with Brescia's build-up play rather than just sitting deep with a focus on the defensive side of the game. He has therefore been used in a more advanced position for Roberto Mancini's Italy in a 4-3-3 formation, giving him more freedom to roam forward while utilising Jorginho's strengths in the regista role. 
One of Tonali's standout attributes is the immense intelligence that he shows in terms of using his positional awareness to benefit the team. During the build-up process, the Italian tends to position himself just behind the first pressing line. This allows the centre backs to break the lines through a penetrative pass into midfield, as there is more space available.
While this is a risky manoeuvre, as Tonali can be suffocated quickly due to the press of the opposition's striker(s), his technical ability allows him to escape the challenge or draw a foul from the advancing players if he is forced onto the ball.
Tonali usually sticks to a deeper position, which gives him an advantage when he's up against teams who sit back and look to play on the break, as he has more space and time to scan the field for potential receivers. This gives him a wider perspective of the situation and allows him to make better choices in terms of where to pass.
His vision is exquisite for such a young player, as he attempts 7.9 long balls every 90 minutes. He has registered five assists this season, although many of his would-be assists have been squandered by ineffective finishing. Tonali's attacking numbers would certainly go up a level by playing in a team with better strikers than Alfredo Donnarumma, Mario Balotelli and Ernesto Torregrossa.
The Italian is also an adequate dribbler and likes to manoeuvre his team up the field by gliding past opponents.
One of the main reasons for Tonali's links to Pirlo is due to his effectiveness from set pieces. He is Brescia's main set piece taker and has the ability to curve the ball taking both free kicks and corners for Le Rondinelle. This season, he scored a fantastic free kick against Genoa from an acute angle and long range, which soared past Genoa's wall and goalkeeper, Ionut Radu. 
This season, Brescia have defended narrowly in their 4-3-1-2 formation. Tonali becomes the link between the midfielders and the defenders, dropping in between Andrea Cistana and Jhon Chancellor to create a back-five when defending. This allows them to form two distinctive defensive lines in front of the 16-yard box, with Tonali focused on winning the ball back from the advancing attackers.
It is easy to understand why he considers himself as more of a Gattuso type of player, as his energetic style of play and impressive work rate permeate the style made famous by 'Ringhio'. He rarely shies away from a challenge and always attempts to put a foot in with the aim of recovering the ball without diving into tackles. 
Tonali's performances over the past two seasons have seen him linked to a plethora of top European clubs, and it's becoming ever more likely that he'll leave Brescia this summer. Both Inter and Juventus are believed to be keen on landing the Italy international, but there has also been interest from the Premier League. Liverpool have been recently linked with Tonali, while Manchester City and Manchester United were both credited with interest in the youngster in the past.
Photo: Getty
Brescia's owner, Massimo Cellino, who formerly owned Leeds United, said in October that: "All the big Italian clubs are interested. Abroad there's Atletico Madrid, Paris Saint-Germain and Manchester City, but in my view, he'd be better off remaining as a protagonist with Brescia."

"The other day, his agent and his parents were telling me about this €50million evaluation. I replied that for me he is worth €300million, which means I don't want to sell. I have a dream. If Sandro accepts, I am ready to make a big financial sacrifice to extend his contract."
It's clear that Brescia are holding out for big bucks for their prodigy, but he's worth the money. His talent is epitomised in an eye-catching moment against Lazio, with the score locked at 1-1 in the 75th minute, when Tonali collects the ball in his own half surrounded by six Lazio players and with no teammate available for support.
In that moment, he decides to do something neither Pirlo nor Gattuso were noted for; he decides to take on the entire defence, swiftly gliding past players with the ball stuck to his toe. He eventually reaches the byline before holding the ball up in a passage of play that lifts the pressure off his team-mates for a precious 20 seconds.
 Italy have boasted the likes of Daniele De Rossi, Pirlo, and most recently Marco Veratti, and Nicolò Barella, and Tonali fits the mould of a player who is destined for greatness.
By: George Grieve
Featured Image: @GabFoligno