Analyzing Vincent Kompany's Anderlecht
It's nearly been two full seasons now since Vincent Kompany took the full management role at Anderlecht after transitioning from the unusual job as player-manager.
RSCA have been a formidable beast on the continent, having qualified for at least the preliminary rounds of the UCL/UEFA Cup 59 years in a row (1956-2018). They've won nine domestic titles in the 21st century alone.
However, when Kompany returned to Belgium in mid-2019, he was walking into head-on traffic. Financial mismanagement had drove the club to violent fan protests and the end of their impressive run in Europe.
Ken Bastin, a youth coach at Belgian first division side Royal Antwerp, told BTL: "This was a very, very big challenge that Kompany faced when he arrived."
At the beginning of the 2019/20 season, Kompany tweeted on his personal account: "Now there's nothing else to do but work even harder. #InYouthWeTrust." It's a line that Mr Bastin says has attracted jokes at times in Belgium.
We don't believe the hype, we don't believe the drama. We believe in the process. We continuously produce good football, with a very (!) young but talented squad. However, no results, so no excuses. Now there's nothing else to do but work even harder. #InYouthWeTrust pic.twitter.com/etSiqJeJVf

— Vincent Kompany (@VincentKompany) August 23, 2019
Kompany's side ended up eighth in the as the season was curtailed by Covid-19. A team featuring Ranger's Kemar Roofe and a 17-year-old Jeremy Doku did score 45 goals in 29 matches, but they also conceded a goal-a-game.
David Parkes, an Anderlecht fan for over a decade based in Canada, said: "When he started as player-manager, not too much changed in all honesty.
"The performances were still far from convincing, the fans were far from happy with what they saw, it just wasn't good."
After Doku, Roofe and Alexis Saelemaekers all departed in 2020 helping bring in over €40m in transfer income, the now retired Kompany was left with a barebones squad and a minimum to spend.
With an average age of 22.7 (youngest in the league in 20/21) and the loans of Matt Miazga from Chelsea and Lukas Nmecha from Manchester City, Anderlecht were adorning to the statement of trust in youth Kompany preached.
A third-placed finish brought some confidence. Mr Parkes said that the changes had come in good stead, and that Kompany was winning over the fans.
The Tactics behind Union Saint-Gilloise's Belgian Title Challenge
The 21/22 season didn't start great, as Anderlecht were beaten in qualifying for the UEFA Conference League against Vitesse, prolonging their return to major European competition. Since then though, the side have taken steps forward.
Evolving the 2-3-5 Template
After finishing third having spent less than €5m on transfers in the summer of 2020, Kompany was backed properly before the start of the season. The outlay was doubled, and the signings shifted Kompany's previous 4-3-3 into a 4-4-2 on paper.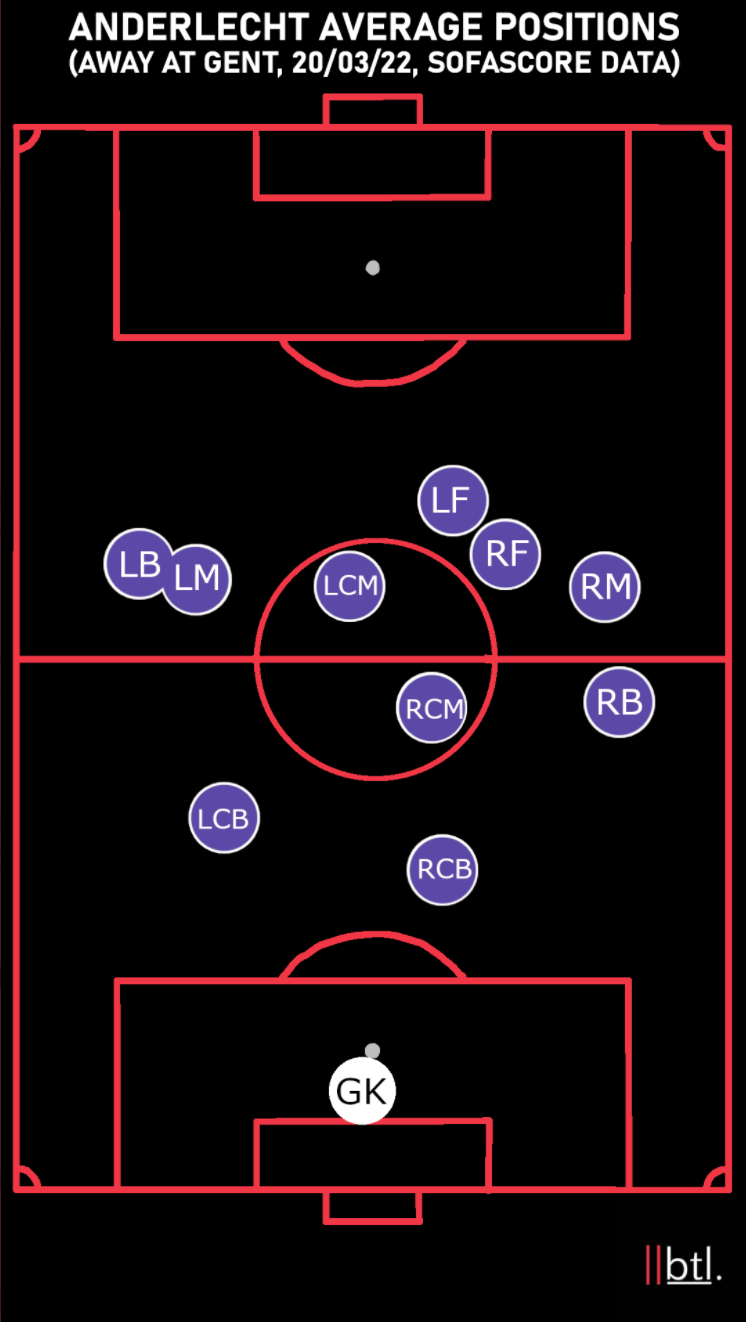 In possession though, this tends to shift into more of a 3-5-2, but with a midfielder dropping into the defence playing slightly advanced.
Josh Cullen typically does this, as the Irish 25-year-old drops into the area around RCB. It's helped Anderlecht maintain 56% of the ball this season, the third most dominant team in Belgium.
This lets the wide players come inside, which suits their skillsets. The Israeli winger, 35-year-old Rafaelov, has scored 12 goals this season and has been allowed to stay away from getting pinned on the flanks.
Maintaining a two-striker system has been an innovative development to the standard possession-dominant blueprint. Pushing the wingers and fullbacks high alongside a forward has been a mainstay of Pep Guardiola's teams for example, but the addition of another striker changes the dynamics.
Joshua Zirkzee (20-year-old ST on loan from Bayern) and Christian Kouame (24-year-old ST on loan from Fiorentina) are tight in possession but crucially sharp on a counter-attack. Having both pin opposition defenders creates plenty of opportunities for passes in behind.  
👀 | RSC Anderlecht kreeg een penalty voor deze fout op Christian Kouamé. 🧐 #STVAND pic.twitter.com/46Z0R5Eh8P

— Eleven Sports (NL) (@ElevenSportsBEn) October 17, 2021
Despite the potential to be more direct, Anderlecht are generally more reserved and rely on passing in build-up. Only three other teams in Belgium are completing fewer dribbles per game than Kompany's side.
This is not a negative thing though, as Anderlecht especially in 2022 have shown some great patterns of play. They particularly impressed against KV Oostende recently, boasting polished examples of positional play as they penetrated through defensive lines.
It's these principles that have drawn comparisons to Pep Guardiola himself, but Kompany has previously refuted this. He has maintained his side play with their own identity and trys to stay away from any direct comparisons.
However, it didn't stop Mr. Bastin saying that he thinks Kompany "can be a next coach of Manchester City". He isn't the only one to suggest this in Belgium, with former Belgian player Marc Degryse telling Het Laatste Nieuws last year: "If he becomes champion with Anderlecht, the door will immediately open at Manchester City."
From Zirkzee to Gomez: the Standout Players
Prior to moving on loan, Zirkzee was a source of frustration for Bayern fans. Outrageously talented, the Dutch/Nigerian has scored over 40 goals for Bayern at various levels but has failed to provide a clinical edge. Julien Nagelsman himself said he hoped for Zirkzee to find a different "sense of seriousness" in competitive matches at Anderlecht.
Bayern fans will hope Zirkzee has improved since footage captured after a 2-2 draw with Sint-Truiden last October. Kompany was seen berating Zirkzee for his attitude.
On the pitch though, the former Feyenoord forward has been enjoying a fruitful season. He sits joint seventh in the league goalscoring charts and has added six assists in 25 appearances too.
El gol de Joshua Zirkzee para el Anderlecht ayer.pic.twitter.com/Lq0PbIsmhl

— Bayern & Selección Alemana (@iMiaSanMia_ES) February 7, 2022
He is a poised, well-rounded footballer who, standing at 6ft3, can score from a multitude of situations.
His pace in behind has already been shown, and Zirkzee has scored 38% of his goals with his weaker left foot. Despite scoring no headers, he's come close in recent games. A deft flick-on against Antwerp nearly landed in the far corner very recently.
Another Anderlecht signing that has had a great few months in Belgium is 21-year-old Sergio Gomez. He arrived from Dortmund for €2.3 million last summer, and the Spanish left back has provided 10 assists across the season.
He benefits from Kompany's system as he is allowed to push high down the flank, covering the wide space that Refaeleov vacates. Though he does take corners, many of his assists have been well-placed low passes across the box feeding a striker in the goalmouth.
Sergio Gomez is enjoying his his time in Belgium with Anderlecht 🇧🇪

Five assists already this season for the former Barcelona & Borussia Dortmund attacking midfielder 🅰️🅰️🅰️🅰️🅰️
pic.twitter.com/3ygsp0S6KQ

— Birdiefootball (@birdiefootball) September 27, 2021
Defensively there is room for improvement. Gomez is winning less than 40% of his aerial duels and could be more dominant in the one-vs-one. In fairness, he spends more time in the final third compared to his own defensive third.
What's Next for Kompany?
The defensive structure is possibly the last piece of the puzzle Kompany's Anderlecht need to master. They're often caught racing back towards their own goal in a bid to stop conceding. The 34 goals conceded in 32 games is a worse return compared to last season, and across both Anderlecht conceded at least a goal-per-game.
Yet there's been a clear sign of progression under Kompany. He will need to do something big to land his next job at a major European team, as Mr. Bastin has suggested. The pathway is clear though.
The former Manchester City captain will not be in a rush to move on from his boyhood team, one he joined aged 17-years-old. He's younger than some current Premier League footballers. Still, keep tabs on the hot managerial property that's got project-youth already in full flow at a major European team. 
By: Alex Barker / @EuroExpert_
Featured Image: @GabFoligno / LAURIE DIEFFEMBACQ / AFP / VIRGINIE LEFOUR / AFP