The Start of the Antonio Conte Era: Tottenham vs. Vitesse
After a long-winded managerial saga that saw chairman Daniel Levy unsuccessfully try to appoint Antonio Conte as manager, Tottenham Hotspur were forced to settle for ex Wolves manager Nuno Espirito Santo who, after a promising start, lasted a mere four months with the Portuguese manager being sacked on November 1 after a poor run of results that had seen Spurs lose four in six Premier League matches.
With Nuno gone, Levy and new Director of Football Fabio Paratici made another attempt to bring in Conte, and this time, they were successful. Having built a dynasty together at Juventus, Paratici and 'Il Martello' will be looking to bring Spurs back into the Champions League spots and win the club's first trophy since February 2008.
Conte's first Premier League match in charge saw Spurs settle for a 0-0 draw against Everton, but his first match at Tottenham came within two days of him being confirmed as a manager on a 2+1 year contract. Tottenham, having previously lost their last European fixture 1-0 to Vitesse with Maximilian Wittek grabbing a late goal for the Dutch side, hosted Thomas Letsch's side in London.
Antonio Conte's First Premier League Match at Tottenham Wasn't a Classic – But the Signs Were There
Tottenham began with a hybrid of a 3-4-2-1 / 3-4-3 formation, a star-studded team that saw Harry Kane, Lucas Moura and Heung-min Son make up the attacking trident and Hugo Lloris retain his place in goal. Emerson Royal and Sergio Reguilon operated as wingbacks, Oliver Skipp partnered Pierre-Emile Hojbjerg in the double pivot, whilst Cristian Romero, Eric Dier and Ben Davies made up the back three.
On the other hand, Vitesse operated in a similar formation that often resembled a 3-4-1-2, with Thomas Buitink shifting inside to a central attacking midfielder role and playing behind Yann Gboho and Nikolai Baden Frederiksen in attack.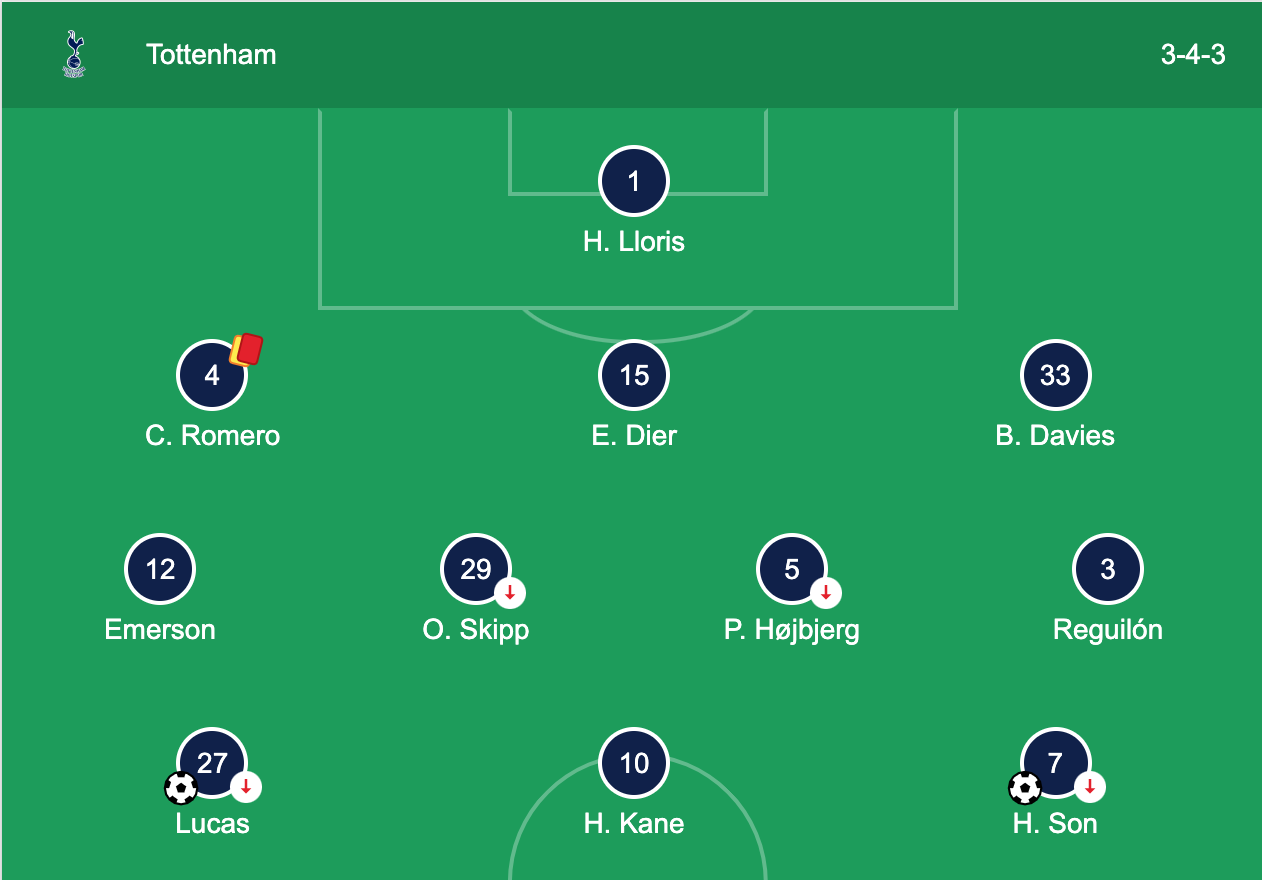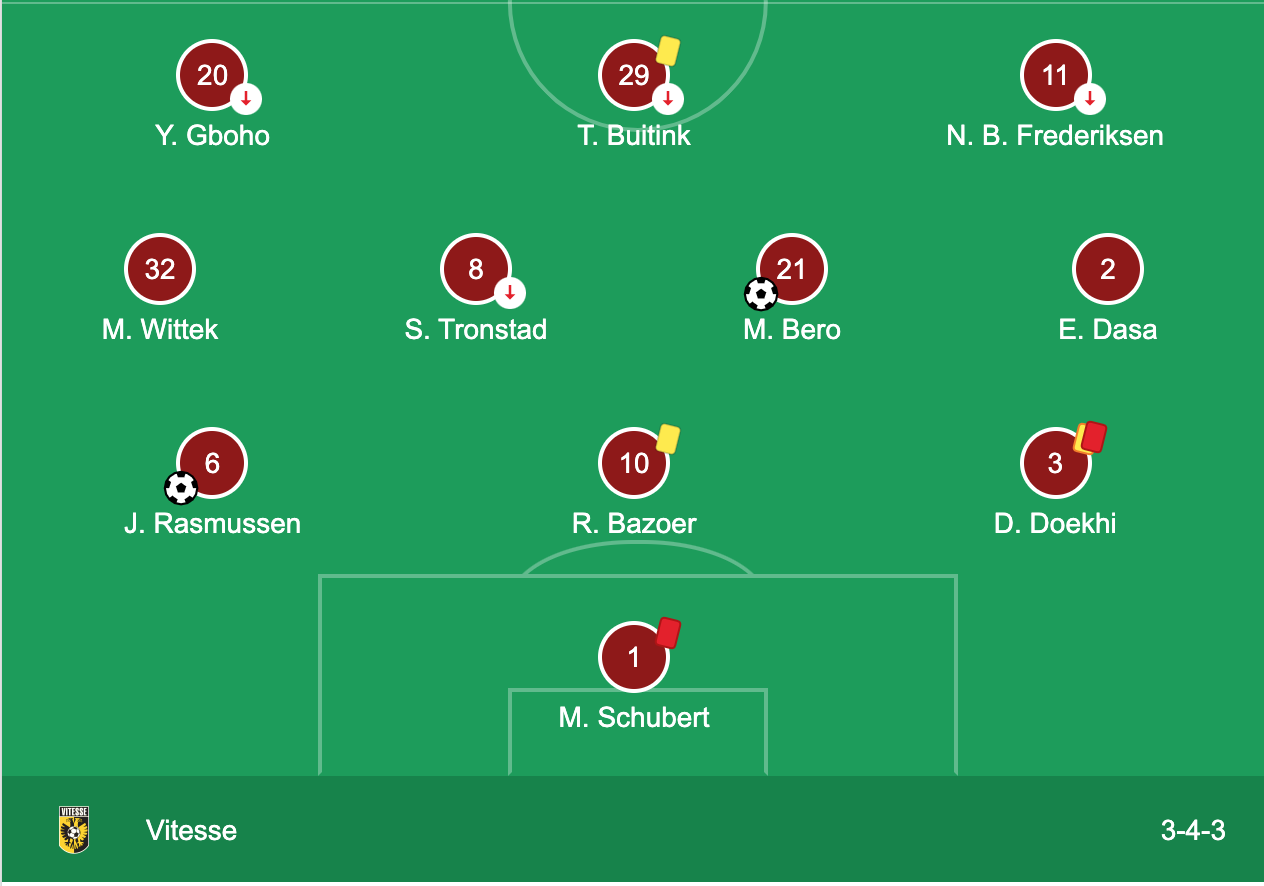 Tottenham's Shape in the Build-up
Tottenham utilized a 3-2 shape in the first phase of build-up, and whilst they attempted to slowly build possession from the back, Vitesse's aggressive pressing from the onset saw Dier elect to boot it up the pitch in the first minute. Rather than just mindlessly kicking it up the pitch, however, Spurs' organized structure allowed them to not only eliminate the press but win the second ball and attack from there.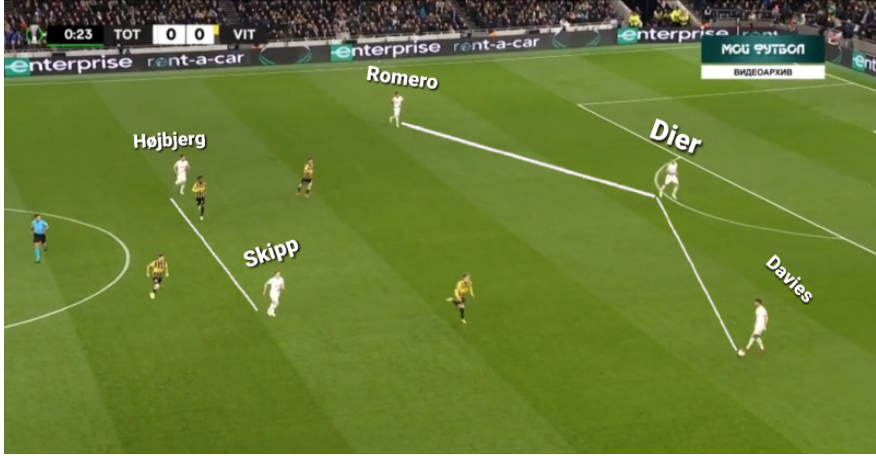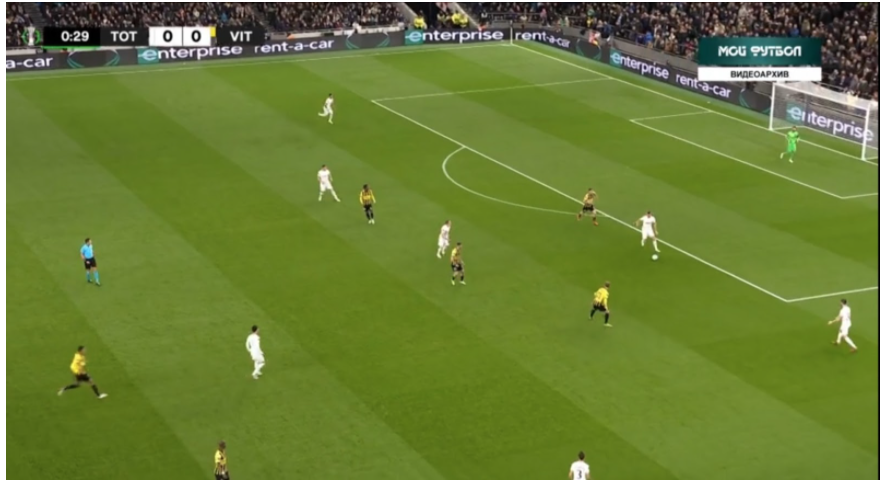 Hojbjerg won the second ball and quickly released the ball into the path of Brazilian wingback Emerson, who drove down the flank and tried to cross into the box, but the Vitesse players quickly closed him down. Instead, Emerson passed it back to Hojbjerg who shrewdly dropped into the natural right back position in order to fill Emerson's vacated space.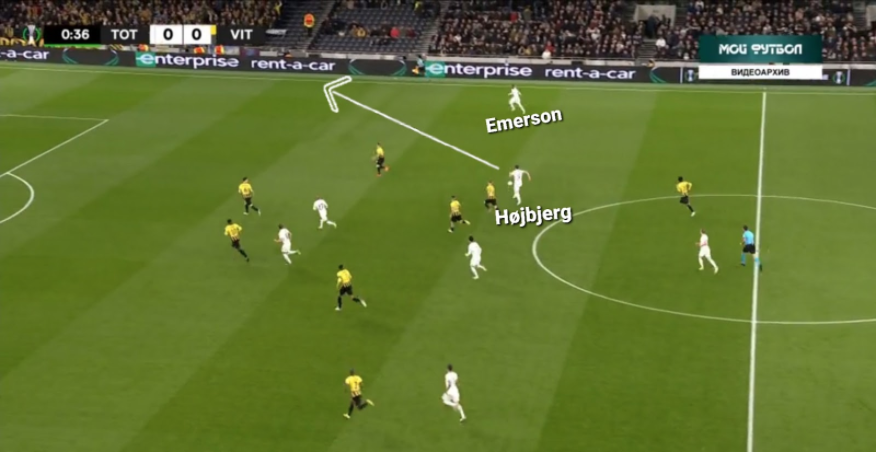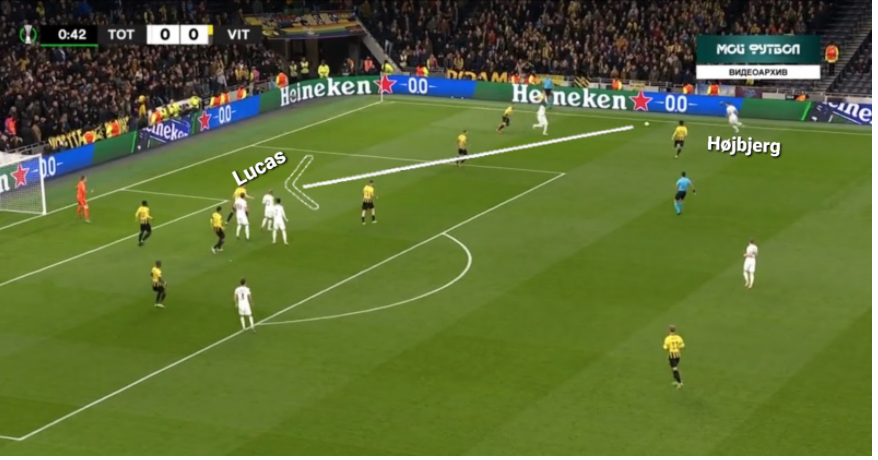 The Danish midfielder then crossed the ball into the box with his first touch, finding Lucas who was unable to test goalkeeper Markus Schubert with his header. Whilst Spurs were unable to grab an immediate opener, this was a sign of things to come.
Tottenham's Shape out of Possession
Tottenham pressed Vitesse in a 5-2-3 shape through the center, but in the wide areas, the ball-near wingback typically defended in close proximity which made it seem like a 4-3-3 shape out of possession. Their settled press was successful and Vitesse didn't even try to build from the back, but instead booted it up the pitch.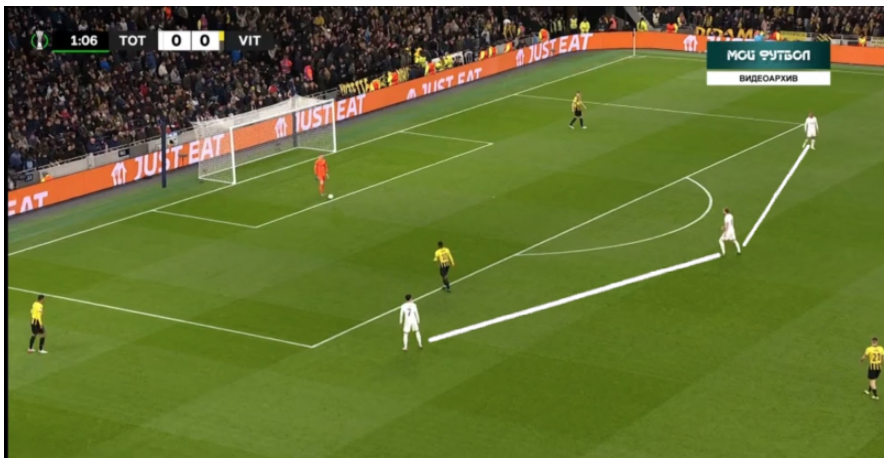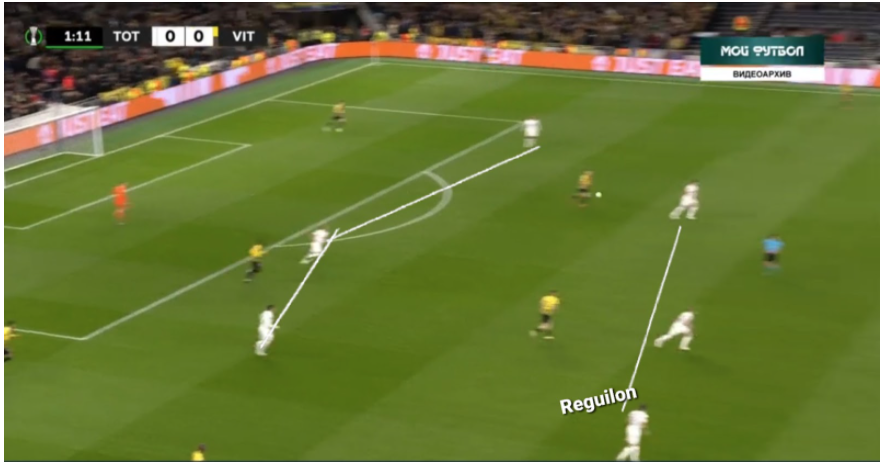 With Vitesse attempting to play direct, Cristian Romero's aggressive, proactive defending allowed Spurs to recover possession in the opposition's half. In this example, Romero not only recovered possession for Spurs but successfully beat two players before passing it to Son in a dangerous area, but the South Korean forward's shot was deflected by an opponent.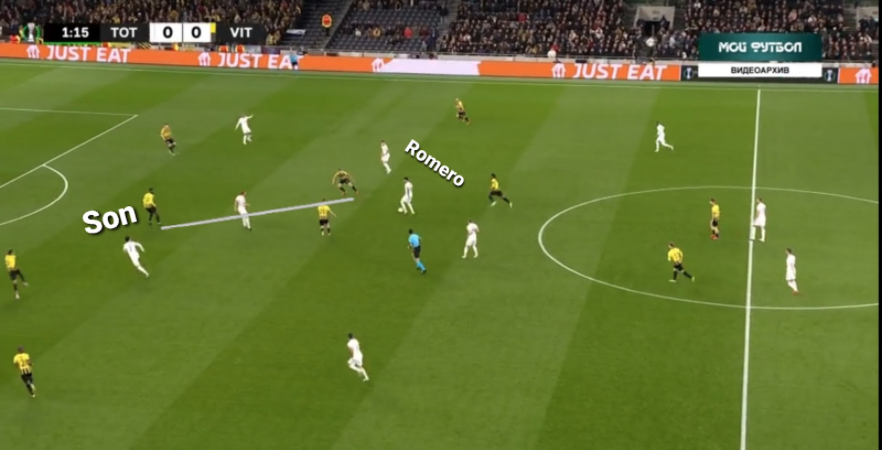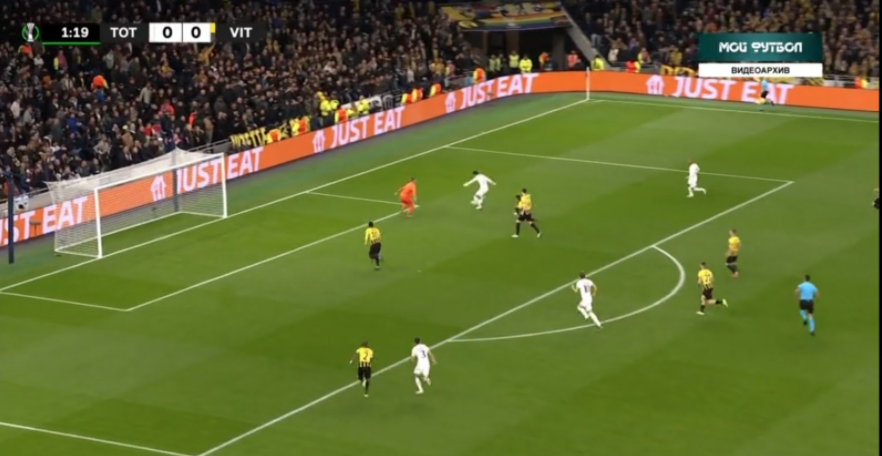 The Conte Automatisms
One of the many exciting things about Conte's teams is their 'automatisms'. One of these automatisms is the in and out (zig-zag) build-up structure and pinning up the opposing center backs with physical strikers and attacking the vacated space with the wing-backs after a quick switch which creates a mini transition.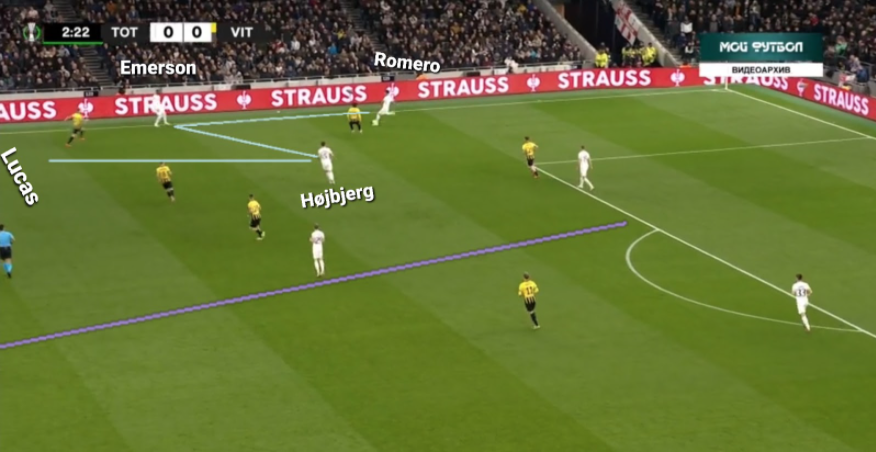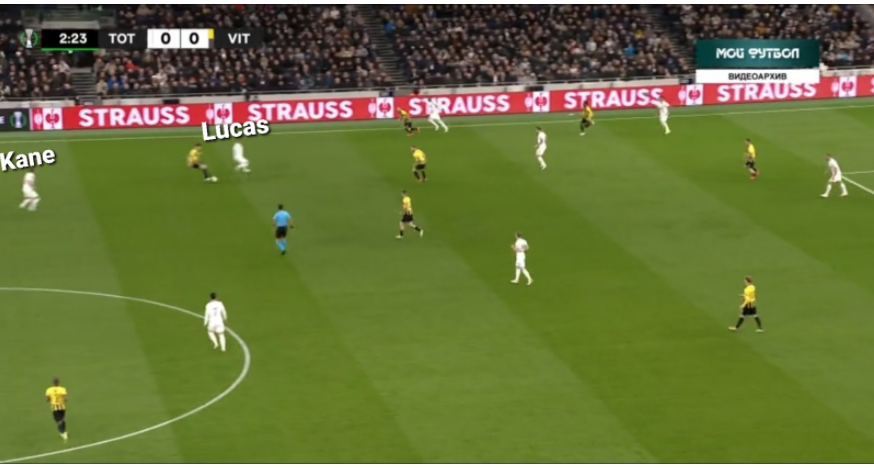 In the above example, Spurs players are already showing glimpses of what's to come from Conte's automatisms. The three center backs stretch wide and the wingback drops deep, as does the winger; in doing so, they have effectively overloaded the right side of the pitch.
Throughout his time as Inter manager, Conte's players found success in building out from the back quickly via this zig-zag automatism. Romero made the right decision to pass to Lucas as the passing lane to Emerson was closed due to Vitesse players' aggressive pressing, but the Brazilian was unable to find Kane with his one-touch backheel pass.
Tottenham's Mid-block
Out of possession, Tottenham maintained the same 5-2-3 structure through the middle, but in the wide areas, the ball-near wingback would join the two central midfielders whilst the other wingback who was farthest away from the ball would drop back and join the other center backs to form a back four.
Spurs would use the sideline as an extra defender to help them regain the ball, as they already remain compact with the players in close proximity to one another. Below we can see a good example of their 4-3-3 compact midblock in wide areas and how they utilized an effective counter-pressing structure to win the second ball.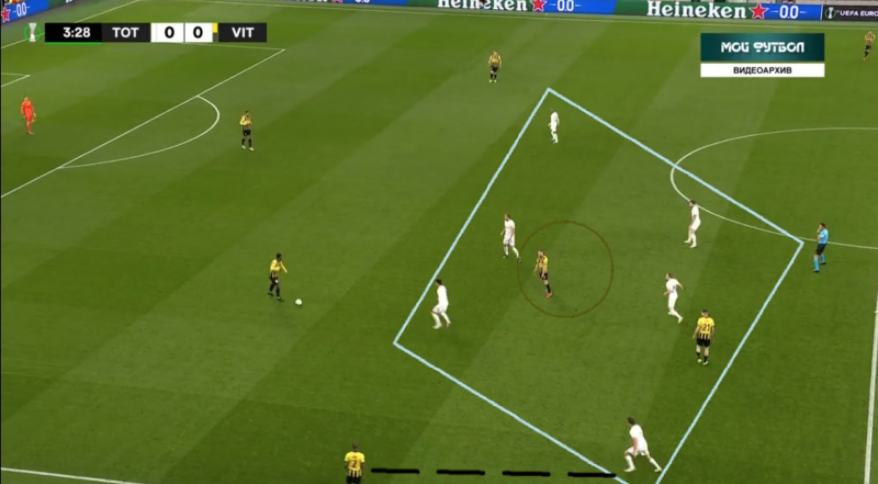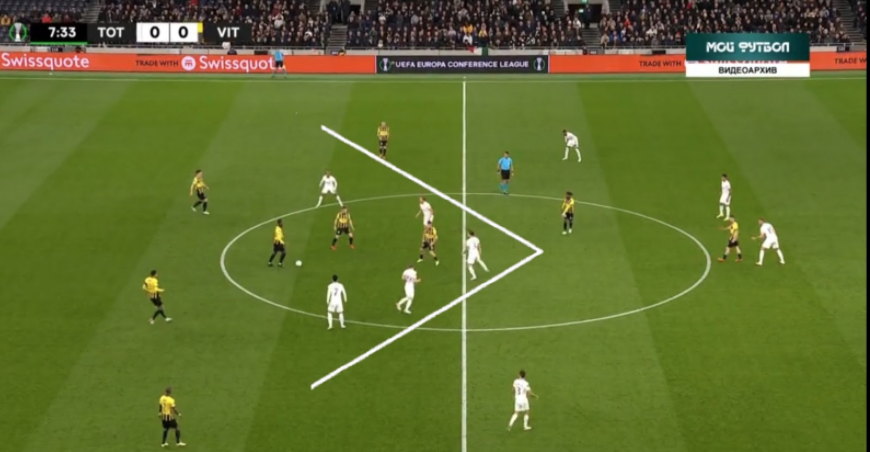 Great Communication 
Two things that are key for a seamless transition with a new manager is squad cohesion and communication. Spurs were impressive in this aspect of the game, an aspect that often goes unnoticed, and we can see below how Hojbjerg is communicating with Emerson and telling him to commit and close down the opponent in order to deny the space and prevent the Vitesse player from playing the ball onto that side.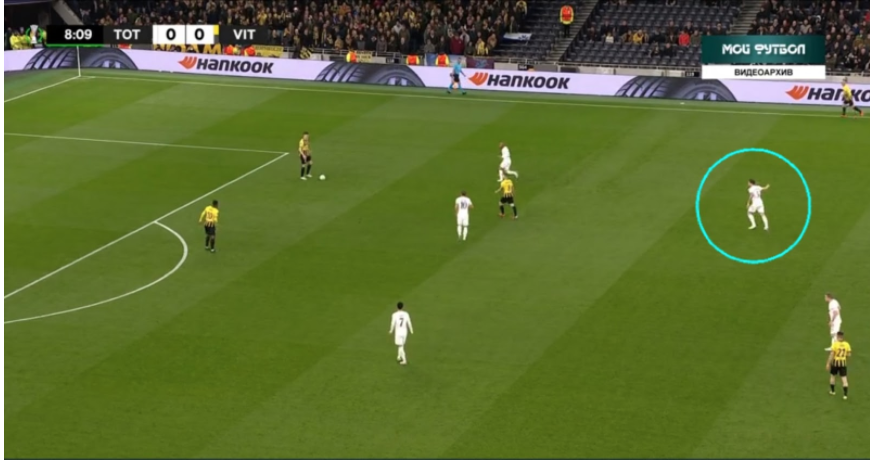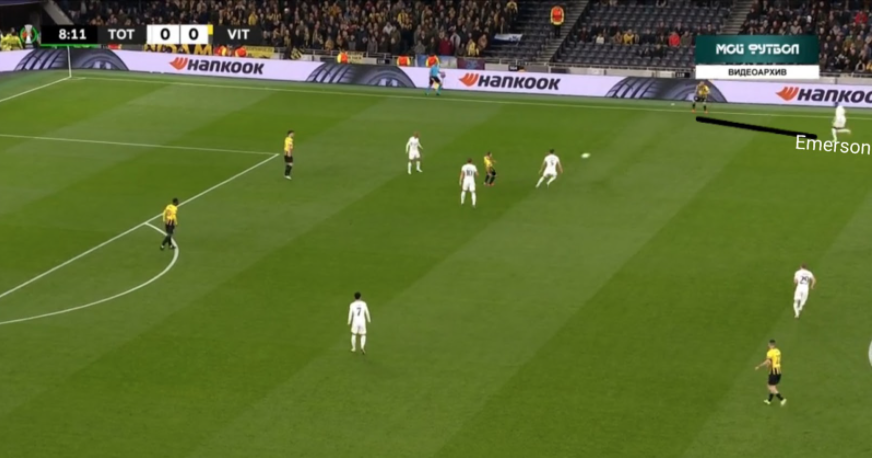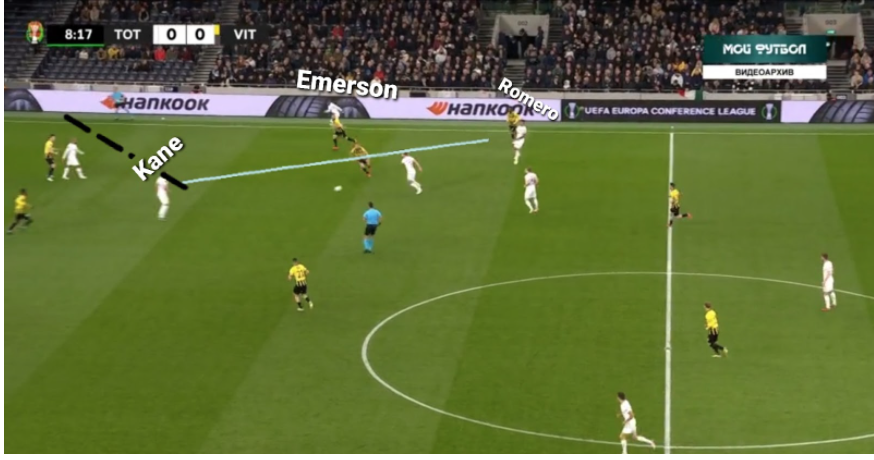 Emerson arrived late but helped Spurs create a 4-3-3 wide formation with the players remaining in close proximity from one another to stay compact. For that reason, Vitesse players found it easy to bypass Spurs' press in this instance, but Romero came into the right place and saved the day with his proactive defending once again.
From there, Romero quickly passed it to Kane and the England captain tried to chip the ball in behind Lucas for the outlet who was running into the vacant space (Emerson), but the ex Betis defender failed to catch up as Kane overhit the pass.
Another interesting aspect of this match was Ben Davies' underlapping decoy runs. Below, we can see Davies, the left-sided center back, pass the ball to the left wingback Sergio Reguilon, who rushed into the left half-space with his underlapping run and dragged the opposing players with him as well.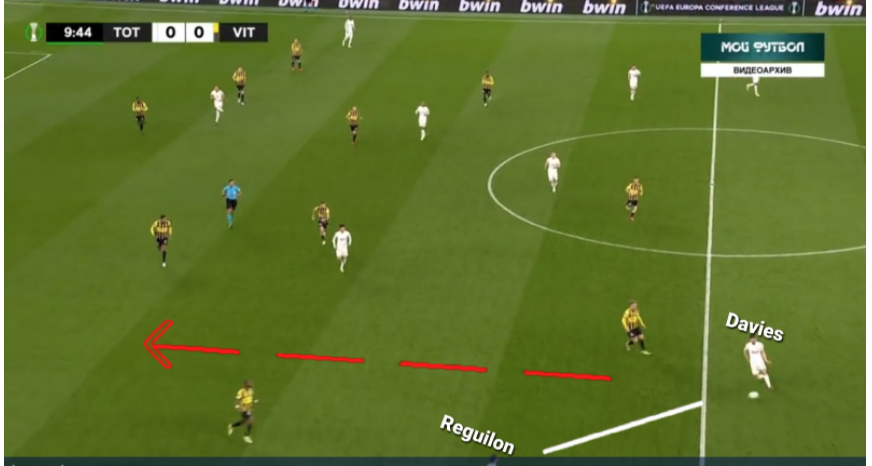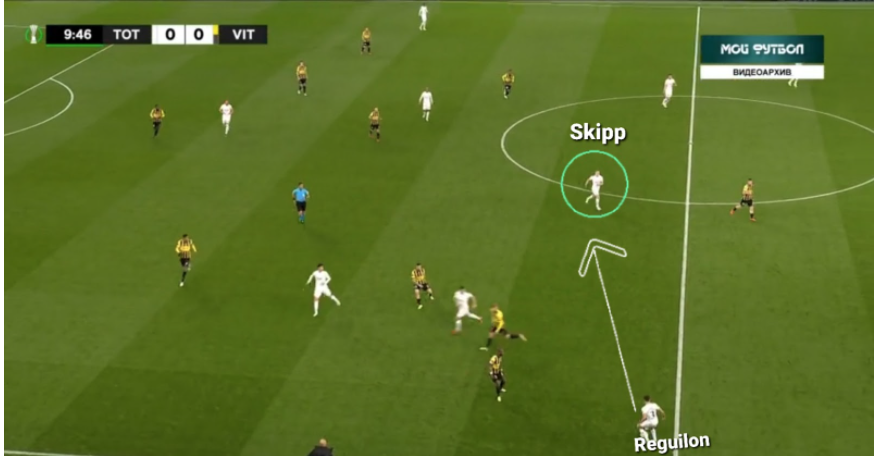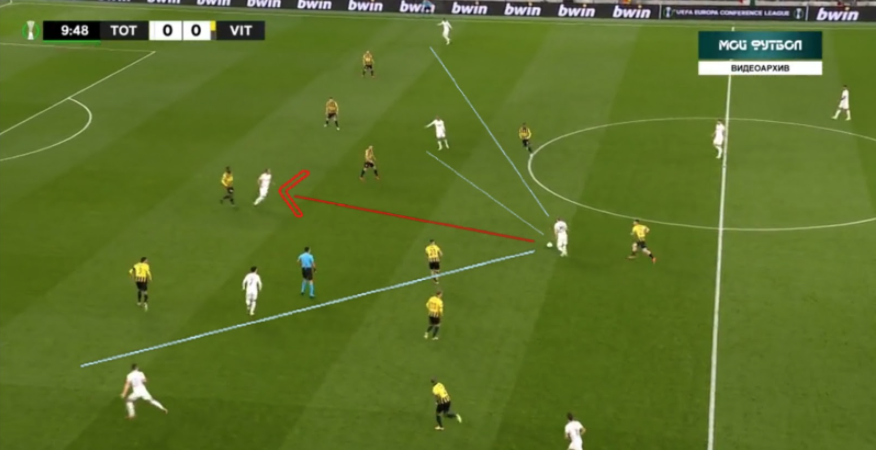 With the Vitesse players following Davies' decoy run, ample space is now vacated and a passing lane to Oliver Skipp is now available. Skipp now has several options: progress through the center, left, or right, but his pass nevertheless failed to find the feet of Kane.
Tottenham's Shape in Possession in the Final Third
Tottenham had beautiful asymmetries in possession while both in the build-up phase and in the middle. They had a 3-2 structure in the build-up phase, but in the middle of the pitch, the two wingers (Lucas and Son) were spotted dropping deep in close proximity to aid the build-up by creating a four-man midfield which helped them dominate the game in the center and free up their wingers too.
The other reason that Son and Lucas were dropping was to help them attract the opposition center backs out of position and pin them before exploiting them with a sudden change of pace, thereby creating a mini transition to attack the huge space in behind them by using their explosive speed.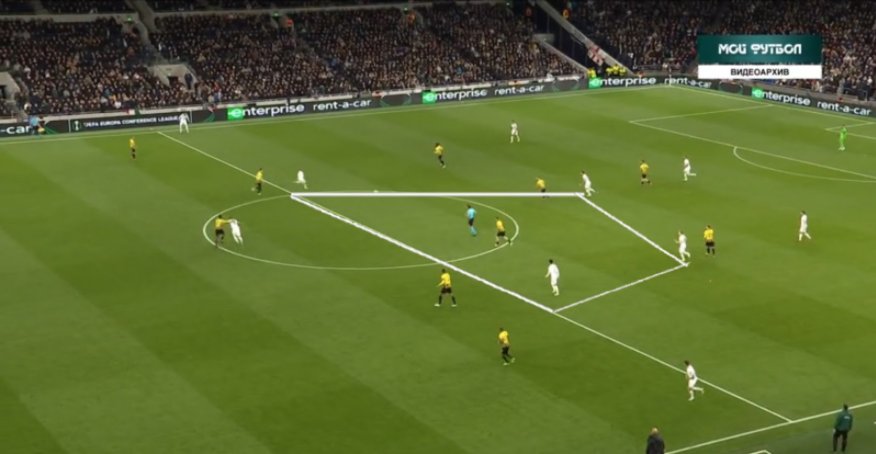 Heung-min Son had scored the first goal of the Nuno Espirito Santo and Jose Mourinho eras, and he repeated his feat under Antonio Conte by opening the scoring within 14 minutes. Spurs' aggressive counter-press led to Vitesse losing the ball in a dangerous area of the pitch and after Schubert parried Lucas' shot away, Son fired in with a well-taken finish.
Before Spurs scored their second of the night courtesy of Lucas Moura, they had quite a fine spell of possession that saw them record 21 consecutive passes. Spurs players attracted the opposition into their half with short back passes and once almost all of them were in their half, they started to show their prowess in verticality.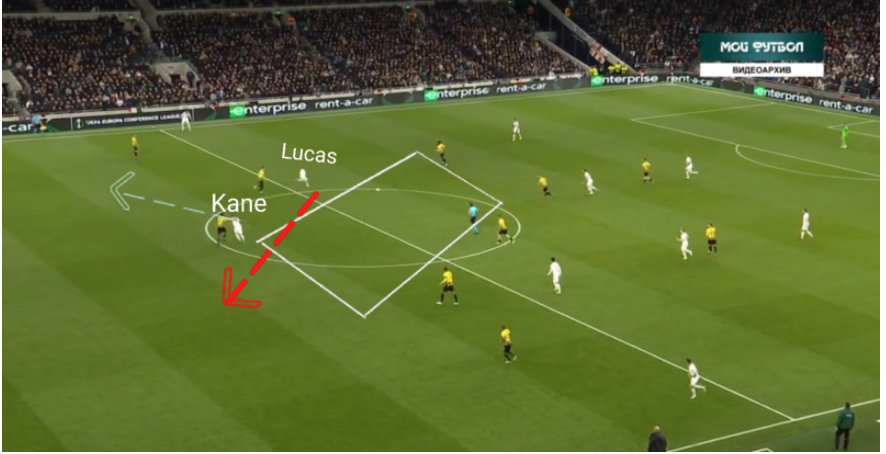 As Dier finds Hojbjerg with a direct pass, Hojbjerg received the ball in the half turn and created time and space for himself to avoid getting caught in the build up. He then passed it to Lucas who dropped into midfield, attracting the opposition center back in the meantime. Lucas then finds Kane with a 1 touch back-heel pass, but before doing so, Kane was already making a diagonal run to drag the opposing defender to create space for the Brazilian.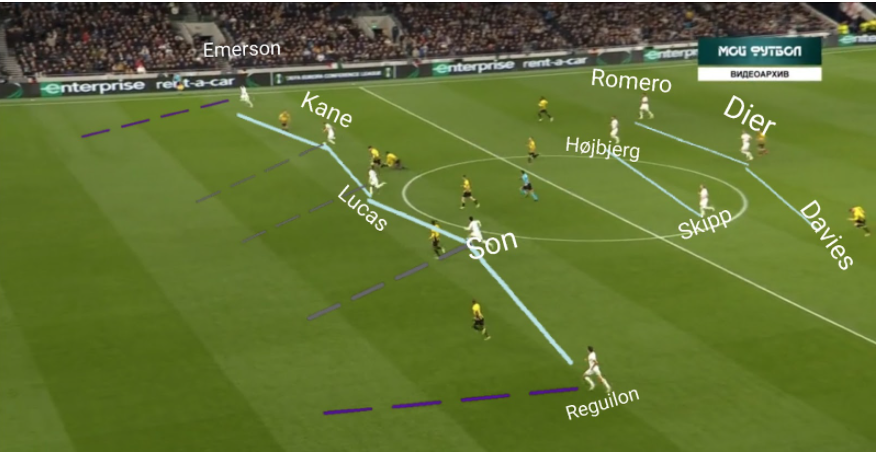 Lucas Moura was aware of the vacated space and made a run to exploit it. Kane beats his man and finds the pacey winger Lucas with a well-timed pass, who then buried the ball in the net without any pressure thanks to their strategy that dismantled the opposition. Within 22 minutes, the hosts had already found themselves two goals to the good.
Tottenham were able to pick apart Vitesse's defenders and create space via well-worked positional rotations, a common trait that we have grown accustomed to in Conte's sides, whether Italy, Juventus, Chelsea or Inter. Rather than being marked out of the game and becoming static, these positional rotations enabled Spurs to constantly dismantle Vitesse's off-the-ball organization.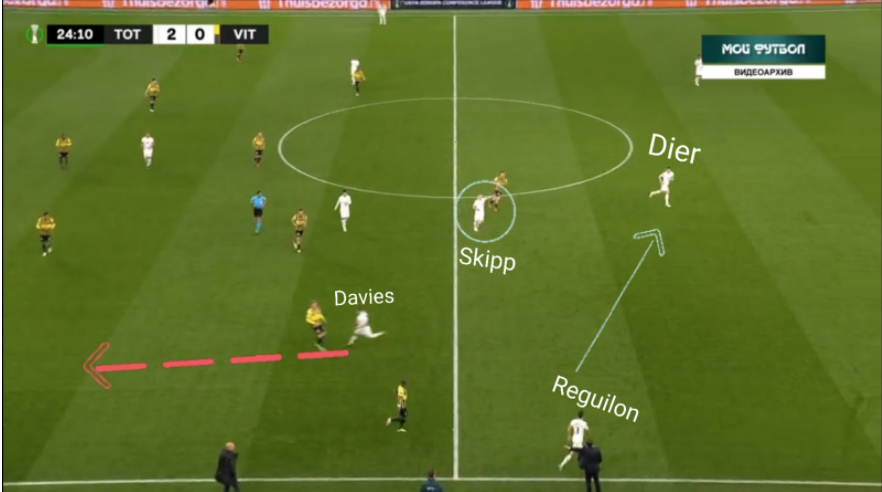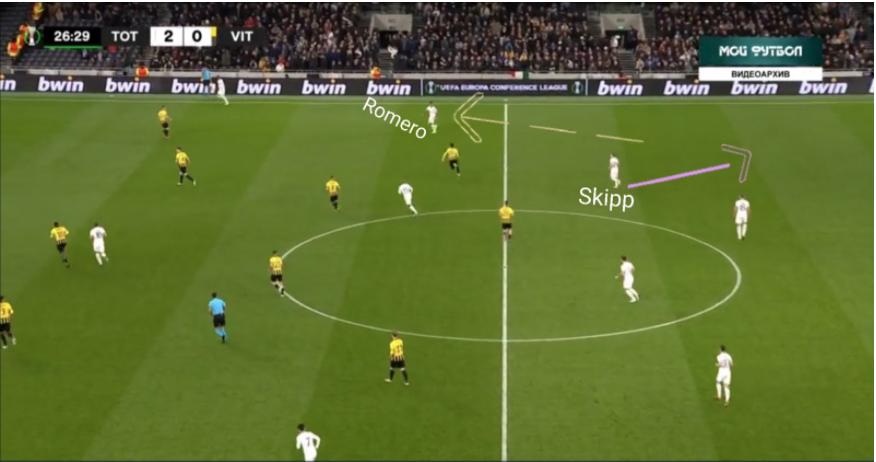 Tottenham's Overloads Isolate Vitesse Players
In the below example, seven Spurs players recycled possession onto one side of the pitch after wining it up in the opposing half, and Vitesse players had no option but to follow and force them back or win the ball back as they follow ball-oriented pressing. Thanks to this, Spurs players found themselves getting outnumbered 9v7 on the right side of the pitch.
From there, trying to keep possesion would have been a risky gamble, so they started to go backwards with a pass to Hojbjerg. Son,Lucas and Skipp were all in a close proximity to provide support for the Dane and offer a passing option, and their closeness also allowed them to prevent against a counter-attack thanks to their potential for a counter-press.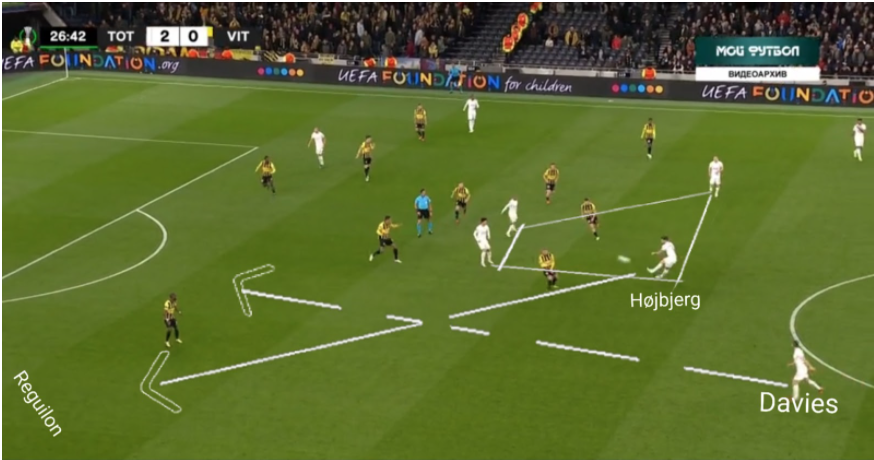 As we can see above, Hojbjerg plays a quick switch with his first-touch pass to Reguilon on the left flank, leaving Vitesse wingback Eli Dasa confused as to whether he should try to stop Reguilon or close the big space in between him and Danilo Doekhi. What's more, Davies took advantage of this vacated space and made an underlapping run to create even more problems for Vitesse.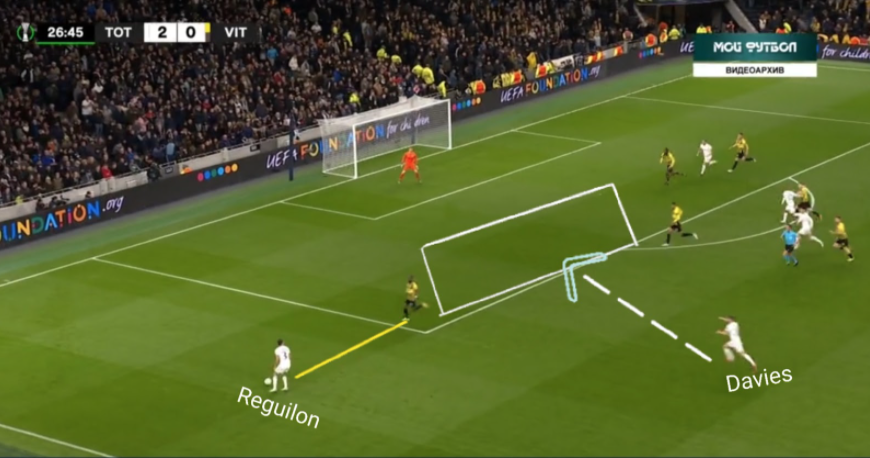 Dasa chose to close the wide space and prevent Reguilon from putting up a cross, but when he decided that the space between him and his fellow defender was getting too big and needed to be closed, Ben Davies arrived in with his late run in the box. Spurs were unable to capitalize with another goal, but it was yet another impressive sequence of play.
The third goal would come just seconds later in the 28th minute after another sumptuous spell of possession that featured asymmetries and positional rotations. Before making a pass to Reguilon, Davies looked up and noticed the massive vacated space between Dasa and Doekhi, and after playing it to Reguilon, the Welsh defender quickly underlapped and occupied the vacated space.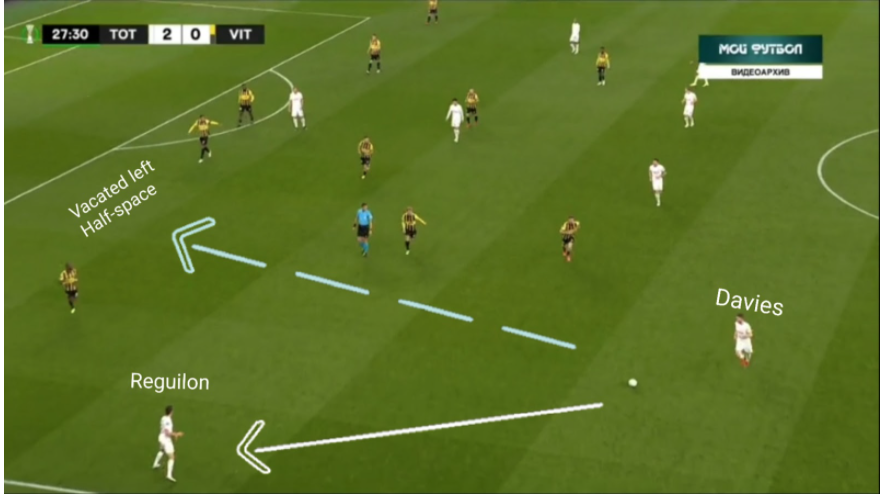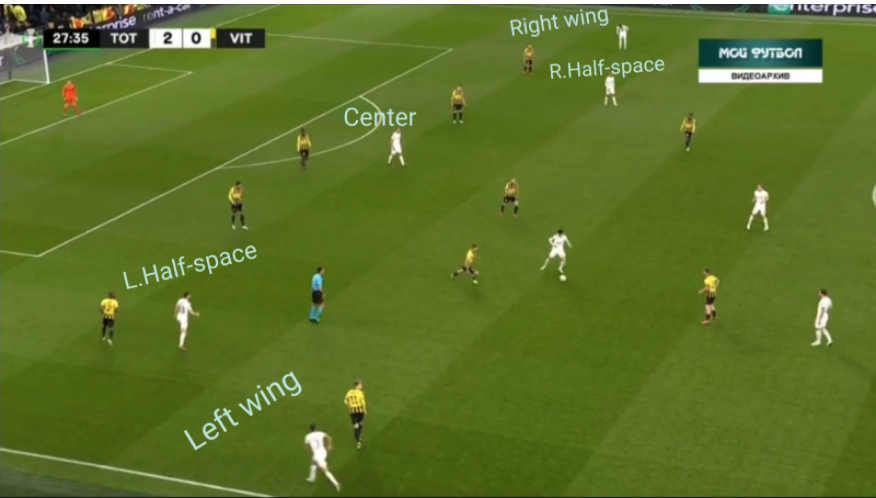 Spurs maintain positional superiority by occupying each of the five vertical zones — whilst Reguilon attempts to exploit the left wing, Davies remains higher up the pitch in the left half-space which prompts Hojbjerg to drop deep and fill his vacated space.
Dier then makes a quick pass to Son who had dropped deep to help facilitate in possession. The South Korean forward receives the ball with ample space in front of him, and all he needed to do was look up, carry the ball higher up the pitch, and make the right pass for his teammates.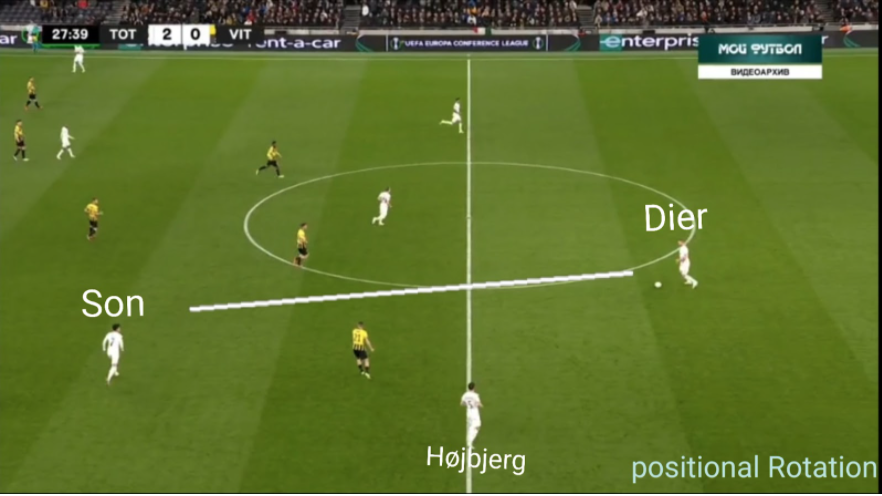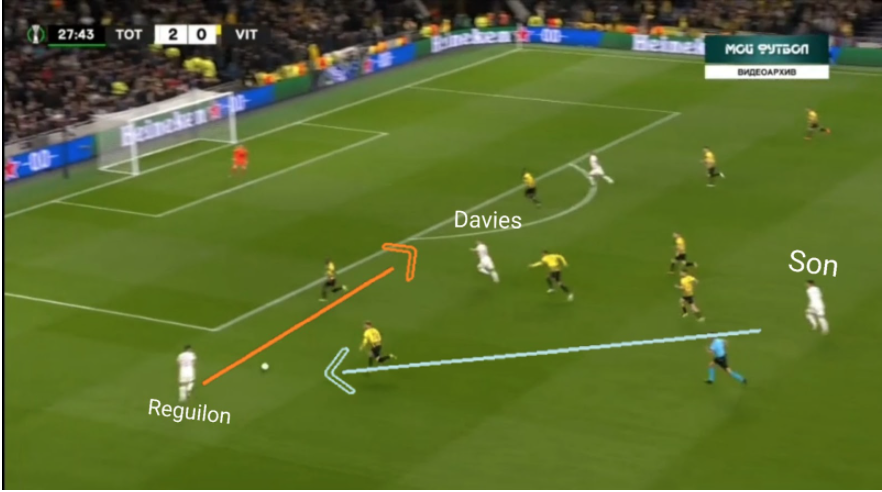 Son made a beautiful, line-splitting pass to Reguilon, who made another quick one-touch pass to Davies. The Welsh defender received the ball in a dangerous area in the box thanks to his relentless constant underlapping runs.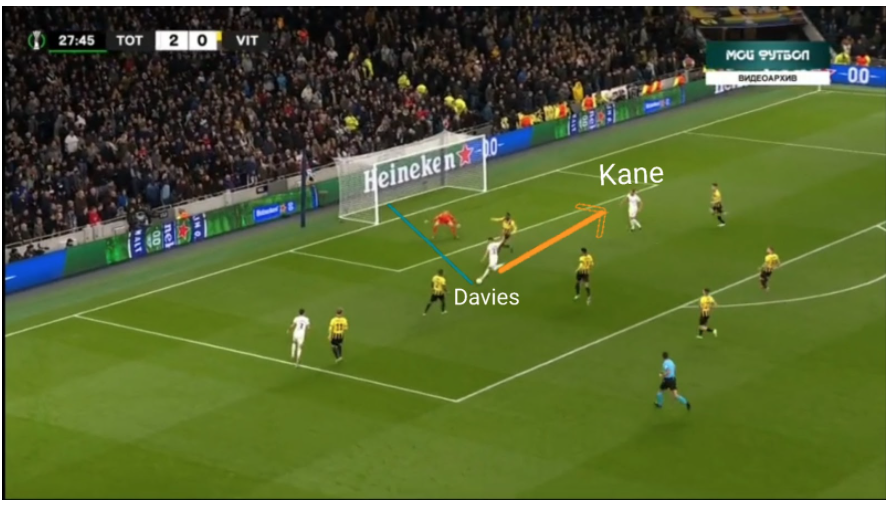 Davies could have had a goal or a shot on target from there but he unselfishly squared the ball to Kane who then tried to slide it past Schubert but Vitesse defender Jacob Rasmussen made a tackle to stop it from getting it in behind. Unfortunately for Rasmussen, his attempted tackle deflected the ball into the back of the net, with Spurs taking a 3-0 lead within 28 minutes.
Rasmussen would not take long to avenge this own goal, however. After Hugo Lloris stretched and deflected Sondre Tronstard's long shot over the bar, Maximilian Wittek lined up to take a corner kick. The German's effort found Rasmussen, who held off Dier and headed Vitesse's first goal into the right corner of the net.
This merely incentivized Vitesse to increase their pressure and attempt to dismantle Tottenham's build-up play, and 11 minutes after falling down 3-0, the Dutch side had already cut the deficit to one goal. It will take time for Spurs to adjust to Conte's automatisms in the build-up, and there will clearly be teething issues that they will have to deal with in the near future.
We saw an example of this as a heavy touch from Lucas leads to him having to track back and attempting to find Emerson with a quick horizontal pass, but his pass goes straight to Yann Gboho who quickly dishes it off to Matus Bero, who makes no mistake with the finish.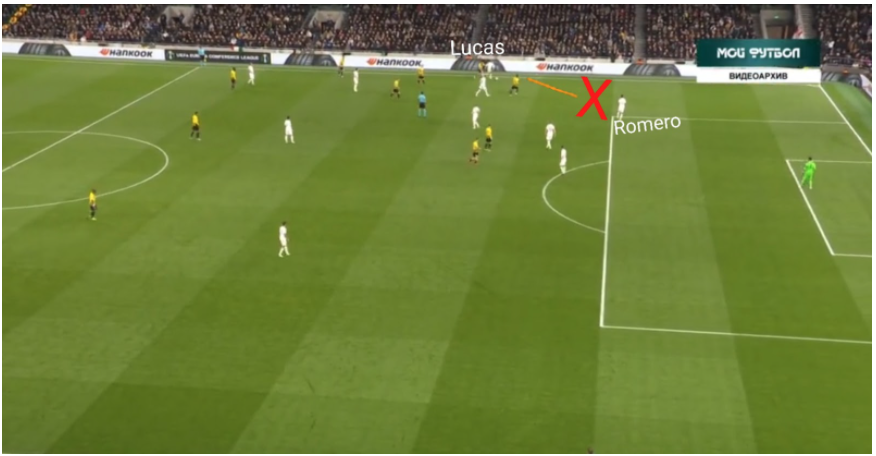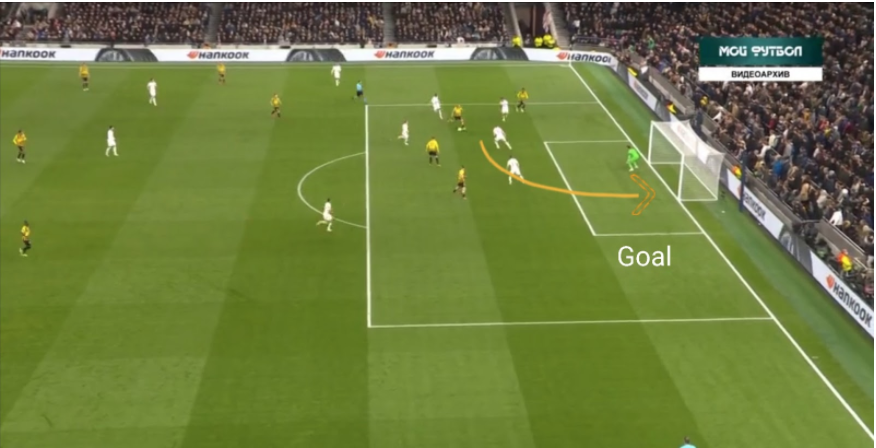 In the below example, we can see how Spurs' positional rotation allows them to dismantle Vitesse's pressing shape and create space for themselves. Hojbjerg once again drops deep from the double pivot to act as the third center back, filling in for Davies who is making an overlapping run.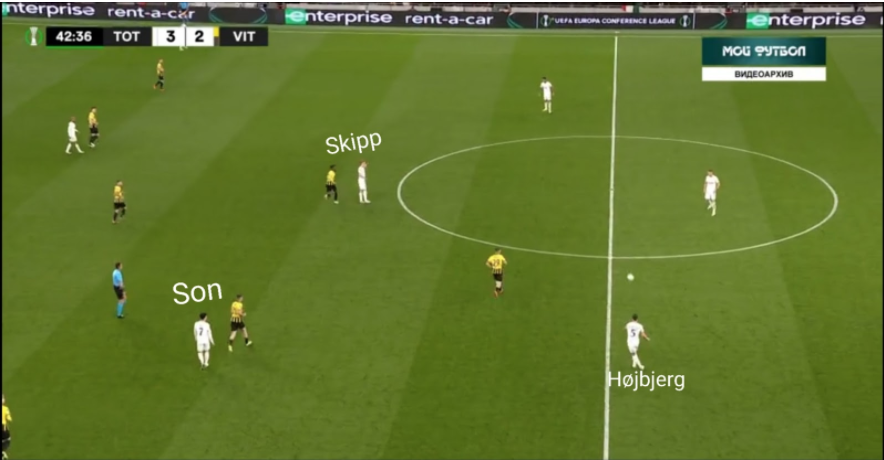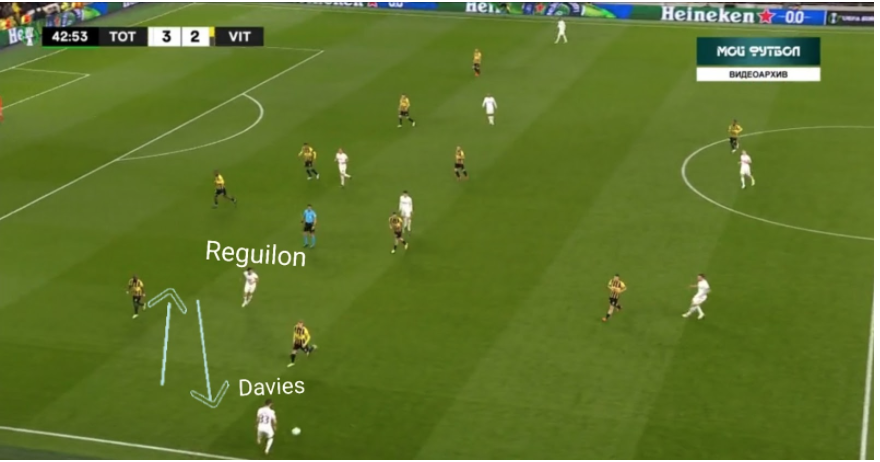 That wasn't a typo; he was making an overlapping run. Davies had constantly been exploiting the vacated left half-space, so in order to avoid being predictable, he elected to overlap on the left flank which prompted Reguilon to move into the left half space and link up with the Welsh defender.
Spurs' Off-the-Ball Shape
When out of possession, Spurs set up in a 4-3-3 in wide areas as the ball-near wingback will move into midfield whilst the ball-far wingback will settle in as a fullback and allow Spurs to shift to a back four. In the central areas, Spurs maintain a 5-2-3 shape, dropping their full backs deep to close the wide spaces and helping their center backs while the front three and the double pivot will stay a bit higher up the pitch.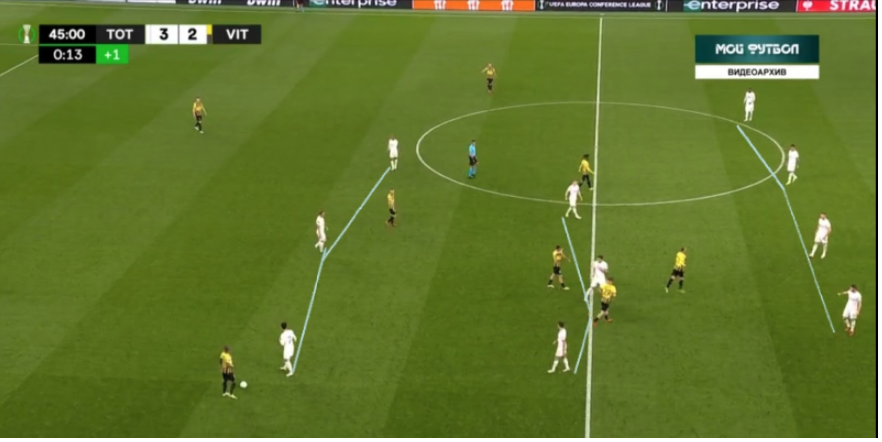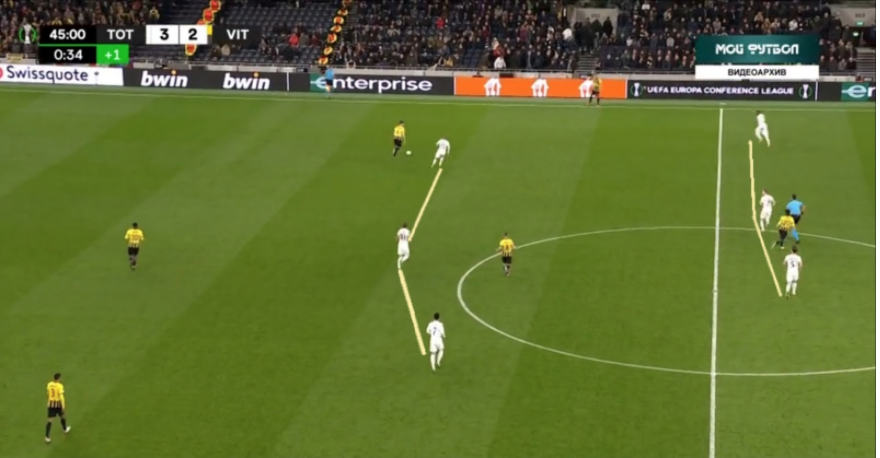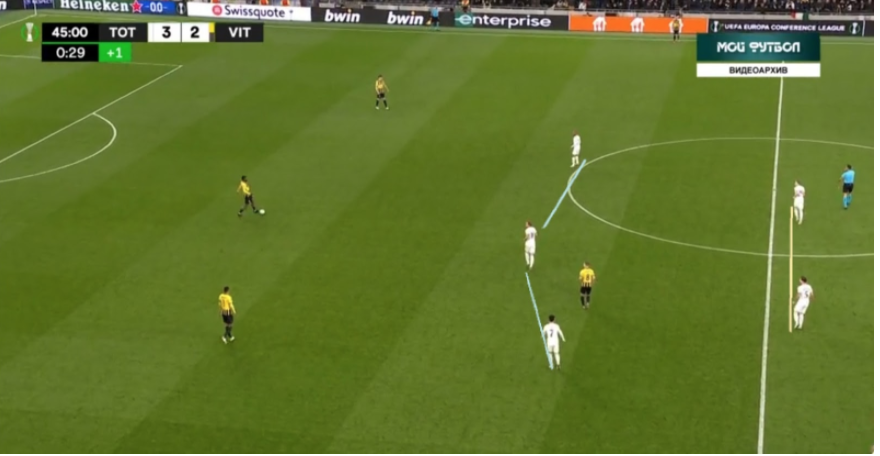 Tottenham's Second-Half Performance
After the restart, it was visible that Tottenham were not playing with the same intensity as the first half due to the two goals that they had let in at the cusp of halftime and the fear of conceding an equalizer. They had lost their momentum and Vitesse players began to press them aggressively which pushed Spurs even deeper into their own half.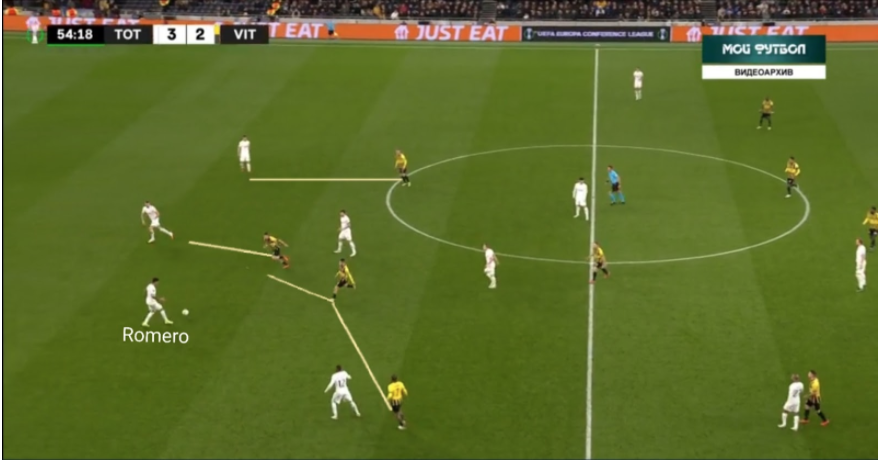 Most of the Vitesse players are in Tottenham's half now or closeby, leaving Spurs with two options: play through the press or over it. The first would be a tad risky after conceding two goals and making several mistakes in the build-up, so they elect to go with the latter.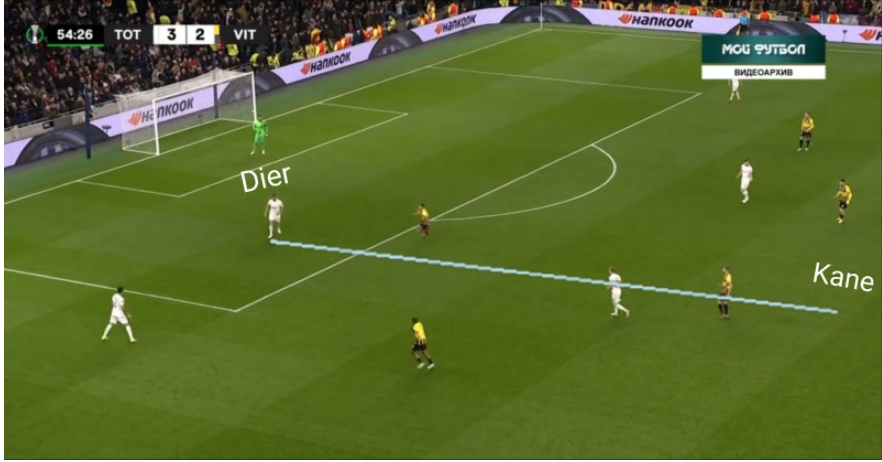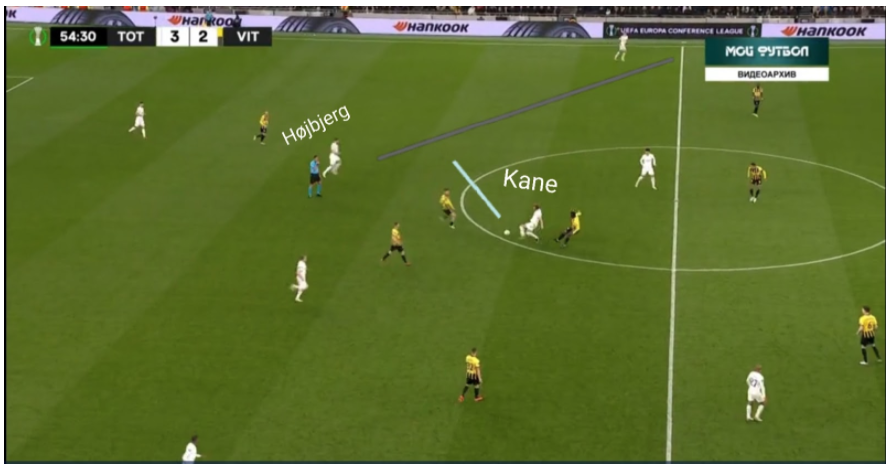 Dier decides to play direct and find Kane with a long pass, and Kane controls it but falls down as he is being closely marked by Riechedly Bazoer. This, however, does not prevent Kane from sliding the ball towards the onrushing midfielder Hojbjerg, who tried to play a one-touch pass to Reguilon but instead played it to the opposition.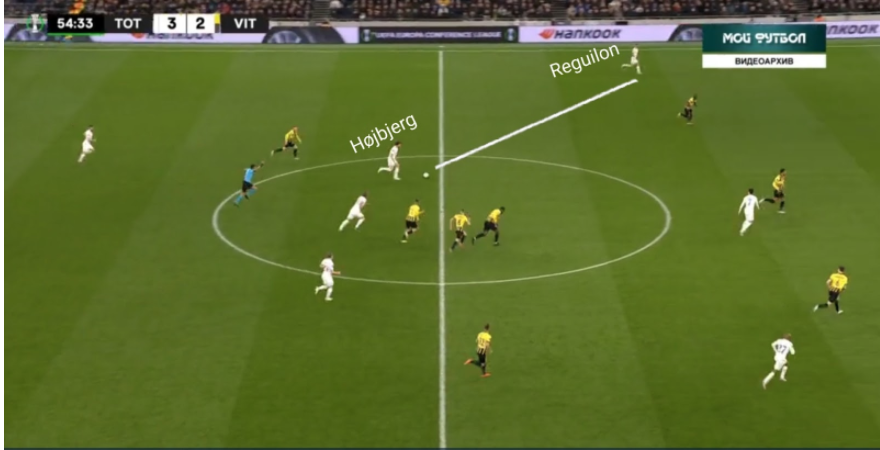 Spurs players failed to regain the ball for quite some time now as they had lost their momentum. In the below example, they're trying to regain the ball but their press was broken down by Vitesse players which left Romero isolated and led to the first expulsion of Antonio Conte's time at Tottenham. Vitesse did well to exploit the press and played the ball to Lois Openda, prompting Romero to tackle him and receive a second booking.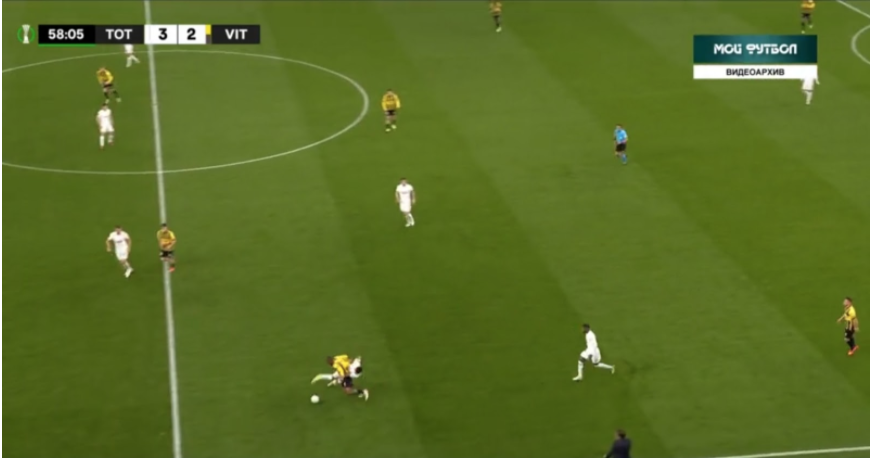 With Romero sent off, Spurs decided to stop playing careful, slow passes in the build-up and went for a more direct approach. Hugo Lloris would boot the ball up the pitch as Spurs attempted to win the first or second ball, but this tended to have unsuccessful results for the English outfit.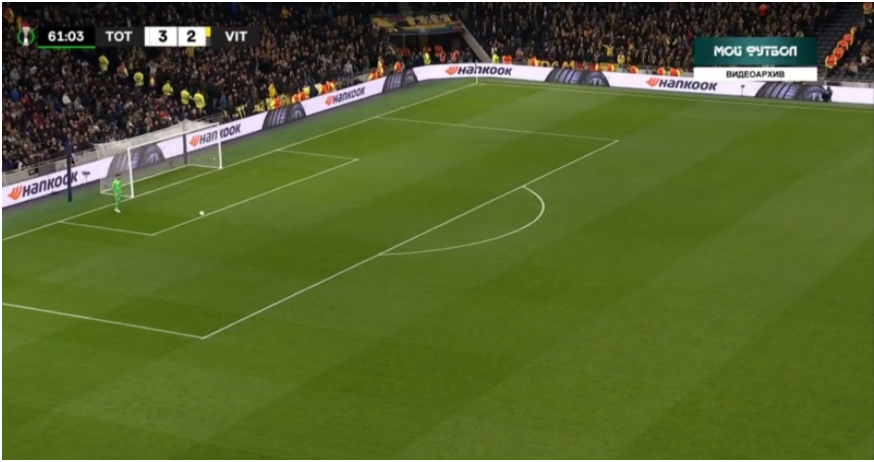 The Vitesse players were constantly trying to foul Kane and rob him of possession, and in the 80th minute, it came back to bite them as Danilo Doekhi picked up his second booking in five minutes and was sent off. Four minutes later, Vitesse were reduced to 10 men as goalkeeper Markus Schubert was given his marching orders.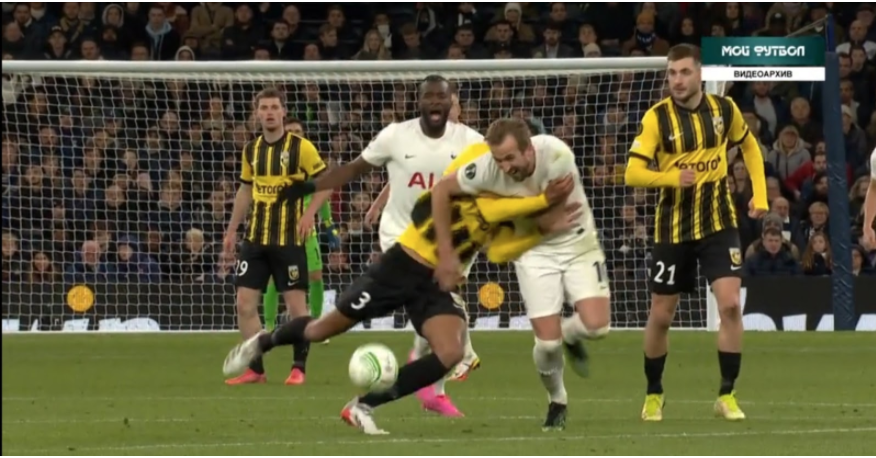 The Up-Back-Through Automatism
One of the most common automatisms of Antonio Conte's teams is referred to as the up-back-through method. We can see an example of this below as Tanguy Ndombele plays a disguised pass to Hojbjerg in between the lines, taking two Vitesse players out of the game, and Hojbjerg then passed it to Harry Winks.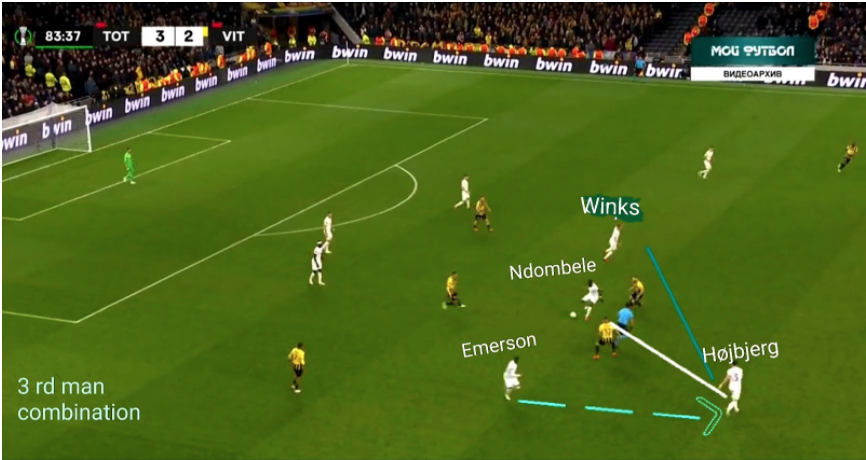 Meanwhile, Emerson has already begun his run to latch onto the potential through ball, and Winks quickly released him and found the Brazilian with a well-timed pass. Emerson arrived in the right time to receive the ball, and the Vitesse players were caught off guard in the vicissitudes of the quick up back through play.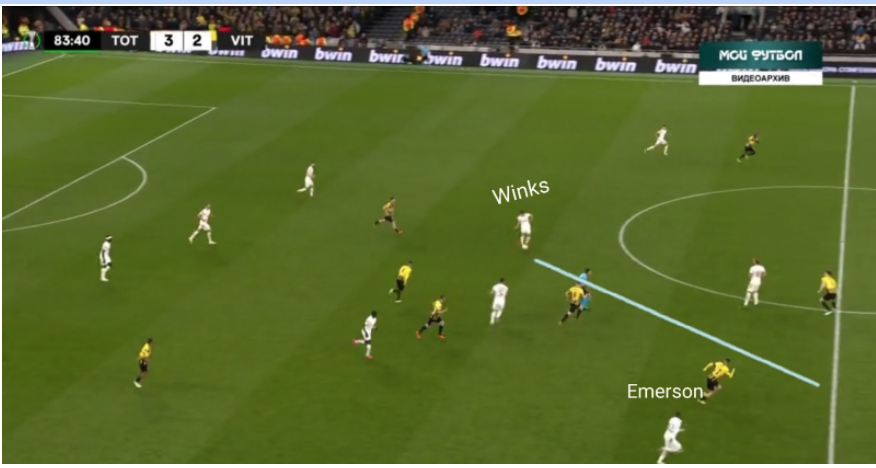 This left former Schalke goalkeeper Markus Schubert with no other option but to push forward, act as a sweeper keeper and prevent Emerson from receiving in an advanced area. But Emerson chipped the ball and Schubert elected to stop the shot with his hands, resulting in his expulsion.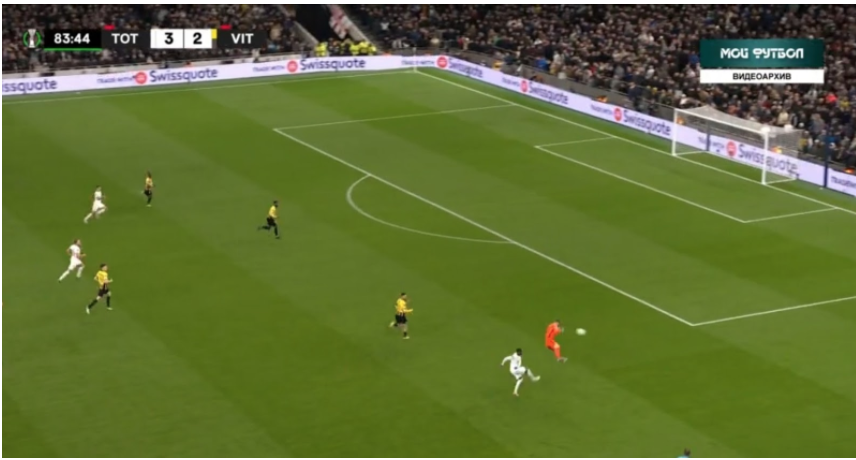 After the two expulsions, Conte demanded his players to play out from the back with carefully coordinated, well-worked passes instead of booting the ball up the pitch, as they had done following Romero's sending-off. Whilst searching for an equalizer, Thomas Letsch was forced to get creative with his substitutions, subbing off striker Thomas Buitink for backup goalkeeper Jeroen Houwen and subbing on defender Alois Oroz for midfielder Sonde Tronstad.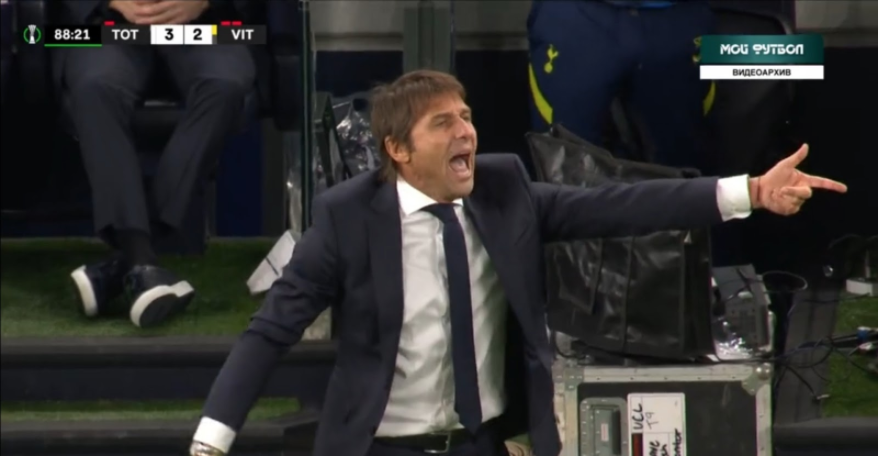 Tottenham had a clear 1v1 chance to make it 4-2 thanks to Ndombele's technical brilliance to beat his man and set up Giovani Lo Celso in scoring position with a superb pass. However, Houwen prevented Lo Celso from getting on the scoring sheet and kept the deficit to one goal.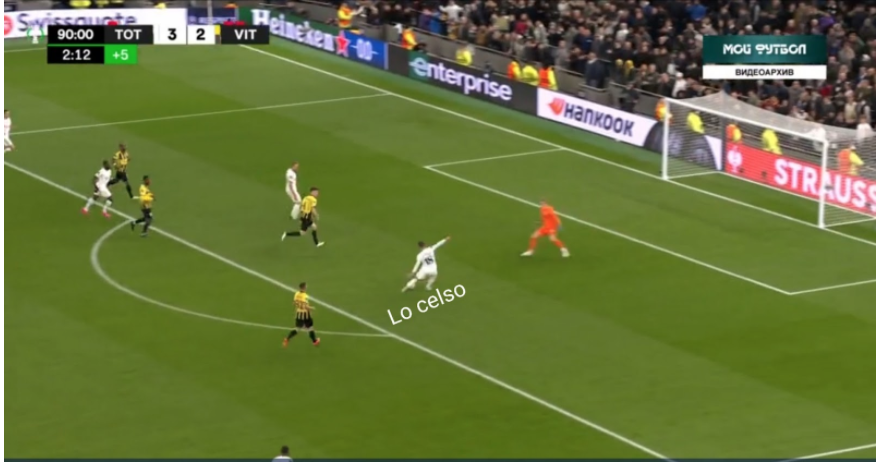 Conclusion
Tottenham's 3-2 victory at home allowed them to leapfrog Vitesse in the standings; with two matches to go, Spurs currently have 7 points whilst Vitesse have 6. Rennes sit atop Group G of the Europa Conference League with 10 points, whilst Slovenian outfit NŠ Mura have picked up zero points so far.
After his first match as Tottenham manager, Antonio Conte stated to BT Sport: "It was a crazy game. Usually, I don't like this type of game – a crazy game means anything can happen. But at the same time, I think we should win and we won. We were winning 3-0 then conceded two goals we can avoid. After a red card, we were in trouble. To win while suffering is good for this team, these players."
"They needed to improve their confidence. They needed to work a lot. The problem is we have to find the time to work. For sure we have to improve. We need to have a bit of patience because we need to work on many aspects – tactically and physically. I'm not afraid about the work. I know only through the work you can reach important targets."
By: @HalfSpaceNatt
Featured Image: @GabFoligno / Tottenham Hotspur FC