Auxerre – Are They Worth Replacing Saint-Ètienne in Ligue 1?
The second most successful French team of all time seemed set to stay in Ligue 1 next year, after a late goal nabbed a draw against Nantes on the final day of the season.
However, in the relegation playoff, Saint Etienne fell on penalties in the second leg to Auxerre, a team who themselves have historical success to boot. They may have resided in the second tier since 2012, but this is still a side that got into the Champions League group stage in 2010.
With one league title to their name, coming in 1996 with Laurent Blanc in defence, Auxerre have waited 10 years to return to their rightful home. The political nightmare of legendary coach Guy Roux warring with Jean-Pierre Papin is behind them, and 64-year-old Jean-Marc Furlan is at the helm.
A coach who last managed in Ligue 1 back in the early 2010s with Troyes might worry some that this fallen giant is set for a quick return to Ligue 2. After all, the French game has come on leaps and bounds even in the last five years alone and is a different place in terms of coaching and player talent to what it was a decade ago.
Saint-Étienne's Season Could Be A Microcosm of Their History – A Tale of Decline & Revival But Will It Conclude With Ligue1 Survival?
However rest be assured, Furlan's Auxerre are a tough team to beat, and they pack a squad that deserved to get promoted to Ligue 1 with only four players aged over 30 years old. They're not the most talented team, but they're one with a clear game plan.
What Do They Play Like?
Furlan's Auxerre line up in a 4-1-4-1 formation, and they have an emphasis on playing with a high line. It has caught them out at times, often pushing boldly high without the recovery speed in defence allowing for it, as it does with Jurgen Klopp's Liverpool for example.
It's also refreshing to see that there are elements of a high press in Auxerre. In fact, according to Wyscout, Auxerre sit 4th in the league for PPDA allowed (Passes per defensive action), allowing 9.57 p90, less than what PSG allow for in the top flight. 
However, it's not a foolproof system and it's likely something that Furlan will ditch in the top flight. Auxerre are continuously caught out on counter-attacks and they allow over eight shots on goal against p90. 
In their late-season game against Le Havre, this was demonstrated perfectly when the defence was far too high up the pitch, and easily got exposed leading to a goal for Pape Ba.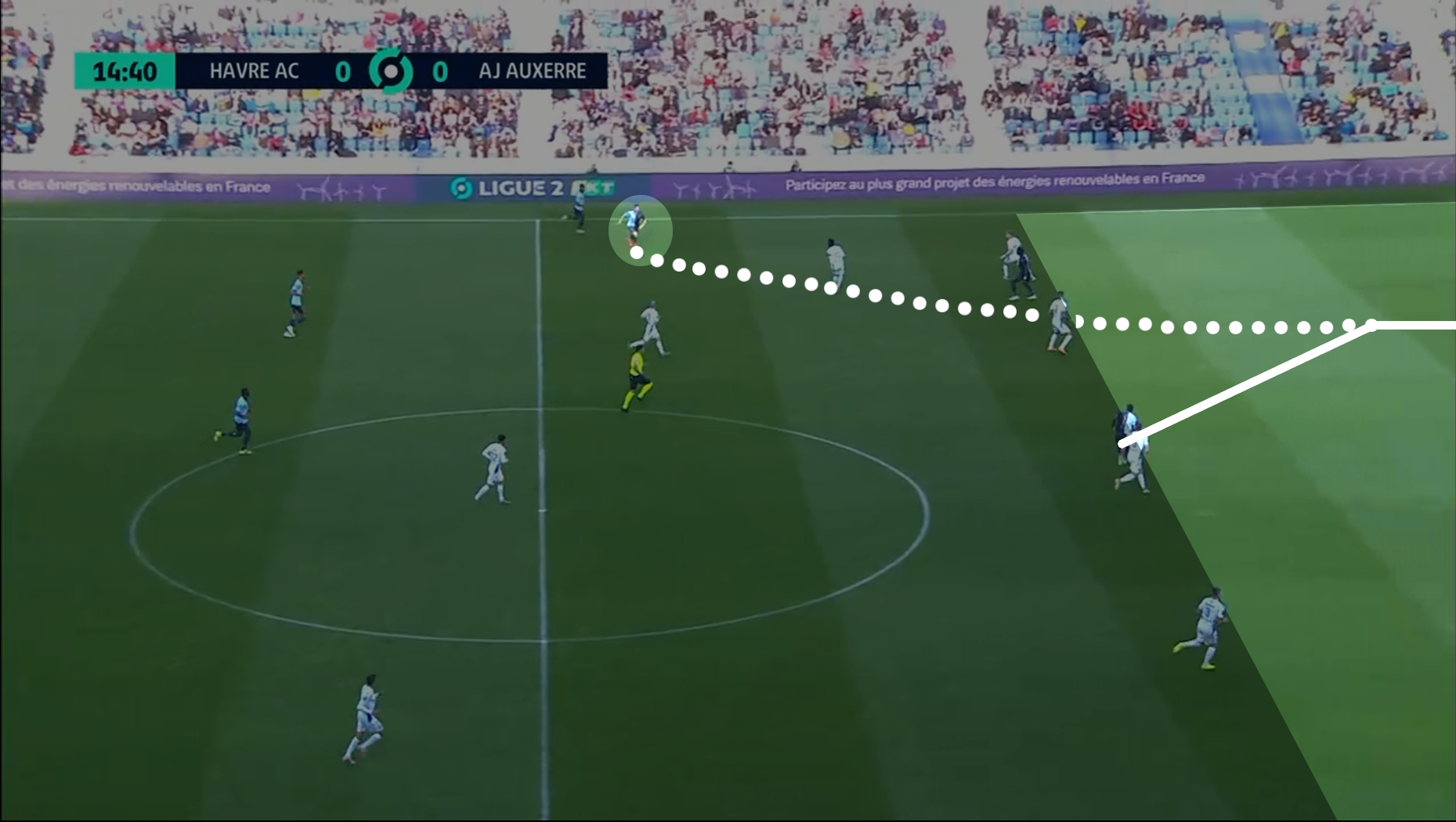 When they have the ball, they look to dominate possession and pin teams back. Their xG per shot stands at  0.11 XG  which ranks in the bottom eight in France, and data from Wyscout shows they are more than happy to shoot from outside of the box. 

That method has worked though, as Gauthier Hein's piledriver away at midtable strugglers Pau attests to. The 25-year-old French forward also happens to be one of the players to watch out for next season.
Players: Gauthier Hein, Acrus, Charbonnier
Hailing from Thionville in north-eastern France, Hein came through the academy of Metz and made 19 appearances for their first team. Since then though, he has toured teams around lower French football until he ended up at Auxerre on 21/22.
Playing mainly off the right armed with a powerful left foot, Hein scored 11 goals and added six assists in the league last season, which was five more than expected. His vision and execution of crosses could be lethal next season if he can make the passes on counterattacks instead of against deeper sitting teams.
Behind him on the right flank is Arcus Carlens, who is also returning to Ligue 1 for the first time since the 25-year-old left Lille in 2017. The Haiti-born right back has caught the eye this season for his charging runs and whipping crosses, seeing him nab four assists last season.
Defensively, Arcus may only be 5ft 9 but he's managed to win over 60% of his defensive duels this season. He may feel quite limited to the right flank, rarely dropping inside, but it will be interesting to see how he readapts to Ligue 1. 
Caption: See 2:17 for Arcus assist, followed by a thumping finish
The key player for Auxerre though will undoubtedly be Gaëtan Charbonnier, the 33-year-old Frenchman who scored 17 goals last season, the second-best in the division.
Charbonnier has played for PSG, Angers, Montpellier, Reims, Brest and now Auxerre, and the towering forward has done well to both score and bring others into play during the season. 
The concern will be if the striker can finally take his great form from the second tier of French football to the top. He's scored 94 goals in the second division across his career, and never scored more than six in a season of Ligue 1 football. In fact, he was demoted to the B-team at Montpellier after joining as a 23-year-old in 2012.
This is a chance for Charbonnier to right the wrongs of his career, and keep the side that has given him an unlikely return to the top of French football. 
So Will They Stay Up?
Auxerre have already started bolstering their squad ahead of the survival campaign, bringing in experienced Guingamp midfielder M'Changama, who hit 24 goals and assists in Ligue 2 last season.
For a side that can boast to be successful and historic much like Saint Etienne, although not quite to the same extent of course, they will be hoping to build upon their legacy in France. This isn't going to be a short stay in the top division if Jean-Marc Furlan can help it. 
By: Alex Barker / @EuroExpert_
Featured Image: @GabFoligno / Icon Sport