Saint-Étienne's Season Could Be A Microcosm of Their History – A Tale of Decline & Revival But Will It Conclude With Ligue 1 Survival?
There is a widely used adage often attributed to Mark Twain that says "history rarely repeats itself, but it often rhymes."  The parallels between the past of one of Ligue1's most celebrated clubs and their present-day-roller-coaster season are eerily similar. 
As the full-time whistle blew & another international break was beckoned into the footballing- stratosphere for the next fortnight, Pascal Dupraz's charges found themselves still in the relegation mire of Ligue 1.
Ten-time French champions Saint-Étienne and Troyes both remain in danger of relegation following their 1-1 draw.
Saint-Étienne have earned eight points after trailing in 2022, more than any other club in Ligue 1 and yet again they were required to fight from behind against fellow basement dwellers Troyes.

Les Verts, one of the great names in French football, came to life in 1919. The club was created for the workers of the Casino supermarket group based in Saint-Étienne, at the beginning 'Casino' was even part of the club's name.
In 1933 the club turned professional and adopted the famous name Association Sportive de Saint-Étienne. Akin to today there was a UK connection amongst the Saint-Étienne ranks when their rise to prominence began.
The club soared to promotion for the first time in 1938 under the watch of former Blackpool hotshot Teddy Duckworth, the British gaffer that was bizarrely miscalled William Duckworth by accident for a spell by French media was headhunted after enjoying managerial success in Switzerland.
Today, there is another Englishman performing heroics for the team from the industrial city, his name and destiny seem to be a by-product of his upbringing. 
The aptly named 'Etienne Green' burst onto the Ligue1 scene almost a year ago when a perfect storm spawned for the young and hungry third-choice keeper, first-choice Jessy Moulin and back-up shot stopper Stefan Bajic succumbed to injury. 
Out of the eye of this goalkeeper-injury-storm emerged the youngster, Green who was born in Colchester Essex to a French mother and an English father, relocated to France at a tender age of four with his family.
Le retour d'Étienne au vestiaire.. 😂

Un souvenir gravé à vie ! 💚 pic.twitter.com/RTvu5DlPsX

— AS Saint-Étienne (@ASSEofficiel) April 4, 2021
His debut could not have gone better, a clean sheet and a notch on his goalpost in the form of a penalty save meant the young upstart was propelled across the headlines. A star was born…
The talented young goalkeeper joined Saint-Étienne's youth academy in 2009 as a nine-year-old and the agile stopper signed his first professional contract with the Ligue 1 outfit in the summer of 2020.
For a spell it seemed the number one jersey of France's most successful club would be Green's alone, he took the mantle of being number one in April 2021 and never looked back.
But alas, the injury rhymes of history chimed and Green himself was struck by injury, prompting the January loan signing of another promising goalkeeper in the form of 24-year-old Paul Bernardoni who arrived on loan from Angers for the remainder of the current campaign.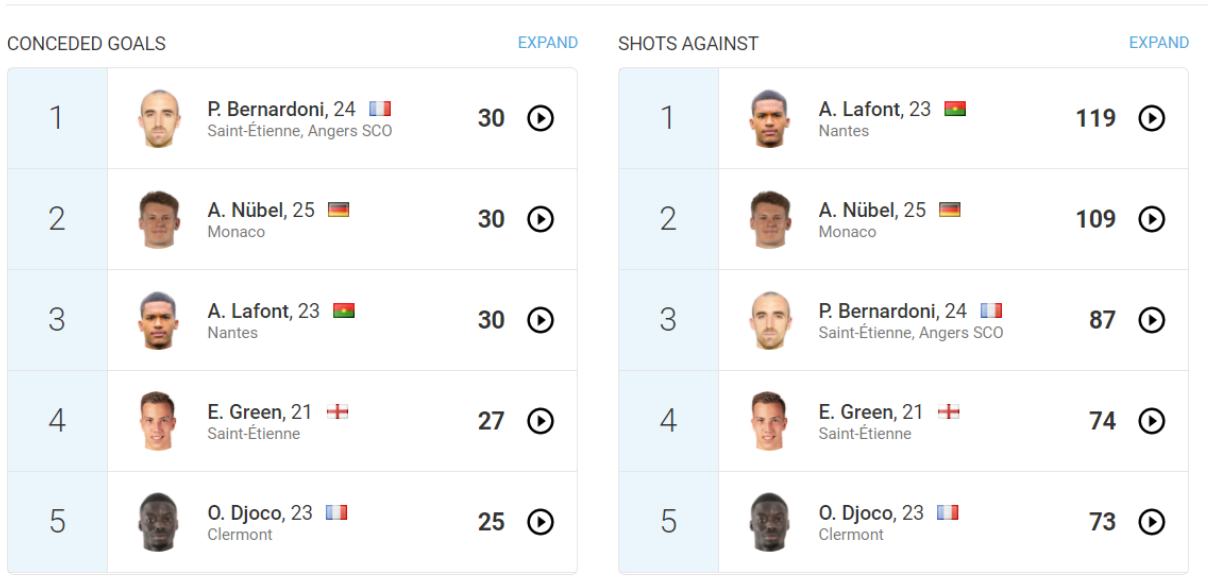 Top Ligue 1 Goalkeepers
Saint-Étienne dominated French football from 1957 to 1981, winning 10 Ligue 1 titles and six Coupe de France honours but akin to many a footballing-pantheon of yesteryear it has been slim pickings ever since. No team has won more Ligue 1 titles than the proud club from the east of France. 
Based in the eponymous "rust belt" industrial city in east-central France, there was a time when the A-Listers of Paris instead of gorging on the footballing talent on offer at PSG used to travel to the humble surroundings of Saint-Étienne to witness footballing royalty on big European nights.
In the 1970s the club was by far the biggest footballing institution in France and one of the best in the world, they did something that not many things in this life can accomplish, they united France & made Parisians travel, such was the spectacle & noise on offer at the Cauldron.
The passionate fans of Les Verts are still haunted by one of those European nights to this very day, for they believe, that only for a curse of square goal posts at Scotland's Hampden Park, Saint-Étienne would have won the biggest European night of them all and defeated Bayern Munich in 1976 final.
The likes of Michel Platini, Herve Revelli, Robert Herbin and Aime Jacquet helped put Saint-Étienne on the map during their golden era that seemed like it would never end, until an illicit-payments-scandal entangled Saint-Étienne into a downward-spiral of engulfing chaos that saw long-time president Roger Rocher quit the club.
Bereft of their president and stability, a downturn in fortunes naturally ensued and club legend Herbin's lengthy stint as manager ended in 1983.
The Rise and Fall of Bernard Tapie's Marseille: Part 6: Le Mec de La Courneuve
Relegation soon followed, and although Saint-Étienne swiftly returned to dine at the top table, they were never quite the same force. 
In more recent times the club has displayed moments of jarringly delicate beauty, bouncing back from relegation in 1996 and 2001 and they have been an ever-present in the top-flight since the 2004-05 campaign. 
What Les Verts have always been good at despite their footballing-future appearing to be forlorn at times, is producing and unearthing players of immense potential and sell-on value.
Barcelona striker Pierre-Emerick Aubameyang, who has scored a goal every 63 minutes in La Liga this season, the best return in the league (300+ mins played), is a perfect example. Selling gems for profit has been a cornerstone of the Saint-Étienne ethos for many a year.

Placing high levels of credence on selling players for profit at the height of their powers can rob football lovers of a valuable totem pole to worship, the infamous charm & allure of the one-club man.
A Steven Gerard-type player can steer a side and unify supporters through the darkest of times and in truth Les Verts have not had a figure of such stature since Loïc Perrin captured the imagination and hearts of supporters.
💚 𝟐𝟒… Il était, est et restera son numéro. pic.twitter.com/mpp5AhBRzE

— AS Saint-Étienne (@ASSEofficiel) November 24, 2021
The stoic Perrin was an emblematic captain, he played his entire career with his home-town club Saint-Étienne.
His final appearance was in the French Cup final of 2020 when he was sent off for a foul on Kylian Mbappe of Paris Saint-Germain as Saint-Étienne lost 1-0, there was to be no fairy-tale ending which is often the way when Saint-Étienne are a variable in a footballing equation.  
The defender joined Saint-Étienne at the age of 12 and went on to play 470 matches for the club and captained the team for more than a decade. He was called into the France squad on a couple of occasions but never won a cap.
Fortunately for Les Verts his story with the club was not over when he hung up his boots, it was merely a turning of the page, today the former legend is a Saint-Étienne director. 
Perrin was the trusty on-field lieutenant of Christophe Galtier during his reign and when je ended his near eight-year tenure in charge of Saint-Étienne in the summer of 2017, the era of the Ligue 1 club punching above its weight appeared from the outside to be potentially ending with him. 
Galtier initially joined Les Verts in 2008 as assistant to Alain Perrin but took over the first team baton when the former Portsmouth and Lyon boss was dismissed in November 2009.
After saving the club from relegation in his maiden campaign, Galtier continually over-achieved with Les Verts finishing in the top five in three successive seasons before ending his last term in sixth.
As the business end of this season approaches the man in the hotseat of the club today is Pascal Dupraz, the club announced the appointment of Dupraz in mid-December tasking the former Evian, Toulouse and Caen coach with pulling the side off the bottom of the Ligue 1 table.
Pascal Dupraz (59) succeeded Claude Puel, who was sacked at the start of December, five-years-ago Dupraz took charge at Toulouse FC as they too sat at the bottom of the Ligue 1 table. 
Under his guidance, Le Téfécé managed to overcome a ten-point gap to beat relegation on the last day of the season, fuelled by a legendary pre-match talk that is said to be still engraved in the memories of those present today.
For many who have not been amongst the passionate ranks of Saint-Étienne supporters, it is hard to appreciate their limitless passion for their team until you witness it firsthand, their home ground is not nicknamed the Cauldron for nothing.
Dupraz was dealt a valuable lesson early into his tenure during the recent crucial January transfer window, L'Équipe reported the new manager accidentally leaked the signings of Paul Bernardoni and Sada Thioub from Angers whilst enjoying dinner in a local steak house. 
Fed up with having dinner at his hotel after joining Les Verts over Christmas, Dupraz and his fitness coach Baptiste Hamid went into the city for a meal and with many a restaurant shut on the first Monday in January, they found themselves in a popular Buffalo Grill.
During the meal, Les Verts director Loïc Perrin called Dupraz to inform him of Bernardoni and Thioub's likely arrivals, although the deals needed to be completed within 48 hours and absolute secrecy was still needed. 
A delighted Dupraz discussed the transfer talk with Hamid over a steak. Obviously, the proposed deals didn't remain secret for long, with reports detailing the transfers plastered across social media by the next morning. 
It turned out that a ASSE fan was sitting at the next table and quickly reported what they heard to the media. As L'Équipe pointed out, Dupraz learned the hard way that everyone supports Saint-Étienne in Saint-Étienne!
Dupraz thankfully is faring better in the relegation battle with the club enjoying a vital recent upturn of results.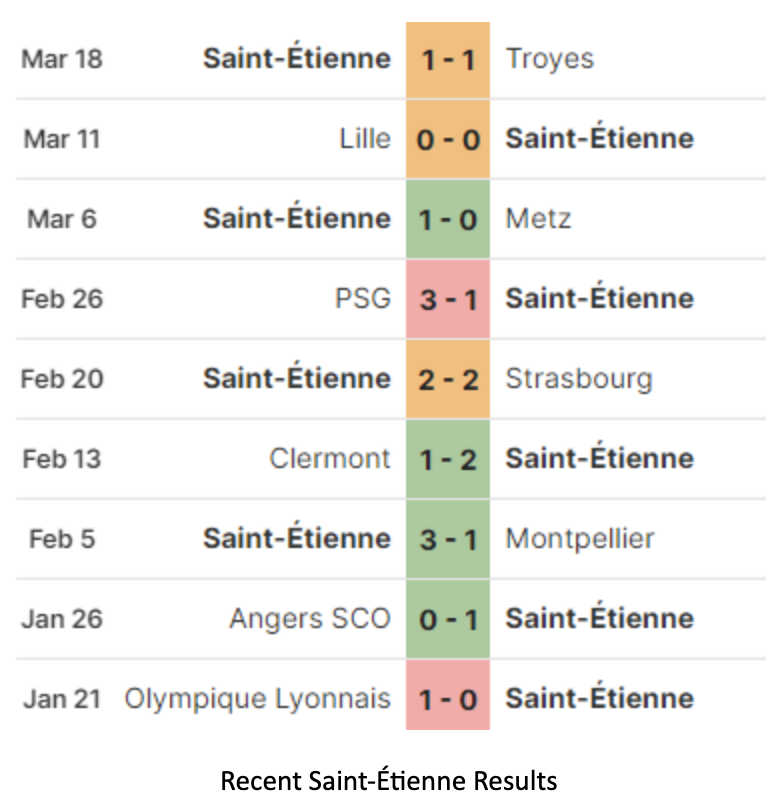 Just maybe that adage attributed to Twain "History rarely repeats itself, but it often rhymes", will chime for Saint-Étienne once again and Dupaz repeats his relegation Great Escape trick. 
Ligue 1 and French football would be a poorer place if this historic footballing institution suffered relegation yet again.
By: Liam Scahill /@LiamScahill
Featured Image: @GabFoligno / Getty Images / Hurlton / Franck Fife/ L'Equipe / AFP