How Can West Brom Cope With the Loss of Dara O'Shea?
Dara O'Shea is the biggest success story of West Brom's Academy in recent years, going from youth player to captain in four years. Now at 24, his £7 million transfer to Premier League side Burnley has helped stabilise West Brom's finances whilst leaving them without their most important defender. So how can they replace him?
The Current Crop
West Brom currently have six senior options at centre back and it is impossible to decide how O'Shea should be replaced without evaluating them first. 
Semi Ajayi's percentiles compared to Championship centre-backs with 15 or more 90s played [@analyticswba]
Semi Ajayi works best when played on the right of a back three, and given the responsibility to step up and make tackles in midfield. Playing on the right of a back three also allows him to carry the ball high up the pitch and make overlapping runs, something he did well under Steve Bruce. He is poor positionally and often relies on his pace to make up for his lack of awareness. He gets drawn to the ball too easily and often looks like a liability. When he came into the team last season his chaotic nature had a negative effect on the team.
Kyle Bartley enjoyed a good run of games when Carlos Corberan first joined as West Brom manager but struggled to get back into the team after his injury. He's a good box defender and wins most of his aerial duels. He worked well in a 4-4-2 mid-block last season and would suit playing in the middle of a back three. He's a threat from set pieces which is something West Brom lacked when he was out of the team.
Martin Kelly was loaned to Wigan in January after arriving at West Brom on a free transfer in the summer. He picked up an injury, which saw him miss the rest of the season, on his debut for The Latics and despite playing well in the few games he played for West Brom he isn't promotion quality. He shouldn't be in the squad next season.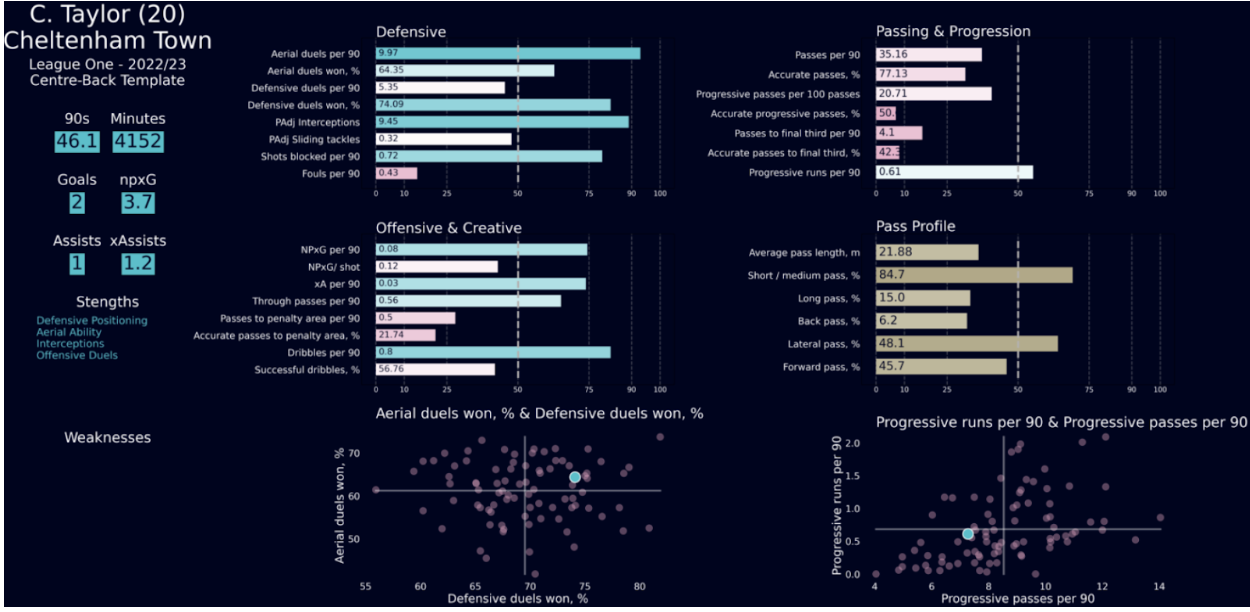 Caleb Taylor's percentiles compared to League One centre-backs with 16 or more 90s played [@analyticswba]
Caleb Taylor making the step up is crucial to West Brom's hopes of promotion next season. He is a tall defender capable of leading a defence despite being 20 years old. He captained West Brom's U-23 Premier League Cup-winning side in 2022 whilst looking impressive in the middle of a back three.
Last season, he won League One and Cheltenham's Young Player of the Year award in the same position. He's an intelligent and aerially dominant defender who defends his box well. He's capable of playing in a high line but doesn't defend wide areas well. He's a threat from set pieces. He's yet to show that ball-playing ability but that could be due to Cheltenham not demanding much from him with the ball.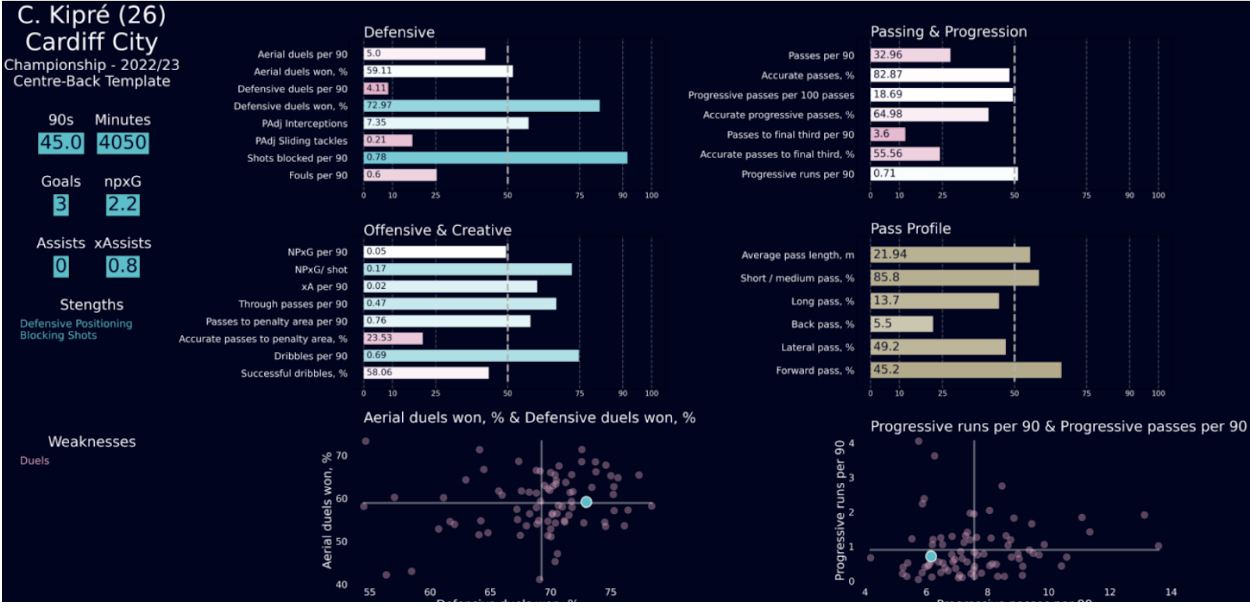 Cedric Kipre's percentiles compared to Championship defenders with 15 or more 90s played. [@analyticswba]
Cedric Kipre is the best fit for a right centre-back role in the current squad. He's a good ball player and can carry out from the back well. He's physically imposing but his lapses of concentration can be a problem. He suits the right of a back three well.
Erik Pieters struggled towards the end of last season. He picked up a knee injury and suffered from the loss of O'Shea more than the rest of the squad. He struggles to play in a high line and lacks recovery pace. The defensive line would need to be dropped to accommodate him but his left footedness and ability to pass through the lines is useful in the build-up. His struggles in aerial duels are worrying.  
Replacement
The simplest way of replacing him would be to sign a new centre back but West Brom's financial situation would make this difficult.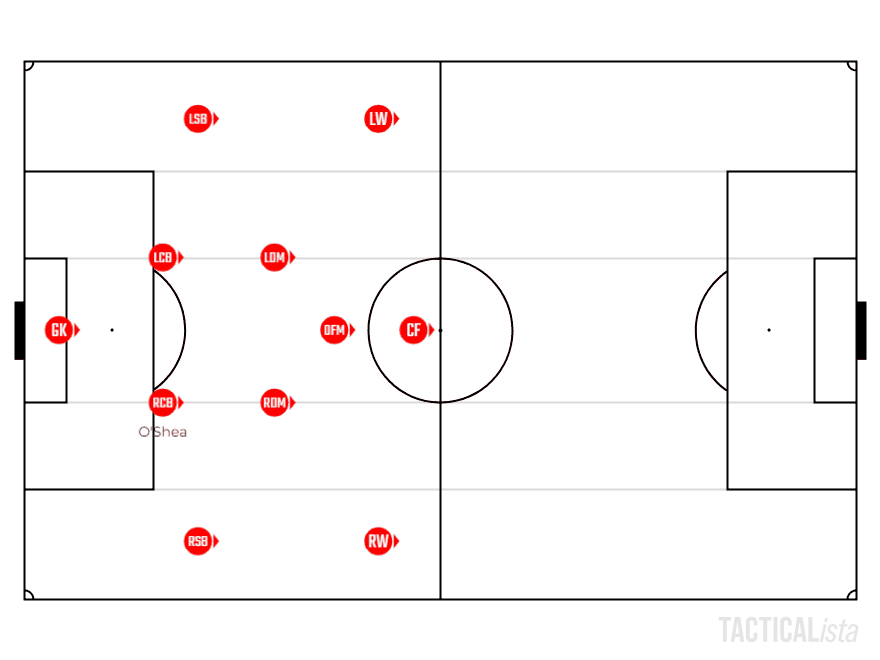 Last season, O'Shea played as the right centre-back in West Brom's 4-2-3-1 system — the Baggies defended in a 4-4-2 mid-block. This, coupled with Pieters' aerial limitations means O'Shea's replacement must excel at defending his box. His replacement must be a capable one-on-one defender as West Brom's fluid 2-3-5 attacking structure meant he had to defend the channels if teams countered quickly down the right. 
O'Shea was West Broms captain last season and was trusted with controlling the defensive line. He decided when to step onto opposing players and was instructed to man-mark dangerous attackers, something I discussed more in my tactical analysis of West Brom vs Coventry City.
Last season O'Shea was pivotal to West Brom's build-up play. He understood when to try and bait the opposing press and when he should play quickly. His injury showed how important his composure, pass selection and press resistance were to West Brom last season and their play looked chaotic with him out of the team. 
Luke McNally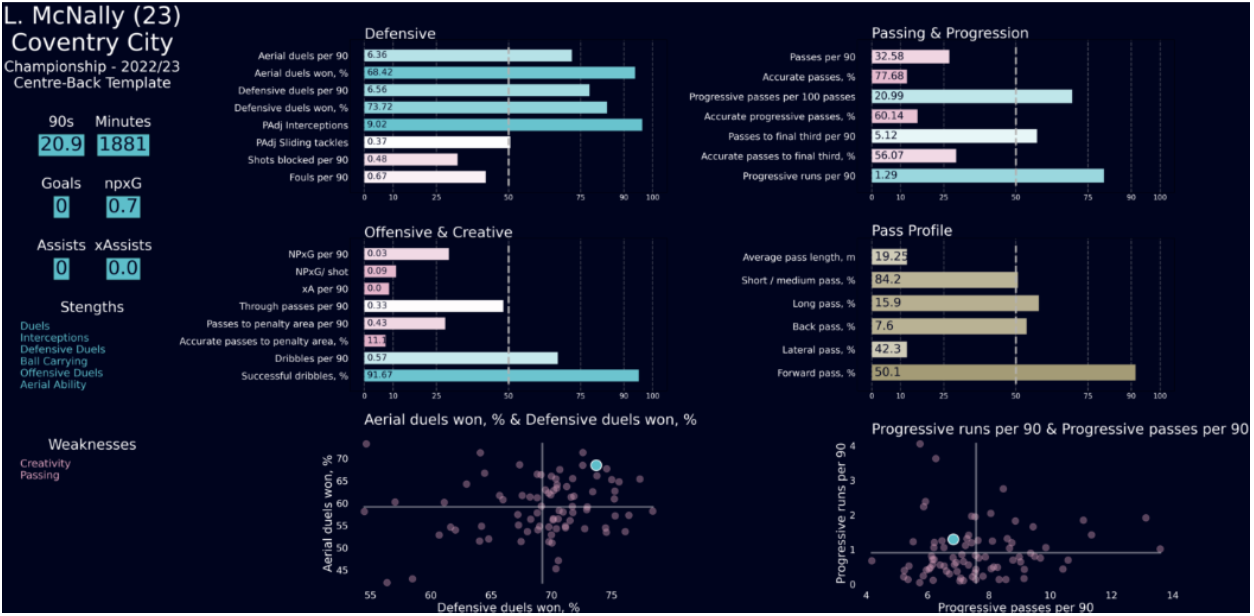 Luke McNally's percentiles compared to Championship centre-backs with 15 or more 90s played [@analyticswba]
Luke McNally was signed by Burnley last summer off the back of an impressive season at Oxford United. He failed to earn a starting spot at Burnley and was loaned to Coventry in January. His form improved in the Midlands and he was pivotal in Coventry reaching the Championship play-off final.
Under Mark Robins' management, he played on the right of a back three. This wouldn't be possible in West Brom's current system but his comfort on the ball is good. He's similar to Ajayi on the ball as they both look to be progressive in their passing but lack accuracy. He's better than Ajayi defensively though. He's excellent one-on-one and reads the game well whilst also being imperious in the air, an upgrade on West Brom's current options but not a perfect fit for the system.
A transfer would be possible as Burnley needs to offload centre-backs and it would be a surprise if they gave minutes to a player they didn't deem good enough for them in the Championship now they're in the Premier League. West Brom would face competition from Coventry.
In-house Solution
The current personnel may see Carlos Corberan return to the 3-4-3 and 3-5-2 formations that he succeeded with at Huddersfield following the sale of O'Shea. The loss of his technical quality in the build-up means West Brom must be more direct next season.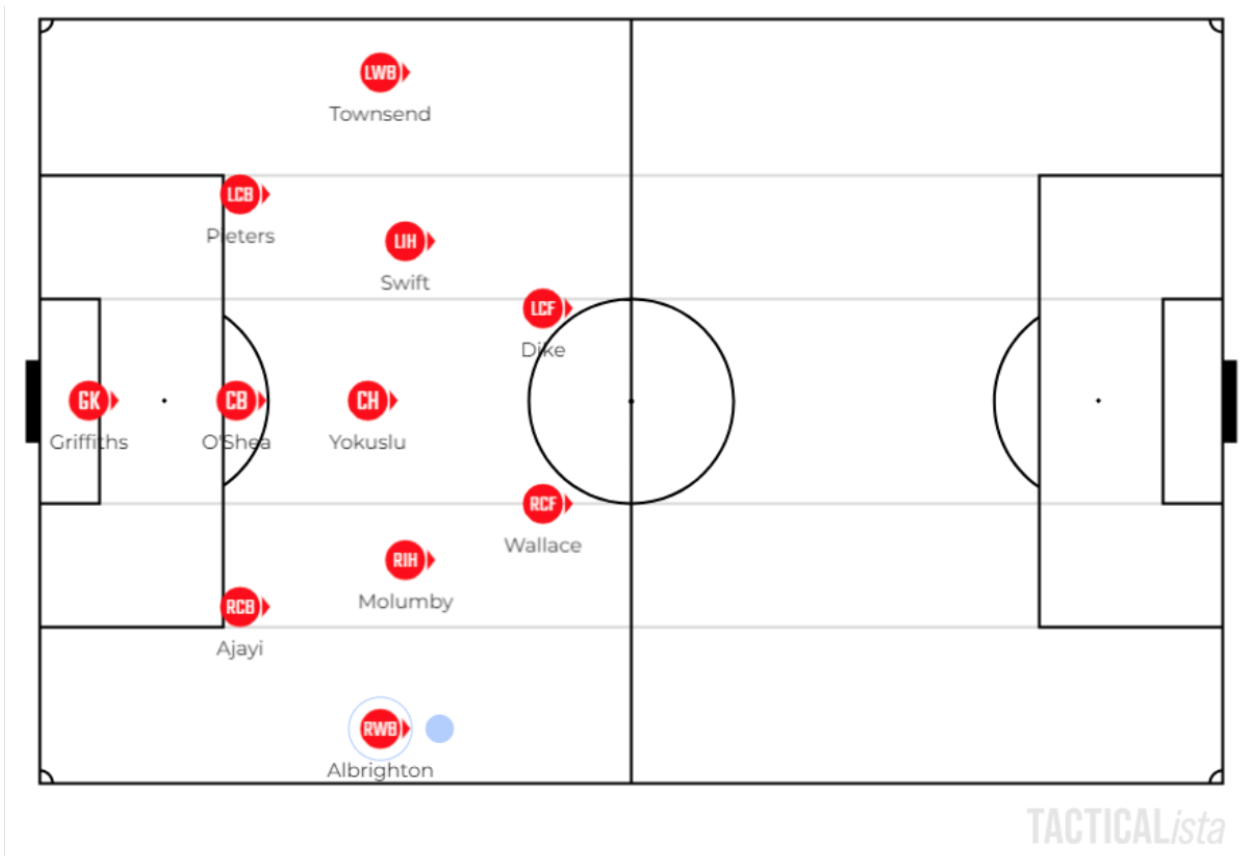 West Brom's line-up vs. Cardiff City
He used a 3-5-2 in their 1-1 draw with Cardiff last season. The change came as a result of a few poor attacking performances and worked well. The main issue with it was that it relied heavily on Daryl Dike's inconsistent link-up play. Corberan tried to solve this by playing a front two of Jed Wallace and John Swift in the 2nd half. West Brom looked assured defensively and Ajayi was able to step into midfield to make tackles. 
Structure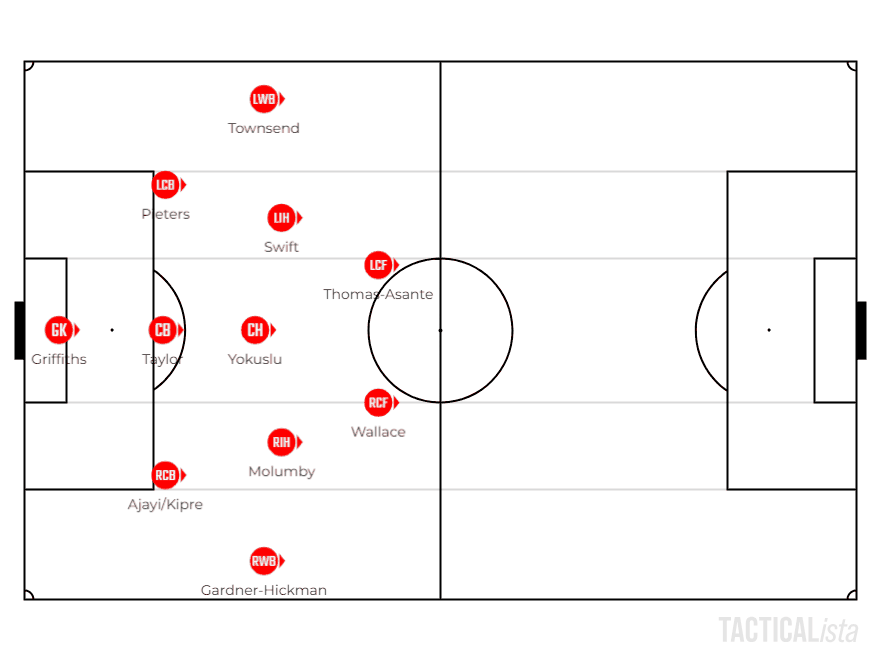 West Brom's potential line-up next season
If West Brom were to set up in a 5-3-2 formation next season they'd be able to attack in either a 2-2-3-2 or a 3-2-3-2 whilst also maintaining the right-hand side rotations that were effective last season. Ajayi would be given licence to make tackles in midfield whilst also having the responsibility to defend his box.
Neither Ajayi nor Kipre are perfect. Their usage next season should be situational. In matches where West Brom look to dominate, Ajayi should play as his tendency to step up and make tackles in midfield will help them box opponents in with aggressive pressing. His overlapping runs could also be effective in breaking down low blocks. Kipre should start in matches where they will concede territory and are forced to defend their box more.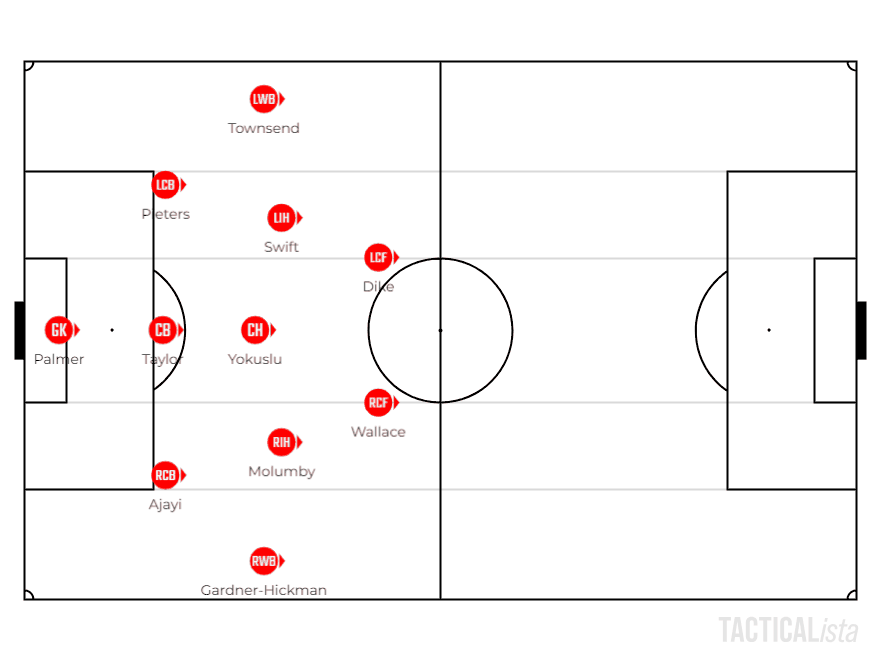 West Brom's potential 5-3-2 transitioning to a 5-4-1
Defensively, they could drop into 5-3-2 and 5-4-1 blocks. The latter would be achieved by Wallace dropping into right midfield. Tom Rogic did this when West Brom switched to a 5-3-2 against Stoke City in Corberan's fourth match as West Brom boss.
Jed Wallace
Against Cardiff, Jed Wallace assisted Daryl Dike's goal with a cross after moving to the right wing. It happened often and was an example of how Wallace can be a multi-faceted threat in the final third. His runs in behind caused problems and he was unfortunate in front of goal. Despite that, his finishing last season was cause for concern. He lacked composure one on one with the keeper and seemed to pull back on most of his shots which led them to go over the bar.
Gardner-Hickman over Furlong?
Darnell Furlong can't play as an overlapping wing-back. His crossing is inaccurate and he struggles to beat his man. Taylor Gardner-Hickman isn't perfect either. His delivery from deeper wide areas is excellent but it's poor when closer to the byline. He is comfortable operating centrally though which makes the right-sided rotations more fluid. His lack of defensive awareness is a problem but it can only improve with game time.
Build-up
The loss of O'Shea means West Brom have to be more direct in the build-up. With the current personnel, this might be difficult. Last season Thomas-Asante struggled when asked to hold up the ball and act as an outlet. This makes a pairing with Wallace troublesome as Wallace's main threat is runs in behind too. What the strike force may be able to do is stretch defences and create space for the midfielders. 
West Brom's build-up structure
When West Brom attempt to play out from the back they should use a 5-2-3 structure. They could do this by pushing Gardner-Hickman to the forward line which allows Ajayi to move into deep right zones, where he is most comfortable on the ball. Ajayi shifting means Taylor can shuffle right, creating space for a more technically secure midfielder to drop into the defence and receive the ball from Alex Palmer. I believe Molumby suits this role better than Okay Yokuslu as he is more fluid on the turn.
Final Thoughts
West Brom playing a back three next season is a possibility. The only player they've been linked with this window is former Exeter wing-back Josh Key which indicates a tactical shift. It's a logical change and it would work. In the short term, the players are there to make it functional and West Brom could be in the hunt for promotion with the right signings. If they could sign Luke McNally this switch may not be necessary but it'd still be possible. McNally is familiar with this type of system and excelled on the right of Coventry's back three last season.
By: Rickylee Griffiths / @rickyleegriffi2
Featured Image: @GabFoligno /  Adam Fradgley / West Brom