How Lionel Messi Could Fit in at Manchester City
The biggest transfer saga of the summer ended up with a whimper, not a bang. After weeks of speculation, Lionel Messi announced his decision to remain at Barcelona for another season, continuing his legendary 19-year-spell at the Catalan club. While Manchester City will be disappointed in their latest failed attempt to pry the Argentine superstar away, there is a silver lining for them.
Messi's contract at Barcelona expires on June 30; whilst City would have likely been forced to pay a club record transfer fee as well as send a key player to Barcelona in exchange for Messi, they will be able to sign him on a free transfer in less than a year. From the tone of Messi's interview with Goal's Rubén Uría on September 4, it doesn't seem like much has changed in his desire to leave.
"I am going to continue in the club because the president told me that the only way to leave was to pay the clause, and that this is impossible. There was another way and it was to go to trial. I would never go to court against Barcelona because it is the club that I love, which gave me everything since I arrived."
Whilst embattled president Josep María Bartomeu resigned last month, there are plenty of other reasons which could see the Argentine depart Spain at the end of the season. Let's take a look at how Messi could line up for Pep Guardiola's Manchester City in 2021.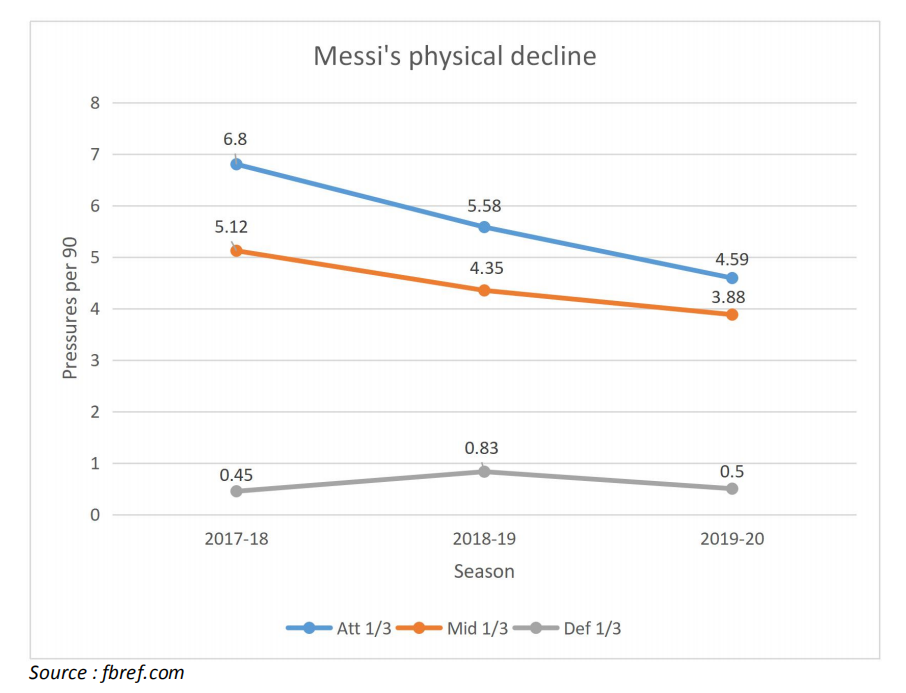 While Messi is still arguably the best footballer on the planet, he isn't anywhere near as physically dominant as he once was. Using data from fbref.com, we can see that Messi's pressures per 90 in the attacking and middle thirds have seen a steady decline, so he would not be able to lead City's press from the front as effectively as their current forwards.
Pep Guardiola has usually set his side up in a 4-3-3, with the wingers expected to hold the width in order to open up the half spaces for their free 8's to operate in, with the fullbacks moving centrally to take up the space vacated by their advanced midfielders. While this is not set in stone, the idea is to have players occupying these zones (the half space, wing and centre) at all times to effectively create space on the pitch.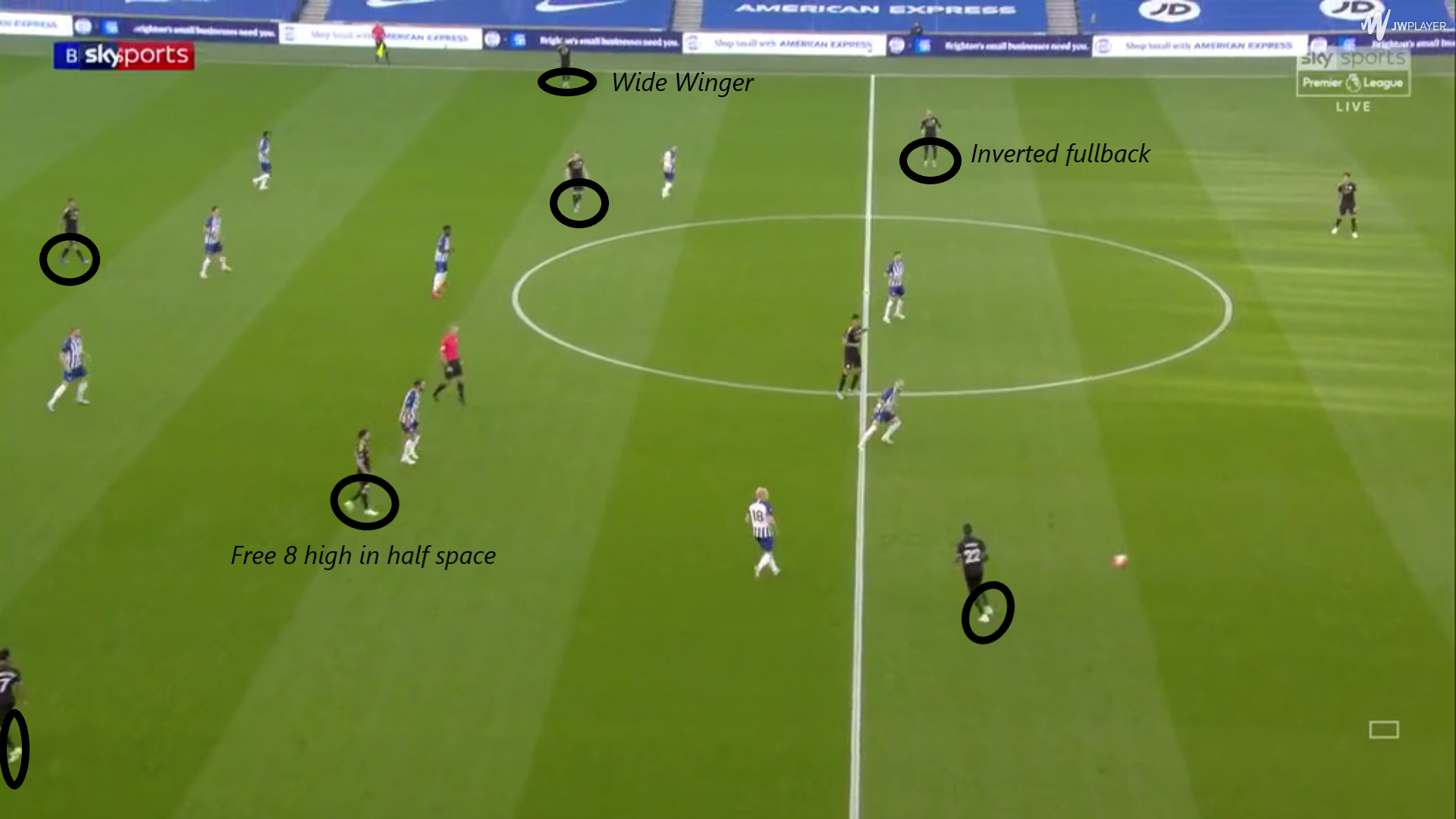 Here we see Manchester City's shape in possession, narrow fullbacks with high central midfielders and wide wingers, forming a 2-3-5 in possession. 
Out of possession, they drop into a 4-1-4-1 and look to press aggressively in a 4-4-2 / 4-2-3-1, with a central midfielder joining the striker up top to press, and this pressing is key to their game plans, as it allows them to regain possession quickly and start patiently building attacks.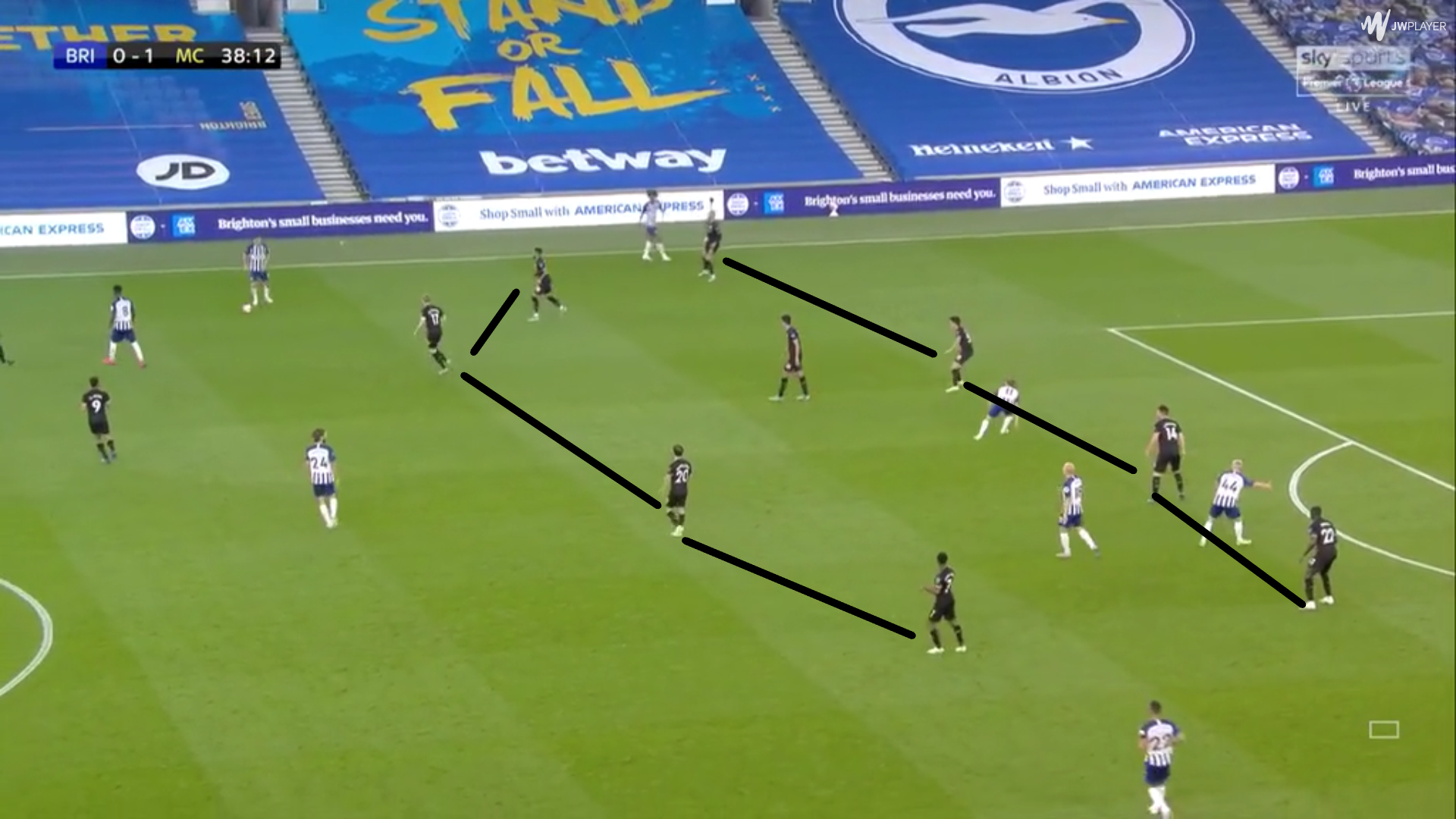 Here we see their defensive 4-1-4-1 formation with the near side central midfielder stepping out to press. 
Lionel Messi's Tactical Profile
Despite most often starting out on the right wing, Messi almost never plays as an actual right winger, instead coming centrally and looking to pick the ball behind the opposition's midfield and run at their backline, in order to create chances for teammates as well as create shooting opportunities for himself, leaving space out wide to be occupied by an attacking fullback.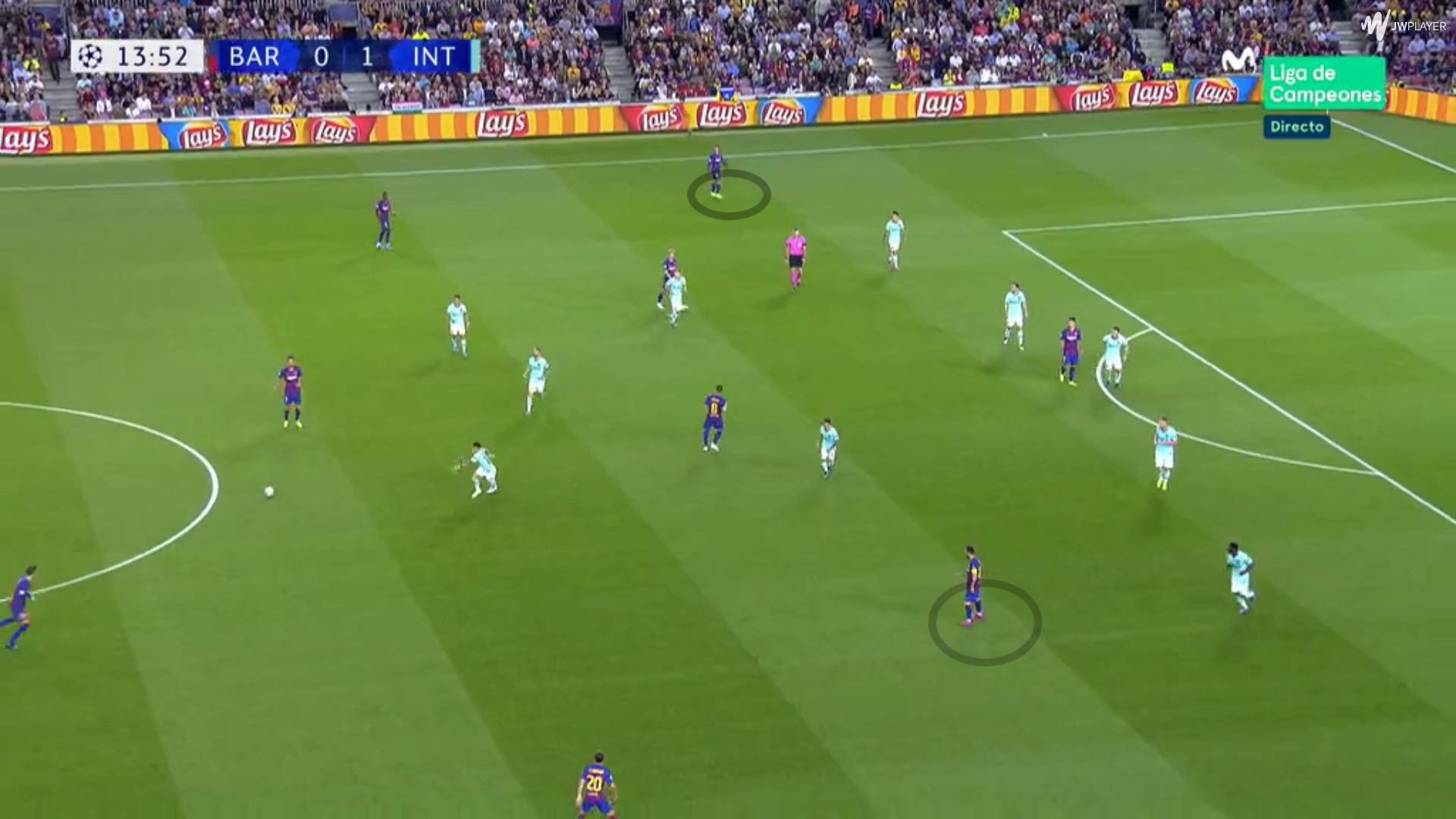 Here Messi has dropped deep behind Inter's midfield to receive the ball, contrasting that with Antoine Antoine Griezmann's positioning on the far side. 
This positioning has meant that only Arthur has been a passing target more often than Messi in the Barcelona squad last season, as these dropping movements into the right half space has made Messi be more of a creator compared to earlier on in his career, when he cut inside from relatively higher positions, and also made runs in behind the opposition backline to get into goal scoring positions.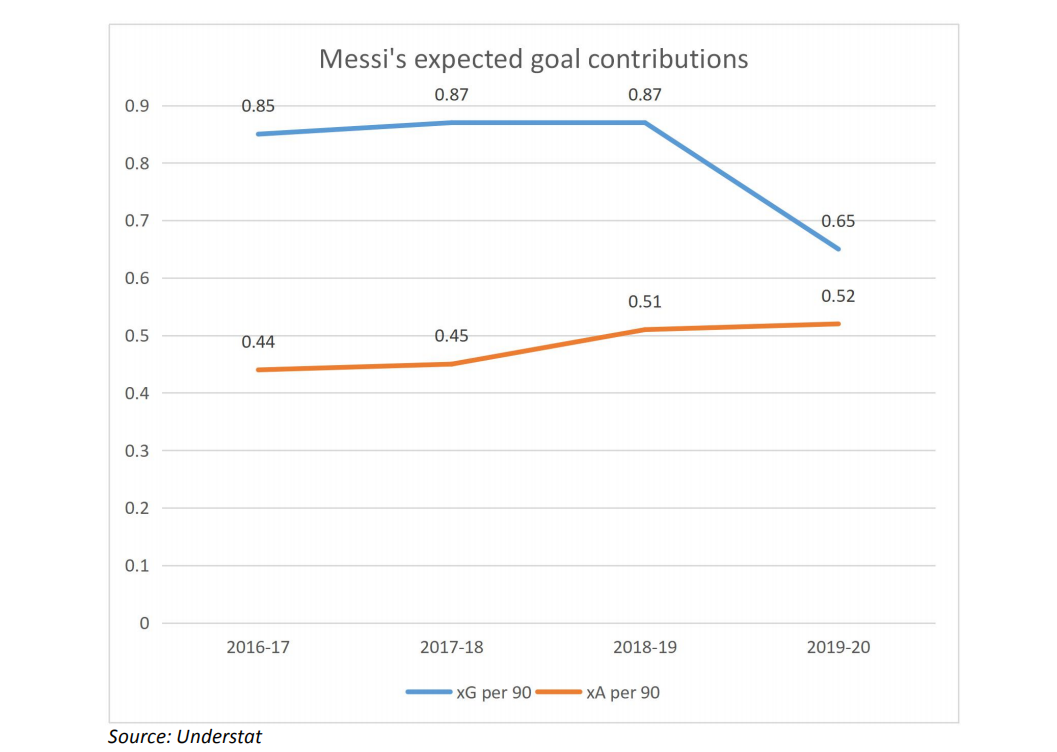 Messi's xG decline is further compounded by the fact that he was on 0.89 and 0.96 xG per 90 in 2015/16 and 2014-15 seasons respectively, while in the 2019-20 season he posted his best ever numbers for xA per 90, according to Understat.
Furthermore, Messi's lack of willingness to track back and help out his defense can prove to be a liability for teams when they are caught out on the counterattack.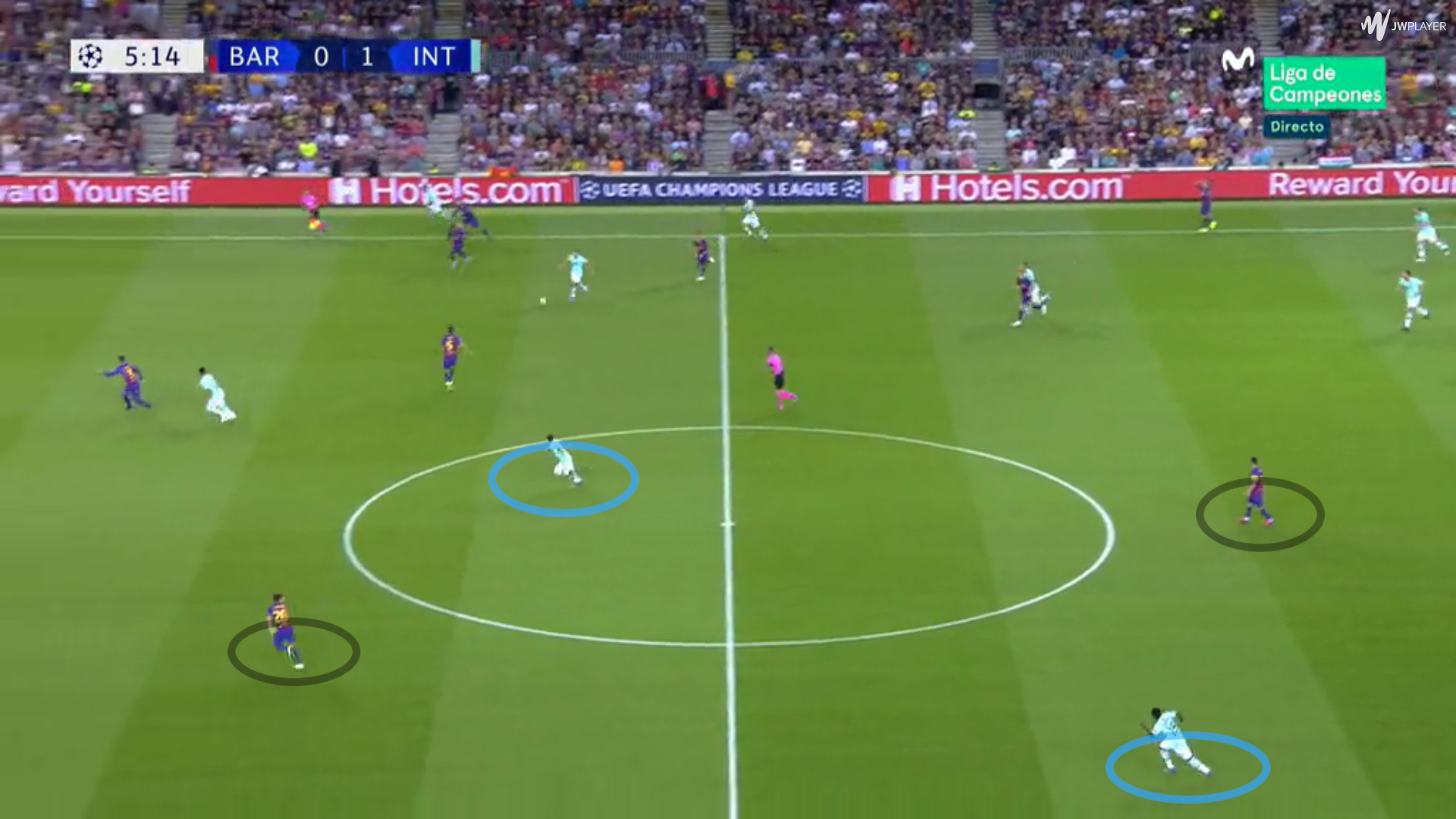 Here, Barcelona have lost the ball against Inter, but Messi doesn't make a recovery run, leaving Sergi Roberto in a potential 2v1 situation with runners either side of him. On the other hand, the Manchester City wingers are expected to make such recovery runs to help out their fullbacks.
Not only does Messi frequently drop into the right half space to pick up the ball (the same zones that Kevin de Bruyne tends to occupy), he is also defensive liability on that side as he often fails to track his fullback and does not contribute to the press, as seen in the below heat maps.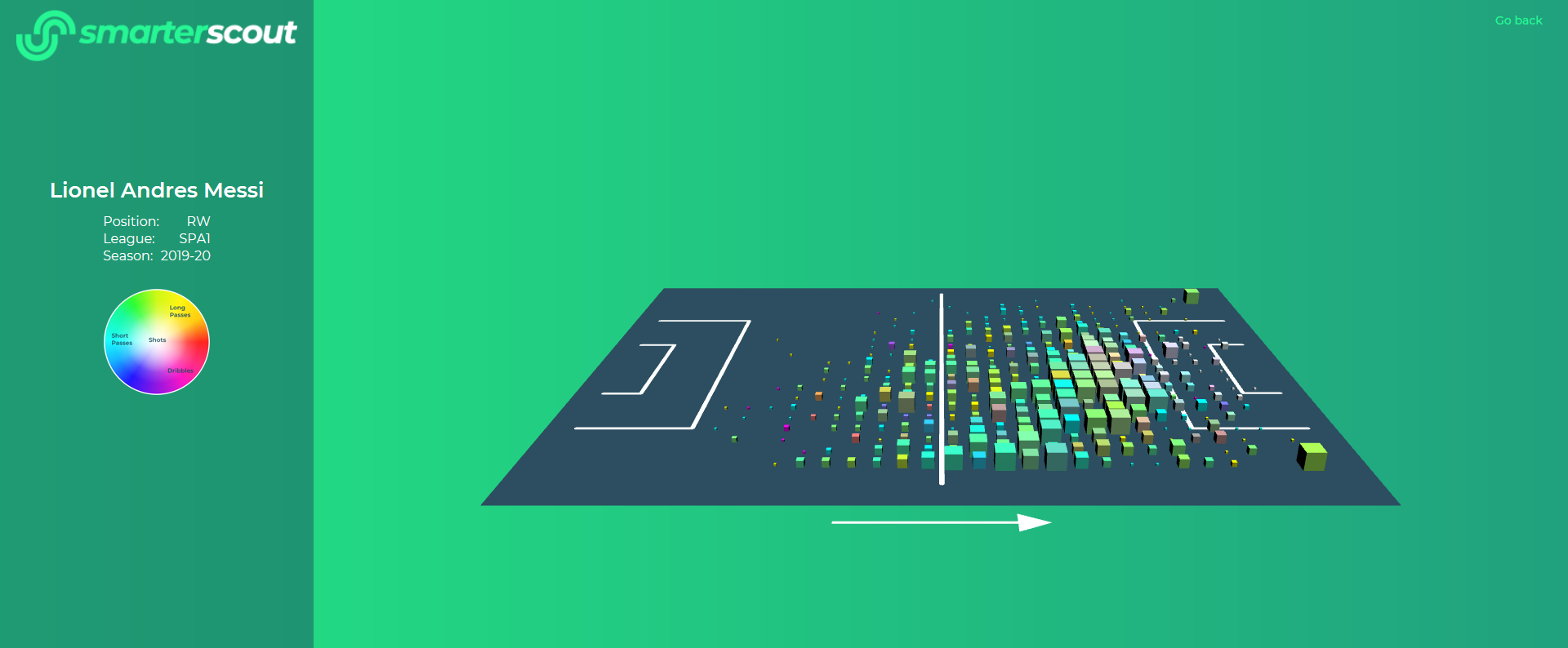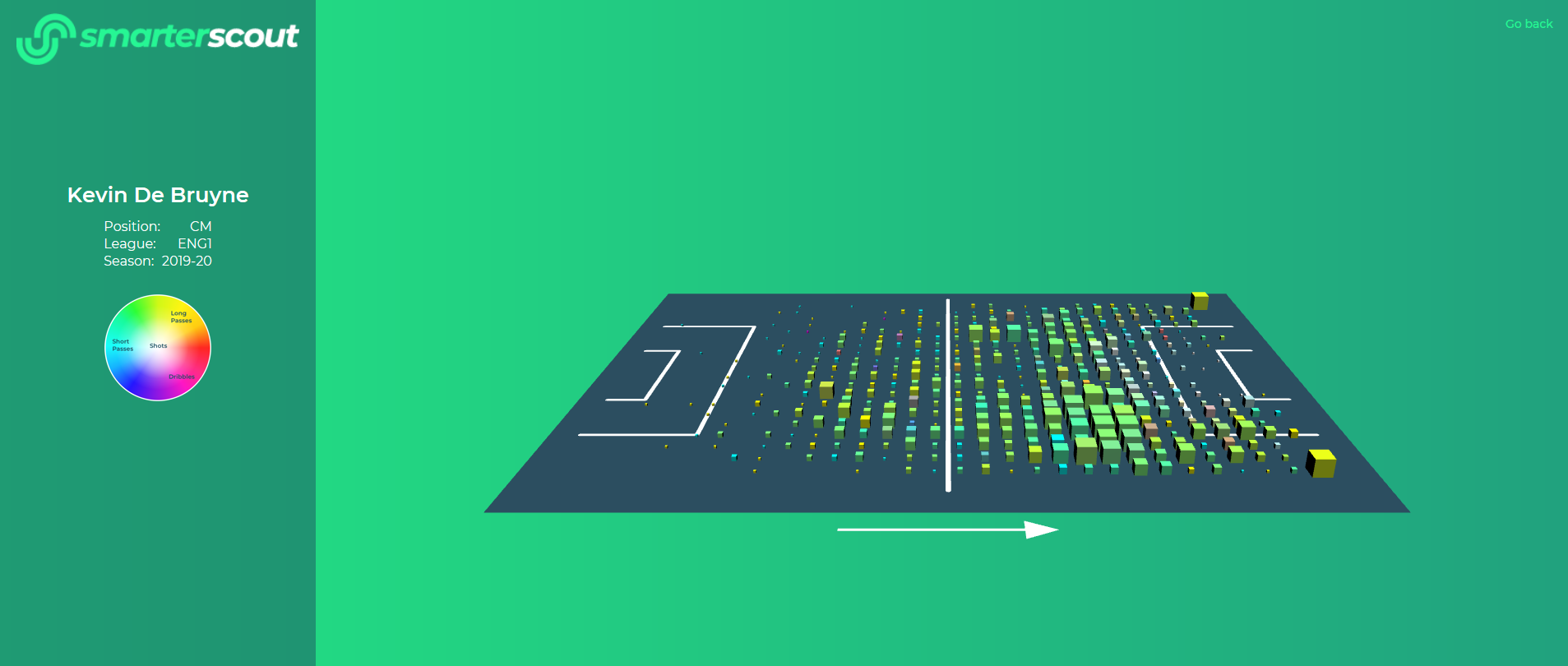 Here are two ways that Guardiola could utilize Messi at Manchester City.
False 9
Guardiola could return Messi to the role he played his best football in order to maximize his output without sacrificing the defensive structure of the team, but the question is what pieces Guardiola would fit around him?  The first tactical change could come in form of the pressing structure; whilst City currently press in a 4-4-2/4-2-3-1, this could be adapted to a 4-3-1-2 pressing scheme to fit Messi's lack of work rate off the ball.

Messi isn't going to lead the press from the front, so he should be supplemented with willing pressers either side of him, which makes a strong case for Gabriel Jesus, who averaged 10.6 final third pressures in the 2019/20 season and Raheem Sterling, who also is a willing presser with 5.7 final third pressures to feature either side of him. Both players are diligent pressers who are also capable of tracking back and aiding their fullback on the defensive end.
Riyad Mahrez could also do a job there as he also is an efficient presser and has improved his defensive game since arriving at The Etihad. Rather than the striker leading the press from the front in, Guardiola could tweak his system to have the wingers lead the press, with the striker (Messi) sitting on the opposition pivot as Bayern Munich and Liverpool do so well, by having their wingers press the opposition center backs whilst having the opposition fullbacks in their cover shadow.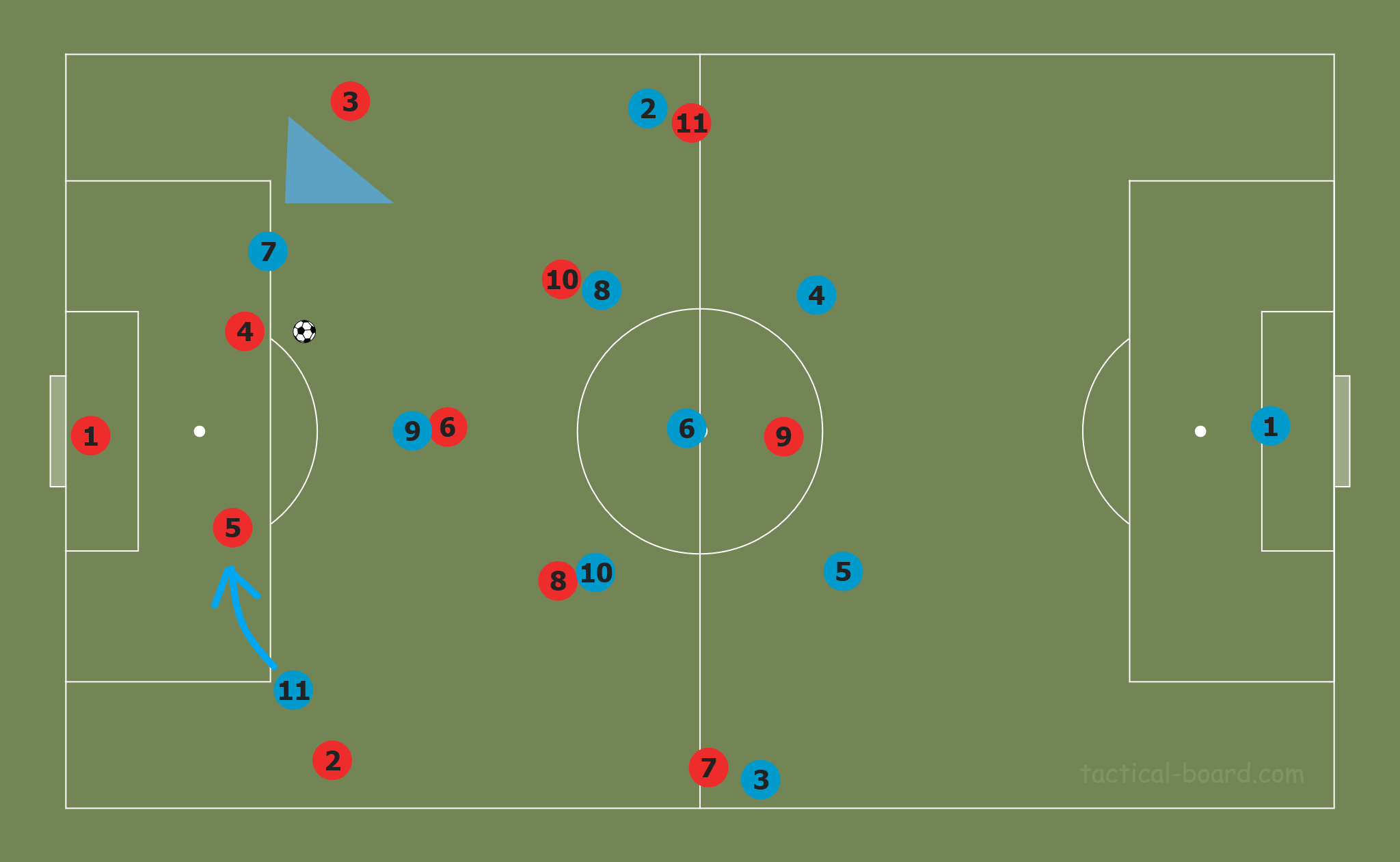 Manchester City's potential pressing structure with Messi in the team 
Manchester City's wingers would be tasked with pressing the centre backs the center backs while keeping the fullbacks in their cover shadows, while Messi sits on the opposition pivot and blocks passes into the midfield.
This strategy could protect against the opposition from manipulating City's press; if the opposing goalkeeper does manage to bypass City's press by playing chipped passes into the fullbacks, their midfield three could shift over, with the near-side central midfielder engaging the fullback. This is a similar strategy to Liverpool's pressing scheme.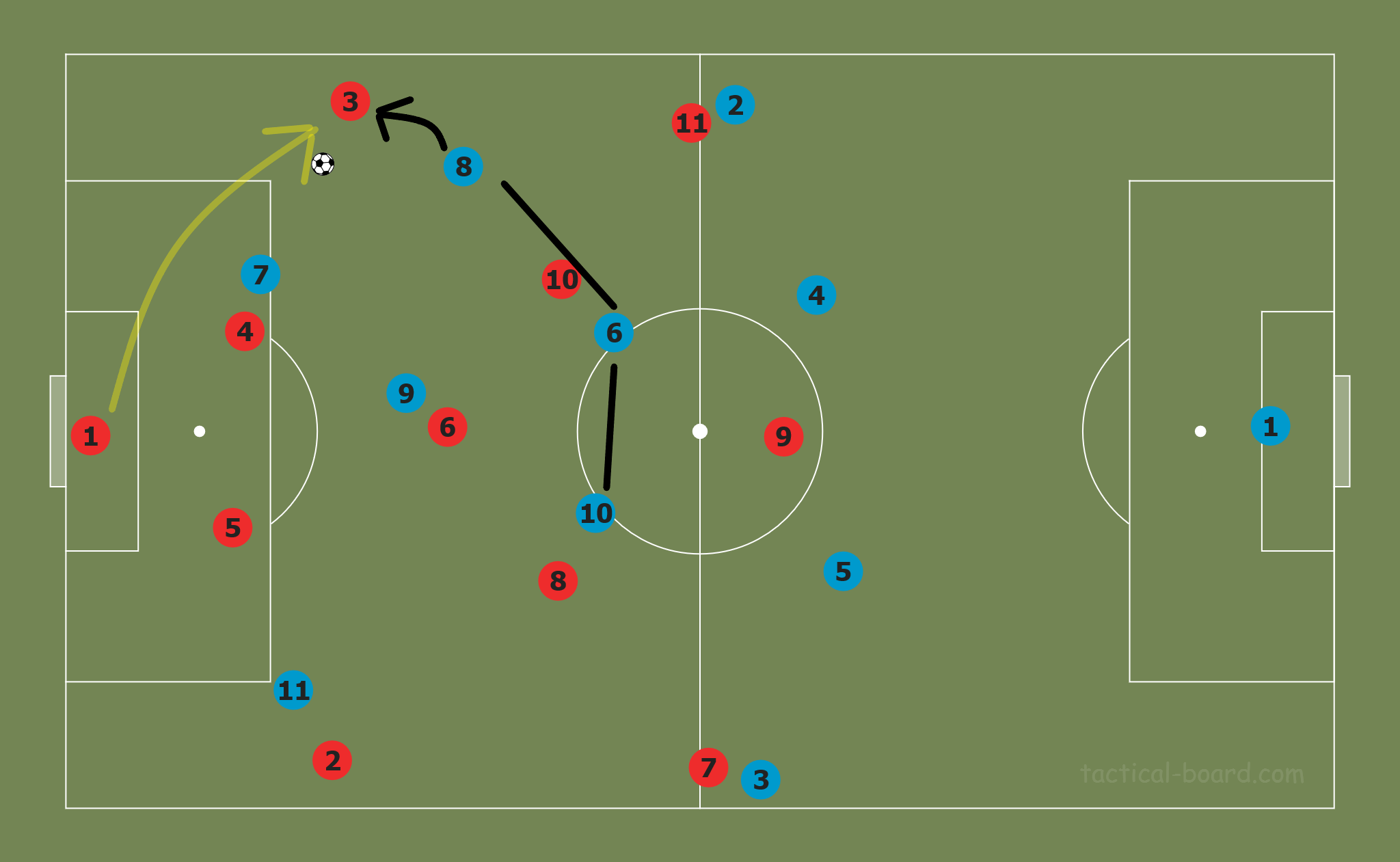 Liverpool's pressing structure
While this approach works thanks to diligent runners in midfield such as Jordan Henderson and Georginio Wijnaldum, City aren't blessed with the same kind of workhorses in the center of the pitch, especially with Fernandinho set to turn 36 years of age at the end of the season.
Instead, City will need their fullbacks to stick closely to the opposition fullbacks. Kyle Walker's athleticism and speed will allow him to tightly mark the opposing fullback, although City are in dire need of a more athletic left back who boasts the pace to defend long balls in behind the backline.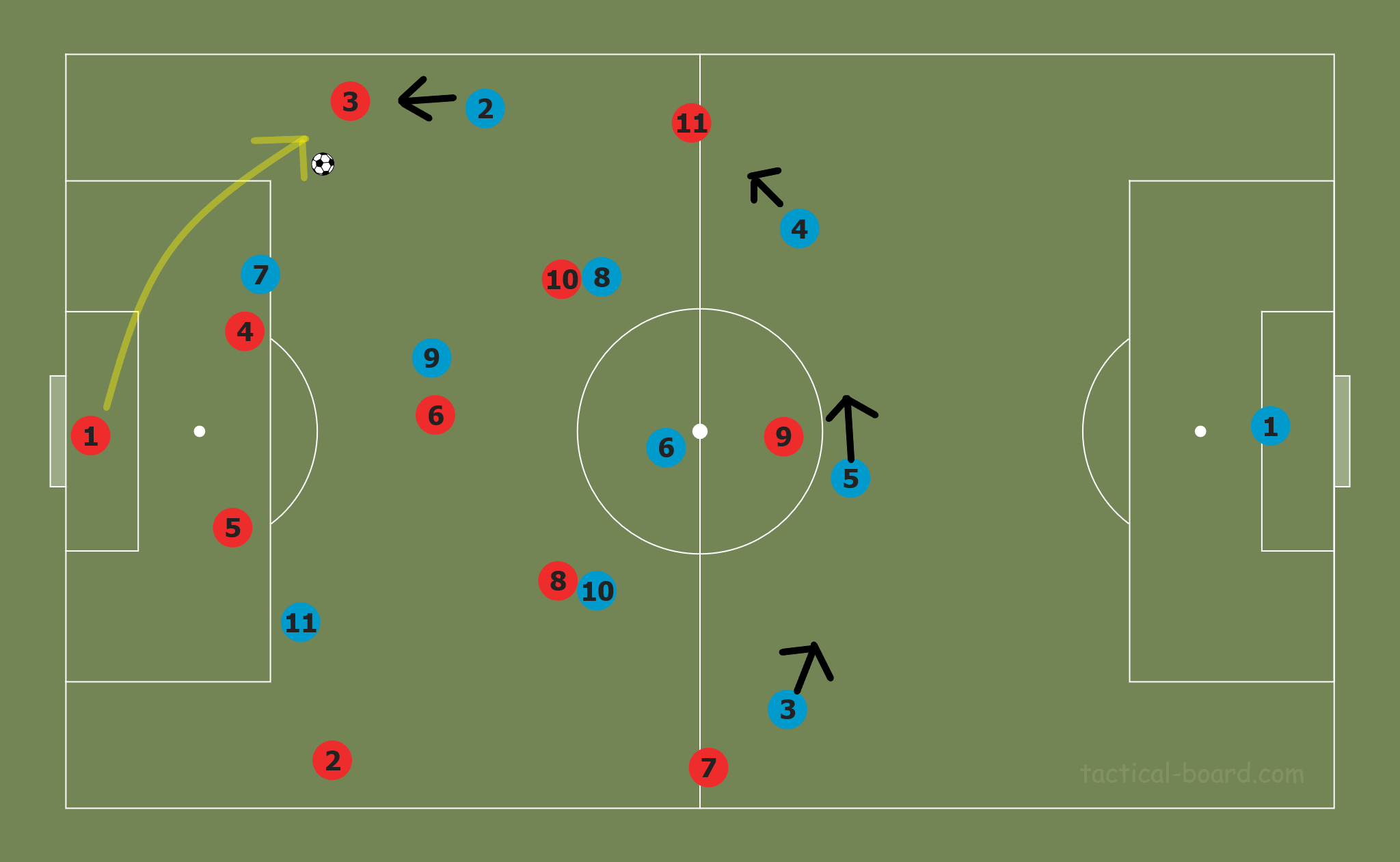 City's potential pressing scheme 
Messi isn't a traditional center forward, and although Jesus is a dynamic forward, he is first and foremost a striker, so a case could be made for him to not hold the width as the City wingers normally do but move inside to act as an inside forward, thus bringing him closer to goal and threatening the opposition with runs in behind, which could in turn create space between the lines for Messi to operate in.
The Brazilian striker is no stranger to this role, having performed it this season in the Champions League Round of 16 against Real Madrid, tracking Dani Carvajal and making diagonal runs to get in behind the Madrid defence.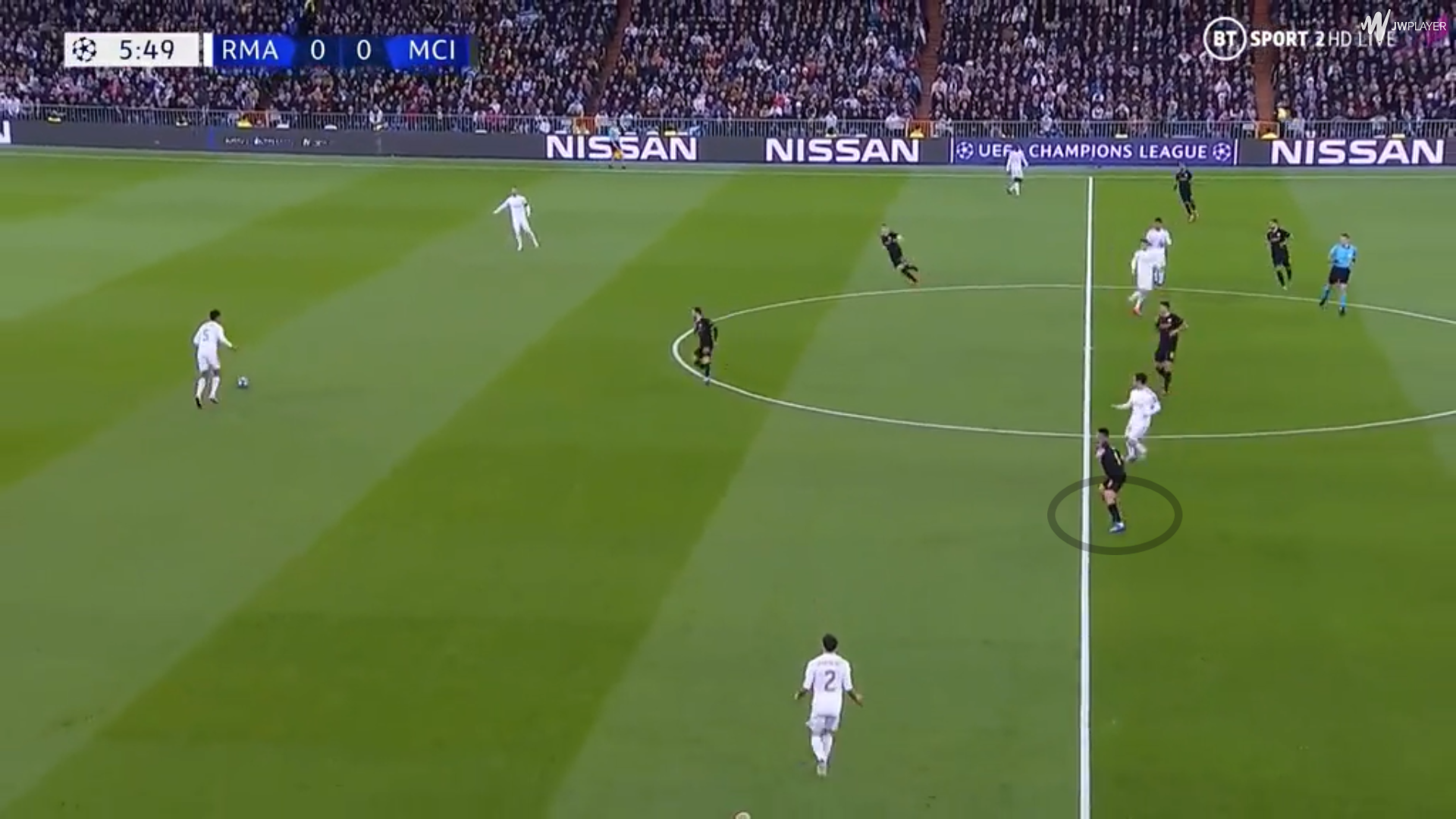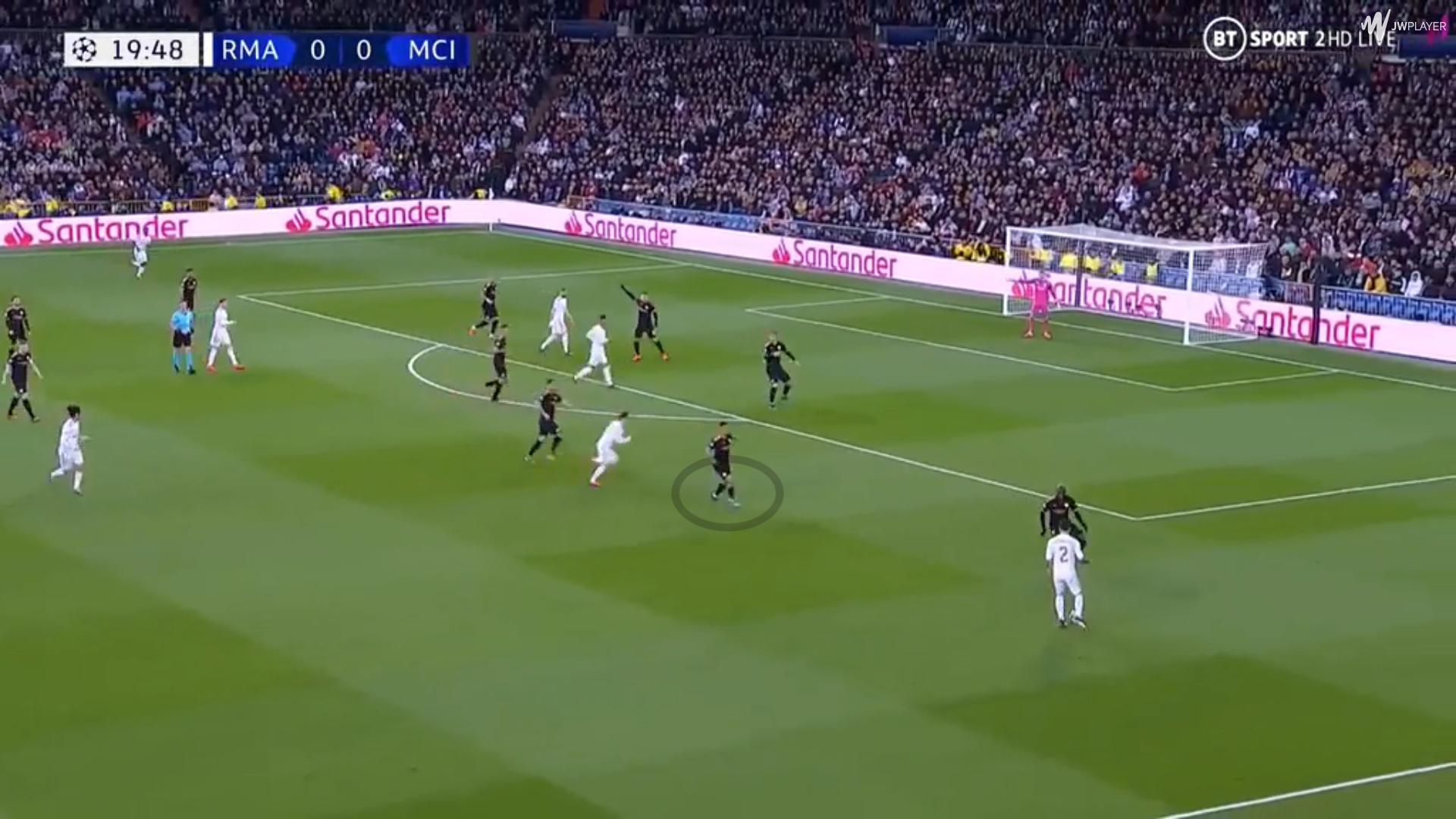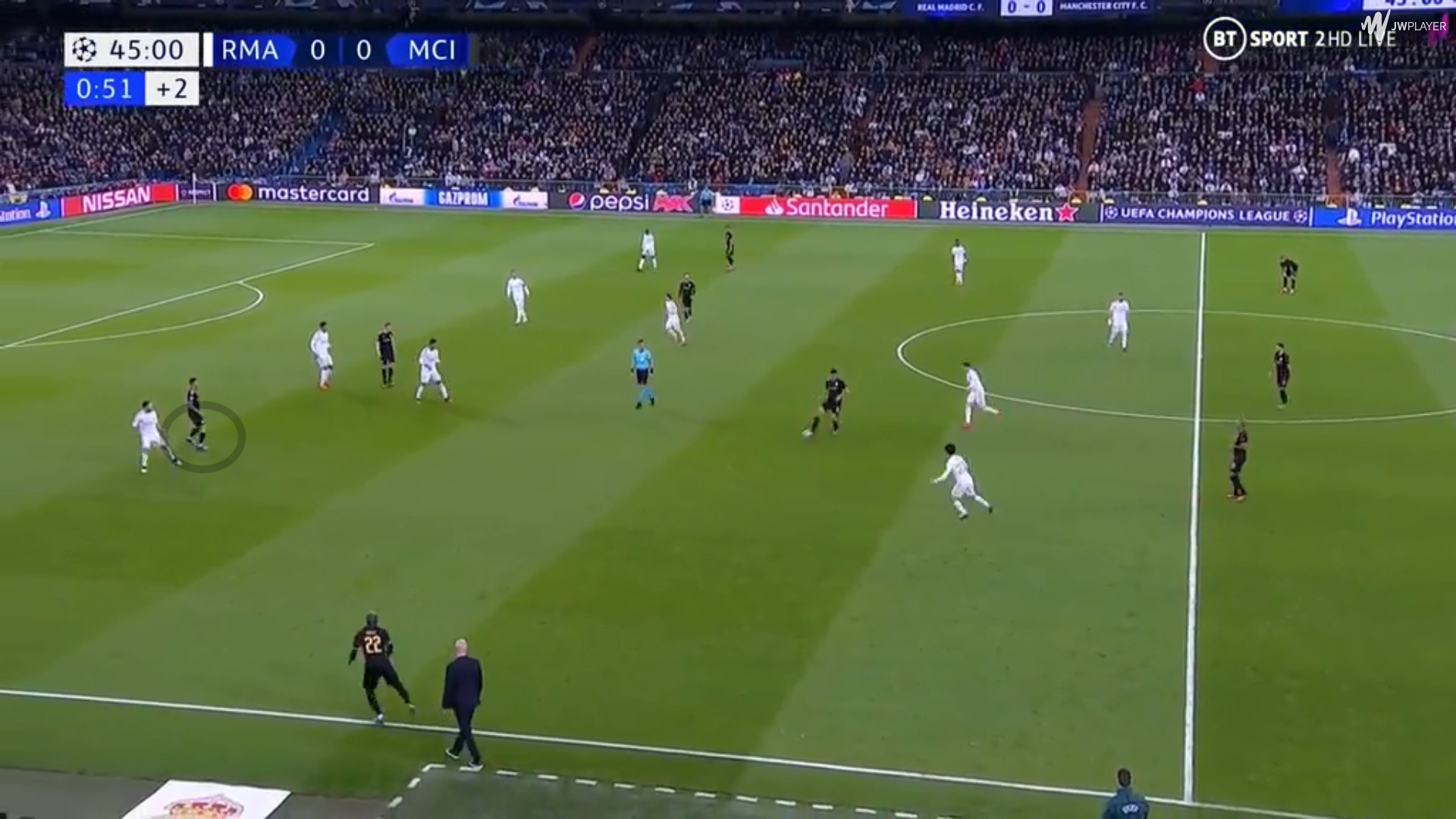 Gabriel Jesus's role out of possession against Real Madrid
As Jesus moves inwards during possession, the onus falls be on the City fullback to provide width, something Benjamin Mendy is capable of doing but another left back who is less injury prone and more athletic would be able to provide width to an even greater degree.
As a result, City should leave Bernardo Silva in that left central midfield role as he is comfortable dictating play from a deeper position while also posing a threat in between the lines, as the wide rotations on that left side could serve to create havoc against deep defensive blocks, something City already use against deep 4-4-2 systems.
Furthermore, the possibility of overloading the right half space with Messi and De Bruyne would be a lethal combination and enable Guardiola to move his best attacking talents up the field unmarked. City could take their attacking output up another level with Messi in a false 9 role.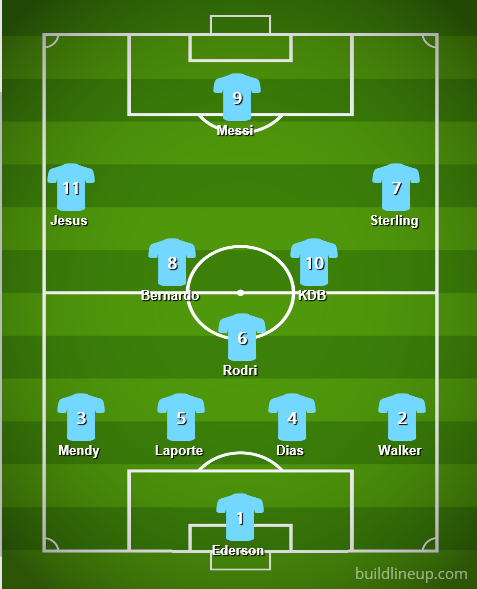 As a central midfielder 
Messi playing as a central midfielder might not necessitate a system change in regard to pressing, but it would put more strain on the rest of the midfield. The role of City's advanced 8's is to drift into open spaces before bursting towards the opposition goal, carrying a threat with their ball control at pace as well as having the ability to create as well as provide a goal threat.
They are very much inside forwards in the traditional sense, operating in the interior and linking with the wingers with the freedom to make runs ahead and around the forward line.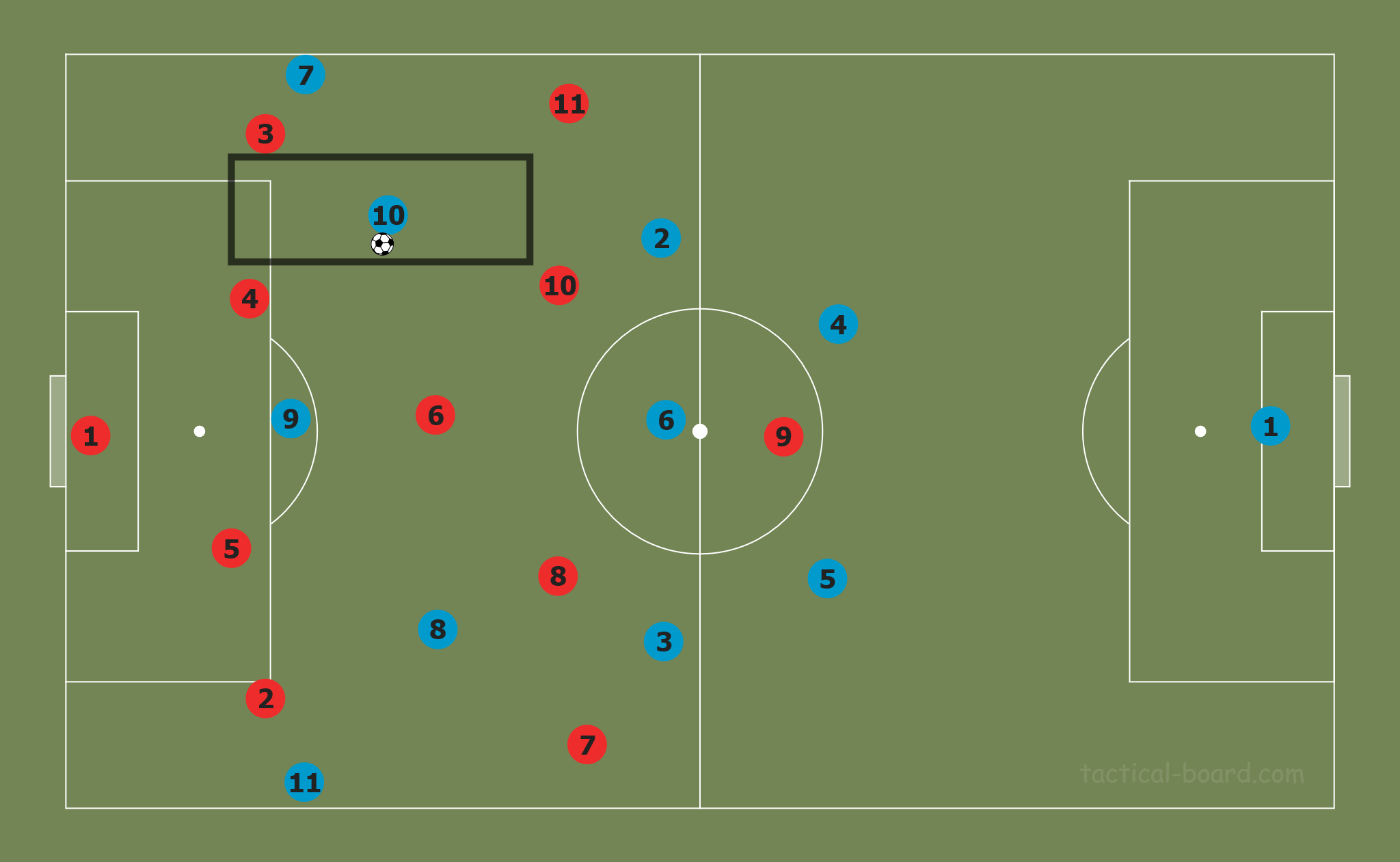 Messi operating in the right half space
Whilst Messi has been playing in an increasingly deeper role, he has never played as a central midfielder over the full course of the season. Although he has the vision and creativity to feed the likes of Sterling and Jesus with pinpoint passes, City may need to purchase another midfielder to compensate Messi's lack of off-the-ball work due to Rodri's defensive shortcomings and the fact that Fernandinho turns 36 at the end of the current season.
There is also the issue that De Bruyne is already playing in the right-sided midfield position and performing at a world-class level, which would likely force Messi to play on the left side of midfield. If City don't sign another midfielder with sufficient defensive nous, they may be forced to bring back Fernandinho into the #6 position.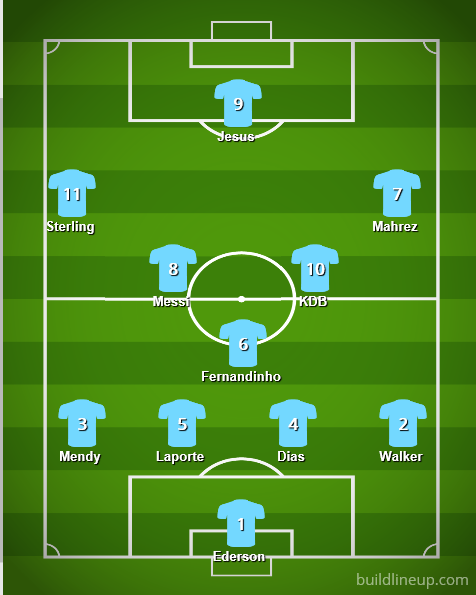 12 years ago, Pep Guardiola took a promising albeit injury prone Lionel Messi and developed him into the best player in football. Neither Guardiola nor Messi has committed yet to a contract extension beyond next summer, but as Messi enters the final years of his prime, the possibility remains of him reuniting with the legendary Catalan manager, either in Manchester, Barcelona, or elsewhere.
Guardiola will have to make some tactical adjustments and sacrifices to build his team around the diminutive Argentine, but if there's anything that watching Barcelona over the past decade has taught us, it's well worth the risk.
By: Maga-Sotu Peters
Featured Image: @GabFoligno / Pool – Getty Images / Michael Regan – AFP