How Unai Emery's Villarreal Maneuvered Getafe's 4-4-2 High Press
Out of all the 20 teams in La Liga, José Bordalás's Getafe are the most antithetical to the possession-heavy style of play that has encompassed Spanish football over the past decade. Their extremely direct play in possession combined with their high intensity, physical pressing off the ball has been a constant menace for most sides including top guns like Barcelona and Real Madrid.
It was always going to be a huge challenge for Unai Emery's Villarreal, who were yet to win an away game, to find various mechanisms to manipulate Getafe's press. They were more than successful in their task as they were always able to outnumber Getafe's press and generate a 'free man' in build-up which helped them to move up the pitch with much ease. In a resounding 3-1 victory at the Coliseum Alfonso Pérez, Villarreal proved why they deserve to be considered as genuine competitors for Champions League football.
Villarreal's Shape in Possession
Since Emery's appointment in the summer, Villarreal have adopted an asymmetrical shape in possession with a natural right side bias due to right back Mario Gaspar often sitting deep while the left back, either Alfonso Pedraza or Pervis Estupiñán (whoever plays as a left back) operating almost as a winger facilitated by the left winger Moi Gómez's movement to the inside.
The midfield dynamic is interesting as well, with Vicente Iborra often dropping in between the centre-backs and allowing them to stretch wide. Dani Parejo also acts a deep-lying playmaker but operates slightly ahead of Iborra. Manu Trigueros is the brain and the engine of the team and adds ingenuity from midfield with his excellent recognition of space and constant runs into them.A similar kind of shape was adopted in the build-up against Getafe's 4-4-2 high press.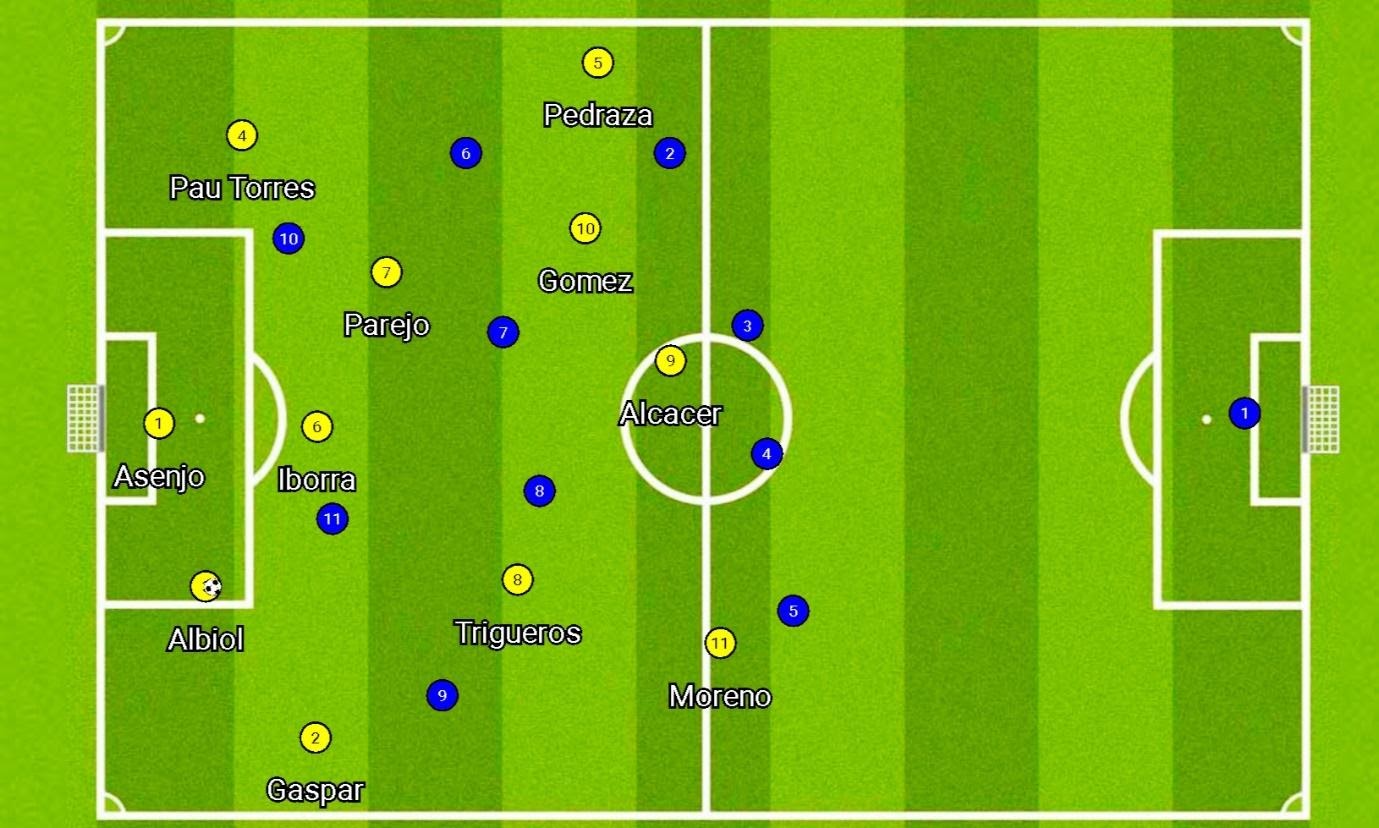 Iborra Dropping and Centre Backs Splitting Wide
Getafe often press in a man-oriented fashion which means Villarreal always had goalkeeper Sergio Asenjo free as a potential passing option, available to receive the ball with ample time and space. But having the goalkeeper as the free man can be futile if he has no viable passing options; which is why Iborra would be tasked with dropping in between the centre backs, with Raúl Albiol and Pau Torres splitting extremely wide.
The hosts responded to this via two approaches. Cucho Hernández, playing on the left side of the Getafe strike pair, would mark Iborra tightly, allowing Asenjo to pass the ball to Albiól before pressing the veteran Spaniard upon his reception while still keeping Iborra in his cover shadow.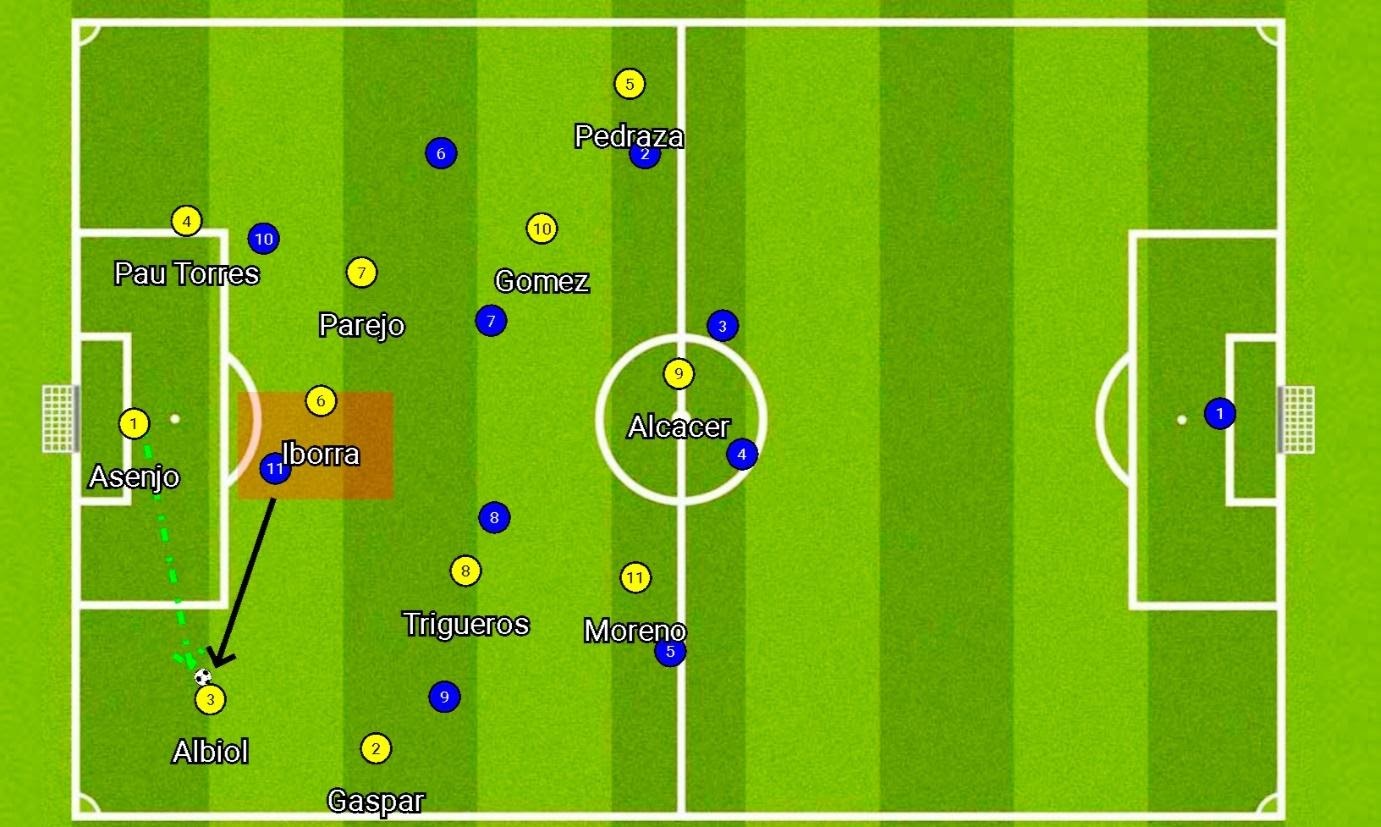 The plan was to force Villarreal wide where their passing options would be limited. But Villarreal used some interesting dynamics to play through the press, and once such example happened in the 5th minute of the game: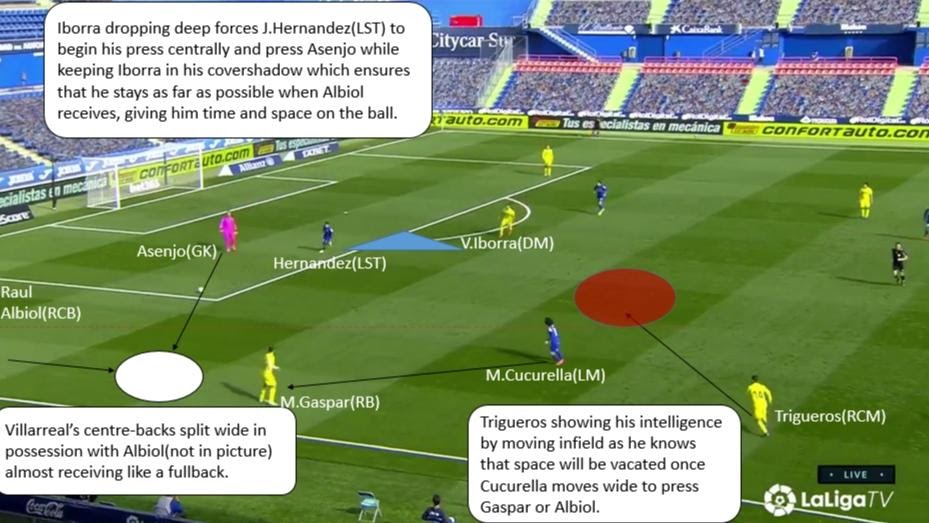 Villarreal were able to successfully overload Getafe left back Allan Nyom with Gaspar (moving high) and Trigueros (dropping deep) making counter-movements, resulting in Trigueros being able to receive in space.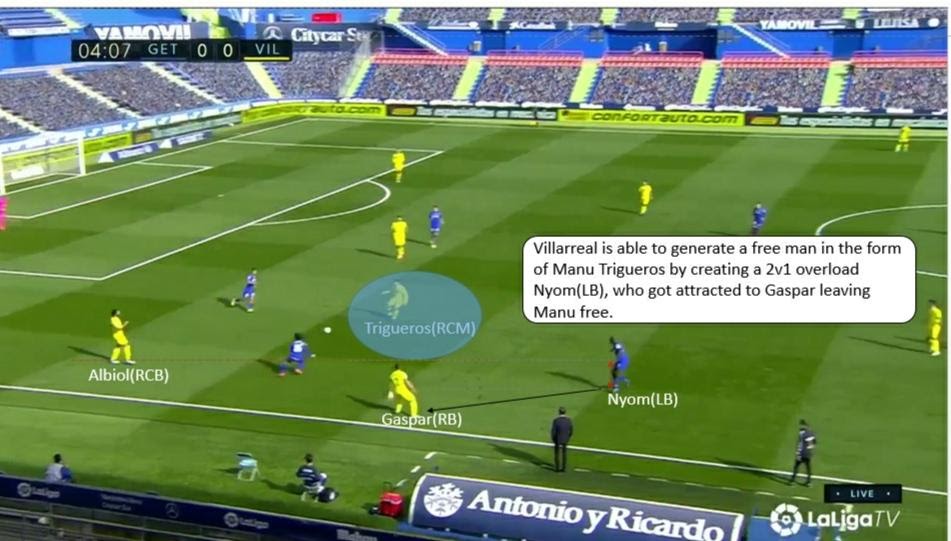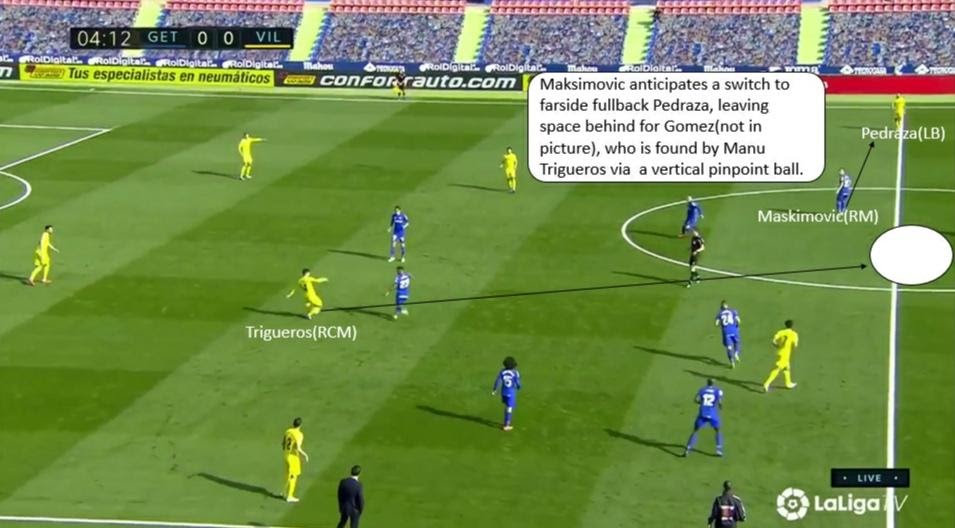 Here is another example showing Villarreal's excellent possession game combined with excellent movements from Iborra, who dragged the far side striker with him, allowing Pau Torres the possibility to receive in space, and Trigueros, whose decoy run created space for Iborra.
Unai Emery's Villarreal against Getafe's 4-4-2 high press:

📌Gaspar's deep positioning.

🔎Attract Getafe to one side of the pitch then switch to the other.

💡Key Player: Manu Trigueros pic.twitter.com/1QJPFFcNfq

— Shivank (@pressingtrigger) November 15, 2020
Getafe's 4-3-1-2 Narrow Press and Villarreal's Solution Against It
The second approach adopted by Getafe was a narrow 4-3-1-2 press with one of the central midfielders stepping out to mark Iborra while the rest of the three invert their positioning.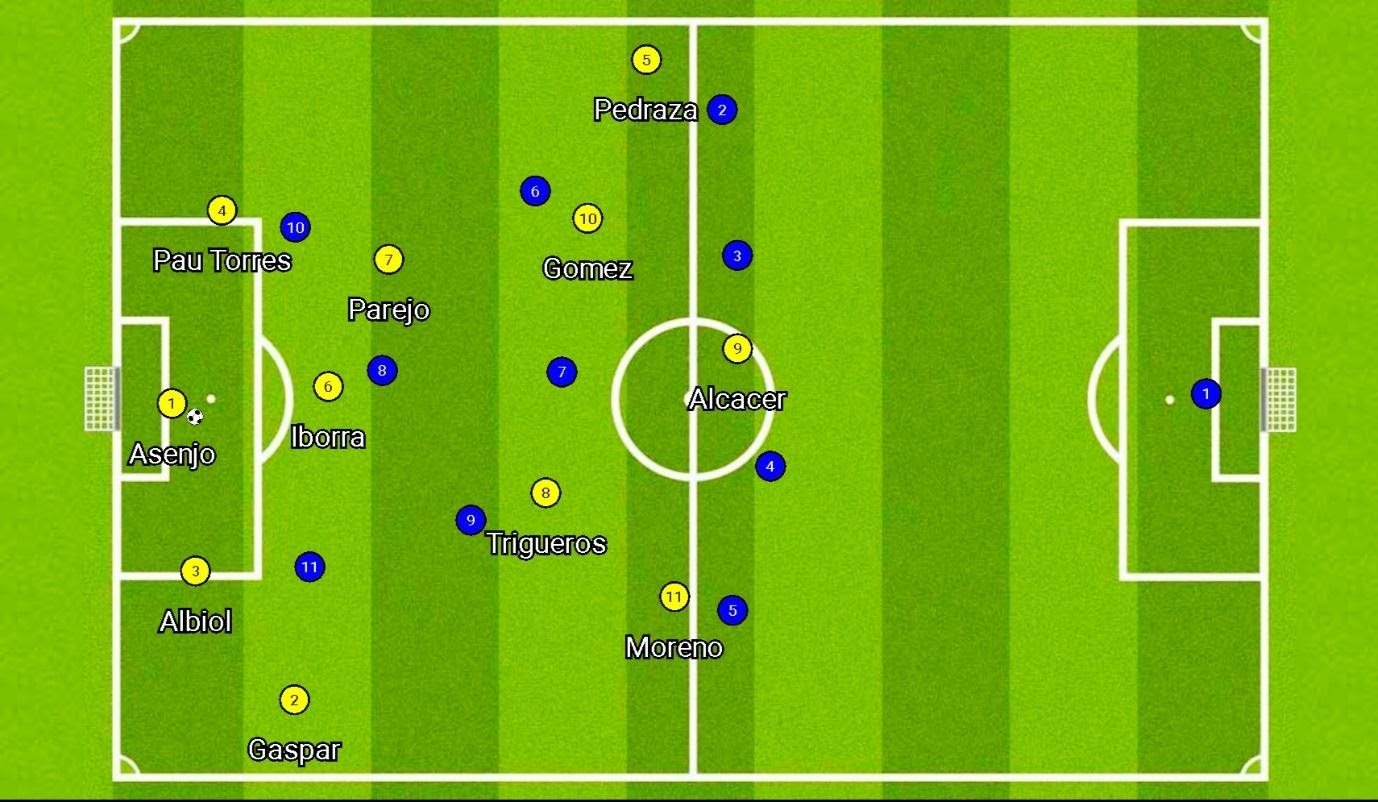 While this approach allows Getafe to prevent a free man in the first phase, the lack of width with the second line so narrow is a huge disadvantage. If Villarreal's fullbacks receive the ball wide they will have ample amount of time and space on the ball, and if in case any one of the midfielders from second line move wide, to press the fullback, it will leave them exposed centrally.
With Gaspar's deep positioning, Villarreal were able to provoke the left midfielder of the second line into stepping out which again creates a free man in the form of Trigueros.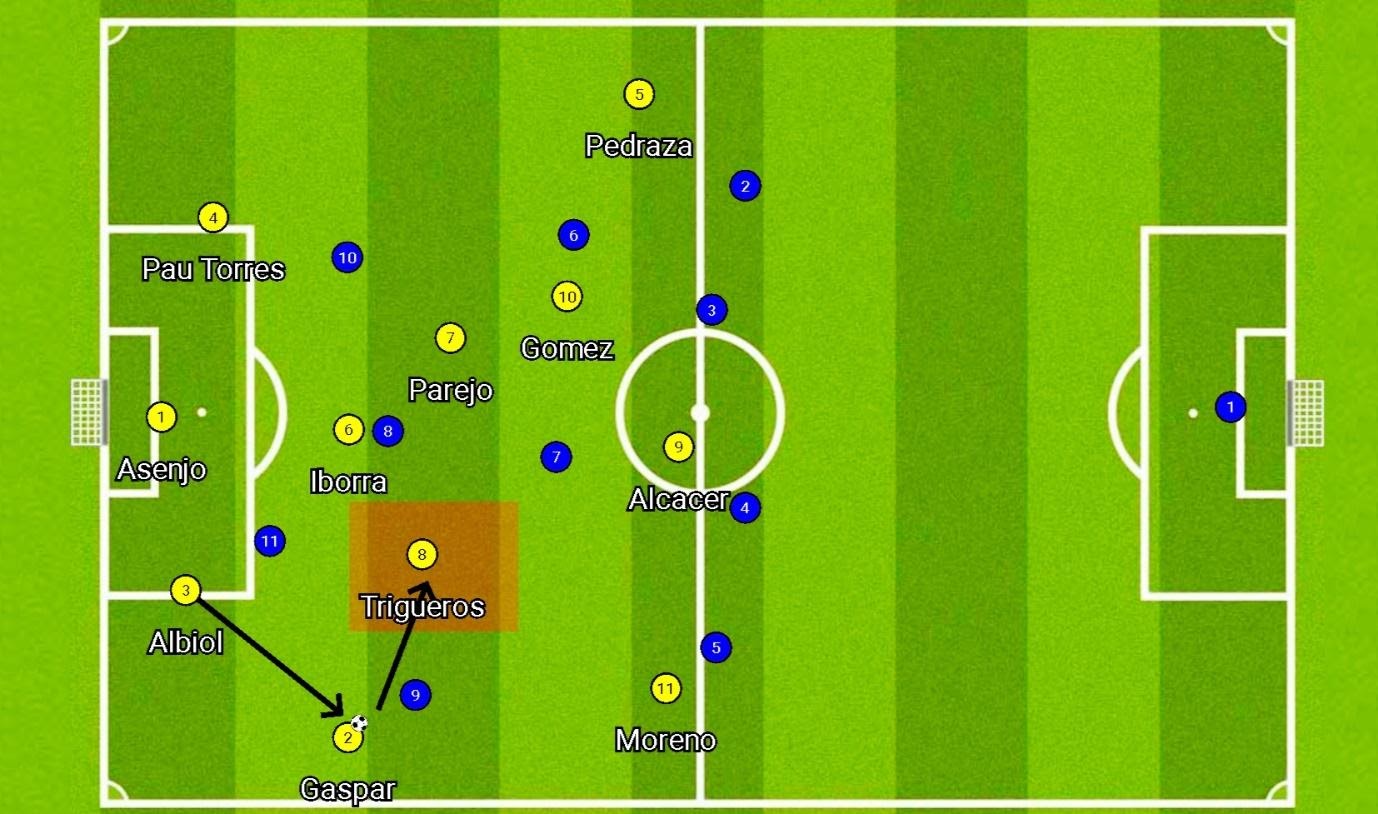 Operating in a 4-3-3, Emery's side were able to maneuver the press from Getafe's narrow 4-3-1-2 shape and create counterattacking opportunities in the process.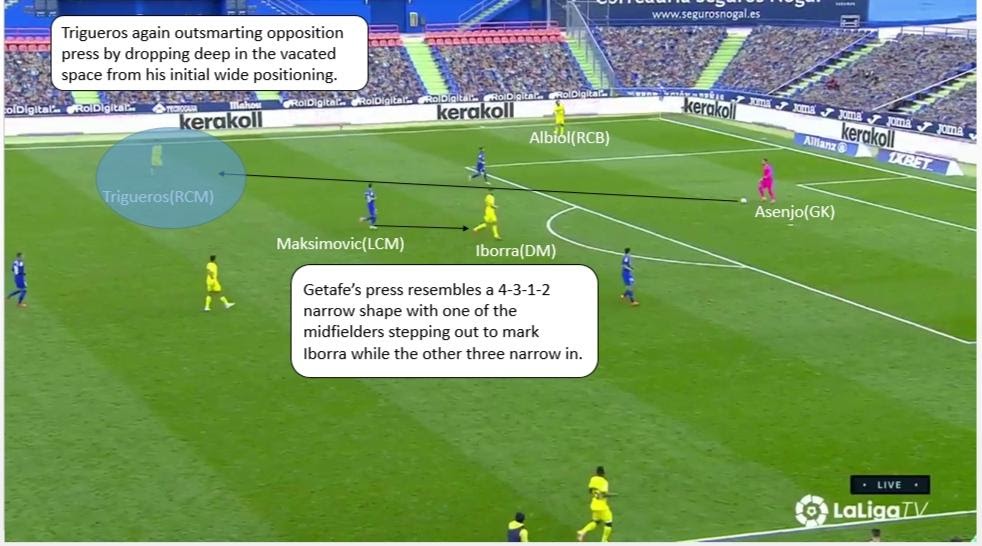 In the below example, Trigueros receives a pass from Albiól and plays it immediately back to the Spanish center back, who now attracts the attention of Víctor Mollejo. By dragging Mollejo out of position, Albiól can then find Gaspar wide on the right flank, who quicklyshuffles it off to the free man: Trigueros.
If Getafe decided to shift their midfield over to cover Trigueros, the midfielder could have switched the play to the unmarked left side, where Parejo, Pedraza, and Gómez could receive in space. However, it is much harder to access the far side options than the nearside ones, so this approach was the most logical one for Getafe.
This exact scenario occurred once, and once again thanks to Trigueros, Villarreal were able to play out of pressure and access the free man on the far side.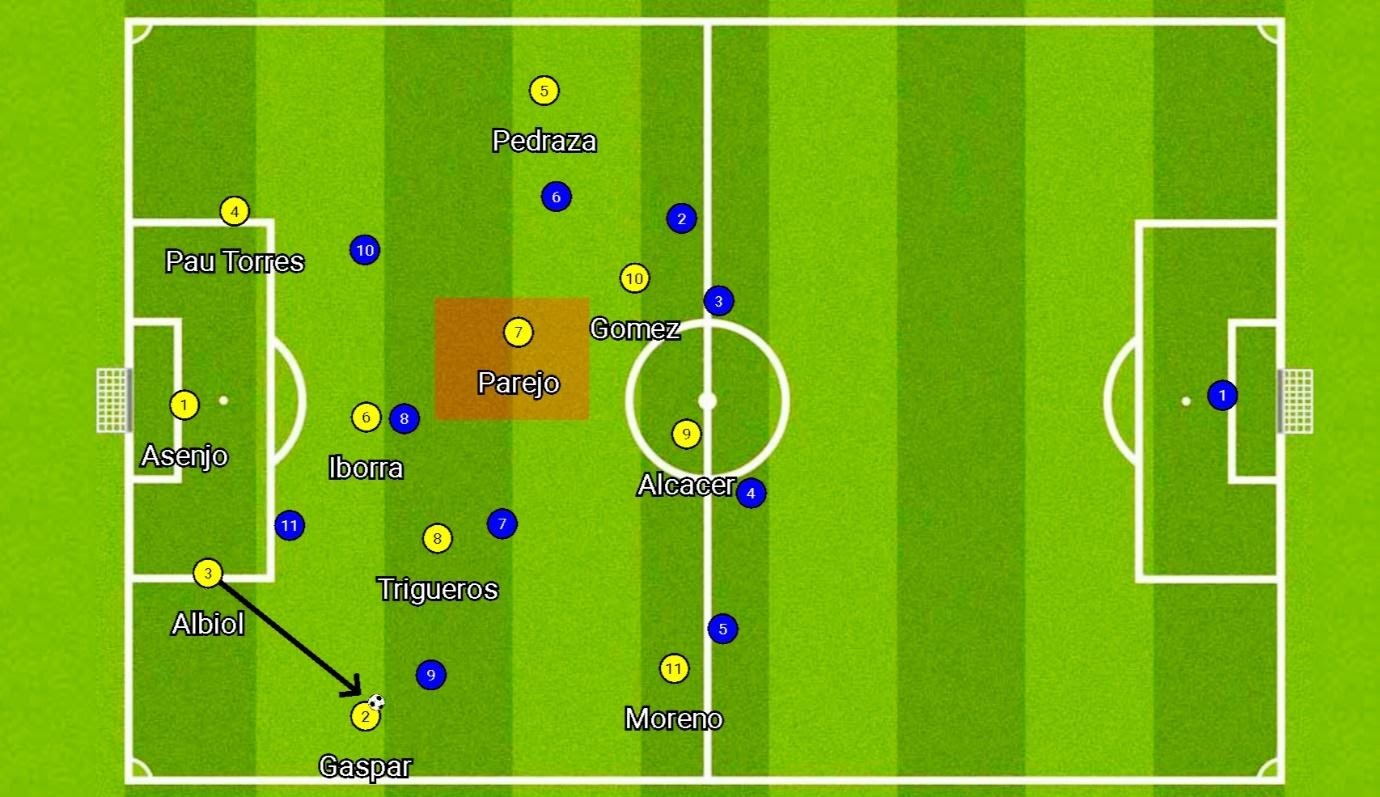 In this instance, Getafe try to stifle Villarreal on one side of the pitch by covering all of their nearside passing options.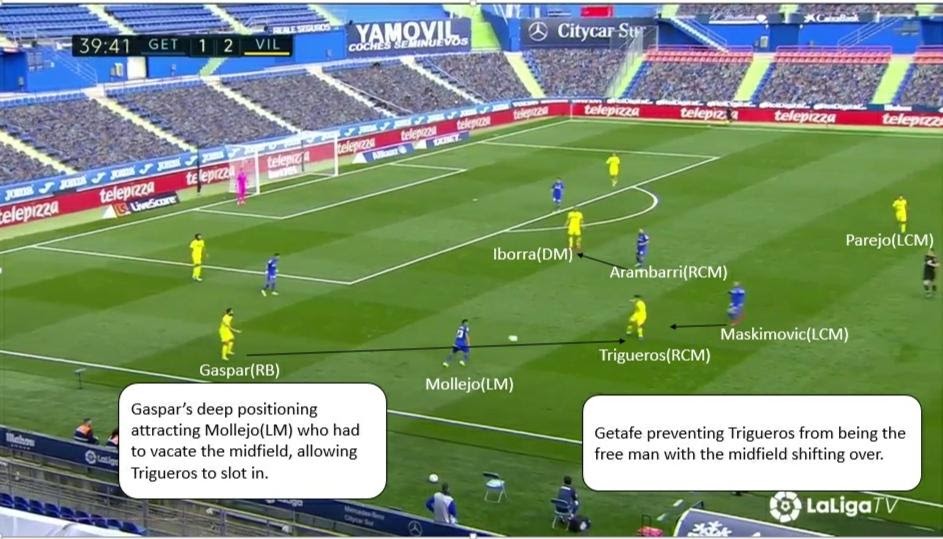 Thanks to Trigueros, who gets a bit lucky and is able to dribble from the tight space, Villarreal can feed the ball to the new free man: Parejo.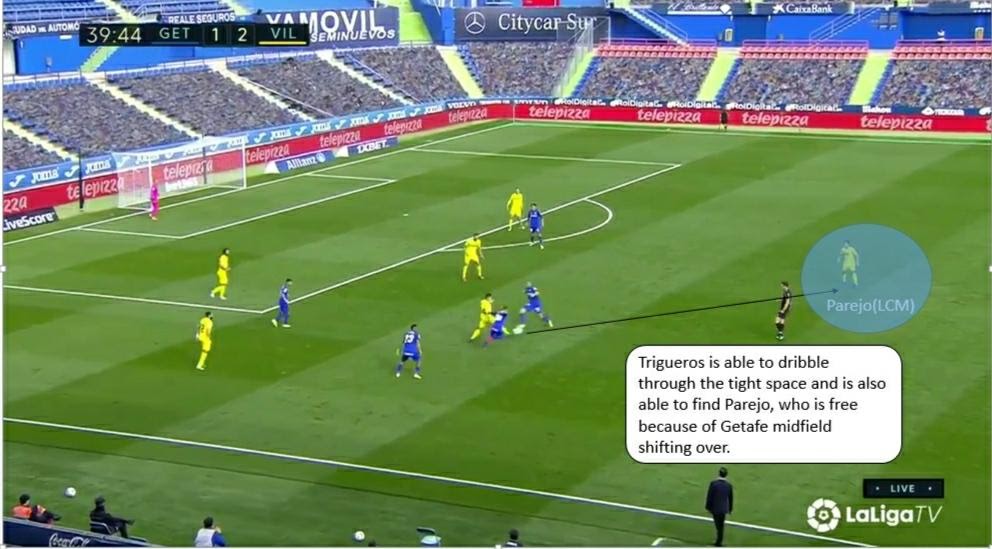 Although Villarreal didn't build play from the left, they were effective in building on this side whenever they attempted to do so. Similarly to Albiól, Torres would split extremely wide with the nearside central midfielder, Parejo, dropping deeper. Due to the man-oriented nature of Getafe's press, they pushed another midfielder into the press, which created a huge space in between the lines with Trigueros quick to recognise the space opening up.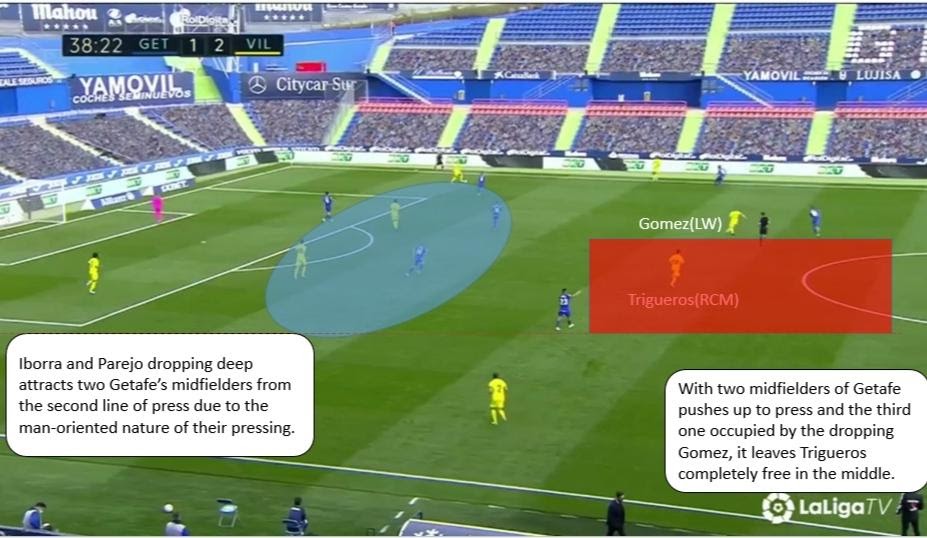 Unable to find Trigueros in space, Torres instead plays a hoping long ball further forward. Paco Alcácer fails to win the initial aerial duel, but with Getafe's midfielders still retreating, Gerard Moreno is able to win the second ball with ease.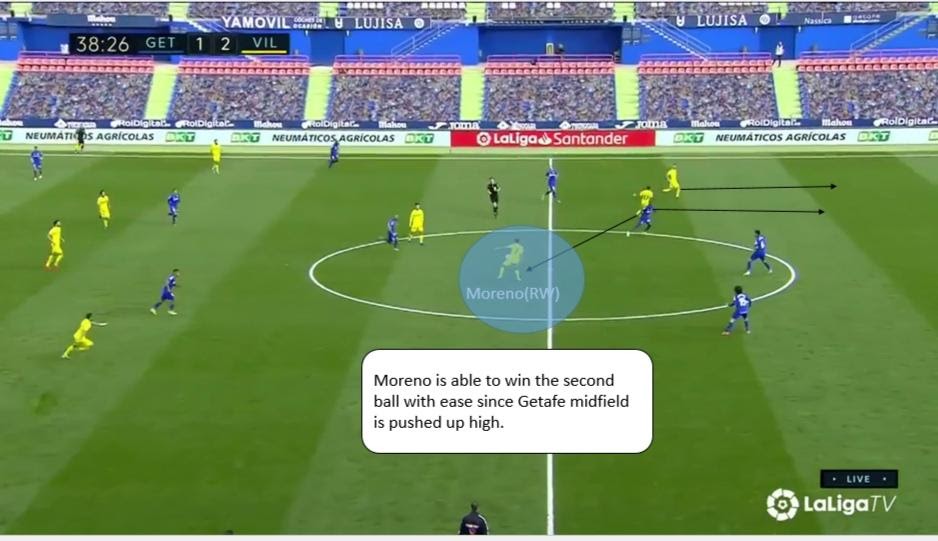 Getafe's 3-4-1-2/3-1-3-2 Press and Villarreal's Solution
Later on in the game, Getafe adopted a 3-4-1-2/3-1-3-2 pressing scheme with their left back Marc Cucurella inverting in midfield during the press in order to prevent Trigueros from receiving in space.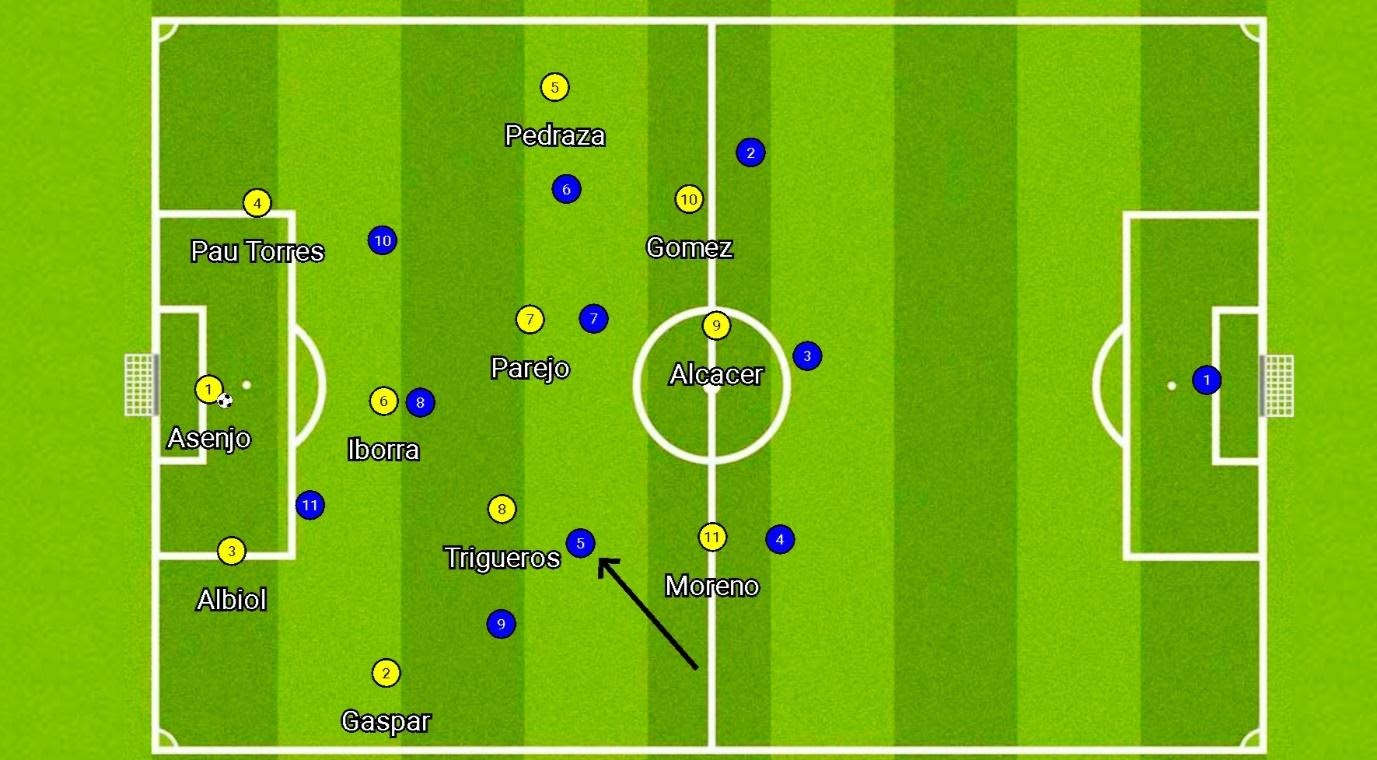 But with every space coverage, a new space is created elsewhere. This time, the new space created is in behind and leaves Getafe in a 3v3 situation at the back.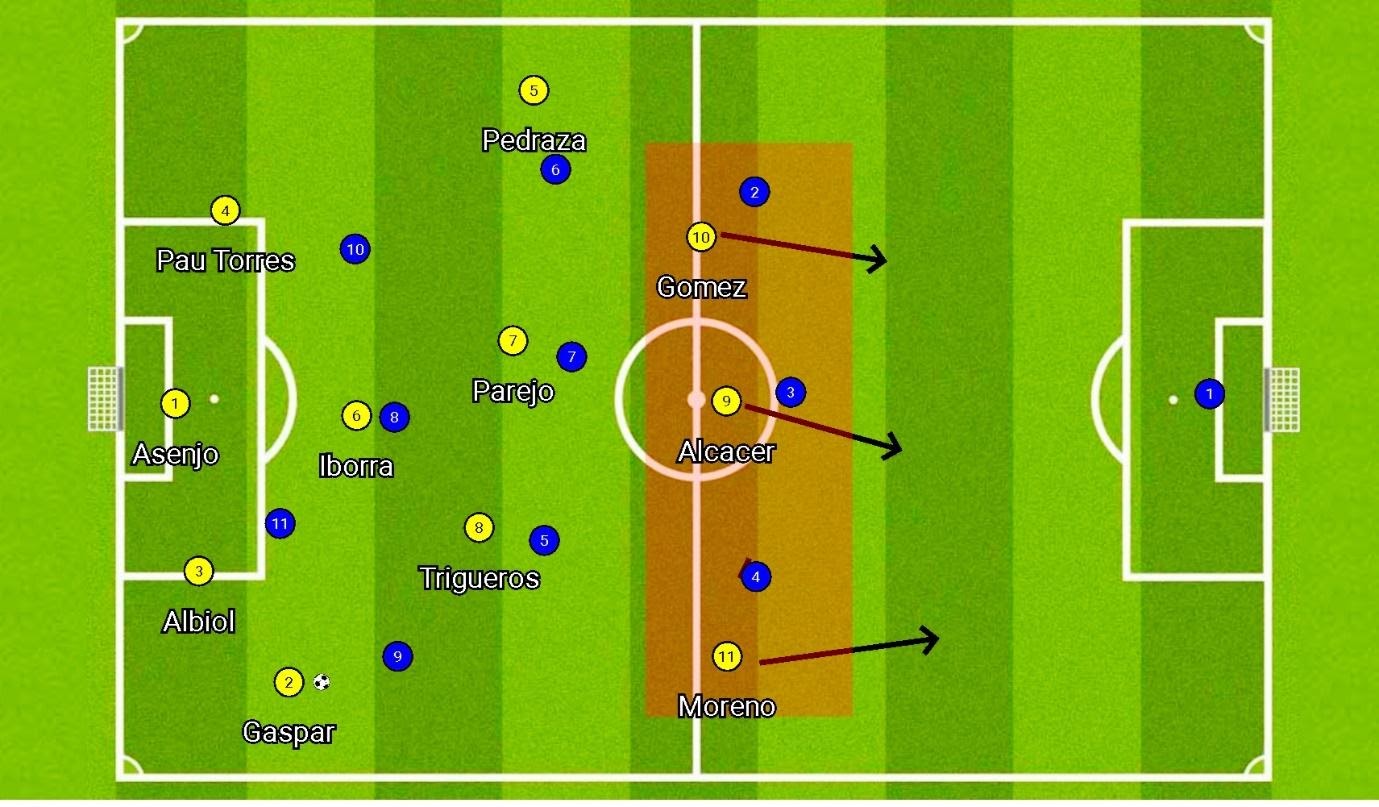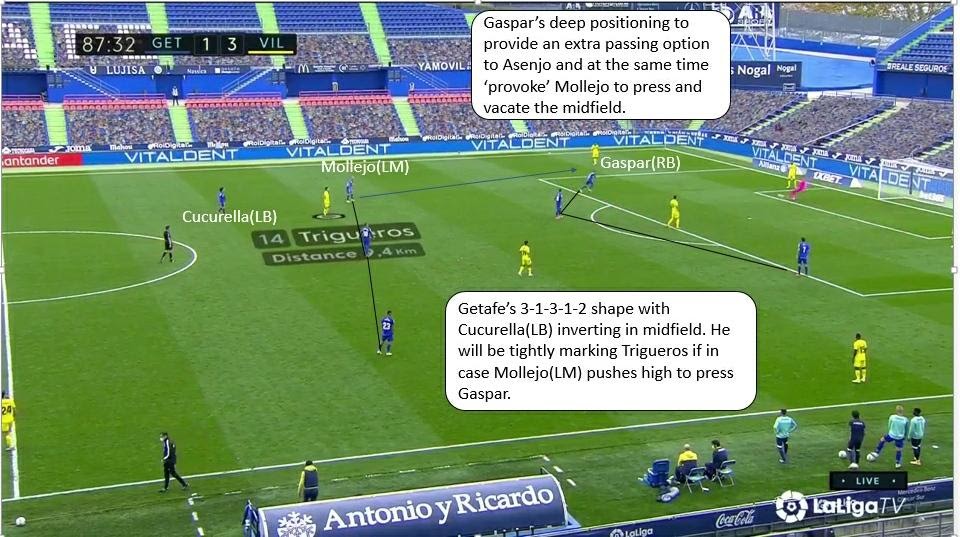 And just like in every other situation, Villarreal were able to recognise this new space and exploit it.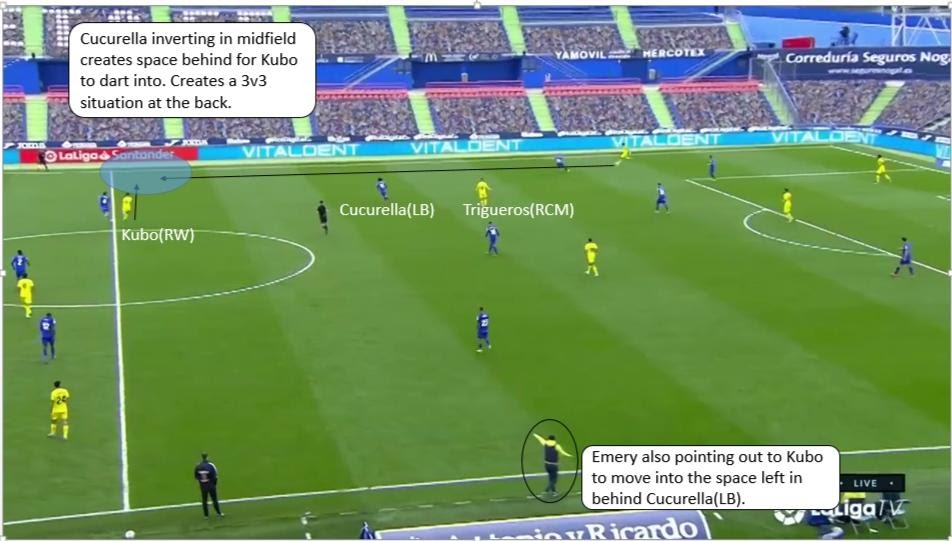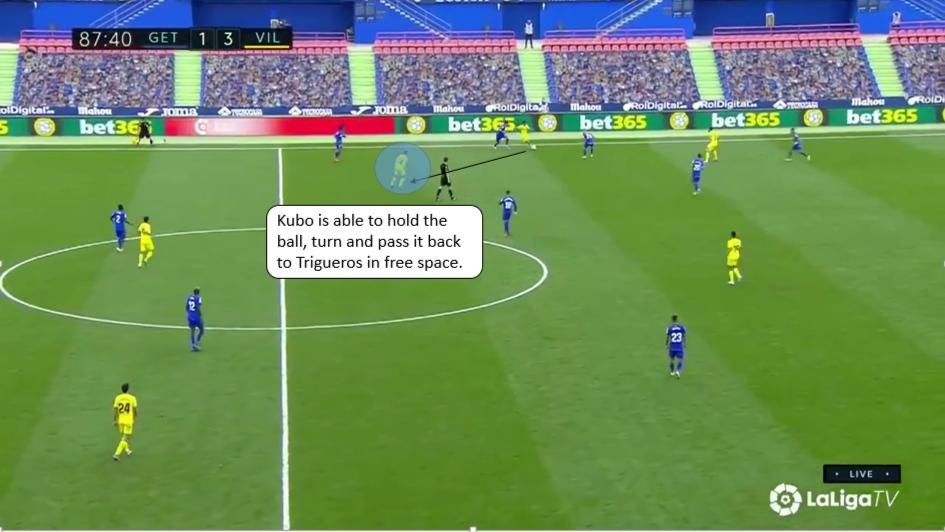 Villarreal completely wiped Getafe off the park with their excellent possession and positional game. Unai Emery's Yellow Submarine did nothing complex, they merely followed the bare-bones fundamentals of positional play: making sure all spaces/zones are occupied, provoking the opposition to commit to the press, occupying that space (via a third man/free man) and then finally exploiting that space by accessing the free man.
"Hold out baits to entice the enemy. Feign disorder, and crush him,"-Sun Tzu, The Art of War.
By: Shivank Batra
Featured Image: @GabFoligno / Soccrates Images – Getty Images