After Pep Guardiola's Manchester City and Quique Setién's Barcelona suffered humiliating eliminations in the Champions League quarterfinals, many were quick to claim that this was the end of Positional Play, or Juego de Posición in Spanish, as we know it.
This isn't even remotely true, as Thomas Tuchel's Paris Saint-Germain and Hans-Dieter Flick's Bayern Munich have used Positional Play to its full extent throughout their respective treble challenges. However, let's take a look at just what Positional Play actually means and how its principles manifest themselves in football.
What does Positional Play truly mean?
Positional Play is a style of play where the football pitch is divided into zones and each player is assigned to a zone. Each zone has a different role which means that each player has a different task to execute. If a player moves into another zone, a teammate has to take his place, which is what we call rotations.
The goal of Juego de Posición is that the zones and the tasks within them can be occupied and used by different players. Styles of play in football are like languages, and positional play, more than any other style of play, must be spoken in the same way by every player on the pitch.
While Rinus Michels and Johan Cruyff were the pioneers of Positional Play during their times at Ajax and Barcelona, Pep Guardiola has been the most successful manager using this style of play, winning 28 trophies in his 11 years of management at Barcelona, Bayern Munich and Manchester City. Nowadays, many managers have tried implementing this style of play in order to achieve success.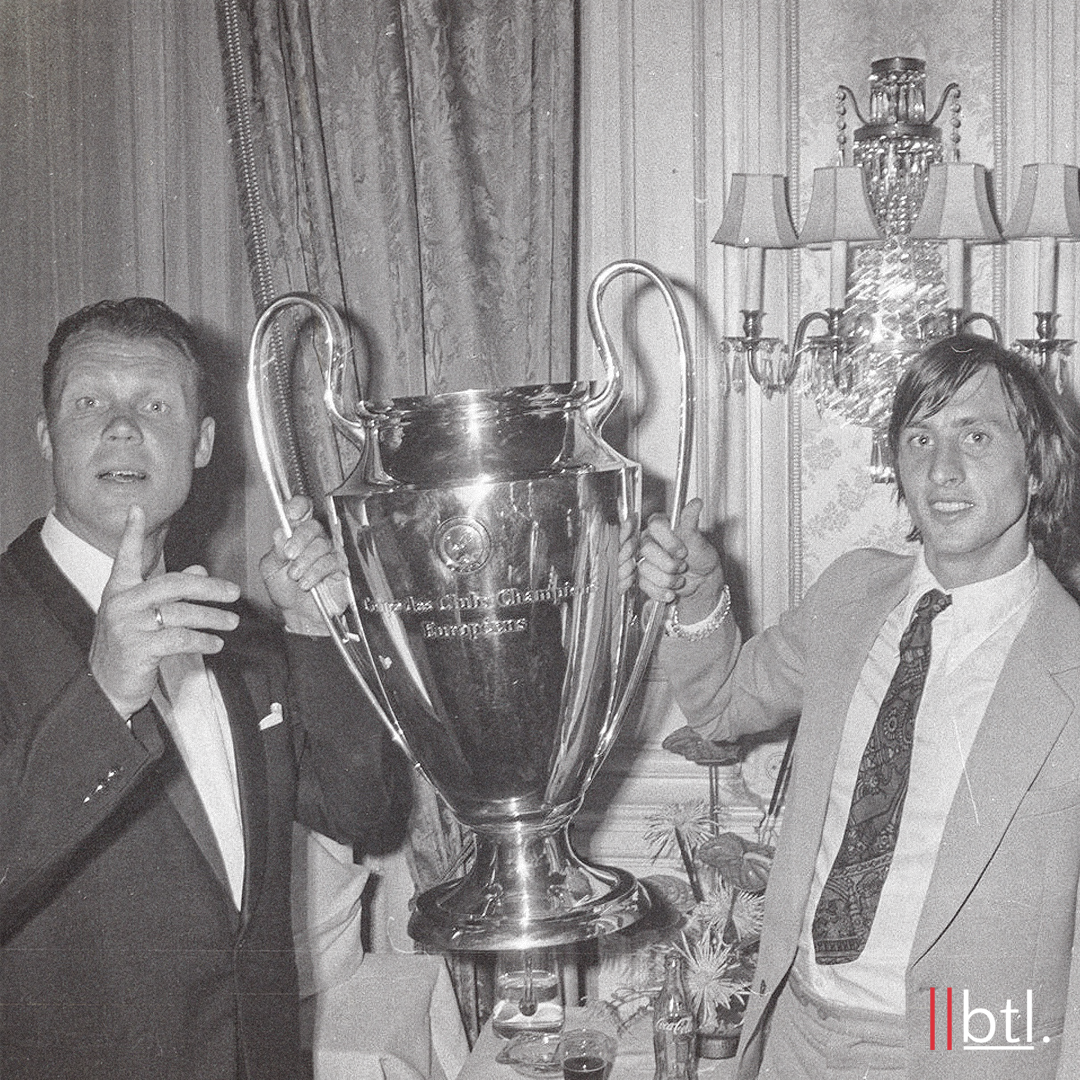 Throughout this piece, I will show you various teams that use Positional Play and attempt to explain key principles of it so that you can identify them under any manager at any team.
Is it possession for the sake of it?
As longtime Guardiola assistant and current Flamengo manager Domènec Torrent once said, it's a game of position, not possession. What does this mean? It means that when you have the ball, the goal is not to move the ball but to move the opponent by quick switches of position to find somewhere to pass the ball in order to give your side an advantage.
Many people often confuse Positional Play for tiki-taka, which the Spanish national team used between 2008 and 2012. However, take it from Guardiola himself, who said in 2014:
"Barça didn't do tiki-taka! It's completely made up! Don't believe a word of it! In all team sports, the secret is to overload one side of the pitch so that the opponent must tilt its own defence to cope. You overload on one side and draw them in so that they leave the other side weak. And when we've done all that, we attack and score from the other side.

That's why you have to pass the ball, but only if you're doing it with a clear intention. It's only to overload the opponent, to draw them in and then to hit with the sucker punch. That's what our game needs to be. Nothing to do with tiki-taka."
Various Examples of Positional Play
The main element of Positional Play is positioning. In order to successfully implement this system, players must understand that even if they are not directly involved in the play, they can help their team by being in the correct position.
One of the benefits of Positional Play is that it creates space for the ball carrier, which allows him to have more time on the ball to make the correct pass with the correct weight and timing, or carry the ball forward to create superiorities in certain areas of the pitch.
Players can create space for their teammates by stretching the pitch and positioning yourself as far away from the ball carrier as they possibly can. A good example of this is when Bayern Munich (in the white) faced off against Union Berlin (in the red), pictured below.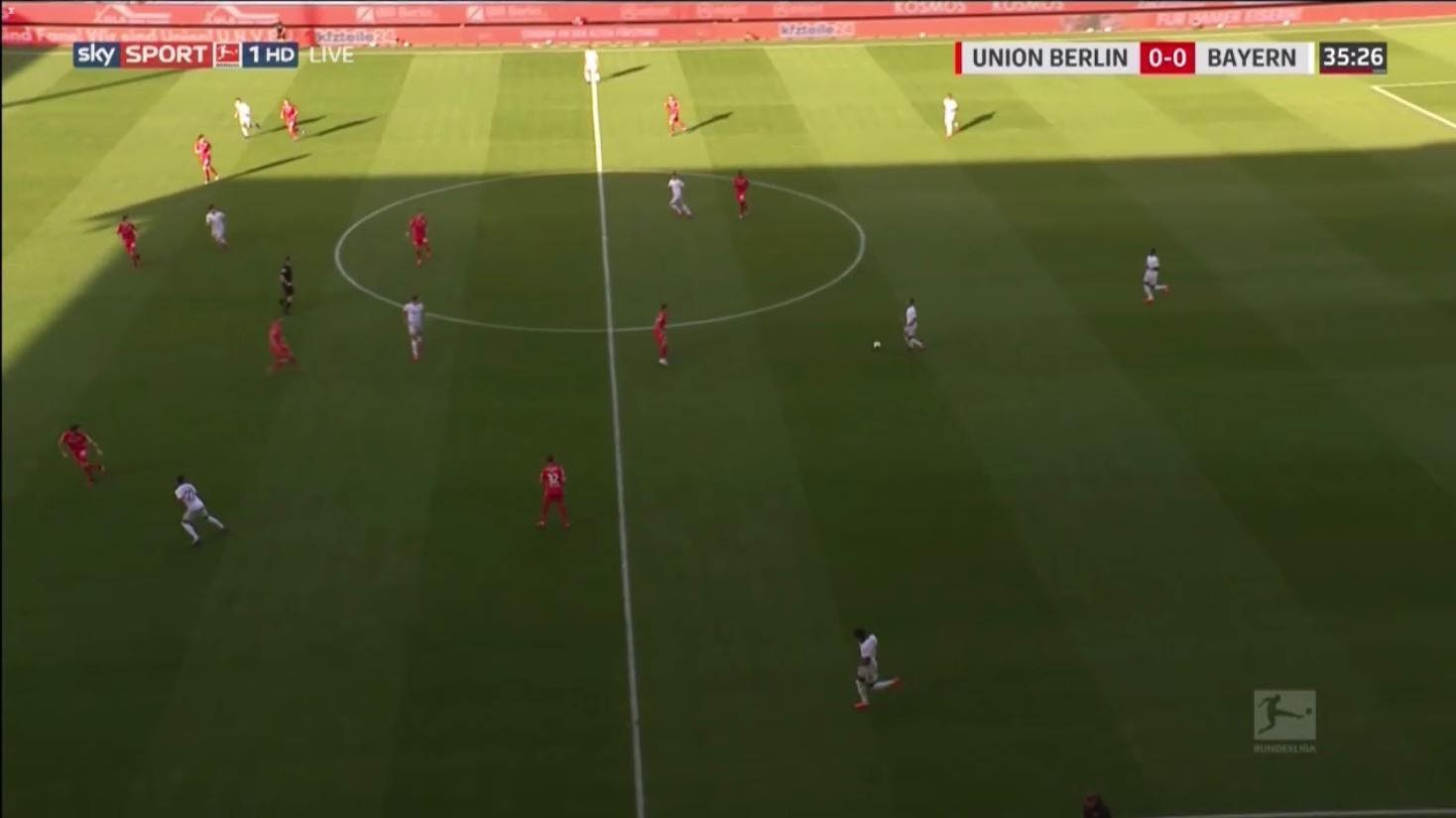 Thiago Alcântara, the ball-carrier, has ample time on the ball since his teammates have stretched the pitch and are as far apart as they can from him. As a result, the Union Berlin defense is stretched, with the closest defender being meters away, allowing time and space for Thiago to pick out one of his many teammates in front of him and progress the ball.
Each player is on a different vertical or horizontal lane, which helps the ball-carrier find a pass into space for one of his teammates. In the below example against Shakhtar, Manchester City's Leroy Sané is keeping the width on the opposite side of the ball.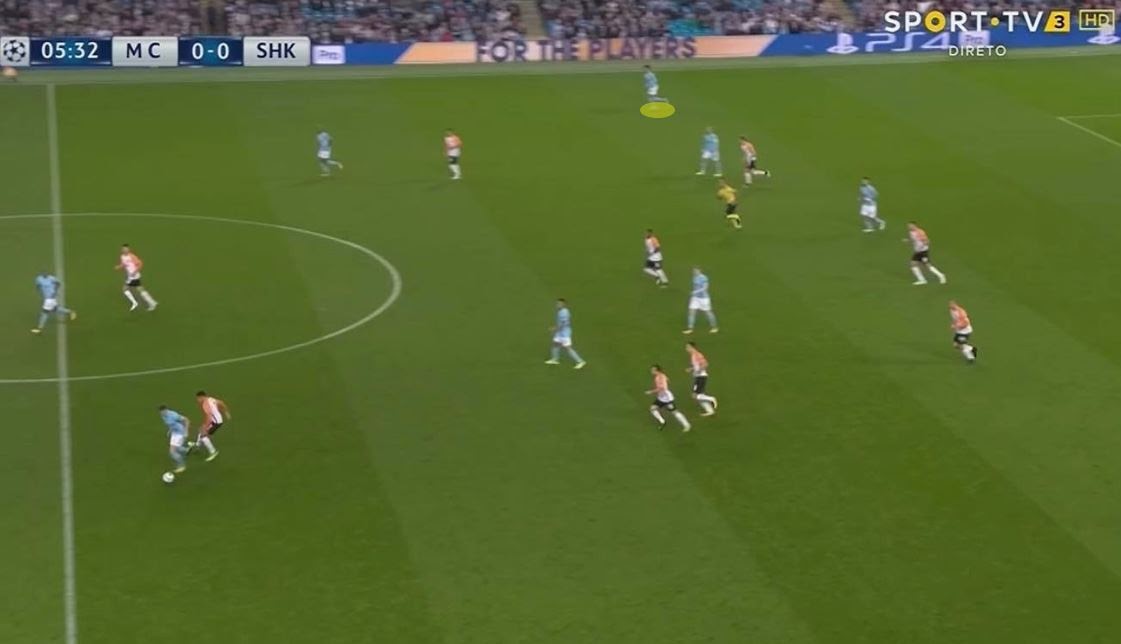 However, switches of play and spacing can't be achieved if players on the underloaded side don't provide width to stretch the opponent's defensive line. In the below image, Ole Gunnar Solskjaer's Manchester United, who don't usually use principles of positional play, are up against Carlo Ancelotti's Everton.
Luke Shaw, United's left back, decides to remain inside, and as such, he doesn't help his teammates in the middle of the pitch where they have less space to move into. On the other hand, the area highlighted below is where Shaw should be in order to help his teammates without necessarily demanding the ball.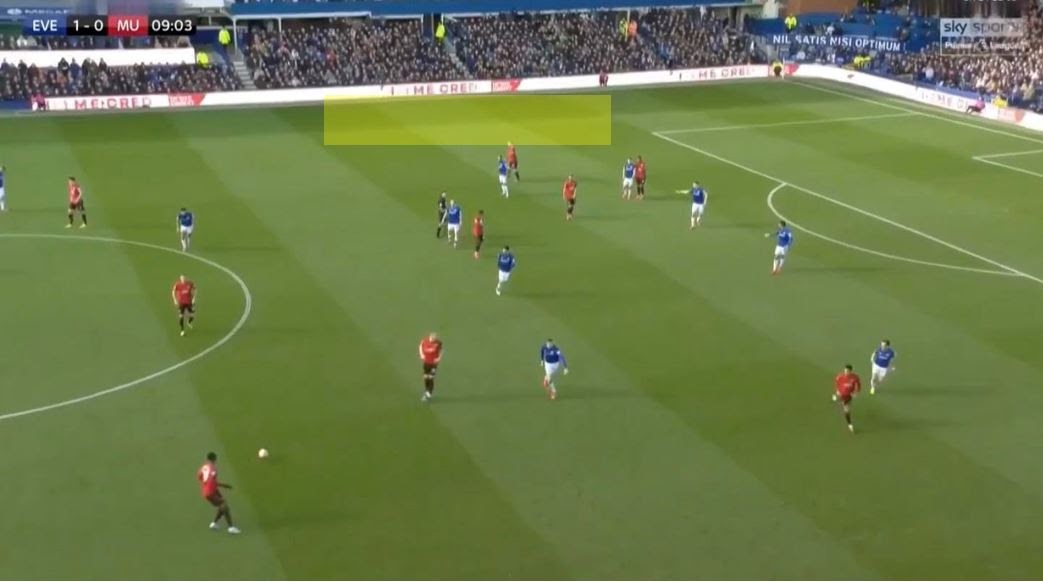 Let's now talk about the defensive side of Positional Play. Most teams that use Positional Play operate with a high defensive line, allowing their offensive players to be in a restricted area while still having enough spacing to find passing options, as the players can't occupy the same area of the pitch.
This also gives offensive players the ability to recover the ball higher up the pitch thanks to their high press, as they will be close to each other when the opponent gets the ball back. As such, they don't necessarily need to commit too many players forward, and they also don't need to sacrifice their attacking outlets.
In the below example between Chelsea and Manchester City, Chelsea's Cesc Fábregas is breaking on the counterattack, but he doesn't have many options to speed up the counter with a pass due to the fact that there are five City players behind the ball.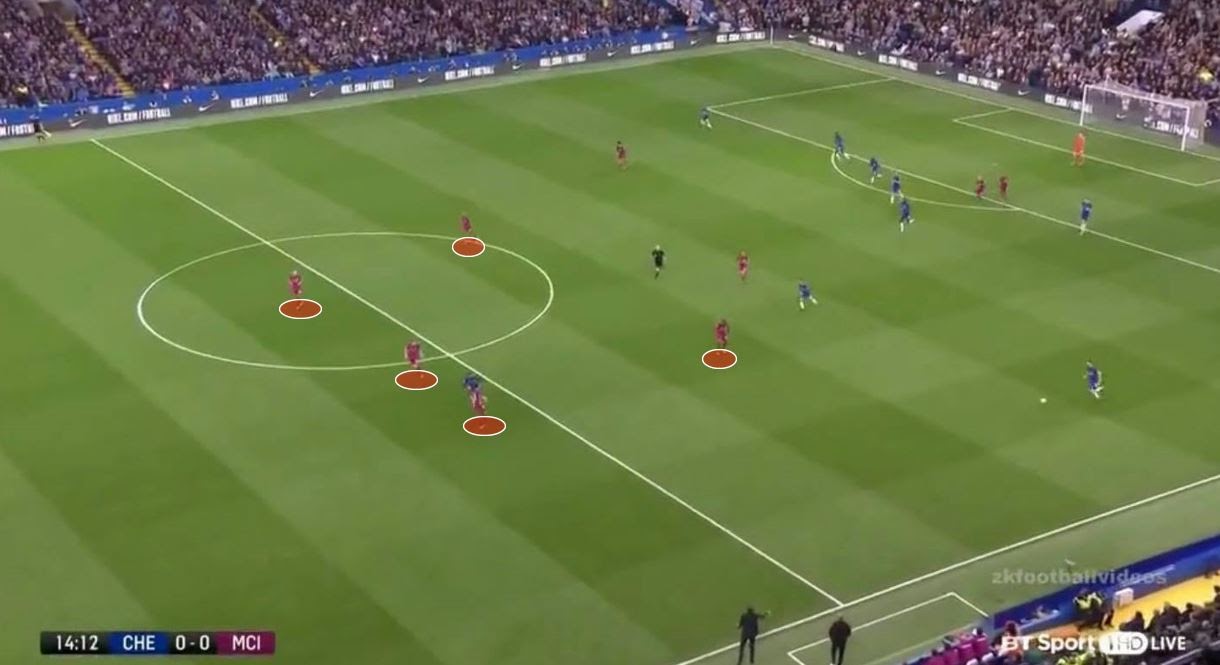 Flick's Bayern have adopted a high press in order to recover the ball quickly whenever they lose possession. If you want to press high up the pitch while not being exposed in between the lines, you need to play a high defensive line, and Bayern play the highest defensive line in Europe. 
This allows the Bavarian side to close down space, prevent short passes, and force the opponent into long balls if they don't want to play a risky pass. In the semifinal fixture against Barcelona, this is exactly what happened.
The typically composed 'sweeper keeper' Marc-André Ter Stegen kept losing the ball because he never decided to go long to beat the press. As highlighted below, Bayern aggressively pressed Barcelona during their first phase of build-up.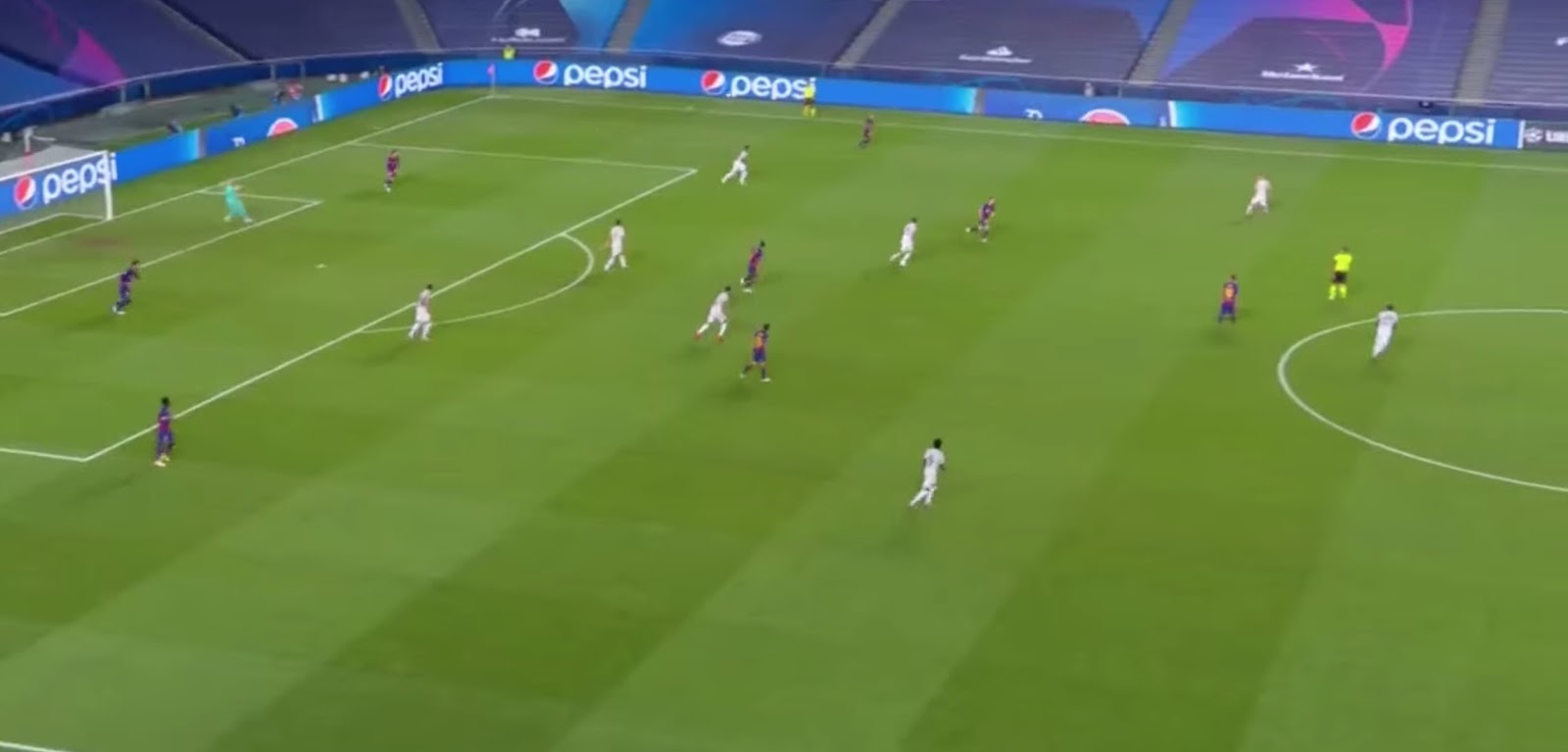 How do you simplify these principles to identify them?
If you've read up to here, you already have a much clearer idea of what Positional Play truly means. However, I want to give you one last tool to identify and/or comprehend the reasoning behind playing this style of play. As previously mentioned, the football pitch in Positional Play has five corridors, as seen below.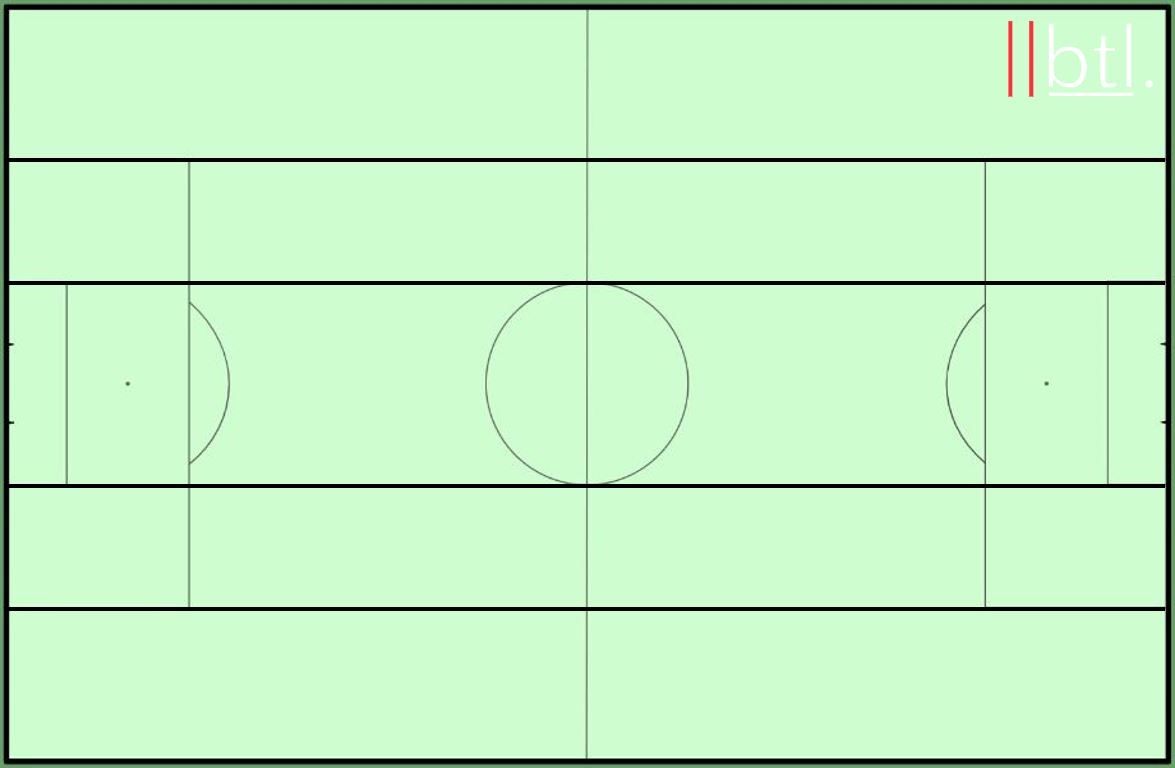 Certain corridors can't be occupied by two players, especially the wide areas. It is well known that Kyle Walker has been converted into an inverted full-back by Guardiola to improve Manchester City on defensive transitions. However, not many know that this is also why Raheem Sterling has been mainly used on the right wing rather than the left.
Indeed, the raison d'être behind this choice is that there are only two different wide dynamics: inverted full-back/traditional winger and wing-back/inside forward. This is why Sané coexisted well with Oleksandr Zinchenko, but was dropped from the line-up when Benjamin Mendy was finally fit to start. Jürgen Klopp also uses this principle with two inside forwards and two wing-backs in offensive phases.
Another thing that will help you identify a Positional Play team is the rotations they perform. Rotations imply that when a player leaves his initial zone, another player has to move to that zone to compensate for his vacancy.
Rotations are extremely useful as they open up passing lanes, but they can also create space for the ball-carrier to drive into. This is highlighted below, where Kevin De Bruyne decides to track back in order to let Walker drive into space to make a cross.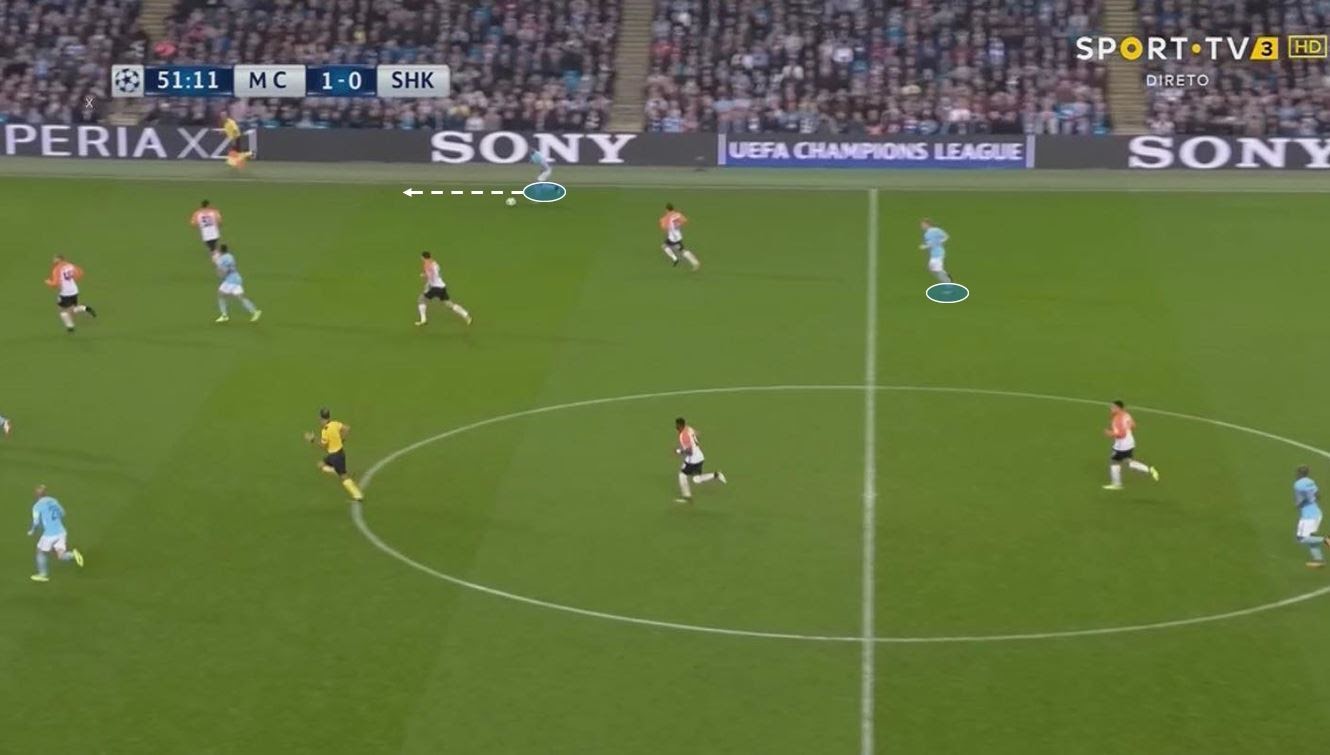 These wide dynamics also tell us that Sterling and Trent Alexander-Arnold might not form a solid pairing on the right flank for England. While both footballers are two of the best players in the world at their respective positions, they both tend to run into space out wide, and as a result, they would often congest each other's space.
Let's take this example between Sheffield United and Manchester United. Both Aaron Wan-Bissaka and Daniel James are almost on the same horizontal lane, which prevents Wan-Bissaka from running into the wide area, as well as inhibiting James from receiving the ball into space should Wan-Bissaka receive the pass from Andreas Pereira.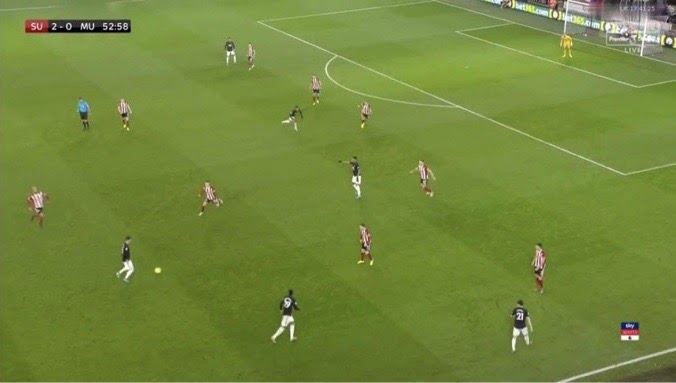 Another example with a winger and full-back can be found in Flick's Bayern. In order to exploit the pace of Alphonso Davies, Serge Gnabry has often been tasked with tucking inside. In the below example against Union Berlin, Gnabry decides to drop deeper, dragging a defender out of position and creating space for Davies to rush into.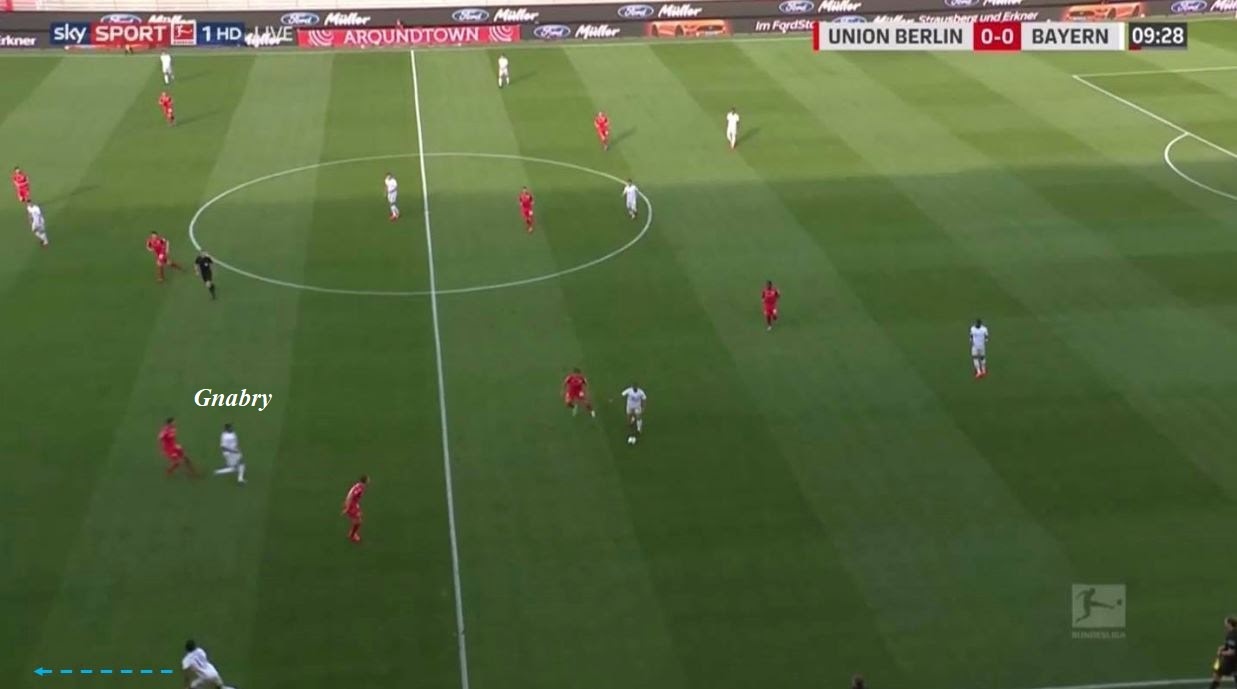 Most managers who use Positional Play are different in their approaches to the game. While Tuchel adopts Positional Play in his teams, he takes a different approach than former Juventus manager Maurizio Sarri.
Both coaches want to limit the amount of time that their players have to make a decision when they are on the pitch in order for the ball to be circulated quicker. While Tuchel attempts to solve these issues on the training pitch, Sarri would rather implement repetitive patterns or 'automatisms'; two different ideas to achieve the same goal.
Most managers use some of its principles
You don't necessarily need to be a Positional Play manager to utilize some of its principles, as demonstrated with Inter manager Antonio Conte. The basis of Conte's build-up play is built around his use of wide wing-backs. The key principle used by the Italian manager is the positioning of his players on the pitch to create space. By utilising width, they can make the pitch as big as possible. 
As seen below, both wing-backs stay wide, creating plenty of space to penetrate in the middle. In this instance against Borussia Dortmund, Lautaro Martínez exploits the space and runs in behind the defense to latch onto Stefan De Vrij's pass, controlling it with his chest, before slotting it past Roman Bürki to break the deadlock.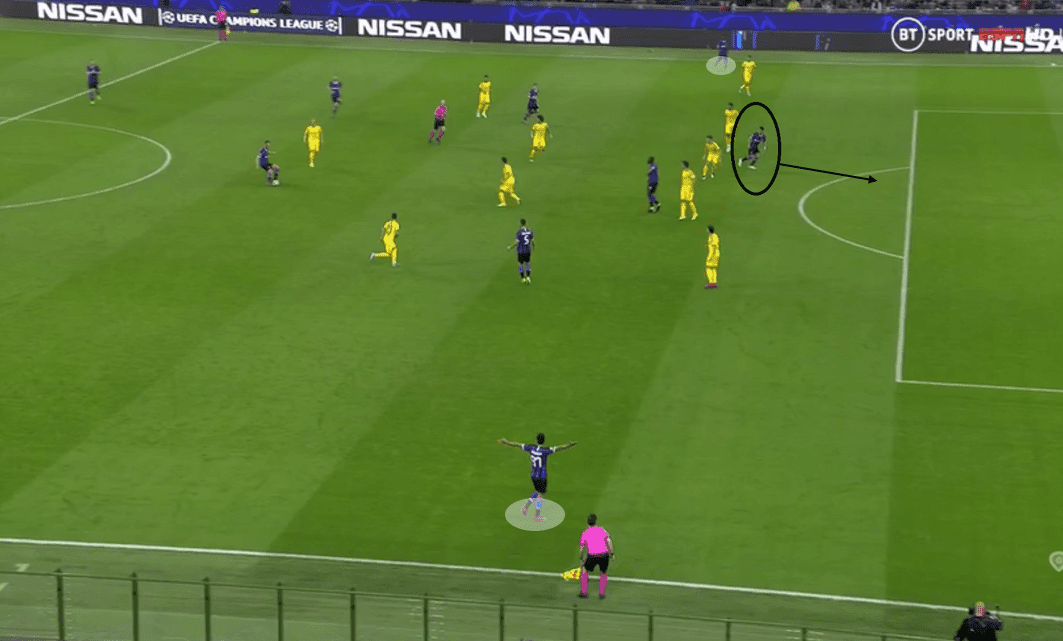 Conte is known for quickly instilling his patterns in his players, and he has one common pattern with two variations. The pattern is as follows. A wing-back passes the ball to one of his forwards in between the lines, subsequently drawing a player out of the defensive backline.
Once the forward has the ball, he can either wait for the high central midfielder or the ball-side wing-back to penetrate space and receive the ball in behind the opponent's defensive line, or switch the play to the wing-back on the underloaded side, where the wing-back will now have the time to wait for his teammates to get into the box as he delivers a cross.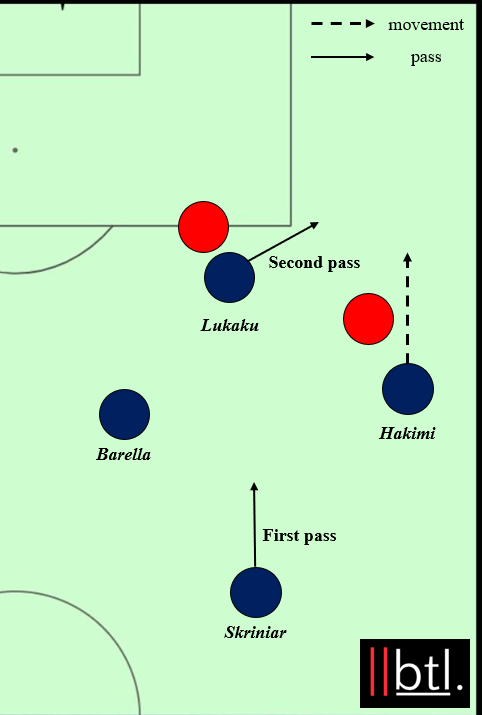 Conclusion
Positional Play isn't about possession but position, as well as moving the opponent to exploit a weakness in their shape. Some managers are fully committed to this style of play, but the majority of those who aren't have still adopted key principles in their tactics.
Most of the time, these managers introduce patterns to limit the decisions their players have to take, thus increasing the fluidity at which their players circulate the ball. They will also introduce positional principles in order to provide better spacing to the attack and have a stronger defensive shape once the ball is lost. 
By: @JKFootb4ll
Featured Image: @GabFoligno