Joachim Löw's Midfield Conundrum
With the 16th UEFA European Championship just a couple of months away, the German national team is in one of their most precarious positions since the turn of the century almost 21 years ago. On a steadily declining curve since the sides' World Cup triumph in 2014, a group stage exit 4 years later, along with a most recent 6-0 defeat at the hands of Spain means the DFB Elf are far from favorites in this summer's tournament.
Though Löw has tried to enact change since the disastrous exit in Russia, the dismissals of Jerome Boateng, Mats Hummels, and Thomas Müller haven't provided the desired uptick in form, with the national side leaky at the back and uninventive upfront.
With 23 Bundesliga titles and 246 national team caps between the three, the veteran's leadership and ability are sorely lacking in a young and disjointed national team. However, amongst all the players who have departed the national team picture since the triumph in the Maracaña on the 13th of July 2014, few have been as sorely missed as The Raumdeuter, Thomas Müller.
Directing every action on the pitch and contributing with 23 goals and 37 assists since the start of the 2019/20 season, Müller's exploits at club level have been sorely missed in a national team that has faltered in the same time frame. At 31 years of age, Müller is not only capable of bolstering any side in Europe in his current form but is seemingly aging like fine wine, getting better with each passing season, as his presence in Hans-Dieter Flick's side grows week on week.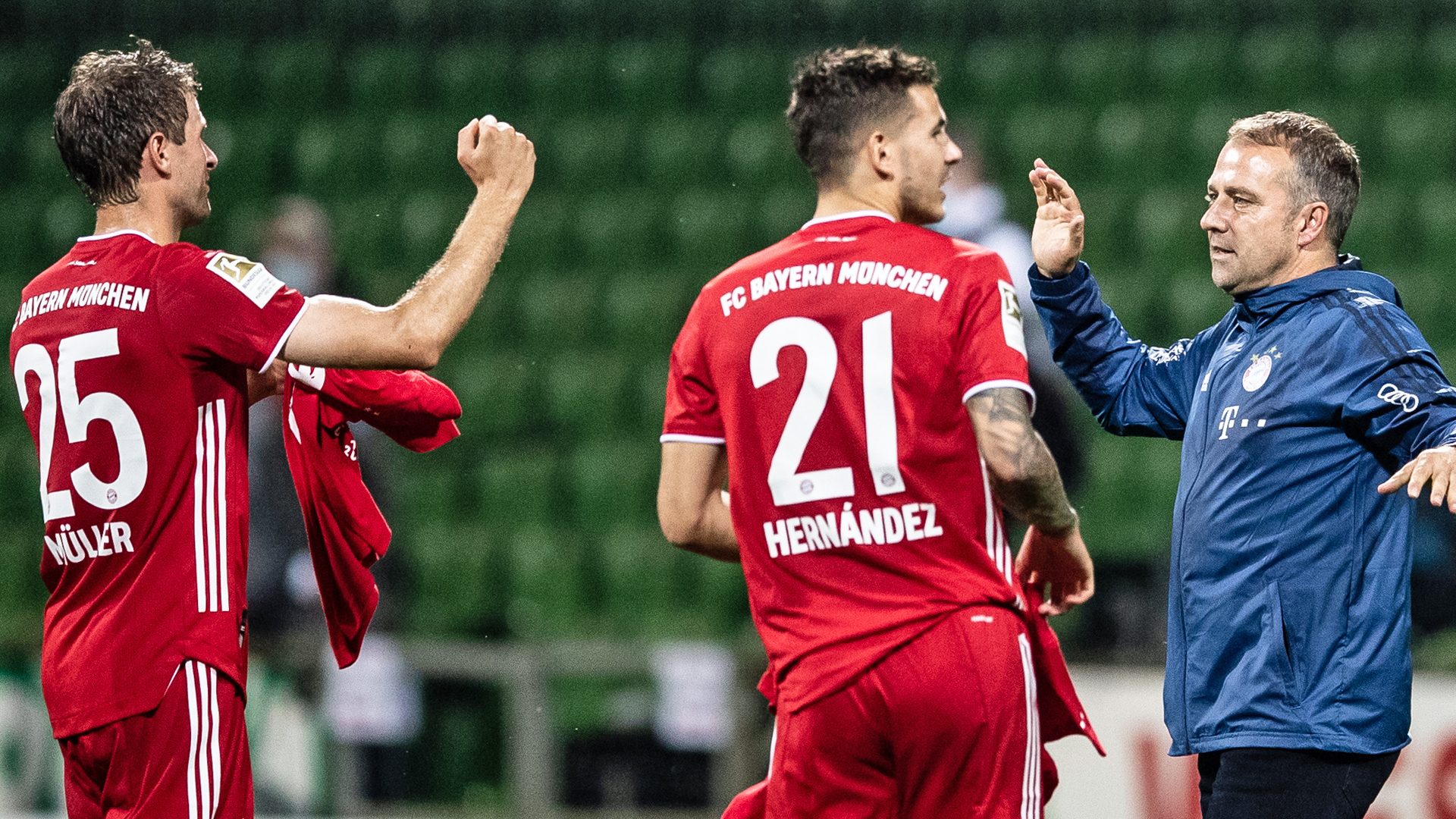 Photo: Lars Baron – Bundesliga / 2020 DFL
As the likes of Kai Havertz, Julian Brandt, and Julian Draxler struggle to muster comparable performances in the national team strip, Löw must find a way to get the best out of this strong array of talent if he is to keep the negative headlines towards his dismissal of Müller from eating away at his side.
With that in mind, we profile all of Löw's attacking midfield options, looking for who is the best player for Die Mannschaft to put their hopes on when faced with the monstrous task of taking home silverware this summer.
Julian Draxler
Pros:
Draxler is a very divisive character in Germany, bursting onto the scene as one of the brightest talents in years, and now seemingly stalled for the past 4.5 seasons on the bench of French giants PSG. Though unable to set himself through at a top European club, his status in the national team is still very high, starting 4 games in 2020, and even captaining the side on one occasion.
A favorite under Löw whose selection is often questioned as extensively as the manager's own position, it seems like Draxler will remain a fixture in the side as long as Löw remains head coach. This bodes well for Draxler's own chances of starting, with the backing of the manager an incredible factor in his advantage compared to many of the other candidates for the position.
Though 27 and without the necessary breakthrough since his early career at Schalke, Draxler still brings pedigree and expertise with him on the pitch. Although his continued selection is a debatable subject, having lined up as captain on numerous occasions, most notably as the leader in the young side that won the 2017 Confederations Cup, Draxler brings a lot of personality to the team.
With a strong relationship with the manager as well as key players within the locker room, it may be unwise to ditch Draxler so close to an international tournament that has a monumental effect on Löw's potential to stay in the job for another year.
Though not the raumdeuter that Müller was in his time under Löw, Draxler is capable of picking out good pockets between opposition lines and driving possession up the field. A great ball carrier and with a directness to his game that has developed immensely since his teenage years at Schalke 4, Draxler has many attributes that bode well alongside the counter-attacking threats of Leroy Sané, Timo Werner, and Serge Gnabry.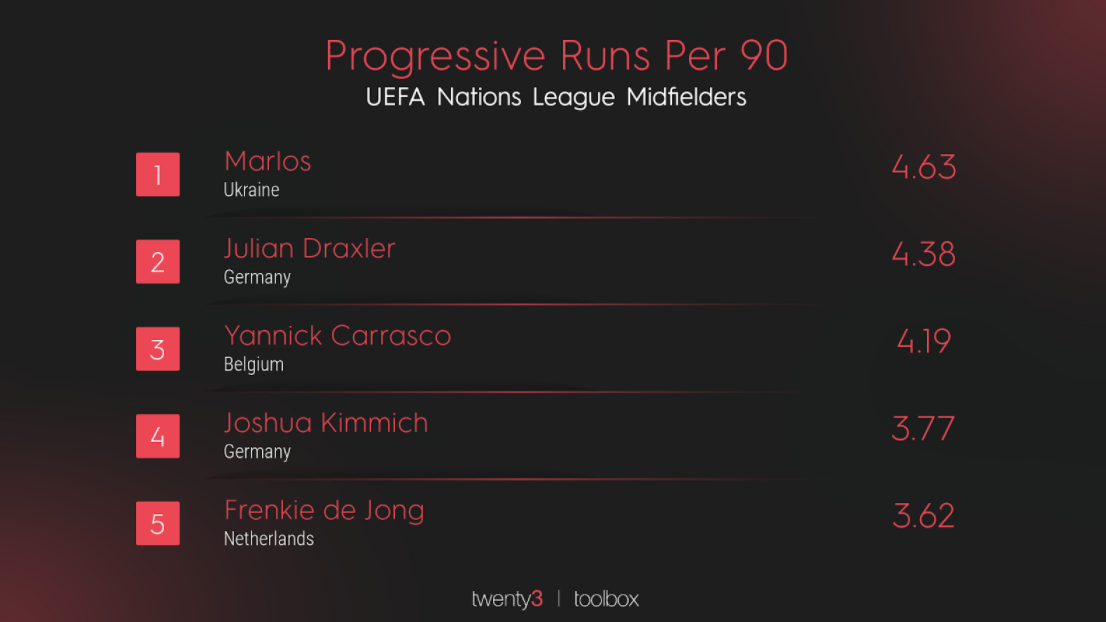 As well as completing the most progressive runs of any German midfielder, Julian Draxler's 4.38 per 90 are only behind Marlos for all players in Group A of the Nations League. This shows Draxler's ability to carry the side up the pitch, particularly important as Löw lines up with a fast trident of attackers and looks to quickly transition from defense to attack. [Twenty3/Wyscout]
Cons:
After Germany's 3-3 draw with Turkey on October 7, Sky Germany pundit and Die Mannschaft legend Lothar Matthäus lashed out at Löw's decisions: ""I am amazed to see that there are many players like Nico Schulz on the bench for Germany in their clubs. That's exactly why no one in Germany turns on the television."
Although he was referring to the Borussia Dortmund fringe player, who had a torrid time at left wing-back before being subbed off for Robin Gosens in the 70th minute, Matthaüs's comments could have just as easily been applied for Draxler, who has made just 11 Ligue 1 appearances this season and has not started a match since October 24.  He has mainly been used against weak opposition such as Dijon or Reims; since his breakthrough as a teenager, Draxler hasn't proved capable of competing against elite competition.
Whereas Kai Havertz amassed almost 9000 minutes of Bundesliga football before turning 21 years old, Draxler has played only 5,885 minutes between the ages of 23 and 27, normally the prime for a player in his position. Though Löw may continue to disregard Draxler's lack of minutes as an issue, such a shortage in top-level game-time could prove a major concern in this summer's Euros. Out of favor under an array of managers and shunned in the important Champions League fixtures, Draxler may need to seek out a move in January if he wants to truly be ready to bring his best for the national team in June.
Though a good progressive runner with the ball and a direct attacking threat, Draxler is far from the complete number 10. Particularly his abilities as a creator for others are brought into question, highlighted by his 1 key pass per 90, which is below both Havertz and Brandt's Bundesliga tallies, and the 9th best in the PSG squad. Draxler is adept at getting the ball into the final third, however, what he does with it in those areas is questionable, showcased in his failure to contribute more than 8 assists in a single season in his career.
Defensively Draxler is also not a shining light in the German side, attempting the least defensive actions per 90 of any of the midfielders Löw utilized throughout the UEFA Nations League. This is once more highlighted in Draxler's exploits for PSG, where the German's 4.82 defensive actions per 90 is not only the least of PSG's midfielders but also 5.77 less than their second-lowest contributor, 18-year-old Kays Ruiz-Atil.
Julian Brandt
Pros:
Julian Brandt's season has started with a whimper, failing to start the last 5 Bundesliga fixtures as BVB flounder 5 points off top spot. With BVB prepared to listen to an offer in January, and Arsenal reportedly heavily monitoring the 24-year-old midfielder, Brandt's future could be in North London within the coming weeks.
Though the season and a half at Die Schwarz-Gelben has been marked by inconsistency and mere glimmers of the midfielder's immense talent, he is nevertheless a figure capable of laying his mark in Löw's national side. With 35 caps at just 24 years of age, Brandt is held in high regard, capable of bringing immense moments of creative genius when at the top of his game.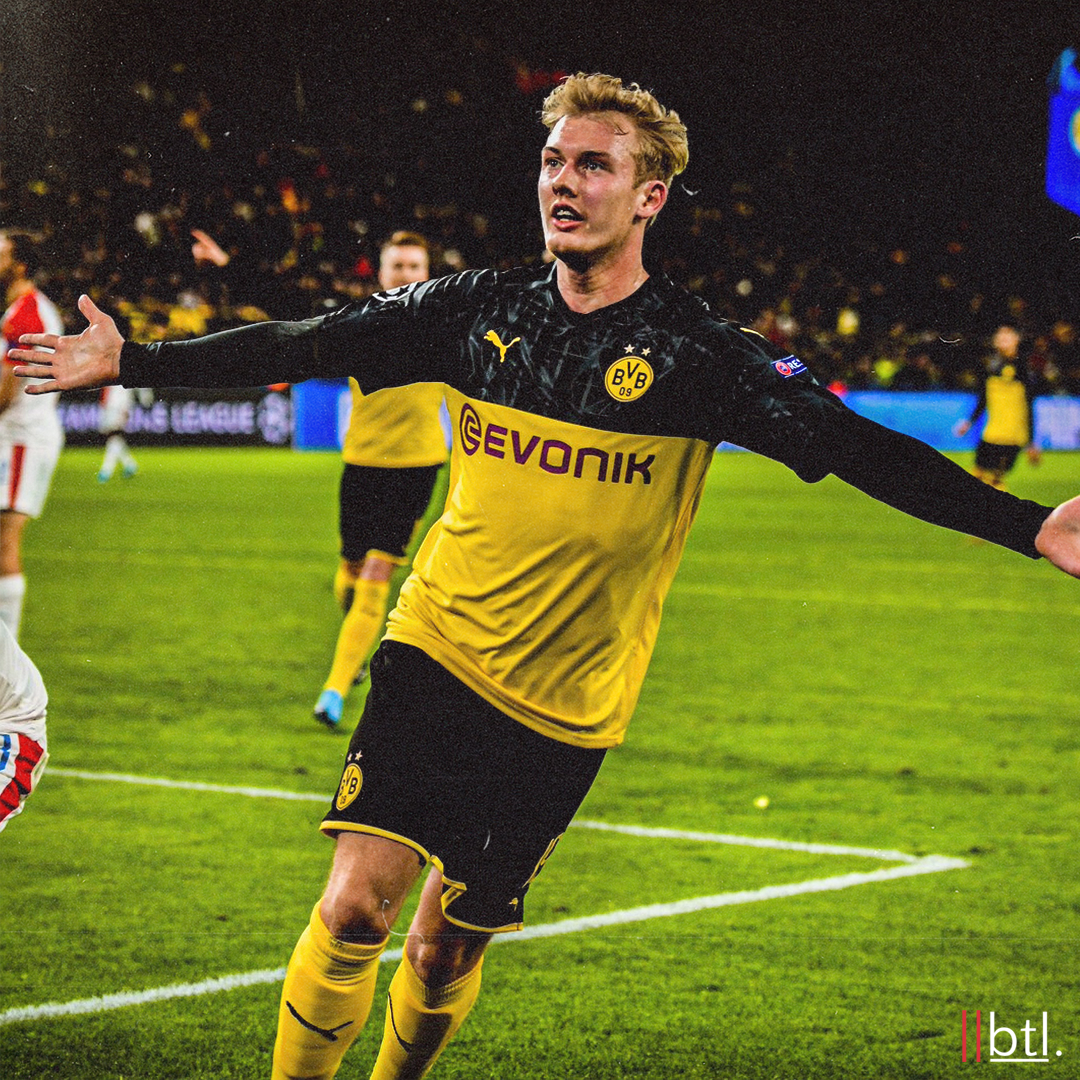 Particularly Brandt's versatility sets him apart from the other options available to Löw, with the ex Leverkusener adept across all positions in the midfield and on the wings. With Brandt forming a formidable two-man midfield alongside Axel Witsel for much of last season, Löw may look to utilize him in the double pivot in the 3-4-3 formation that he has rolled out across 5 of the 7 games the Germans contested this calendar year. Conversely, Brandt could also be used as one of the wingers in this formation, dropping between the lines to support in central areas whilst allowing an attacking fullback like Gosens to foray into the final third.
Brandt has shown throughout his young career the ability to change games with moments of spellbinding ingenuity. His ability to navigate tight spaces and turn under pressure make him an immense prospect for the national side, and his ability to bring the ball out of congested areas and bridge defensive lines through a quick change of direction is amongst the best in the Bundesliga.
This has resulted in dangerous actions on goal throughout his Bundesliga career, most notably an exceptional goal in Dortmund's 3-3 draw against Leipzig last Christmas, where Brandt left Dayot Upamecano in the dust with a skillful turn.
Cons:
Inconsistency is far too often the issue with Brandt, with every moment of genius canceled out with a calamitous error. Take for example the aforementioned match versus Leipzig. Though Brandt put Dortmund up 2-0 in the first half, all was offset when a horrendous back pass allowed Timo Werner the easiest of finishes to equalize.
What is so worrying is that these occurrences are far from a one-off, with various loose back passes and risky decisions in the midfield costing BVB crucial points across last season. With the Euros presenting a knockout tournament where every mistake is mercilessly exploited, risking the fatal side of Brandt for his odd stroke of genius may prove costly.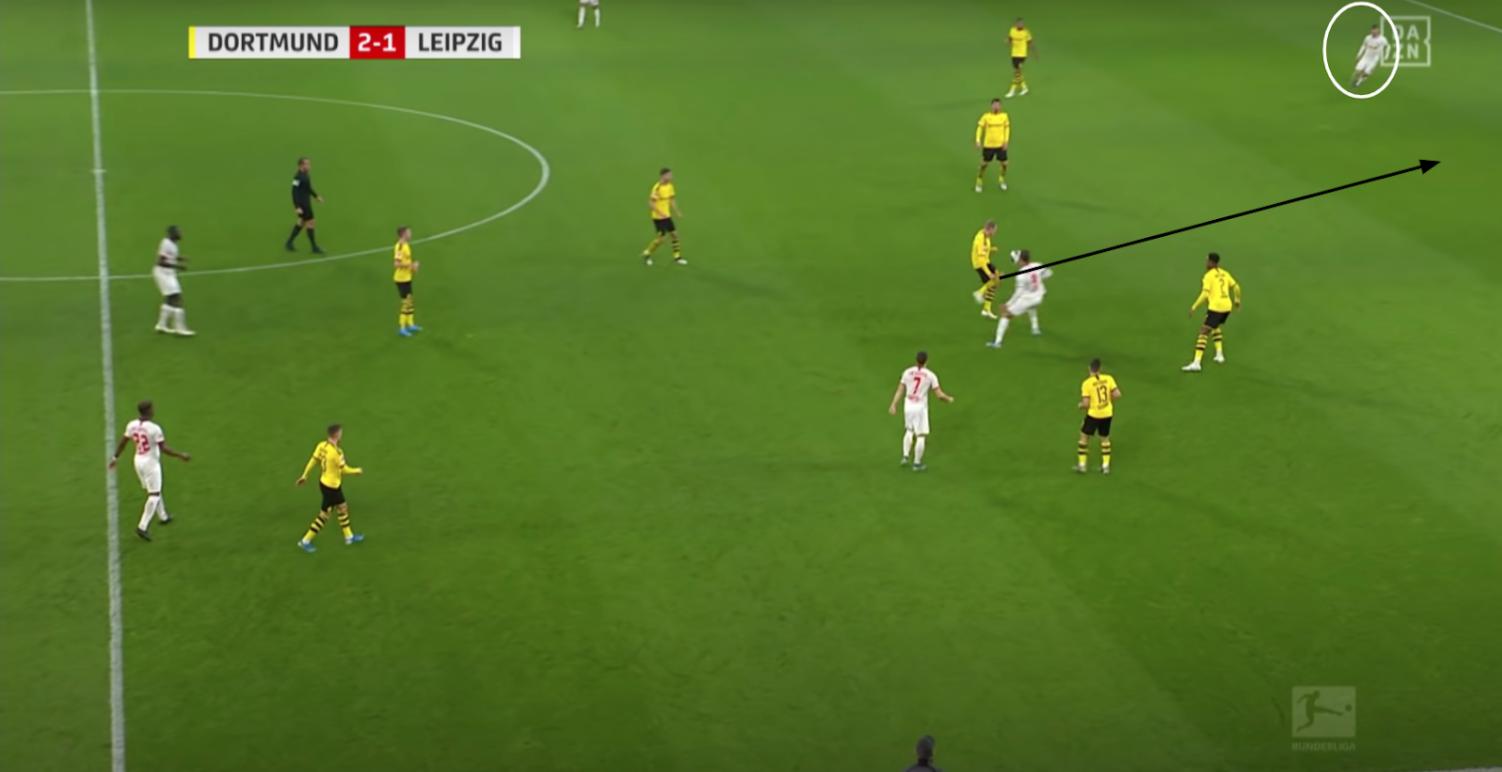 In the same match that Brandt changed the game going forward, his horrible back pass led to an easy equalizer for RB Leipzig. Though bad enough when it happens in domestic competition, in an international knockout tournament mistakes like this can be irreversibly damaging to a side's hopes of silverware.
The 2020/21 campaign hasn't seen Brandt displaying his best football, far too often drifting in and out of matches in which BVB need a creative player to take over the affair. Brandt, though talented beyond measure, isn't the player to single-handedly take hold of a match, rather requiring a team to be built around his strengths that can carry him through the tougher moments.
Whereas in Müller Germany had a player who wouldn't shy away from the big moments and large occasions, Brandt is the opposite, looking towards another teammate to take control when the going gets tough. Though it is easy to forget Brandt is still only 24, for a position of significance in the German national team the Dortmund midfielder will need to offer more as a focal point in attack, acting as a player for others to look towards to change the state of a game, rather than the other way around.
Kai Havertz
Pros:
The future of German football and one of the most highly regarded talents in the game, Chelsea's new €80 million man will no doubt be a key fixture in the national team for a number of years. Though Havertz has found it difficult to adjust to life in the Premier League, with just the solitary goal in his 15 Premier League appearances, fans of German football know just how influential he can be on his day.
With 12 goals and 6 assists last season, 15 of which came in the final 18 Bundesliga games, Havertz is no doubt the most dangerous goal threat of the options Löw has utilized on the position this year. Perhaps the most similar to Müller in his ability to find dangerous pockets of space and pop up in front of goal, Havertz has an astute awareness of the game around him, sensing where he needs to be when teammates are in possession of the ball.
As a finisher the Leverkusen academy graduate is also far and away the best option, capable with either foot as well as with his head. Of the youngsters 9 open play goals for Leverkusen in 2020, 3 came with his right foot, 3 with his left, and 3 with his head. Adept at making well-timed runs into the 6 yard box as well as scoring from tight angles and long distances, Havertz is truly the epitome of a threat when in sight of the opposition goal.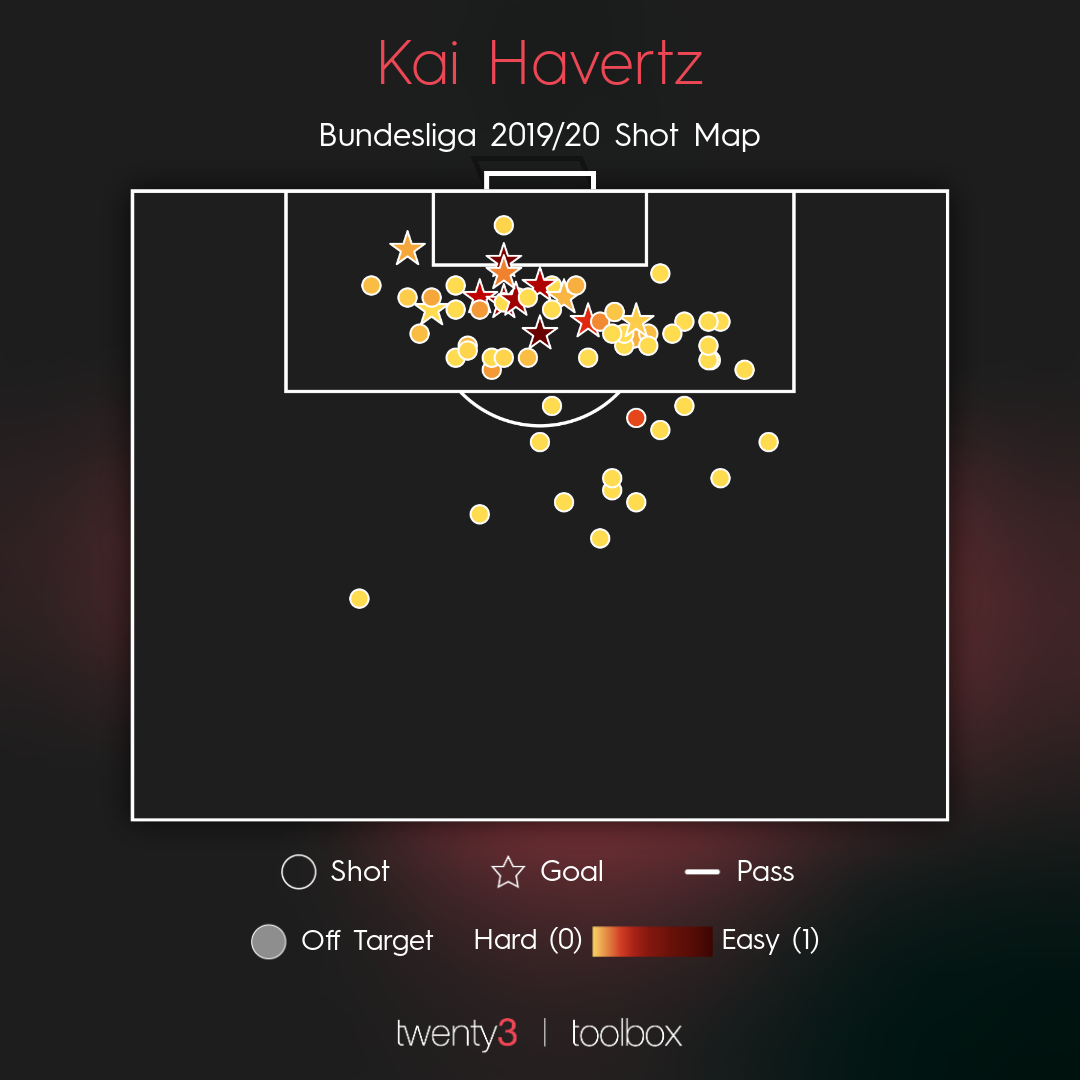 Kai Havertz is always willing to make up the yards to get into dangerous goal scoring positions, highlighted in his high shot density from dangerous positions. The impressive timing of his runs, along with his two footedness and aerial threat, means he is capable of netting important goals for Germany this summer. [Twenty3/Wyscout]
Defensively, Havertz is also contributing the most of the options available, making an impressive 4.22 ball recoveries and 3.09 interceptions per 90 in this season's Premier League. As well as contributing far more against the ball then either Brandt or Draxler, Havertz is coping exceptionally with the aerial battle renowned in English football, winning the most headed challenges of any Chelsea midfielder, as well as the 9th most of any central midfielder in the division.
Perhaps most impressive about Havertz is the multifaceted ways in which he can be utilized, be it as a false nine, a right-winger, or as a traditional attacking midfielder. This allowed him to flourish last season in the absence of Kevin Volland, becoming Leverkusen's chief goal threat, as well as for the national team, where he has made himself available as a winger in a 3-4-3 or as an attacking midfielder in a 4-2-3-1. Though his best position remains at the tip of a three man midfield, like Brandt, the multitude of positions he can excel in makes him an attractive prospect in Löw's limited 23-man roster.
Having players who understand one another's game is a fundamental factor for success, and with the short time Löw has had with his squad on the training pitch, capitalizing on the bonds built in the club sides could be vital to Euro success in 2021. Though neither Werner or Havertz has particularly set the Premier League alight, as the months go by and they begin to settle, Germany could have two key players forming an imposing attacking duo for Chelsea that is ready to be translated into the international scene this summer.
Cons:
Like all three of the options previously explored, Havertz too is unable to call upon a particularly impressive start to the season to secure his place in Löw's starting XI. Apart from a hattrick in the Carabao Cup against second division side Barnsley, Havertz has failed to provide Premier League fans with evidence of his immense talents on display in the Bundesliga.
Though a serial slow starter in his time at Leverkusen, Havertz has nevertheless looked slightly lost and uncomfortable with the demands of English football and Lampard's unfamiliar style. Ofting coming across languid in his movements and indecisive in his decision-making, Havertz will need to improve on his early performances if he is to rid himself of the "flop" label he is currently carrying around his neck.
There are reasonable explanations for his poor start to the season, with a lengthy COVID-19 absence and complete lack of a preseason making the acclimation to Lampard's Chelsea tactics and the Premier League as a whole a thankless task. Though these are reasonable explanations to not begin to question his talents as a long term presence in Chelsea's plans, if he isn't able to bring top performances as the season progresses, it begs the question if he is truly capable of leading the national side's title assault in June.
Furthermore, if teammate Brandt's move to Arsenal materializes, and he hits the ground running, it could produce a clear image on who is the more valuable asset for the DFB Elf going into the summer tournament.
Lars Stindl
Pros:
A left-field shout who demands a mention based on his performances this season is Borussia Mönchengladbach midfielder Lars Stindl. At 32 years of age, Stindl is a seasoned veteran, however he has never truly been a fixture in the international scene, with his only tournament appearance being the Confederation Cup in 2017.
On current form, though, Stindl is far and away the best option out of the 4 players on this list, contributing 11 goals and 8 assists across all competitions this season. A key clog in a Gladbach team who have qualified for the Champions League knockout stages, if Stindl continues to perform against some of the stiffest competition in Europe, a return to the Nationalmanschaft will become increasingly difficult for Löw to overlook.
Particularly Stindl's ability to link midfield and attack is superb, flirting between a second striker and central midfielder in his positioning on the pitch. With Werner profiting from playing tightly off another striker, Stindl could provide an optimal solution for Löw. Though not the robust physical presence that Yussuf Poulsen was at RB Leipzig, Stindl is adept at dropping off a centerback and quickly feeding in the trio of pacy attackers that Gladbach has to offer, a trio that profiles similarly to the preferred DFB selection of Werner, Gnabry, and Sané.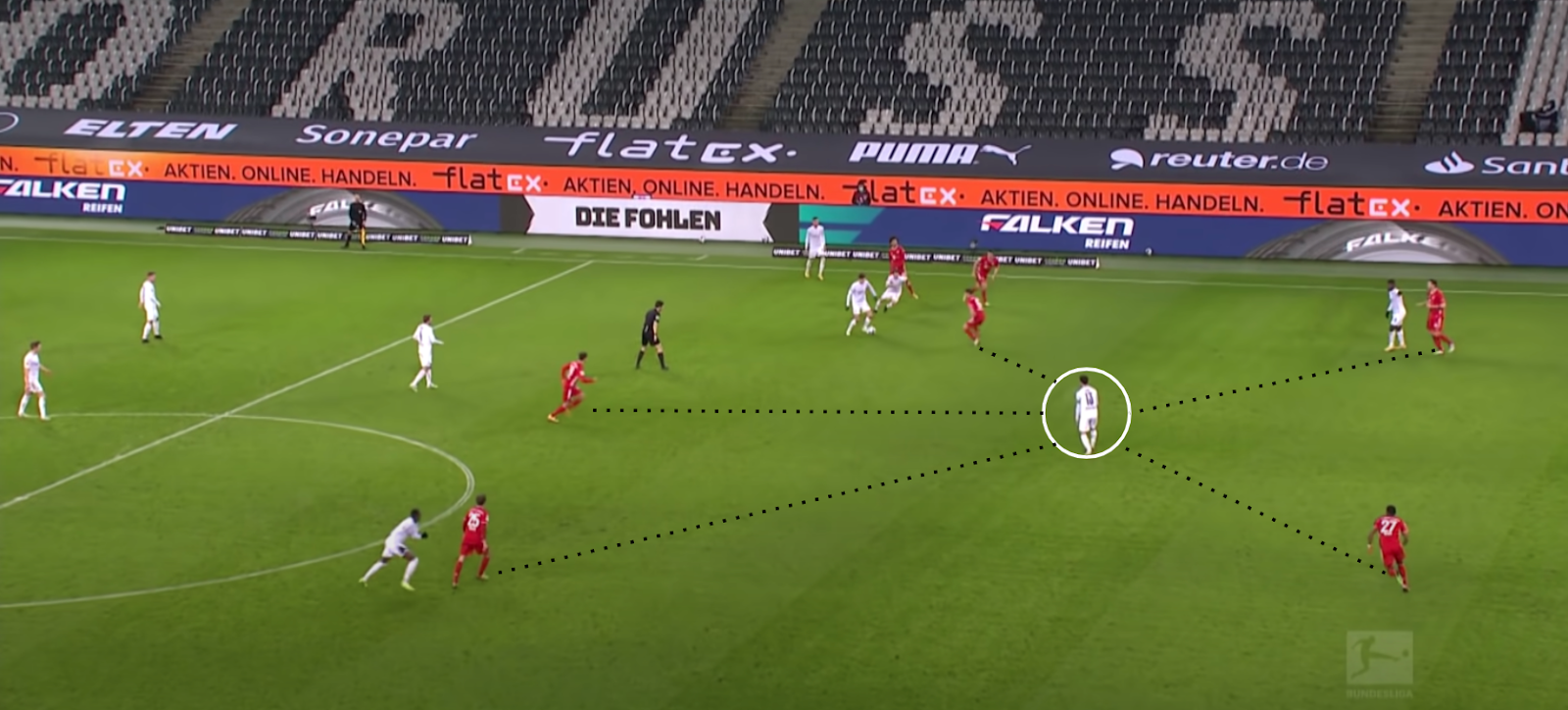 Stindl positions himself exceptionally between Bayern's midfield and defense, meaning he is in acres of space when Gladbach wins possession high up the pitch.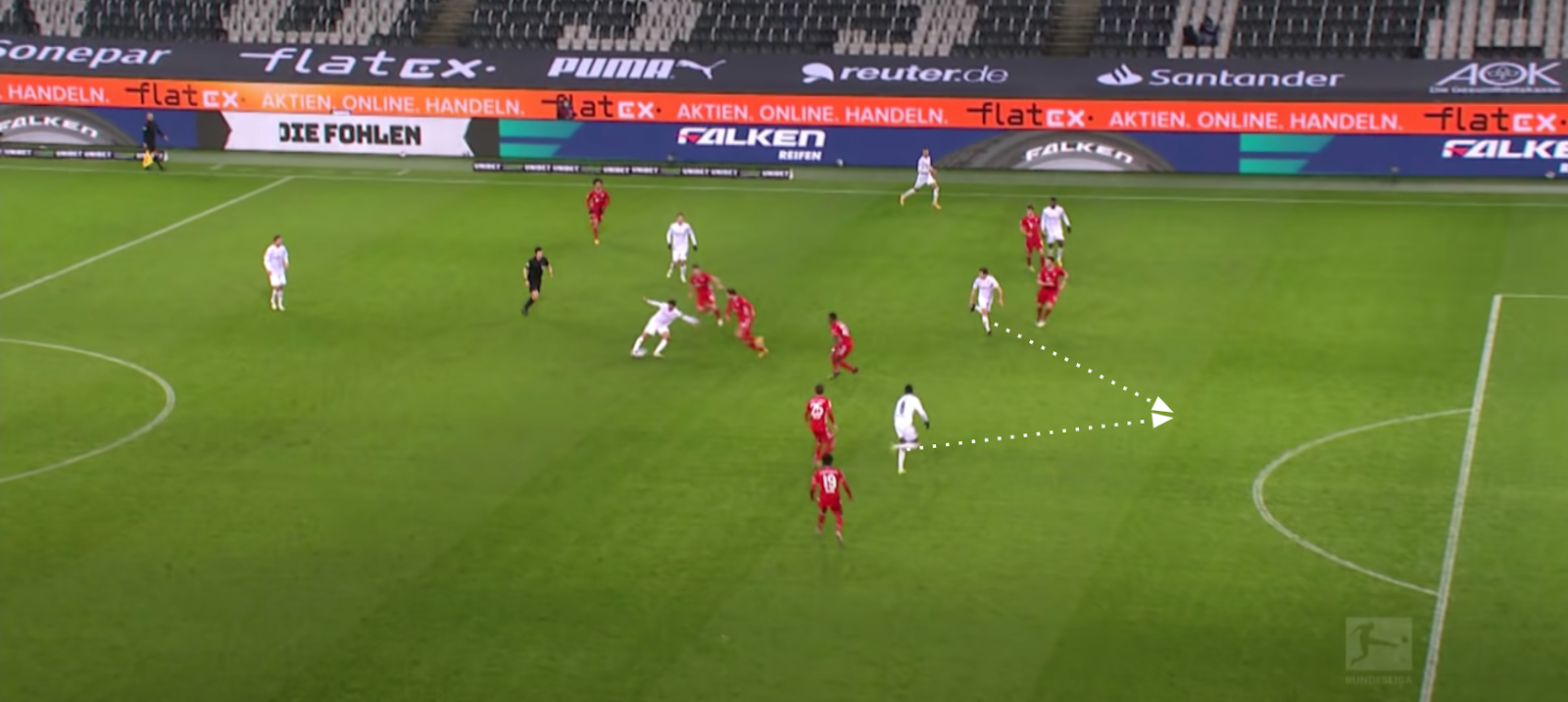 In this same play, Stindl is able to thread a through ball to Gladbach's left winger Jonas Hoffman, who scores off the pass. Both he and Denis Zakaria on the other flank make exceptional inverted runs, a trademark of all three of Löw's first choice attackers, Serge Gnabry, Leroy Sané, and Timo Werner.
Stindl has also been surprisingly impressive in the few national team appearances he has accumulated in his career. Particularly the aforementioned Confederations Cup saw Stindl play an impressive role, scoring three goals in his 4 appearances, including the only goal in the 1-0 victory over Chile in the Final.
Though it will be almost 4 years since that victory in Russia, Stindl has progressed enormously at club level over that time, becoming the captain at Mönchengladbach and regularly contributing upwards of 10 goal contributions in the league.
Löw has made it clear that he would like to transition the squad away from older players, however Stindl has yet to taste true international success, and unlike many of the players banished from the national team setup would have a fire burning inside of him if he were to be given an opportunity to represent his country this summer.
Cons:
Age is of course a factor, and at 32, Stindl isn't going to be a fixture for the national team to build on for the foreseeable future. Though he has had an impressive campaign in the league, if Löw would be willing to bring back an aging star like the Gladbach captain, then there should also be no reason why Müller, one year younger than Stindl, shouldn't be equally given the opportunity to represent the side this summer.
Timing is also somewhat of an issue, with only 3 World Cup qualifiers against meager opposition between now and Germany's pre-tournament friendlies. Had a call up come at the beginning of the season, then perhaps Stindl could have played himself into contention for a spot in the 23 man roster, however, without the gametime against more competitive sides likes Spain and Switzerland, it is unlikely Löw will trial Stindl again so close to the tournament's kick off in June.
Stindl also presents a slight issue in a 3-4-3, with the veteran not an ideal fit for any of the positions in one of Löw's preferred systems. Whereas Brandt can operate as a central midfielder, Draxler on the wings, and Havertz up top, Stindl has never truly been a success as a lone striker.
In the Confederation Cup success, Stindl was often used slightly beneath either Werner or Sandro Wagner, able to drift into the tip of an attacking setup, but not shackled to the most forward position in the setup. Though capable of drifting deeper as a false nine in the 3-4-3 setup, it doesn't feel as if Stindl would be as well versed as Havertz is in this particular role, nor does he bring the particular aerial threat or blistering pace to come on as an impact substitute when chasing a game in the final minutes.
The Verdict
Löw has a host of questions to answer in the coming months, with the creative midfielder just one of the many dilemmas he will need to solve to turn his wounded side into title challengers. Though each player featured above is capable of changing the tide of a match in a split-second, we believe, as of January 12th, the pecking order should look like this:
The Starter: Kai Havertz
Amongst the Squad: Julian Draxler, Lars Stindl
Omitted: Julian Brandt
By: Adam Khan / @XxAdamKhanxX
Featured Image: @GabFoligno