Same Difference: Position of the Season 2022/23 / Part One
The goal of this series is to describe a position of play that had the most pervasive impact on teams' success across European football during a given season. When looking for commonalities and/or trends in style of play among successful European club teams in the 2022/23 season, it is hard to look past the roles various midfielders played in implementing what became football's buzz-phrase throughout much of this spring: the "box midfield".
Surprise Premier League title contenders Arsenal and eventual (if not inevitable) Bundesliga champions Bayern München deployed variations of a box midfield at different points throughout their 22/23 campaigns. More specifically, the 8's in both Arsenal and Bayern's set-ups were essentially mirror images of one another, having remarkably similar characteristics and responsibilities.
La Liga champions Barcelona and treble winners Manchester City also found success using box midfields throughout this past season playing their 8's in similar but distinct ways. This prevalence makes 8's my position of the season, and the remainder of this piece explores the significance of this role in establishing successful set-ups over the course of the 2022/23 European club football season. 
Arsenal's Approach: The Role of 8's in and Out of Possession
Martin Ødegaard and Granit Xhaka were the stalwart 8's of Arsenal's Premier League title challenge in 2022/23, and perhaps fittingly so. Both players had surprisingly prominent roles in an Arsenal team that exceeded many preseason expectations despite finishing as Premier League runners-up. Arsenal manager, Mikel Arteta, named Ødegaard the club's new captain ahead of the 22/23 season at the tender age of 23 and despite Ødegaard having only signed permanently for Arsenal 11 months earlier.
Xhaka, on the other hand, entered the season seemingly at the opposite end of his Arsenal career. Going into the last year of his contract and having been stripped of the club's captaincy in 2019, Xhaka's resurgent 2022/23 campaign was in keeping with the unexpected attainment of his Arsenal teammates. Ødegaard and Xhaka's respective roles in the 22/23 Arsenal team reflected the parallels in their backgrounds as well- similar but distinct.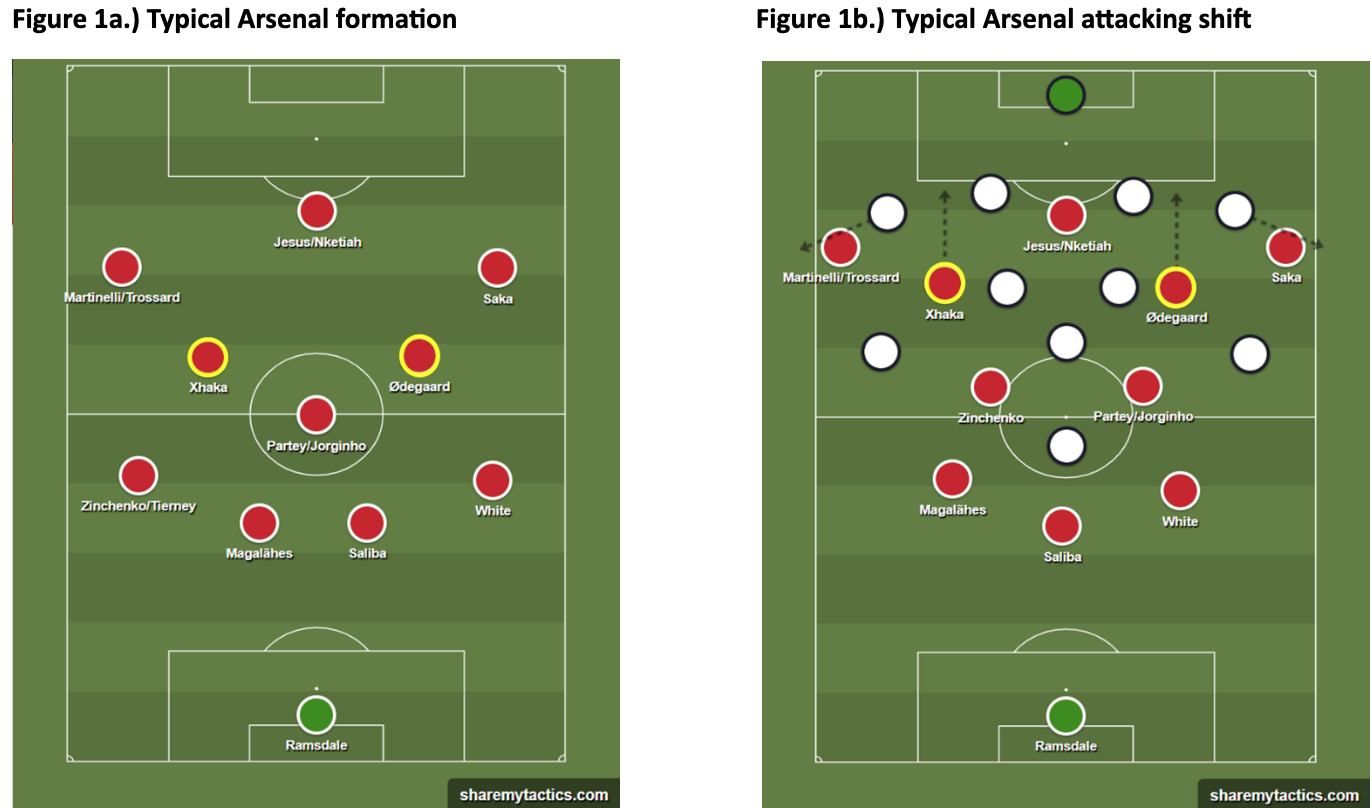 On paper, Ødegaard and Xhaka set up opposite one another in the midfield line of a 4-3-3 formation (as depicted in Figure 1a). In possession, however, Arsenal often shifted into the box midfield formation shown in Figure 1b. This shift sees Oleksandr Zinchenko inverting from his left back role to form a double pivot with Jorginho, while Ødegaard and Xhaka push forward as the 8's at the front of this box-shaped midfield.
Typically, as Arsenal build-up in possession, their two wingers  (Gabriel Martinelli and Bukayo Saka) stay high and wide, close to their respective touchlines. Martinelli and Saka's positioning stretches opposing four-man defenses horizontally as opposition fullbacks wary of their prolific pace and ball-carrying ability are pulled into wide areas to mark Arsenal's wingers. This horizontal stretch opens half-spaces between opposition fullbacks and center backs, which Xhaka and Ødegaard are primed to exploit.
Without additional cover from midfielders or wingers dropping back, opposing fullbacks were often faced with a catch-22: narrow off to prevent the Arsenal 8 on their side (Xhaka or Ødegaard) from advancing centrally at the expense of giving wingers space on the flanks, or track Saka and Martinelli into wide areas leaving Arsenal's 8's space to roam inside. 
Arsenal's first goal in their 3-2 Premier League home win over Liverpool highlights the defensive quandary facing fullbacks playing against Arsenal's attacking system. Less than a minute into the game, Arteta's side took the lead from a flowing move started out on the right flank by Bukayo Saka. Saka was allowed to receive the ball, turn, and run at Liverpool's backline because their left fullback Kostas Tsimikas was caught upfield.
Liverpool centerback Virgil van Dijk, wary of Saka's prowess in 1 v 1 situations, backed off Saka allowing him the chance to slip a ball into Ødegaard who had picked up a position between Liverpool's defensive and midfield lines. As Ødegaard carried the ball toward the heart of the Liverpool defense, Xhaka made a delayed run up alongside him in support. Liverpool's right fullback, Trent Alexander-Arnold, was then faced with the conundrum of defending this Arsenal attack as Xhaka advanced inside and Martinelli came running in off the flank.
Alexander-Arnold narrowed off slightly in attempts to block Xhaka's run, but it was too little too late as Ødegaard played an incisive through ball beyond Alexander-Arnold and into the path of Martinelli, who arrived unmarked from the Arsenal left wing to score past Liverpool goalkeeper Alisson Becker.
Martin Ø
degaard's Influence: An Ode to Finding Space
Martinelli's strike and the build-up leading to it illustrate the potential effectiveness of Arsenal's attacking approach, but this goal also sheds some light on the particularities of what Ødegaard and Xhaka individually bring to Arsenal's system as 8's. Ødegaard serves as Arsenal's primary attacking threat from midfield operating expertly between the midfield and defensive lines of Arsenal's opposition.
He finished the 22/23 Premier League season with 15 goals and 7 assists, ranking second amongst Arsenal players in both goal contributions and non-penalty expected goal contributions. Many of these contributions stemmed from Ødegaard's ability to exploit space left open in front of opposition defenses. His goal in Arsenal's 2-0 win at Spurs, for example, was reminiscent of his assist for Martinelli's goal against Liverpool.
Once again, the sequence started with Saka picking the ball up out on the right flank. Tottenham left wingback Ryan Sessegnon, like Tsimikas for Liverpool, was caught up-field, allowing Saka to run at the Spurs center backs. Ødegaard found his familiar pocket in front of Spur's defense, Saka picked him out, and he took one touch to set himself before rifling a strike beyond Spurs goalkeeper Hugo Lloris from 30 yards out.
Operating in a somewhat free attacking role, Ødegaard demonstrated an uncanny ability to find space between the opposition midfield and defensive lines as well as a keen eye for both goals and key passes making him one of Arsenal's main attacking threats.
Granit Xhaka: Arsenal's Reliable Swiss Army Knife
In contrast to Ødegaard's tendency to float and exploit spaces in advanced areas from the right-sided 8 position, Xhaka's play from the left 8 spot tended to demonstrate a focus on controlling defensive spaces while Arsenal attacked. Xhaka chipped in with a respectable 7 goals and 7 assists from his position last season but operated as a typical box-to-box midfielder.
It was common to see him provide a trailing run and get a shot off at the end of an Arsenal attack and then seconds later be back in the Arsenal defensive third making a tackle, clearance, or defensive interception. His disciplined positioning served as a foil to Ødegaard's play, allowing Arsenal to maintain balance when an attack broke down. 
Figure 2: Xhaka finds Ødegaard for the opening goal, doubling it shortly after in a 3-1 win vs. Chelsea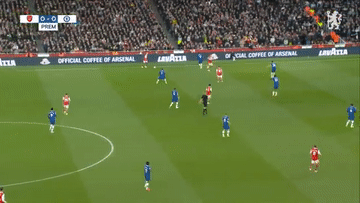 Video courtesy of Chelsea FC's YouTube channel
Xhaka would often shift into a left-sided role, almost switching positions with inverted fullback Zinchenko. At times Xhaka could make offensive contributions from this position, as demonstrated by the two almost identical crosses he picked out to find Ødegaard characteristically positioned between Chelsea's midfield and defense to score in Arsenal's 3-1 win over their London rivals at the Emirates (shown in Figure 2). However, from this withdrawn left-sided role, Xhaka's more consistent contribution was managing the transition after turnovers, often filling gaps in the event that Zinchenko was slow to recover into his fullback role.
Figure 3: Arsenal's Defensive Block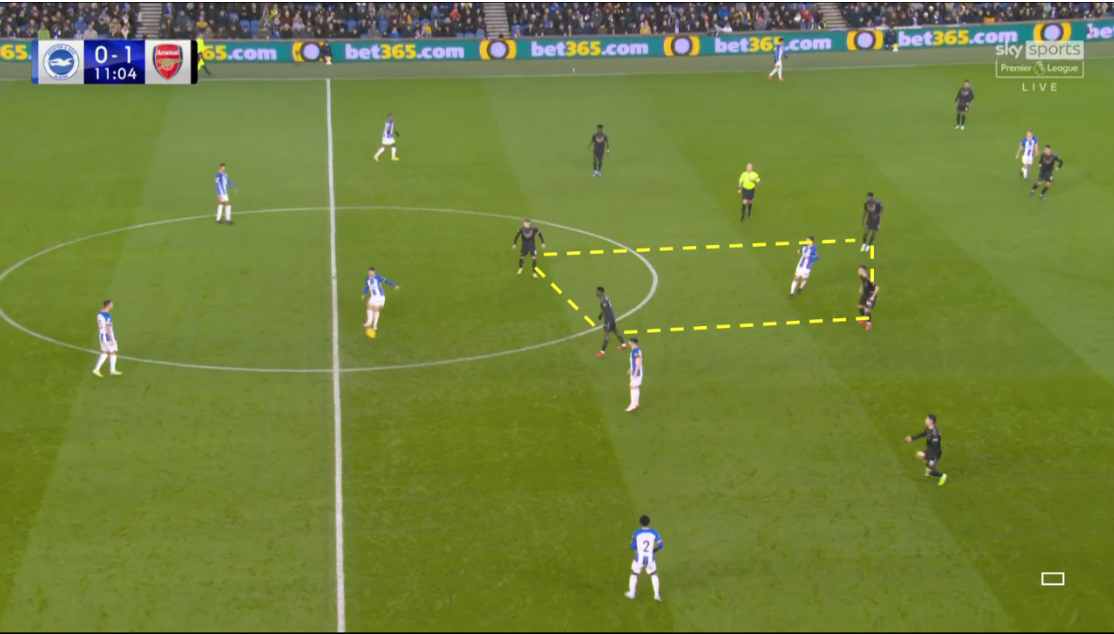 Arsenal's defensive approach further highlights differences between the roles of Ødegaard and Xhaka as 8's in Arsenal's system. Out of possession, Arteta's side often set up in a different midfield box shape as shown in Figure 3. While Ødegaard and Xhaka often found themselves in the same line of Arsenal's attacking shift, defensively the distinctions between their responsibilities were more pronounced. Ødegaard would move into the front line of Arsenal's defensive box with the central forward (either Gabriel Jesus or Eddie Nketiah).
From this front defensive line, Ødegaard and the central forward were responsible for pressing opposition centre backs and deep-lying midfielders in central areas, forcing their opponents to play the ball wide. Xhaka meanwhile would drop into a deeper role within Arsenal's defensive box, playing effectively as a central defensive midfielder in a double pivot with Arsenal's holding midfielder (either Thomas Partey or Jorginho) to screen the space in front of Arsenal's central defenders.
This difference in Ødegaard and Xhaka's contributions out of possession is reflected in their defensive stats, as Xhaka had a 33% higher tackle success rate and almost four times greater contribution of defensive clearances per 90 minutes compared to those of Ødegaard.
Looking Ahead to a Post-Xhaka Arsenal
Granit Xhaka's balancing role in Arsenal's tactical approach throughout 22/23 is particularly prevalent as we look forward to the 2023/24 Premier League season. With Xhaka having departed for Bayer Leverkusen this summer, it is interesting to consider how his responsibilities may be distributed among the current midfield options in Arteta's squad particularly as Arsenal have yet to sign a like-for-like Xhaka replacement. It has been posited that summer signing Kai Havertz is being envisaged as a possible replacement for Xhaka as Arsenal's left-sided 8.
Playing Havertz in this role suggests a significant shift in Arsenal's approach given the differences in his profile as a player to that of Xhaka. In terms of attacking threat, Havertz would likely offer more than Xhaka did from the 8 role given that Havertz has spent most of his career shifting between various forward positions.
Arsenal could then operate in a system akin to having two Ødegaard in terms of the skillsets of their 8s. However, given Havertz's previous roles to date, Arsenal would likely have to compensate for the loss of defensive contributions they're accustomed to getting from Xhaka at the 8 position in order to maintain defensive solidity through midfield.
Assuming Arsenal stick with the three-man midfield setup they played last year, much of this additional defensive responsibility would likely fall on their deep-lying midfielders (either Partey, Jorginho, or summer signing Declan Rice) and potentially the inverting fullbacks. How Arteta adjusts his side's approach with Xhaka out of the picture is certainly something to keep an eye on in the early months of the upcoming season. 
After narrowly beating Manchester City on penalties in the Community Shield, Arsenal would kick off their season with a 2-1 win against Nottingham Forest with Havertz, Rice and Ødegaard operating in midfield and Saka, Nketiah and Martinelli in attack. Thomas Partey operated as an inverted right back whilst Ben White, William Saliba and Jurrien Timber made up the rest of the backline alongside goalkeeper Aaron Ramsdale.
Following Timber's ACL injury, Arteta went with Takehiro Tomiyasu at the left back position, but the Japanese defender received his marching orders in the 67th minute on Monday, leaving the Gunners with a tall task at Selhurst Park. Arsenal nevertheless prevailed with a 1-0 win against Crystal Palace courtesy of Ødegaard's penalty goal in the 54th minute, and they'll be looking to continue their impressive start to the season as they host Fulham and Manchester United over the next fortnight.
By: Ade Samuel / Linkedin: https://www.linkedin.com/in/ade-samuel-42a165172/https://www.linkedin.com/in/ade-samuel-42a165172/
Featured Image: @GabFoligno / Catherine Ivill / Getty Images