Steve Bould's New Role at Lommel SK: A Tactical Deep Dive
Steve Bould, former Arsenal coach and assistant manager has taken up a new post after a year away from football as the Head Coach/Manager of second-tier Belgian side, Lommel SK.
In 2020 Lommel SK were acquired by the City Football Group (CFG). This is the consortium of football clubs that are owned by the same people who own Manchester City. One of the key things for Lommel SK to do is to develop young players that could be of use to Manchester City and to bring through exciting young Belgian talent.
Steve Bould will also of course be looking to take Lommel SK upwards to the top division of Belgian football. However, he has explained that his task, for now, is to develop certain players that CFG want him to, "Initially I'll be working with the players that the group want there. The biggest part of the job is developing players." Bould said in an interview with the Daily Mail, conducted by his former Arsenal teammate, Tony Adams.
This is quite an exciting prospect as it could give us a chance to see how Bould and Lommel SK set themselves up to help players to develop into CFG's desired mould. We can imagine that this mould is something of players who are versatile in their positions, skilled technically and who understand rhythm in football which is something Pep Guardiola has explained to be very important, particularly in his teams.
The Tactics behind Union Saint-Gilloise's Belgian Title Challenge
So, to get a grasp of what this development looks like and what Steve Bould's own tactical philosophy is I watched all of Lommel SK's games so far this season in the Belgian second division. In particular, I am going to focus on and break down Lommel SK's 3–0 win over Jong Genk on the 26th of August.
When Lommel SK are in possession for longer periods of time their defence plays a somewhat high line in order to try and pin the opposition into their own half. This is something that Manchester City and most top clubs are known for deploying so it is definitely something that Bould and CFG are trying to instil in the players.
However, it isn't an easy thing to learn, defenders have to learn to defend from the front. It was clear to me in this game that Lommel SK were caught out on the counter a number of times. This is because of the vulnerability of an inexperienced high line when faced with fast transitional counterattacks. So, I imagine Steve Bould will be looking to train his young defenders into being comfortable at playing in this high line.
Now, let's get into the game. Often, Lommel SK seem to favour quick direct football, getting the ball forwards as quickly as possible. This could be an instruction from Bould and the coaching staff in order to drill players into improving their decision-making when under pressure. We see this in Lommel SK's first goal of the game.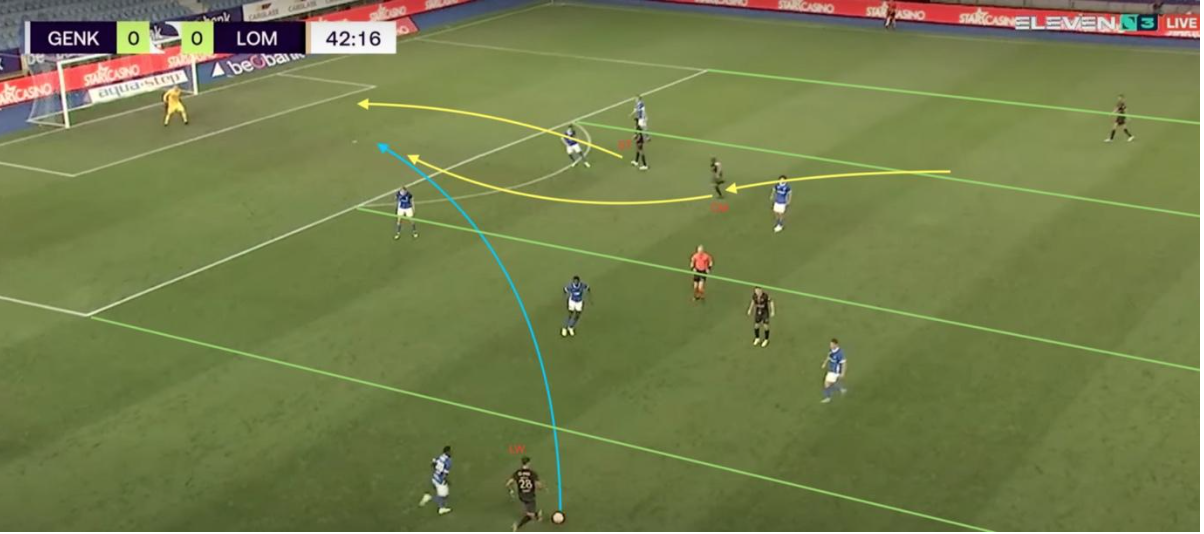 (Courtesy of Lommel SK YouTube Channel)
In the seconds before the goal, we see the highlighted central midfielder (CM) run from his position in the right half-space into the centre of the pitch which ends up dragging one of the centre-backs with him. This run, highlighted by the yellow arrow, distracts one centre-back which leaves space for the highlighted striker to run into.
The highlighted left-winger (LW) plays a diagonal lofted ball into the box towards the penalty spot. These crosses from interior wide areas or the half-spaces are some of the most dangerous final balls that can be played. These are often utilised by Jurgen Klopp's Liverpool by players like Thiago and Jordan Henderson. This pass ends up with the highlighted striker who is able to score the first goal. You can watch this from here.
The green lines highlighting areas on the pitch are known as the half-spaces. These are spaces on a football pitch in which the most chances usually come from, and they are something Pep Guardiola has talked up extensively- he has even drawn these lines onto training pitches to help players to become accustomed to where they need to be on the pitch.
The snapshot above is a great example of how the half-spaces are used to create chances. The central midfielder drops out of the half-space to help the creation of the chance. This ability to drop in and out of these spaces at the right times is something that Pep Guardiola's Manchester City use all the time to create chances- you can often see Phil Foden, Kevin De Bruyne and Ilkay Gundogan taking up these roles. The image below is a full-pitch view of the half-spaces.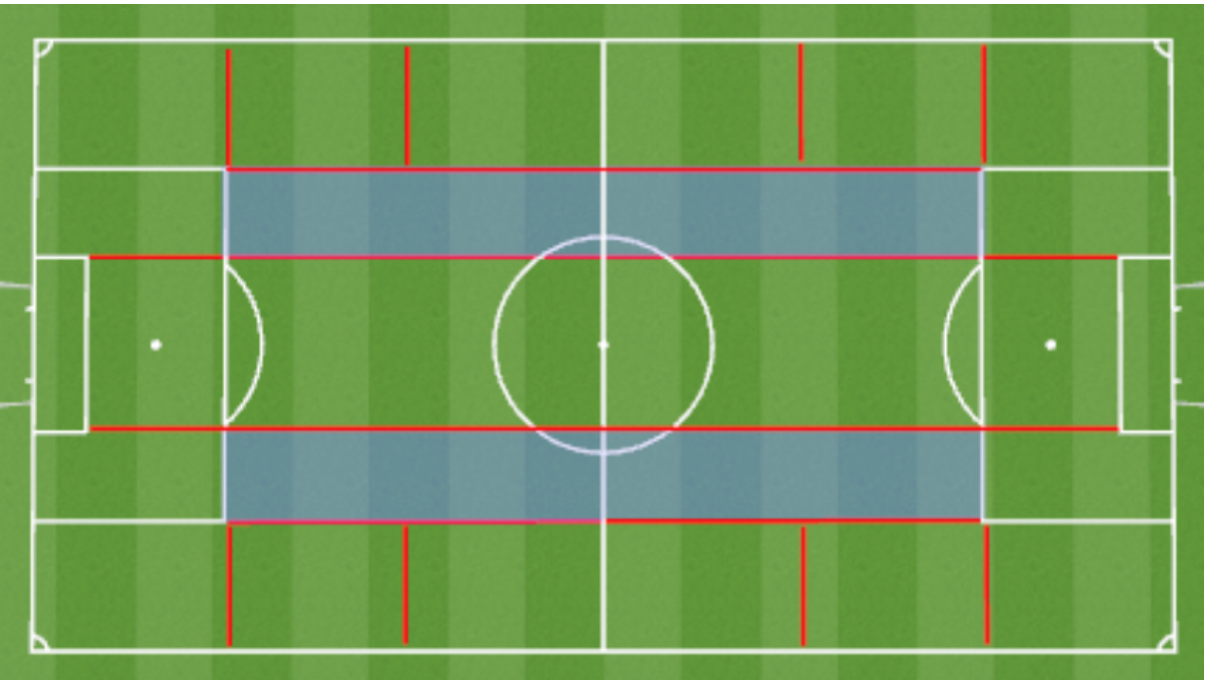 The next thing I want to take a quick look at is how Steve Bould has set up Lommel SK to build from the back.

(Courtesy of Lommel SK YouTube Channel)
Here we can see the three highlighted players forming a nice triangle that is a useful tool for teams trying to pass out from the back. The goalkeeper does in the end play a longer diagonal out to the left-sided wing-back but what I want to focus on is this triangle.
The triangle is made up of the two centre-backs and the defensive midfielder. This opens lots of passing lanes between the three. This shape is often used by top teams that play out from the back to bridge the gap between defence and attack.
The role of the defensive midfielder is to receive the ball from the defenders and look to move it forward with progressive passes or dribbles and if those aren't safe options the player can recycle the ball to the defenders.
Arsenal are a team who try to implement this a lot- so it's no surprise that it's something Steve Bould wants to see in his team. The final thing I want to take a quick look at is the pressing shape that Lommel employed at times in this match.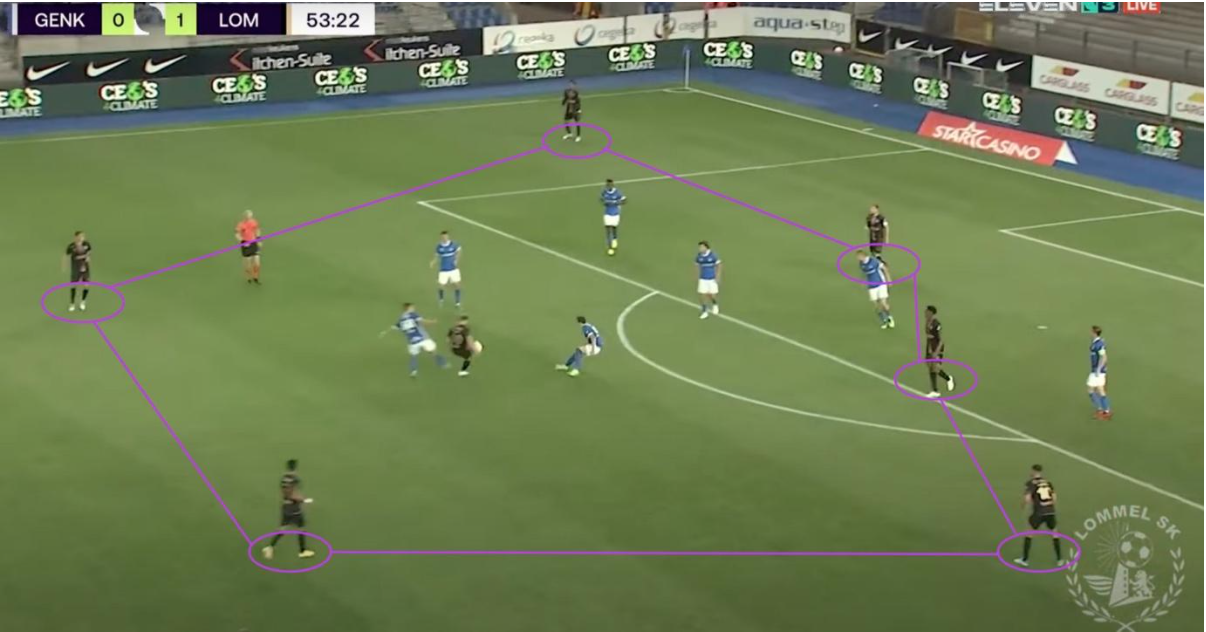 (Courtesy of Lommel SK YouTube Channel)
The highlighted lines here show the pressing shape and high line of engagement that Lommel SK deployed. This 2–4 shape pins the opposition really well, not just in their own half, but it also pins them in from the sides of the pitch. We can see that this is working successfully by seeing that there are six players stuck inside this shape that is being ring-fenced by the Lommel players.
Steve Bould is clearly implementing tactics that he knows can develop these young players well to help them become the players that CFG want them to become. But it is also an interesting first look at Steve Bould's own tactical identity which I am sure we'll see more of as the season goes on. I'm excited to see where he can take Lommel and which of their players end up developing well.
By: Bart Smallman / @Bart_Smallman
Featured Image: @Juanffrann / David Price – Getty Images