Tactical Analysis: Atalanta vs. Inter
Gian Piero Gasperini's Atalanta side bounced back from a thumping 5-0 defeat to Liverpool in the midweek as they hosted Antonio Conte's Inter to a 1-1 draw on Sunday. Gasperini's side looked sharp and a far more organised outfit than they did in midweek.
Inter will also take encouragement from the result as they limited Atalanta and travelled back to Milan with a point, despite Romelu Lukaku only being fit enough for the bench. 
Line-ups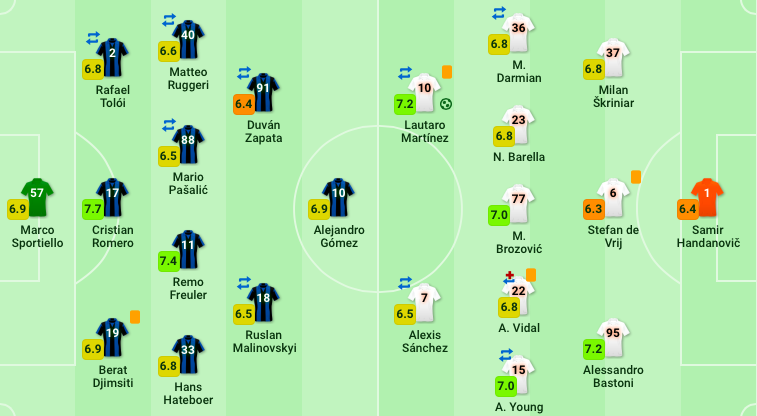 Photo: SofaScore
Inter's Press
Although they set up in their usual 3-5-2 in possession, Inter pressed in a 3-4-3 shape, with Nicolò Barella pushing up from midfield to make a front 3. This blocked off Atalanta's passing options into midfield whilst Inter's wing-backs marked Atalanta's wing-backs to stop them progressing the ball in wide areas.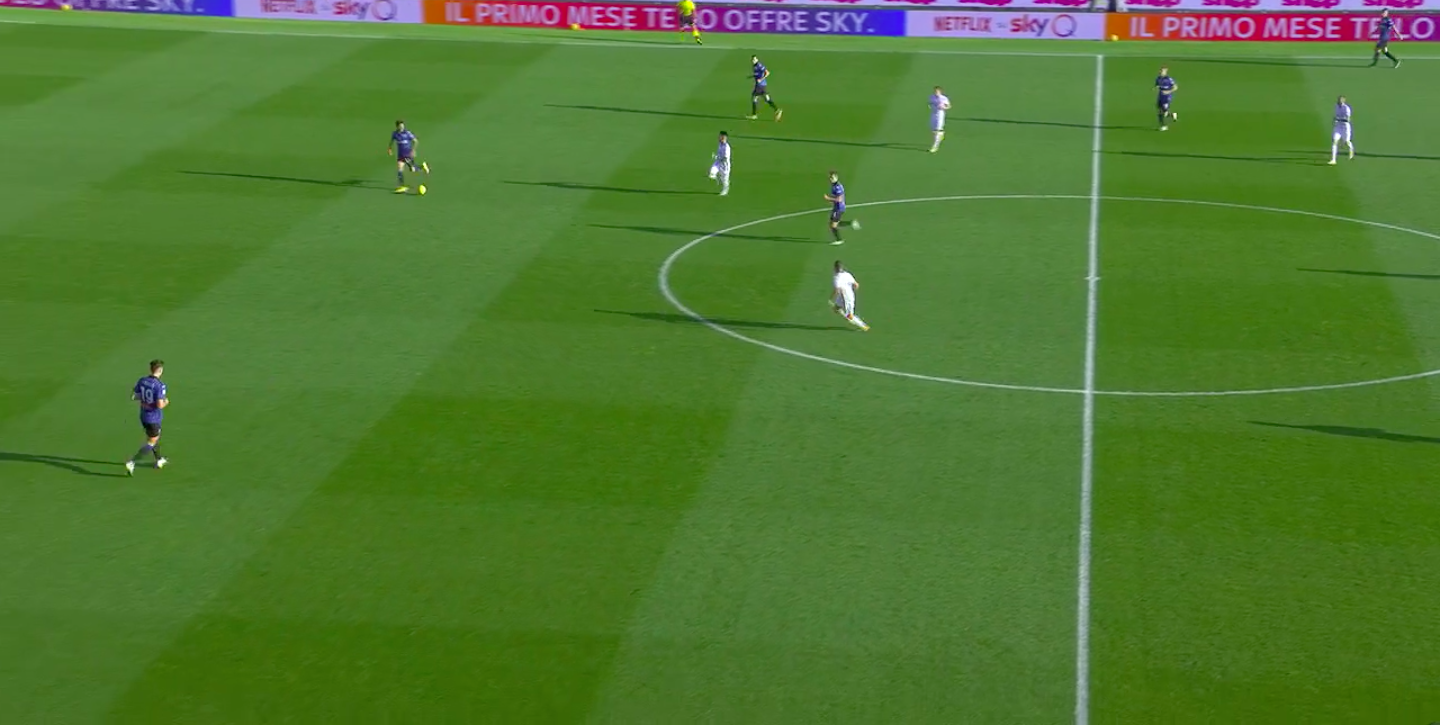 However, Inter's back 3 didn't always track Atalanta's forwards' movements so long passes into the forwards (who often dropped deeper to receive a pass) helped Atalanta bypass Inter's press. This helped Atalanta comfortably progress play and force play into Inter's half.
Atalanta's Press
Similarly to Inter, Atalanta's front 3 pressed Inter's 3 centre-backs and their double pivot pushed up the field to mark Inter's central midfielders, which blocked off Inter's passes into midfield. Atalanta's wing-backs also pushed up to Inter's wing-backs (or whoever was holding width for Inter) which stopped them from being able to progress the ball in wide areas.
Because Atalanta's press was effective, Inter were consistently forced into attempting long passes into their front 2, Lautaro Martinez and Alexis Sanchez. However, unlike Inter's back 3, Atalanta's back 3 tightly marked Inter's front 2 to stop them controlling long passes and building Inter attacks. This worked well for Atalanta and they generally cut out long passes which allowed them to regain possession.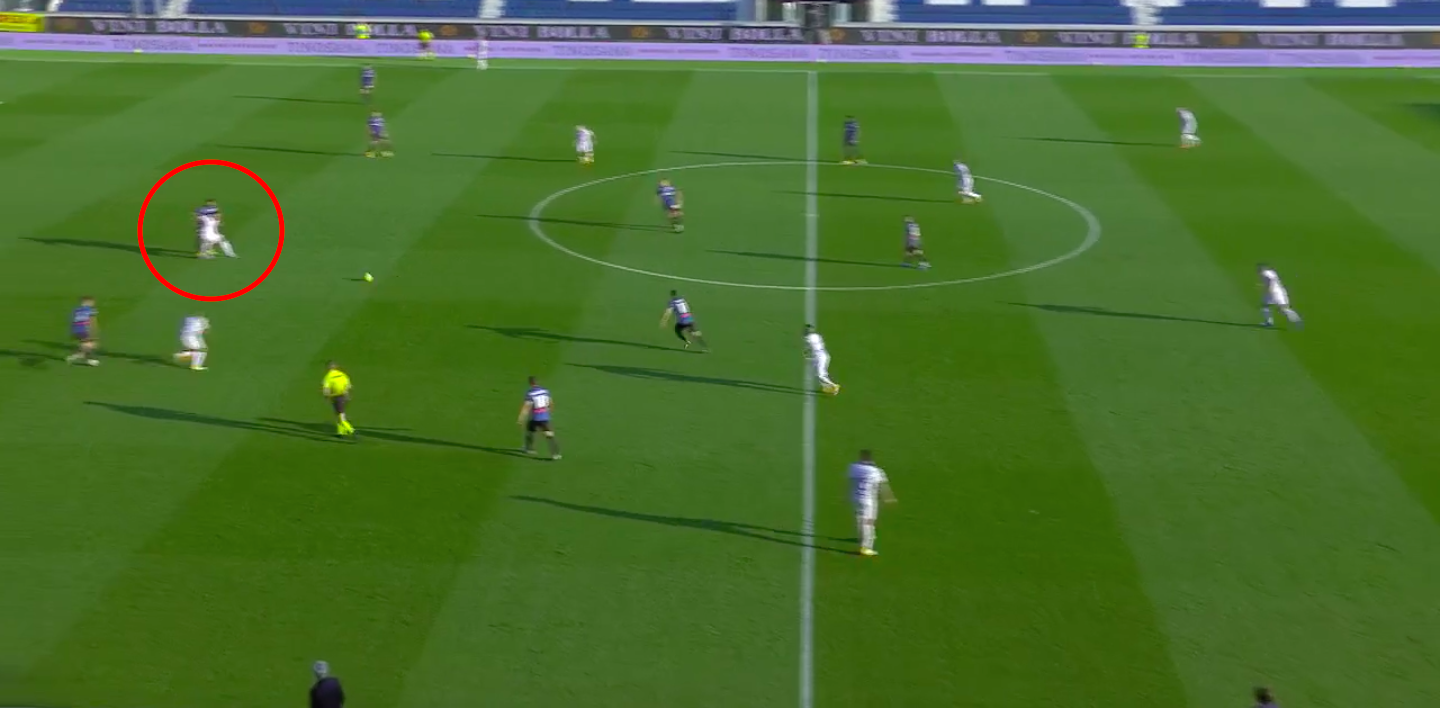 Cristian Romero is tightly marking Lautaro Martínez here. This was a common theme and helped Atalanta's centre-backs deal with most of Inter's long passes. Atalanta's effective pressing and their ability to bypass Inter's press forced Inter deep into their own half.
However, Inter still did find joy with their direct play. Their most threatening attacks came on the occasions when Atalanta failed to deal with these long passes. Martínez opened the scoring in the 58th minute after Atalanta failed to deal with a long ball which allowed Inter to sustain an attack. 
This forced Atalanta into their shape, which Atalanta looked vulnerable in due to a lack of organisation, and El Toro cleverly glanced an Ashley Young cross into the back of the net to give the visitors the lead.
Romelu Lukaku's Absence
Conte's side direly missed Romelu Lukaku as his game is more suited to fighting for long balls than Martínez's game is. Lukaku's physicality would've given him a better chance of winning long balls against Atalanta's centre-backs, especially considering how well Victor Osimhen imposed himself when Napoli beat Atalanta a few weeks ago. 
Moreover, Lukaku's hold-up play would've likely allowed Inter to create quick attacks which would have helped Inter create more chances. This would have forced Atalanta on the back foot and allowed Inter to attack Atalanta's poor defensive shape.
Instead, Atalanta's centre backs won most of their duels which meant that Atalanta usually regained possession when Inter went long. This stopped Inter getting a foothold in the game and forced Inter to defend deep.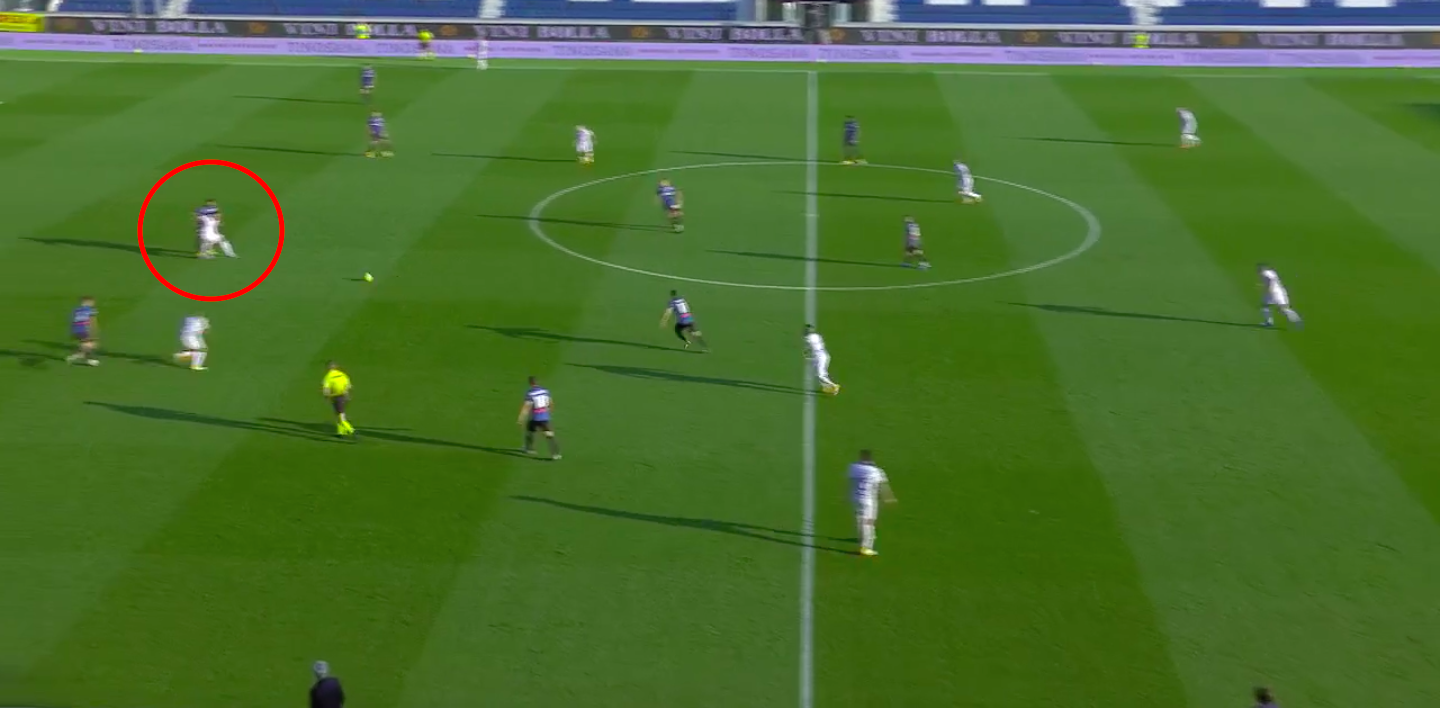 Inter's Low Block
Inter defended in a 5-3-2 shape. As seen in the above example, Atalanta tried to overload the wide areas with the wide centre-backs occasionally pushing upfield and Papu Gómez shuffling over to the flanks. 

However, Atalanta didn't manage to seriously threaten Inter and didn't manage a shot on target in the first half. Inter generally controlled Atalanta's attacks but couldn't consistently progress play with their lack of a recognised target man which meant Inter spent a lot of time sitting in their shape.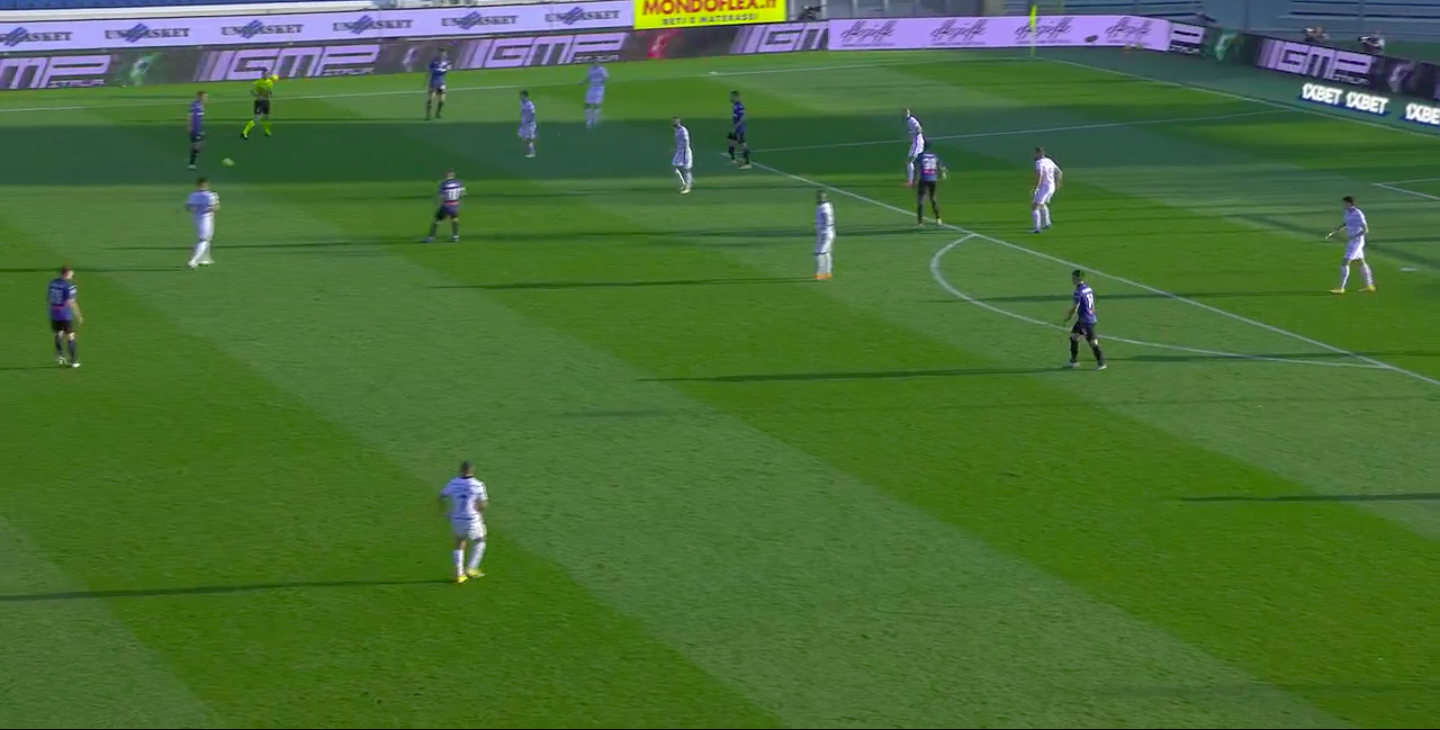 Gasperini's second half substitutes, Luis Muriel and Aleksei Miranchuk, combined to break Inter's block down when the Colombian played a clever pass into Miranchuk. Miranchuk shifted the ball and scored with a measured left-footed finish into the bottom corner to level the game. The game became stretched after Miranchuk's equaliser. Muriel and Miranchuk each had a good chance to win the game but they failed to convert. 
Atalanta will be disappointed as they limited Inter but their poor defensive shape meant that they couldn't soak up a short period of attacking pressure. Similarly, Conte will be disappointed that his side struggled to play out of Atalanta's press and that they couldn't hold on to their 1-0 lead.
However, all in all, both managers have reasons to be pleased with the result. Inter drew away to a strong side without starting one of their centre forwards whilst Atalanta showed far more aggression, urgency and looked far better structurally than they did in their midweek Champions League game. 
By: Rahul Mall
Featured Image: @GabFoligno / Emilio Andreoli / Getty Images