Tactical Analysis: Bayern Münich 1-2 Eintracht Frankfurt
Eintracht Frankfurt's Filip Kostić drilled home an 83rd-minute goal with a powerful low drive and beat keeper Manuel Neuer to stun Bayern Munich and snatch a 2-1 Bundesliga win on Sunday, as Eintracht Frankfurt earned a first league victory at the Allianz Arena in 21 years and snapping the hosts' nine-game winning run in all competitions.
In the last games, the only areas of rotation have been in defense and Serge Gnabry. Julian Nagelsmann has, so far, stuck to a very rigorous starting lineup and shown an unwillingness to rotate his players. Robert Lewandowski, Joshua Kimmich, Thomas Müller, Leroy Sané, Alphonso Davies, Lucas Hernandez and Leon Goretzka have always been in the starting XI. They play brilliantly together; the beautiful individual movements and plethora of goals are a testament to their chemistry but they are clearly tired.
Bayern uncharacteristically misplaced several passes. While it was obvious that there was another factor. Many of those passes were aimed at positions where Bayern players were supposed to have reached, which did not happen on several occasions. The same can be said of the Bayern defense, whose coordination was lacking on Sunday.
A combination of Frankfurt's signature style of play with 11 men behind the ball went well but saying that Frankfurt set up a low block would be doing grave injustice to them. They built a strict wall with 11 fighters and completely tied Bayern's movements in central areas and in front of the target.
Bayern had better movements on the flanks, but could not convert any of their chances that came from those areas into a goal. Frankfurt constrained every last bit of space and shut down the home side.
The Starting Lineup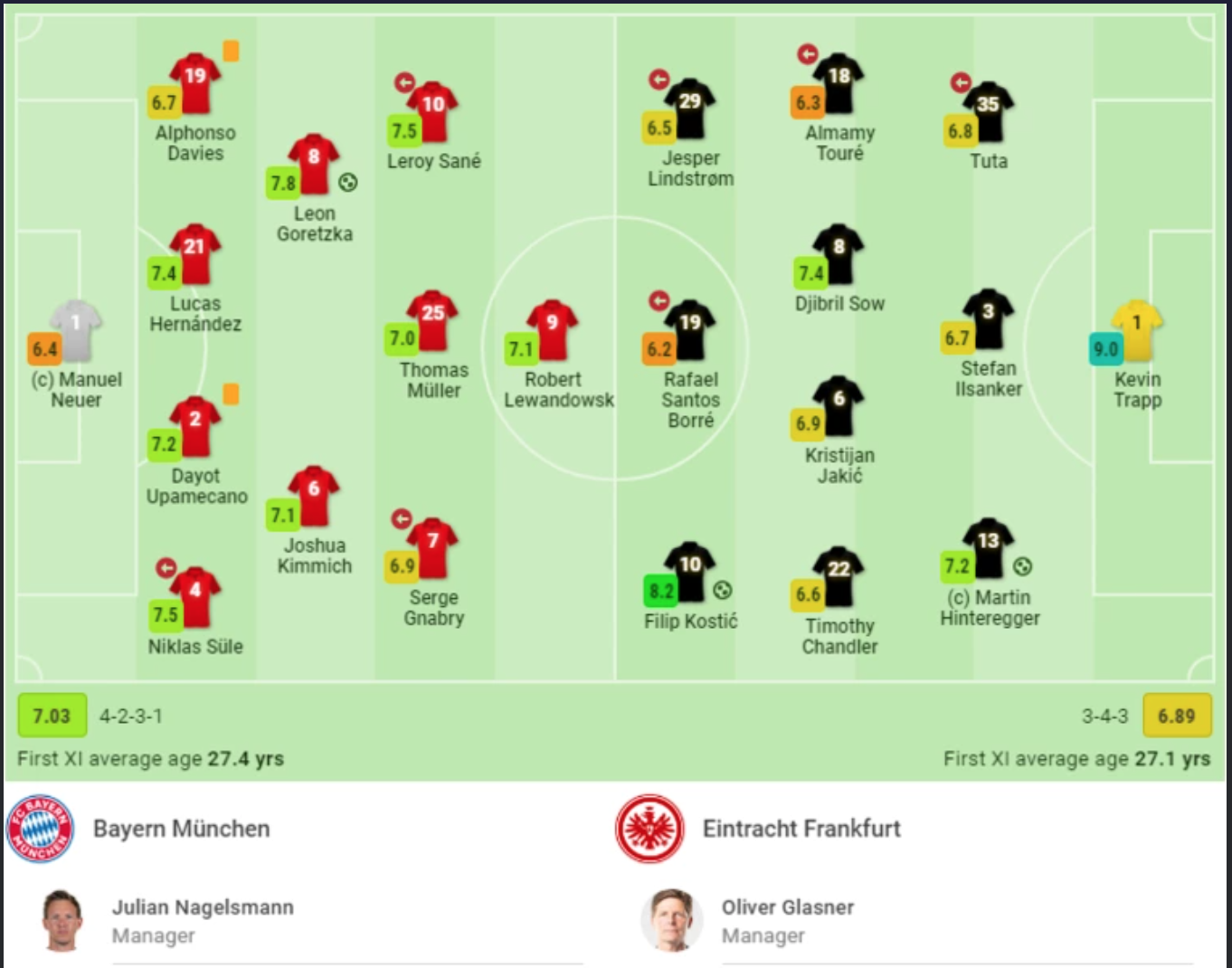 Photo: SofaScore
Eintracht Frankfurt went with 5-2-3 mid-block and 5-4-1 low block, using a space-oriented zonal marking pressing system as they were constantly looking to mark the nearest passing options to the Bayern Munich's player on the ball. Oliver Glasner's idea out of possession was to use Bayern's principle of crowding the middle of the pitch.

While defending with a mid-block, Rafael Santos Borré covered Kimmich's shadow before pressing one of the CBs diagonally to prevent him from passing.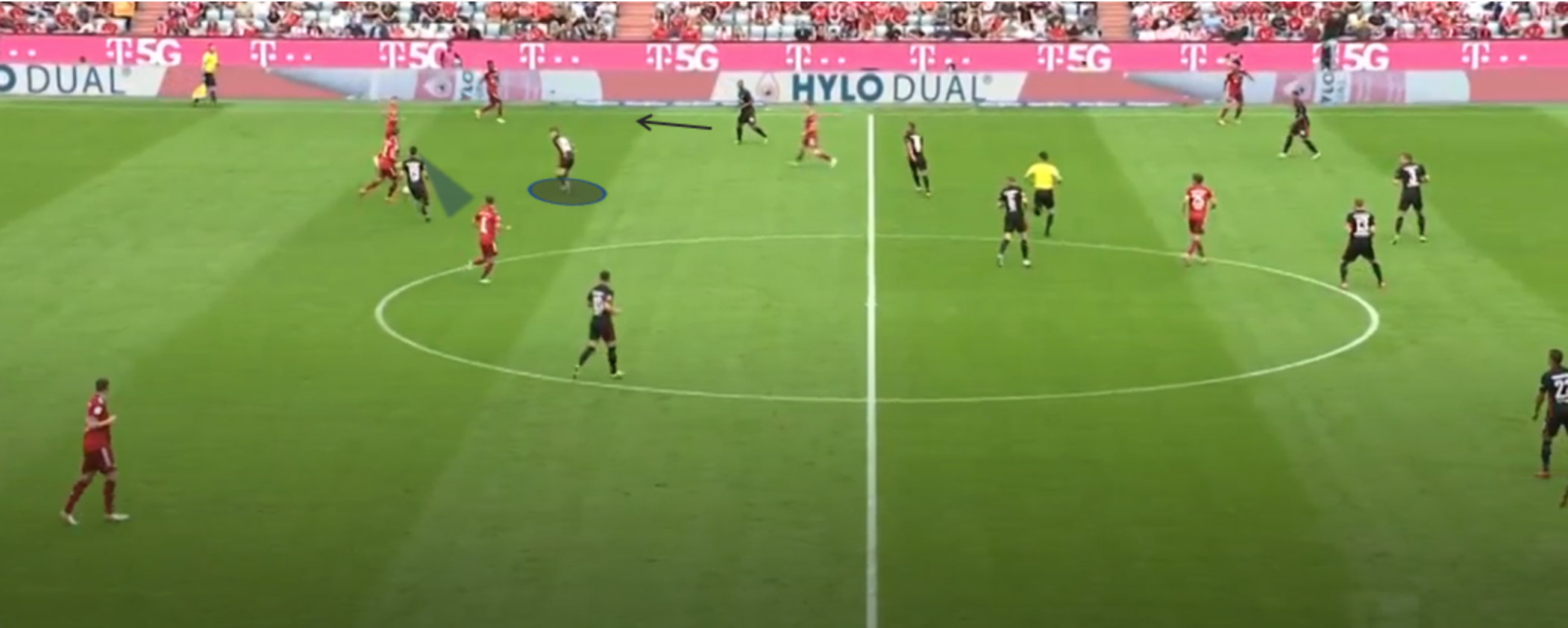 If the ball was on Hernandez for example, Jesper Lindstrøm was making a quick scan for the space around him and making sure that he was closing down the vertical pass option to the half-space and then went directly to press on Hernandez, and then there would be only two options for Hernandez, either pass to the sideline towards Davies or turn and go back to Neuer, which gave Frankfurt's block the time to switch to the required defensive form across.

When they turned into a low block, their double pivot applied exactly the appropriate criteria to shut down Bayern's danger source, Joshua Kimmich. Frankfurt's second pressing line, which certainly consisted of four players, was smart and energetic. Jesper Lindstrøm was more narrow than Filip Kostić, because they wanted to prevent Leon Goretzka from receiving the ball between the lines. They had no problem waiting for Alphonso Davies on the left side.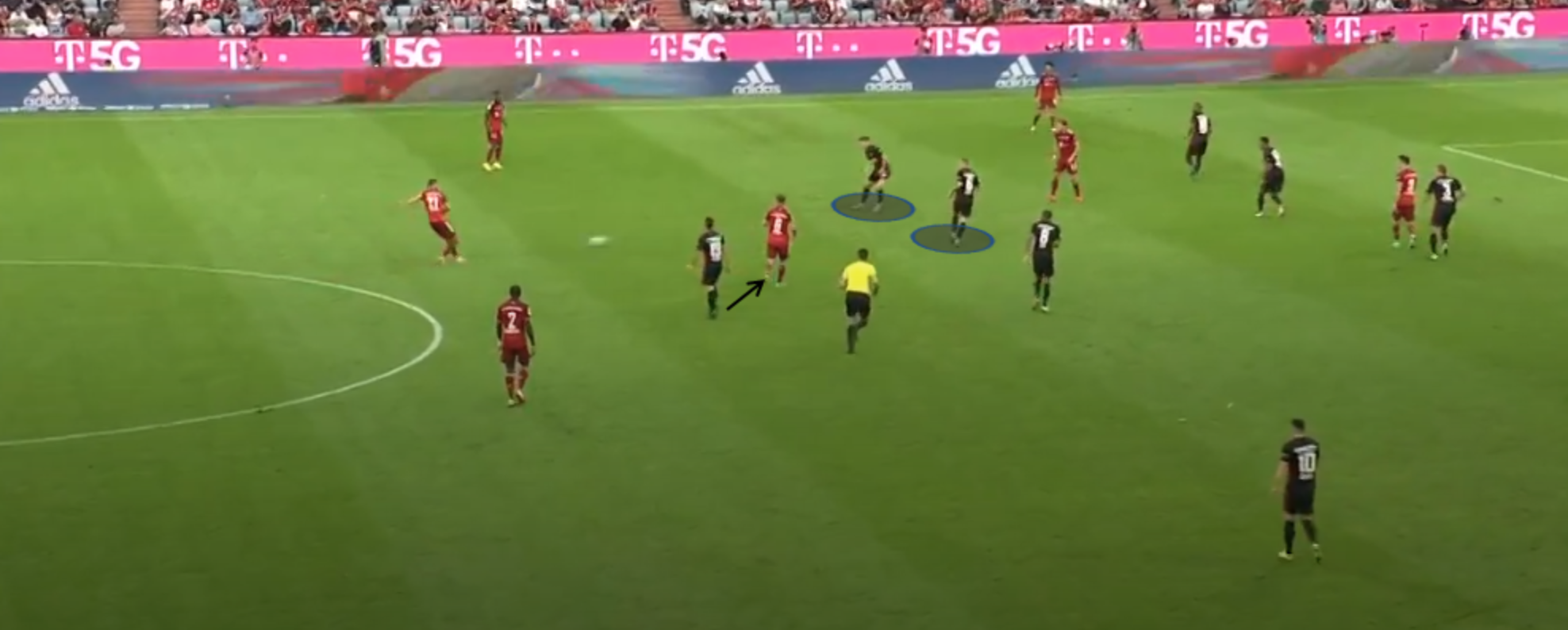 The few times that Alphonso Davies managed to make cut-back crosses, Rafael Borré would back down to prevent Leon Goretzka from shooting. While on the other hand, Filip Kostić left enough space between him and Kristijan Jakić to tempt Dayot Upamecano and Lucas Hernández to pass there. They were ready for that by always putting Martin Hinteregger ready to tackle or intercept the ball and as soon as the team got the ball they started to pass centrally towards the front forwards.
Bayern went as usual with a 4-1-4-1 while pressing with a high block as Julian Nagelsmann used his favorite pressing method, space-oriented man-marking where Bayern's player starts pressing the ball carrier while his teammates close down all possible spaces. Bayern made sure to force Frankfurt to play long balls in order to regain possession quickly, and with the short lengths of Frankfurt's attackers, it was easy for Bayern's CBs to deal with them.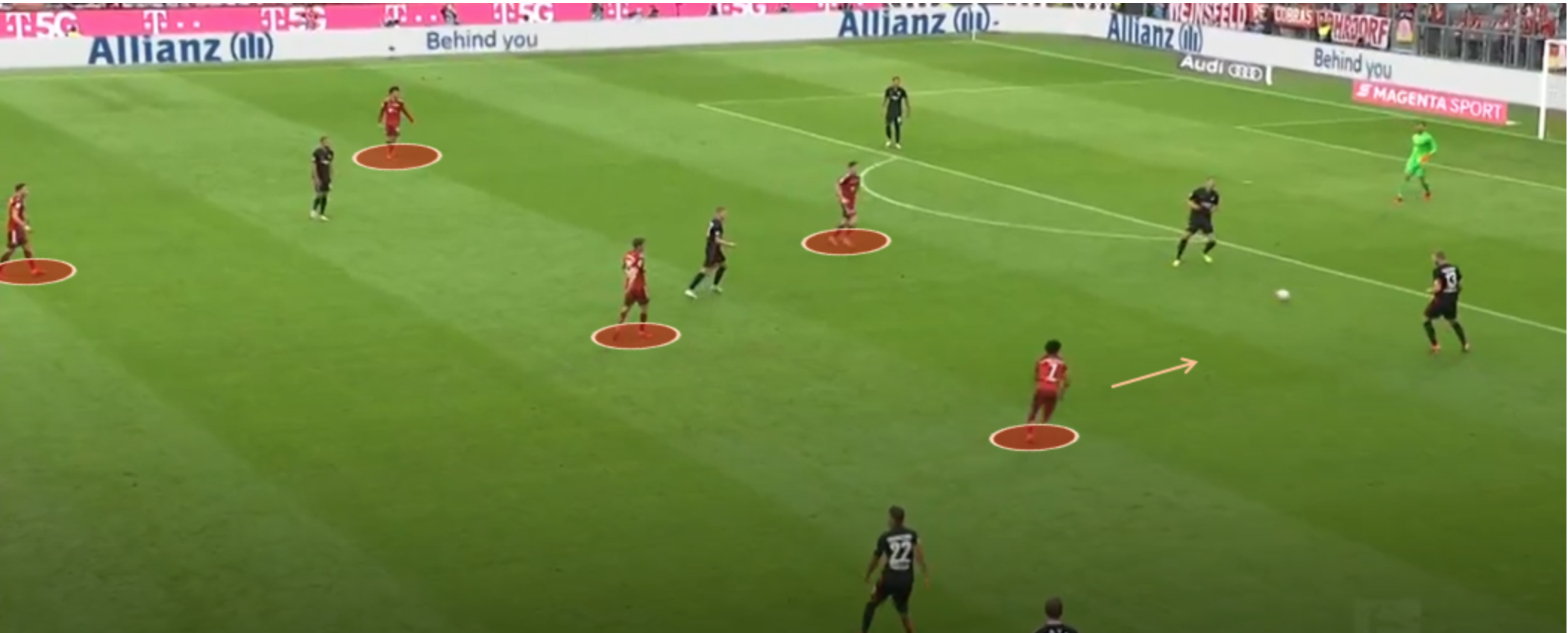 If one of the central defenders decides to run with the ball and bypass Bayern's player, the rest of his teammates would make him tight and then close him, which led Leon Goretzka to score the goal.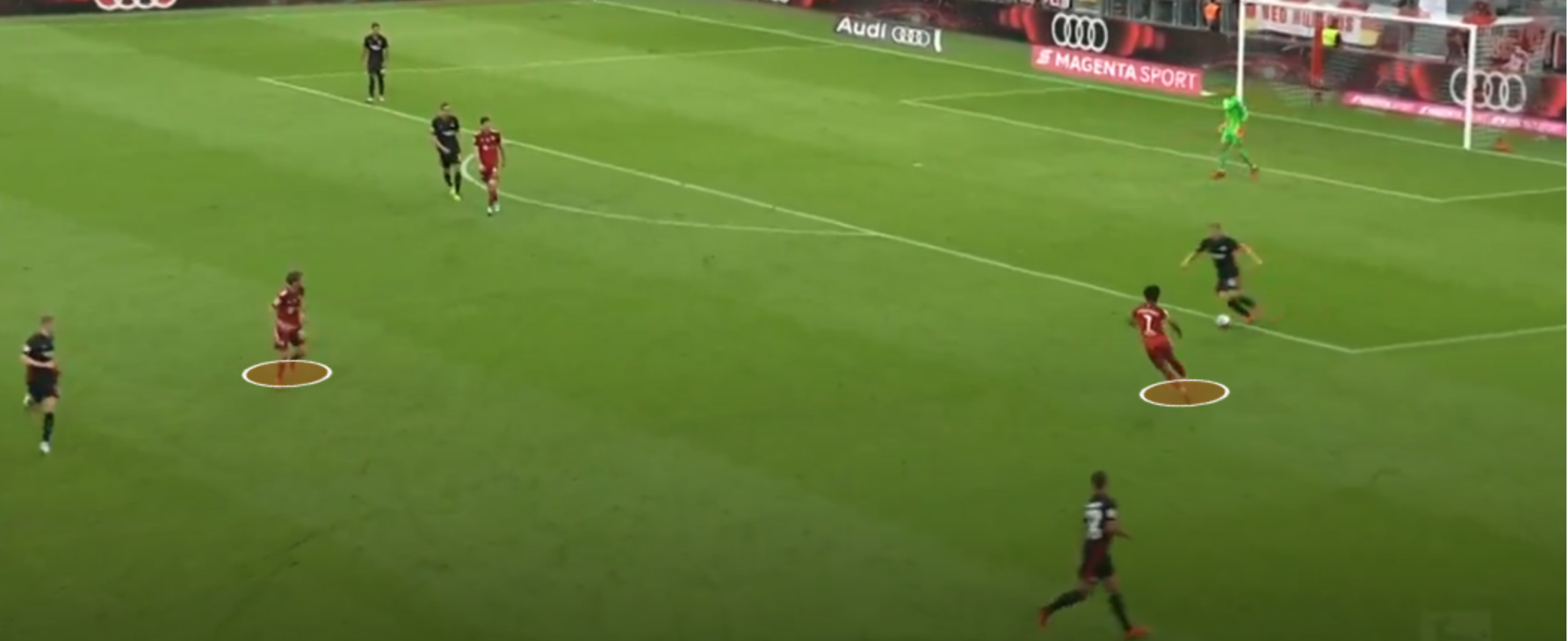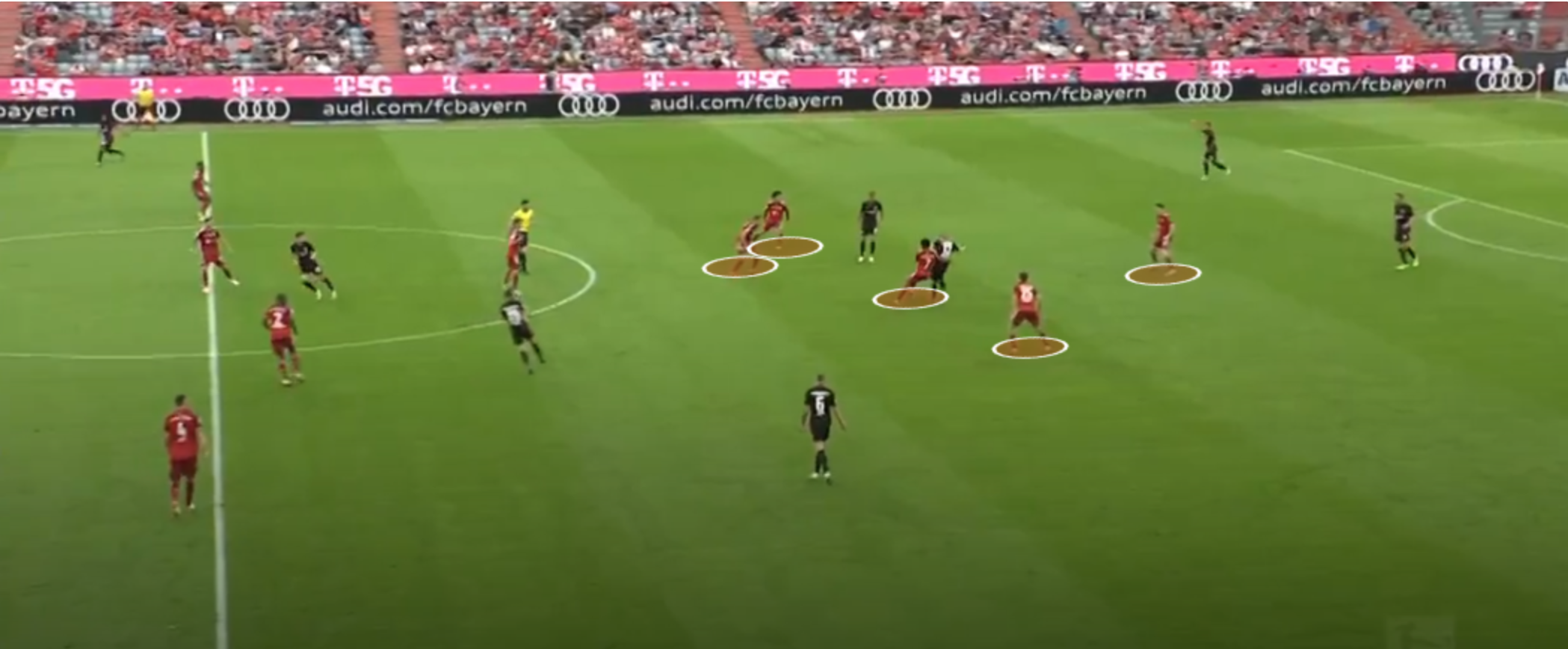 During the first half, the connection between Frankfurt's first line and the rest of the team was lost. They appeared to get lost in ball circulation which made their idea which was mid-height passes into central spaces in the middle quickly thwarted. Rafael Santos Borré was dropping a lot into the middle to receive those passes and deliver them to one of the double pivots, then the wingers would start running down the left flank.
Frankfurt's double pivot role was great out of possession in staying close to Joshua Kimmich and completely isolating him from the connection. In fact, their physical strength allowed them to win ground duels, making them implement transitions rather well, while in possession, Djibril Sow was smart in choosing when and where to go or pass the ball.
30 minutes later, Joshua Kimmich had to fall next to Dayot Upamecano and Lucas Hernández to provide more progressive passing angles, which made one of Frankfurt's double pivot climb to the first pressing line more often and thus left the right half-space free. This gave Bayern more flexibility to move the ball forward with Leon Goretzka moving from the left half-space to the right one, but they still struggled to create chances.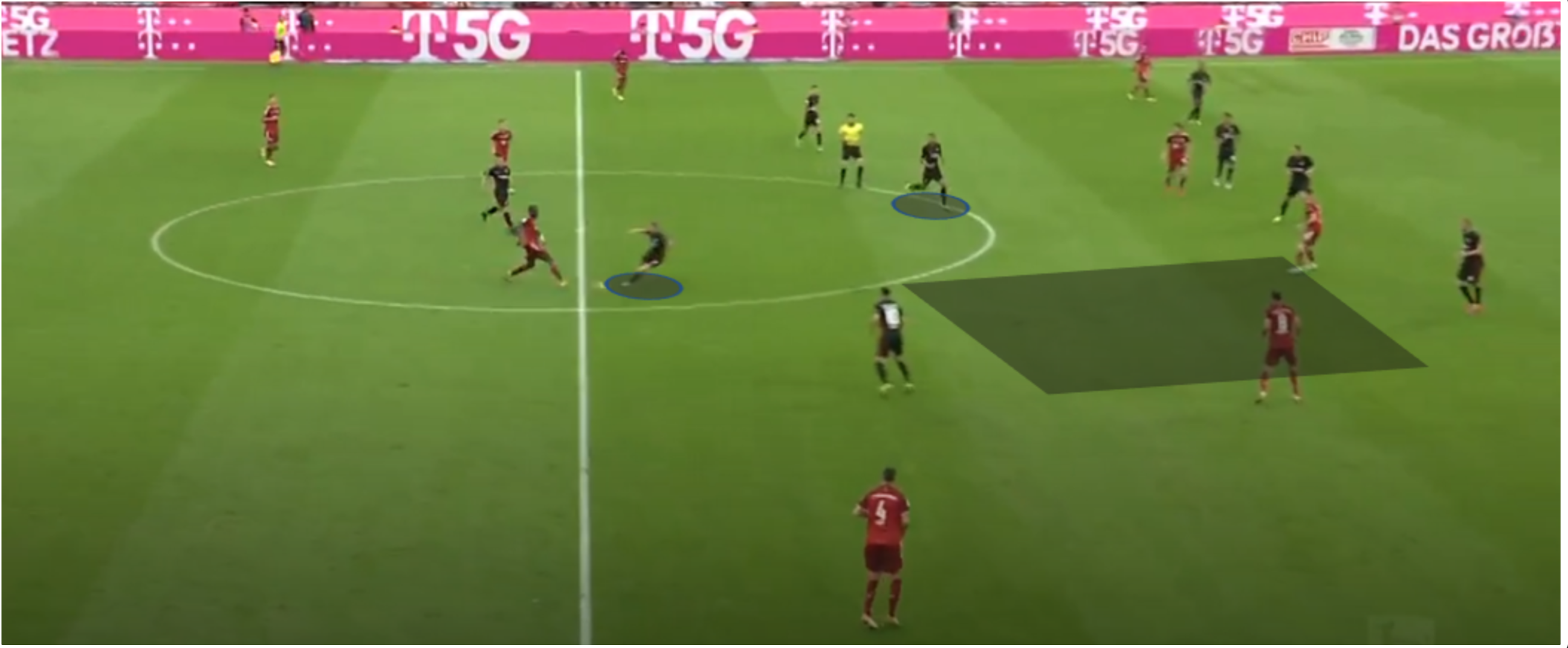 In the second half, Julian Nagelsmann's idea was to create an overload on the right flanks by giving Niklas Süle complete freedom to push high up the right flank with Muller and Lewandowski approaching from the same side. The team relied on the speed of defenders as well as Alphonso Davies's defensive rebound and good coverage.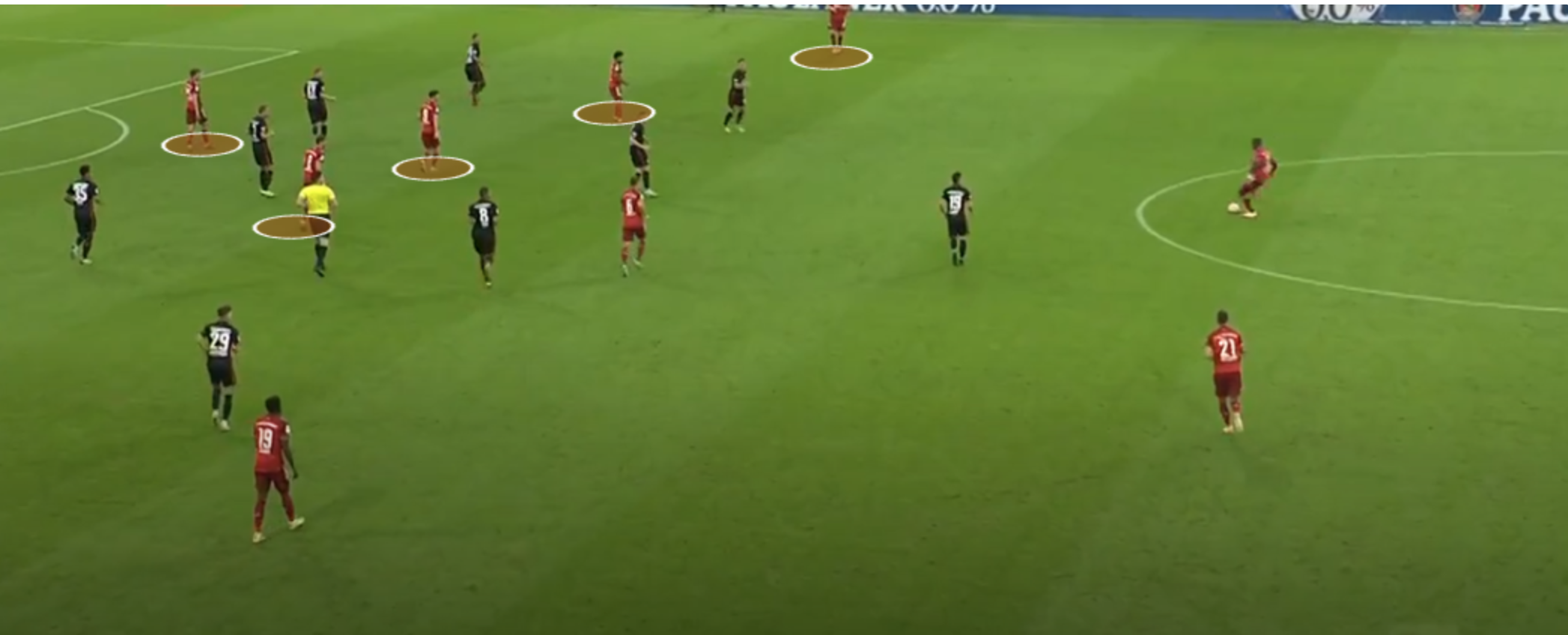 Rafael Santos Borré continued to drop into the middle to provide passing options to his teammates. His movement off the ball was excellent and this made Bayern often rush to win the ball, especially as Frankfurt improved on the connection side between the three lines which gave them better chances to threaten Neuer.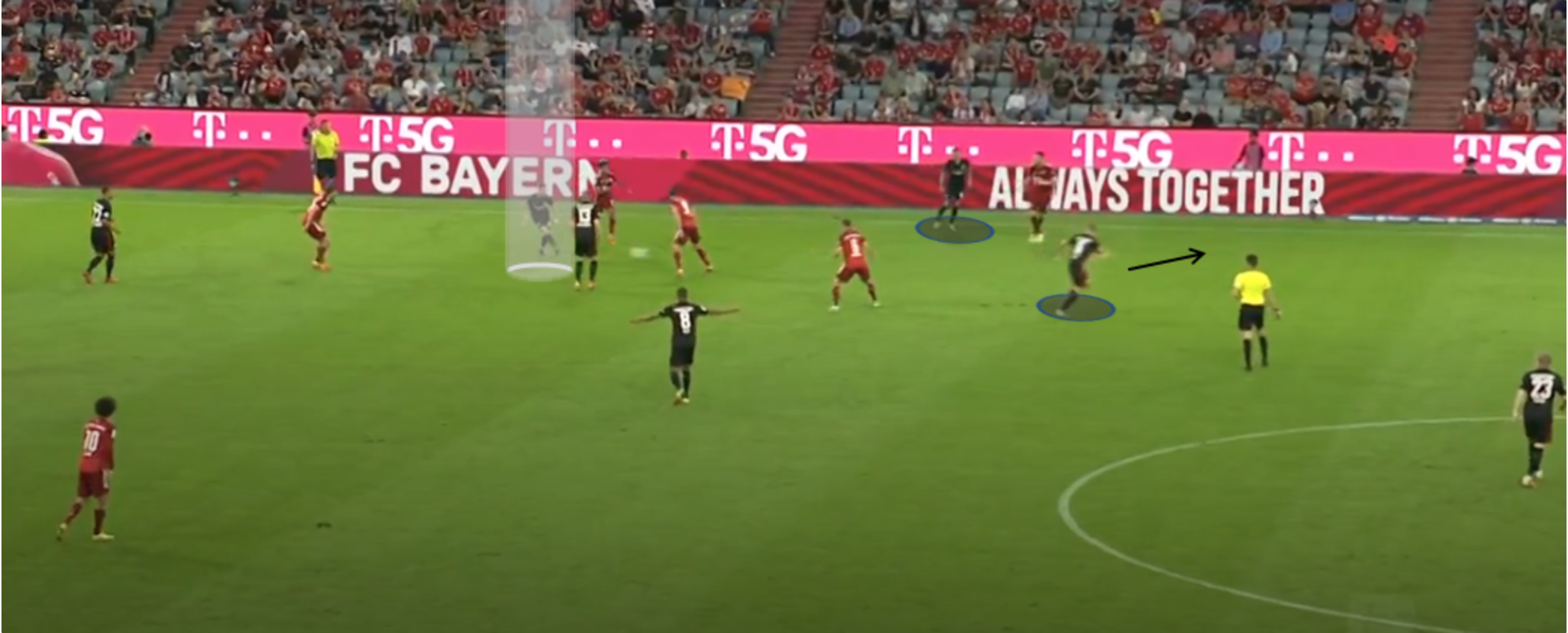 Twenty minutes before the end of the game, Julian Nagelsmann went to his alternative weapon, Jamal Musiala, in addition to the former RB Leipzig player Marcel Sabitzer, as he wanted more dynamics on the left flank with full reliance on sending crosses towards Thomas Müller and Robert Lewandowski. Frankfurt struggled against Bayern's right side and although they put in a good game they should thank Kevin Trapp a lot for his amazing saves throughout the game.
The Eagles had one of their best matches of late, from total commitment to the plan to the fighting spirit needed to defeat the hosts. Otherwise, The Bavarians remain top of the table with 16 points from seven games despite their first defeat, one point ahead of Borussia Dortmund and Freiburg in second and third respectively.
By: Omar Mokhtar
Featured Image: @GabFoligno / Adam Pretty – Getty Images