Tactical Analysis: Borussia Mönchengladbach vs. Bayer Leverkusen
On the Bundesliga's second weekend back after the two-month break, it brought with it another fantastic fixture featuring managers Marco Rose and Peter Bosz. Borussia Mönchengladbach and Bayer Leverkusen have made plenty of noise this season via their performances and tactics, with both teams competing for the Champions League spots over the course of the season.
Both teams made a storming introduction to the Bundesliga's restart, scoring at least three goals in the weekend prior. While Leverkusen have averaged 1.95 points per game over the course of the 2019/20 season, they also came into the empty Borussia Park having lost six of their last eight meetings against the Foals. 
During this match analysis we will break down the tactics of Bosz's 3-4-3, including Kai Havertz as a false nine, Gladbach's press and how Rose's 2nd half changes influenced the game. 
Line-ups
With Denis Zakaria still out injured, veteran Tobias Strobl partnered youngster Florian Neuhaus in the double pivot of Rose's 4-2-3-1. Reigning AFCON champion Ramy Bensebaini started at left back, looking to build on his tally with six goals in the past 12 matches. The attacking four featured Marcus Thuram, Breel Embolo, Alassane Pléa and Jonas Hoffman.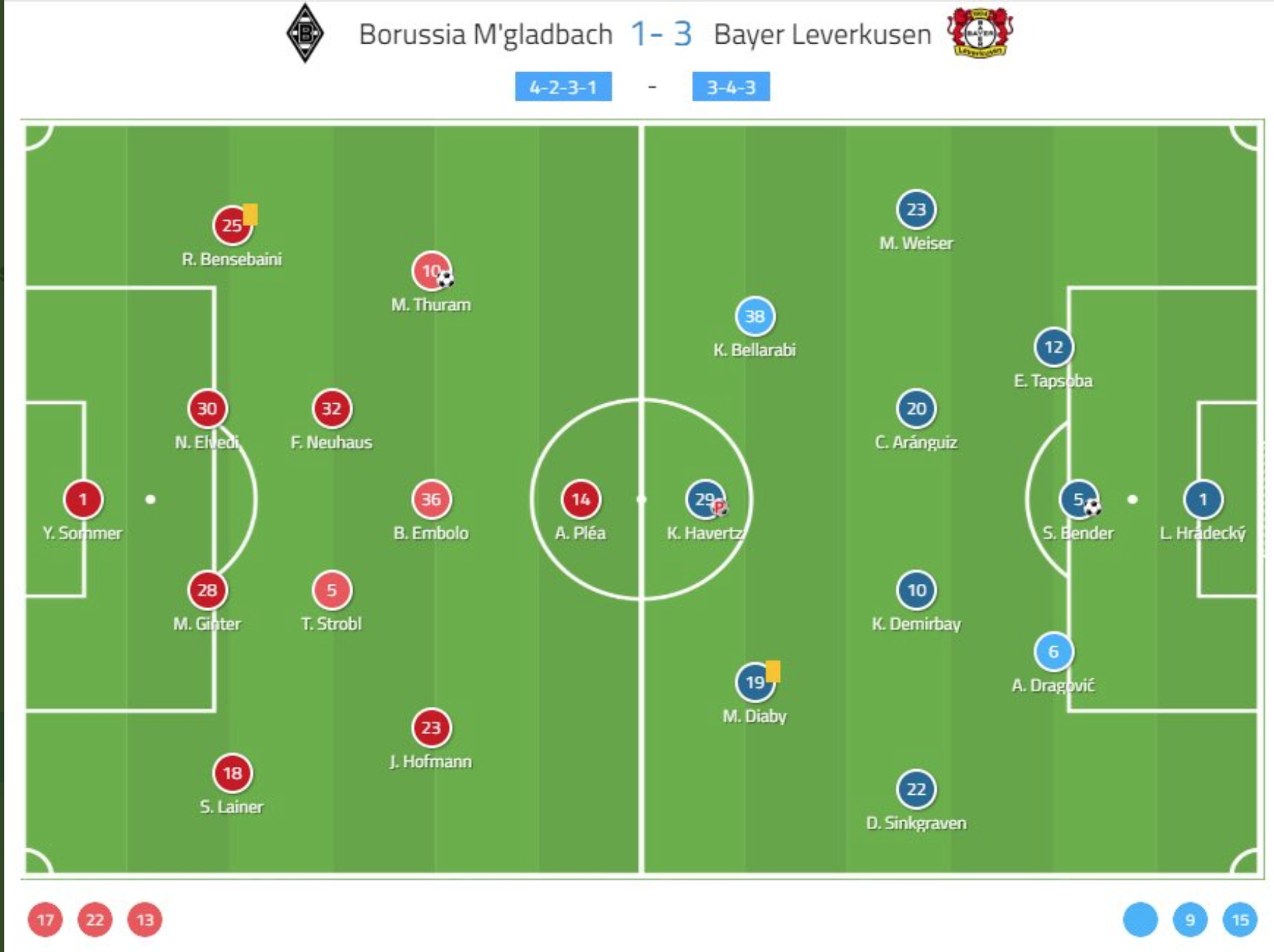 In Leverkusen's previous match, they set out with a 4-2-3-1, but they went with a 3-4-3 on Saturday. Aleksandar Dragović came into the team to make a back three, and Karim Bellarabi operated on the right of the attacking three. After his brace against Werder Bremen, Havertz continued in his role as a false nine against Gladbach.
Why Bosz Chose the 3-4-3
Leverkusen had not deployed a 3-4-3 in the Bundesliga since their match against RB Leipzig on March 1st, but Bosz changed his tactics to prevent the vertical and horizontal space that Gladbach would try to create in their 2-3-5 shape on the ball.
A common pattern of Gladbach's automatisms is Matthias Ginter finding the left-back (in this case Bensebaini) with long diagonal passes in free space on the left flank. But against the 3-4-3, the wingback can push forward and press the player as he receives the ball, thus stifling the progression of the fullback and the ball.
Additionally, the wide forward making a run in behind the defense would be covered by a center back in the back three. Youngster Edmond Tabsoba had standout moments against Gladbach's Marcus Thuram when isolated against him, justifying once again why he is one of the most promising defenders in Germany.
Photo: DFL
Gladbach tried to push a central midfielder or Lars Stindl into the half space in order to try and create a solution here and a possible 3v2, but their movements would just be covered by one of Leverkusen's midfielders.  
Below, this sequence is on full show. As Ginter makes the pass to Bensebaini, Leverkusen's right wing-back Mitchell Weiser begins to push forward to meet him head on. Bensebaini has to stop and make a backwards pass, thus resetting possession.
Had Leverkusen gone with a 4-2-3-1 as usual, the Algerian would have far more time and space to carry the ball forward into the opposition's half.
As the game progressed, the home side would try to attack vertically. Embolo and Pléa have been fantastic this season at finding pockets of spaces in between the opposition's lines to offer interior passing options, but Leverkusen nullified this with Tapsoba tracking one of them and shutting down the passing option.
Here, Ginter carries the ball forward into space and looks ahead for a vertical pass to break the lines, and Pléa spots the space to drop into and receive the ball. Pléa does not expect a defender to be tracking his movements and is tackled from his blindside, thus giving the ball up to Sven Bender.
Gladbach's 4-2-3-1 Press
During his time at Red Bull Salzburg, Rose earned the nickname of "Press Master," using a narrow 4-4-2 diamond press to aggressively win back possession in dangerous areas. He attempted to implement this system in Germany and saw relative success, but oftentimes the fullbacks would be found isolated in the wide zones. As such, he has switched to a 4-2-3-1 shape when out of possession.
The goal of the press was to manipulate the passing options of Leverkusen's back three in order to force them to pass out wide and use the touchline as an extra defender to trap them in a certain space, with the end goal of forcing a turnover of possession during Leverkusen's buildup. They were successful in some sequences, but failed to capitalize when winning the ball in advantageous positions.  
Once Bender receives the ball, Embolo immediately presses him whilst Pléa covers Bender's immediate passing option to the right, Tapsoba. The double pivot covers Leverkusen's double pivot in order to cut out their vertical passing outlets.
Dragović receives from Bender and immediately passes to Daley Sinkgraven, which triggers Gladbach's right back Stefan Lainer to pressure Sinkgraven. 
While they often struggled in physical duels against Gladbach's defenders, Leverkusen's forwards used their speed and clever movement to get into dangerous attacking positions behind the opposition's defense. For their second goal, Havertz drops in to receive a pass, whilst Bellarabi makes a run in behind the blindside of Nico Elvedi and Bensebaini.
One incisive pass from Havertz allows Bellarabi to bypass the entire defensive block and go clear through on goal. Elvedi can't make up the ground and is forced to extend his leg, making a rash challenge inside the box, causing a penalty which Havertz then converts.
Havertz as a False Nine 
After ripping apart Werder Bremen's defense in the weekend prior, Havertz continued his excellent form with a second straight brace. Gladbach's defenders struggled to monitor his movements from the false nine position; if Ginter or Elvedi did step off his line to track him, it would expose Gladbach's entire defensive structure.
Havertz essentially had free reign to move wherever he saw fit, which allowed him to offer vertical passing options behind Gladbach's lines of pressure and create numerical superiority in several attacking scenarios. As seen below, Havertz consistently offered a passing option in dangerous areas, allowing Leverkusen to play out of Gladbach's press with relative ease.
When Havertz would drop deeper, he would make a midfield three of sorts. Kerem Demirbay or Charles Aránguiz would drop into a lone pivot role as Havertz and the other would be positioned more advanced, usually past the first line of pressure. This would create a 3v2 against Gladbach's double pivot when pressing. 
In the image below, Havertz recognizes the pressing fullback is isolated against Weiser, and drops into the right half space to create a 2v1. Bensebaini is unable to cover both players at once, giving Havertz plenty of time and space to receive a pass.
Demirbay finds Havertz with a clever disguised pass, and the German wunderkind makes a swift turn to attack Gladbach's defensive line. 
Rose's Halftime Changes
Going into the second half, Marco Rose would make several changes in an attempt to inspire his team to a comeback victory. His most notable changes in tactics came in their possession structure, with Gladbach moving from a 2-3-5 to a 3-4-2-1.
This change was inspired due to the lack of balance during defensive transitions; if the ball was given away in the middle third and Leverkusen attacked quickly, Gladbach's center backs would be split and the fullbacks would be committed high and wide up the pitch, thus exposing the defense.
Unlike Zakaria, Strobl does not naturally drop into the defensive line as often to create a back three. This would be changed in the 2nd half, as Strobl would almost exclusively act as a third center back, offering more balance and width for the defensive line. Jonas Hoffman would drop into the pivot role, as Pléa and Stindl acted as the attacking midfielders under Thuram.
Attracting Pressure to Attack 
A principle of Gladbach's possession-based play is to attract pressure from the opposition in order to open up space in more advanced areas. They utilize their double pivot in deep areas and split their center backs into wide areas, so as to invite pressure and stretch the opposition's pressing scheme.
The most important part of this scheme is their goalkeeper Yan Sommer, who is the first attacker in the team's game model. The Swiss international uses his excellent passing range to bypass lines of pressure to find isolated forwards higher up the pitch. Against Leverkusen, he successfully completed 8 out of 12 long passes. 
Unable to play through Leverkusen's pressing structure, Gladbach used Sommer's long balls to their advantage, leading to their sole goal in the 3-1 defeat.
Sommer played a long pass to Thuram, eliminating Leverkusen's first and second line of pressure. Thuram then knocked the ball to Strobl, who had ample time and space between Leverkusen's defensive and midfield line, due to Leverkusen's double pivot committing to the press. Strobl then made a pass to Pléa, who found Thuram through on goal.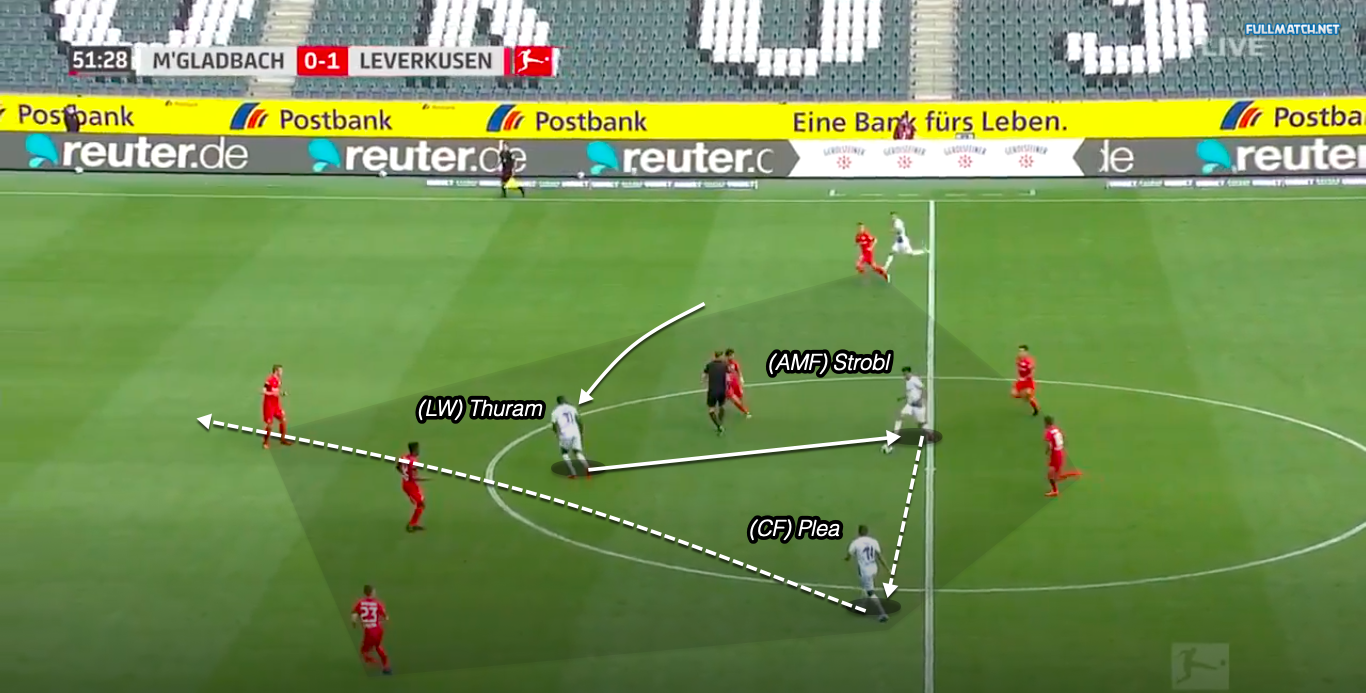 Conclusion
Bosz got his tactics spot on, as his 3-4-3 experiment prevented horizontal and vertical space for Gladbach to play through. Leverkusen's midfielders found pockets of space to manipulate in between the lines, and Bosz's proactive approach to pressing exposed Gladbach's defenders against a clinical Leverkusen attack. 
Despite all the plaudits that Rose has rightfully received this season, Leverkusen found holes in the team's structure and ideas, and exploited them to go a point ahead and take hold of the final Champions League spot.
By: Craig Moniz
Photo: @GabFoligno