Tactical Analysis: Der Klassiker
The first Der Klassiker of the 2020-21 Bundesliga season did not disappoint. Hansi Flick's Bayern Munich side took on Lucien Favre's Dortmund at Signal Iduna Park where the two German heavyweights put on a thoroughly entertaining end to end display. Although Bayern ran out 3-2 winners, Dortmund would've felt that they deserved more from the game, given the number of chances they managed to create.
Both sides played out from the back and pressed high up the pitch. Bayern's press was slightly more aggressive and they generally got tighter to their opposite numbers.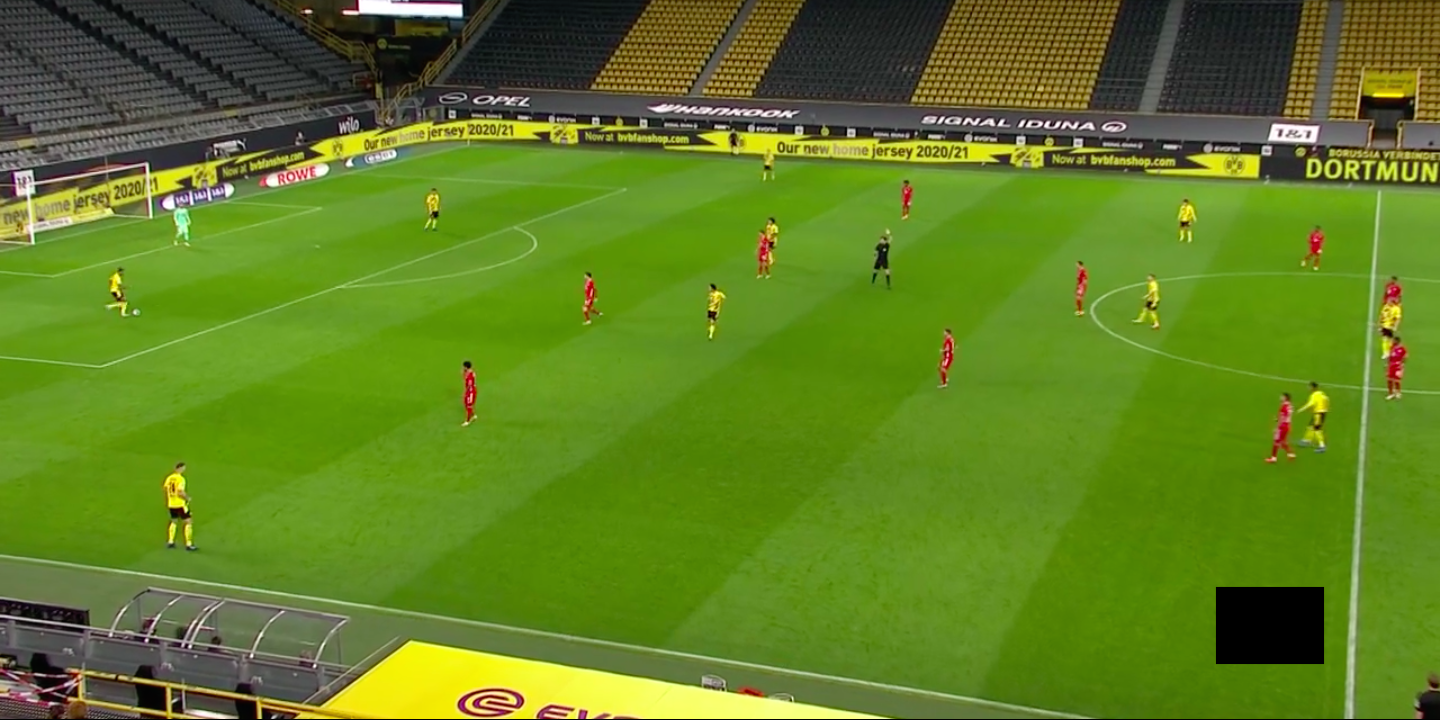 Here's what Bayern's press looked like. They pressed in a 4-4-2 shape and pushed their wingers up. This meant that Bayern blocked off passes into Dortmund's full-backs and generally got tighter to Dortmund players. On the other hand, Dortmund's press was slightly less aggressive which allowed Bayern to play out from the back with relative ease.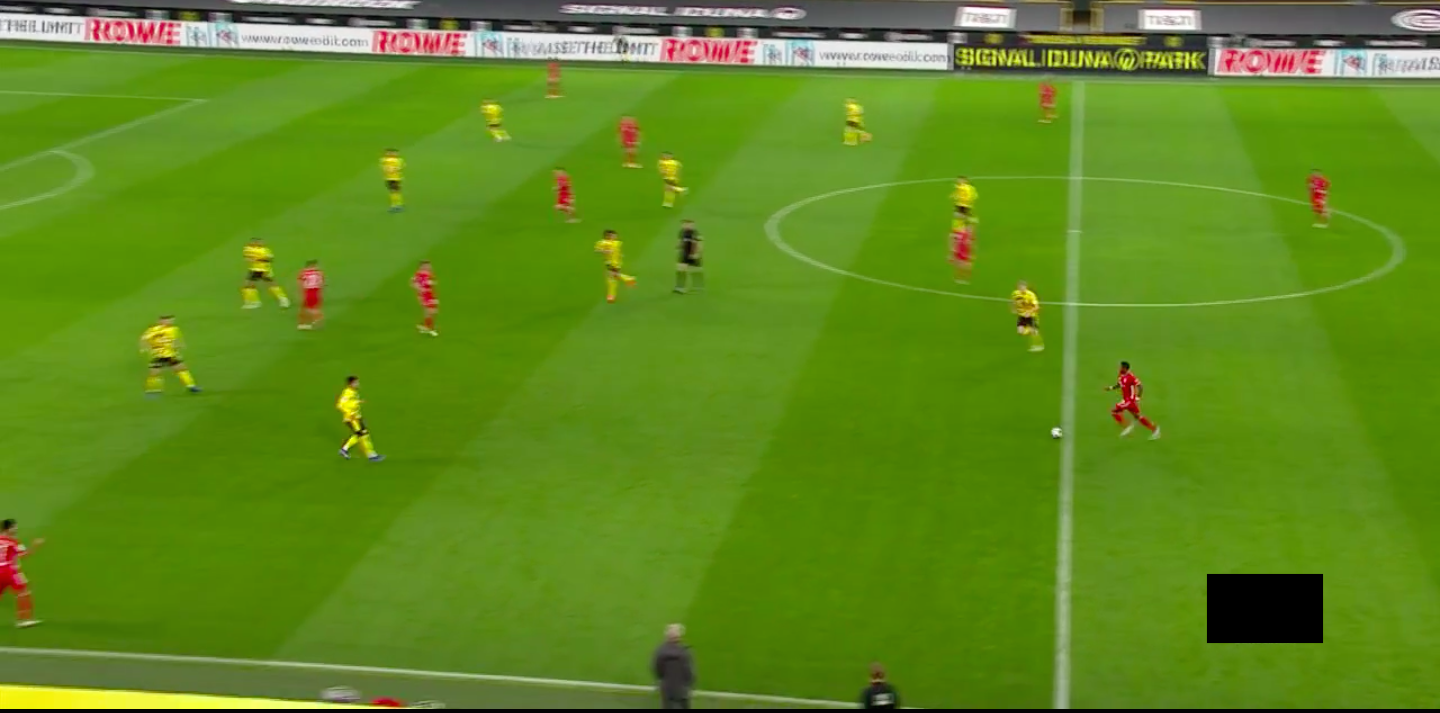 Dortmund also played a 4-4-2 and pressed with their front 2 but their wingers didn't always push up. Bayern were generally able to find a spare man and bypass Dortmund's press. For the most part, Dortmund didn't get close enough to Bayern players to stop them from playing out. This led to Bayern forcing the issue and being the more aggressive side in the first half. 
Despite this, Dortmund still managed to create plenty of chances in transition. They often won the ball back during Bayern attacks and sprung quick counter-attacks. Erling Haaland was an outlet for Dortmund and often won duels against Bayern's defenders which helped start counter-attacks.Lucien Favre's side also looked to exploit Bayern's right side by trying to get in behind Bouna Sarr and Jérôme Boateng.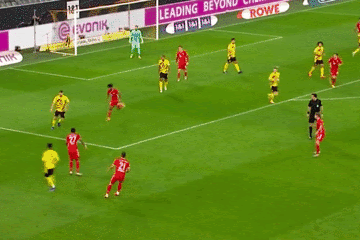 Although the final pass was offside, this was a huge chance for Dortmund. Dortmund win the ball back during a Bayern attack and Thomas Meunier plays a long pass into Haaland. Bayern's centre backs aren't close to Haaland so he can comfortably lay the ball off to Thomas Delaney. 
A long ball from Delaney puts Haaland and Giovanni Reyna in a 2v2 with Boateng and Thomas Müller. Haaland uses his clever movement to get away from Müller, Reyna slips him in and the Norwegian gets a shot away. 
The pass from Reyna was played a split second too late and Haaland, who missed anyway, was offside. In the 24th minute, Robert Lewandowski seemingly opened the scoring before VAR ruled the goal out for offside.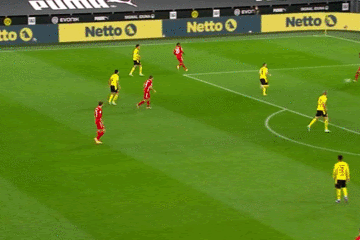 Boateng plays a long ball to Kingsley Coman which bypasses Dortmund's press. Coman then plays a pass into Serge Gnabry. Gnabry gets 1v1 with Meunier and manages to cross into Lewandowski. Bayern's #9 latches onto the cross and nestles it into the back of the net. Unfortunately for Bayern, Lewandowski was a fraction offside.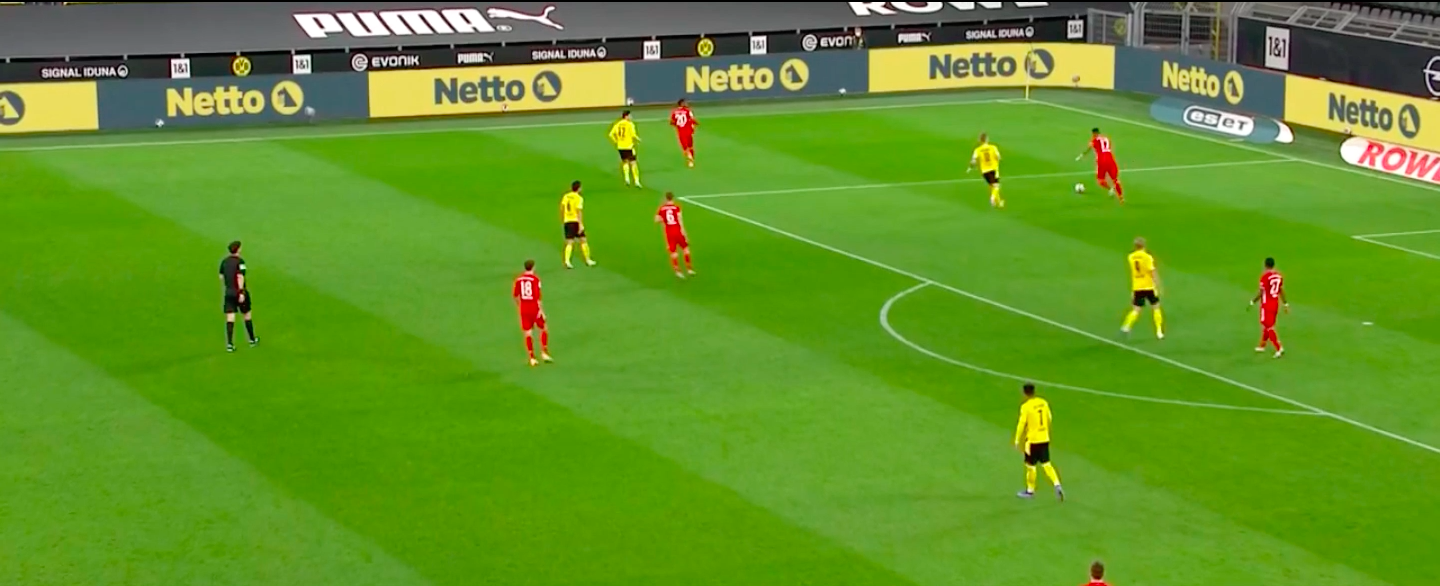 In the lead up to the offside goal, Dortmund's press was bypassed far too easily. Boateng wasn't under enough pressure from Marco Reus which allowed him to play an accurate long pass into Coman. Having more pressure on the ball would have reduced the time Boateng had to pick the pass and would've made it harder for Boateng to execute. 
Furthermore, Raphaël Guerreiro wasn't tight enough to Coman, which allowed the Frenchman to win the long ball and start the Bayern attack. It was Dortmund who opened the scoring when Reus got on the end of a Guerreiro cross to put the hosts in the lead in the 45th minute.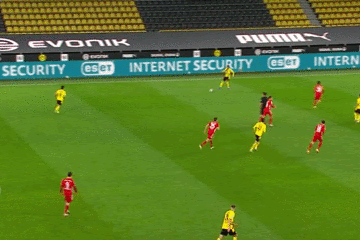 Jason Sancho plays a clever pass to Guerreiro, who isn't tracked tightly enough by Corentin Tolisso (substituted on for the injured Joshua Kimmich in the 36th minute). Guerreiro manages to cross the ball into Marco Reus, who has just pulled away from Bayern's centre-backs.
Reus then gets on the end of the cross and guides the ball into the roof of the net. Dortmund's lead was short-lived, however. Only a few minutes later, Bayern comfortably played out of Dortmund's pressure and started an attack.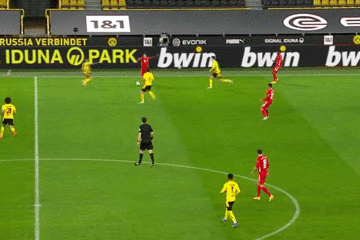 There are three Dortmund players around Lewandowski but none of them block the angle for a pass into midfield. Sure enough, Lewandowski passes the ball to Corentin Tolisso, who quickly turns and switches play to Lucas Hernandez.
This attack led to Gnabry being fouled just outside the penalty area. The following free-kick was scored by David Alaba with the help of a Meunier deflection on the stroke of half-time. Moments after Dortmund almost took the lead at the other end, a Lucas Hernandez cross picked out Lewandowski, who made it 2-1 to Bayern in the 48th minute.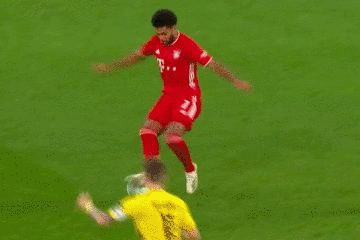 Lewandowski makes a clever dart towards the near-post and Mats Hummels is slow to react to the Pole's movement, allowing Lewandowski to get his head to the ball first. The Pole uses his momentum to glance the ball past Roman Bürki and edges the visitors in front. Dortmund had a few chances to get themselves level. Most notably, Giovanni Reyna squandered a massive opportunity in the 63rd minute.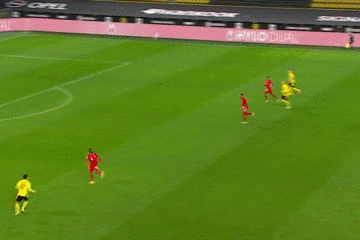 Alaba gets his header all wrong and plays Reyna in on goal. Reyna gets his shot away but it's a tame effort and is comfortably saved by Neuer. Haaland also had a couple of opportunities to bring the hosts level.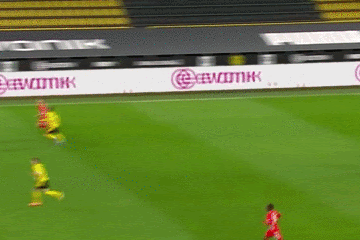 Here, Haaland wins a long ball and lays it off to Reus. Reus plays a through ball that Haaland runs onto. Unfortunately for Haaland, Boateng forces him slightly wider than he'd have liked to go and Haaland drags the shot wide.
As Dortmund looked for an equalizer and both sides began to fatigue, the game became increasingly stretched after the 70 minute mark. In the 80th minute, Leroy Sané (who was substituted on for Coman) finished a counter-attacking move and put daylight between the two sides.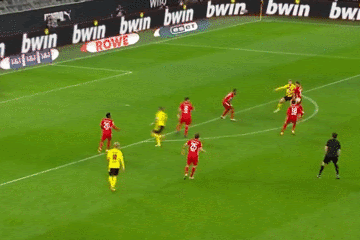 Haaland is pressured by Lucas and makes a poor first touch. Goretzka picks the loose ball up and passes to Lewandowski, and he Pole drives forward and releases Sané, who dribbles towards goal, cuts inside and bends his shot into the far corner. 
Although it was a great finish, Manuel Akanji allowed Sané to shoot far too easily. He backed off too far and couldn't close the angle for Sané's shot. Another goal that Dortmund will feel they should have defended better. However, the game was not over. Haaland got on the end of a lovely through ball from Guerreiro to make it 3-2 in the 83rd minute.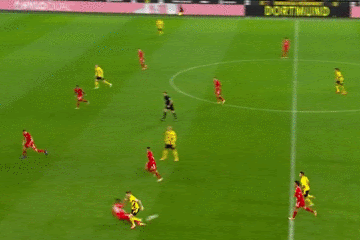 Guerreiro dribbles infield with his head up and isn't closed down. This gives him the time to pick out a perfect pass over Bayern's high line. Dortmund's most dangerous player latches onto the chipped ball, rounds Manuel Neuer and tucks the ball into the net. 
Dortmund had just over 10 minutes (taking additional time into account) to score an equaliser. Given the back and forth nature of the game, it was clear they'd get a big chance. They just had to be clinical when it came. The chance fell to Reus.
Guerreiro puts in a lovely cross. Bayern have overcommitted at the front-post and Reus is free. It misses everyone at the front post and falls to Reus, who skies the shot. Dortmund couldn't find an equalizer and Bayern made it 4-2 through Lewandowski before VAR ruled the goal out for offside.
Although Haaland would've been disappointed that he didn't convert some of his chances, he was terrific. He held the ball up well, ran in behind and wreaked havoc around Bayern's backline. It almost felt as if he was a one-man-attack at times. 
His opposite number also showed his quality. Lewandowski only netted once but he was centimetres away from a hat-trick (both of his goals were ruled out for offside). The difference between the sides proved to be the wingers. This was exemplified with Reyna's big miss and Sané's excellent finish to close the game.
Dortmund's wingers (Sancho, Reyna, Thorgan Hazard and Julian Brandt) didn't offer much attacking impetus. With Haaland looking razor-sharp all game, it's likely that Dortmund would've got more from the game had the wingers shown a bit more quality. A bit more quality and they could have forced Bayern to defend more than they did. This could have changed the outcome of the game given the fact that both of Dortmund's goals were scored when Bayern were defending deep in their half.  
Whilst Dortmund looked reliant on Haaland at times, Bayern looked like they could score through Lewandowski, Gnabry, Coman or Sané. Bayern's wingers looked threatening when they got into Dortmund's half and Sané's goal proved to be decisive.
At the end of the day, the odds were in Bayern Munich's favor with lotto 47 results, and with five straight victories in the league, it seems that Bayern are well on their way to winning another league title.
By: Rahul Mall
Featured Image: @GabFoligno / Leon Kuegeler / AFP