Tactical Analysis: Julien Stéphan's Rennes
Since taking charge midway through the 2018/19 season, Julien Stéphan has completely changed the course of Stade Rennais Football Club. Having spent the past three years managing Rennes's B team, Stéphan replaced Sabri Lamouchi on December 3, 2018, when the Brittany club were 17th in Ligue 1. After a string of victories which saw Rennes defeat Astana and qualify to a European knockout round for the first time in their history, the 38-year-old was given the permanent job just nine days later.
Rennes eliminated Quique Setién's Real Betis in the Europa League Round of 32 before being narrowly defeated by Unai Emery's Arsenal in the following round. With Stéphan at the helm, Rennes finished 10th in the league and defeated the likes of Brest, Lyon and Lille in the Coupe de France, and would go on to beat Paris Saint-Germain at the Stade de France to claim their first trophy in 48 years.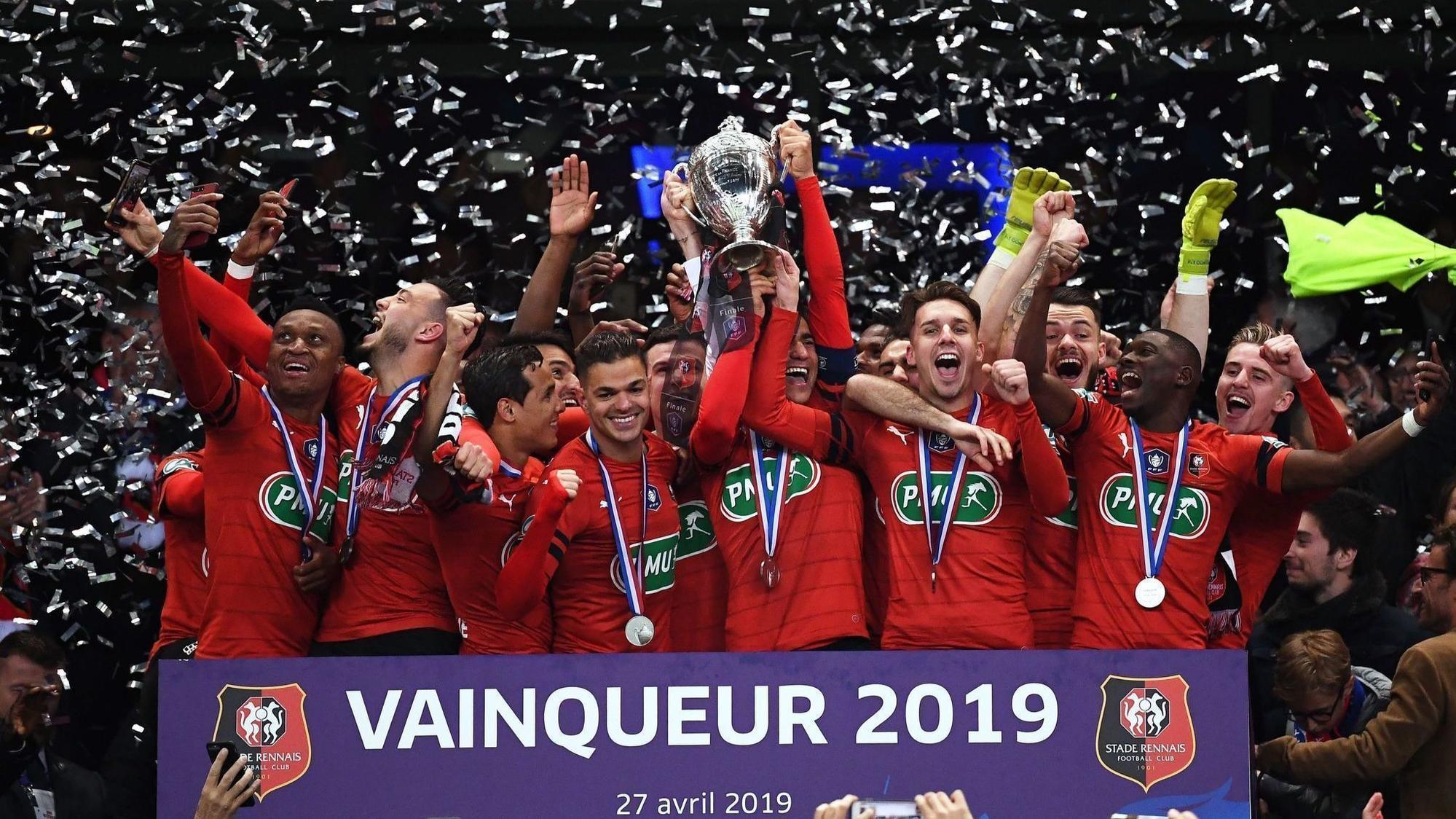 Photo: ANNE-CHRISTINE POUJOULAT / AFP/Getty Images
Stéphan's first full season in charge reaped even more fruit. Aided by the arrivals of Raphinha, Steven Nzonzi and Édouard Mendy and the emergence of teenage sensation Eduardo Camavinga, Rennes finished third in Ligue 1, qualifying for Europe's premier competition for the first time in their 119-year history.
Working in tandem with sporting director Florian Maurice, who joined in the summer from Lyon, Stéphan and co. have brought in a wide variety of promising talents ranging from Dijon's Nayef Aguerd (24), Amiens's Serhou Guirassy (24) and Lyon's Martin Terrier. Despite struggling for consistency in October, Rennes are currently 3rd in Ligue 1 after 9 games, yet sit bottom of their Champions League group after losing to Sevilla and drawing to Krasnodar.
As Rennes prepare to take on Frank Lampard's Chelsea at the Stamford Bridge, let's take a look at Stéphan's tactical set-up and how he's built Rennes into a contender.
The Squad at Stéphan's Disposal and Change of Formation
After taking over midway through the 2018/19 season, Stéphan mainly used a 4-4-2 or a 4-2-3-1, although the latter formation could shift to a more defensive 4-4-1-1 depending on the opponent. During the opening months of the 2019/20 season, he experimented with a 3-5-2, with Jérémy Morel and Damien Da Silva partnering Jérémy Gélin in the middle of defense. However, he abandoned that formation after a 3-2 loss to Monaco on October 20.
Following the defeat at the Stade Louis II, Rennes mainly used a 4-4-2, although they would occasionally switch back to the 4-2-3-1. Rennes struggled for consistency during the start of the 2019/20 season, falling to 11th place on November 23 after a 2-1 loss to Dijon. However, they quickly rebounded in style, winning five on the bounce and riding an impressive run of form; by the time Ligue 1 was suspended in March, Rennes were in third place.
The below radars compare Rennes's form from August to November with their form from December to March. As seen from their underlying numbers, Rennes improved massively in the final months of the truncated season in terms of attacking threat on the counter, whilst conceding fewer xG to their opponents.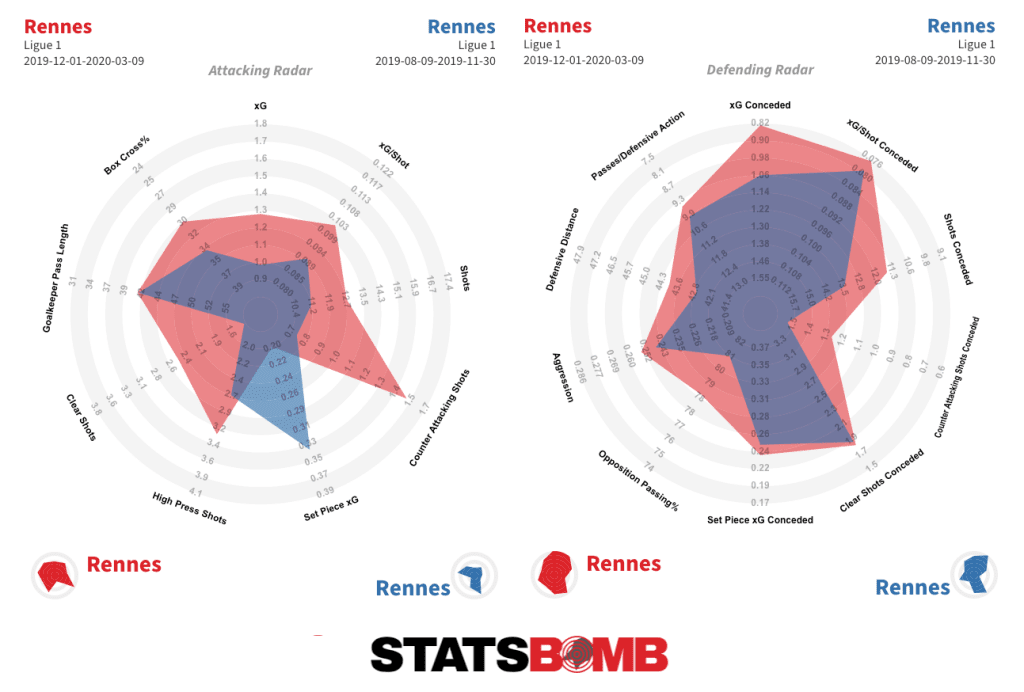 Despite only using the 4-3-3 three times in the past two seasons, Stéphan has firmly established the 4-3-3 as Rennes's go-to formation this season, giving more importance to their midfield trio in possession and giving more fluidity to Rennes's attack. On the defensive end, Rennes have become more compact between the lines, defending in a 4-5-1 off the ball rather than 4-4-2 in the middle third, whilst they have also improved in defending crosses.
With Steven Nzonzi operating as the holding midfielder and Eduardo Camavinga sitting slightly ahead of him, Benjamin Bourigeaud plays as the most advanced midfielder in the 4-3-3, with a loose positional role that often sees him play behind the striker, typically Serhou Guirassy, in the build-up. However, the ex Lens man's versatility allows him to also play in a deeper role, whilst also providing Stéphan the option to interchange between a 4-3-3 and a 4-2-3-1 depending on the opposition.
Playing as the deep-lying playmaker, Nzonzi is the main orchestrator of Rennes's first phase of build-up, instructing his teammates when to run into space, dropping between Da Silva and Aguerd to relieve the defenders of the opposing press, and changing his positioning to allow Rennes to shift from a 4-5-1 in the press to a 4-4-2. Having won the FIFA World Cup with France and the UEFA Europa League with Sevilla, the 31-year-old's experience and calm on the ball is vital to Rennes's success.
Whilst Rennes enjoyed an impressive summer transfer window, the late departures of Édouard Mendy to Chelsea and Raphinha to Leeds United have certainly caused short-term damage to Rennes, who dropped points to Reims, Angers and Dijon in the past month. They replaced the former with another Senegalese goalkeeper, bringing in Alfred Gomis from Dijon, and Gomis has gotten the start over Romain Salin in their last four matches.
On the other hand, replacing Raphinha's attacking output may prove to be a trickier proposition for Rennes. The Brazilian winger played a leading role last season after arriving from Sporting, scoring 9 goals and 5 assists and proving to be a constant menace on the right flank. To replace him, they purchased 18-year-old Jérémy Doku, paying €26 million plus bonuses for the Belgian forward.
Despite getting the start against Sevilla, Angers and Brest, Doku has failed to find the back of the net in his first five appearances for Rennes, and he himself admitted that he needed to be more efficient in his first press conference for the club. If Doku can't fix his finishing problems, Stéphan may be forced to turn to his only other left-footed forward, Romain Del Castillo, as the first option on the right wing.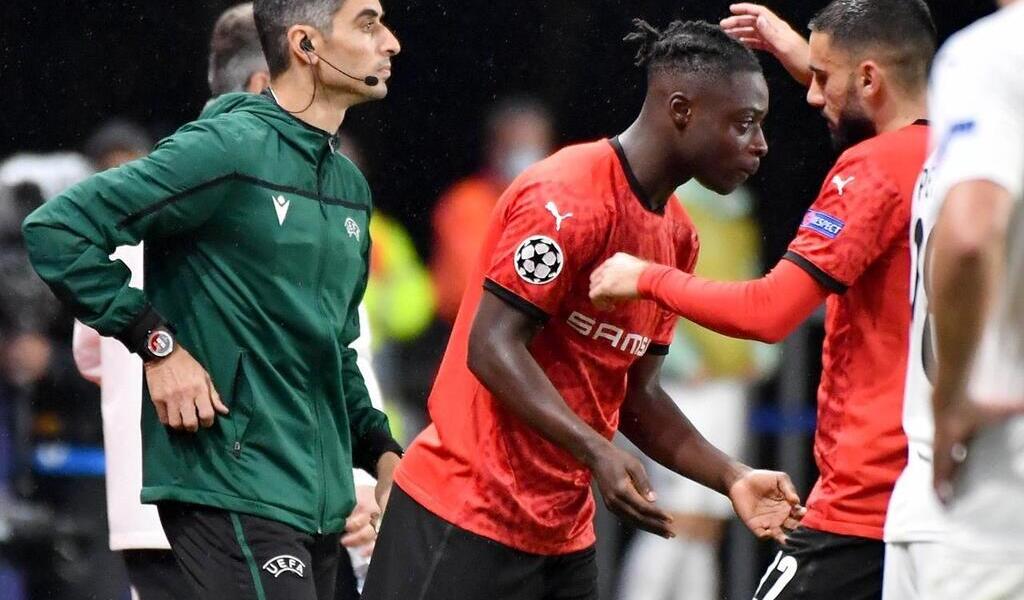 Photo: Joël Le Gall / Ouest-France
While the jury is still out on most of Rennes's exciting summer arrivals, Guirassy is proving to be an instant success since arriving from relegated Amiens for €15 million. The 24-year-old has provided 4 goals and 1 assist in 10 appearances thus far, converting the penalty against Krasnodar in their first ever Champions League match. More than his ability in front of goal, Guirassy has the physical and technical capacity to drop deep and combine with teammates, win long balls and create space for his teammates with clever movement.
Moving onto defense, Rennes arguably boast the finest set of fullbacks in Ligue 1. Faitout Maouassa has proven to be a revelation at left back since returning from his loan at Nîmes in the summer of 2019, but after sustaining an ankle injury against Monaco on September 19, he is set to be sidelined until December. To replace him, Rennes brought in Dalbert on loan from Inter, and despite the Brazilian's struggles in Milan, he has plenty of experience in Ligue 1, having starred for Lucien Favre's Nice in the 2016/17 season.
At right back, Hamari Traoré has become a regular standout under Stéphan, providing dynamism in attack and also proving capable in winning his defensive duels. Whilst the Malian earned interest from Paris Saint-Germain over the summer, he instead decided to renew his contract through 2023. Moreover, Rennes boast two fine talents at the fullback positions with academy talents Adrien Truffert and Brandon Soppy both impressing in their sporadic appearances this season.
In the center of defense, Nayef Aguerd has impressed alongside captain Damien Da Silva, the former arriving from Dijon in the summer for €5 million to replace the departing Jérémy Morel, who returned to his boyhood club Lorient on a free transfer. The Moroccan defender's pinpoint passing from his left foot allow Rennes to circulate possession and funnel balls into the half-spaces, making it harder for opponents to close down his passing angles.
More than just their quality in the starting line-up, Rennes boast arguably the finest squad depth in the league. Daniele Rugani has joined on a season-long loan from Juventus, and although he struggled in his debut against Dijon, he will be a major asset for Stéphan once he returns from his hamstring injury. Clément Grenier, James Léa Siliki and Jonas Martin are fine deputies in midfield, whilst Flavien Taït and Adrien Hunou provide plenty of dynamism going forward.
Perhaps the most impressive "benchwarmer" at Stéphan's disposal is M'Baye Niang. After a difficult spell in Italy, the Senegalese forward returned to France in 2018 and found a new lease of life in Brittany, providing 29 goals and 9 assists in the past two seasons and pushing Rennes to spend €15 million on his permanent transfer from Torino. However, he has not played for Rennes since August 22, after being subbed off in the season opener against Lille after an ineffective performance up top.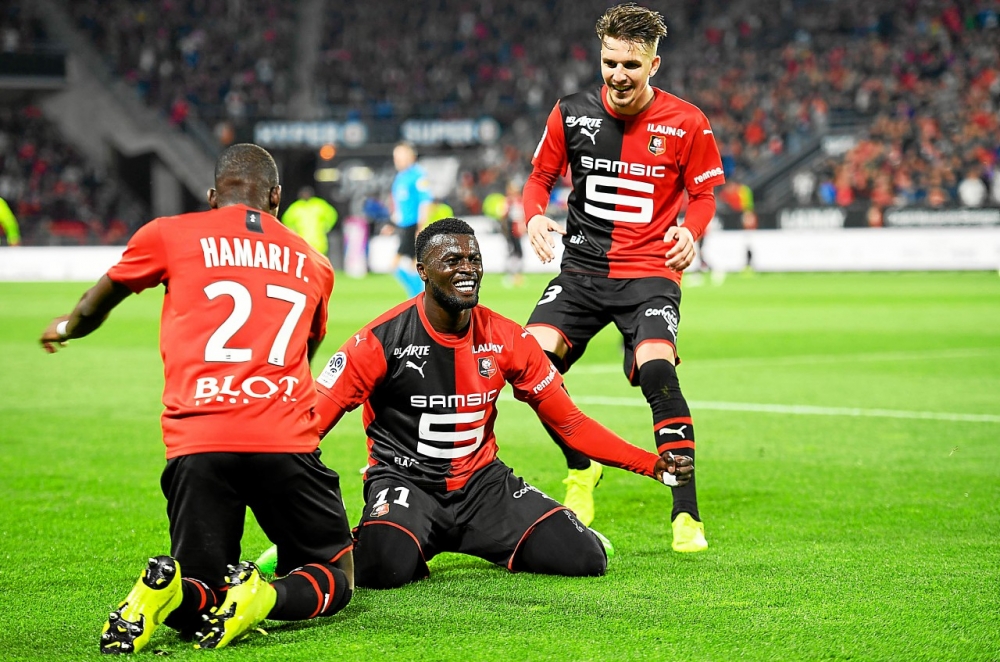 Photo: AFP / DAMIEN MEYER
Rumors abounded of a summer transfer, with West Brom, Al-Duhail, and Marseille being linked as potential suitors, but after a loan move to Saint-Étienne collapsed due to interventions from agents. "I'm sad because I wanted to go there," Niang told L'Équipe on October 10. "I showed it by being there since Thursday. I was convinced of the interest of the project."
Niang had a falling out with Stéphan after failing to show up to training before a preseason match against Benfica, and he has lost his place in the starting line-up due to the excellent form of Guirassy. However, he returned to training this week, and while he may not be fit enough to play against Paris Saint-Germain on Saturday, he will certainly prove to be an excellent option off the bench following November's international break.
With a formidable starting eleven, a wide spectrum of bench options, and an academy that has produced the likes of Camavinga, Soppy, Yann Gboho and Georginio Rutter in recent years, Rennes have the squad depth to exploit Ligue 1's five-sub rule to the fullest and remain competitive in both international and domestic competition.
Their Defensive Structure in a 4-5-1/4-4-2
Last season, Rennes typically defended in a 4-4-2 shape, with the wide midfielder on the ball side (Raphinha in this instance) tasked with pressing high up, which could occasionally result in a 4-3-3 shape out of possession.
In the below example against Saint-Étienne, the wide midfielder on the opposite side (Bourigeaud) isn't instructed to shift inside in order to keep Rennes's midfield compact, which allows Timothée Kolodziejczak to find Yohan Cabaye in between the lines, with the ex Crystal Palace man occupying ample amounts of space in the channel between Raphinha and Camavinga.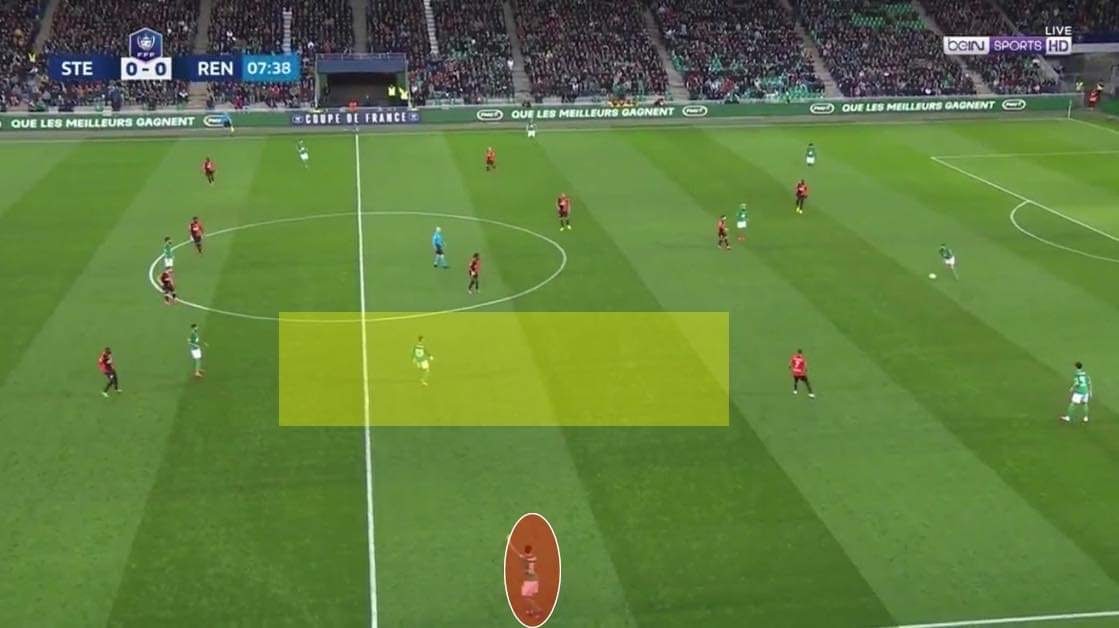 Stéphan has fixed this issue by adopting a 4-5-1 shape this season, although this formation becomes a 4-4-2 in advanced areas, as his players are instructed to recognize certain pressing triggers.
On October 16, Rennes faced off against Dijon at the Stade Gaston Gérard. They started off with a 4-3-3 on the ball and a 4-5-1 off the ball, but they switched to a 4-4-2 on specific occasions. Flavien Taït, who was playing on the left side of the midfield trio, decided to press once the holding midfielder receives the ball, forcing him to recycle the ball back to his center back. Taït remains in this area, consequently changing the defensive shape to a 4-4-2.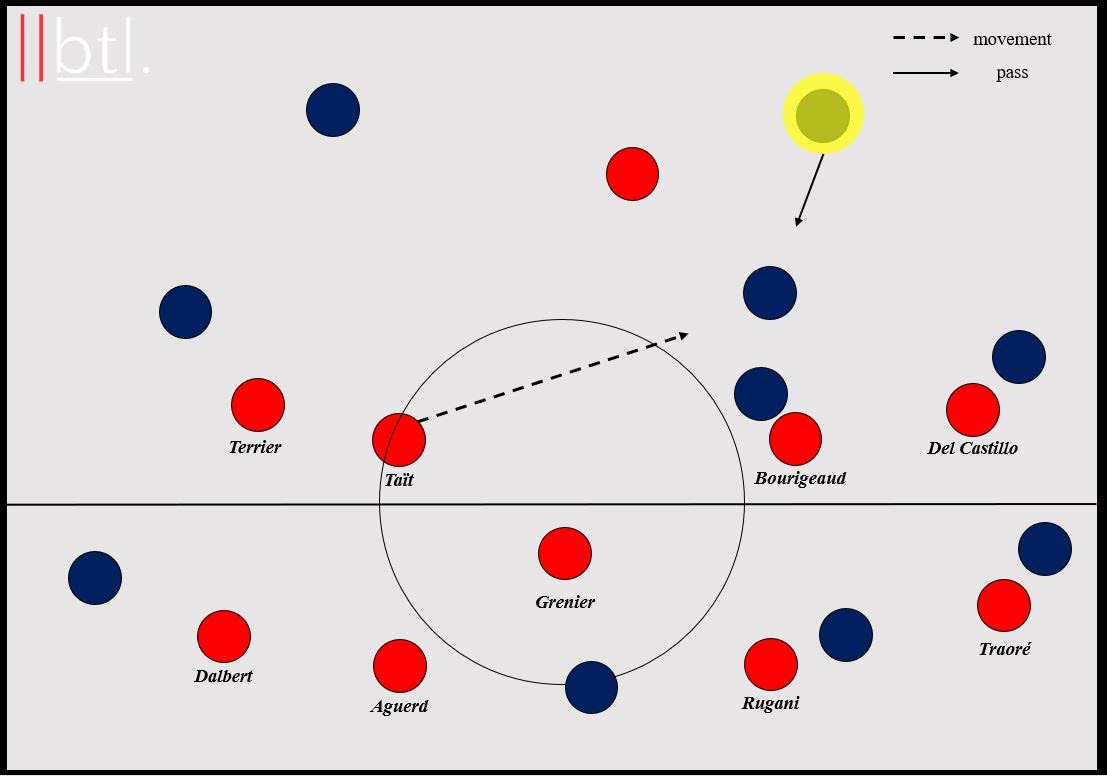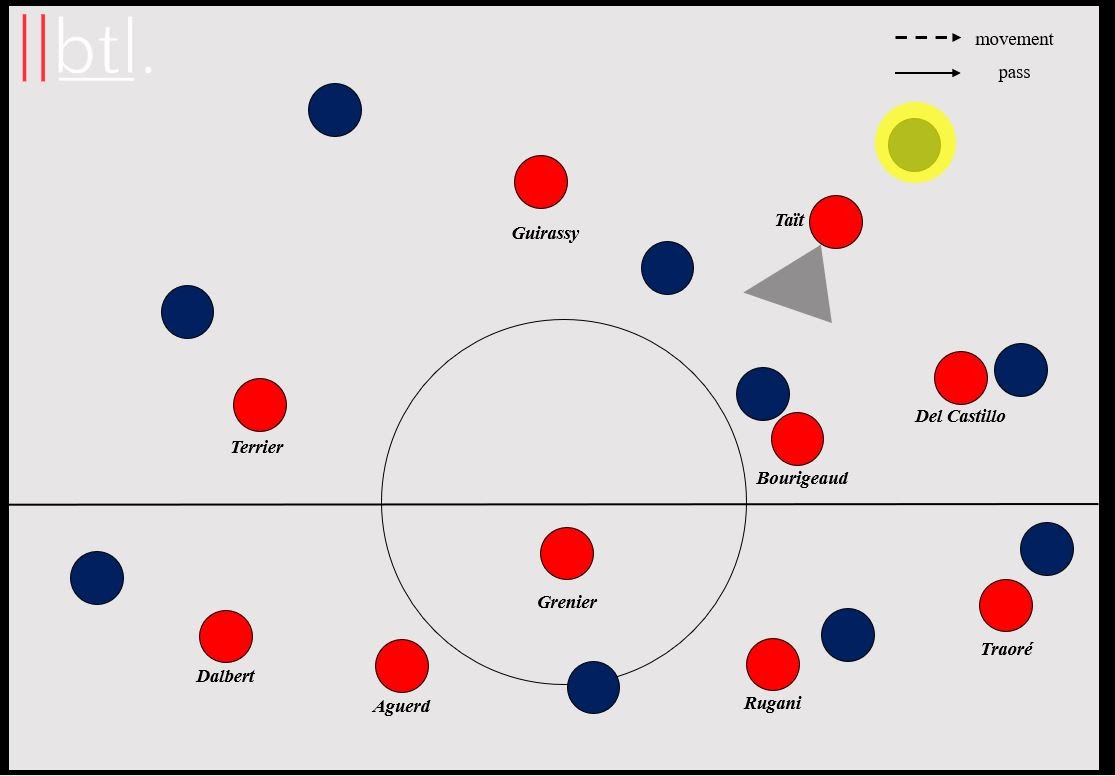 Taït applied enough pressure to the ball carrier, which combined with his cover shadow, prevented Dijon center back Jonathan Panzo from playing a simple inside pass or progressing the ball with his dribbles. If Panzo did manage to play a long ball to avoid turning over possession in a dangerous area, his pass often found its way to a Rennes player.
The overall goal of Rennes' press is to close the middle of the pitch, keeping them compact in central areas, and forcing the opponent to go long. Once the ball goes long, Rennes aim to control the second ball, and more often than not, they win the aerial duel which allows them to regain possession in their own half.
However, in this instance, Rennes fail to maintain numerical superiority and control the second ball; after Mama Baldé beats Rugani in the air, Dijon now have a 3v3 situation in the opposition half, with Baldé, Frédéric Sammaritano, and Eric Junior Dina Ebimbe converging on Rennes's defense. Rugani would have to quickly retreat in order to make up the numbers when defending the counter.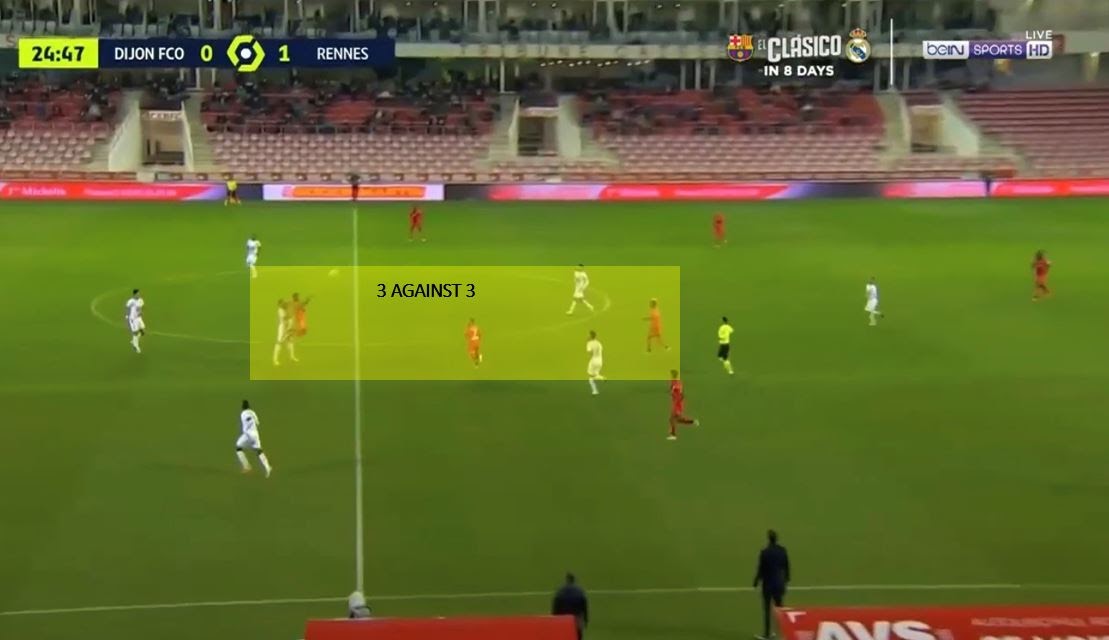 If the ball is played to the wide area and no pressing trigger has been activated for the opposing central midfielder, Rennes's ball-side winger will press the ball carrier. We can see this in the match against Dijon; the winger (Del Castillo) fails to prevent the pass to Mounir Chouiar, forcing Traoré to push forward to block his passing lane.
Pushing higher up the pitch inevitably opens space for a quick ball circulation down the wing as Dijon find themselves in a two against two situation. The centre back on the side of the ball (Rugani) has to slide over quickly and contest any ball down that right side since his right back has pushed higher up the pitch to press the ball carrier, creating a huge gap between the two centre backs.
Chouiar plays a pinpoint pass to split the defense and find Baldé isolated against Aguerd. The Bissau-Guinean forward receives the ball, holds off his man and hesitates, dribbles past Aguerd and the retreating Rugani, and slots the ball past Salin and into the back of the net. Rennes desperately pushed for a late goal, but they were forced to settle for a point against the 20th-placed team in Ligue 1.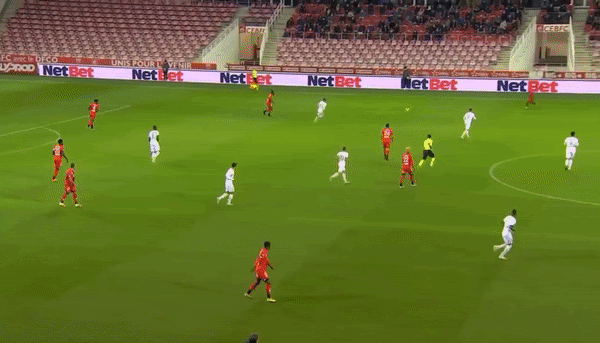 This is a rare example of Rennes's defensive formation not working. Their 4-5-1 set-up allows the right back to stay deeper and demands the wide central midfielder to press the ball carrier if the winger is bypassed. Having conceded 11 goals in their first 9 league matches, it is clear that they still have plenty to improve on defensively.
When they are in their settled shape, Rennes still leave plenty of space to be exploited between their two center backs. Indeed, it's no surprise that they've struggled against teams that sit deep and hit on the counter. Rugani could help rectify this issue once he's fully fit, as the 32-year-old Da Silva does not possess the recovery speed to deal with quick forwards.
The likes of Reims, Dijon and Angers have taken advantage of this weakness, spraying long balls to strong, pacy forwards up top and exploiting the space in between the two defenders. Timo Werner could follow in the footsteps of Boulaye Dia, Sada Thioub and Baldé, and cause Da Silva and Aguerd plenty of problems with his pace and power.
Finally, Rennes have shown plenty of vulnerabilities on set-pieces this season. They've only conceded one goal from a corner kick, but they've also conceded three goals from shots outside the box that immediately followed a corner.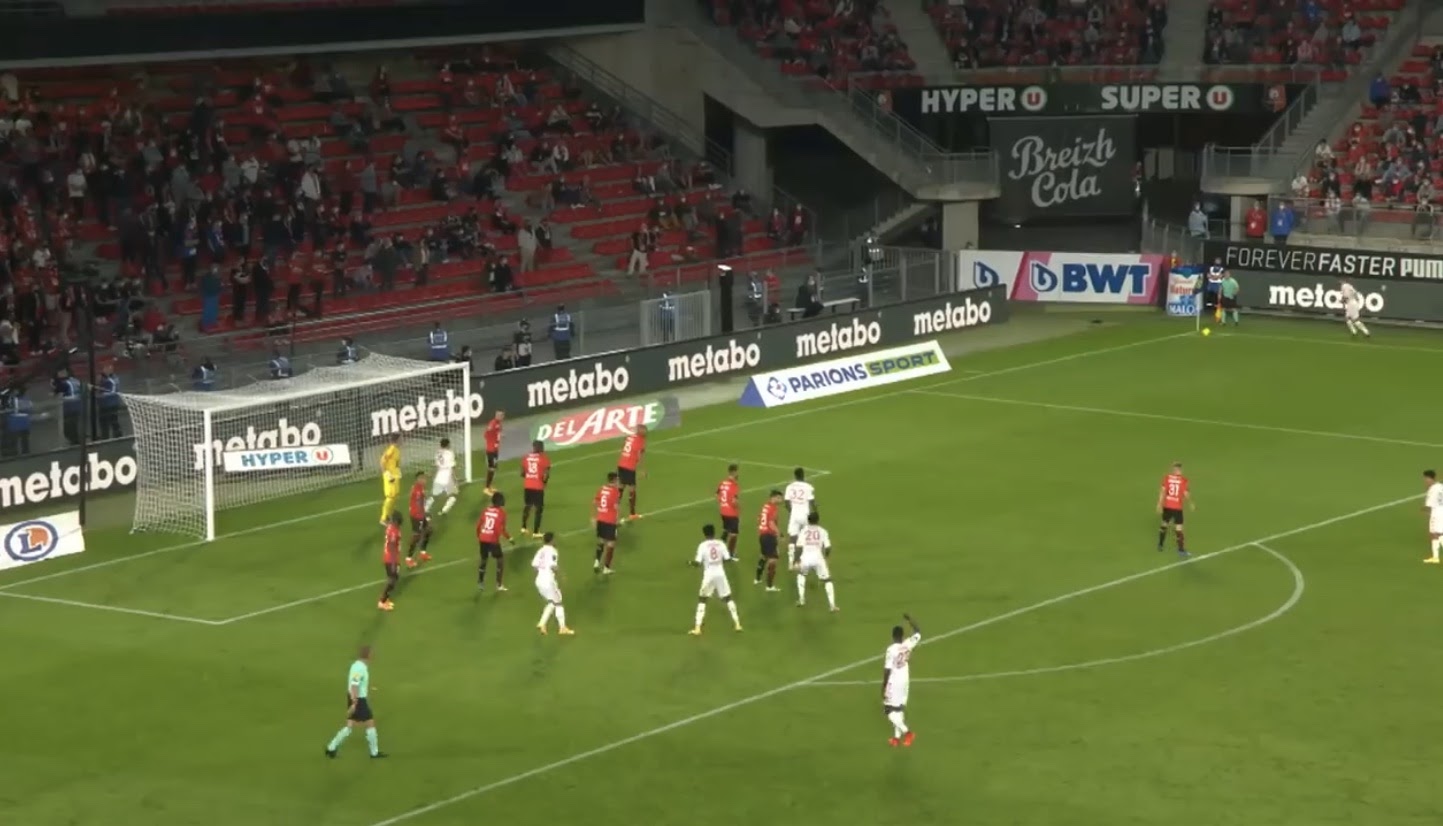 As seen from this example against Monaco, Rennes typically defend set-pieces in a zonal marking system where each player is responsible for a specified zone in the penalty area. If the ball comes into a certain zone, then it is that player's responsibility to deal with it.
When implemented properly, zonal marking can make a team much tighter defensively on corners, but it's clear that Stéphan's men need more practice on the training ground to ensure there's better communication, better organization, and a better understanding of each player's roles in the box.
From the above example, we can see eight Rennes players inside the box, despite the fact that only five Monaco players are inside the box. Rennes don't mark players on the edge of the box, and this has potentially devastating consequences. Nzonzi heads the corner kick away and into the path of Sofiane Diop, who tees up Djibril Sidibé. Sidibé has the time and space to scoop the ball past the defense and towards the onrushing Wissam Ben Yedder, whose shot careens off the crossbar and out for a goal kick.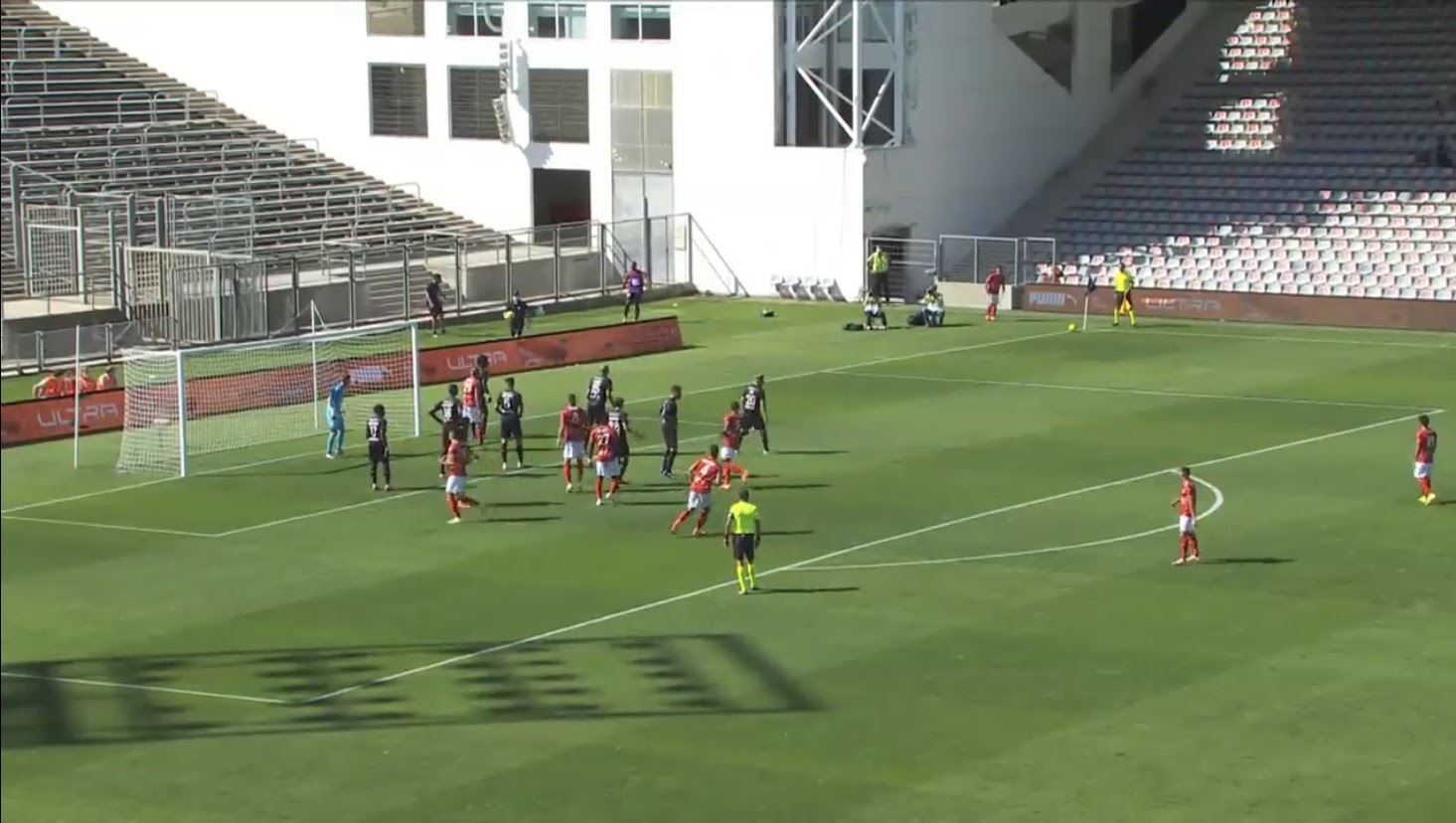 In the above example, there are 10 Rennes players inside the box (including Salin in goal), which leaves two Nîmes players unmarked at the edge of the box. Guirassy heads the ball away and into the path of Andrés Cubas (on the far right edge of the picture).
The Paraguay international does remarkably well to trap the ball and smash it past Salin with a powerful half-volley, and Nîmes briefly level the score before Guirassy breaks the deadlock once more before halftime.
Resting Phase and High Press 
One of the most crucial assets behind Rennes's off-the-ball system is their intensity in pressing. If they lose the ball far away from their own goal, they will activate their pressing trigger and collapse onto the opponent, forcing him to make a mistake or a hasty decision.
We can see this against Saint-Étienne, where they scored from a cross immediately after recovering the ball from their aggressive counter-pressing. Immediately after losing the ball, three Rennes players collapse on left back Yvann Maçon and succeed in winning the ball back on the right flank.
Bourigeaud plays a short pass to Del Castillo, who drives past Maçon and into space, before delivering a cross into an unmarked Guirassy. The French striker leans backward and converts Rennes's second goal with an acrobatic finish, doubling their lead just 10 seconds after their ball recovery.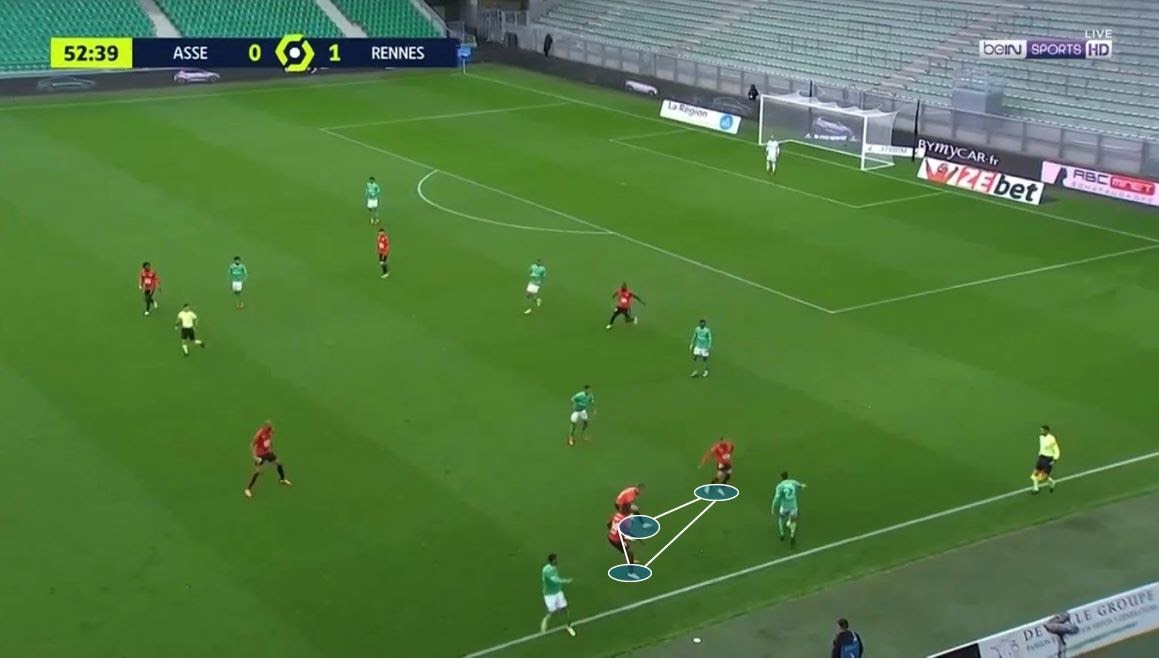 Rennes's counter-pressing is more about suffocating the opponent in a single area than having a strong, defined counter-pressing structure in place. However, when they push too high to counter-press the opposition, they can leave themselves even more exposed with quick strikers who can run in behind the defensive line. A team like Chelsea with the individual quality to play out of pressure could exploit Rennes's weaknesses, especially if Werner starts up top.
Moving onto their resting shape, the shape that they adopt when they are in the middle third (the middle of the pitch), they adopt a 4-5-1 block so as to not allow the opponent time to receive in between their defensive and midfield lines. They do not press much during their resting shape so as to maintain central compactness, and even if their midfielders apply pressure and are bypassed, the opponent will still have to beat several opponents to create danger.
We see this in the below example against Saint-Étienne, where after beating Camavinga, Adil Aouchiche still has to beat Nzonzi and Bourigeaud before taking on the back four, and Del Castillo is also shifting inwards to keep Rennes's mid block compact.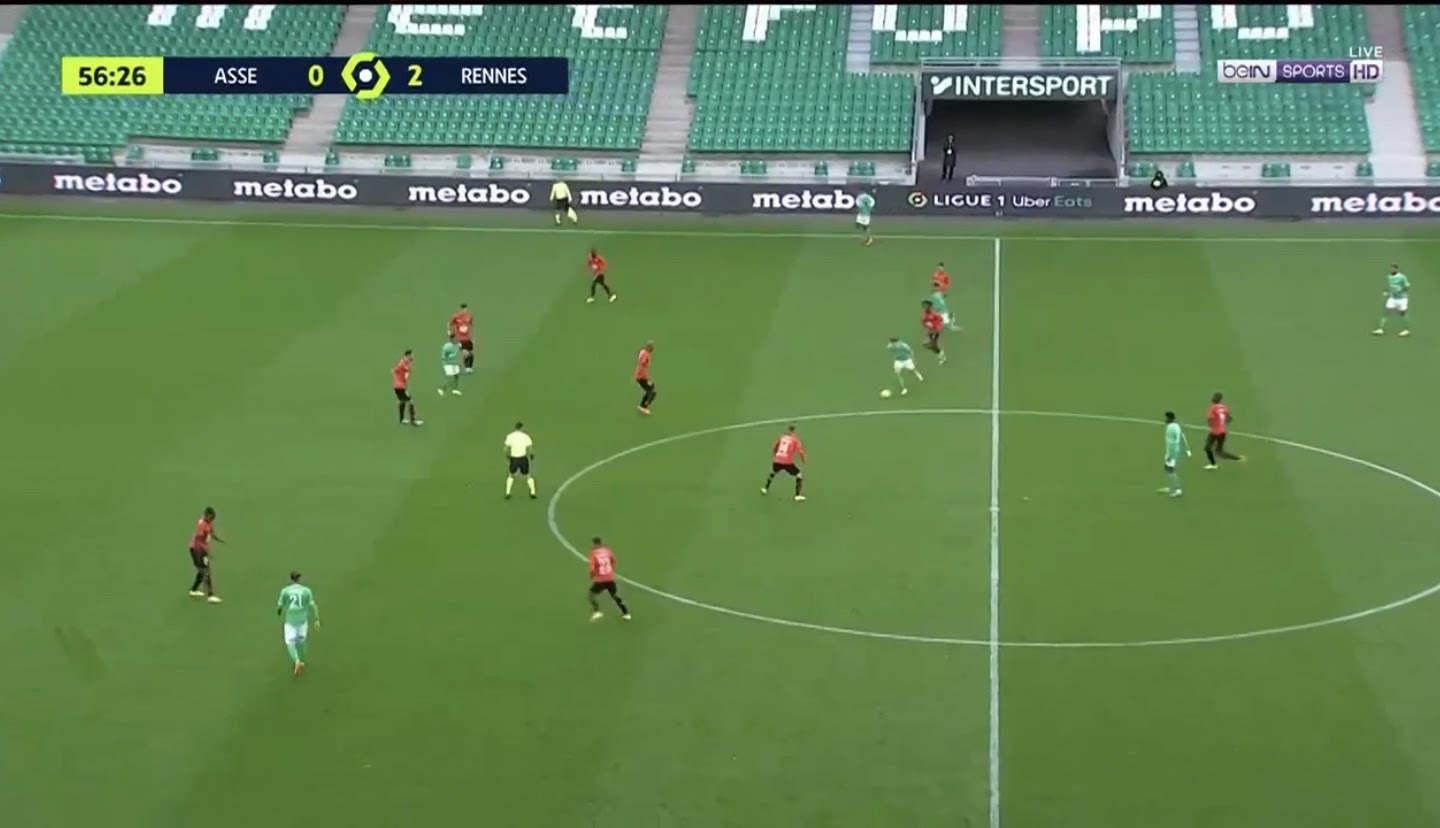 Contrast this to the past two seasons, where Rennes's settled shape of the 4-4-2 resulted in them being picked apart by technically gifted midfielders. The 4-4-2 can make it harder to close the channel between the central midfielders, and Stéphan has gone with a 4-5-1 out of possession to have an extra man in the middle in order to handle these situations better.
Stéphan wants his side to control the flow of possession and limit the opponent's time and space in between the lines, and he does so by applying high pressure to the opposing sides and staying compact off the ball.
Their Respect of the Five-Corridors Rule and Their Wide Rotations
In football, there are five corridors and each corridor must be occupied at any given time in order to give the ball-carrier more passing lanes available. Each corridor can't be occupied by two players in advanced areas (i.e. final third or the area in between the final third and the middle third).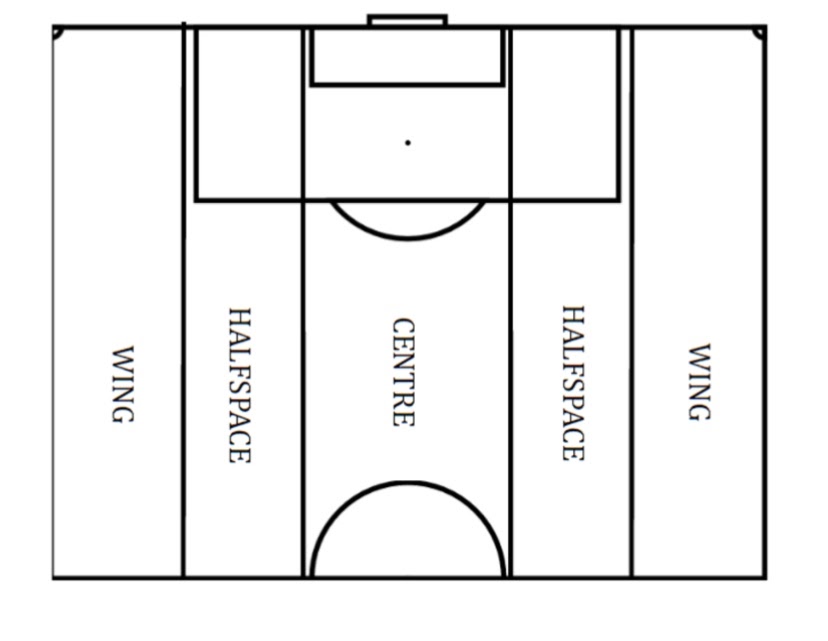 Rennes have respected this principle to the fullest, setting up in a front five where both full backs occupy the wide areas and both wingers find themselves in the half spaces, allowing Rennes to stretch their opponent's backline as well as giving them more routes of ball progression.
In this example against Monaco, Rennes build possession on the left side of the pitch, leaving Traoré in space on the underloaded flank. Both him and Truffert maintain the width by hugging the touchline, whilst Raphinha's inward movement draws Sidibé with him, providing more space for Traoré to exploit. Camavinga plays a quick pass to Guirassy, who drops deeper and switches the play to the onrushing Malian.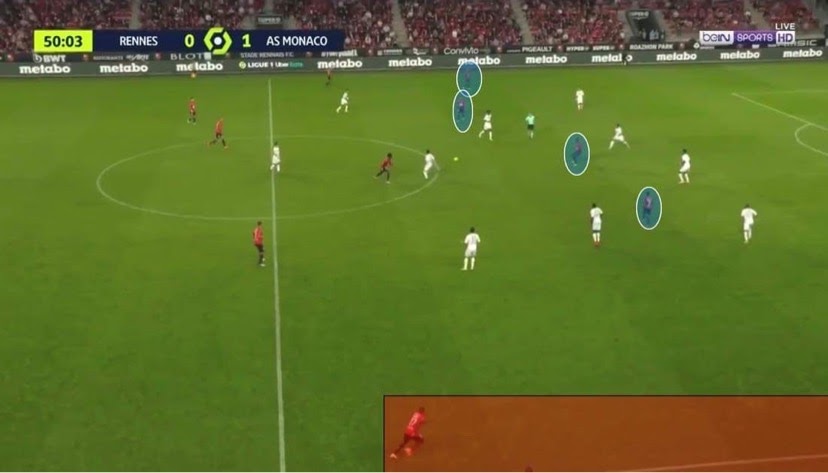 We can get an even better glimpse of the five corridors rule in this example against Saint-Étienne. Del Castillo shifts his positioning in order to occupy the right half space, and tells Traoré to move into space on the flank. Bourigeaud picks out the Malian right back with a pinpoint switch of play, whilst Del Castillo provides a short passing option on the right flank.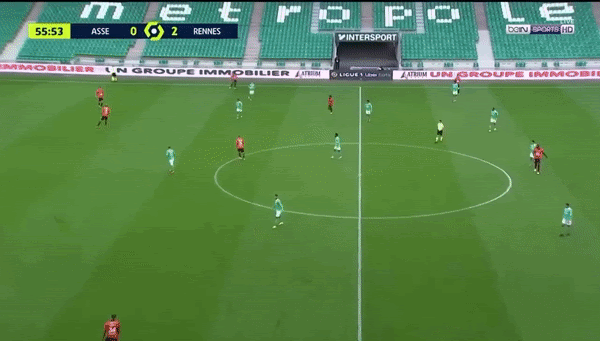 This allows Rennes's players to attack with five players and defend with five players. They are less exposed on transitions as a result, and this also gives them greater momentum going forward since the fullbacks know which task they have to execute in attack. It also plays to the strengths of their wingers, who can play closer to goal and now have a fullback they can link up with in the final third.
The 4-3-3 formation naturally creates triangles in wide areas, but it also forces them to find an aggressive runner who can provide verticality to their triangle. Rennes can utilize these triangles to their fullest purpose by positional rotations, where the quick interchange of positions between players leaves one player (Maouassa in this example) unmarked in ample space.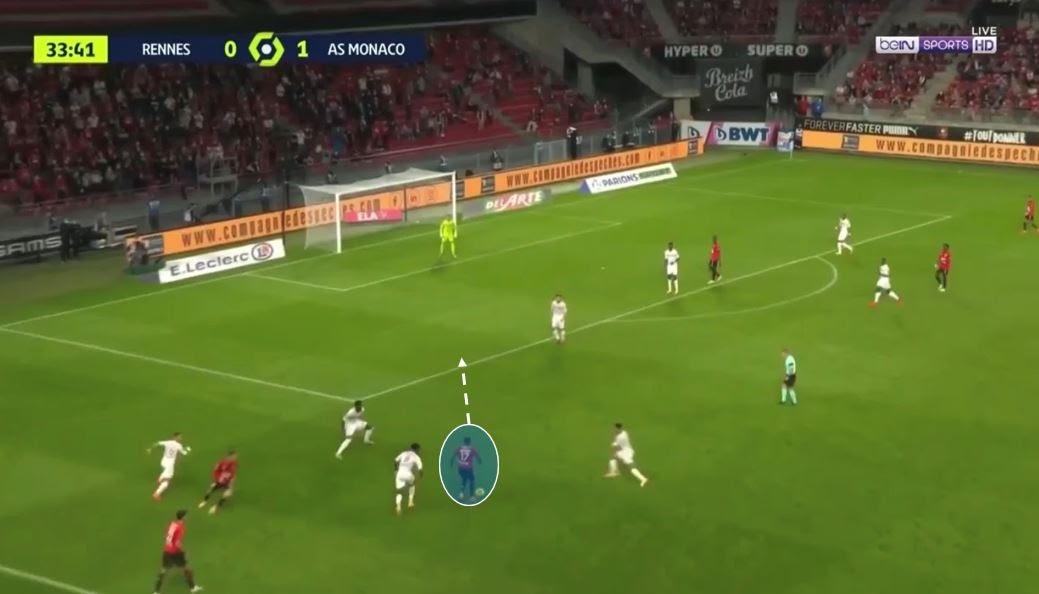 The Build-Up Patterns and Guirassy's Role in Possession
Rennes began the 2019/20 season with a 3-5-2, and although they have since abandoned that formation, they still favor a back three when building out of defense. Nzonzi is tasked with dropping between the two center backs (typically Da Silva and Aguerd), allowing Camavinga to operate as a lone pivot and enabling Bourigeaud to push forward. The ex Stoke midfielder will then seek to play Bourigeaud into space with a quick pass.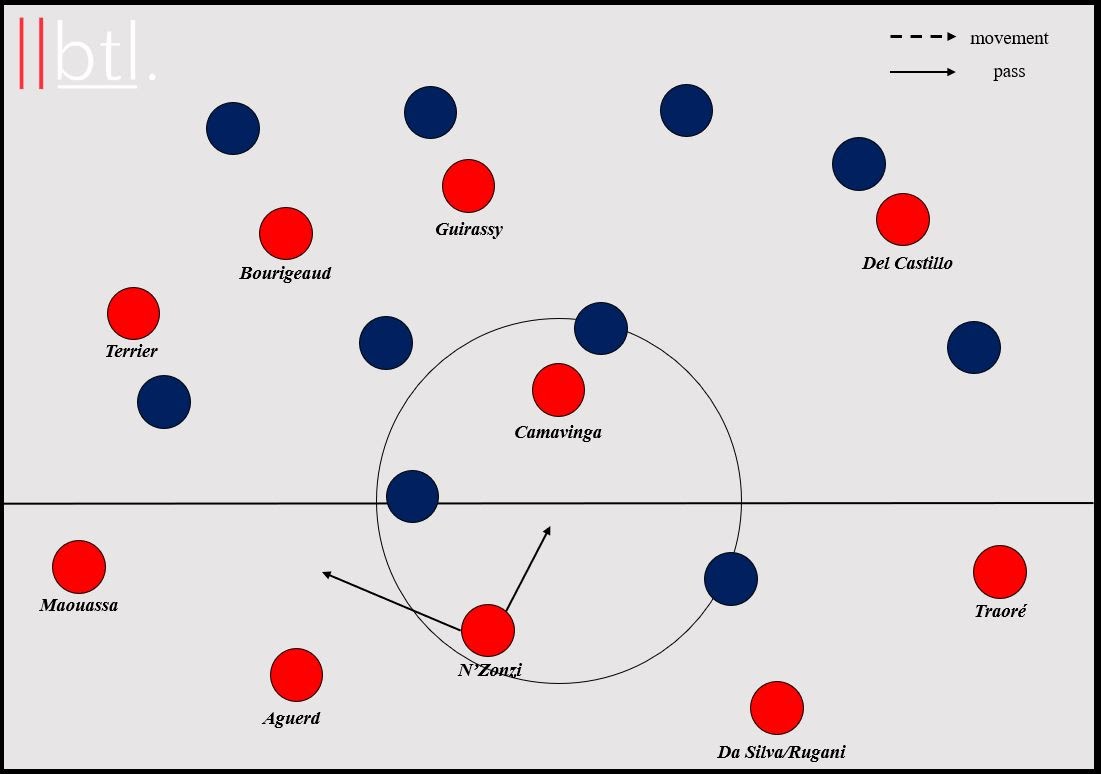 If an opposing player attempts to mark Nzonzi during the first phase of build-up, he and the intended receiver of the ball will likely interchange and the new ball carrier will switch the ball to the underloaded side. In this example, Camavinga interchanges with Nzonzi and can now either find the veteran midfielder with a quick one-two or find Traoré in space on the right flank, whilst Bourigeaud moves into space on the ball side to offer a quick passing option.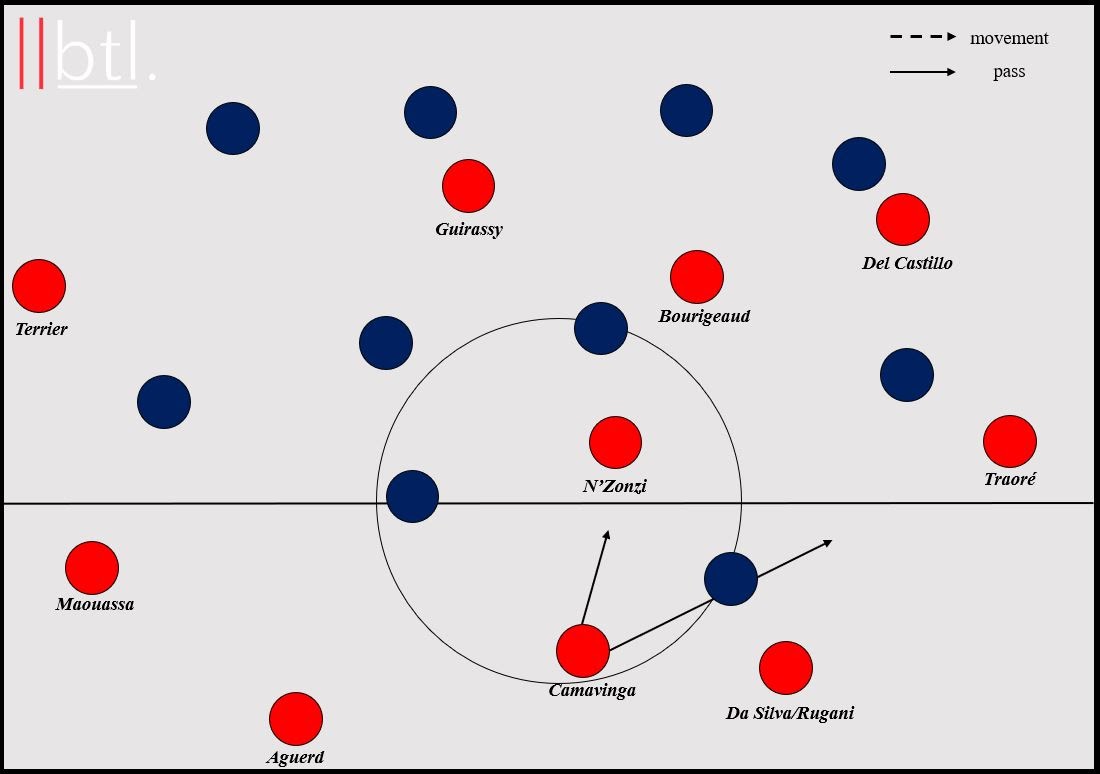 Whilst they may struggle off the ball, Rennes have an ideal center back partnership in possession that provides plenty of routes of ball progression, with a left-footed defender (Aguerd) and a right-footed defender (Da Silva). When Da Silva receives a pass, he can find the right back in space quickly and vice versa with Aguerd.
Most importantly, this allows Rennes to quickly progress the ball through the half spaces. As a result of these advantageous passing options, Aguerd doesn't need to take as many touches as Da Silva does to find Bourigeaud in the half space, catching the opponent off guard with little time to react.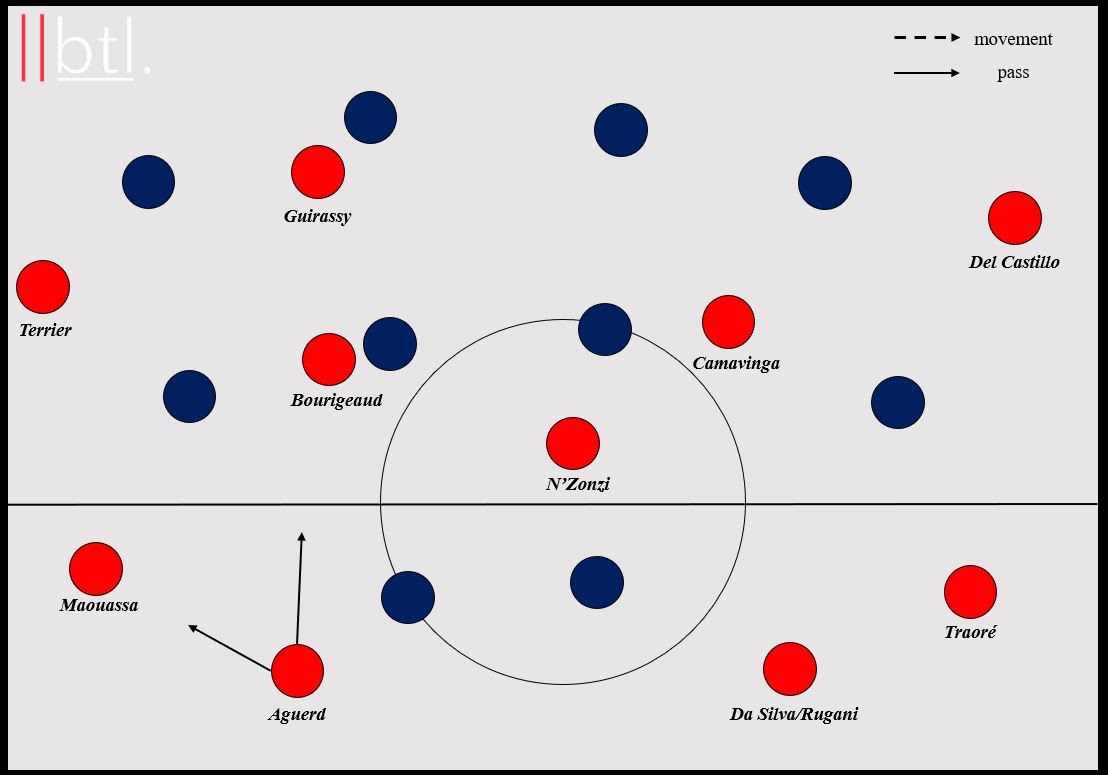 If Bourigeaud (highlighted in yellow below) gets the ball, he can quickly combine with Nzonzi; this attracts the opposing midfielders to press Nzonzi, which either creates space for either Camavinga or Del Castillo to drop into; even Guirassy could drop deep into pockets of space and receive the ball.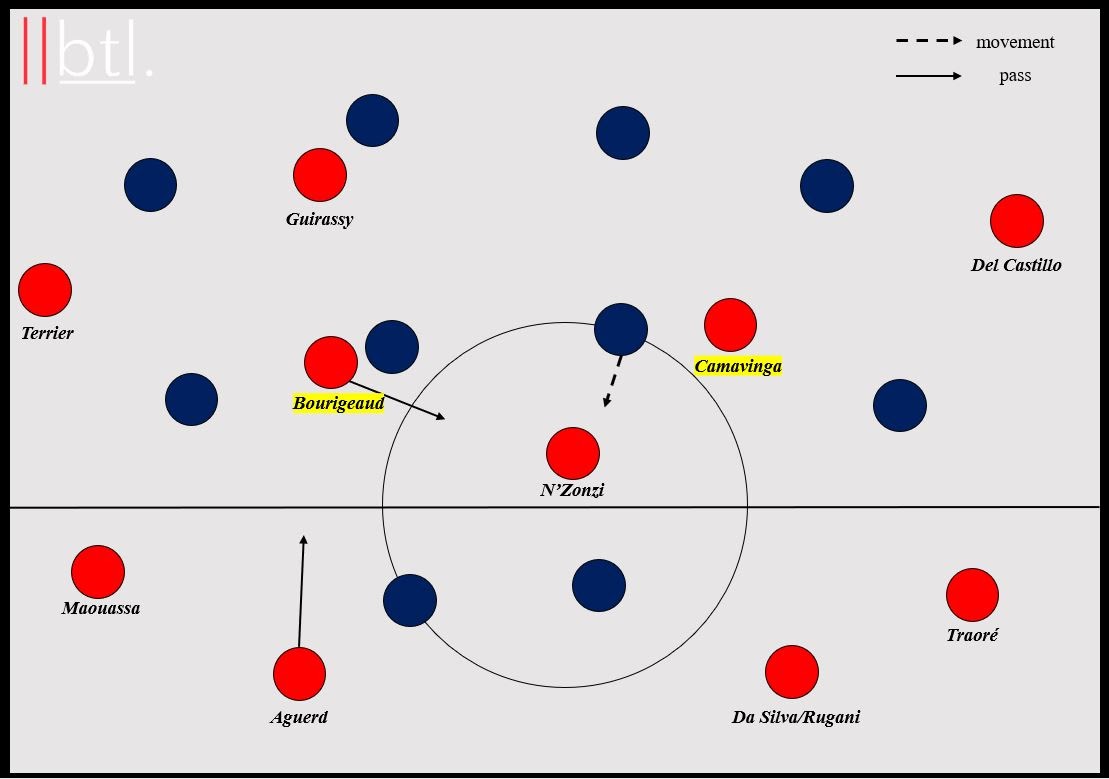 This example highlights a classic case of what the 4-3-3 can offer in possession. If Rennes built out of the back with their fullbacks deep, Nzonzi can receive in between the two lines of pressure, and if he can quickly find one of his central midfielders with a pass, Rennes can immediately form a triangle in a wide area.
Consequently, the fullbacks will then push further forward whilst the forward on his flank shifts inside, whereas Guirassy shifts to the ball side to create numerical overloads in attack.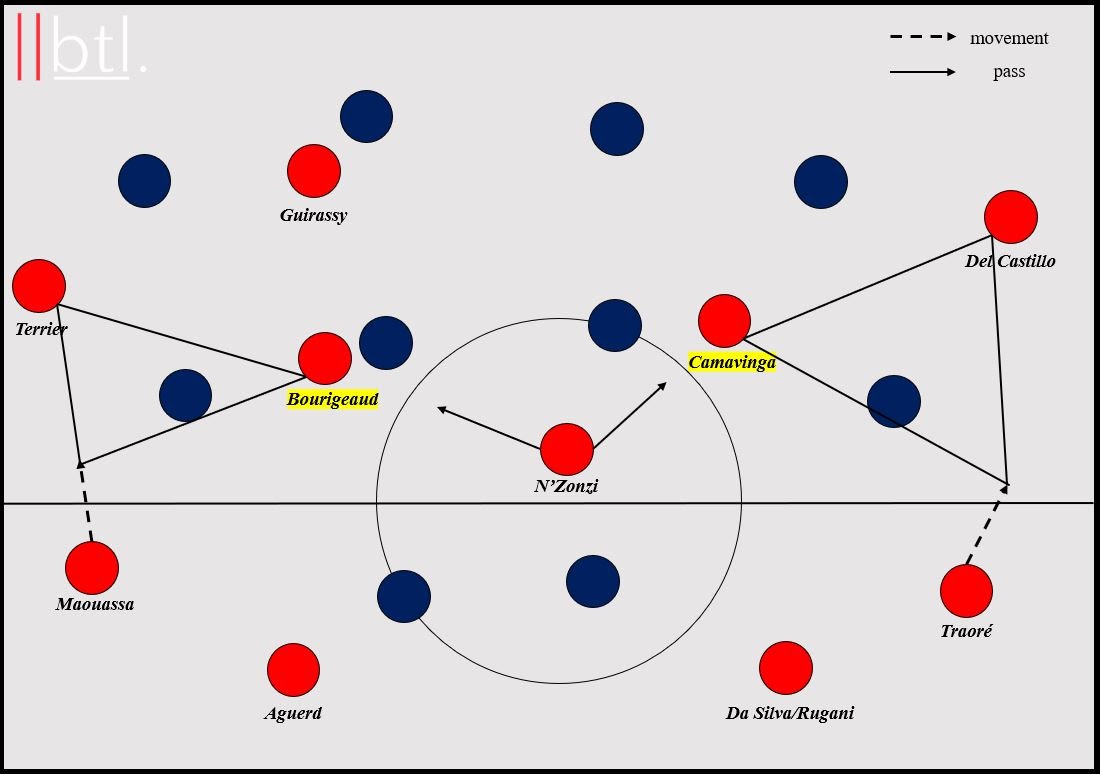 The problem with having a classic 4-3-3 lies in the fact that there's no real link between midfield and attack if the midfielders remain relatively deep. To solve this, the central forward or an inside forward will drop deep to combine with his teammates, as seen with Roberto Firmino at Liverpool or Dominic Calvert-Lewin at Everton. Similarly to last season, when Niang often dropped deep in the 4-2-3-1 to link up with his teammates, Guirassy provides plenty of quality in the build-up, trapping long balls with his bulky physique and controlling ground passes with an excellent first touch.
In this example, Nzonzi finds Guirassy with a pass, who pulls the opposing center back off his line and passes back to his compatriot, who makes a run forward. This creates a 2v1 situation in Rennes's favor, and Guirassy can now move into the vacant space behind the center back that has pushed forward.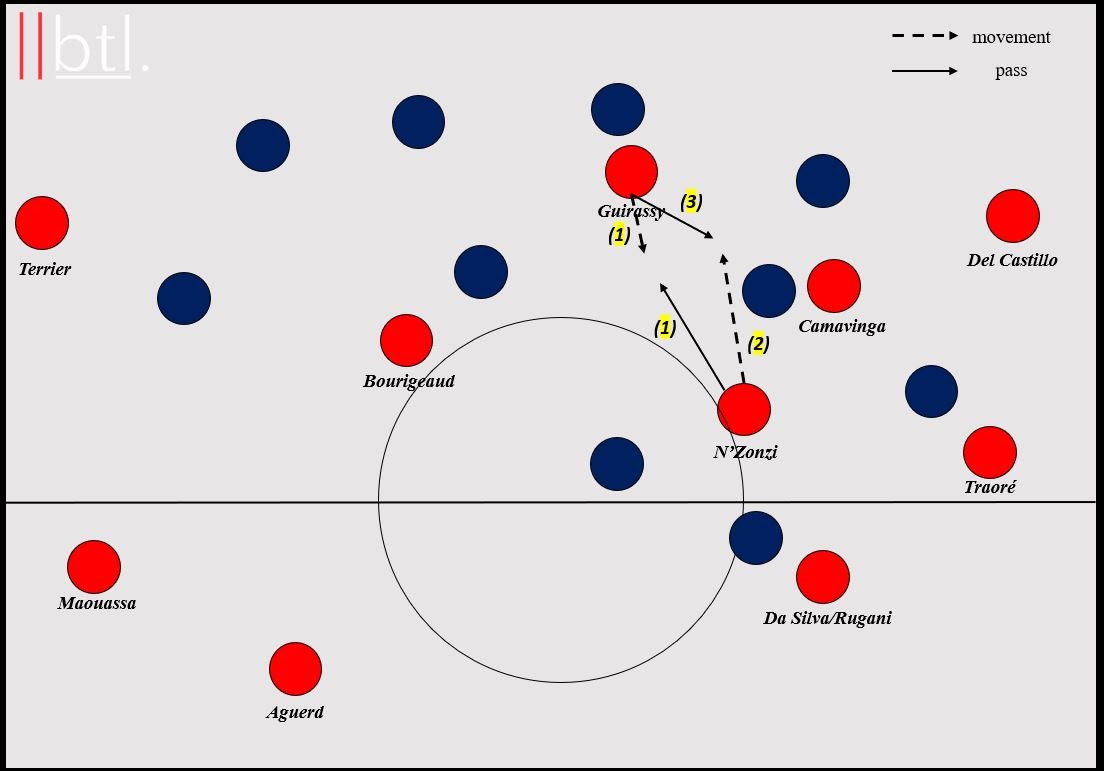 Guirassy's aerial ability allows Rennes to win long balls and shuttle the second ball into the third man, who is exploiting the space that the opposing center back vacated by committing further forward to pick up his man. In this example, the ex Amiens man controls a pass from Taït, heading it back in the direction of Nzonzi, who plays a lofted through ball into the path of Taït.
Taït controls the ball on its second bounce and brushes past Loïck Landre and into the box, dragging Pablo Martinez in his direction and opening up space for Guirassy. Taït hesitates and finds Guirassy unmarked at the penalty spot, who slots the ball into the back of the net. Nîmes would equalize again via Zinedine Ferhat, but Rennes prevailed with victory with goals from Aguerd and Bourigeaud.
Guirassy doesn't need to receive the ball in order to be effective in his movement, as seen in this example against Dijon. As Aguerd weighs which pass to make, Guirassy pins the holding midfielder back (Wesley Lautoa) whilst Del Castillo occupies the attention of ex Chelsea center back Jonathan Panzo. Traoré can now make a run into acres of space.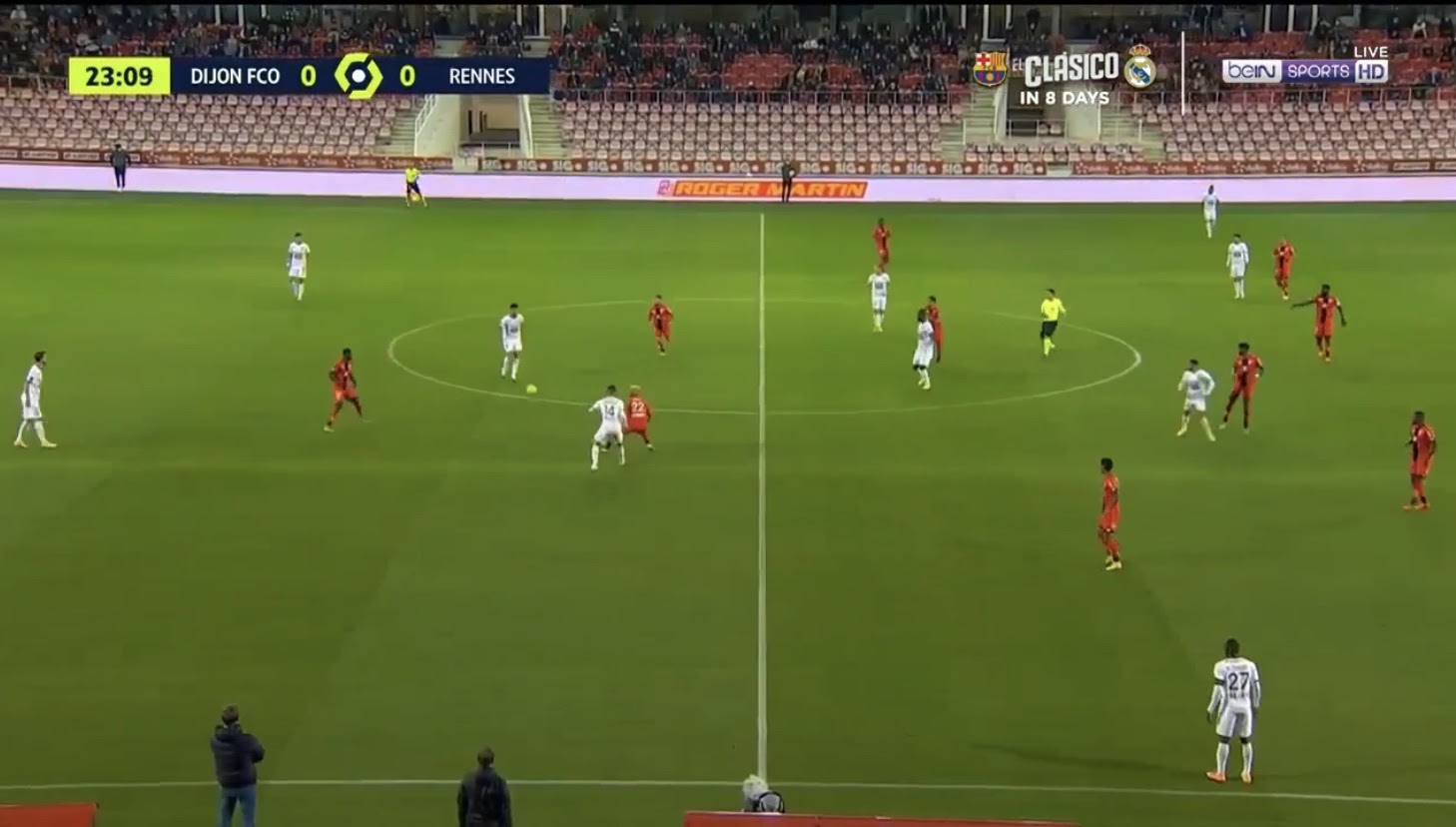 Aguerd picks out the onrushing Traoré in the final third, and the Malian right back outmuscles Aníbal Chalá and dribbles into the box, before finding Martin Terrier at the penalty spot. With Panzo and Bruno Ecuele Manga focused on blocking Traoré's cross, Terrier has the time and space to put away the opening goal past Saturnin Allagbé and into the bottom left corner of the net.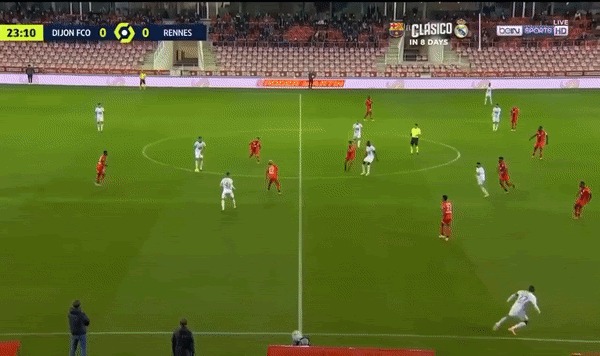 Let's discuss Rennes's strategy on goal kicks. In this example against Saint-Ètienne, both center backs stay inside their box to provide their goalkeeper with a short passing option, whilst both fullbacks are close to the halfway line and the touchline.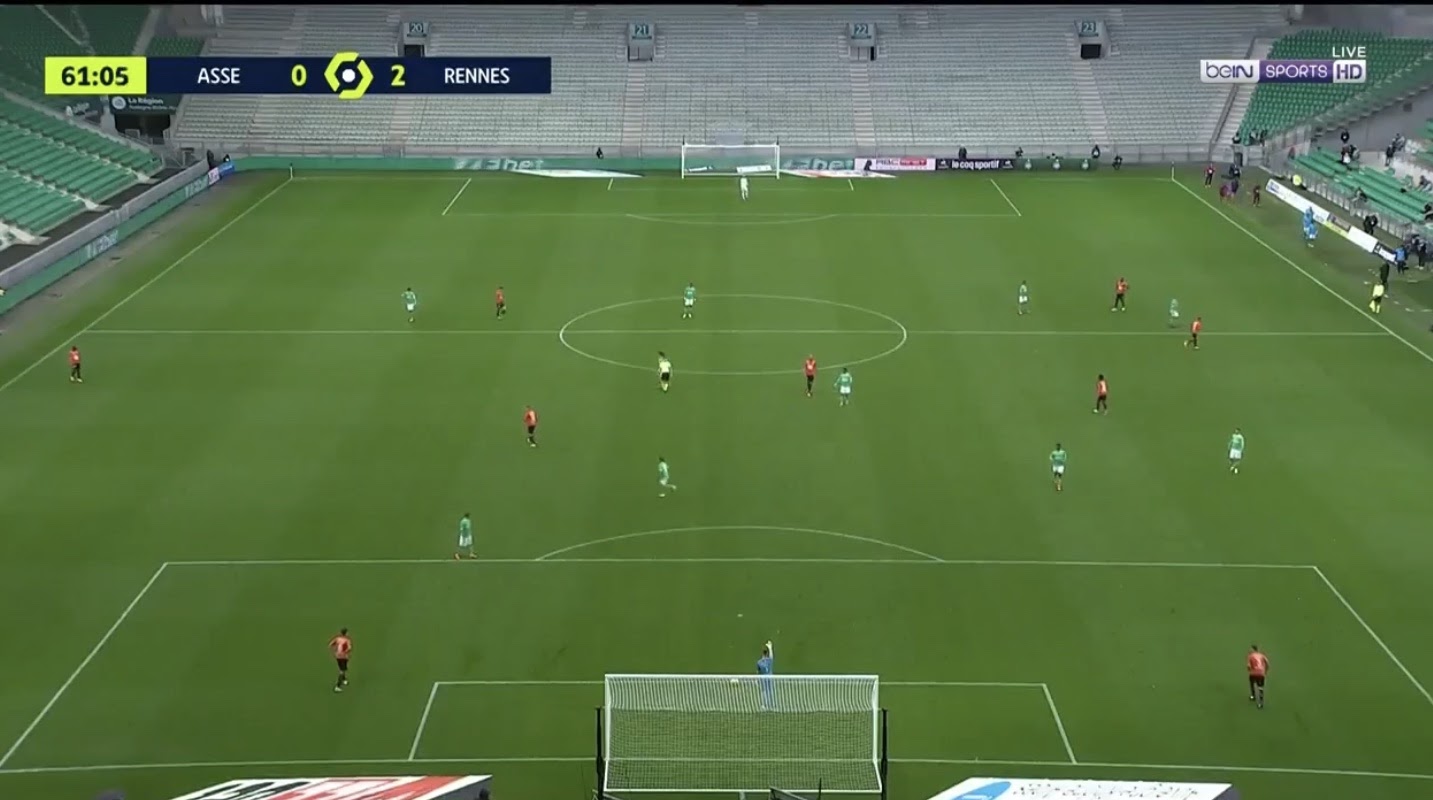 However, 11 seconds later, Rennes's players are clustered around the right side of the pitch in an attempt to win the second ball. Rennes have used this approach on several occasions on either flank this season in order to remain compact and have a numerical superiority in order to safely recycle possession.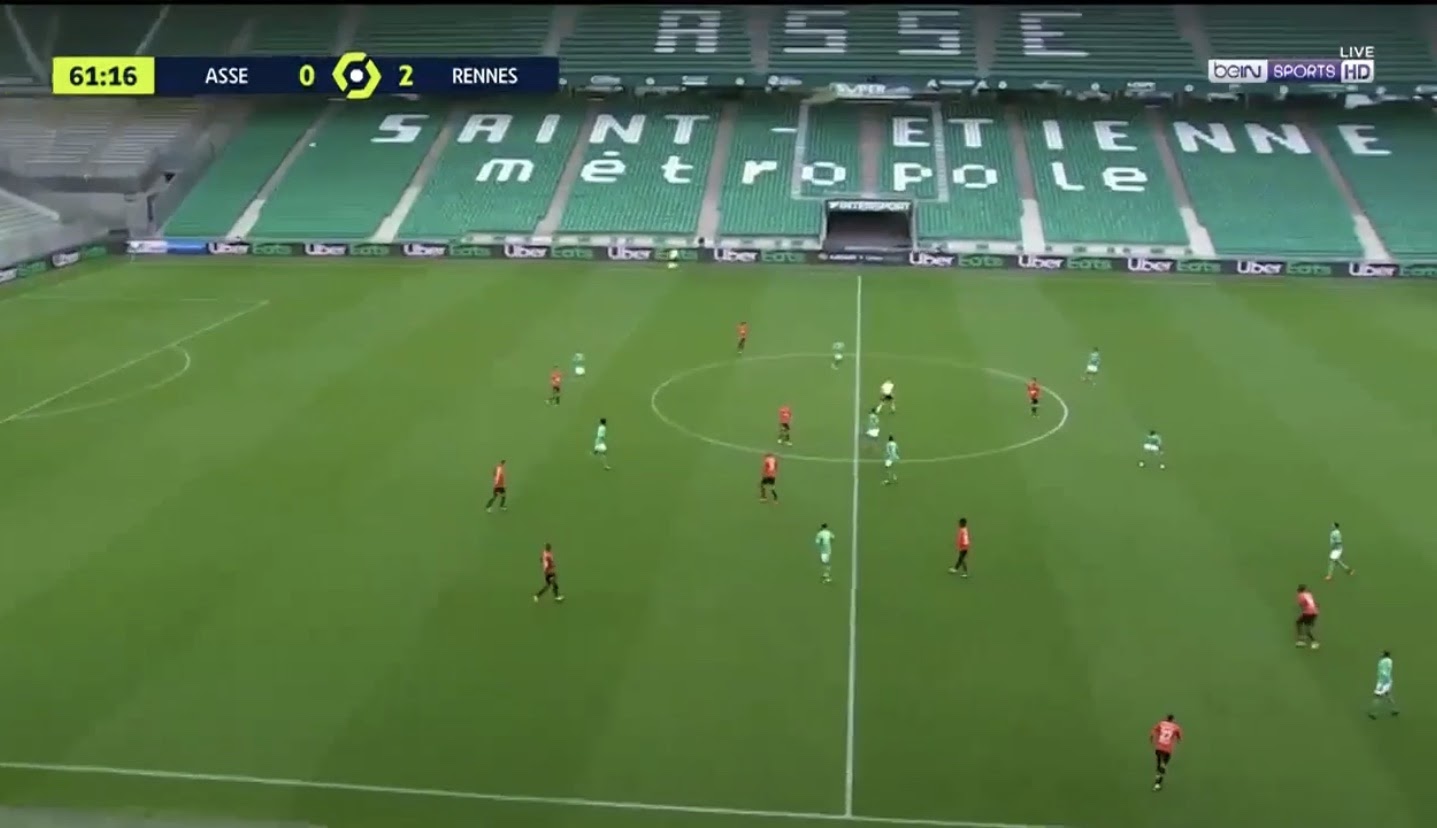 In order to see how they stack up against international competition, let's analyze Rennes's first two Champions League matches. Going up against Krasnodar, Camavinga played on the right side of the midfield three, although he and Bourigeaud typically interchanged positions.
Aguerd would often find Camavinga in the left half space, and Rennes could then overload Krasnodar's right side to isolate either Traoré or Del Castillo on the right flank. They aimed to target Krasnodar right back Sergei Petrov by utilizing triangles and quickly combining in the final third, as seen in the below pass map from BetweenThePosts.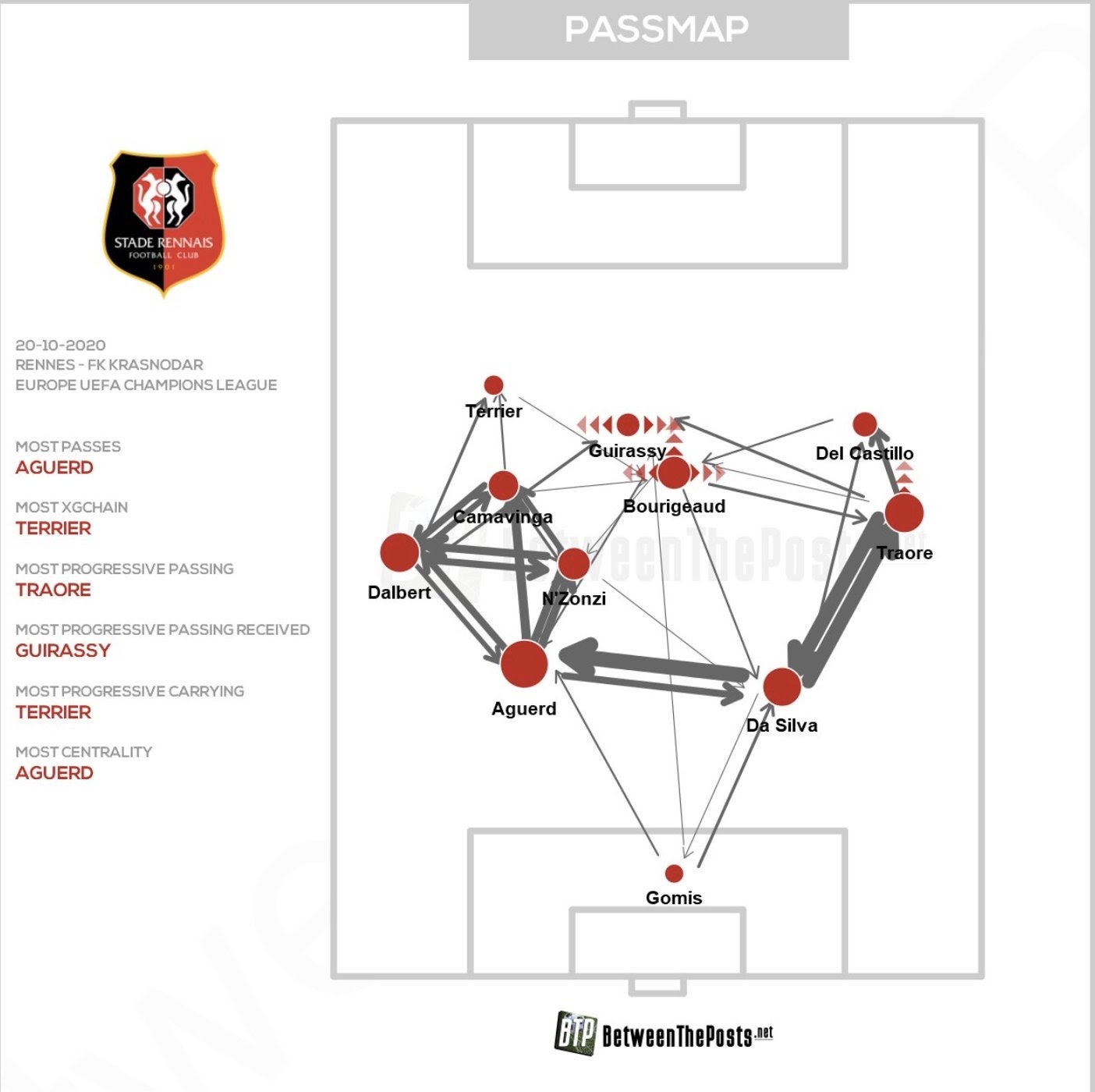 Rennes dominated the lion's share of possession (63%) and shots (20 to Krasnodar's 10), and while they occasionally counter-pressed, they typically opted for a more cautious approach that saw them drop into a mid block in order to control space between the lines (103 pressures, 15 fewer than their Ligue 1 average this season).
Guirassy was tasked with marking Krasnodar's holding midfielder Kristoffer Olsson instead of pressing the back four, which forces one of their two center backs to play long balls or funnel passes into the wide areas. The striker often dropped deeper to create overloads and used his hold-up play to perfection, combining with his teammates, playing teammates into space with just one touch, winning aerial duels, and scoring the penalty. However, the Russian side equalized three minutes later via Cristian Ramírez and held on for the draw.
Going up against the reigning Europa League champions, Rennes fielded a weakened team at the Ramón Sánchez Pizjuán, with Grenier starting over the injured Camavinga, Rugani and Soppy being preferred to Aguerd and Dalbert, and the teenage Doku starting over Del Castillo. Nzonzi did not return to his old stomping grounds either; he was suspended by UEFA after kicking a water bottle on his way to a doping test after the Krasnodar match, and was replaced by Martin in the base of midfield.
As a result, Rennes conceded plenty of space between the lines and were less composed in possession. The French side were fortunate to get away with just a 1-0 defeat, having conceded 23 shots compared to their 2 shots. Alfred Gomis delivered a heroic performance between the sticks with eight saves in Sevilla.
Conclusion
In a league where the vast majority of teams aim to sit back and hit on the counter, Julien Stéphan's Rennes side are a breath of fresh air in France. Les Rouge et Noir have found new ways to improve this season by remaining compact on and off the ball to allow for quicker ball circulation and staying organized and resolute against counterattacks.
It remains to be seen whether or not the new signings will live up to their hype at the Roazhon Park. Gomis and Aguerd have shown great promise since arriving from Dijon in the summer, Guirassy has nailed down a starting spot in attack, and Dalbert could prove to be a good deputy for the injured Maouassa if he regains his form at Nice. The jury is still out on Rugani, who picked up a hamstring injury in the Sevilla match, whilst Terrier has only provided 1 goal and 2 assists in 9 appearances thus far. Moreover, Doku has his work cut out for him when it comes to replacing the attacking output of Raphinha.
Less than two years ago, Rennes were hovering above the relegation zone. Under the tutelage of Julien Stéphan, they're competing in Europe's top club competition for the first time in club history, they've ended a 48-year trophy drought, and they've built a team that's capable of challenging for domestic and international silverware. With sporting director Florian Maurice at the helm and owner François Pinault fueling the investment, Rennes will continue to stake a claim to their spot in the upper echelon of French football for years to come.
By: @JKFootball
Photo: Baptiste Fernandez / ICON Sport