Tactical Analysis: Lazio vs. Milan
As the club season gets underway and we enjoy the madcap lunacy that is Serie A with each passing game, Sunday brought us one of the first 'big seven' clashes of the season. Lazio's Maurizio Sarri-balling apostles came up against an exciting Milan team whose progress under Stefano Pioli can't help but be admired.
The refreshing feeling of familiarity was to be enjoyed at the colossal San Siro on Sunday, with 37,000 transforming the stadium into a cacophony of deafening noise exactly the way we have all pined for and painfully missed. Football feels complete again as the necessary adulation and sound effects have returned, with it too the sport's beating heart, big games are not merely big games on paper anymore.
Even though the matchup is early into the season it was a good assessment to see where both teams are as Lazio under Sarri have been playing terrific football and Milan are becoming a bonafide top-four side, it is worth unpacking where the game was won and lost in front of a boisterous Milan crowd.
Franck Kessié Bullies Sergej Milinković-Savić Out of the Game
Sarri-ball never took off in the San Siro, not for a second. One of the main reasons for this was a key cog in Sergei Milinković-Savić was halted and completely quelled by Franck Kessie throughout the game. Milinkovic-Savic and Luis Alberto are crucial components to get this Lazio team ticking but they never had an opportunity to do that because of how successful Milan were in stopping them.
In particular Kessié on Milinković-Savić, he was never a yard away from him and the rare times he did evade Kessié he rapidly instructed another player to mark him. With Kessié marking SMS so tightly defence never had an option to pass to, which meant Lazio missed a link between midfield and attack. Kessié stopping SMS from receiving the ball, halting Lazio's attack before it started, they never looked threatening. 
In the 23rd minute SMS facing his own goal was pressed so well by Kessié, he lost the ball close to the edge of his own penalty area which directly resulted in a shooting chance for Milan. With the starter of the moves suppressed by close excellent pressing, Lazio's attack was ineffective. Kessié was instrumental in an encouraging season for Milan last year Maldini and co should make a new contract for him a priority.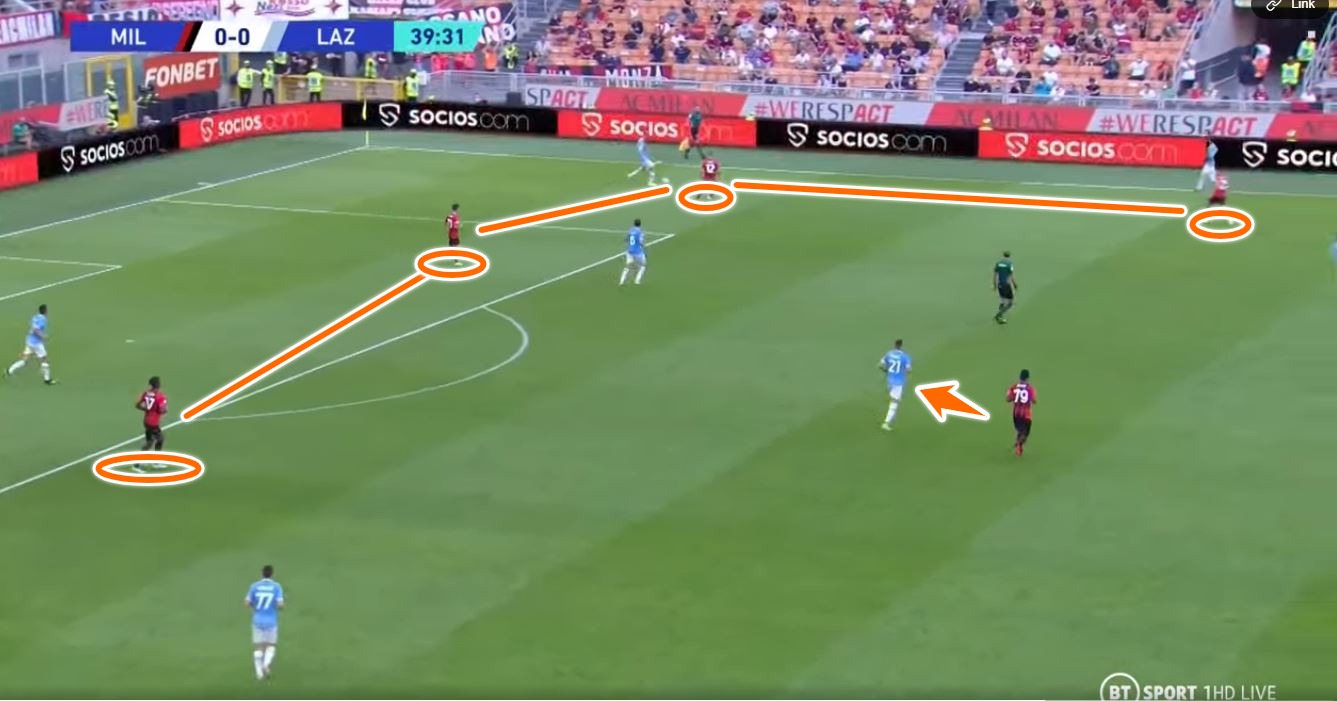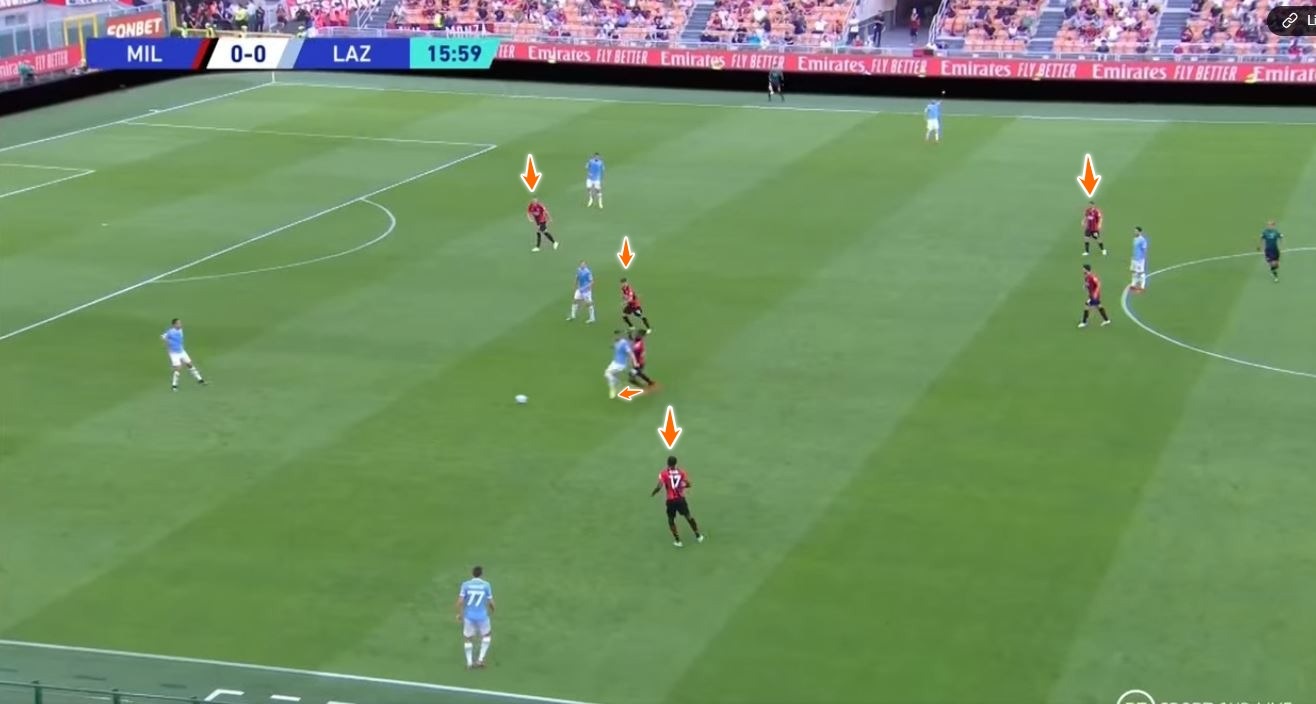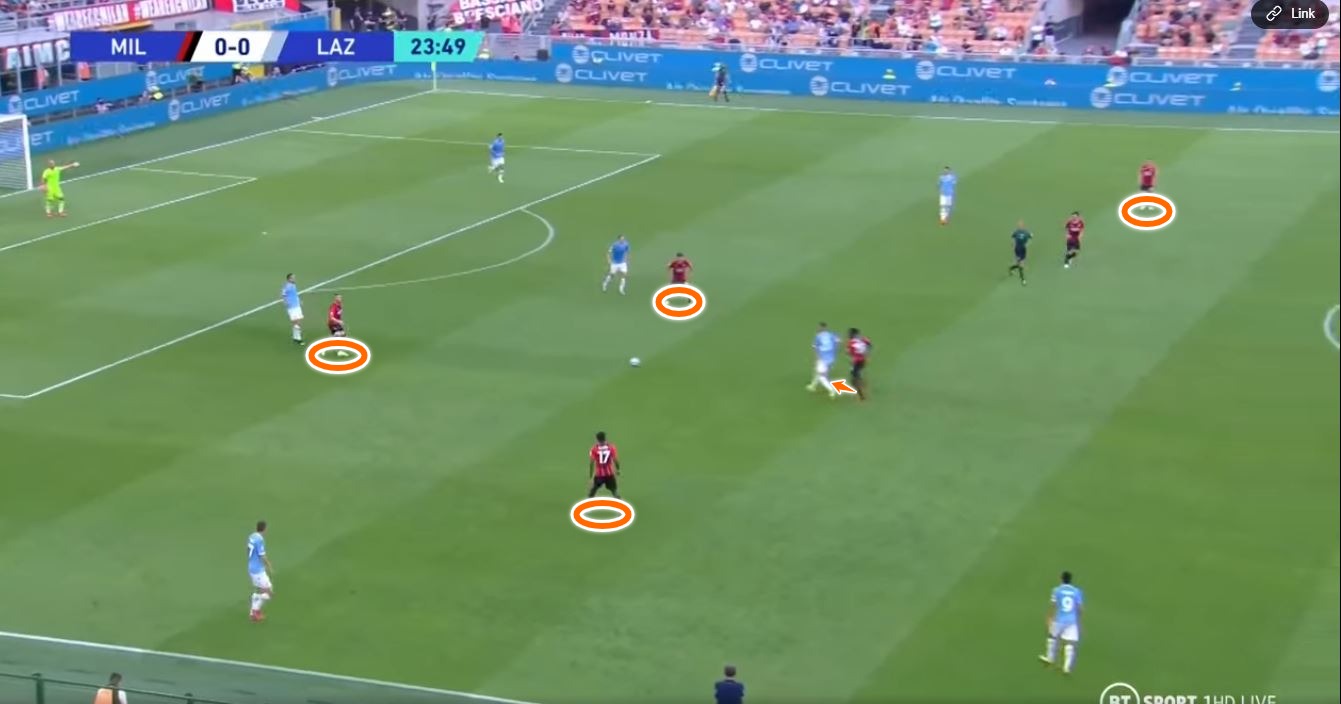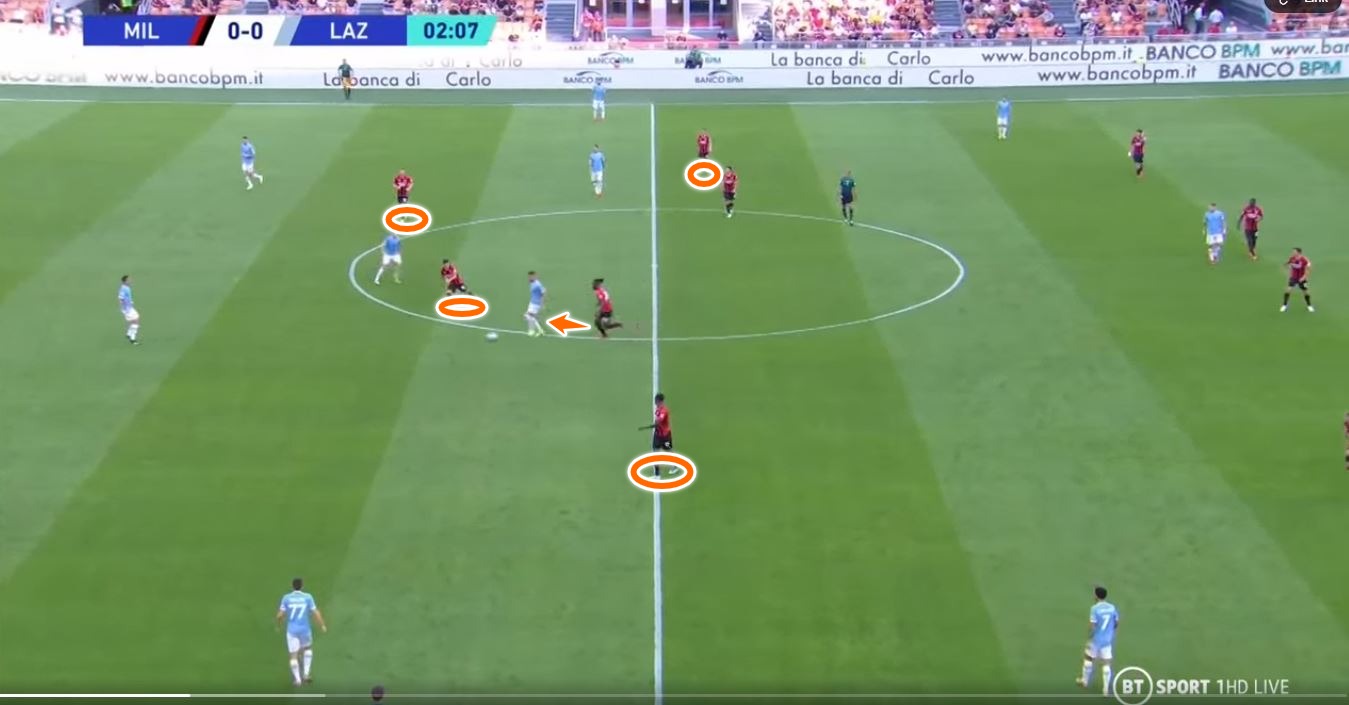 Milan's High Press
As you can see from the images, the three of Rafael Leão, Brahim Díaz, Alessandro Florenzi behind Ante Rebić pressed high disrupting Lazio's buildup structure. As Kessié, marked Milinković-Savić he had no space to find Luis Alberto, who was also limited of space because of how well Milan's attack and Sandro Tonali pressed. 
Milan's midfield and attack regularly pushed high never giving Lazio time on the ball, there was frequently six players hunting the Biancocelesti not allowing them to get into any passing rhythm, even if they were to get in one the options they wanted weren't available. Lucas Leiva who although had players near him, was not the priority as Milan were aware of his limited passing range or simply the fact that he is not the receiver or giver in commencing Lazio attacks.
With the central options of SMS and Luis Alberto cut off by the high press, Leão, Florenzi and Rebić sauntered over to whichever side Lazio attempted to use the wings, so fullbacks Elseid Hysaj and Marušić couldn't get into the game either. Milan's high press disrupted Lazio's ball circulation in trying to start an attack and as Alberto and SMS looked deeper for the ball the further away they were from the three upfront, making it harder to score.
Tremendous Tonali
Keeping in line with Milan's high press, Kessié and Tonali were placed disruptively high which gave them a headache. Tonali was all over the pitch, in the images you can see his high positioning in the centre, far on the right and coming in from the left.
In fact, he is Milan's highest focal point of attack on the fifth minute, there was a real fearlessness to his performance, a confident midfielder tracking, harrying and brilliantly passing as well as winning his duels, a complete midfield performance from a player who is showing what all the fuss is about.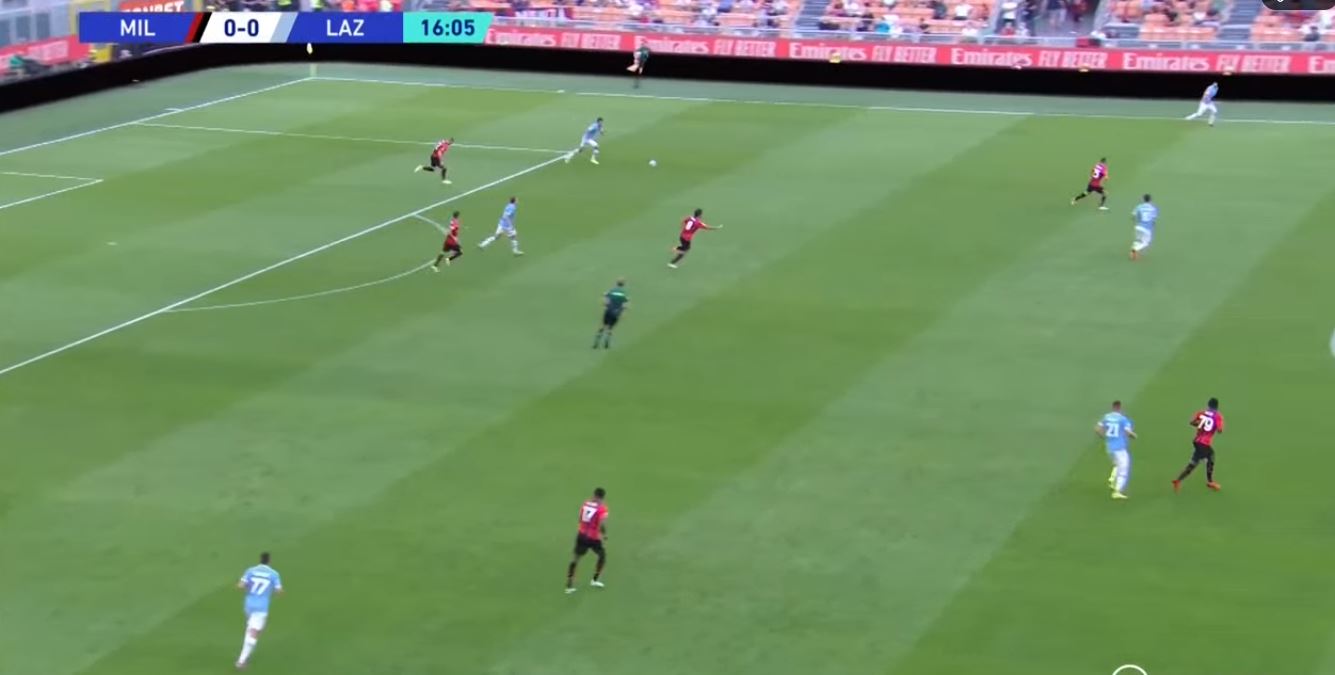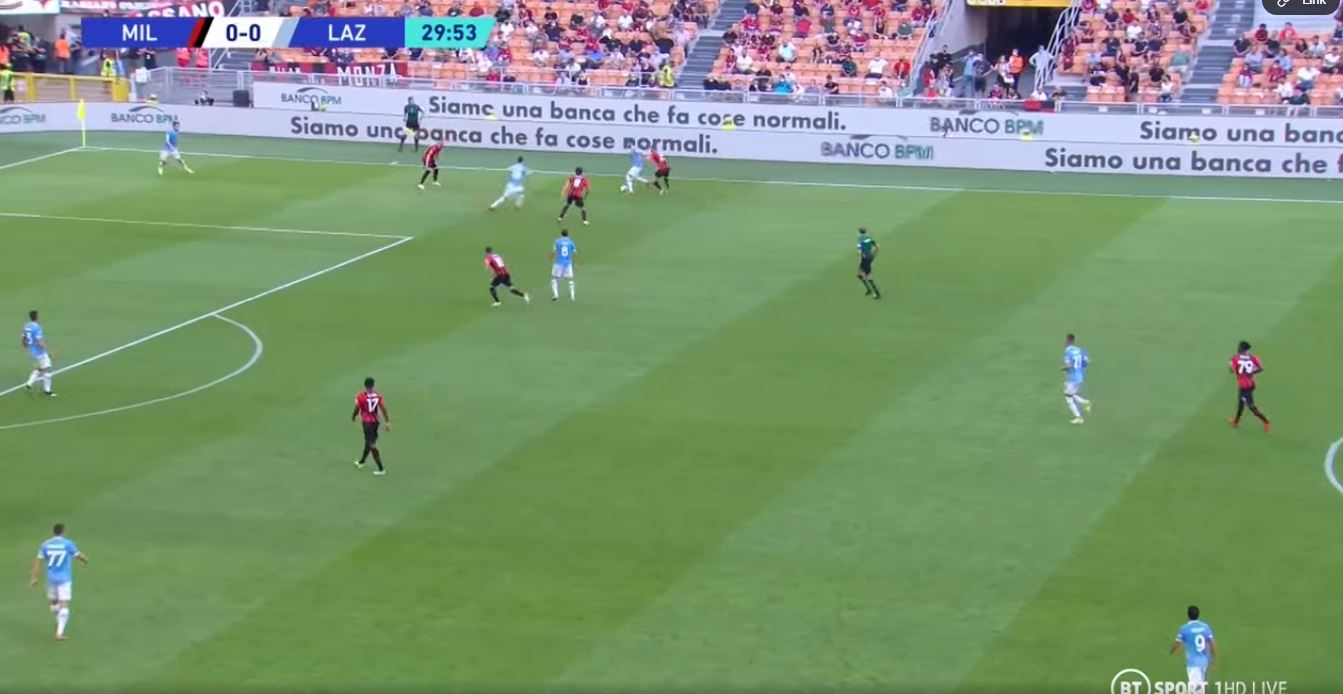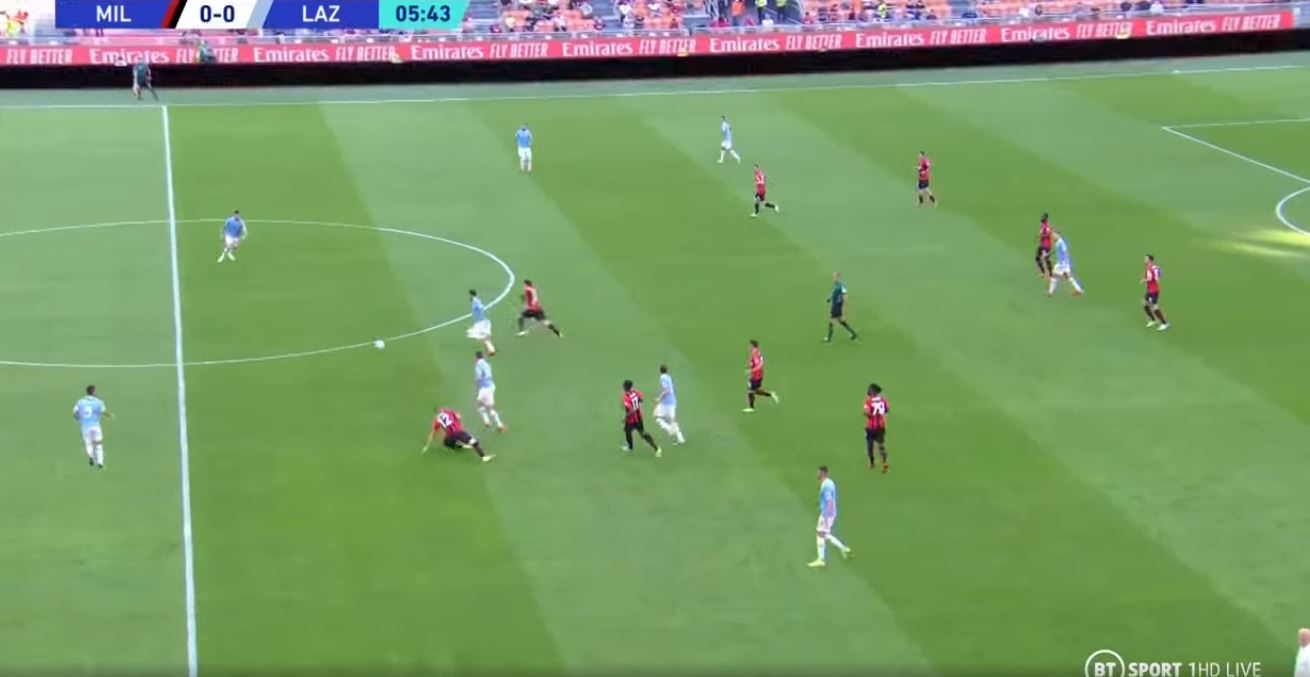 Tonali's positioning so high made him a useful option whilst pressing Lazio's defence but also a useful option to try create overloads and be an option in attack but even when Lazio had the few attacks they did, Tonali scampered back so Milan weren't left short in defence.
Milan Learn from Last Year's Mistakes
Last year there were many occasions Milan would play well and be in a commanding lead but still push on and try to score more rather than protect and hold what they have resulting in the opposition gaining a goal from one chance or against the run of play to equalise or peg Milan back so they had to deal with difficult periods of the game where they really shouldn't have needed to.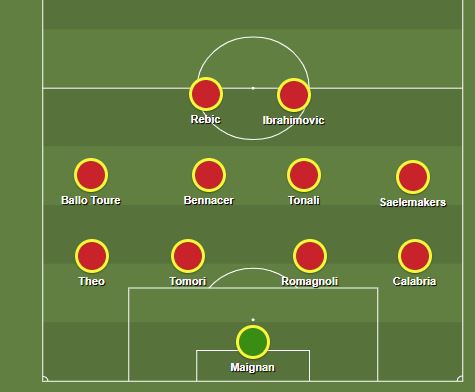 Against Lazio, as the game drew to a close you could see Stefano Pioli shouting from the touchline to keep calm and hold the ball rather than attack, as Milan dropped to a flat 4-4-2 and stopped pressing to save their legs. As well as freshening up personnel with a Champions League game in mind it helped Milan to close the game out astutely.
Davide Calabria, Alessio Romagnoli and Fikayo Tomori dealt with everything thrown at them on the rare occasions the Lazio three up front had the ball and tried to create, mention must be given to Tomori in particular who is making these performances a frequent occurrence. Milan's defence was rock solid but the work of its midfield and attack made it a whole lot easier. 
By: Dharnish Iqbal / @DharnishSizlak
Featured Image: @GabFoligno /