Tactical Analysis: Liverpool 1 – 1 Chelsea
On Saturday afternoon Liverpool and Chelsea faced off in this season's first contest between two early title favourites. The first half of the match was exhilarating with both teams pressing aggressively and transitioning quickly in attack, but as so often is the case, the flow of the game completely changed as a result of a couple of set-pieces and a red card.
Set-piece coaches were the hot topic last week, with the likes of Danny Murphy seemingly taking personal offence at the thought of their very existence, but Liverpool 1-1 Chelsea was a perfect example for why they have become so important. These bigger games are becoming tighter and chess-like every season, and set-pieces offer teams the opportunity to run heavily practised movements and routines, opportunities they would rarely get in open play. 
Chelsea's opener in the 22nd minute was a brilliant header by Kai Havertz from a Reece James corner. Jorginho and Romelu Lukaku were stood in a crowded area around Alisson, and their backward movement created space at the far post, where Havertz's header looped into. 
Later, in first-half injury-time at the other end of the pitch, it was another corner that led to Liverpool's equaliser. This time Havertz lost his near post header, causing the goal-mouth scramble which saw the hosts win a penalty, and James sent off in a controversial handball incident. The red card spoiled the game in a way, as Chelsea being down a man put their original tactical plans out the window, but let's look at some of the strategies on display during the match. 
Pros and Cons of an Aggressive Press
Unsurprisingly, Liverpool's press was really aggressive when Chelsea were trying to build out from the back.  It was almost a man-for-man system, and they made an impressive 45 pressures in the attacking third, accounting for almost 40% of the pressures they made in the entire game. 
This was a seriously bold move from Jürgen Klopp. Liverpool's front-three of Mohamed Salah, Roberto Firmino and Sadio Mané were tasked with cutting off the passes from Chelsea's three center-backs, inviting the pass wide to a Chelsea wing-back. As soon as the pass was made Trent Alexander-Arnold or Andrew Robertson jumped out quickly to try and win the ball, while one of Liverpool's wider centre-midfielders would cut off the pass inside.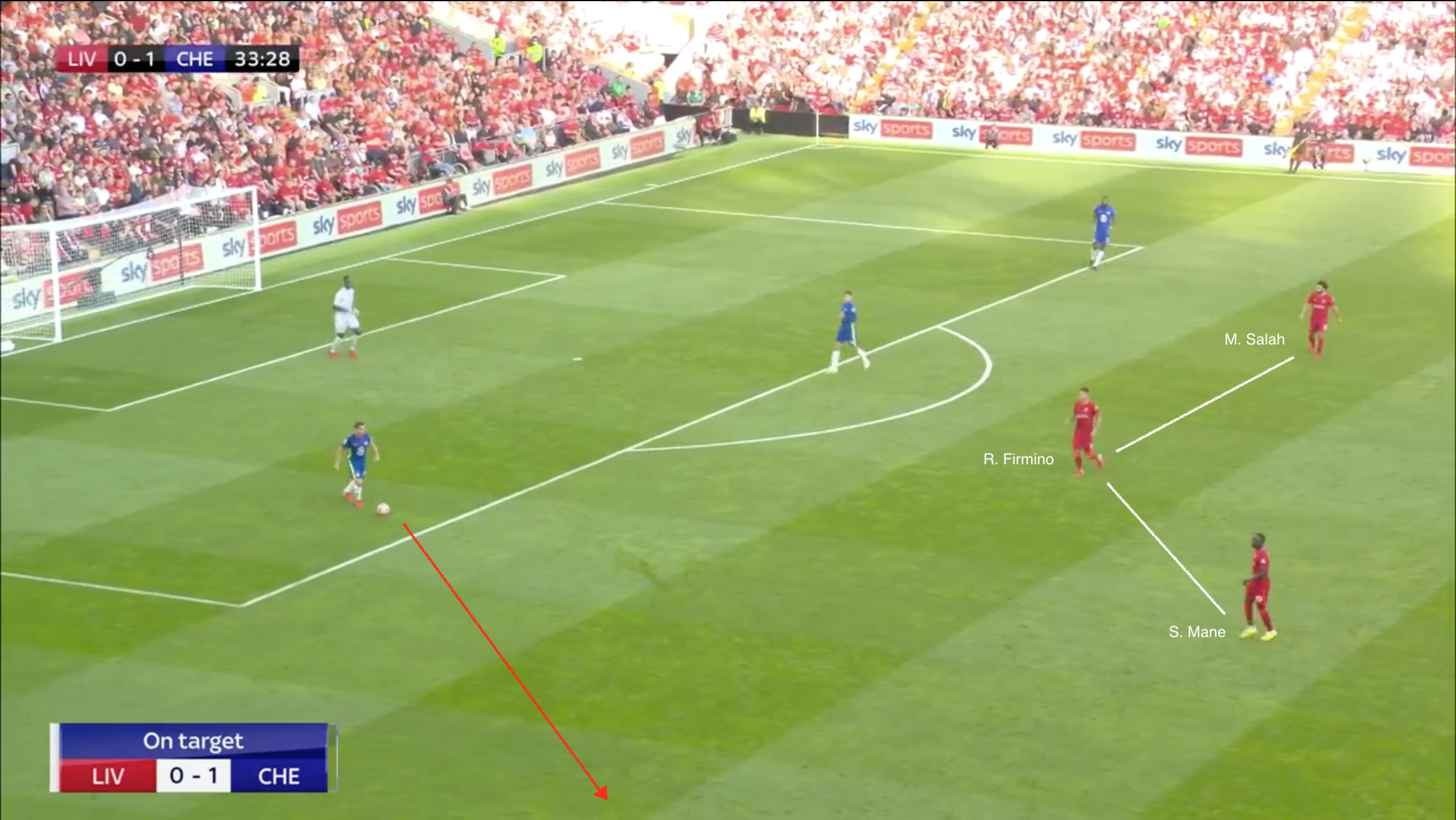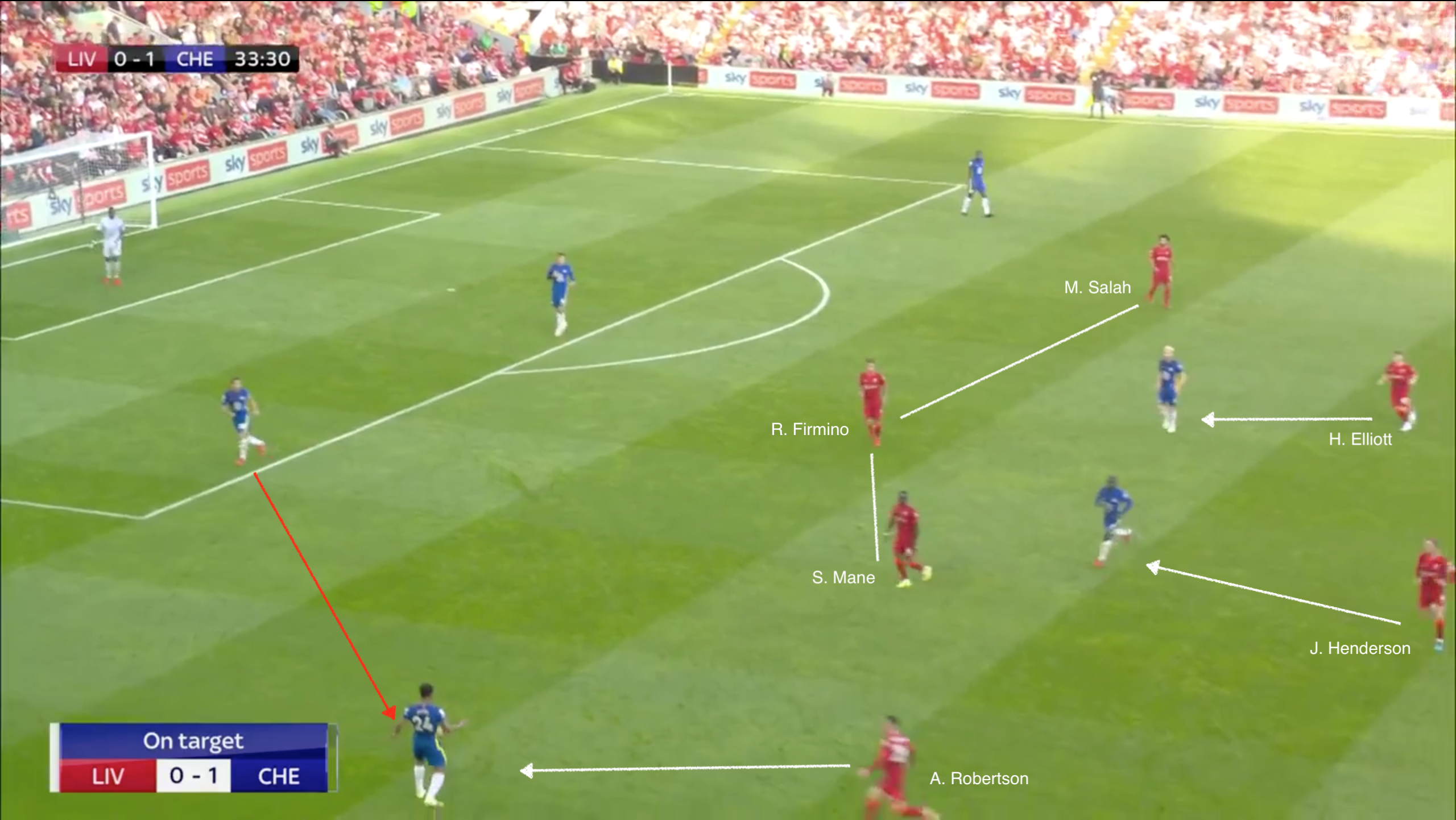 This was really exciting to watch and contributed to the game's high-tempo start, but there were times that Chelsea were able to get through. Mason Mount and Kai Havertz were brilliant throughout, regularly making in-to-out runs behind Liverpool's centre-backs, pulling them out of position and creating space for Romelu Lukaku. 
They were also surprisingly good at receiving long-balls, whether that be bringing it down on their chests or using their sublime first touch to help their team transition. When Liverpool's press was unsuccessful, it often left their defenders to defend 4v4, 3v3, or sometimes even 3v2, and had Chelsea been a bit more clinical they could have been out of sight long before James' red card. 
Liverpool Didn't Take Advantage
Having played with a man advantage for the majority of the game, Liverpool will be disappointed to only have got a draw, but they only have themselves to blame. In the early weeks of the season, they've been showing off a new attacking strategy.
For a few years now we've seen Alexander-Arnold emerge as one of Europe's leading full-backs, marauding down the wing and whipping crosses in, but there has always been this feeling that his passing ability has been slightly under-utilised. Not anymore. 
Regularly, Trent has been drifting inside into the right half-space, where we often see Kevin De  Bruyne operate for Manchester City, and dictating the game. Creating chances from a more central position where he has more passing options. 
A massive help here has been the introduction of Harvey Elliott. The 18-year-old has spent much of his early career as a winger, but Klopp has been using him as more of an 8. From here, he has developed a brilliant understanding with Salah and Alexander-Arnold, rotating to devastating effect. We saw it work very well against Burnley last weekend for Sadio Mané's goal.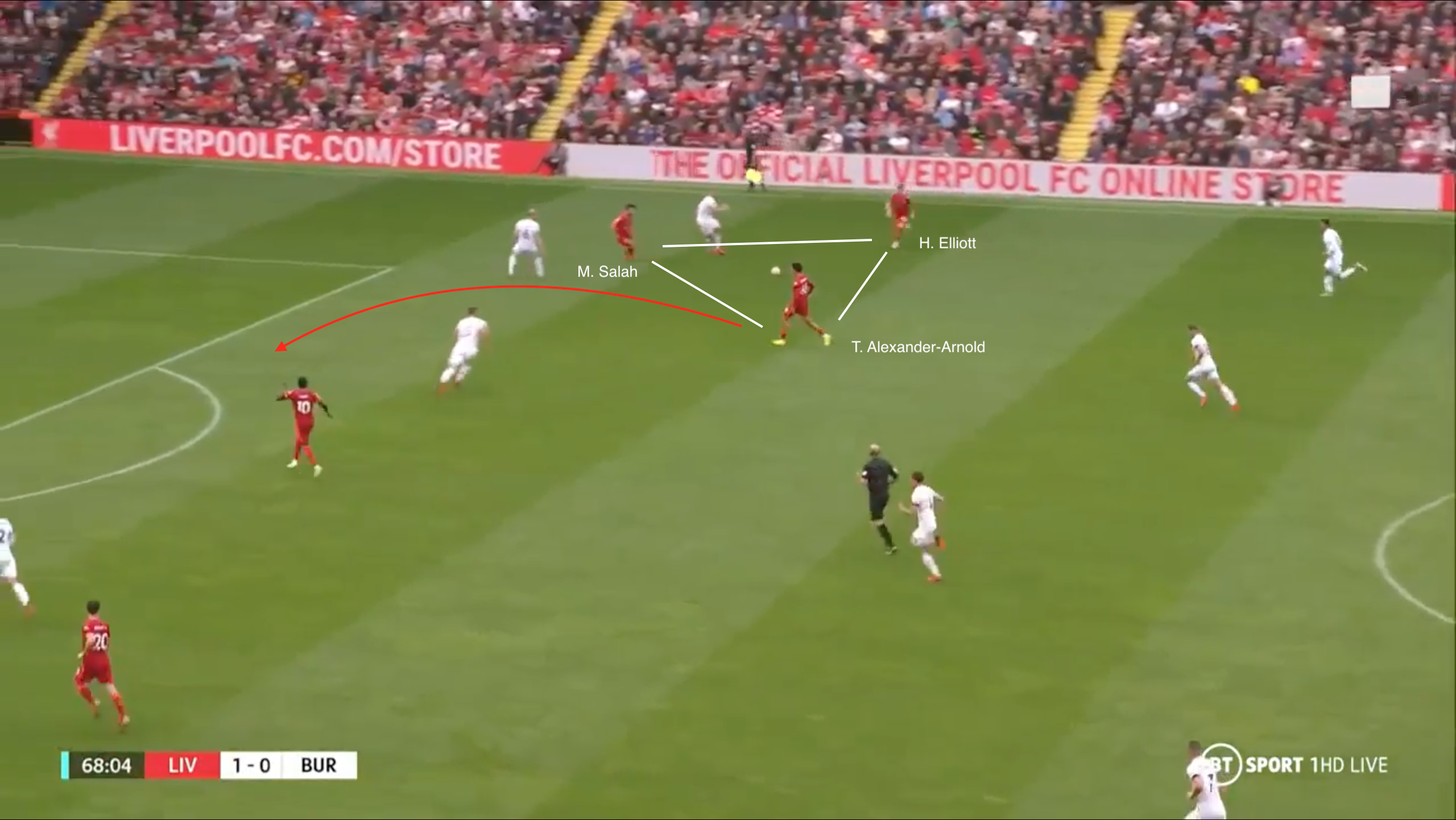 Once again, Liverpool were getting a lot of joy from these situations, with Alexander-Arnold creating the most chances in the match (5), but for some reason they pretty much stopped trying to do it when it would have been most effective. After the red card, Chelsea's 5-4-1 low-block became a 5-3-1 low block, leaving Trent in way more space than he had previously, but rather than making the most of this huge advantage and playing to their strengths, it felt like they almost didn't want to. 
Instead, he went back to playing in wider positions and looking for crosses. In my opinion, had Liverpool leaned into this more in the second half, they may have come away with all three points, but if you're not willing to play to your strengths, then you probably don't deserve the win. 
Overall, it felt like a massive shame that James was sent off. Although it did make sense in line with the laws of the game, it did feel harsh and it meant that a really interesting tactical battle was stopped from developing. I'm very much looking forward to the reverse fixture later in the season, and hopefully we'll get to see both teams playing at the peak of their powers.
By: Jake Lane / @jakerslane
Featured Image: @GabFoligno / Chelsea Football Club