How Romelu Lukaku Will Shape Up in Thomas Tuchel's Chelsea
28-year-old center forward Romelu Lukaku has always been a divisive figure amongst football fans, despite having a superb goal-scoring record throughout his career that many would consider world-class and borderline elite. At the beginning of his career, he was a highly wanted young prospect, who was bought by Chelsea in August of 2011, a few years after bursting onto the scene of Belgium football in Anderlecht colors. 
All it took was a few different loan moves, with great levels of success and after a Super Cup miss penalty, he was deemed not good enough for the first team and eventually sold to Everton. Eight years away from West London and a change in scenery to Italy, he has truly cemented himself as one of the best strikers in world football specifically in the last two years, under the tutelage of Antonio Conte polishing his game.
This article will aim to delve into the strengths that the Inter striker possesses and will use analysis and statistics to analyze Lukaku. 
 Background 
Lukaku was born in Antwerp, in 1993. It's been well documented that Lukaku didn't have the best of childhood while growing up. He suffered from poverty. He used football as an escape route to cope with an internal pressure at home. His opposing figure at a young age would see him dominate park games after school and from a young age and always wanted to be the best player. 
He was soon discovered by scouts of Lierse, a Belgian Pro League club with an established youth academy. He played for Lierse from 2004 until 2006, scoring 121 goals in 68 matches – oppositions were so afraid that they had to verify his age because of his rapid development. After Lierse were relegated from the Belgian Pro League, Anderlecht bought 13 youth players from Lierse in the 2006 mid-season, including Lukaku.
He played three more years as a youth player with Anderlecht, scoring 131 goals in 93 matches. Just emphasize the point he was an absolute goal machine. Lukaku made his Belgian First Division debut on 24 May 2009 in the Championship play-off match against Standard Liège as a substitute. Once he made himself a regular fixture in the Anderlecht team, he scored 29 goals in 55 games and assisted 10 goals for Anderlecht.
Lukaku won the Belgian Golden and Silver Shoe in 2009 and 2010 but Anderlecht failed to retain their league title despite finishing top of the table during the regular season. He earned a reported £10 million transfer to Chelsea where he followed the footsteps of his idol Didier Drogba. Nevertheless, he wasn't able to break into the squad and went on successive loans to West Brom and Everton. He continued his scoring proficiency in the league where he was destined to be a star.
Scoring 17 goals in 35 games for West Brom which was a good enough tally to save West Brom from relegation, followed by another to Merseyside as he became an instant hit with the Evertonians scoring 15 goals in 31 games and which led to him permanently signing for the Toffees. He scored 53 goals in 110 games for Everton and was included in the PFA Team of the year in 2017 and ended his time with multiple personal accolades.
In 2017 he earned his big-money move to United. Jose Mourinho splashed out £75 million for the Belgian international. The Belgian experienced a hot-and-cold spell at Manchester United. The Old Trafford crowd was critical over Lukaku not impacting in "big games". He was unfairly targeted by pundits over his performances even though throughout his career he put respectable numbers – 42 goals in 96.
Furthermore, management changed with José Mourinho's departure leaving a toxic environment around the club but the arrival of club legend Ole Gunnar Solskjær was an uplift in morale and form for the team and specifically Lukaku. Even though he endured a better second half of the 18/19 season he switched to Inter Milan in the summer of 2019 and was united with Antonio Conte who has publicly wanted the player. It should come as no surprise that Conte attempted to sign Lukaku during his time at Juventus and Chelsea.
In his first season, he equaled Ronaldo Nazario's goal record in a debut season scoring 34 goals in all competitions leading Inter to second place in Serie A and a place in the Europa League Final, where they would lose to Julen Lopetegui's Sevilla.
In his second season in Italy, he scored 24 league goals and provided 11 assists in 36 games, and guided Inter Milan to their first league title in 10 years. While winning Serie A MVP and most importantly showing the footballing world of his significant improvement as a footballer and in mentality. He's vocal off the pitch especially on fighting racism and social justice. 
Finishing 
There have been doubts about Lukaku's overall play as a footballer throughout his career but in areas where he has lacked as a technical atheistical footballer, he has made it up throughout his career with his immense finishing. Lukaku has a career record of 251 goals in 507 senior appearances (0.49 per game).
It is also notable how this season in the Serie A with title-winning side Inter, in 36 appearances, he had 24 goals on an adequate 22.7 xG. A sign of good overperformance in finishing. Lukaku has a wide array of finishes in his locker, with both feet and head. He has shown the capacity to score from a variety of situations too – after a dribble, with a single-touch finish, etc.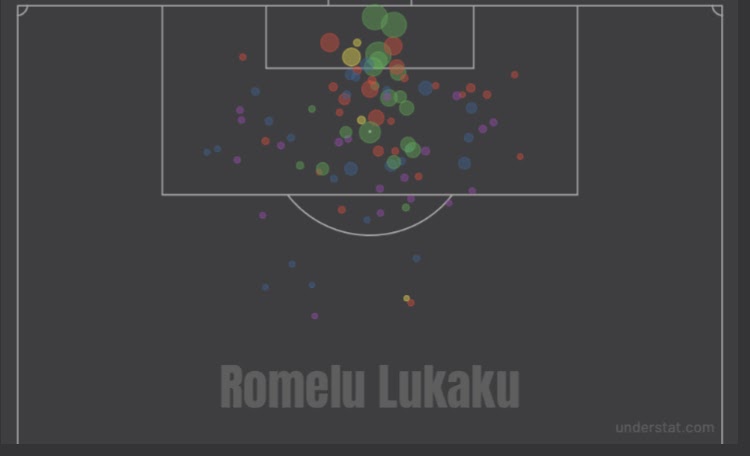 Lukaku's season's shot map 20/21
Some of his finishing this season has been quite basic and due to the system and the role in Conte's team he's put in positions to score "tap-ins," and his goals against Roma, Sassuolo and Genoa are all prime examples of this.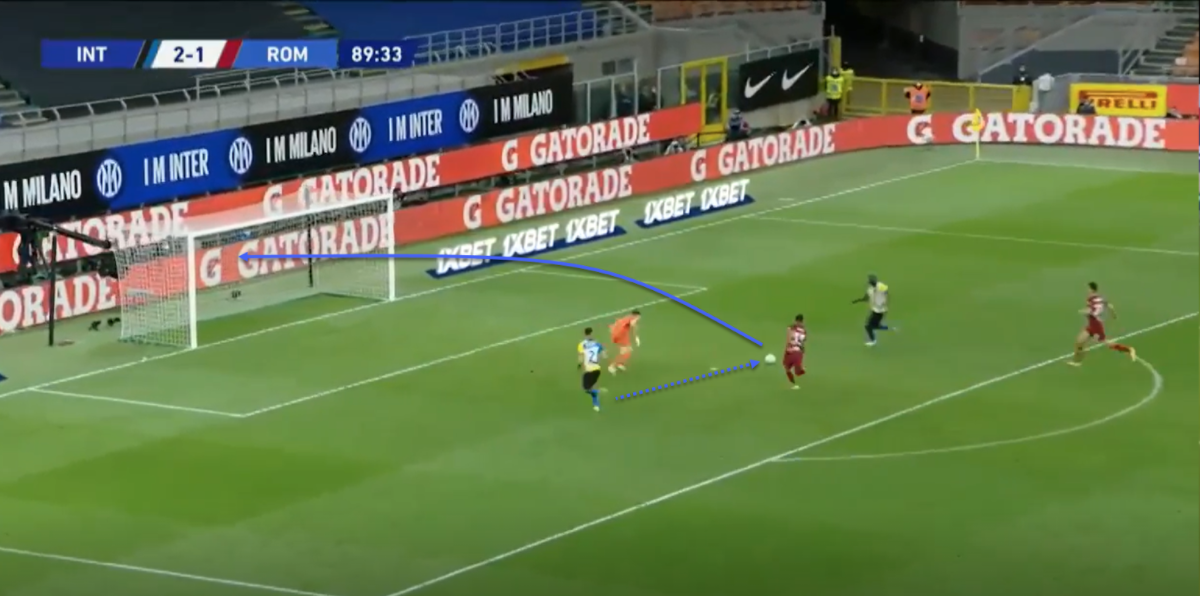 Inter are 2-1 up and in the dying moments of the game, Roma are pushing forward leaving quite a lot of space as you would. This is exploited by Achraf Hakimi and Lukaku who are quick enough to hit Roma on a quick two-man counterattack. Hakimi is in the box and Lukaku is in a perfect position to tap the ball into an open net.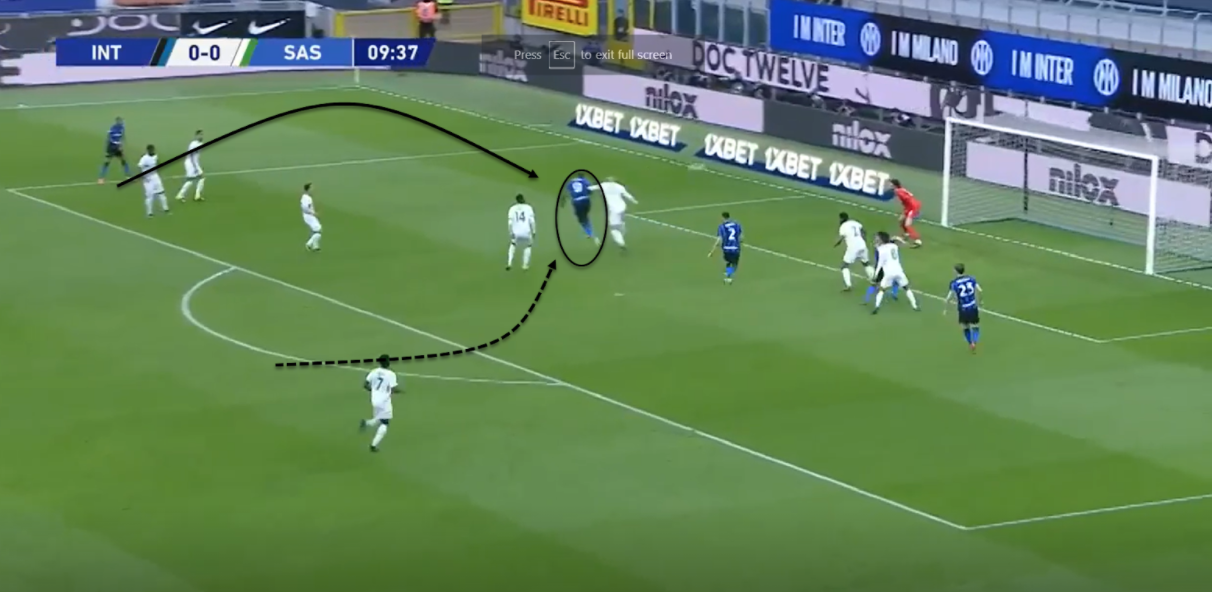 Against Sassuolo, he showcased his intelligent and direct movement, by attacking the space left by the absent opposition center-back who was following Lukaku throughout his deep run, to get in behind the defensive line, receive Ashley Young's looping cross, and heads it in. This also showcases Lukaku's ability to attack the space in transition well.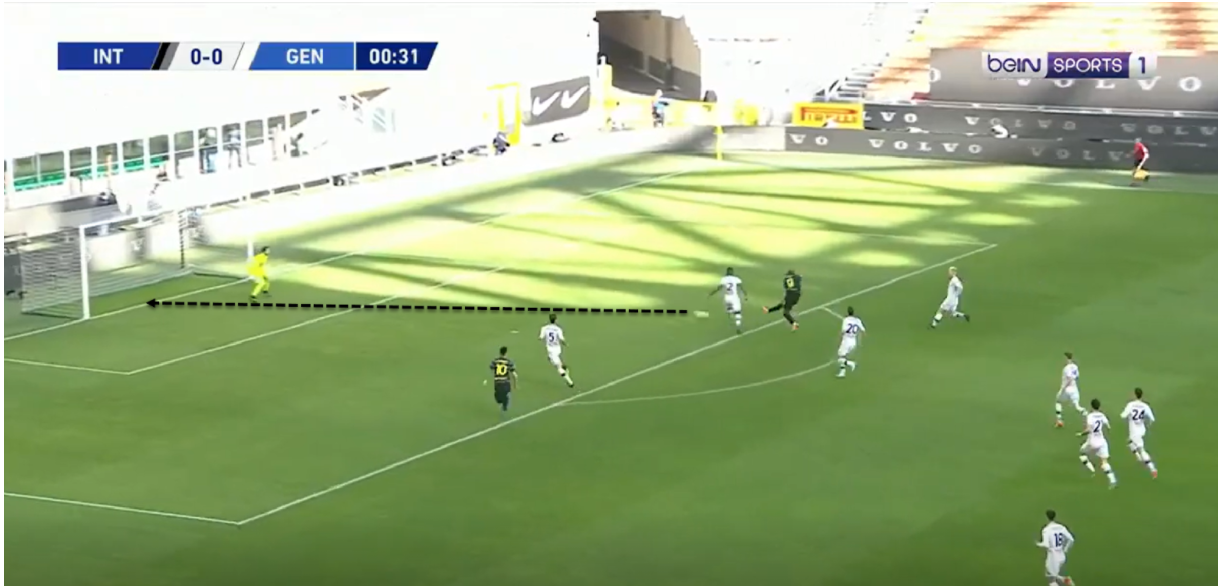 Once again, his goal-scoring instincts, on-ball movement, and striking technique are on full display, Lukaku makes this goal off his own run takes it from the halfway line, and the ghost run by Lautaro Martínez is helping to drag defenders away and create space for Lukaku to get the shot off quickly and that's what he does generate enough power to beat the keeper far post from a static position, and is demonstrating improving balance both when shooting and when making off-the-ball runs.
Movement, Link-up Play & Creativity 
I chose to combine these 3 specific areas of Lukaku's game in one section, due to them being linked one way or another, and at the same time constitute Lukaku's most improved strengths. Starting off, as seen above, Lukaku loves to operate on the right flank in Conte's system 3-5-2 there is usually 2 center forwards (Lukaku and Martínez always led the line as the main center-forwards) Lukaku is asked to be the target for Martínez to make runs off, his ability to create shots for his teammates – is mainly based on the central and right channels.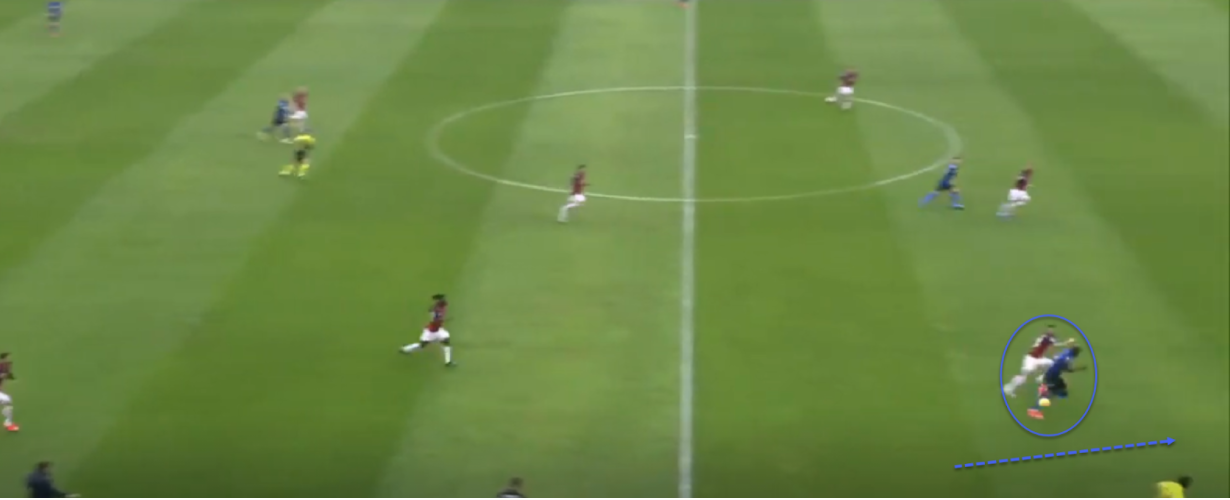 In the instance above, Lukaku makes a trademark run down the right flank and knocks the ball down the line beating AC Milan defender Alessio Romagnoli for pace getting himself into the box. He is very intelligent in regards to movement off the ball, with respect to the movement of others. Meaning, he knows what spaces to occupy, depending on what spaces his teammates will occupy. This is especially useful for a team with a system that implements positional play. 
Romelu is adequate at wide forward play, as he possesses excellent power and quickness in his run, however, he can struggle to keep control of the ball when contested in a duel by tall & physical defenders but this rarely happens. His frame is lean but big standing at 6'3 and weighing 92 kgs.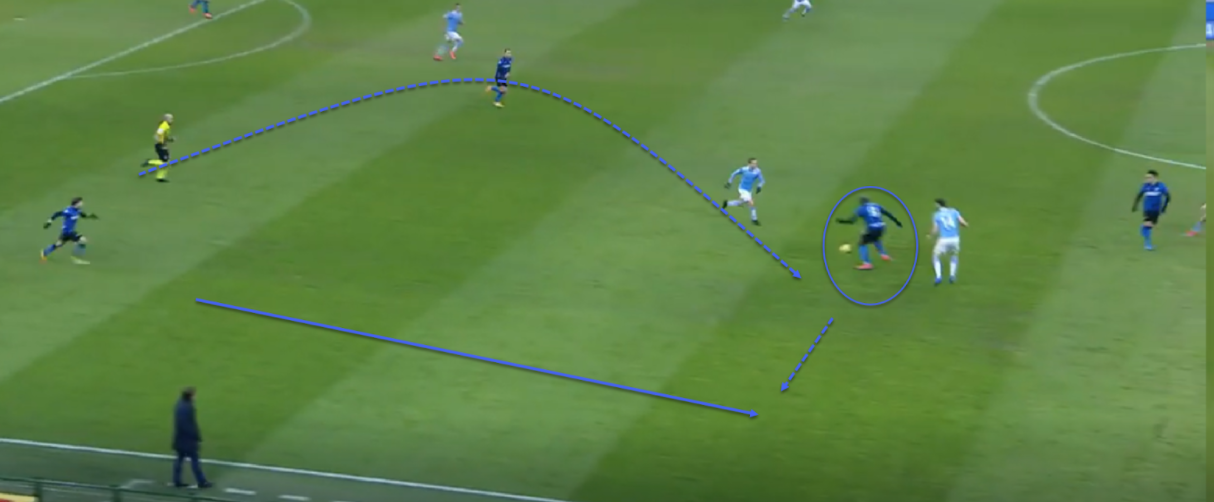 In the example above, Lukaku controls the ball with very little pressure then knocks the ball out wide to Nicolò Barella, who is running from deep on the right flank. He also has great ball control in tight spaces, which is an ideal skill when playing against a low defensive block, which usually means that the center forward is surrounded by multiple bodies. Lukaku is sufficient at "target-man" play, as he maintains great technique on knock-downs and as stated he's physical stature allows him to perform this skill at a good level. 
Numbers-wise, he had 11 assists on 7.8 xAssists this season in the Serie A, 1.5 key passes per 90, as well as 0.75 goal-creating actions per 90, which ranks in the 95th percentile among forwards in the Serie A. Great creative numbers for a center-forward, especially one who is his team's main goal scorer. This just emphasizes the point that Lukaku's overall game has vastly improved to the point where he offers creativity and not just goals.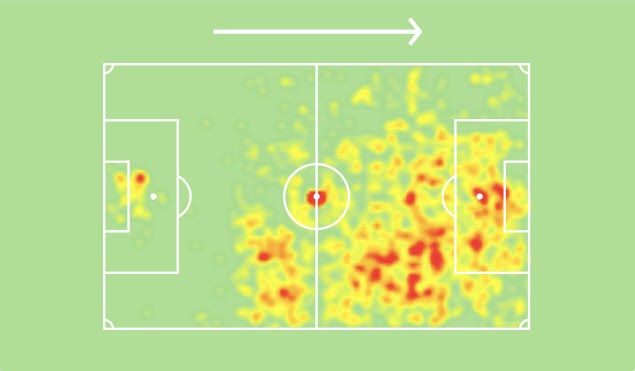 Lukaku's heat map for Inter Milan in 2020/21 [SofaScore].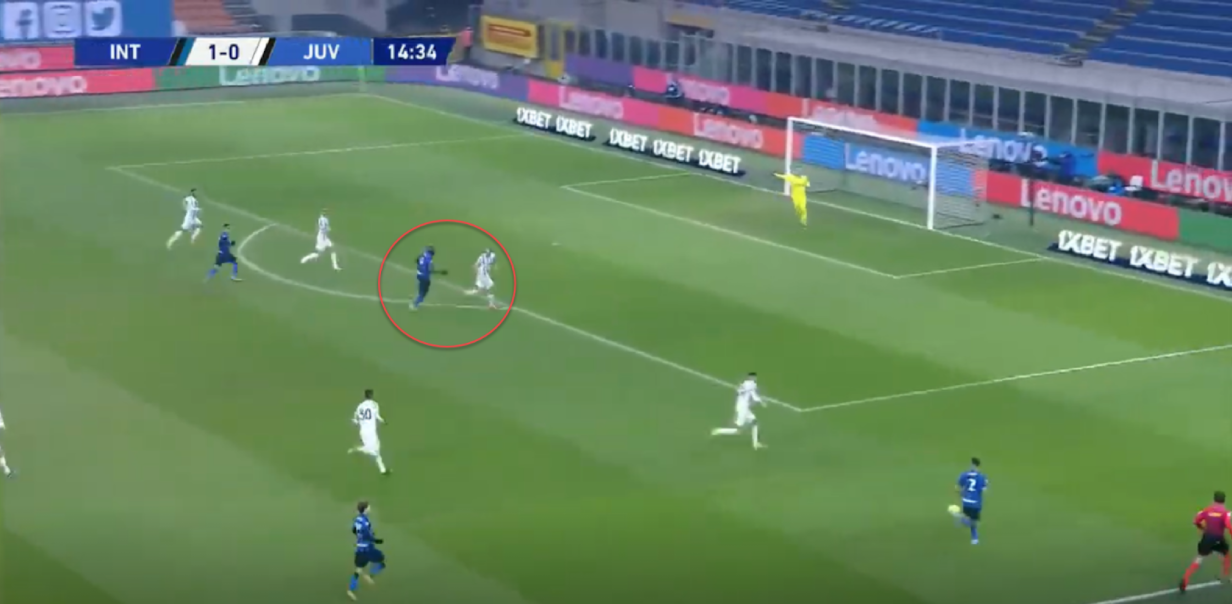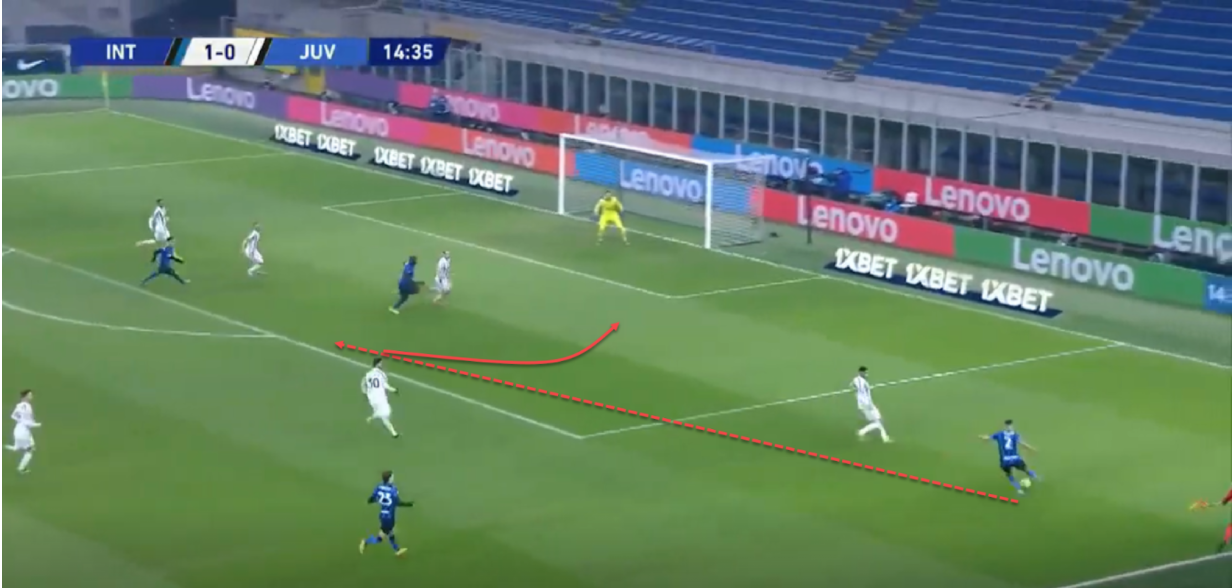 As previously discussed, straight after linking play, Lukaku looks to turn and run into good spaces – this is just one example of how impressive his movement is. One particular area in which Lukaku is impressive is attacking the space between the defense – he does this both in transitions and when inside of the area. It is usually the spaces between the center-back and the full-back which he moves into.
In this example, Martínez is being tightly marked by an opposition defender who has followed his run, but then after a switch out wide initial turnover, Lukaku shows a quick burst of pace and moves into space leaving a clear area for Hakimi to cross it to Martínez. Lukaku recognizing the large space ahead of him and moving into it shows his intelligence in his movement.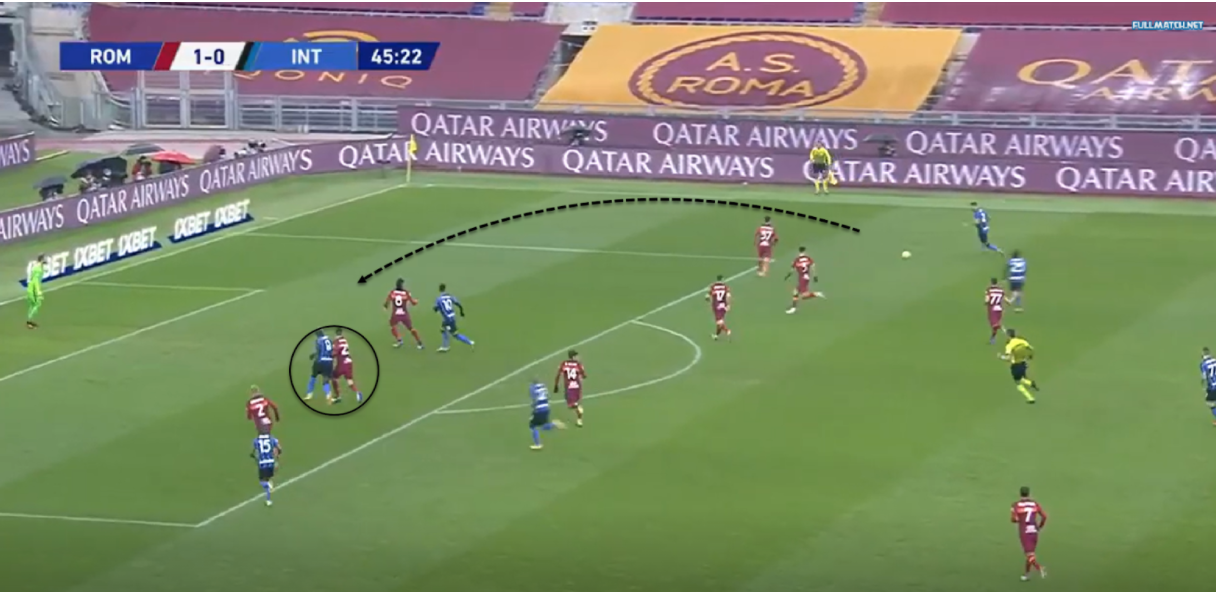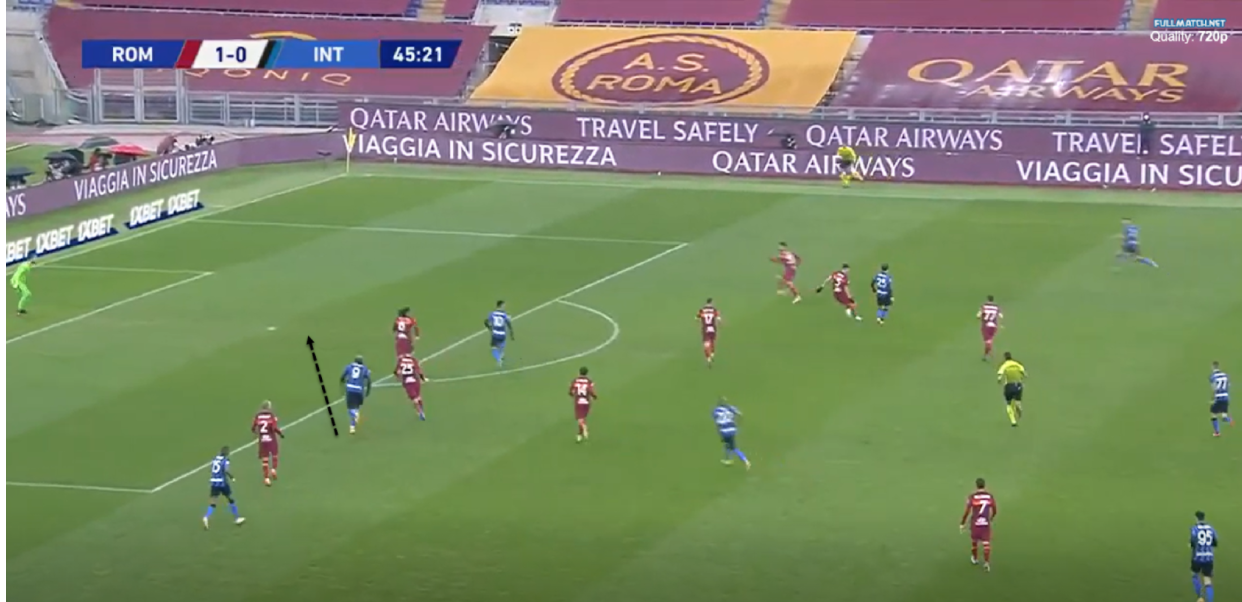 In this example, Lukaku sees the space with his first movement and then exploits it in his second movement. The ball is out on the right and Hakimi is setting himself to cross into the area. After an initial movement from outside the box, Lukaku accelerates his run towards the front post – creating a direct and powerful run in one direction. 
Hakimi plays the ball right in the face of the goal to the front and Lukaku connects with the ball but is unable to guide the shot past the keeper. Nevertheless, these kinds of movements in and around the area have helped Lukaku score many goals, but his movement in transitions is very effective. 
Conclusion
All in all, Romelu Lukaku has put himself in the conversation of being one of the best center-forwards in the world. His link-up play, creativity, pressing, striking technique – a player capable of doing everything a coach asks of him, have all improved in the last two years under the coaching of Antonio Conte and the environment of the Italian game and with a reported, £97 million switch back to Stamford Bridge on the horizon, for the way Thomas Tuchel's Chelsea play, there is no striker better suited than Lukaku in my personal opinion and most importantly his presence and intelligence will open up space for our talented display of attackers.
By: Raphael Adelugba / @RaphaelAdelugb0
Featured Image: @GabFoligno / Jonathan Moscrop – Getty Images
*Data used in the piece is courtesy of fbref.com and Sofascore and game footage was taken from Full Match Sports*