Tactical Analysis: Napoli 1-2 Lazio
After stringing together eight consecutive league wins, Napoli entered March in sensational form and the heavy favorites to pick up a victory at home against Lazio featuring a former player in Elseid Hysaj and a former manager in Maurizio Sarri, who spent three years in charge at the Partenopei and took them within touching distance of the Scudetto on multiple occasions, only to fall at the last hurdle to Juventus. Lazio took the lead within 67 minutes via Matías Vecino and prevailed 1-0, going on to finish second in their second full season under Sarri, a mere 16 points behind Napoli.
Since claiming their first Scudetto in 33 years, Napoli have replaced Luciano Spalletti with Rudi Garcia at the managerial position and sold Kim Min-jae — awarded the Best Defender of the 2022/23 Serie A season — to Bayern Munich, whilst Lazio suffered a major departure with Sergej Milinković-Savić heading to Al-Hilal. The defending champions kicked off the season with comfortable wins against Frosinone and Sassuolo, whilst Lazio had suffered shock defeats to Lecce and newly promoted Genoa.
How Arsenal Eked Out a Narrow Win against Manchester United at the Emirates
And yet, it was the Biancocelesti who came away with a 2-1 win, taking the lead within 30 minutes via Luis Alberto, conceding to the hosts two minutes later as Piotr Zieliński equalized, and restoring their advantage in the 52nd minute as new signing Daichi Kamada grabbed his first goal for the club. Today, we're going to be taking a look at how Sarri pulled off yet another victory against his former employers and Lazio outplayed the defending champions in Campania.
Napoli in Possession
Khvicha Kvaratshkelia made his season debut and partnered Matteo Politano and Victor Osimhen up top, with Giacomo Raspadori dropping out of the line-up, whilst Zambo Anguissa, Zieliński and Stanislav Lobotka operated in midfield in Garcia's 4-3-3. Lazio were far more compact off the ball, attempting to defend narrowly and limit space, and Napoli tried to exploit that in the first half by creating situations for Kvaratshkelia to take on his fullback in 1v1 situations and beat his opponent with feints, nutmegs, and deft accelerations, before going inside and hitting sublime crosses or dangerous shots from distance.
Lazio's disciplined pressing caused plenty of issues for Napoli, with the absence of their Korean behemoth in defense proving notable as Juan Jesus and Amir Rrahmani struggled to invite pressure and carry the ball forward, whilst Giovanni Di Lorenzo also failed to provide an outlet in terms of progressing the ball into the second phase, preventing Zieliński and Anguissa from receiving the ball in advantageous positions and carving out danger in possession.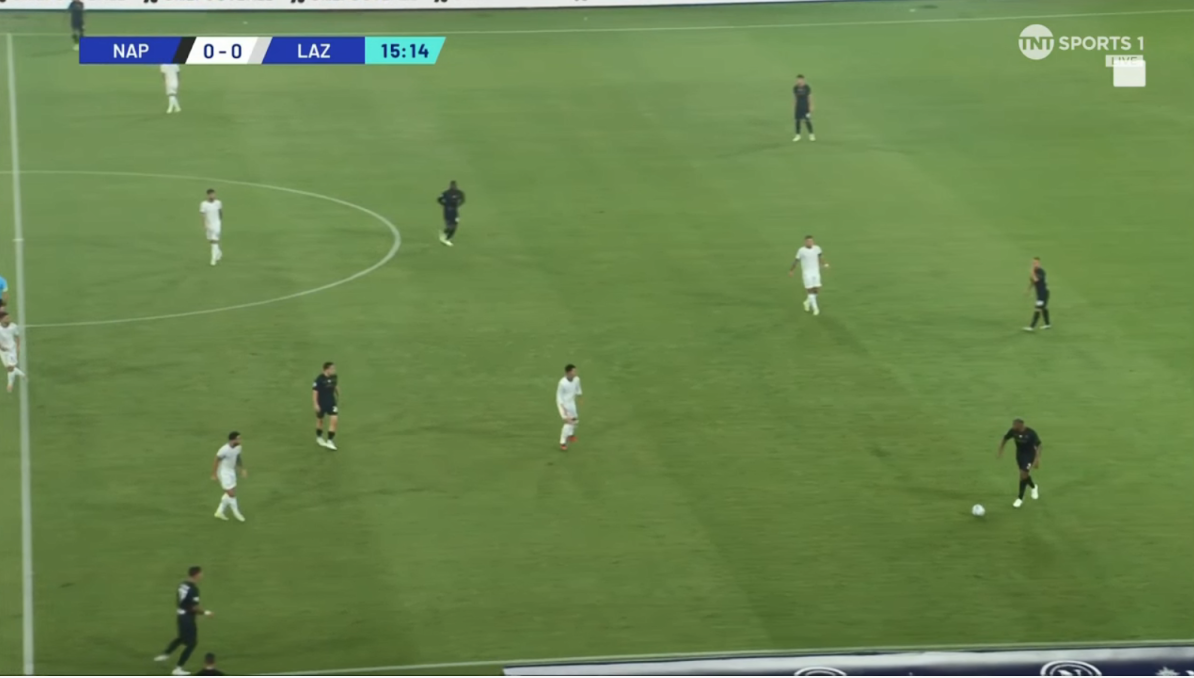 Here, we see Ciro Immobile closing the passing lane to Stanislav Lobotka, whilst Luis Alberto and Daichi Kamada are tasked with denying access to Anguissa and Zieliński. Lazio alternated between a 4-1-4-1 and 4-4-2 shape off the ball depending on the position of the near fullback — both Matteo Zaccagni and Felipe Anderson would stay with the fullbacks and block the vertical lane to a winger in the inside channels.
Lobotka dropped between the center backs in order to receive the ball but this 3v1 situation still didn't enable them to progress the ball as their 8s are not free to receive, with Di Lorenzo pushing high and wide. Perhaps Lobotka should have found himself with more space behind Immobile, thus enabling Jesus or Rrahmani to push forward and force Lazio to press, and as a result, freeing up Zieliński and Anguissa to dribble forward and work it towards the attacking players.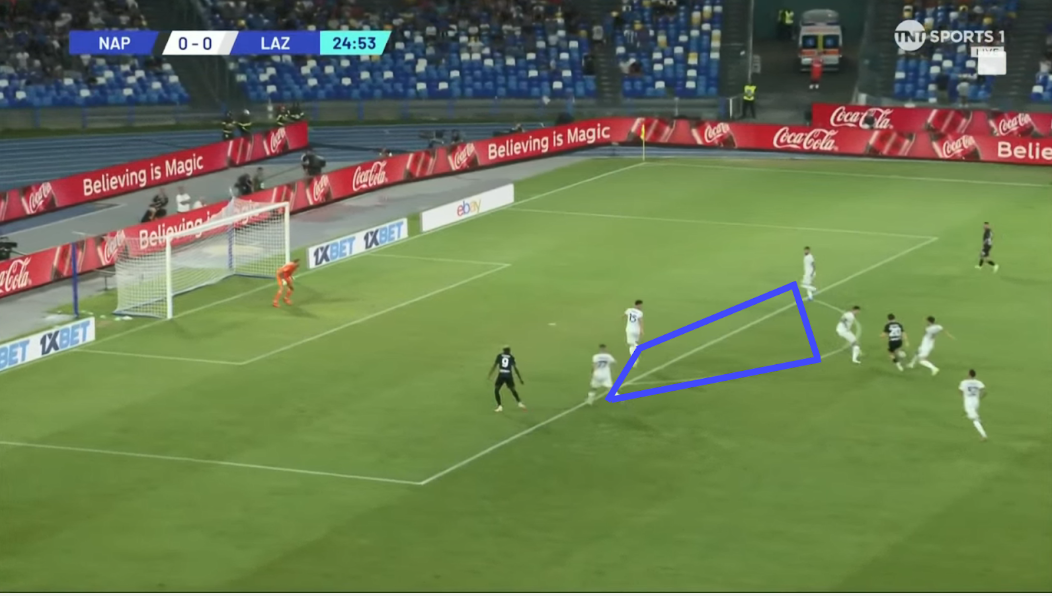 Lazio formed a defensive pyramid as the center back closest to the ball would push up and close down the opponent whilst the fullbacks shifted inside, as well as manufacturing a defensive diagonal with one fullback going outside to mark the winger with the others pushing closer or staggering their positions. The Biancocelesti's constant focus, positional awareness, and communication at the back allowed them to starve Napoli of chances throughout the game.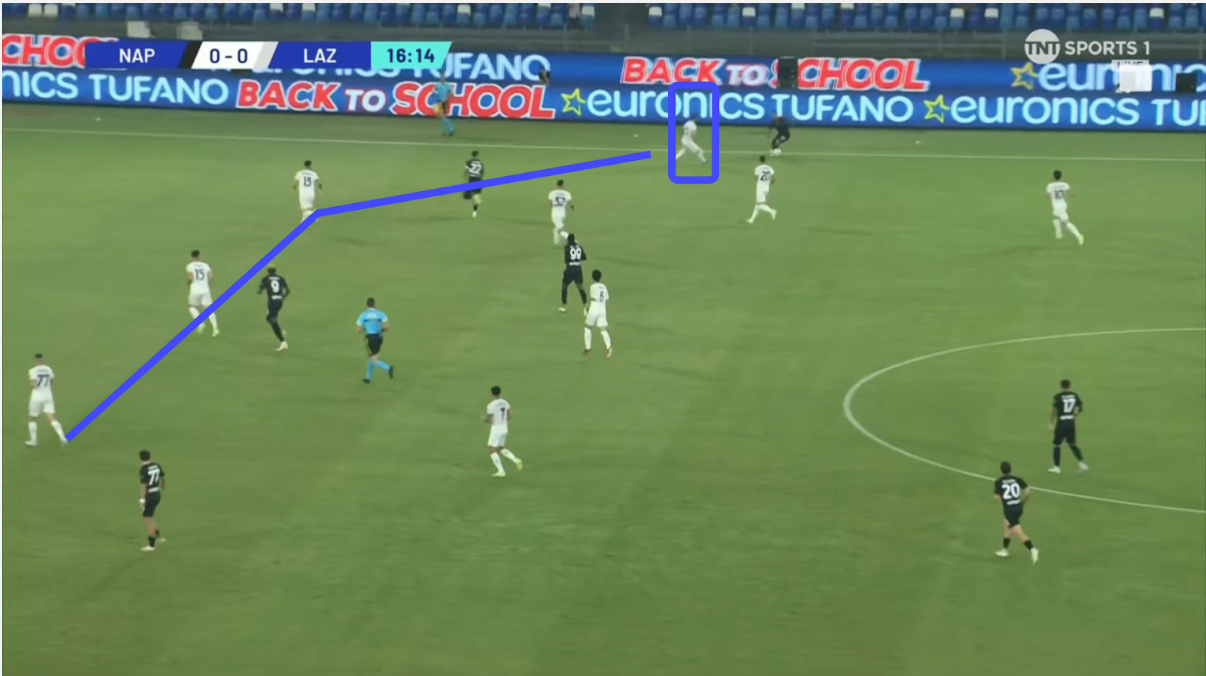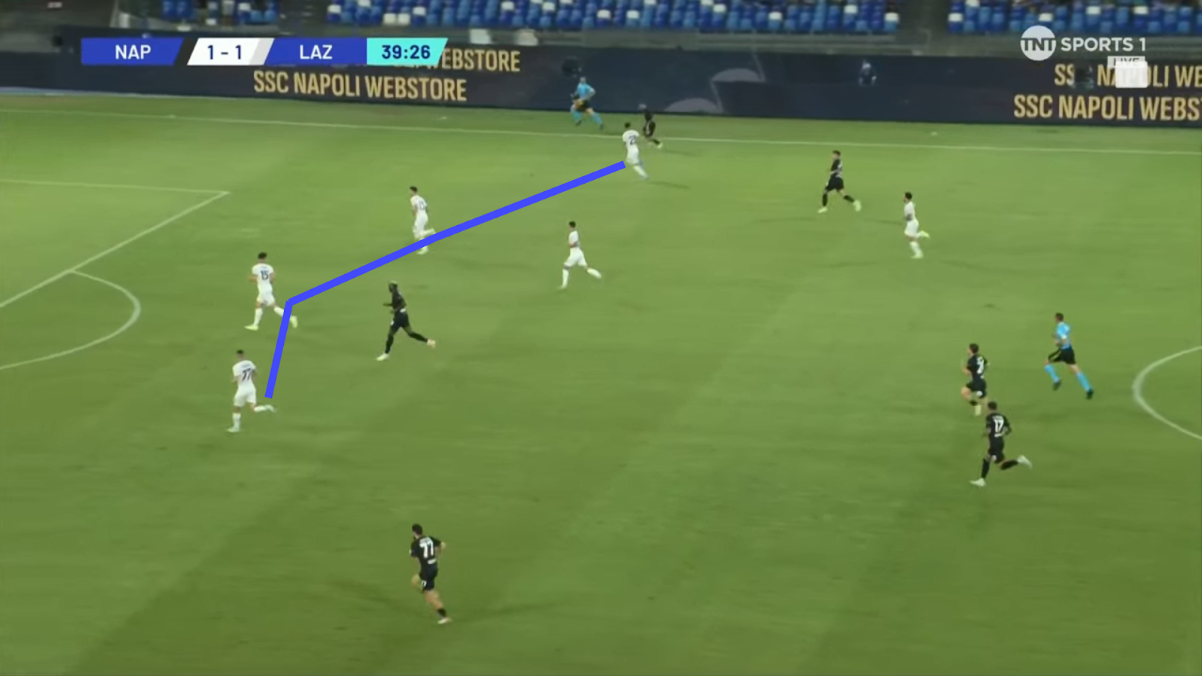 Similar to other Italian managers like Marco Giampaolo and Alessio Dionisi, Sarri's teams utilize a staggered defensive line to defend late crosses with a fullback pressing the ball carrier with the rest of the backline forming an opposite diagonal starting from the near post — covered by Alessio Romagnoli — whilst Nicolò Casale and Adam Marušić shifted across the defense to limit the space.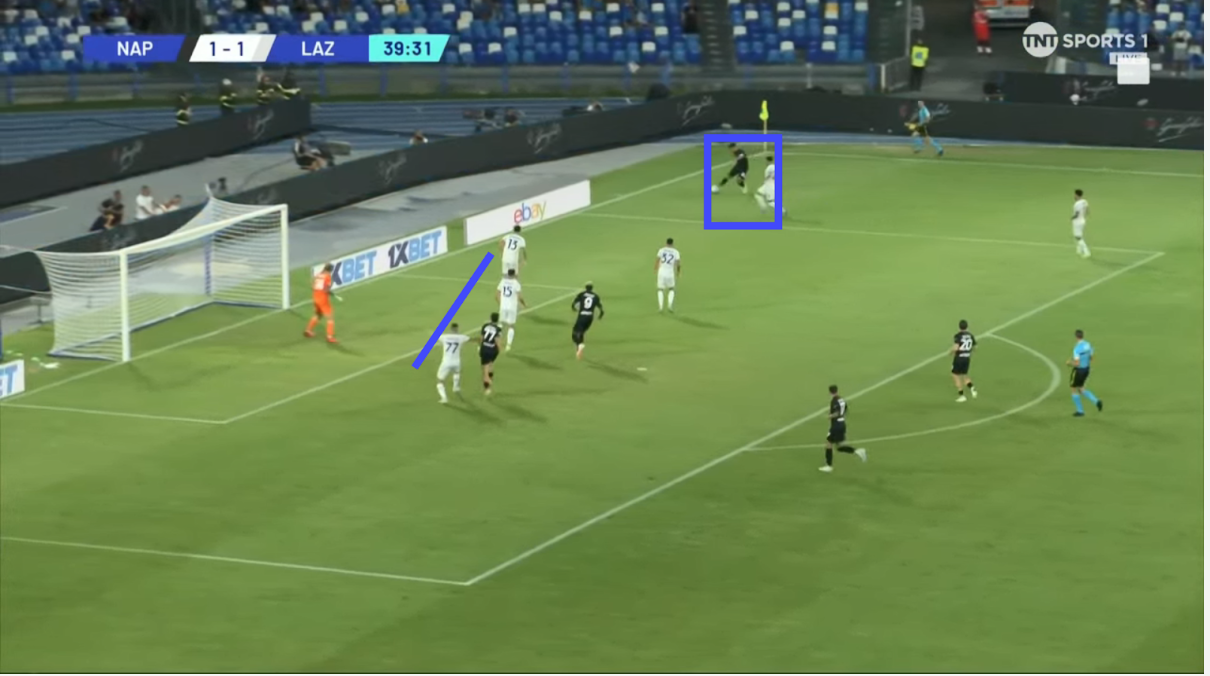 Zieliński was tasked with dropping towards the center backs, with Kvaratshkelia going 1v1 with Marušić. Napoli's left triangle was the only outlet to create a threat to Lazio's defensive structure, and they struggled to play direct balls to Osimhen, who was isolated against Lazio's center backs. The Nigerian forward was starved of space to operate and did not have adequate opportunities to make runs in behind the final line of defense or convert from crossing opportunities.
Lazio were able to progress the ball vertically thanks to Ivan Provedel's passing, utilizing Kamada as a mezzala midfielder who would drift outside, playing a maximum of two touches, with Marušić and Kamada often playing a quick one-two and working their way up to Immobile in the center of attack.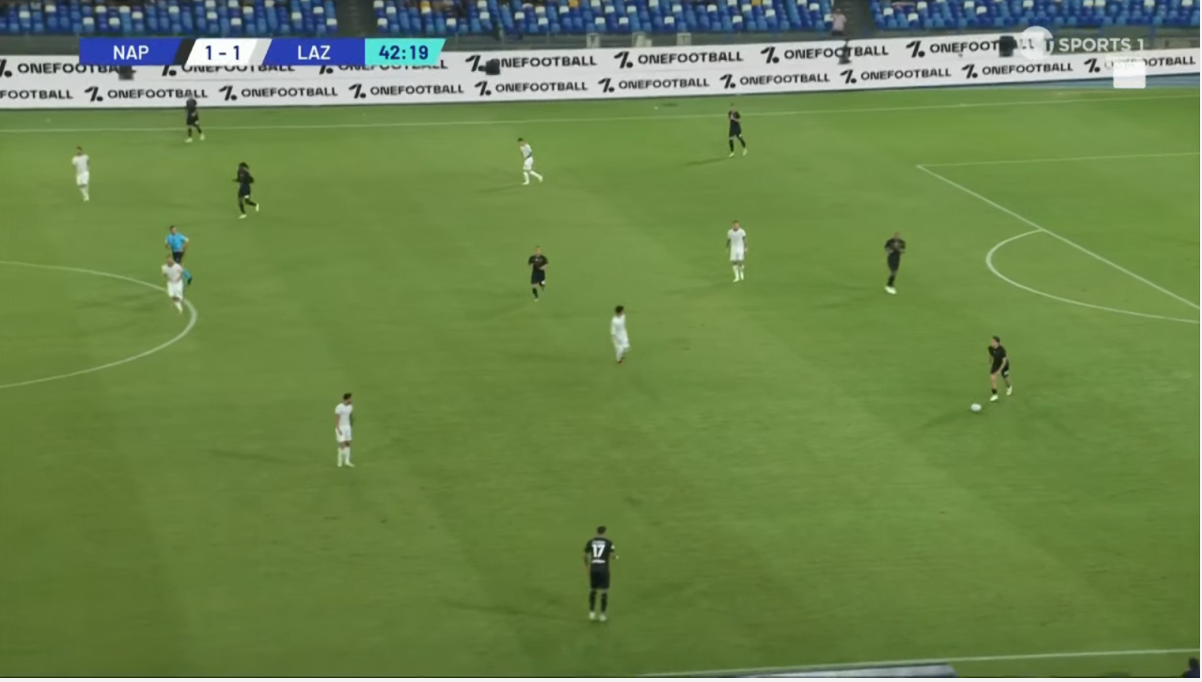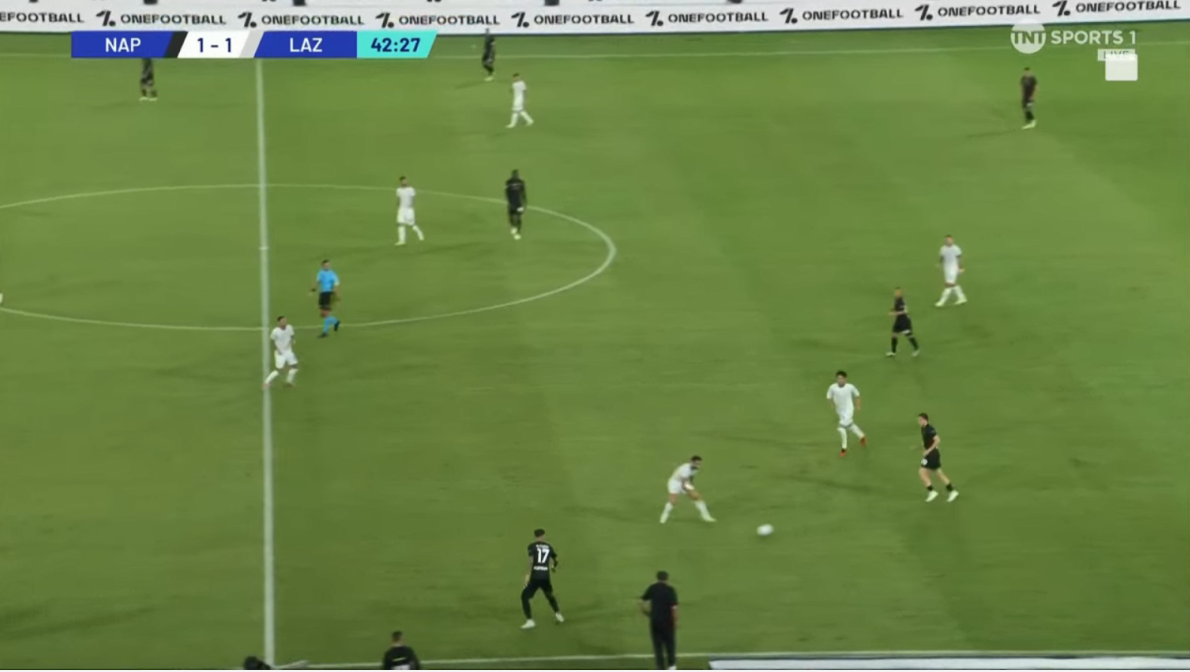 Lazio will be looking to build on their victory against the Scudetto winners as they travel to Juventus before hosting Atlético Madrid, Monza and Torino and closing out September with a trip to Milan. As for Napoli, they will be looking to bounce back with a trip to Genoa before travelling to Braga and Bologna, hosting Udinese, and ending September with a visit to Lecce.
By: @Elbadry0198
Featured Image: @GabFoligno / Silvia Lore – Getty Images