Tactical Analysis: Paris Saint-Germain vs. Bayern Munich
After two weeks of exciting action in Lisbon from Europe's elite, the 2019/20 UEFA Champions League Final was held at the Estádio da Luz on August 23. In the blue corner, Thomas Tuchel's Paris Saint Germain, who were chasing their fifth trophy of the season after completing a domestic clean sweep; in the red corner, Hans-Dieter Flick's Bayern Munich, who were pushing for their first treble since 2013.
Line-ups
Both managers made just one change for the final; Tuchel opted for first-choice goalkeeper Keylor Navas instead of Sergio Rico, with the Costa Rican making his return from a torn hamstring injury that he suffered in the quarter-final against Atalanta.
Opting for a 4-3-3 again, Tuchel stuck with the same side that destroyed Julian Nagelsmann's RB Leipzig five days prior, with the sole exception of the goalkeeper position. Ander Herrera kept his place in the team over Marco Verratti, who missed the clash against Atalanta and came off the bench against Leipzig after sustaining a calf injury in training. Furthermore, Leandro Paredes was preferred over Idrissa Gana Gueye following the Argentine's excellent performance against Leipzig.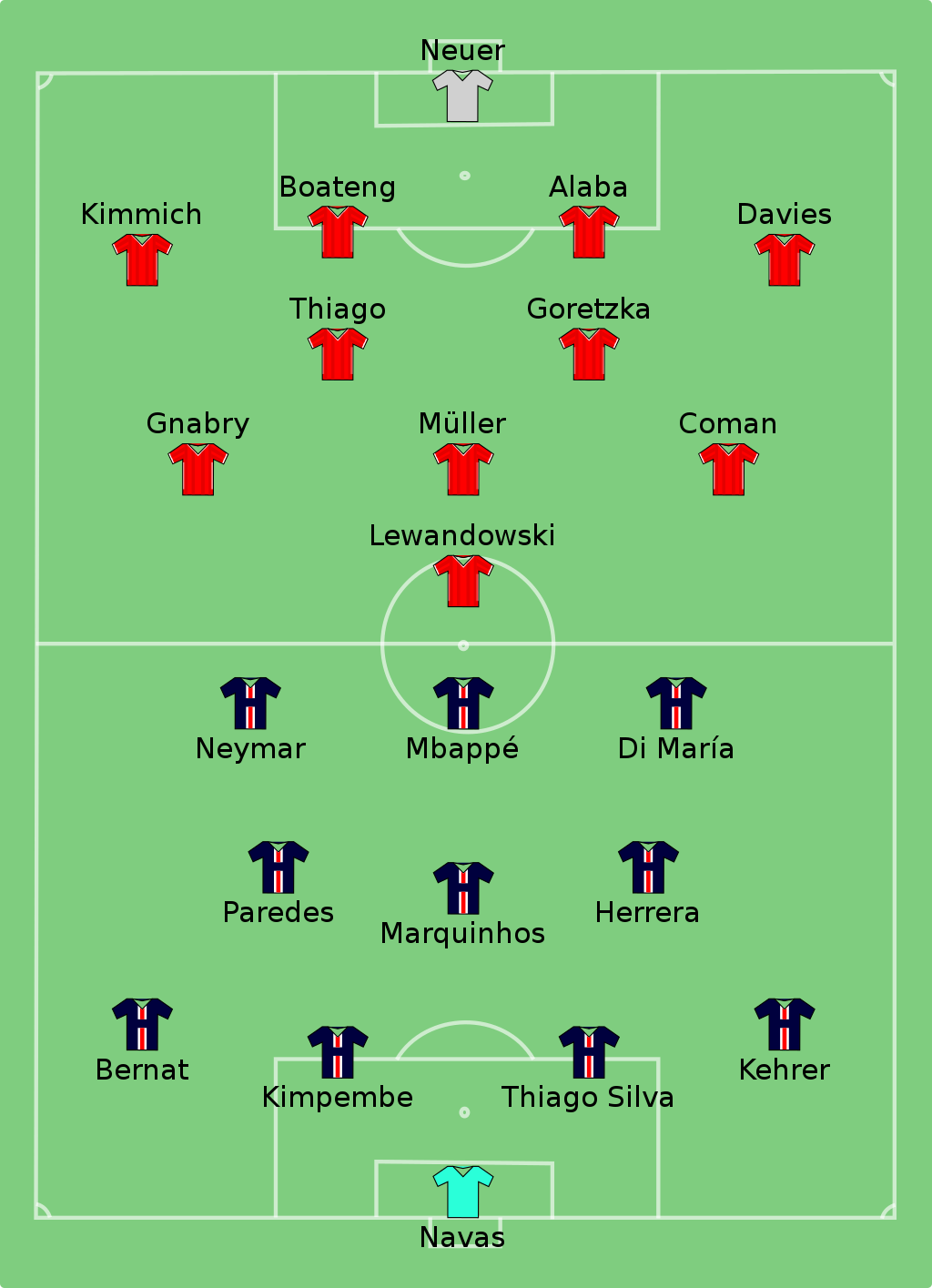 On the other hand, Kingsley Coman made his first start in the Champions League since the first leg of Bayern's Round of 16 fixture against Chelsea, with Flick preferring him over Croatia international Ivan Perišić. Speaking to Sky Germany prior to the match, Flick explained his decision:
"It's his hometown club, so I expect that he will be motivated even more. He has the quality and the speed to undo a defence."
Bayern Progressing Through Alphonso Davies
Throughout the match, Bayern often progressed the ball from their own half into the second phase by using wide passes to their full backs, who found themselves in ample space due to the narrow structure of PSG's defensive setup.
Les Parisiens lined up in a narrow 4-5-1/4-3-3 mid-block when Bayern had possession, and the narrow nature of the defensive shape from PSG indicated that Tuchel had placed emphasis on minimising the space afforded to Bayern in central areas, in an attempt to prevent central ball progression and block passing options in between the lines.
A key feature of Bayern's positional play under Flick is the wide midfielder on the ball side moving into the half-space to assume a more narrow position, allowing the full back on that side to advance forward and maintain width close to the touchline. Naturally, this meant PSG's central midfielders remained in the half-spaces whenever Bayern had possession close to the halfway line in order to nullify Bayern's wide attackers.
As a result of this positioning, the PSG full back on the ball side remained deep and narrow, operating on the same vertical line as the wide central midfielder instead of marking Bayern's full back. The reasoning behind this was to prevent Bayern's wide attacker from having space to exploit in behind the defense, as space would have otherwise opened up in the channel if the full back had stepped out of the defense in order to engage Bayern's full back.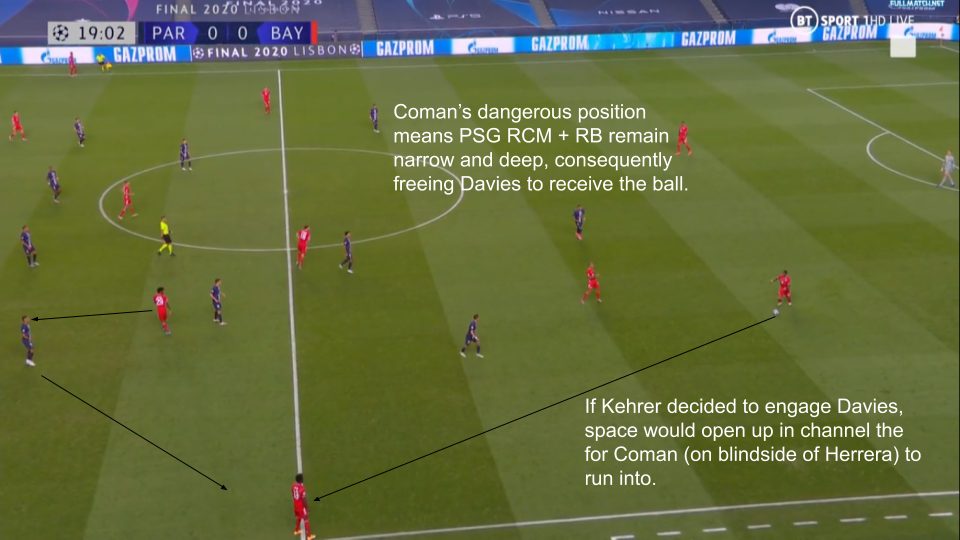 In the above scenario, if Thilo Kehrer was tightly marking Bayern's left back Alphonso Davies, the space would increase between PSG's full back and ball side centre back (Thiago Silva in this case), and therefore the left channel could be exploited via a direct runner or quick combination play between Davies and Coman in the half-space.
The pressing structure of PSG's front three was asymmetrical; Kylian Mbappé stayed slightly deeper than his fellow wide midfielder, Ángel Di María, who advanced higher onto David Alaba, whilst Neymar engaged with Bayern's right centre back, initially Jérôme Boateng before the Germain sustained a hamstring injury in the 25th minute and was replaced by Niklas Süle.
Di María occasionally decided to block the passing lane between the left centre back and the left back to prevent the pass, but he sometimes remained narrow and left this passing lane open, which indicated Tuchel was prepared to press whenever the ball was moved to the left flank.
In essence, PSG were prepared to leave Davies temporarily unmarked whilst they were out of possession, which meant Bayern naturally found the Canadian in lots of space on numerous occasions. Despite an obvious pressing trap which Tuchel set whenever the ball was passed to Davies, PSG rarely managed to shut down Davies's passing options for Davies because the original vertical pass to find him typically eliminated the front three out of the proceedings.
The use of Coman in the half-space proved to be extremely useful in scenarios like this; the Frenchman was able to drag his marker away from the central area by making a run towards the outside and as a result, this not only bought Davies time in possession, but it also meant that Bayern had a free man centrally to receive a horizontal pass from Davies.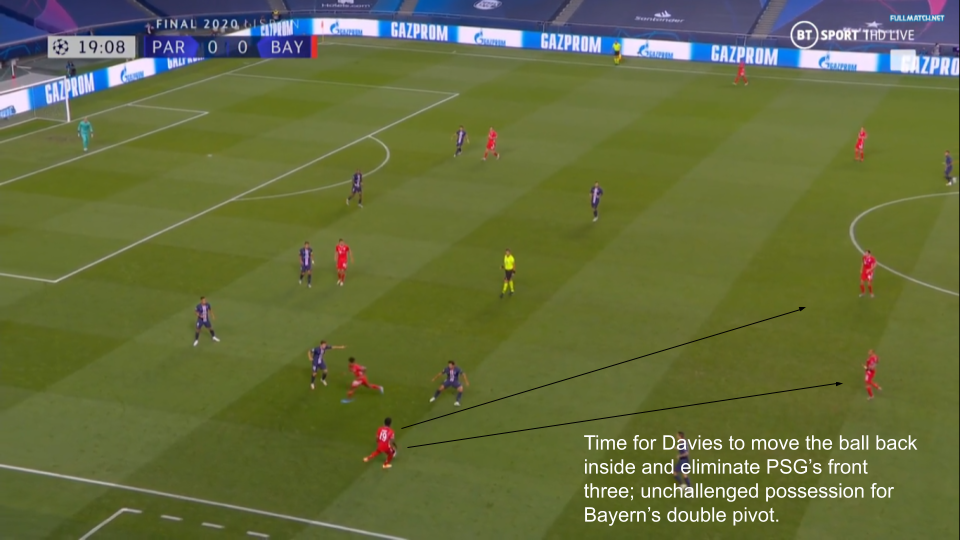 Due to the space that PSG allowed Davies with, Bayern managed to progress the ball into the opponent's half with ease, sustaining wave after wave of attacks and putting PSG under severe pressure throughout the match.
Bayern's Effective Pressing
A fundamental feature of Flick's Bayern Munich is their aggressive nature when out of possession, and this was on display on Sunday. Bayern's intense, man-oriented press allows them to harass the opponent's build-up whilst remaining compact as a unit, with their defense being deployed by the half way line to eliminate the space the opposition has between the lines.
This strategy is extremely risky, but it is becoming more and more common amongst Europe's top sides due to its potential to force turnovers. Due to the intensity of the press, Bayern can put the opposition under severe pressure whenever they receive the ball, which allows them to regain possession in the opposing half. After recovering possession in an advanced position, Bayern can then exploit the opposition's disorganized shape, as they struggle to transition from deep possession to defending their final third.
This aggressive pressing structure has been an effective chance creation mechanism for Bayern, but the main drawback is that it leaves too much space in behind the backline. In order to remain compact whilst pressing, Bayern's back four must push up and minimize the amount of space between the midfield and the defensive line. However, this causes there to be plenty of space between the defense and the goalkeeper, which forces Manuel Neuer, widely considered to be the greatest 'sweeper keeper' of all time, to come off his line and extinguish potential counter attacks.
Whilst their opponents usually manage to expose their high line and play passes into the copious amounts of space between Neuer and his defense, Bayern can manage this threat due to the recover pace of David Alaba, Süle and Davies, as well as Neuer's natural instincts and aggressive style of play. The rewards of winning possession back in an advanced area greatly outweigh the risks of leaving space in behind the defense thanks to their effective pressing, their individual defenders as well, and their astute offsides trap.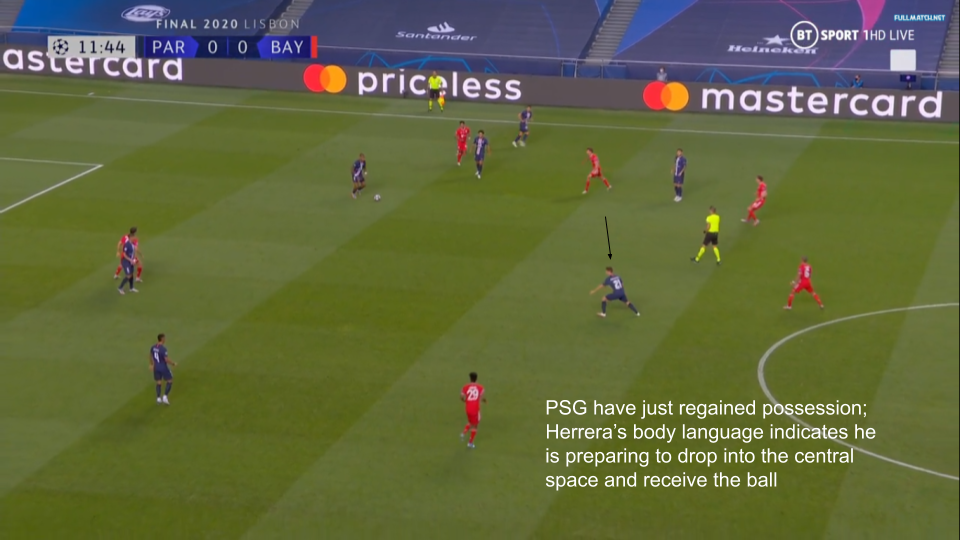 In this example, Bayern showcase their excellent counter pressing after losing possession in the final third. Presnel Kimpembe collects the ball and realizes that his only viable passing option is Herrera, whose body shape indicates that he will drop deep into the center space in order to receive the ball.
Thiago quickly recognizes that Kimpembe is about to pass to Herrera, and immediately rushes forward to complicate Herrera's reception, consequently forcing his compatriot into panic mode.
Coman's positioning here is vital; 1) he takes up a position where, if Herrera were to pass backwards to Kehrer, he would be able to quickly press Kehrer and cut off his passing lanes, 2) he covers the potential threat of Herrera turning Thiago inside out and exploiting the space in behind Bayern's double pivot, and 3) if Thiago manages to win possession back from Herrera, Coman would be available to collect the ball and attack PSG's backline.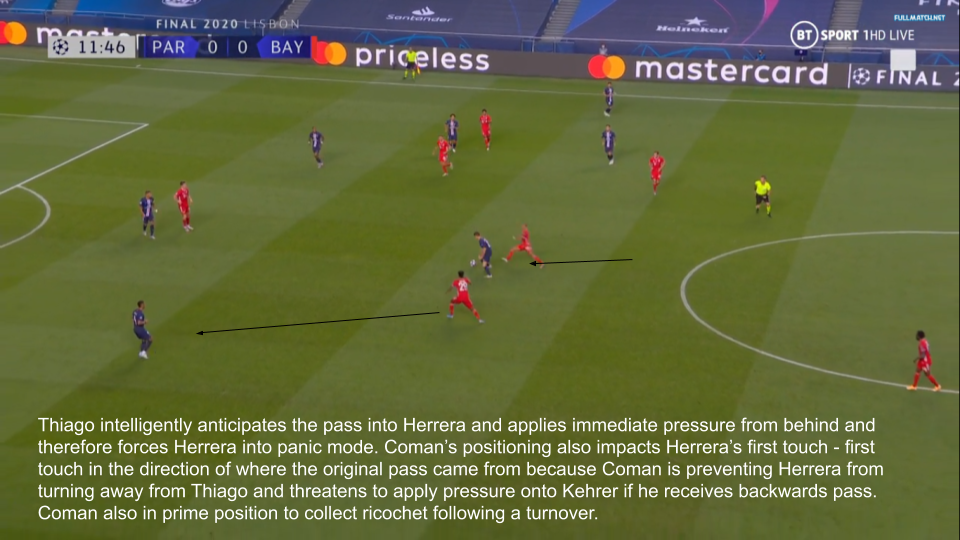 Thiago's aggressive, immediate pressure forced Herrera into a mistake, causing the Basque to lose possession in a dangerous area, giving space for Coman to collect the ball and attack the PSG backline which is midway through transition, and causing even more gaps to open up. Bayern have a numerical overload against the PSG backline, but they fail to make the most of this situation.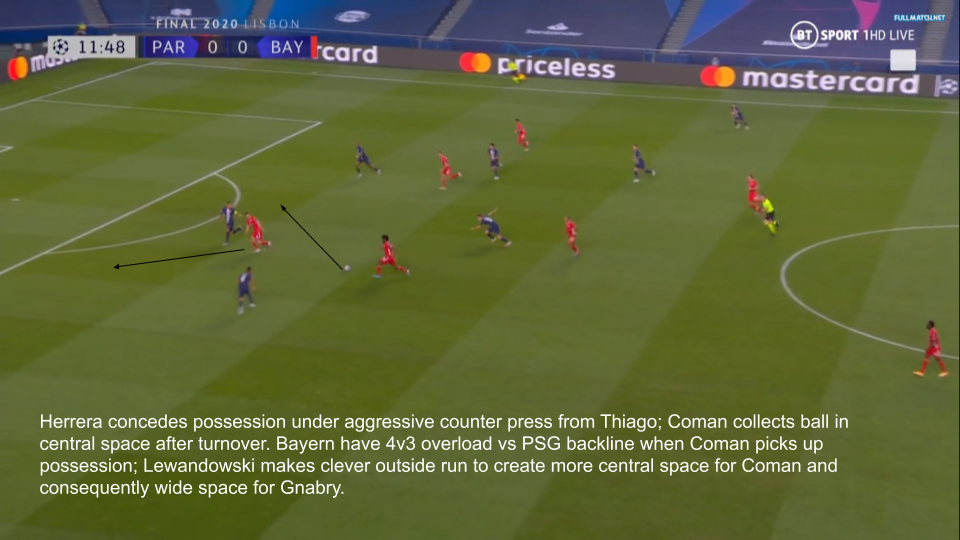 This highlights Bayern's effectiveness in winning back the ball after losing it in the opponent's half. Bayern's pressing was incredibly efficient throughout, forcing the defense into several turnovers and creating several great goal scoring opportunities, all of which they failed to capitalize on. 
PSG's Missed Opportunities in Transition
It was heavily predicted that PSG would create the bulk of their opportunities in transition from defence to attack. This was due to multiple reasons; 1) Bayern deploy a high line and thus leave plenty of space in behind the defense, 2) PSG possess great speed in transition via the likes of Kylian Mbappé, Neymar and Di María, and 3) Bayern usually retain possession for long periods of time and would have the potential to sustain possession in PSG's half, allowing PSG to break on the counter. These pre match expectations were quickly proved correct. 
Mbappé, PSG's biggest threat in transition due to his sheer pace, was used as the team's outlet on the night. The Frenchman played on the left side of the front three whenever PSG had possession, but out of possession, he sometimes dropped deeper to ensure defensive security on the left hand side.
However, this hardly impacted his ability in transition due to his remarkable pace. Whenever PSG regained possession, Mbappé was able to exploit the space in the left hand channel despite his deeper position because he was able to cover the extra ground in very little time, and importantly, cover it ahead of Bayern right back Joshua Kimmich.
Nevertheless, PSG failed to capitalize on their goal scoring opportunities in transition and eventually paid the ultimate price. Even so, let's take a look at a few occasions where PSG transitioned excellently despite not being able to make the most of their opportunities.
In this specific example, PSG win possession centrally after Kimpemebe steps out of the defensive line and applies pressure onto Serge Gnabry in between the lines, forcing him into making a mistake. Regaining possession centrally was vital to this transition because it allowed PSG to immediately find Mbappé in space.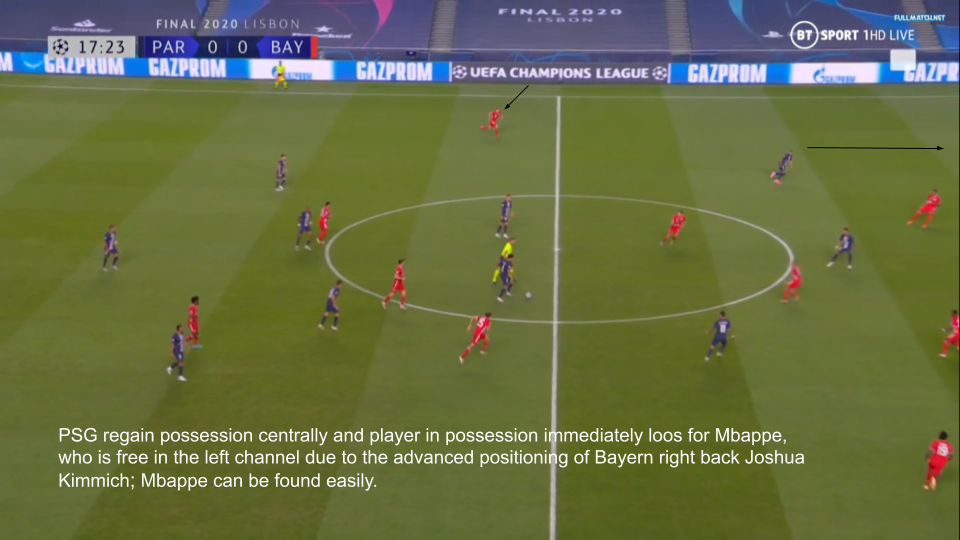 There is plenty of space in front of Marquinhos when he receives the ball, as Bayern's double pivot remain relatively deep in the build-up, the phase of play before PSG regained possession. As a result, the unpressured possession allows the Brazilian to find Mbappé in an empty zone that Kimmich had vacated in order to provide width on attack, complementing the run of Gnabry who had drifted centrally.
From that point on, the attack played out as they had expected on the training ground, albeit, without the  clean finish. As Mbappé collects the ball, Bayern's ball-side center back (Boateng) drifts over to apply pressure, causing an ocean of space to open up between him and Alaba. Neymar finds himself in a dangerous position to exploit this opportunity, having made a direct run into space and leaving him one v one with Neuer, in which the Germain prevails and keeps the score level.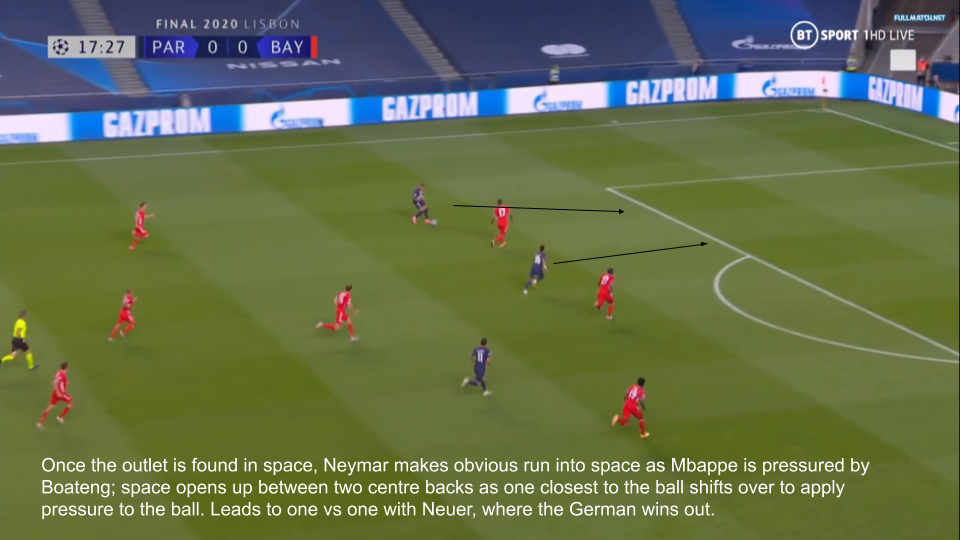 In this second example, a lack of movement costs PSG a clear-cut goalscoring opportunity. As Neymar picks up possession and drives at the heart of the Bayern defence, he is unchallenged and has two options ahead of him.
Mbappé begins his runs centrally, and should ideally peel out and continue his run to the left of his marker in order to create central space for Neymar. Instead, though, he continues to run centrally and is therefore unable to receive the ball.
If Mbappé had peeled out and continued his run on the outside of his man, this would have dragged his marker away from the central area which would have increased the space between the Bayern Munich defenders, thus opening up a large space for Neymar to exploit and shoot on goal.
Hypothetically, if Neymar were to be eventually pressured by a Bayern player, PSG would have earned a 3v2 advantage. Mbappé displayed a poor understanding of simple striker movements, which is surprising for one of the greatest players in the world when it comes to off-the-ball movement.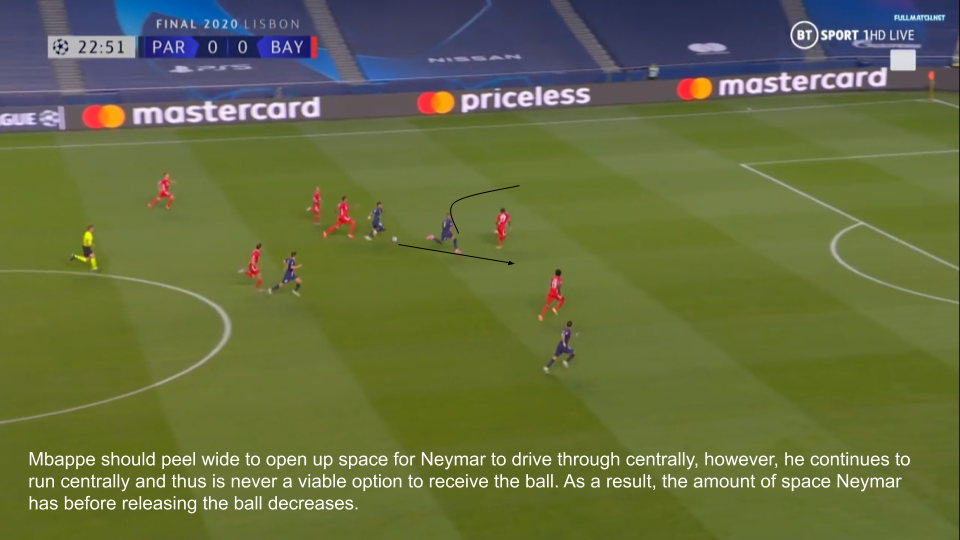 As a result of this failed movement, the ball was released to Di María, who was eventually pressured by the recovering Bayern Munich players, allowing them less space to exploit and preventing a clear-cut goalscoring chance.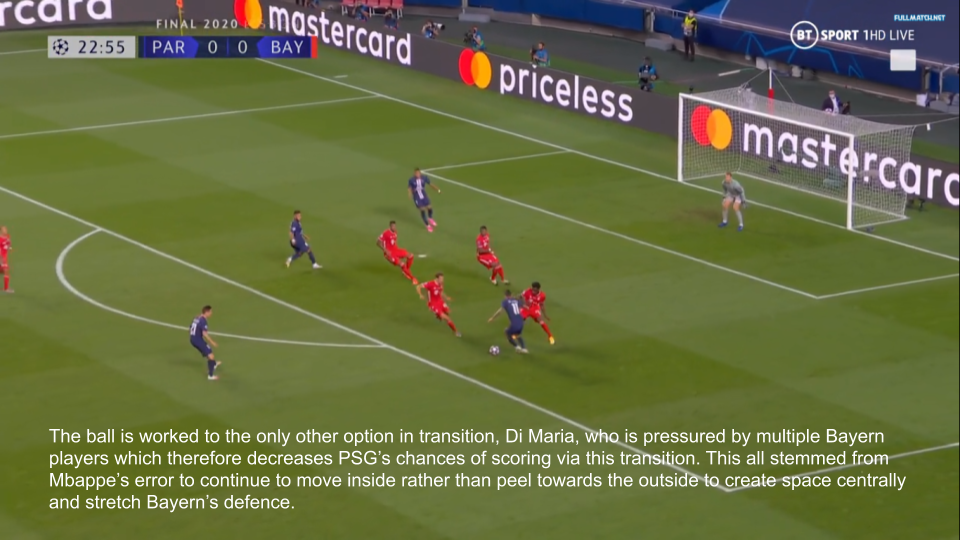 How Bayern Manipulated PSG's Pressing Structure
PSG sometimes decided to deploy one of their three central midfielders in a more advanced position when they pressed Bayern. This was more often than not Herrera, although Marquinhos filled this role on a few occasions.
Essentially, Tuchel instructed them to do this in order to suffocate Bayern's build-up and win the ball in an advanced position, where any high turnover would present a dangerous  opportunity. However, the main risk of this strategy was their opponent's roster.
Bayern Munich are full of first phase players who are comfortable under pressure and possess the ability to play their way out of defence and into the second phase. Players such as Thiago and Gnabry can maneuver their way past Herrera or Marquinhos with their sheer close control and chutzpah, causing PSG to be less compact centrally and allowing Bayern to exploit PSG's pressing structure.
In this example, Marquinhos is pressing high alongside Neymar in the first line of press in an attempt to prevent Bayern from progressing the ball into midfield. Leon Goretzka then begins to drop deep into the central space in order to receive possession, and is followed closely by Herrera who has Thomas Müller on his blindside.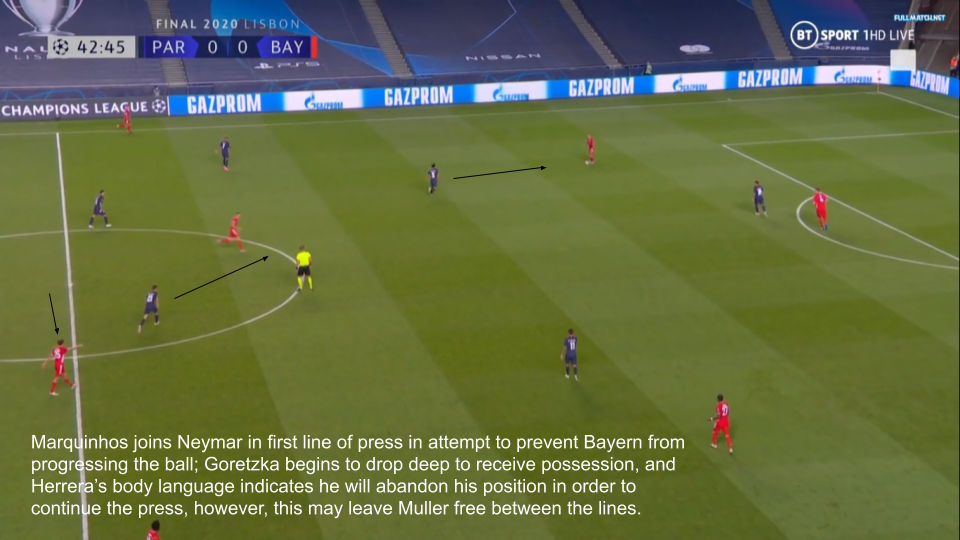 After Herrera begins his press, Goretzka lays the ball back to his centre back who can then penetrate PSG's pressing structure via a line-breaking pass to find Müller between the lines.
With Marquinhos pushing forward to join Neymar in attack, Bayern can manufacture a central overload and exploit PSG's defensive shape, thus making it easier to progress the ball into the second phase due to PSG's lack of compactness.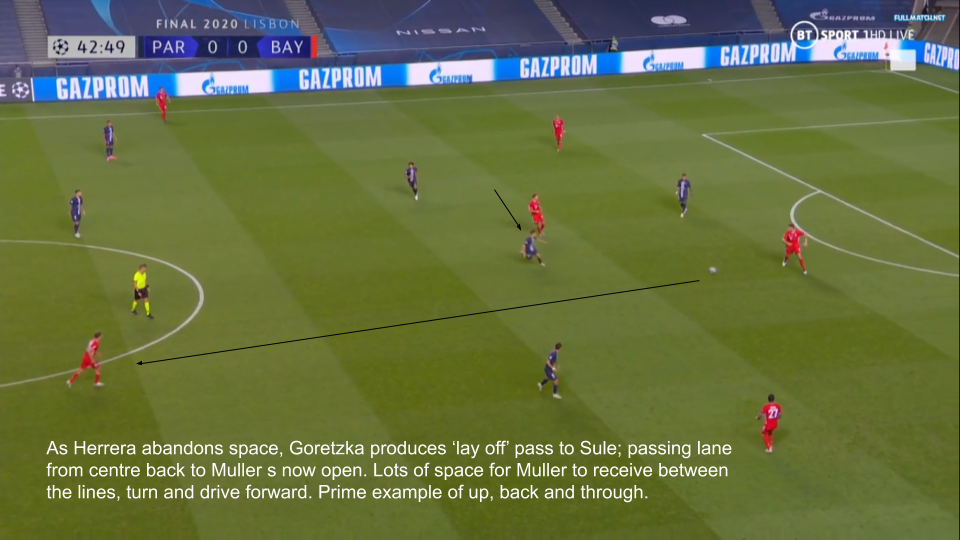 This was also exploited in the build-up to the only goal of the match, scored by Coman. Kimmich took up an inverted position rather than out wide, which created an overload once Marquinhos had stepped out of the midfield line to press Thiago, the man in possession.
Essentially, it became 3v3 in midfield before Marquinhos stepped out to press Thiago, and there was no obvious progressive passing option. However, Marquinhos stepping out gave Paredes a predicament: stay central and block the passing lane to Müller, or drift slightly wider and block the passing option to Kimmich?
He opted for the former, which saw the diagonal, progressive passing lane between Thiago and Kimmich open up. However, if Marquinhos had remained in his central midfield position rather than press Thiago, there would be no realistic, progressive passing option because Paredes would have been able to cover the pass to Kimmich because of PSG's extra man in midfield, thus preventing Thiago's line-breaking, game-changing pass to Kimmich from occurring.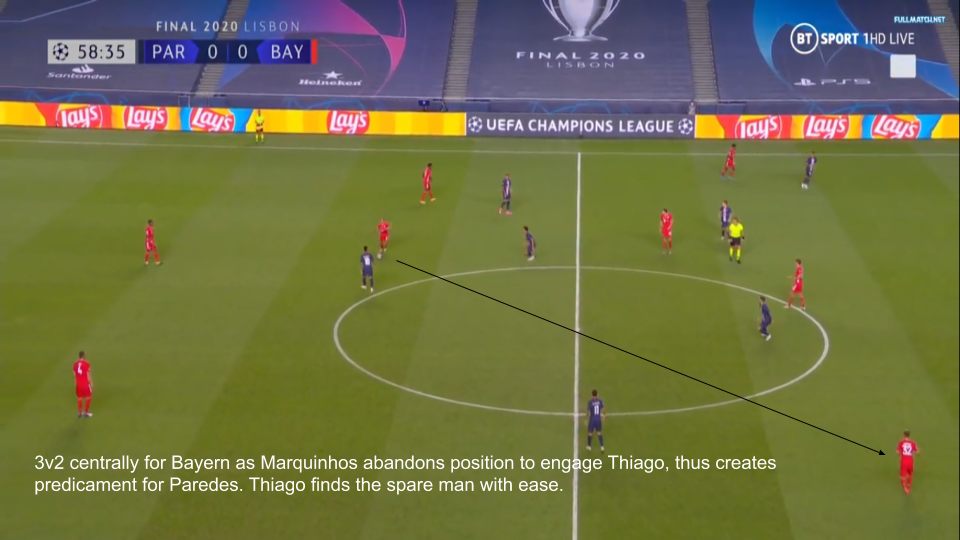 Thiago was able to thread the pass through to Kimmich, eliminating four PSG players in the process. Kimmich magnificently controlled the ball with his first touch, turning forward before passing it Gnabry, who found himself in ample space against Juan Bernat. Gnabry's low cross eluded Paredes, Silva and Paredes, meeting the path of an onrushing Müller, who lightly played a lay-off pass to Kimmich.
Kimmich lined up his cross like a hunter stalking a buck, caressing the ball with the deftest of touches and lofting the ball past five Paris Saint-Germain players, all of which looked as if they were watching their lives flash before their very eyes.
The ball dropped to Coman, the player who had spent a decade of his career at the club, whose time at the PSG academy allowed him to escape the Parisian banlieues, who left the club on a free transfer to Juventus as an 18-year-old after growing weary of his lack of playing time at the French capital. Coman teed up his header with the precision and focus of a man who developed at one of the prime talent factories in Europe, who had grown accustomed to the standards and demands of a team that doesn't take second-best for an answer.
Coman headed the ball past Navas and into the net. 37 minutes later, Bayern Munich clinched their sixth Champions League trophy.
Conclusion
After an intriguing battle between two fantastic sides, Bayern Munich ran out winners against Paris Saint-Germain. Flick's men were able to sustain pressure for extended periods of the match and were able to eventually break PSG down. Whilst PSG did create quality chances of their own, especially in transition from defence to attack, they failed to take them and paid the ultimate price. As Ander Herrera said in his post match interview, 'if you don't take your chances against a team like this, they will kill you.'
Bayern Munich became the first team in the history of the competition to win every single Champions League match they participated in this season, and in doing so, Hansi Flick delivered the treble in his first season at the Allianz Arena. 
By: Ollie Himsworth
Featured Image: @GabFoligno / Anadolu Agency