Tactical Analysis: Southampton vs. Everton
Carlo Ancelotti's Everton travelled down to St. Mary's to take on Ralph Hasenhüttl's Southampton on Sunday. With Everton coming into the game as the only unbeaten side in the Premier League, most would've expected Everton to run out victorious and go three points clear at the top of the table. However, Hasenhüttl's side dominated proceedings from start to finish and ended Everton's unbeaten run with a resounding 2-0 victory.
Southampton's aggressive pressing proved effective whilst Everton struggled to progress play and settle into the game. On the other hand, Everton's press was ineffective which allowed Southampton to comfortably play out from the back and create chances. Southampton dominated possession and limited Everton to only 2 shots on target, and comfortably held onto victory after scoring two goals in the opening 35 minutes.
Line-ups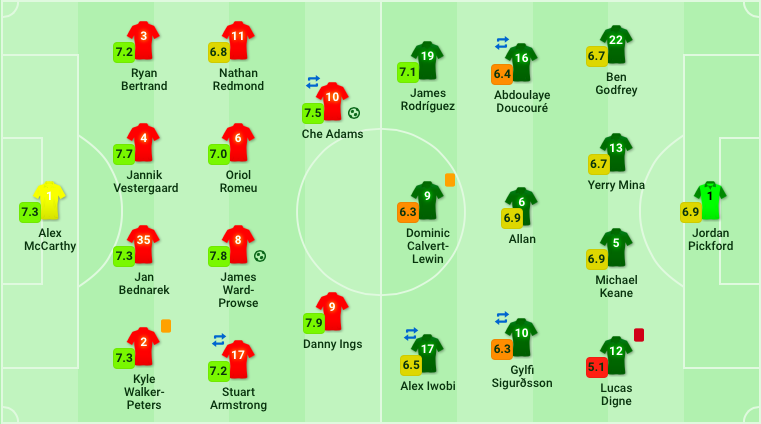 Photo: SofaScore
Ancelotti made three changes from the team that grounded out a 2-2 draw against Liverpool from the previous weekend. With Richarlison suspended after his late expulsion in the Merseyside Derby, Alex Iwobi started on the left side of attack, whilst Ben Godfrey started in place of the injured Seamus Coleman. Gylfi Sigurðsson started in place of André Gomes after the Portuguese midfielder's ineffective performance against the defending Premier League champions.
On the other hand, Hasenhüttl made zero changes to the team that mustered a 3-3 draw against Chelsea at the Stamford Bridge. However, whilst the Austrian manager made three substitutes against the Blues on October 17, he made just two against Everton. Ibrahima Diallo made his second straight appearance off the bench after arriving from Brest for €15 million, whilst 21-year-old forward Dan Nlundulu made his Premier League debut, coming on as a sub in the 89th minute.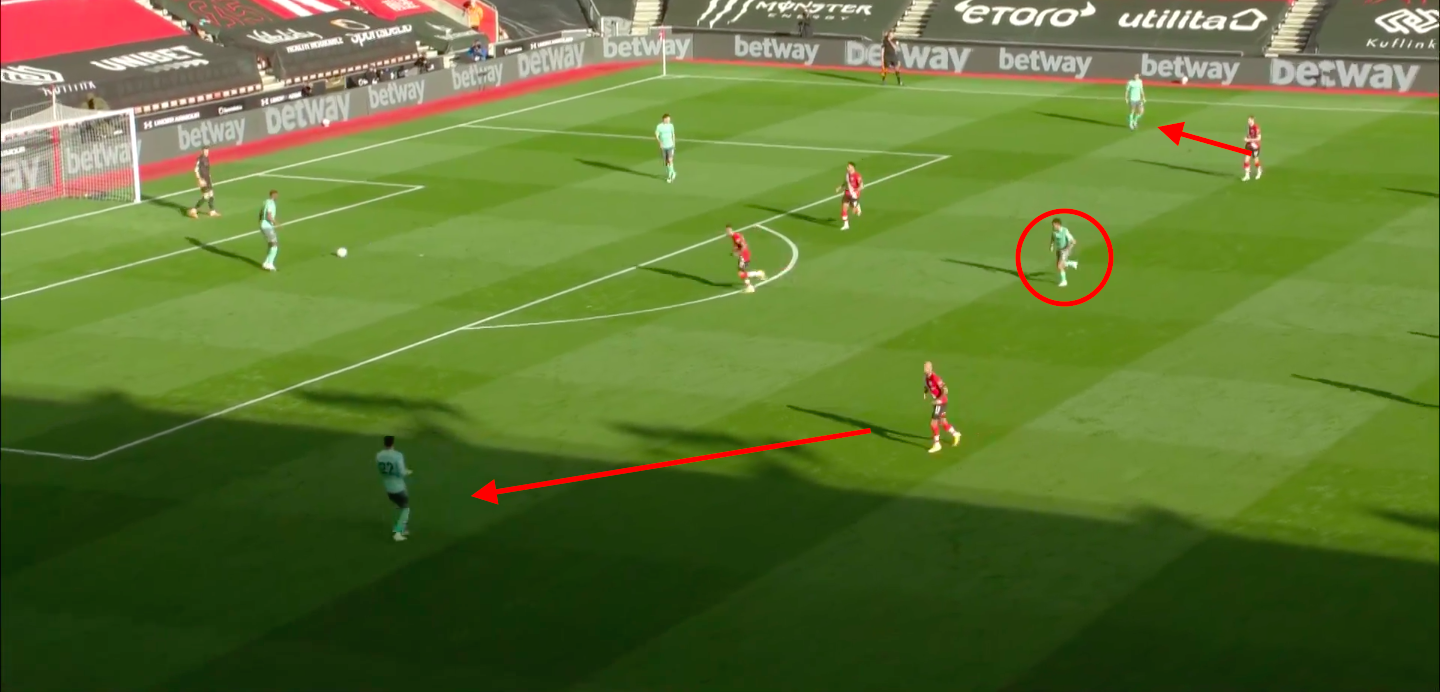 Southampton's Press
Southampton pressed in their usual 4-4-2 shape. Their front 2 (Danny Ings and Che Adams) blocked off passes into Everton's holding midfielder, Allan, and reduced the angles that Everton's centre backs (Yerry Mina and Michael Keane) could pass into. The wingers (Nathan Redmond and Stuart Armstrong) pressed the Everton fullback on their side when they received the ball (Godfrey or Lucas Digne).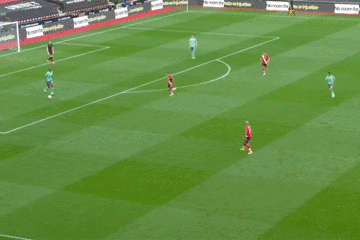 Here's an example of Southampton's press forcing a turnover. When Everton moved the ball wide, the Southampton fullbacks (Ryan Bertrand and Kyle Walker-Peters) stuck tight to Everton's wingers. In this example, Bertrand tightly marks James Rodríguez which means he instantly has to release the ball to Allan.
The pass is hard to control and Allan has to quickly move the ball on because James Ward-Prowse is sticking close to him. Allan's pass isn't accurate and Jannik Vestergaard heads it into the direction of a Southampton player, safely regaining possession in the opposition's half.
Southampton began to consistently force these types of errors around 15 minutes into the first half and managed to keep Everton fairly quiet for the rest of the game. Their centre-backs (Jan Bednarek and Vestergaard) did well to win aerial duels against Dominic Calvert-Lewin. When Everton went long, Southampton usually won the ball and regained possession, helping them sustain pressure and nullifying one of Everton's main methods of progressing play.
However, it must be said that Everton didn't try to go long to Calvert-Lewin enough. This was likely because Southampton's front two did a good job of applying pressure onto the centre backs which meant they didn't have the time on the ball to play a long ball into Calvert-Lewin.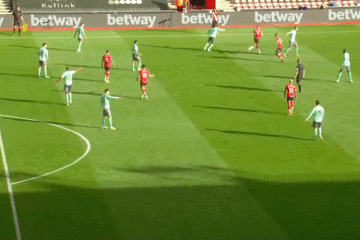 Let's take a look at Southampton's opening goal. As Walker-Peters is preparing to take the throw-in, Armstrong drops deeper, offering a short passing option and drawing the attention of both Iwobi and Gylfi Sigurðsson, who double up on the Scottish midfielder. Ward-Prowse quickly drops into the vacated space, and although Sigurðsson motions to Abdoulaye Doucouré to track his run, Ward-Prowse can receive the throw-in in ample space due to the Frenchman's failure to track him in time.
Ward-Prowse does well to control the ball with his first touch whilst simultaneously leaving Allan in his dust, tapping the ball into the direction of Ings. He continues his run and Ings plays a simple through ball into the path of his compatriot, who controls the pass and fires past Jordan Pickford.
After the opening goal, which came in the 27th minute, Southampton began to dominate proceedings by preventing Everton from playing out of the back and sustaining pressure in Everton's half.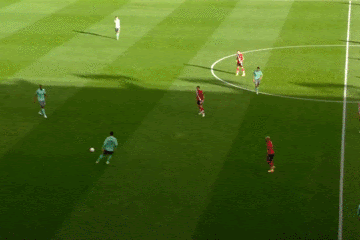 One of Everton's biggest methods of chance creation came when Rodríguez dropped deep in the build-up, giving him sufficient time and space to pick a long diagonal pass to progress play and advance out of Southampton's intense pressing. Receiving a short pass from Mina, he switches the play and finds Digne wide open on the left flank.
Everton's Press
On the other side of the field, Everton's press was ineffective, as their off-the-ball shape varied from a 4-3-3 to a 4-5-1. They didn't put enough pressure on Southampton whenever they had the ball, they weren't always compact, and they didn't get close enough to Southampton's defenders to force a turnover.
Because Everton didn't put enough pressure on them, Southampton had the time to pick passes through Everton's block and comfortably progress play. If you press high up the field, you have to put pressure on the opposition; otherwise they will have the time and space to find accurate passes.
Everton don't put enough pressure on the ball, and as a result, Vestergaard can calmly progress past Calvert-Lewin and pick a pass between the lines, whilst Ings has enough space to drop deep and make himself available for a pass. As nobody follows Ings's movement, he can drop into ample space, and the Danish defender can play a pass in between Allan and Rodríguez and find Ings between the lines.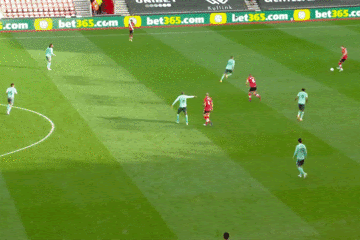 On this occasion, Southampton are being pressured by Everton's forwards, but they comfortably play out of the press by a series of quick passes. Bednarek passes back to Alex McCarthy, who shuffles it onto Vestergaard at the edge of the box. The Dane recycles the ball to Oriol Romeu, who finds Bertrand in space on the left.
Rather than pressing Romeu and taking away Vestergaard's short passing option, Doucouré leaves him free, providing the Catalan midfielder with the time and space to receive the pass and dish it off to Bertrand, enabling Southampton to successfully play out of Everton's pressure.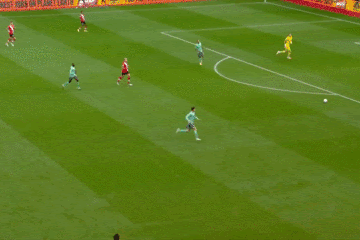 Ings evades both Godfrey and Mina, finding a pocket of space by the touchline, before playing a pinpoint cross with his left foot. The ball sails past Sigurðsson's head and into the path of Adams, who controls the ball, hesitates, and slots the ball past Pickford.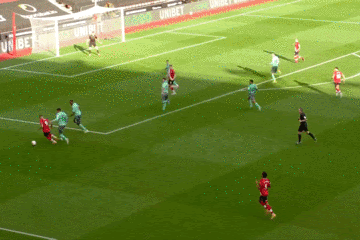 Another issue with Everton's press was that their line wasn't high enough. This meant that there was a lot of space in between Everton's midfield and defence for Southampton to exploit. Although a high line can leave teams vulnerable to speedy forwards, it helps congest the pitch and and makes it harder for teams to bypass the press as there is less space in between the lines.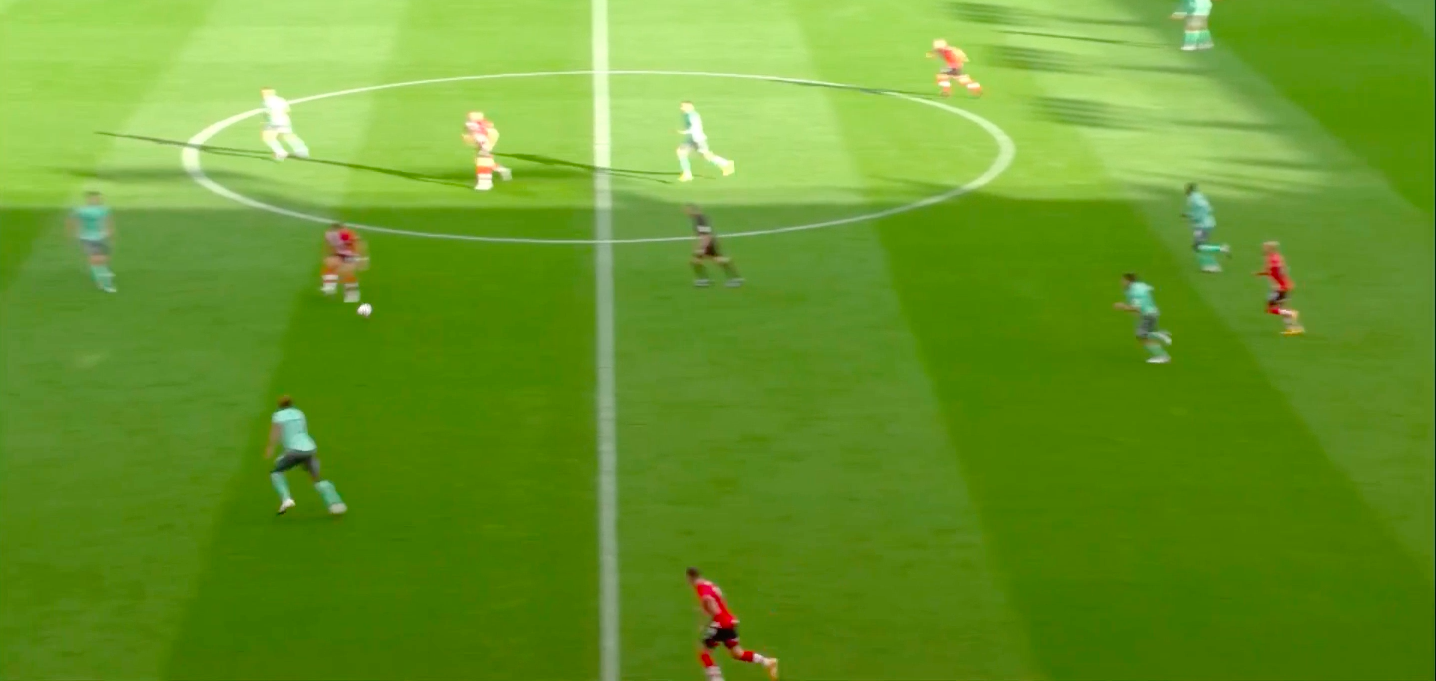 Conclusion
On the whole, Southampton's effective pressing and Everton's poor pressing allowed Southampton to control the game, whilst Everton couldn't create anything of note. To make matters worse for Everton, Digne was sent off in the 72nd minute for a clumsy tackle on Walker-Peters, meaning that Everton will have to rely on 19-year-old Niels Nkounkou against Newcastle, Manchester United and Fulham.
After a superb start to the season, Everton are experiencing their first few setbacks, with the Toffees losing their first match since July 26 in a 3-1 defeat to Bournemouth. With Richarlison suspended for the next two matches and Coleman set to miss the next few matches due to injury, Ancelotti will have to find ways to win without key first-team players in order for Everton to maintain its spot atop the Premier League.
Despite their opening day loss to Crystal Palace and a thumping 5-1 defeat to Tottenham Hotspur, Hasenhüttl's side currently sit in 7th place, behind Leeds United on goal differential and tied with Wolves and Crystal Palace on goal differential. Having taken 10 points from their last four matches, they'll be looking to continue their impressive form against Aston Villa next weekend.
By: @tacticalnovice1
Featured Image: @GabFoligno / Robin Jones / Getty Images