Tactical Observations: Villarreal CF Under Quique Setién (Part 1)
The 2022/23 season was eventful for Villarreal. The Yellow Submarine were forced to replace their head coach in October, returned home to the renovated Estadio de la Cerámica in late December and in 2023 are celebrating their centenary year. By early June, Villarreal had finished the LaLiga campaign in fifth place. Their hopes of catching Real Sociedad, in the coveted final UEFA Champions League spot, mathematically ended following defeat to Rayo Vallecano in match round 37. 
At the point of the World Cup break in November, Villarreal were ranked ninth in LaLiga with 21 points after 14 matches. Unai Emery's replacement, Quique Setién, oversaw three of these league games, losing two and winning one. The former FC Barcelona and Real Betis manager endured a difficult start to his tenure, not winning any of his first four games in charge, across all competitions. 
However, following the LaLiga restart – which is probably a fairer period to review Villarreal under Setién – the Yellows went on to accumulate 43 points, the joint-fourth-highest in the league. Their record during this period consisted of 13 wins, 4 draws, and 7 defeats – with four of those losses coming consecutively between the end of January and throughout February.
These results contributed to a final points tally of 64 which was the club's highest return since the 2016/17 season (67 points). Although, it is worth pointing out that according to Understat, during this post-World Cup period, Villarreal accrued slightly more points than expected – 43 actual vs 40.76 expected.
How Villarreal Became European Football's Ever-Present Underdog
Despite Setien's relatively short spell in charge, media reports have persisted of his job being at risk. Rumors first circulated prior to the World Cup, then resurfaced following the aforementioned four back-to-back league defeats. This run of losses was also quickly followed by elimination in the Europa Conference League Round of 16 at the hands of Anderlecht.
But, ahead of the final game of the season, Villarreal president Fernando Roig publicly stated: "We have a contract with the coach Setién – and he will continue for next year." So, with the Submarines heading into the 2023/24 season under Setién, it seems an appropriate time to delve into some of the key tactical aspects of Villarreal's play, including perceived strengths and weaknesses, under his stewardship. 
Matches Observed
For this article, the following Villarreal league games were observed.
Villarreal 1-0 Girona, 22/01/2023
Villarreal 0-1 FC Barcelona, 12/02/2023
Villarreal 1-1 Real Betis, 12/03/2023
Osasuna 0-3 Villarreal, 19/03/2023
Villarreal 2-0 Real Sociedad, 02/04/2023
Real Madrid 2-3 Villarreal, 08/04/2023
Villarreal 1-2 Valladolid, 15/04/2023
Sevilla 2-1 Villarreal, 23/04/2023
Villarreal 4-2 Espanyol, 27/04/2023
Girona 1-2 Villarreal, 20/05/2023
Rayo Vallecano 2-1 Villarreal, 28/05/2023
Tactical Summary
Across all of the observed Villarreal matches a number of recurring tendencies were identified in different phases of play – see Figure 1 below. Specific details on Villarreal's attacking and defensive transitions are not included in the visual, but aspects will be highlighted within appropriate sections of the article.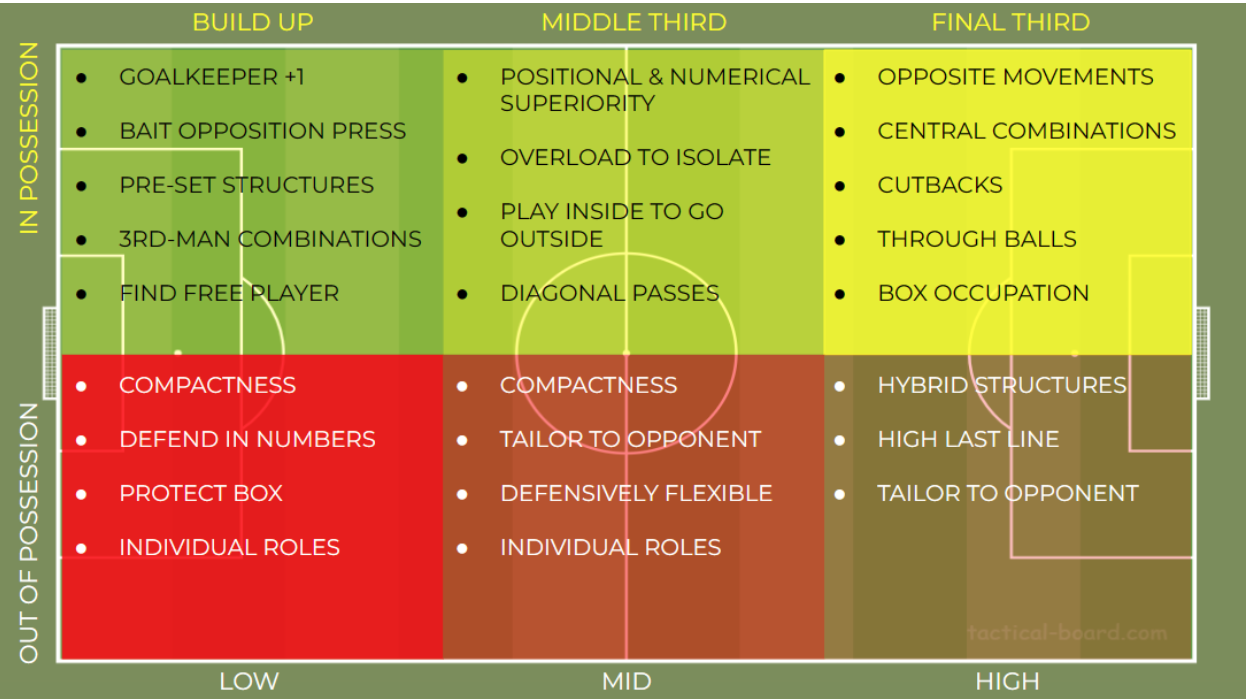 Figure 1. Summary of Villarreal's recurring tendencies in different phases of play
Whilst not all of the tendencies listed will be covered in detail within this article, the visual is intended to provide an overview snapshot of what Villarreal do both in and out of possession. It is also worth noting that Villarreal executed slightly different game plans across each of the observed matches, depending on the opposition. Therefore, any tendency referenced in the visual will have featured in the majority of the observed fixtures.
Squad
Before getting into the tactical aspects, Figure 2 below showcases Villarreal's squad and their individual number of 2022/23 LaLiga starts. (Note – players sold or loaned out in January, or with under five league starts, have been excluded).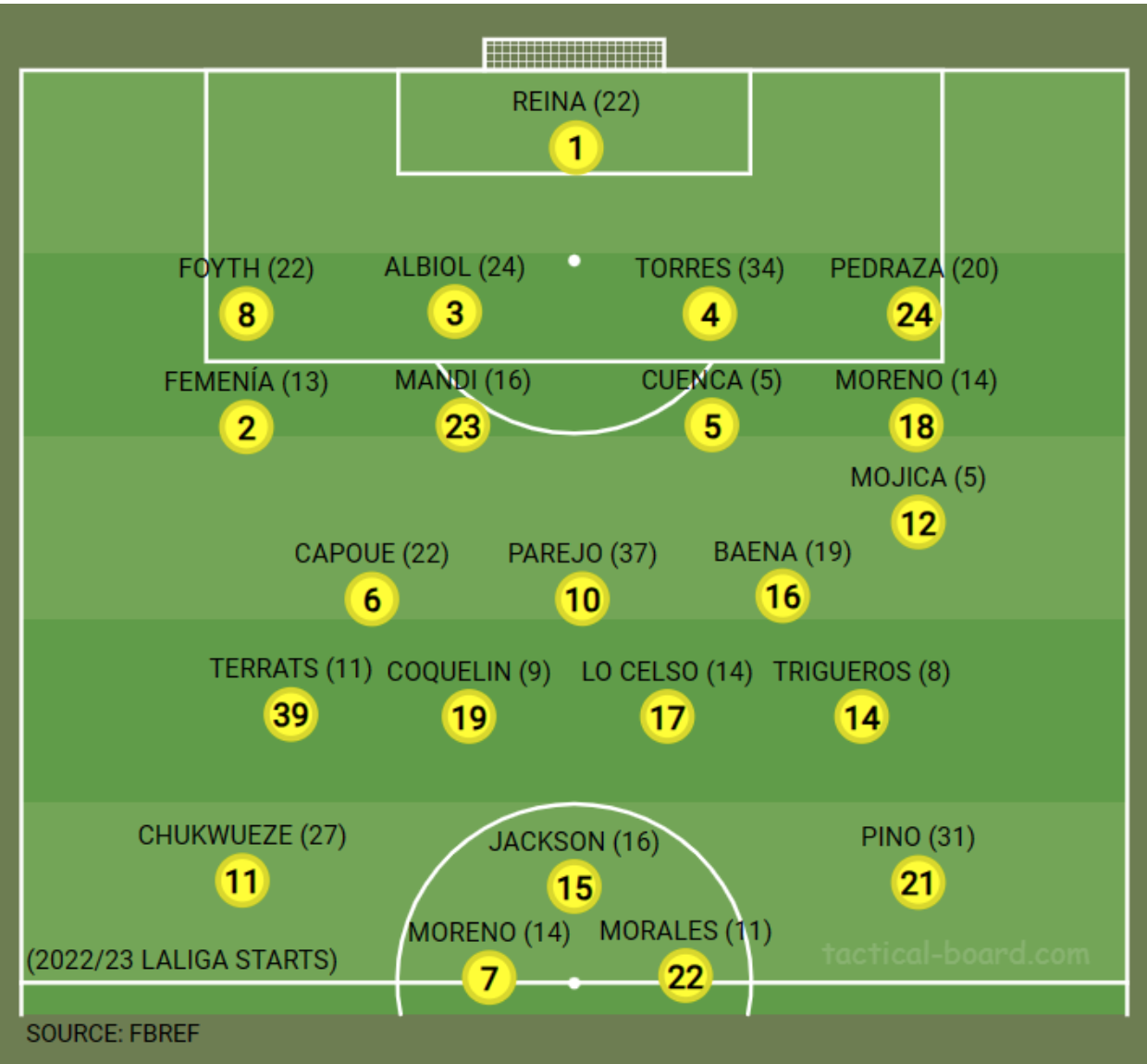 Figure 2. Overview of Villarreal's squad and their number of 2022/23 LaLiga starts
As the graphic suggests, if forced to label Villarreal's formation under Setién, on paper, it would be 4-3-3, but this shape very much varies depending on the phase of play. In and out of possession, Villarreal's shape adjusts through the thirds of the pitch, and this will be covered throughout this piece. Part 1 of this article will cover Villarreal in possession. 
In Possession
Villarreal want control of the ball. Or as Setién puts it: "We always try to be at the forefront with the ball." They ranked third in LaLiga this past season for highest possession average (58.2% according to Wyscout), and post World Cup, this average jumps to 60.2%. The Yellow Submarine aim to gain initial control of the ball in their build-up play.
Setién is clearly a proponent of the rewards of playing out from the back outweighing the risks. Despite the occasional, some may say inevitable, concession of possession in their own third leading either directly or indirectly to the opponent scoring – for example games versus FC Barcelona (12/02), Real Betis (12/03) and Rayo Vallecano (28/05) – there is a commitment from the team to persist with this approach. 
Whether for a goal kick or in deep possession, the Villarreal base structure remains consistent. They either use a 4-1 or 4-2 base with their goalkeeper, Pepe Reina, becoming an additional outfield player to a) help try and overload the opposition's first line of defense and/or b) provoke the opposition into pressing. See Figures 3a, 3b, 3c and 3d below for visual examples in practice.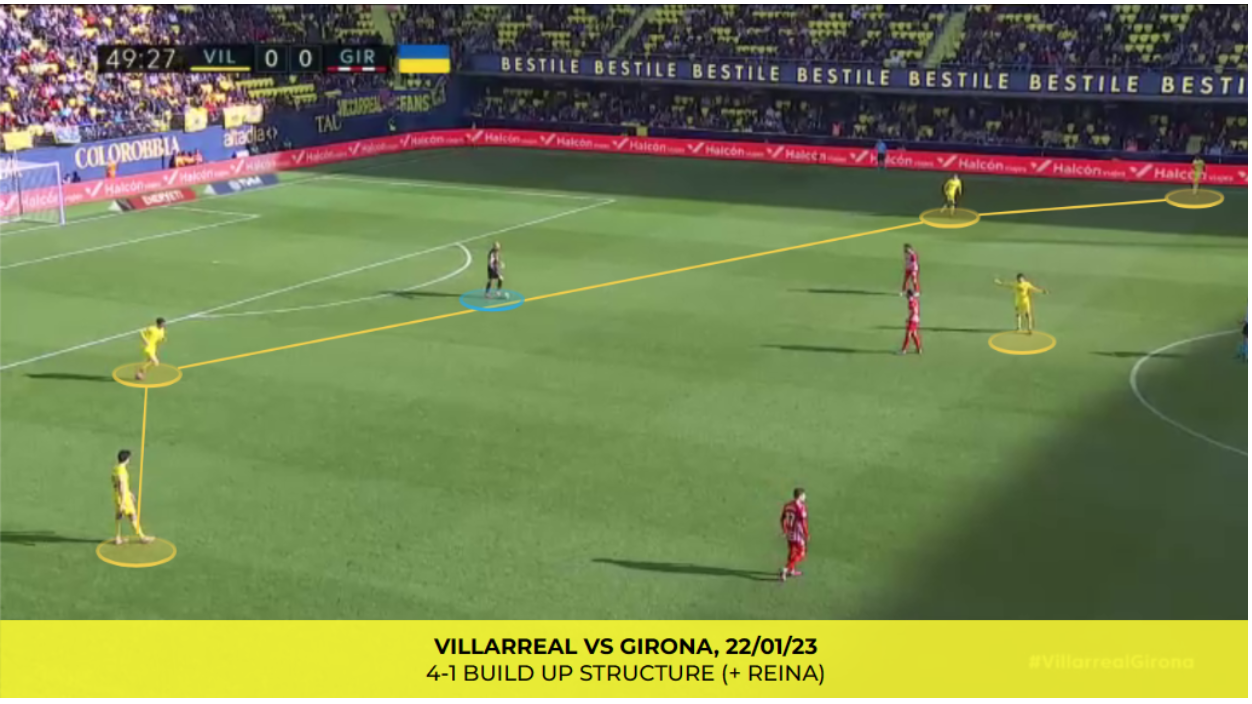 Figure 3a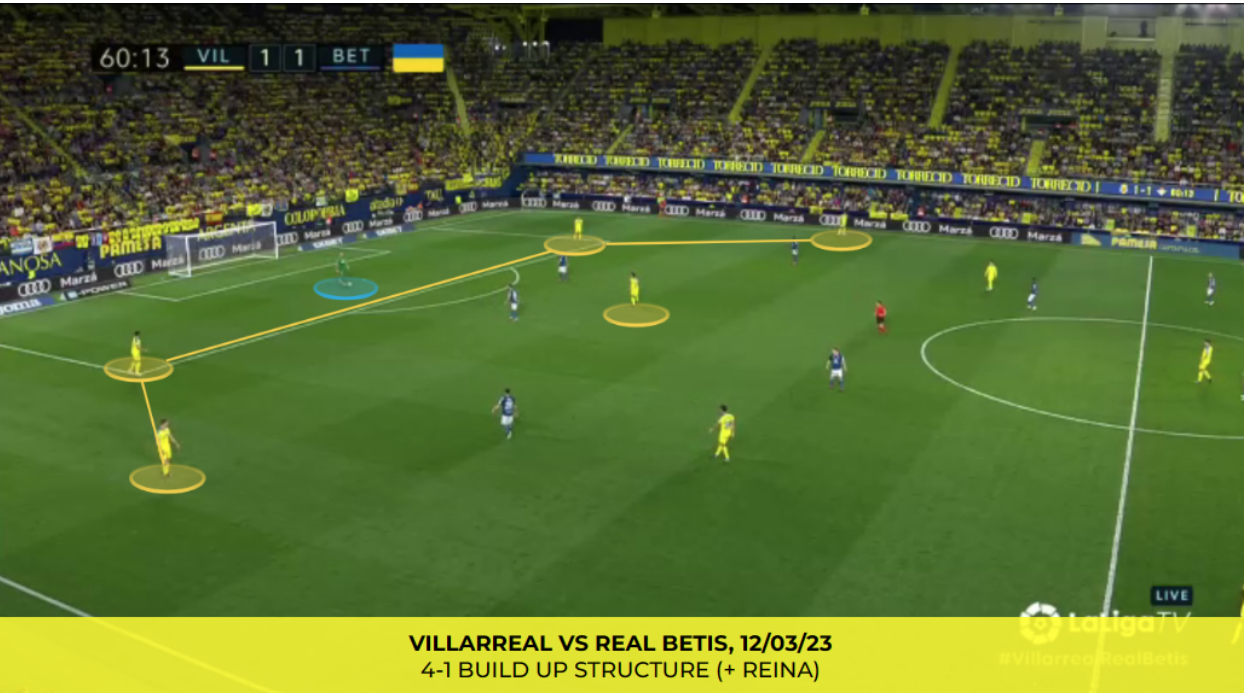 Figure 3b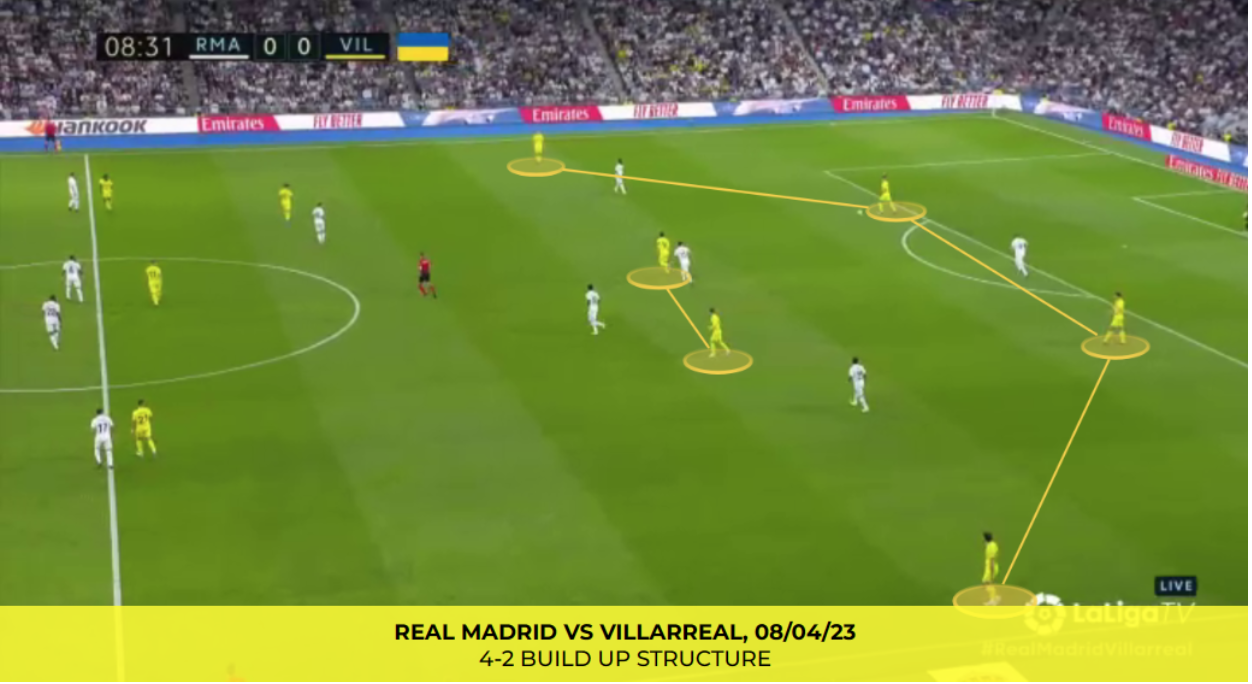 Figure 3c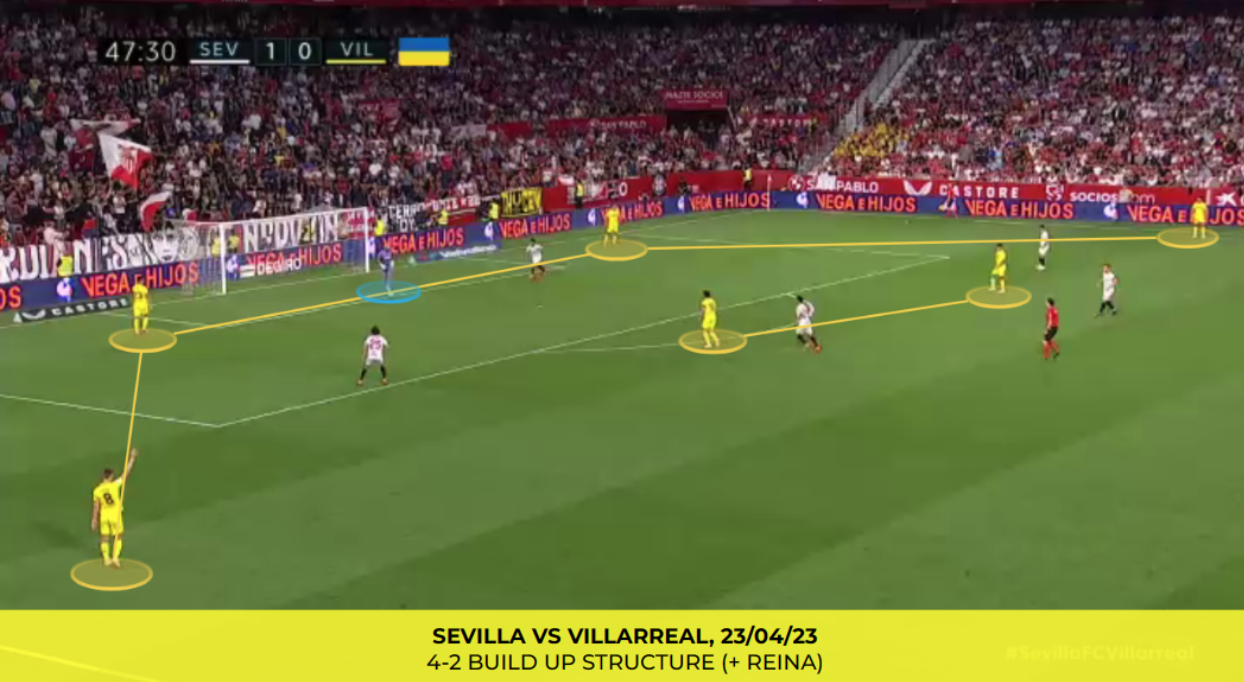 Figure 3d
As some of the visuals showcase, Reina often has the ball at his feet in the build-up phase, positioned centrally either inside his area or just outside of it, and will try to provoke the opposition front-line into pressing, thus aiming to free up a teammate in their base structure.
On occasions when the opposition sit off in more of a mid-block, allowing Villarreal uncontested possession in their own third, Reina can also take up a higher position and become a situational third or replacement central defender. When in the latter case, the central defender he replaces (most typically Pau Torres) will push out into the fullback slot and that fullback will advance higher to provide numerical superiority in the midfield or forward lines.
Reina's involvement in the build-up is demonstrated by the fact that amongst goalkeepers he ranked second in LaLiga this season for passes attempted per 90 (38.9) and joint third for touches in the defensive third (40.5) (source FBRef). Ahead of Reina, the back four, regardless of personnel, predominantly position themselves as follows; the two central defenders split across the width of the box, then on a higher horizontal line their fullbacks orientate themselves nearer the touchline to provide a wide passing outlet. The whole back four unit aims to maximise the width of the pitch to stretch the opposition pressing / marking scheme, thus creating gaps they can look to exploit centrally.
Completing the ever-presents of the Villarreal build-up base structure is Dani Parejo, who either plays as a single pivot or in a double pivot. When part of a pair, one of the midfield 8s drops down a line to help offer the team an additional player in the build-up phase; this tends to occur when facing an opponent who uses a high press.
Samuel Chukwueze: The Long-Awaited Arrival of Nigeria's Latest Attacking Sensation
Ahead of this base structure, the two midfield 8s are positioned in the half-spaces and aim for positional superiority by positioning themselves between and/or behind the opposition midfield line. The two 8s are often staggered (not on the same horizontal line) which lends itself to one of them dropping onto the same line as Parejo, whilst the other stays higher. The main roles of the two midfield 8s in the build-up phase are to offer the base structure both progressive and specific outlet passing options.
If the Villarreal base successfully plays out and through the opposition press / block then a midfield 8s advanced positioning gives the opposition midfield line an issue, do they hold position and allow the Villarreal player to progress the ball via a carry or do they go and engage and leave that midfield 8 in space in behind for their already occupied defensive line to deal with? But the Villarreal midfield 8s also appear to have specific automatisms to help the base structure play out in specific scenarios. The two most common automatisms are:
1) If a Villarreal player in the base structure has no available passing option then a midfield 8 will drop deeper in the half-space to offer an additional central / infield pass and then once received, typically they will look for a relay pass to a free teammate e.g. back to Reina or the far-side central defender.
2) If the Villarreal fullback is blocked from passing infield, then the midfield 8 will make an in-to-out run to the near-side wing to offer a vertical passing option down the line (see Figure 4 below). Due to the positioning of the Villarreal forward line (explained in the next paragraph), there is often space on the wing for the midfield 8 to receive as the opposition fullback can be temporarily pinned infield by the positioning of the Villarreal right and left-sided forwards.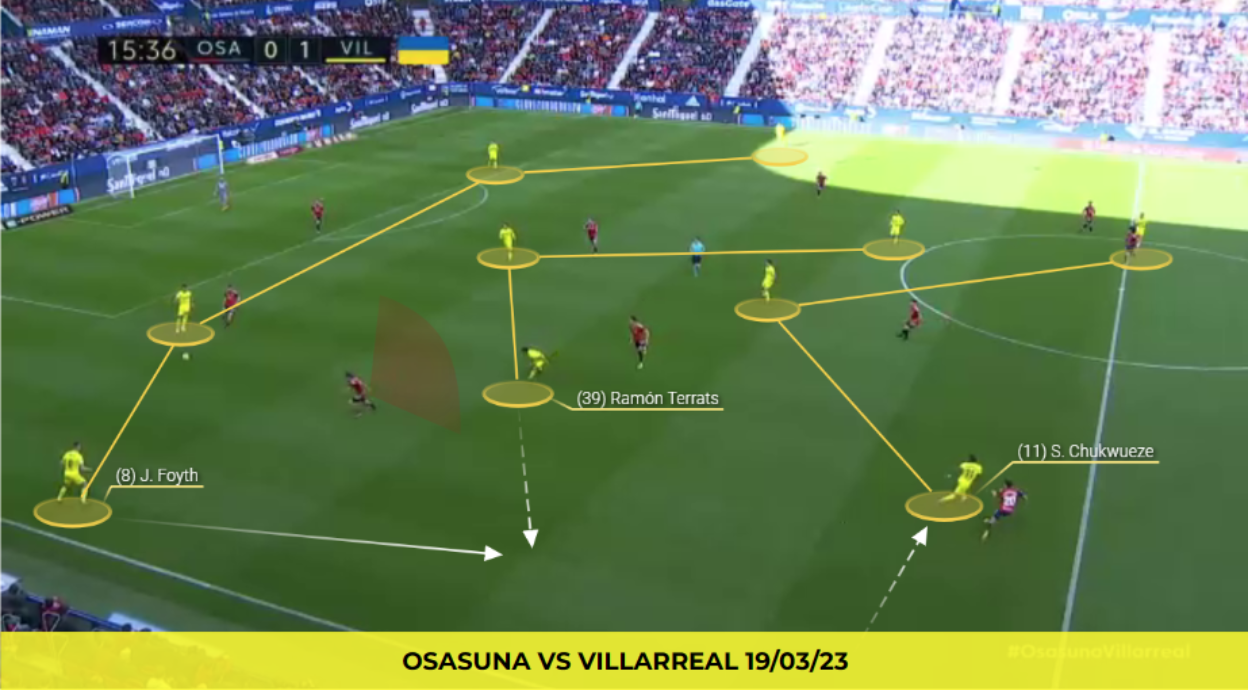 Figure 4. Terrats (midfield 8) makes an in-to-out run towards the right wing, into the space Chukwueze (right forward) vacates, to offer Foyth (fullback) a passing angle down the line, as an inside pass was blocked.
At the top end of the Submarine's build-up structure is a forward line of three, consisting of the central striker (think Nicolas Jackson or Gerard Moreno), with inevitably Yéremi Pino to his left and Samuel Chukwueze to his right. And able to cover all positions in the forward line is José Luis Morales. This forward line has various roles in the build-up phase, including:
1) Pinning the opposition defensive line vertically e.g. around the halfway line, so the opponent would often be forced to keep four players back to cover and thus, give Villarreal numerical superiority in their own third to play out.
2) Pinning the opposition defensive line horizontally e.g. narrow and in central areas, so it creates space on the wings for the Villarreal midfield 8s to make movements and receive passes into, and it also allows the three forwards to play in closer proximity to each other and help combine and/or retain possession following any passes up to them.
Pino tends to invert more frequently on the left-hand side which allows both the midfield 8 and/or the left fullback to exploit this vacated space. Whereas on the right-hand side, when Chukwueze does hold his width on the right wing, this allows the near-side midfield 8 to make an underlapping depth run.
3) Offering Reina a longer aerial passing option if he has no short pass available, either into the forward line to hold up or over the top of the opposition defensive line for the forwards to chase. However, sometimes, if the opposition over-commit bodies to their high press / block, and therefore leave three-versus-three at the back, then Villarreal can execute a 'decoy play out' set-up and immediately go long to try and exploit this potential opportunity in their forward line.
Figure 5 below showcases an example in practice of the full Villarreal team in their build-up phase. This includes Reina on the ball trying to provoke the opposition, a back four maximising width, Parejo as a single pivot, two staggered midfield 8s, and then a narrow forward line of three pinning the opposition's defensive line.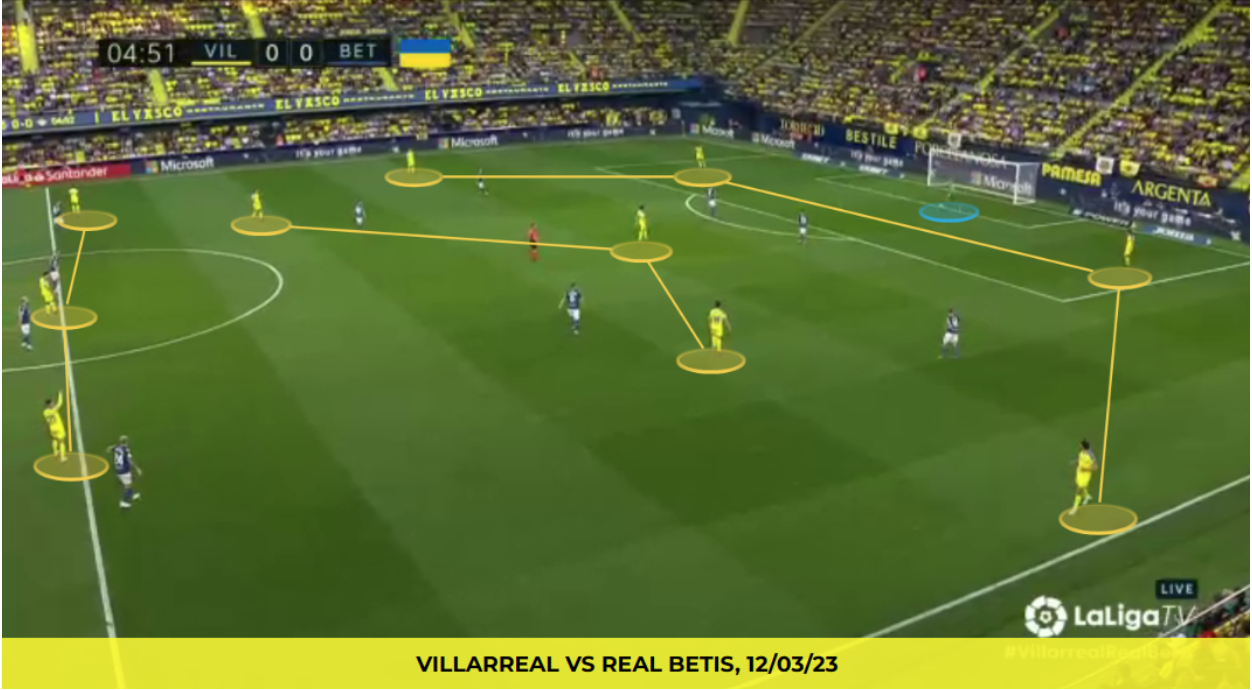 Figure 5. Full Villarreal team structure in their build-up phase
Now, having covered how Villarreal structure themselves in their build-up phase, including some specific player / unit roles and responsibilities, let's look at some examples in practice of one of the Submarines' most typical progression routes into the middle third. Watching Villarreal across the aforementioned set of observed matches, it's clear that the main objective of their build-up play is not necessarily to draw up the opposition and beat their press to initiate fast, direct attacks against a disjointed structure. See Figure 6 below for a 2022/23 LaLiga team style comparison showcasing Villarreal in the 'Slow & Intricate' category.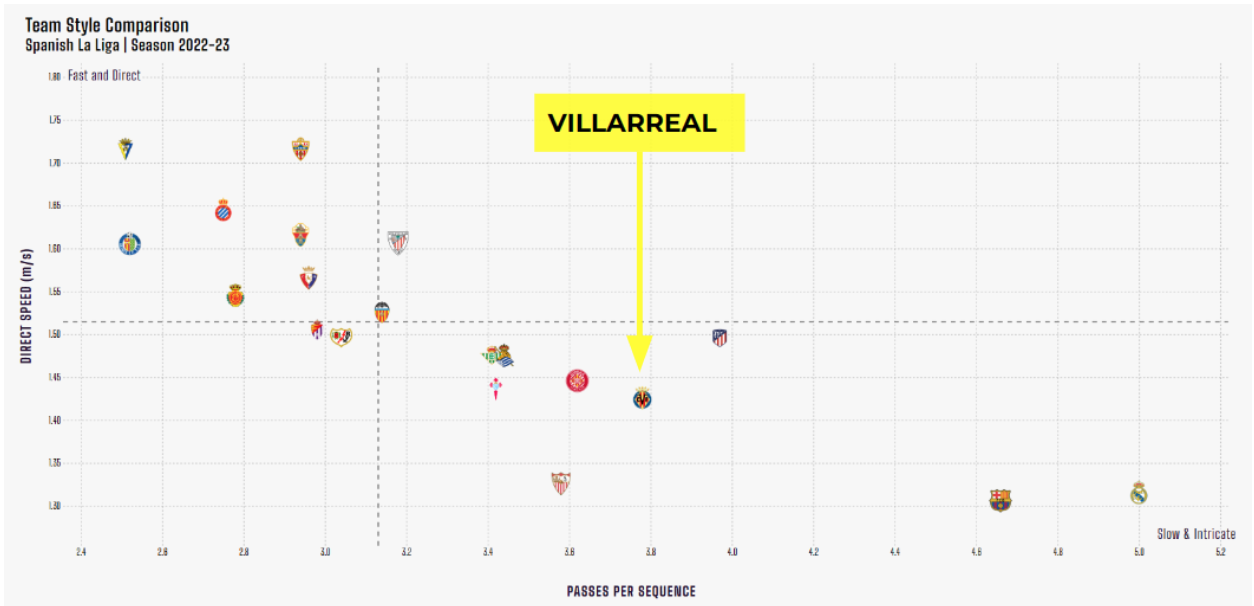 Figure 6. 2022/23 LaLiga Team Style Comparison (source: Opta Analyst)
Whilst Villarreal can execute fast, direct attacks when the right opportunity presents itself, and have the players on the pitch who fit this style of play (Chukwueze, Jackson and Pino et al), what their primary aim appears to be is to manipulate the opposition high block or press and create space for a central defender (ideally Torres) to progress the team into the middle third of the pitch as a unit and then from there execute their in possession structures and patterns of play in this phase (more on this later in the piece).
Parejo's role in this particular (and in general) build-up play is key, whether playing as a single or in a double pivot. Not only does Parejo seemingly help orchestrate Villarreal's play by gesticulating teammates into movements and decisions on the ball, but due to his technical ability, the opposition usually have a plan for him, either trying to block passes into him or having him closely marked / closed down.
Therefore, what the Villarreal number 10 typically does is make movements towards either 1) the player in possession to execute third-man combinations (e.g. receive the ball with his back to play from the goalkeeper or right-sided central defender whilst being closely marked and lay off a first-time wall pass to the free left-sided central defender – Torres) or 2) making a decoy movement towards the ball-side to pull an opponent(s) away from one side of the pitch, thus leaving a teammate free, in space, to receive possession on the ball-far side following a switch pass.
Freeing one of the central defenders so they have space to progress the ball into the middle third via a carry is a recurring aspect of Villarreal's build-up play. Whilst this can be either central defender, their preference is to free Torres and utilise his progressive runs and passing skill set – which he ranked top at in both, across central defenders in LaLiga this past season (see Figure 7).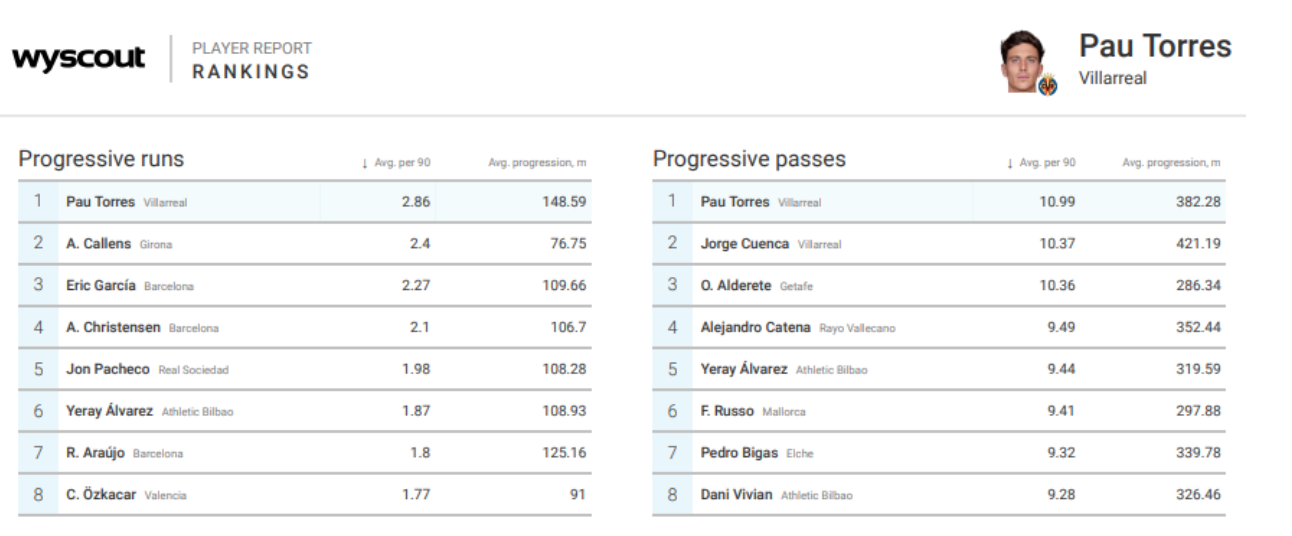 Figure 7. Player rankings for central defenders in LaLiga 2022/23 (source: Wyscout)
Villarreal aid Torres' skill set, and this tactic, by instructing their left fullbacks (Alfonso Pedraza, Alberto Moreno and Johan Mojica, who all have attacking characteristics) to advance higher on the left wing and into the vacated space that Pino helps create by invariably inverting infield. 
This positional jump – triggered when Villarreal either have possession high in their own third or manipulated the opposition into pressing / blocking the opposite side – helps draw the opposition's right-side deeper, thus creating space and opportunities for Torres to progress into. Figures 8a and 8b, and 9a, 9b and 9c, below help showcase examples of this tactic in practice, across a couple of games.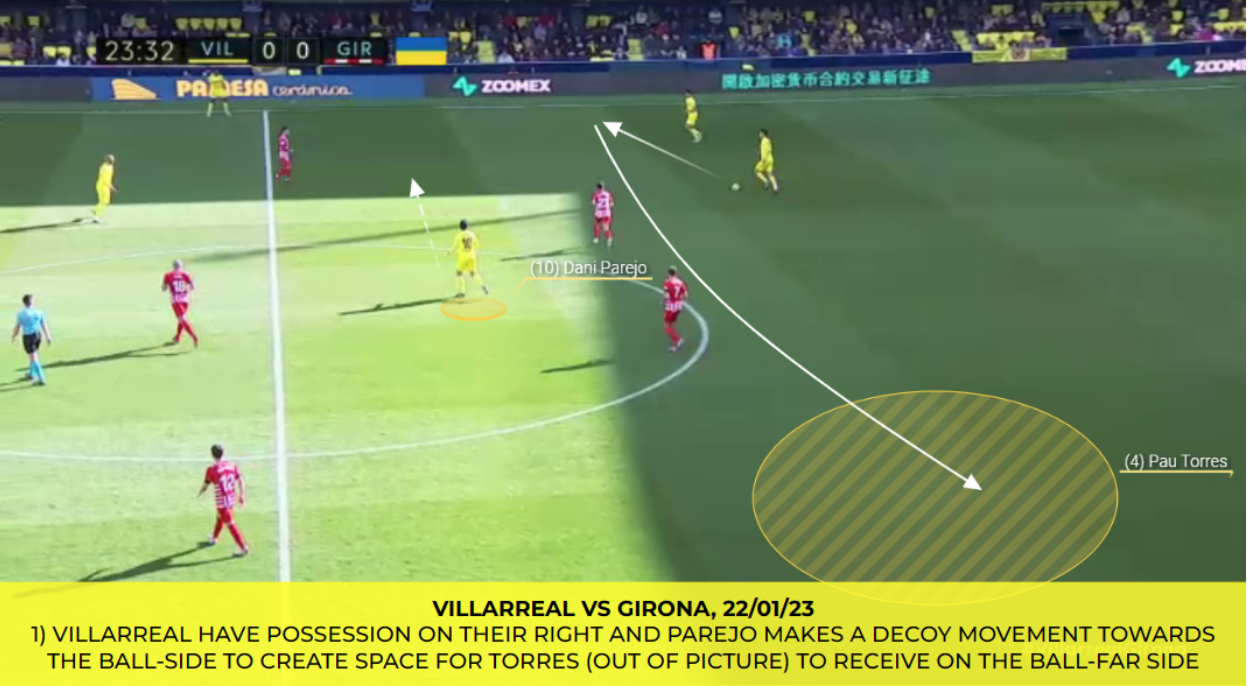 Figure 8a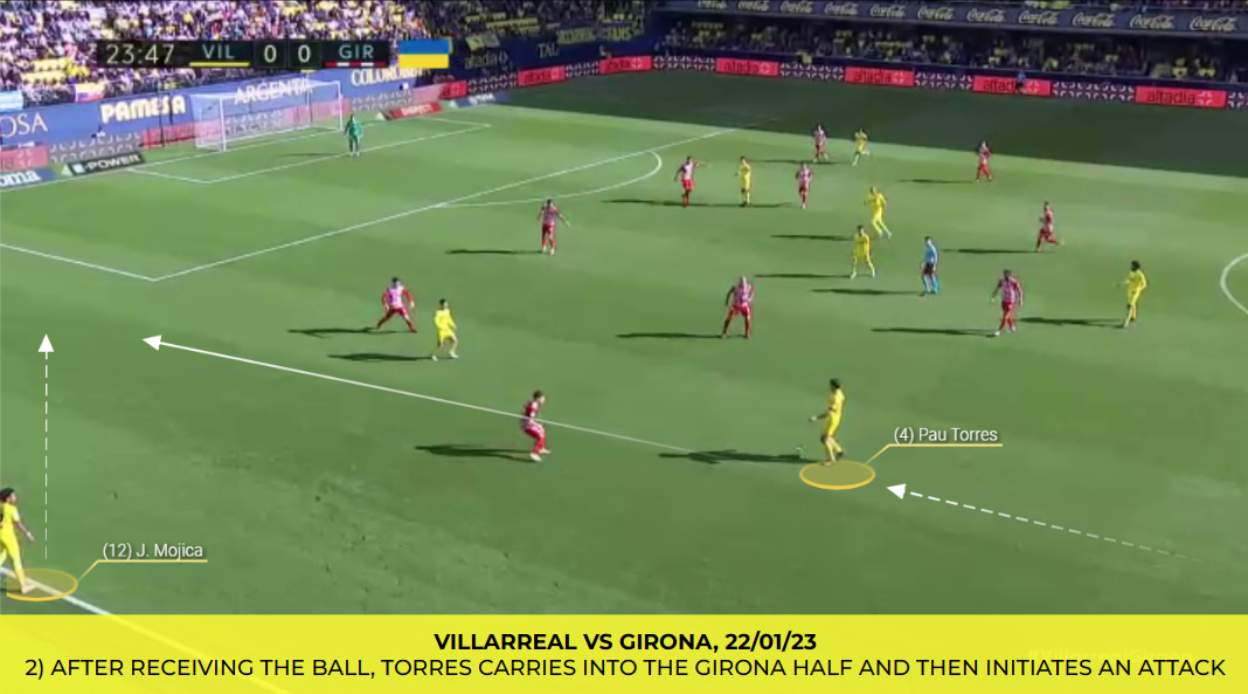 Figure 8b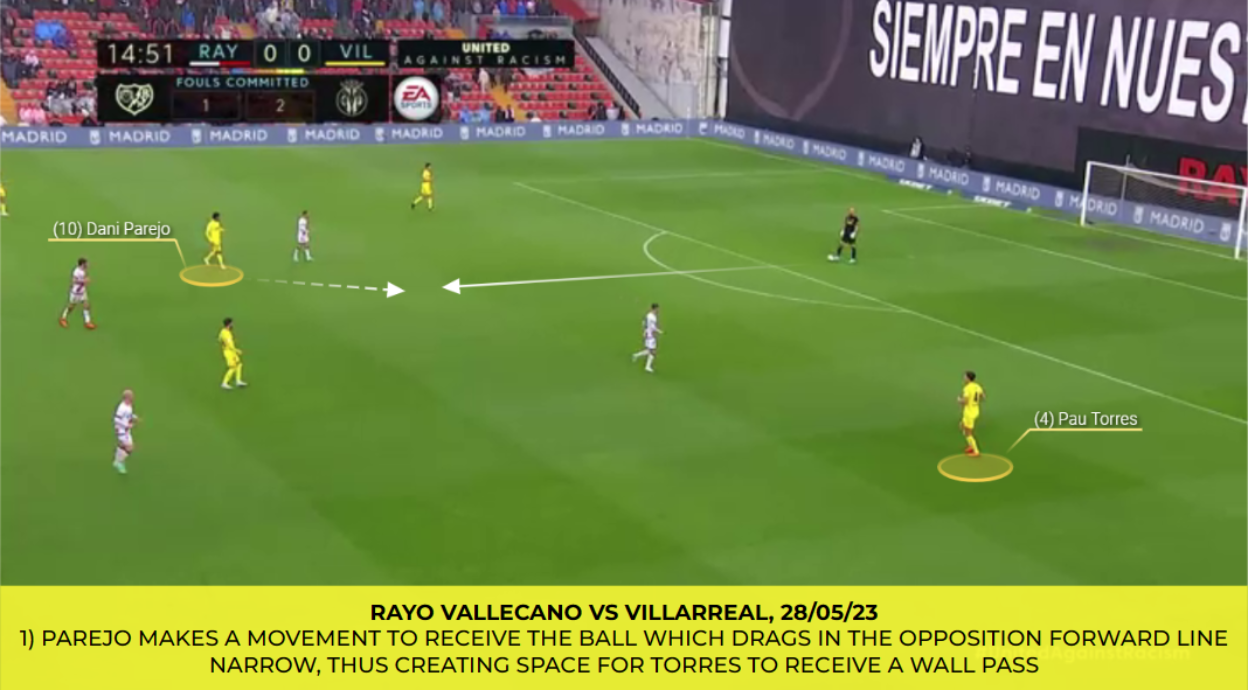 Figure 9a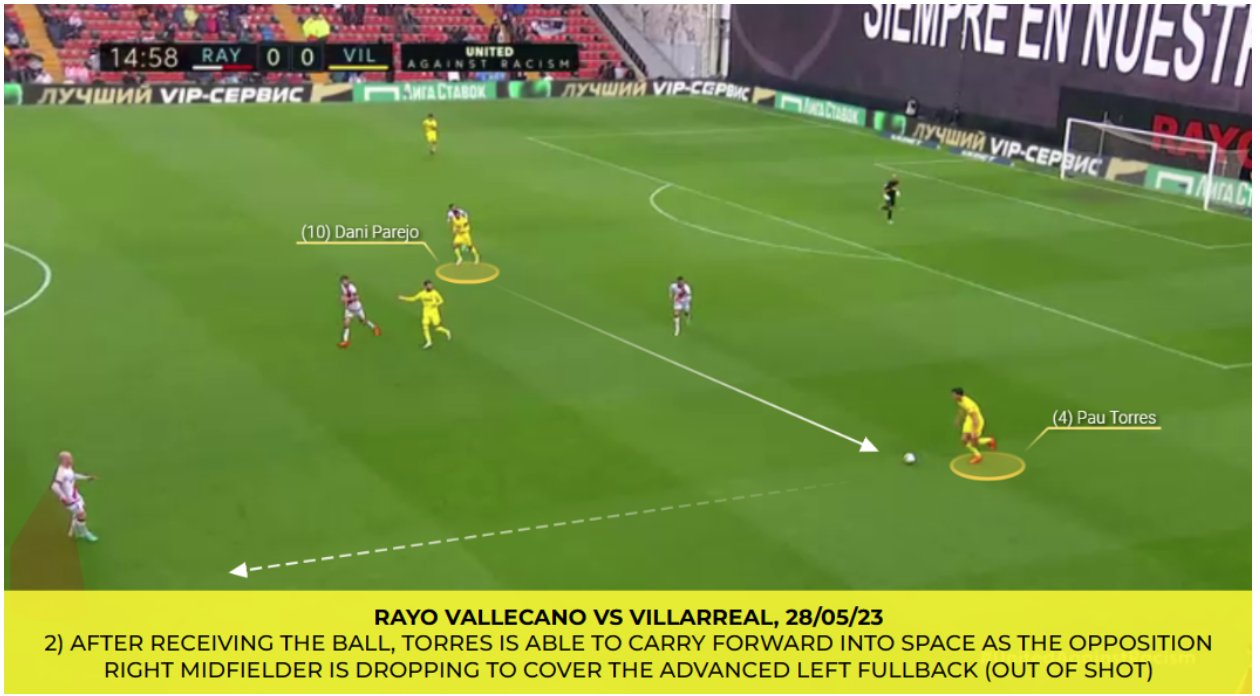 Figure 9b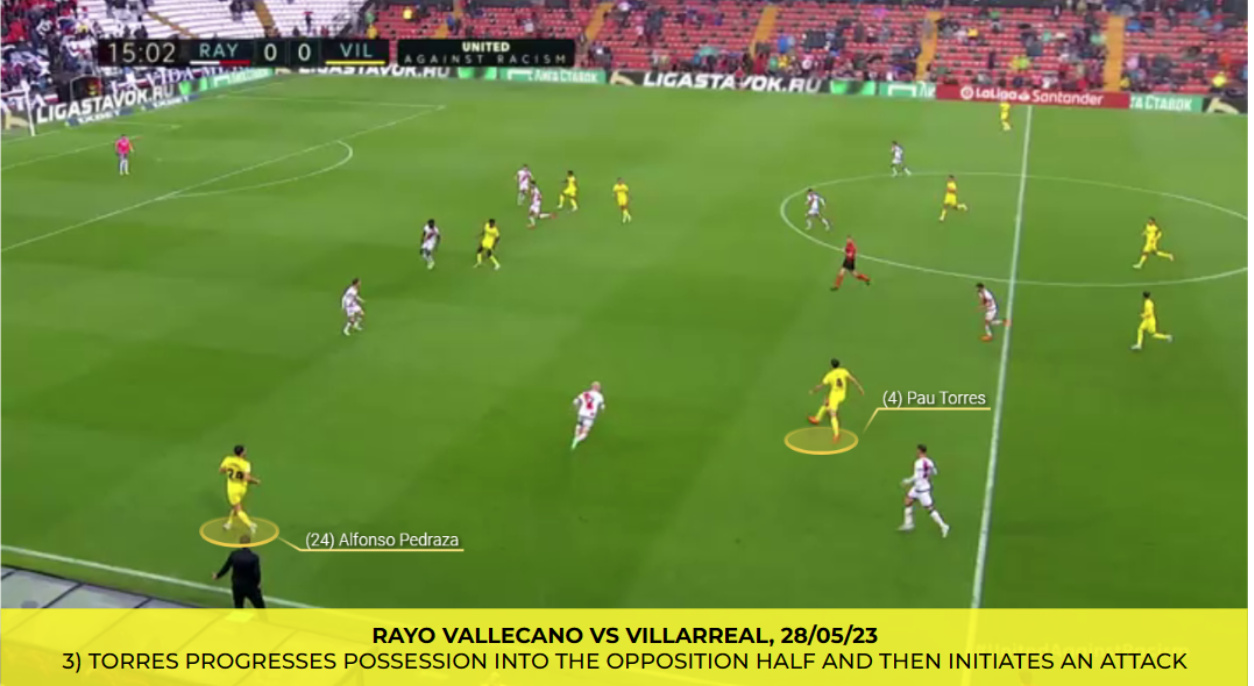 Figure 9c
Like Villarreal and Torres, we're now into the middle third possession phase. And once in this third of the pitch, Torres is partial to a diagonal progressive pass into a teammate's feet in either central areas or the right half-space – see Figure 10 below. The left-sided central defender ranked highest in LaLiga this season for total progressive passes (407) and fourth for the same metric per 90 (10.99), across all players not just defenders.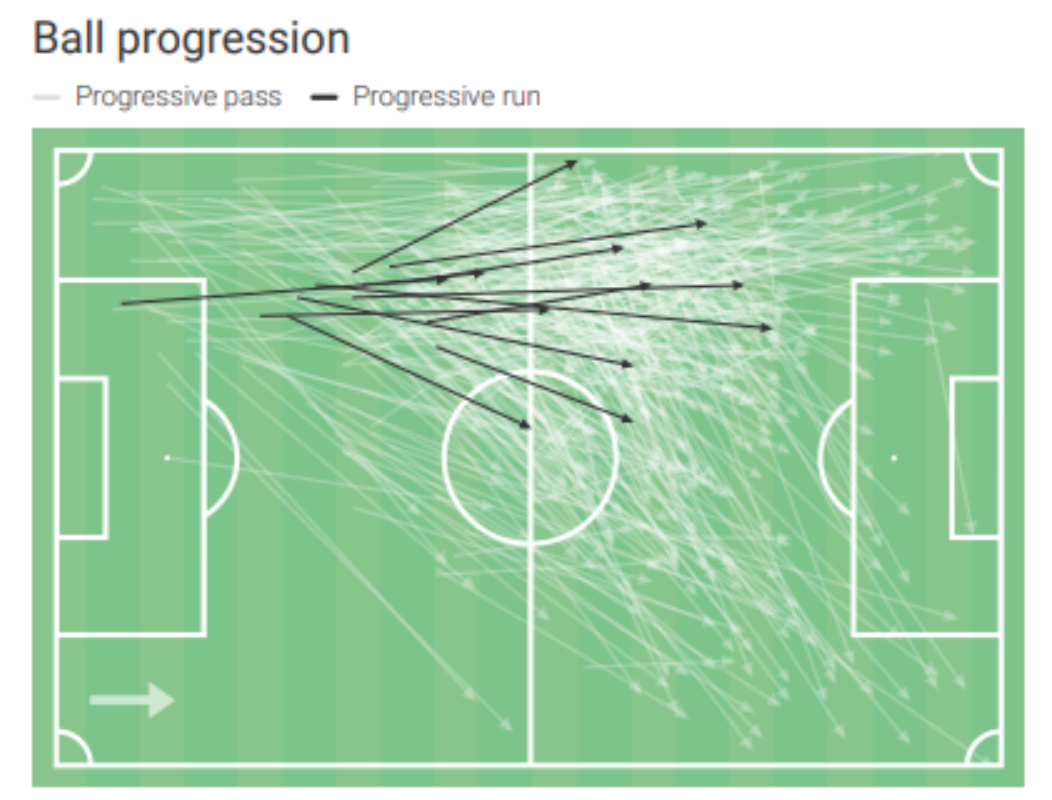 Figure 10. Pau Torres 2022/23 LaLiga progressive passes and runs (source: Wyscout)
As Torres carries the ball into the middle third on the left-hand side, the opposition's defensive shape is often drawn over to the ball-side in an attempt to block off further progression on that side. As a result, Torres uses this to his advantage and, in the words of Paul McGuinness, "goes against the flow" of the opposition by making a diagonal pass to the ball far-side which they are moving away from. See Figures 11a and 11b for an example in practice.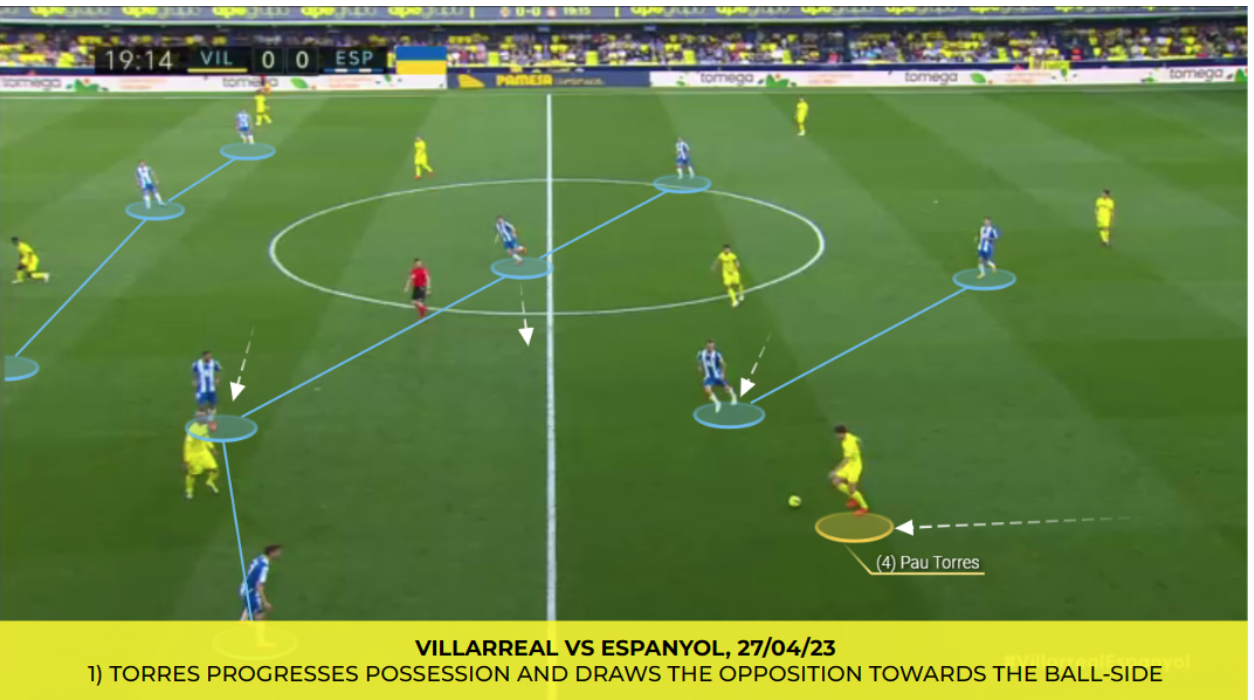 Figure 11a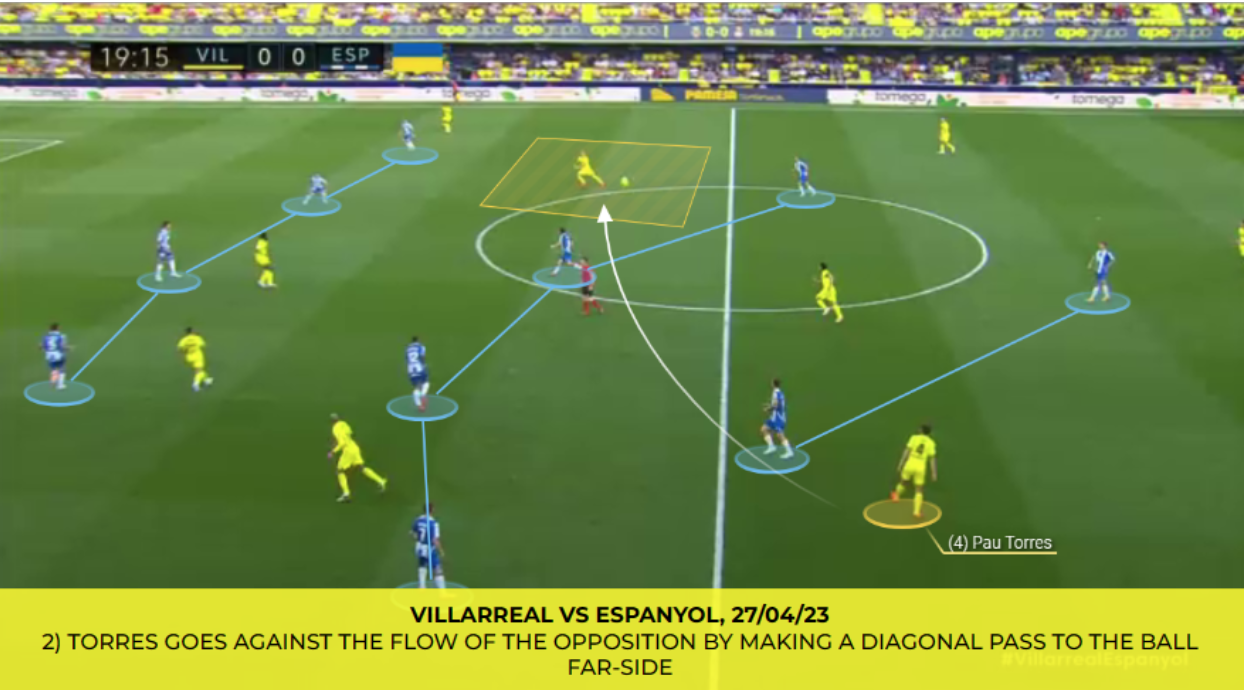 Figure 11b
But before covering a bit more of how Villarreal play in the middle third, let's briefly touch upon their set-up. In this phase of play, Villarreal transition their shape. As mentioned, the left fullback advances higher on the left wing to provide the team width, whilst the right fullback (think Juan Foyth) tends to stay deeper initially and play on a closer horizontal line to the two central defenders, providing the team with a base of three. Foyth's positioning has both offensive and defensive benefits, in that it offers additional coverage behind the ball for recycle passes and helps add further protection in defensive transitions. 
Ahead of this three-man base, Parejo provides the playmaking role. According to Wyscout, the Spanish midfielder made the highest number of passess in LaLiga in 2022/23 across all players with 2,237, and FBRef has the majority of his touches in the middle third of the pitch, demonstrating his level of involvement and pivotal role. 
Parejo, again, predominantly operates as a single pivot; but is regularly joined by the two midfield 8s dropping from the attacking half-spaces to connect on the ball. Whilst the make-up of the two midfield 8s varied amongst the set of observed matches, all options possess the technical capabilities of finding pockets of space between the lines, receiving on the half turn and in tight spaces, and executing short, one-touch passing combinations in central areas to work through the opposition.
The most commonly played midfield 8s were Étienne Capoue, as the right-sided 8, and Alex Baena, as the left-sided 8. And whilst these two players are both technically proficient, they also each have different characteristics which provide Villarreal with variation in their play. 
Capoue offers more off-the-ball movement, both in the respect of using his tactical intelligence to manipulate the opposition to create space for himself or teammates and also having the energy, and willingness, to work in tandem with (react to, is probably more accurate) Chukwueze's movements on the right-hand side, offering both overlapping and underlapping runs.
The right-footed Baena predominantly operates in the left-half-space, but is not adverse, and is equally adept, when drifting into more central or wider areas. He dovetails seamlessly, at times, with Pino, so even when both occupy similar areas, they each offer the team a different option. The young Spaniard has the ability, awareness and composure to help Villarreal navigate their way through opponents, in both open and congested spaces.
The most frequently used alternatives for Villarreal in midfield were Ramón Terrats and Giovani Lo Celso. The former, Terrats, profiles not too dissimilar to Capoue, in that he's comfortable on the ball in each of the thirds and he has the engine to get up-and-down between them. Whereas, the better known latter, Lo Celso, is more of an advanced, creative midfielder, who operates between the lines, both centrally and in the half-spaces.
Completing the attacking unit is the trio forwards. Pino, who is usually positioned up against and in between the opposition defensive line on the left-hand side of the pitch. Chukwueze, who predominantly operates wide right but has the license to come infield. And the central striker, whether Jackson or Moreno, is a focal point, whether leading the line or dropping off, to receive Villarreal's line breaking passes with his back to goal. 
As per the above descriptions, the Villarreal shape in the middle third can be best visualised as somewhere between a 3-1-4-2 and a 3-1-6. The six attackers ahead of the 3-1 base are often staggered and players can switch on which horizontal line they play, but in essence they look for positional and numerical superiorities. In this phase of play, and using this shape, Villarreal have a number of recurring tactical aspects to progress the ball into the final third.
As briefly highlighted, Parejo and the two midfield 8s play a key role in both retaining and progressing possession in the middle, with lots of combination play and linking with the forward line, in particular Pino and the central striker. The Yellows can use their technical ability in these central areas to draw the opposition inside and then once achieved, look to hit a player on the outside (e.g. the advanced left fullback on the left wing or Chukwueze on the right wing).
The Submarines also can tilt their middle third possession to their left-hand side, which at times has a natural (or intentional perhaps) overload with Torres, the advanced left fullback, Baena and Pino all occupying the left wing and/or left half-spaces. In addition to this, other players come roam over to increase the connectivity, and whilst this can create openings on that side, this ball-side overload can also help isolate an opponent on ball far-side versus Chukwueze to receive and attack.
With Chukwueze being an extremely left-footed right-sided forward, his dribbling naturally tends to take him inside, towards goal, as opposed to staying on the outside. The Nigerian attacker is often key in helping Villarreal progress from the middle into the final third. He ranked sixth in LaLiga in 2022/23 for dribbles per 90 (7.51) and fourth for progressive runs (4.87) which are classified on Wyscout as 'a continuous ball control by one player attempting to draw the team significantly closer to the opponent goal.'
And this description alone helps depict some of the value Chukwueze brings to the team. But his ball carrying ability also helps create chances for Villarreal. According to the Opta Analyst website, Chukwueze ranked joint fifth in LaLiga this past season for total chances created via carries (44). 
One other persistent feature of Villarreal's play that occurs in both the middle and final thirds is coordinated opposite movements of players and units. This tactic is most prevalent in their forward line, where the central striker (Jackson or Moreno) drops off to receive a line breaking pass with their back to goal whilst the two outside forwards (Pino and Chukwueze), or advanced midfield 8s, make opposite movements in behind or at least threaten to.
This pattern of play helps Villarreal progress the ball centrally up the pitch, where they can then look to link play in attacking areas and/or exploit any space in behind, or general disjointment of, the opposition defensive line. The timings of these movements are key in helping create space for the central striker to drop and receive between the lines. However, even with an opponent tight up behind them, both Jackson or Moreno are equipped at dealing with the dual technical and physical requirements to perform this action, albeit they have their own unique styles. Figures 12a and 12b and 13a and 13b below showcase examples of this play in practice.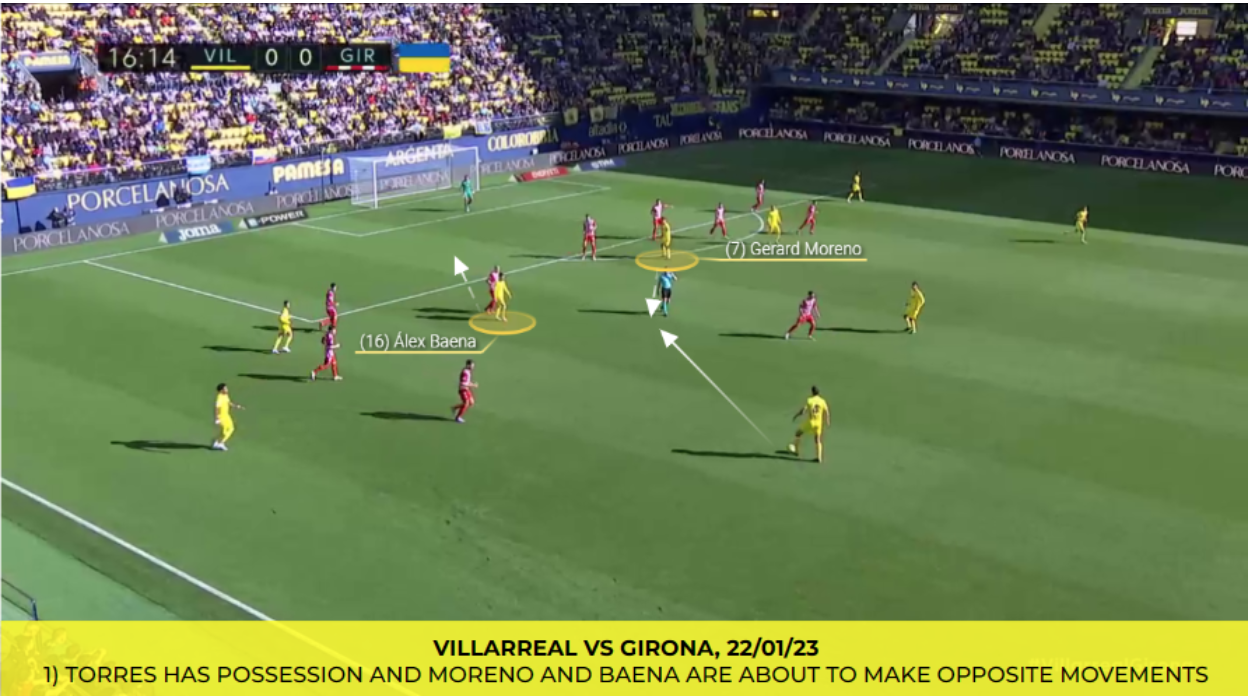 Figure 12a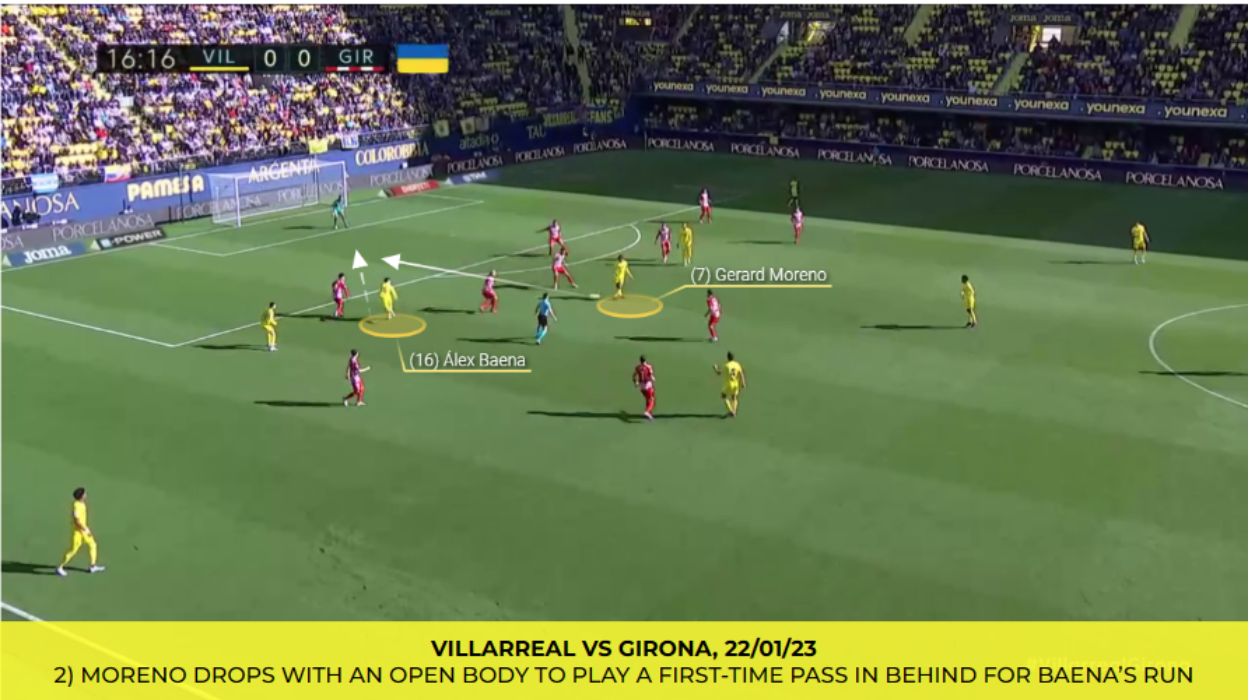 Figure 12b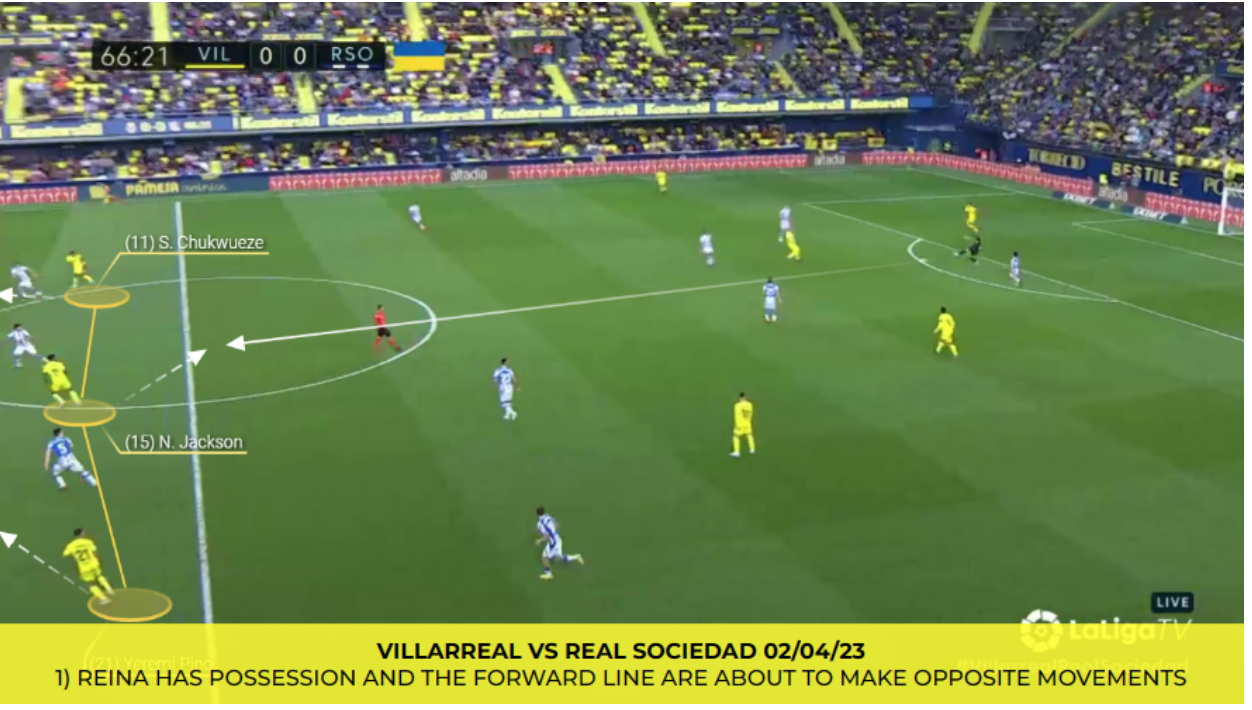 Figure 13a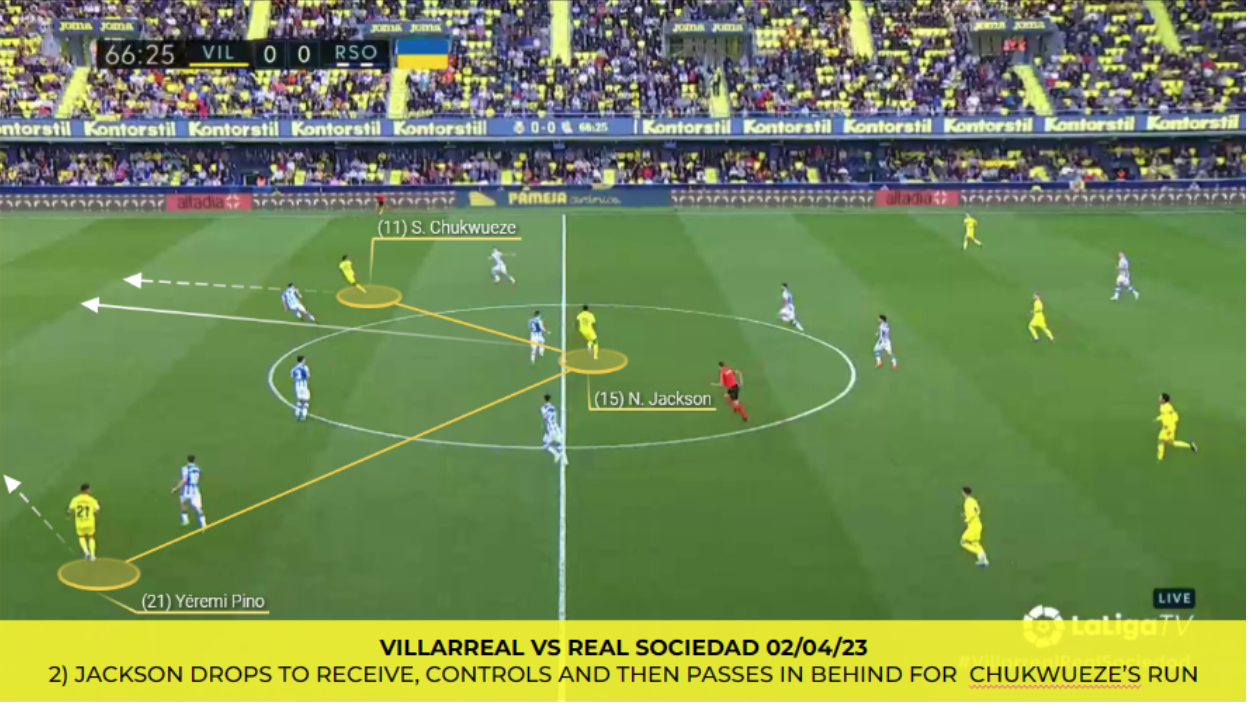 Figure 13b
Whilst Moreno may look more aesthetically pleasing performing this action; often dropping with an open body shape so he can immediately execute first-time passes on to teammates ahead of him, and having the awareness, a more deft touch and craftier ball manipulation to find angles and bypass opponents, Jackson can be equally as effective at performing this role.
The young Senegalese striker tends to have a square body shape when dropping to receive, meaning his likely next pass is a lay off backwards which helps the team retain possession. But whether intentional or a byproduct of his play, Jackson also has the additional threat of once he's dropped short, having the physical capabilities of darting into any spaces created in the opposition backline that he helped manufacture.
When running towards goal with the ball in open spaces, the mobile Jackson looks confident, with his physical stature allowing him to ride and overcome pressures from opponents. According to Opta, across the big five European leagues in 2022/23, Jackson ranked second for direct goal involvements after a carry (10 – seven goals, three assists) – see Figure 14.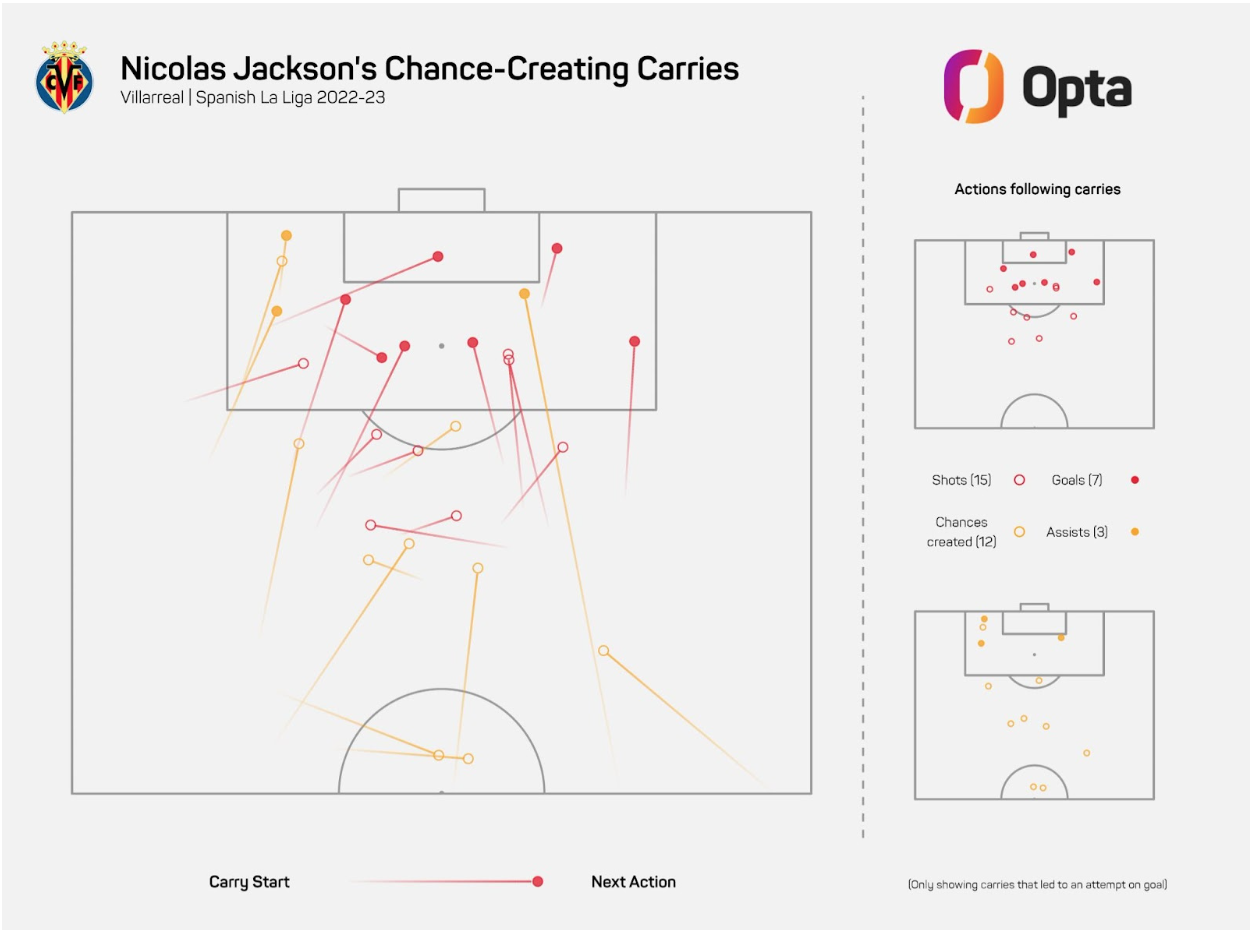 Figure 14. (source: OptaJoe Twitter)
One area of Jackson's game that does need developing, at least in the matches observed, but the stats also support this observation, is his aerial ability both in duels and headed shots. But the latter could also perhaps be a consequence of Villarreal's style of play. And this leads us nicely into the final section of this article, Villarreal in the final third. Shape-wise in this phase of play, not a lot alters from the middle third, except the outside defenders in the base of three (Foyth and Torres) can both push higher and play on a similar horizontal line to Parejo when the opposition drop into a low block.
These slight positional adjustments not only help Villarreal sustain possession high in the opposition half, but it also enables them to quickly counterpress following any turnovers in possession. Foyth ranked 24th in LaLiga, amongst all players, for counterpressing recoveries per 90 (3.65) in 2022/23.
Once in the final third, there are a few notable features of how Villarreal try to create chances. These include through balls and cutbacks, but not crosses. Villarreal ranked second lowest in LaLiga teams for crosses per 90 in 2022/23, with 11.05. And this statistic is certainly backed up by the eye test. When in possession on the wings, cutbacks and passes directed inside or just outside the box are the preference. Passes to the edge of the area allow Villarreal to execute their other main attacking preference; combining in central areas, in and around the opposition box, before looking for through balls in behind the opposition.
The Yellow Submarine ranked second in LaLiga this past season for both Through Passes (a pass played into the space behind the defensive line for a teammate to contest) – 8.61 per 90, and Smart Passes (a creative and penetrative pass that attempts to break the opposition's defensive lines to gain a significant advantage in attack) – 6.22 per 90. The main executors of these through balls and smart passes are Baena, Moreno and Lo Celso. See table below (Figure 15) for their 2022/23 LaLiga statistics and how they ranked in these metrics across all players in the league.

Figure 15. Alex Baena, Gerard Moreno and Giovani Lo Celso per 90 through passes and smart passes statistics in the 2022/23 LaLiga season (source: Wyscout)
Having provided the numbers to demonstrate this attacking tendency, now let's look at some examples in practice. See Figures 16a and 16b, and 17a and 17b below.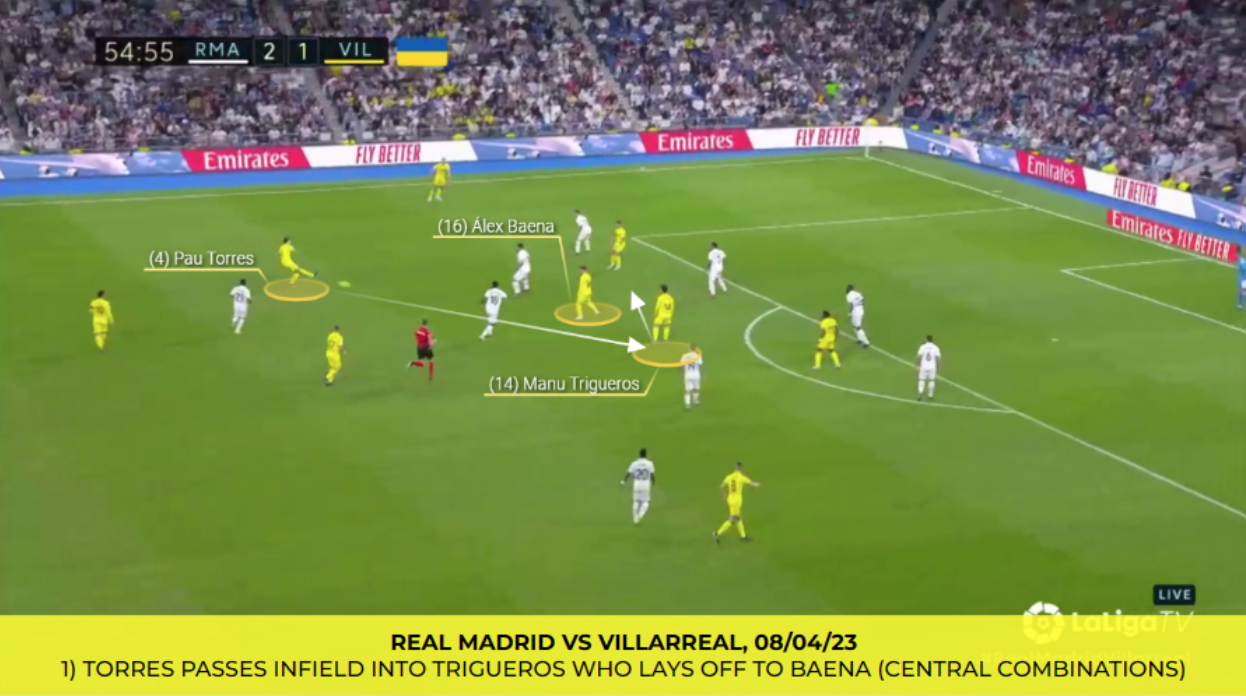 Figure 16a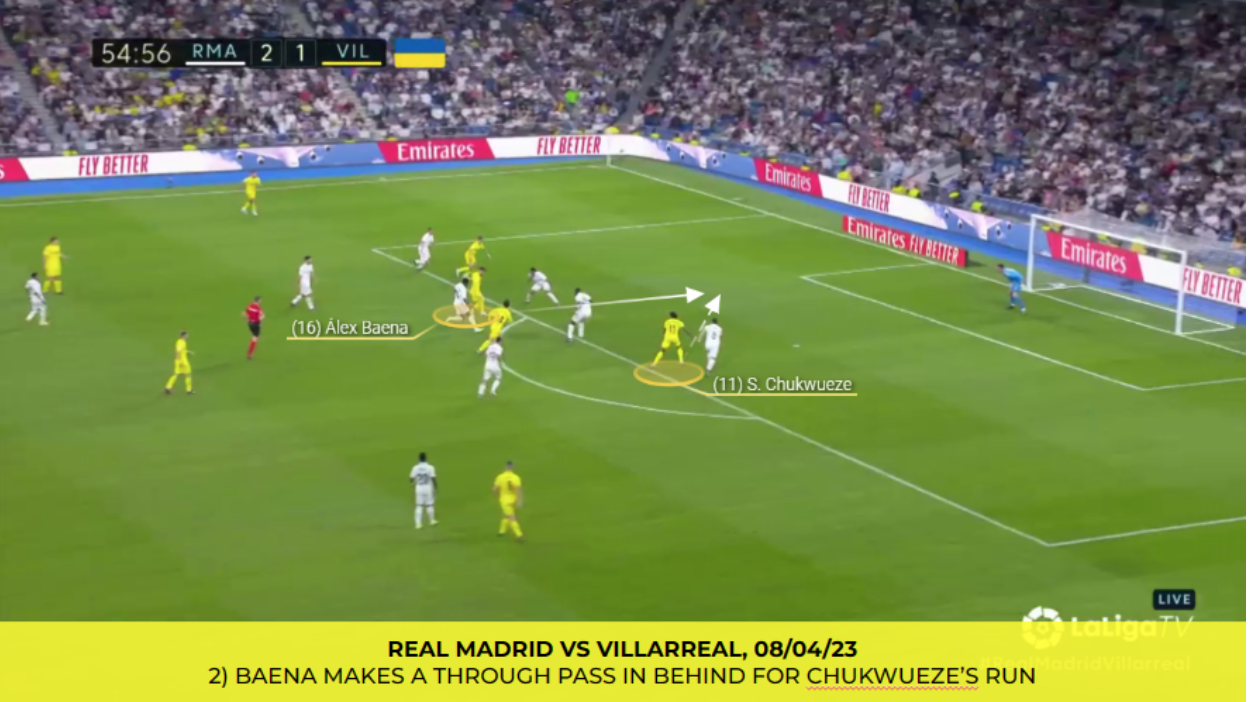 Figure 16b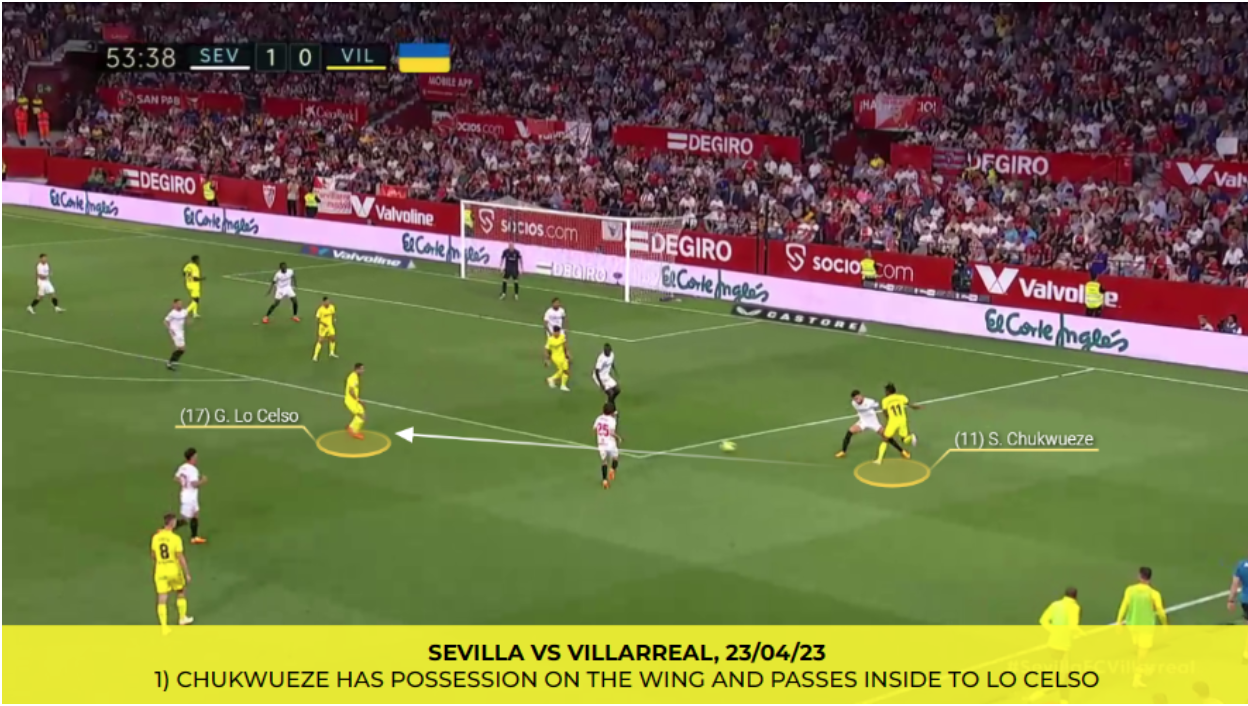 Figure 17a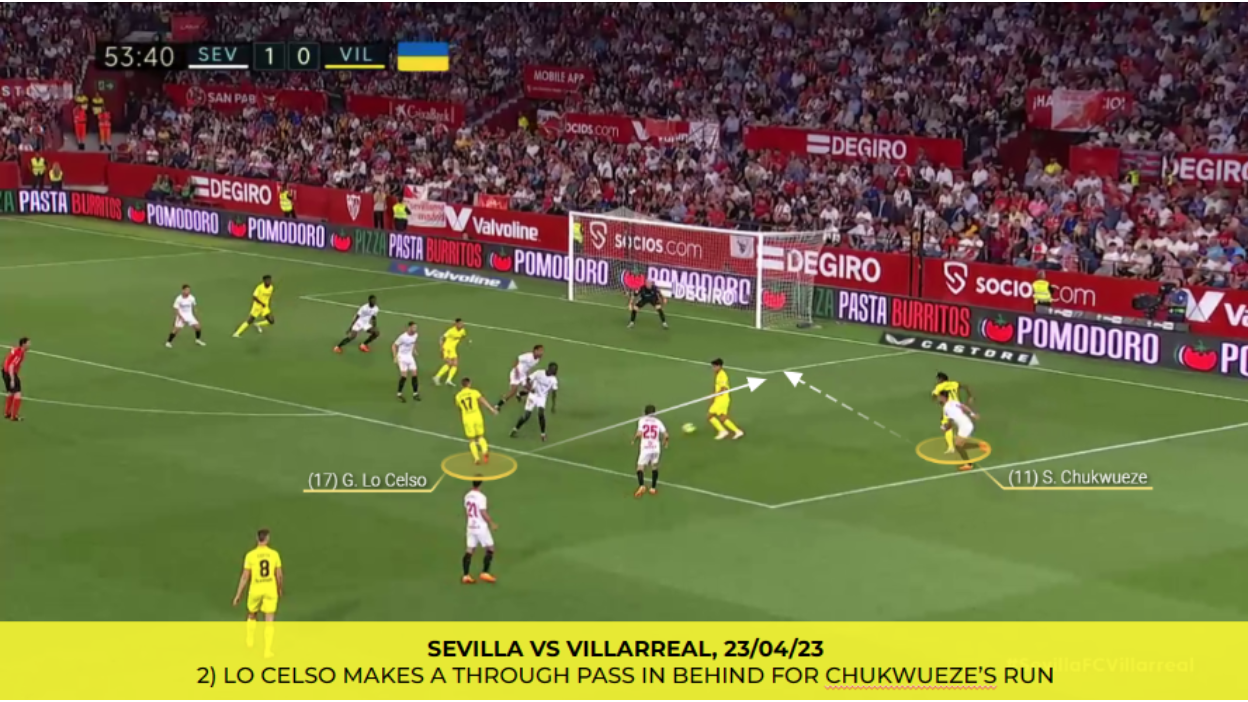 Figure 17b
To wrap up the final third section, see table below (Figure 18) to see who led Villarreal's actual attacking outputs across the 2022/23 LaLiga season and where these players ranked across the whole league.

Figure 18. Villarreal 2022/23 LaLIga attacking statistics (source: Wyscout)
Strengths and Weaknesses
In terms of perceived strengths and weaknesses of Villarreal in possession, their upside is that they possess lots of technical quality throughout the team which enables them to play through the thirds. They have a variety of player profiles, both technically and physically proficient, in their team and squad which allow them to retain and progress possession, and then attack in multi-dimensional ways.
Their downside – as with any team which accepts the risks of playing out from the back due to the potential rewards it offers – there will be losses of possession which lead to failed build ups, concession of high value shots and worst case scenario, direct goals conceded. And for Villarreal in the games observed for this article, this was certainly the case.
In addition to this, in the final third, Villarreal's reluctance to be direct at times, whether delaying crossing opportunities or not executing at all, preferring instead to make the extra pass inside, can often result in the opposition being given time to retreat in numbers and crowd out the spaces the Yellows want to play in. On these occasions, Villarreal's actions need to be highly intricate and precise which cannot always be the case, so therefore this aspect of their play can at times be a weakness.
Closing Thoughts
So that has covered Villarreal in possession, just as they like to play, through the thirds. Keep an eye out for Part 2 of this article which will focus Villarreal out of possession. Plus, briefly touch upon transitions and set-pieces.
By: @Tactics_Tweets
Featured Image: @GabFoligno / Getty Images
All match screenshots were from Wyscout.