Tactical Theory: The Art Of Collective Dismarking — Manchester City
On March 13, 2021, Manchester City traveled to Craven Cottage stadium to meet Fulham, beating them 0–3 thanks to the written names on the score sheet, John Stones, Gabriel Jesus and Sergio Agüero.
The locals had a plan to stop the Citizens as they formed in a 5-3-2 out of possession against City's 3-4-3, where Ademola Lookman and Ruben Loftus-Cheek were tasked to man-mark John Stones and Aymeric Laporte, the same for their 3 CMs that in a man-marking fashion had to defend Rodri and Bernardo Silva as well as the dropping CF in Agüero. Manchester City used some methods to dis-mark their teammates working as a group which was pivotal to their win.
Dynamic Positioning
The team in possession creates and finds spaces with the help of certain players' movements, as we see below, Rúben Dias would drive to a big space created by the positioning of his teammates, where the CMs stayed in a vertical corridor pinning the opposition CMs in the desired area resulting in a huge space for the Portuguese defender.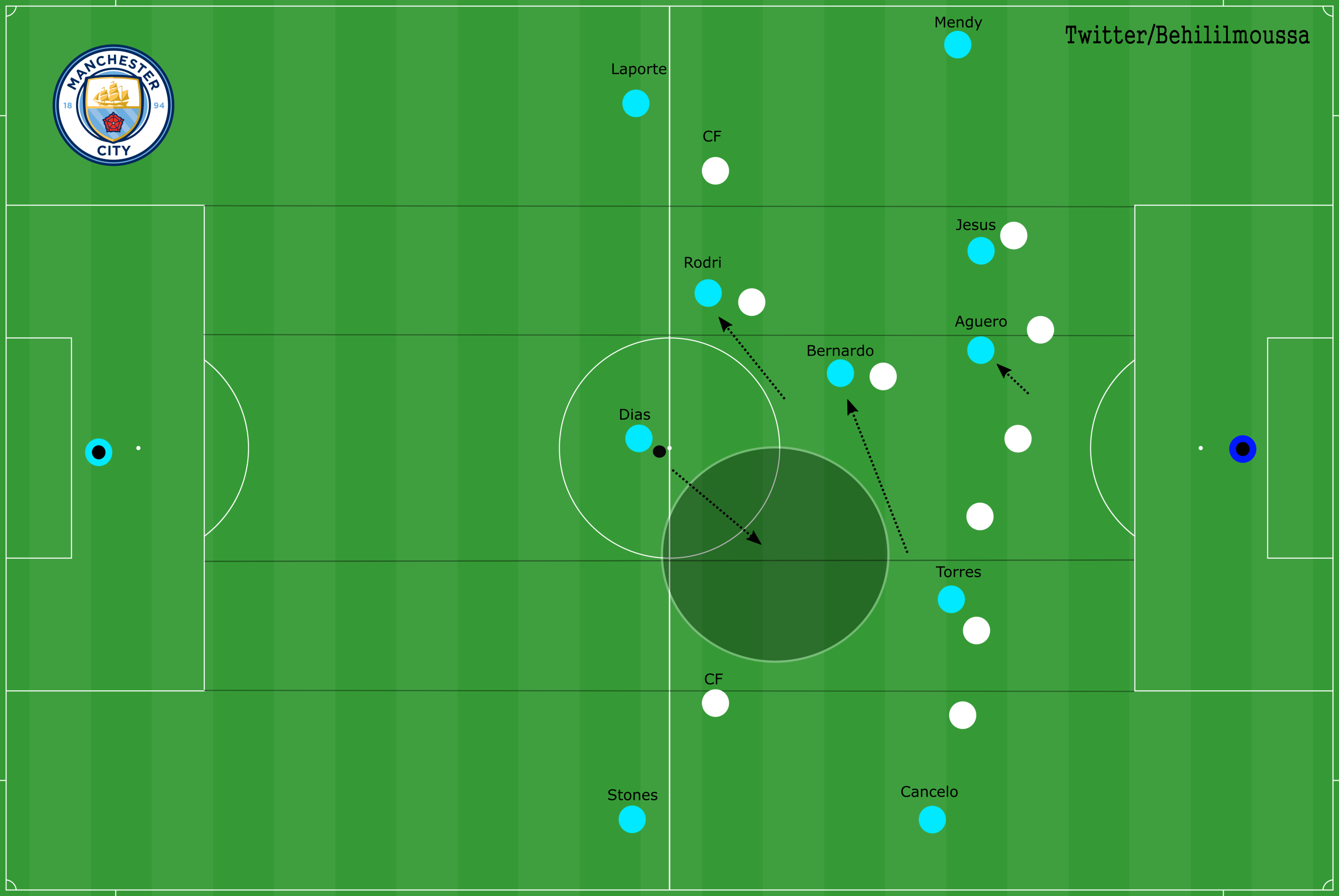 Positional Rotations
A sub-sub category referring to when players rotate positions in order to create positional/quantitative superiorities. Below, João Cancelo and John Stones created a 2v1 overload on Fulham LWB Ivan Cavaleiro leaving him in a dilemma and decision crisis.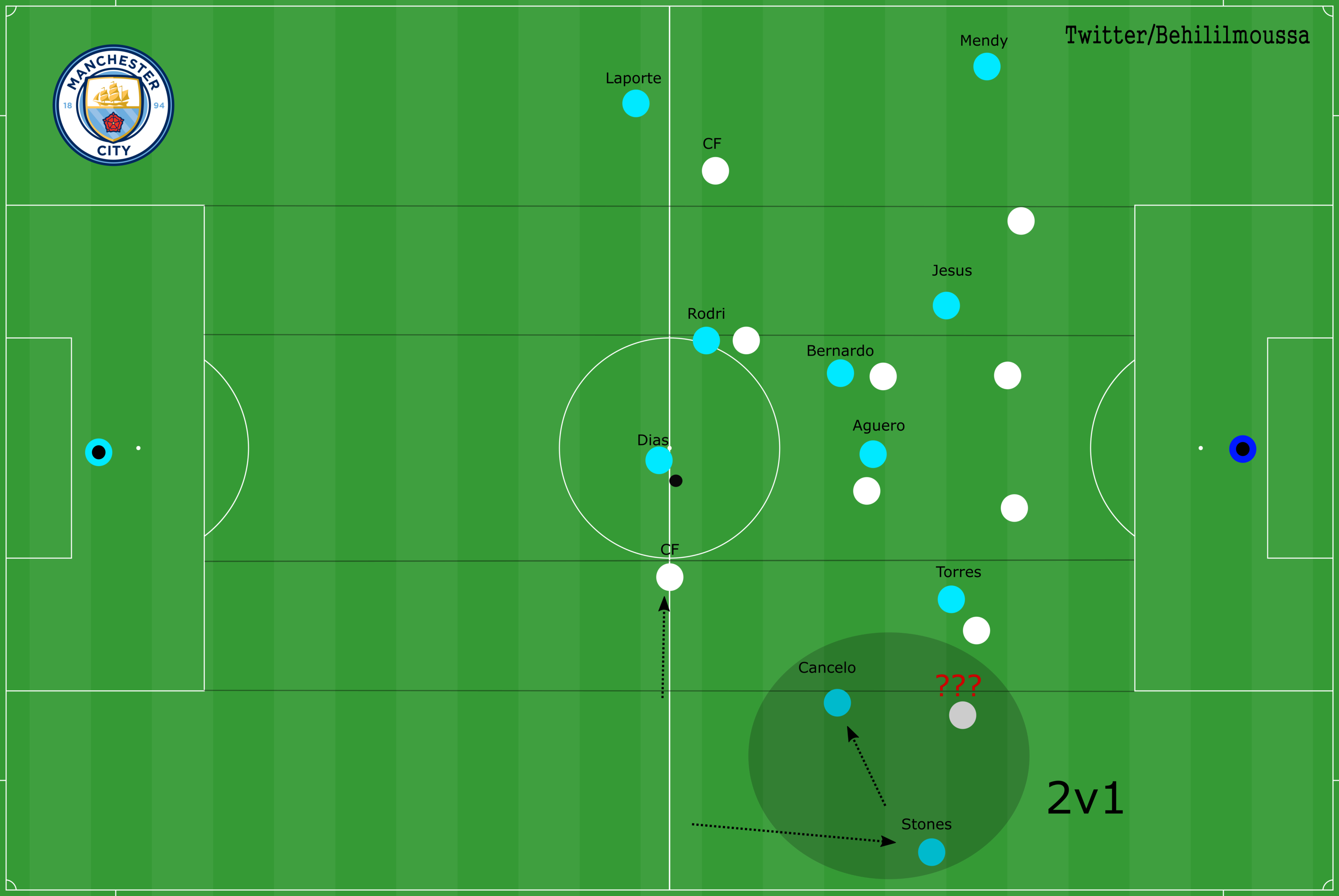 Opposite Movements
When a player drops (usually the forward), it will be followed by a defender, a space can be created in behind for a teammate to run into, if not, the forward will receive with no pressure. In this action, Ferran Torres and Sergio Agüero dropped dragging defenders with them only to let Cancelo run in behind the Fulham defense.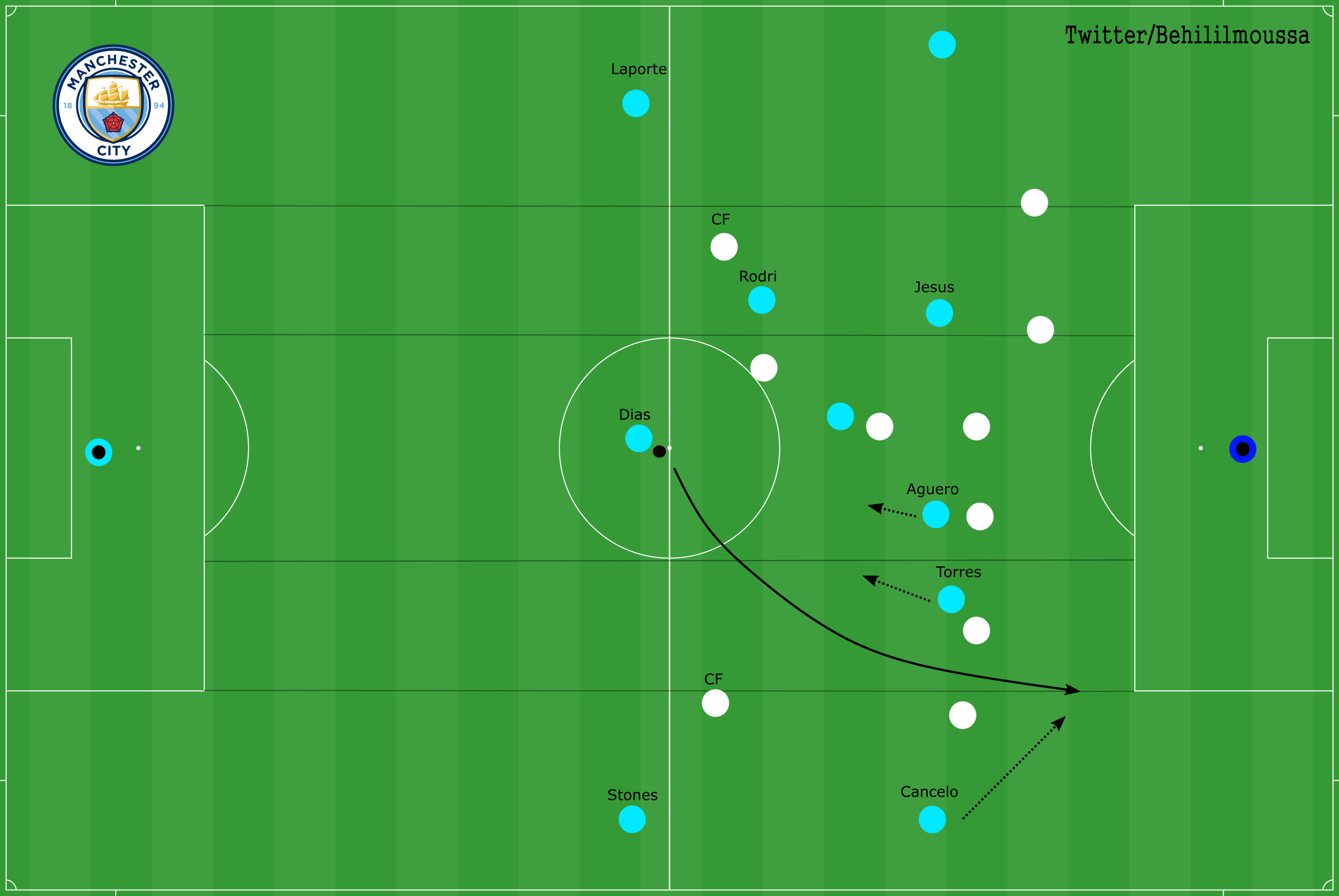 With the likes of Joachim Andersen, Tosin Adarabioyo and Alphonse Areola delivering a resolute display for the hosts, City needed to get creative in order to find plays in space and link possession in the final third. To do so, they utilized three different methods: wall passes, playing lay-off passes to Gabriel Jesus, Ferran Torres and Sérgio Agüero, and third-man runs.
Wall Passes
Attracting pressure from the opposition when driving forward, will create a spare man left by this (defender), the job is to get that spare man ''C'' the ball. Scott Parker entrusted his forwards with splitting wide in order to mark City's wide center backs, but when attracted by Dias, they would leave Stones and Laporte free.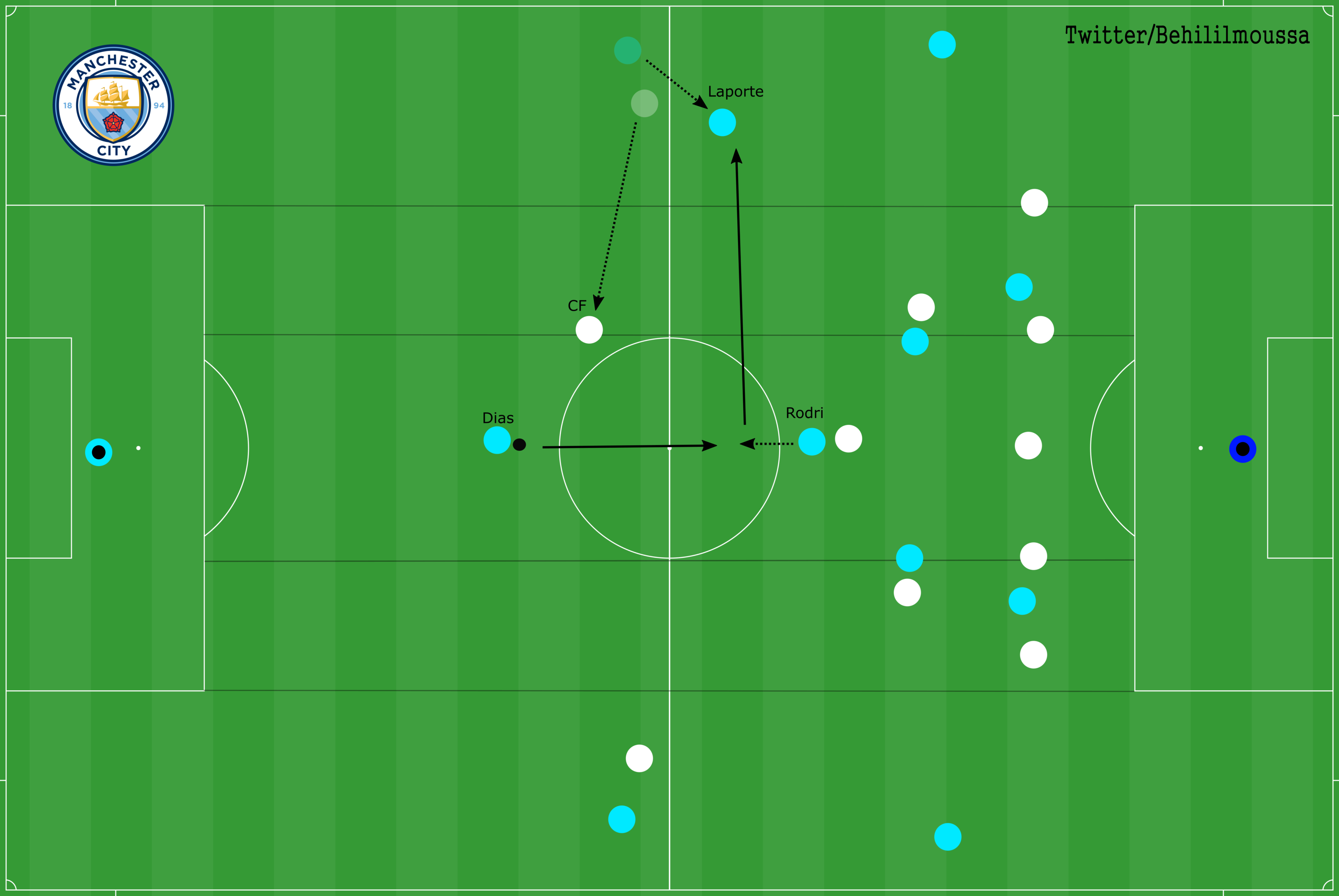 Lay-off Passes to the Strikers
In order to maneuver Fulham's aggressive, man-oriented approach Guardiola instructed his players to attempt to find the likes of Agüero, Torres, and Jesus in the final third, as seen in the below example where Dias breaks the lines and plays a pass to the dropping Kun, who gently lays the ball off to Rodri who can then find a teammate in an advanced position.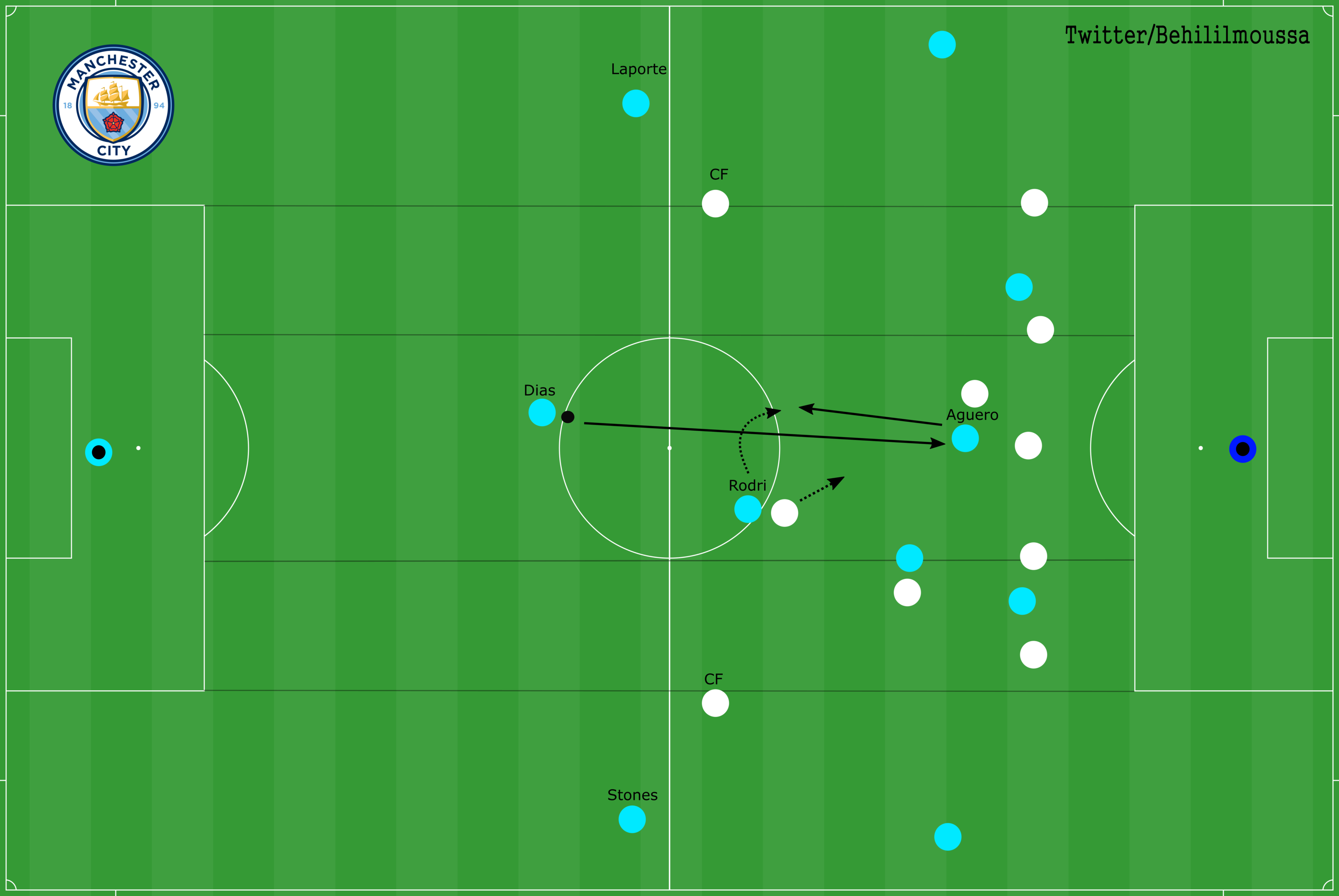 Third-man Runs
As City's attacking players combined in the final third, Fulham's defenders naturally focused on the player in possession, allowing another player to deftly sneak into space and evade their opponent. In this case, Agüero dishes the ball off to Jesus who threads the needle and plays in the onrushing Cancelo, who takes advantage of the fact that the likes of Ola Aina and Mario Lemina were focused on preventing a pass to Torres.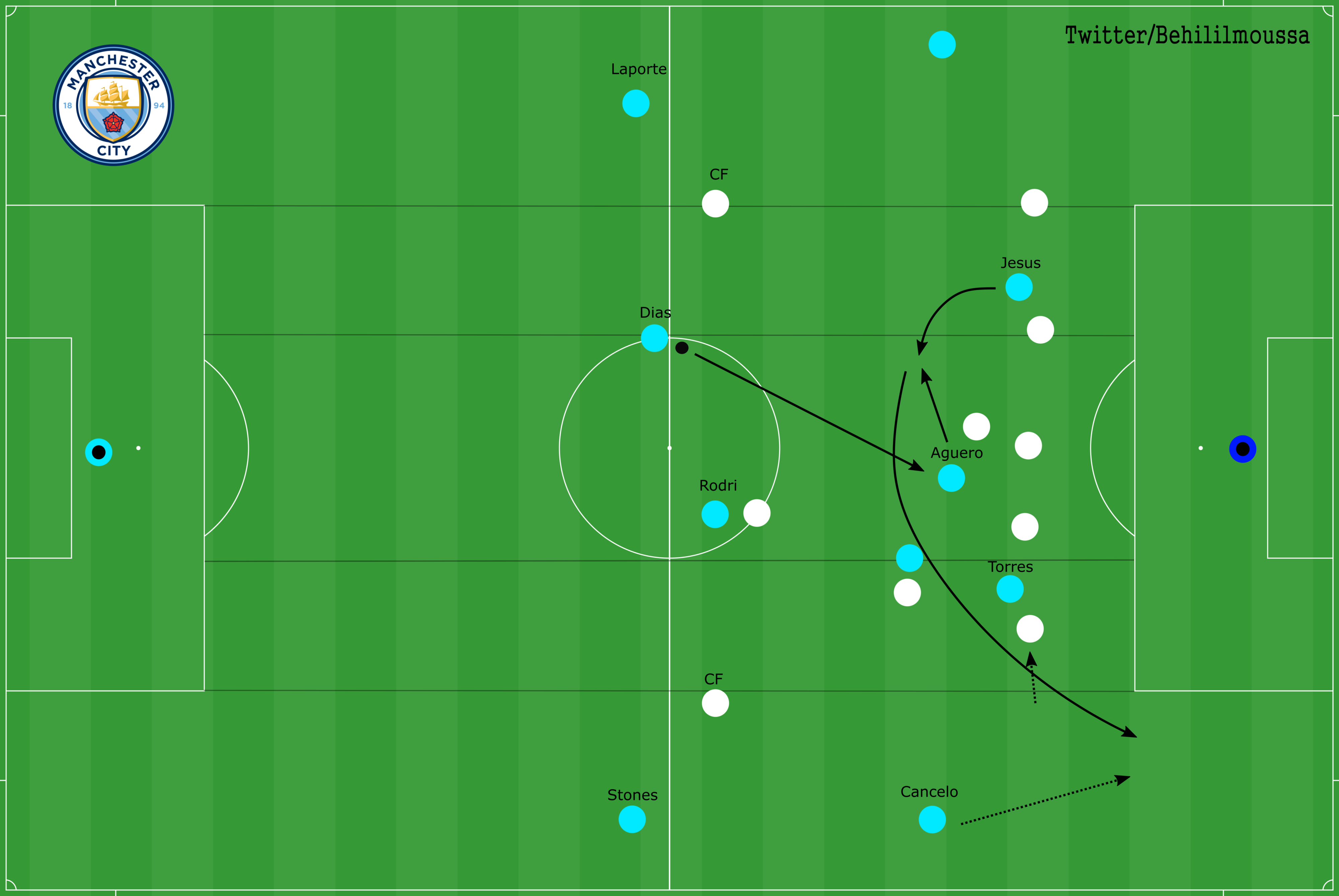 Conclusion
Despite Fulham's valiant approach, Manchester City ended up taking a valuable 3-0 victory at Craven Cottage, with John Stones sneaking past Tosin Adarabioyo and flicking a masterful free-kick past Alphonse Areola to open the scoring immediately after halftime. They doubled their lead 10 minutes later, as Ivan Cavaleiro's careless back pass put Joachim Andersen under pressure and resulted in the Danish defender's rushed clearance bounced off of Cavaleiro and into the path of Gabriel Jesus, who rounded Alphonse Areola and tucked it into the back of the net.
City sealed the victory shortly after as Ferran Torres picked Adarabioyo's pocket and advanced into the box, forcing the ex-City defender to foul him inside the box. A penalty was awarded, which Sergio Agüero would promptly convert. Pep Guardiola's side would go on to win their third Premier League title in four years in ruthless fashion while also winning their fourth straight EFL Cup, and they can achieve history on Saturday by defeating Chelsea in the Champions League Final. Fulham, on the other hand, will be playing their football in the Championship next season after suffering relegation on May 10 following a 0-2 defeat to Burnley.
By: Moussa Behilil
Featured Image: @GabFoligno / Tom Flathers – Manchester City