The New Belgium: Domenico Tedesco's Red Devils
After a disastrous World Cup campaign in Qatar, the "golden generation" of the Belgian National Team was somewhat bittersweet throughout tournaments. Although their 2018 campaign was relatively successful, some would say that in general, the team full of superstars never lived up to their name. In their beginnings, the Red Devils' 2014 World Cup campaign gave Belgians some hope. Led by former Schalke and Belgium legend Marc Wilmots, their campaign saw an end after only being knocked out in the quarter-finals by eventual finalists, Argentina. 
However, after an extremely disappointing Euro 2016 where they were knocked out also in the quarter-finals by underdog semifinalists Wales, Wilmots was sacked and Wigan legend and FA Cup winner Roberto Martinez was brought in. Due to many holes in the team, namely in the fullback positions, Martinez was forced to deploy more unconventional methods and ideas, and went with a 3-4-3 with Yannick Ferreira Carrasco, an attacking winger by trade, filling in the whole at left wing-back while Thomas Meunier slotted in at right wing-back. 
After being knocked out again in the quarter-finals of Euro 2020, albeit by eventual champions Italy, and after one of the most disappointing World Cup runs in Belgian national team history in 2022, Martinez was sacked, many members of the golden generation such as Toby Alderweireld, Eden Hazard and Simon Mignolet retired and new faces in the team and in the dugout appeared. Former Leipzig and Schalke coach Domenico Tedesco was brought in to bring fresh ideas into the team, which bodes well for one of the most innovative coaches coming out of Germany.
Tedesco called up many new faces in the national team, handing well-deserved debuts to youngsters such as Romeo Lavia and Johan Bakayoko, while also incorporating recent debutants such as Amadou Onana and Artur Theate, who will receive excellent advice on how to be a defensive full back by Belgian legend Jan Vertonghen. It is very clear, that Tedesco and the Belgian FA's new long-term strategy is to build a new "golden generation", possibly one that would outperform the last one.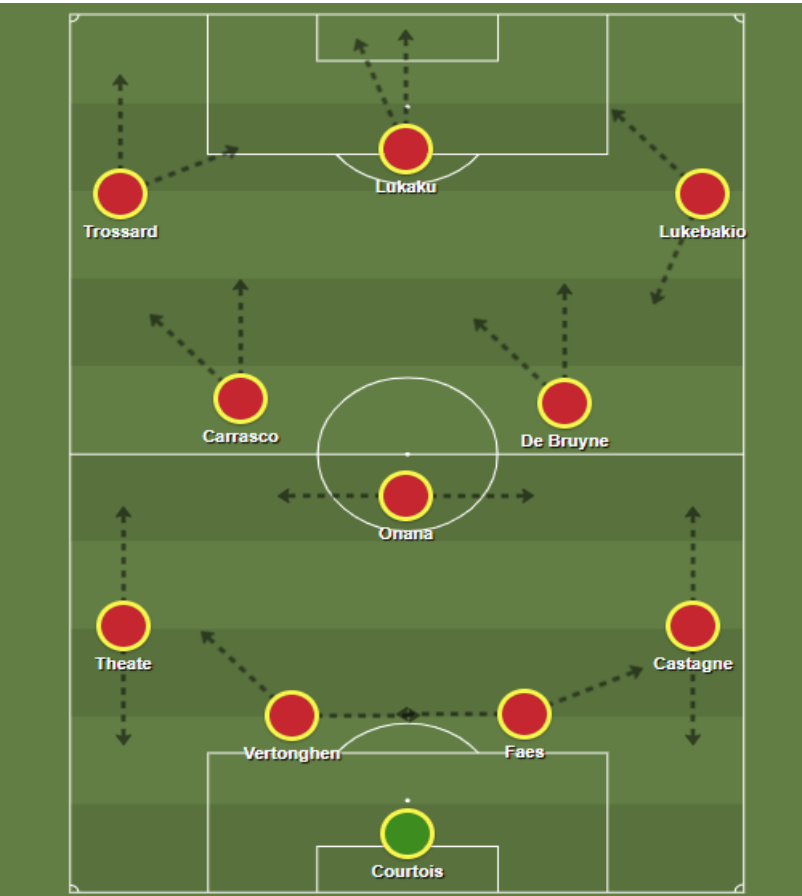 Defensive Phase
In his first official game in the Euro 2024 qualifiers, the initial lineup pre-match had Belgium in a 4-3-3, where Onana acted as the pivot in midfield allowing Kevin De Bruyne to orchestrate from deep while Yannick Ferreira Carrasco acted as somewhat of a mezzala, the Italian term for a wide-central midfielder.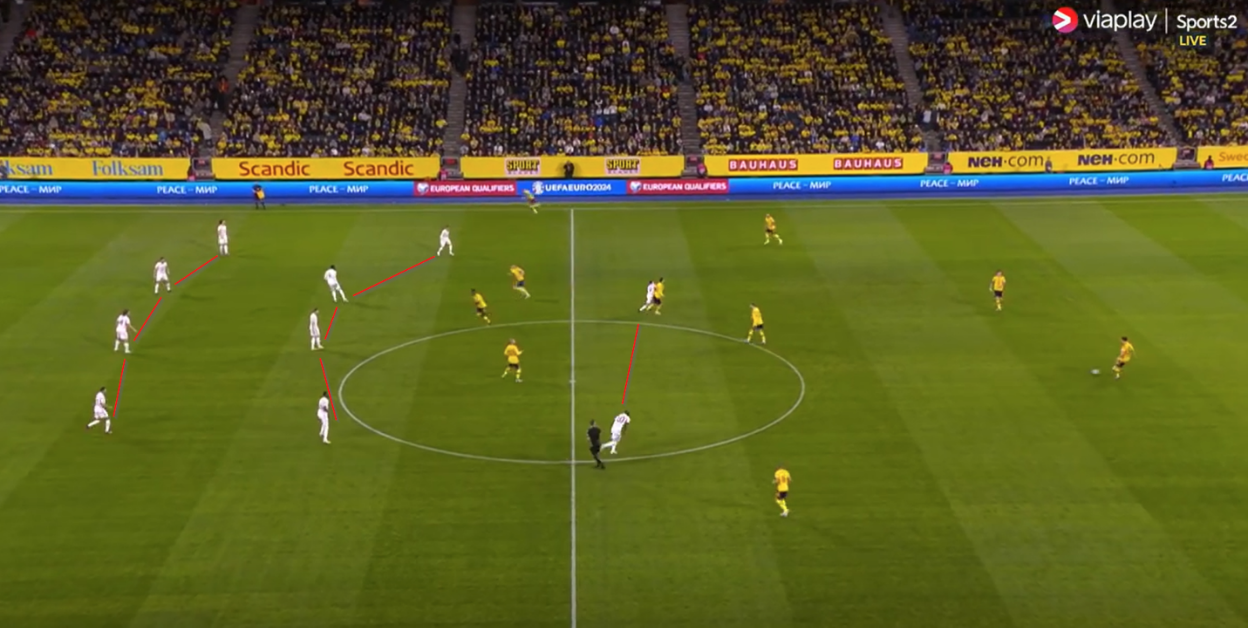 However, from the start, it seemed to turn into a 4-4-2 in the defensive phase, where Carrasco was fielded in his natural position which served as an advantage in the defensive phase as he obtains experience playing as a defensive winger not only under Roberto Martinez, but also under Diego Simeone with Atletico Madrid.
Leandro Trossard, who has been converted as a forward for Arsenal these days, was paired with Romelu Lukaku, who complement each other. Trossard's pace and dribbling mixed with Lukaku's physical presence and incredible hold-up play mirrors the partnership he currently takes part in with Lautaro Martinez at Inter Milan.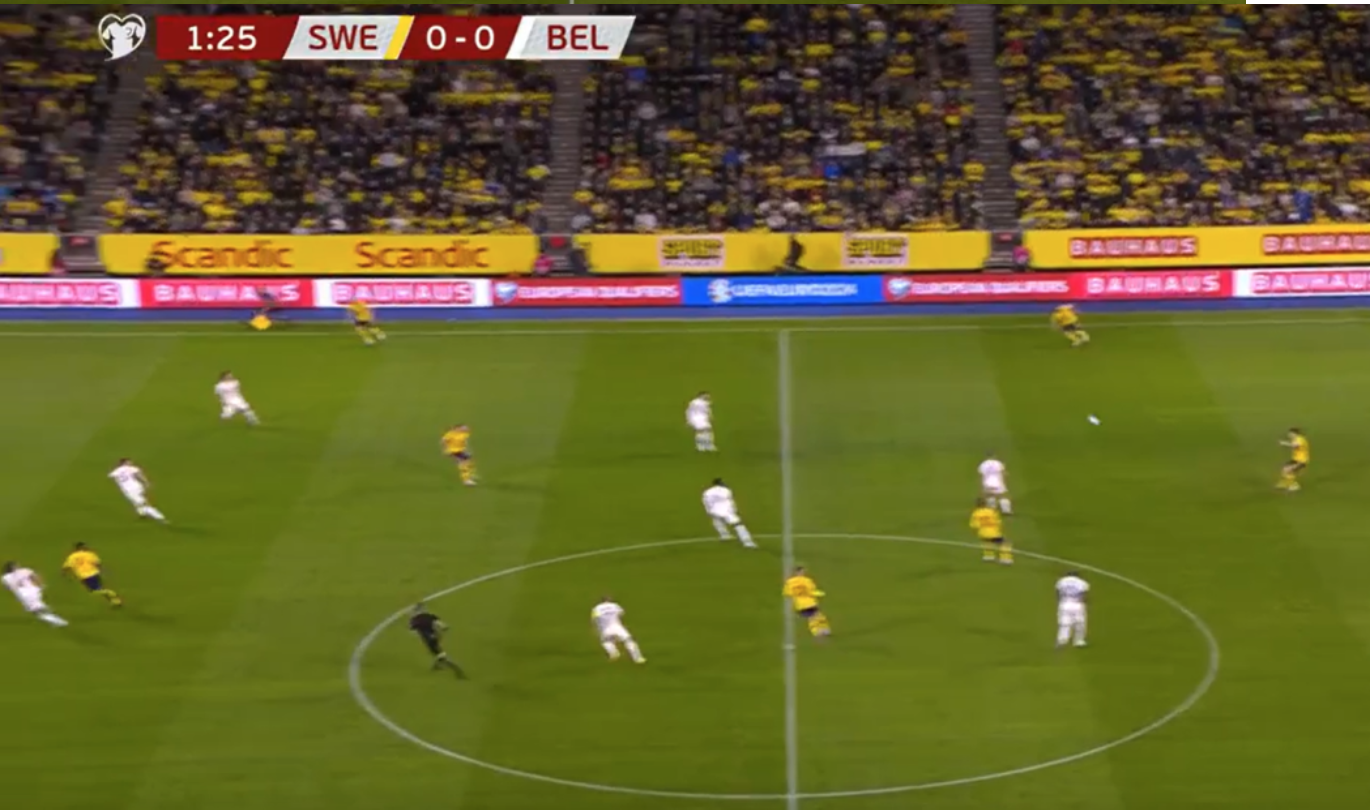 Defensively throughout the match, the backline that consisted of Timothy Castagne, Wout Faes, Jan Vertonghen and Arthur Theate had to be focused throughout as a key characteristic in Sweden's build-up play is the long balls that have been played from the back line to the feet of Newcastle forward Alexander Isak.
Build-up Phase
As shown in the picture above, during the build-up phase, Tedesco's 4-4-2 morphs into a 4-1-4-1 formation, with Amadou Onana as the main anchor, while Trossard drops from the second striker position to tuck in the midfield 5. It's clear here that in the build-up phase, Tedesco aims to pack the midfield with passing options, while also aiming to stretch the opposition in order to expose holes in their formation for line-breaking passes.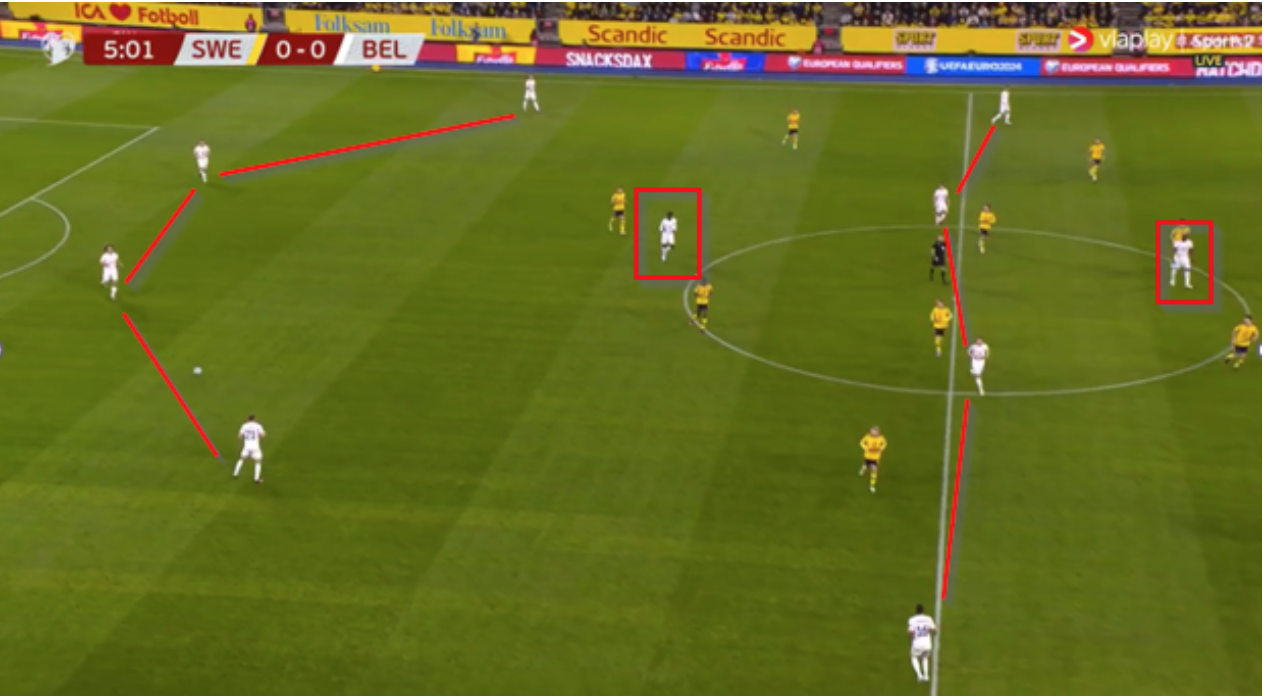 Here, due to Sweden's stubborn 4-4-2 which also aims to force Belgium wide, Vertonghen prepares to quickly open Sweden's defense by sending a long pass to the opposite flank where the right winger Dodi Lukebakio would receive the ball to create a quick goal-scoring opportunity. Ultimately, the general positioning of the wide players is to completely stretch out the opposition defense, with Carrasco performing the same role, practically hugging the touchline.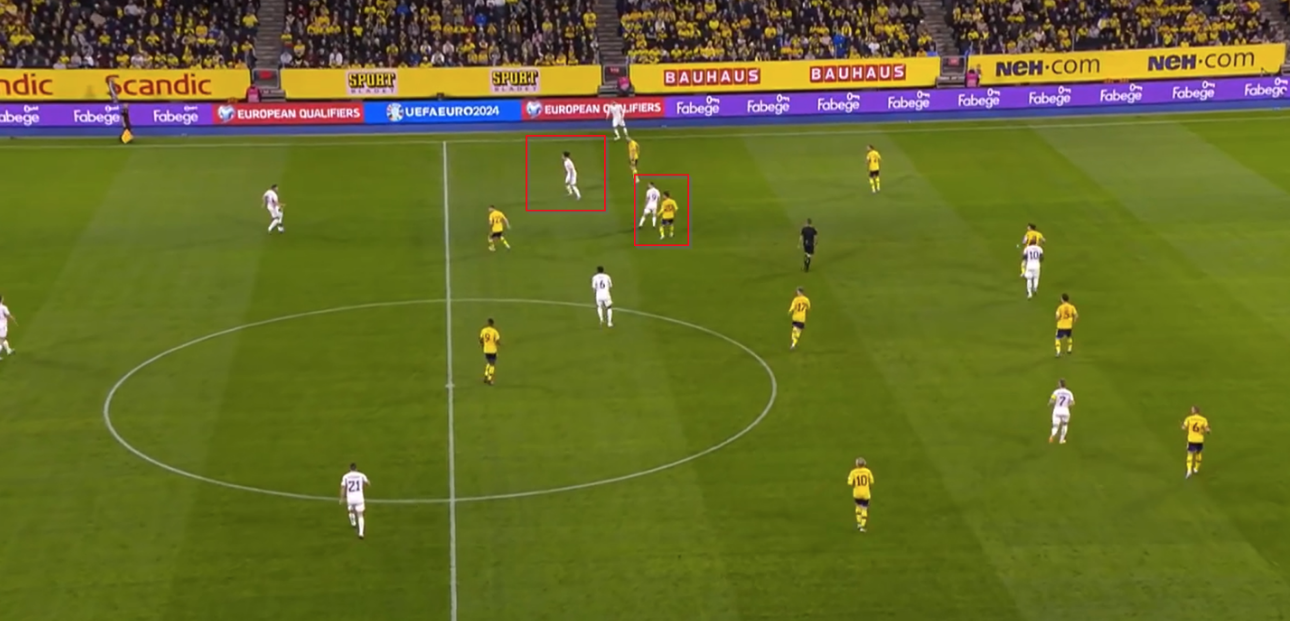 As seen above, the fullbacks tend to stay somewhat inverted, especially when keeping possession. Theate is here tucked in the half-space, allowing Vertonghen to either pass to Faes where the play will end up in the right half-space, or to progress the play by passing to Carrasco who is told to hug the touchline and be prepared to receive, all to stretch the opposition's 4-4-2. Trossard is also seen here coming deep, which attracts the Swedish central midfielder and creates space behind him for either Carrasco to make an inverted run or for Lukaku to come short and receive.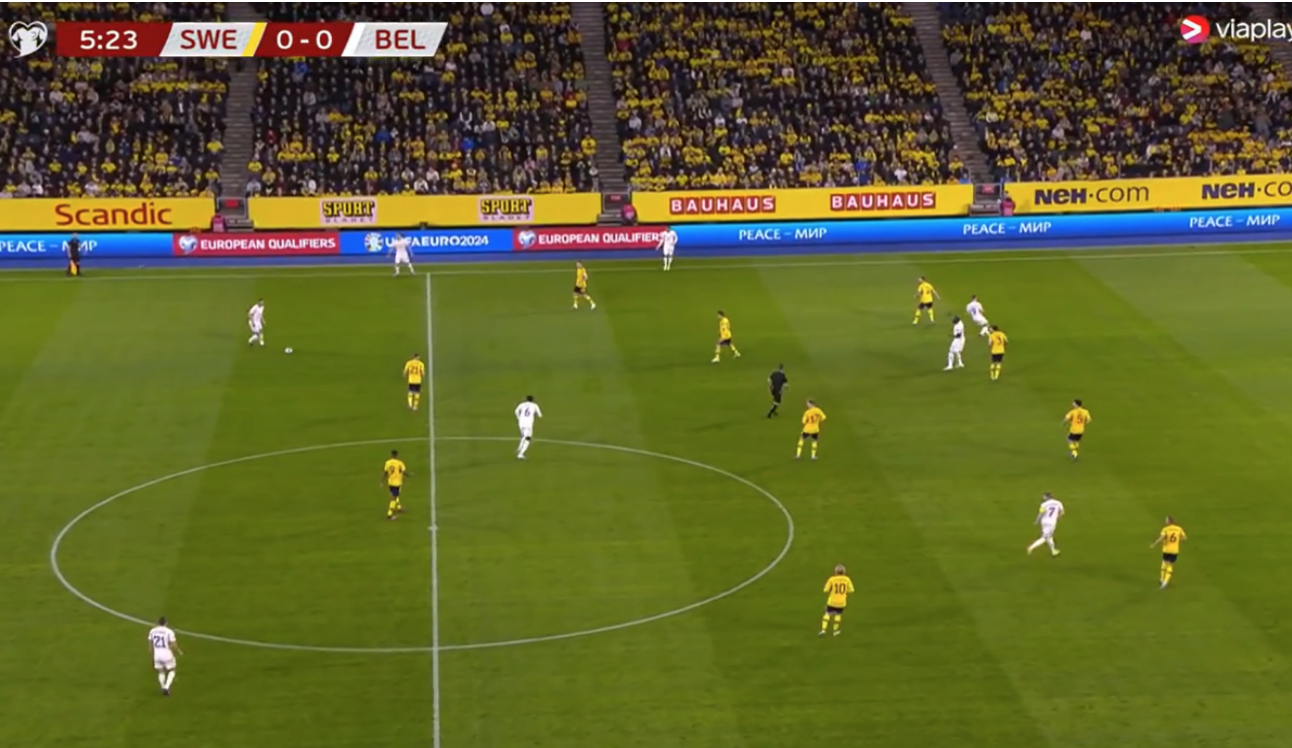 Attacking Phase
This Route One, long-ball style of football worked wonders, and Vertonghen's excellent passing range is on full display here as Lukebakio takes a fantastic tough with his left foot and immediately attacks the defense. As the opposition scrambles to get in formation, the Hertha Berlin man is already thinking of cutting in. However…
As Lukebakio cuts in, he attracts defenders which creates massive space on the right flank, in which De Bruyne quickly goes for the overlap. He ends up crossing the ball to the opposite winger Carrasco, and the first serious chance for Belgium is created. This is a perfect example of how free-flowing Tedesco's teams tend to be in the attacking sense.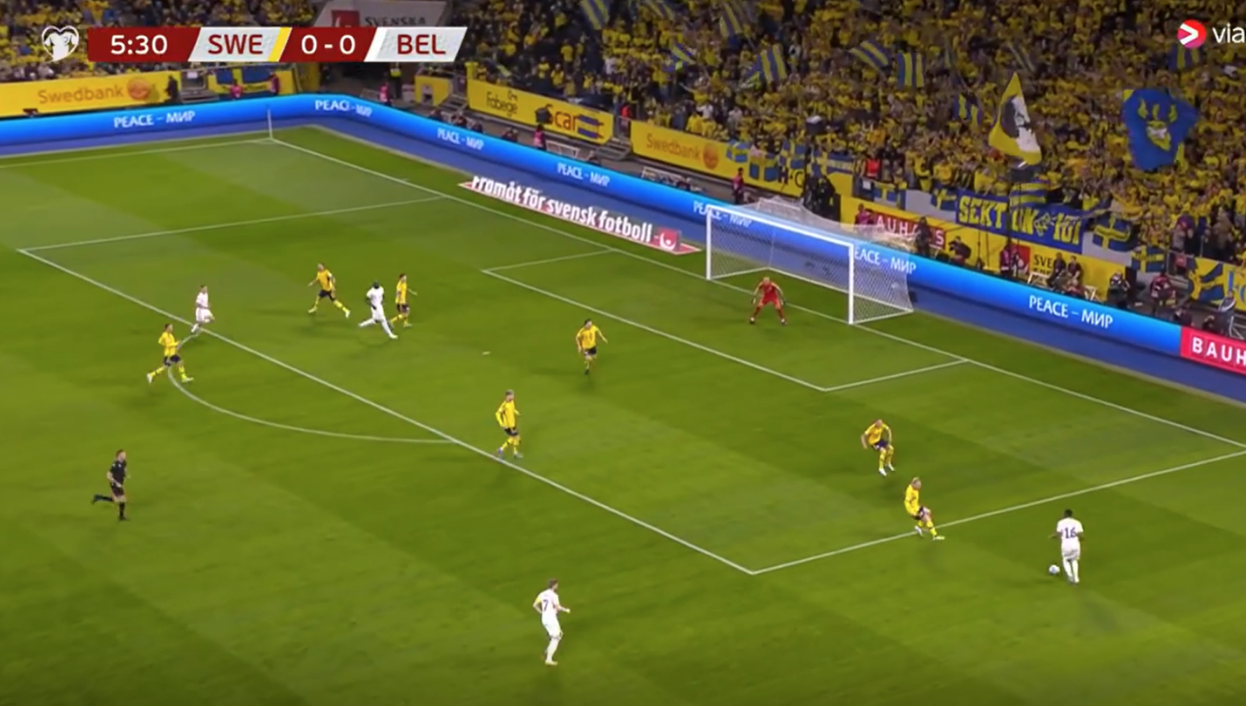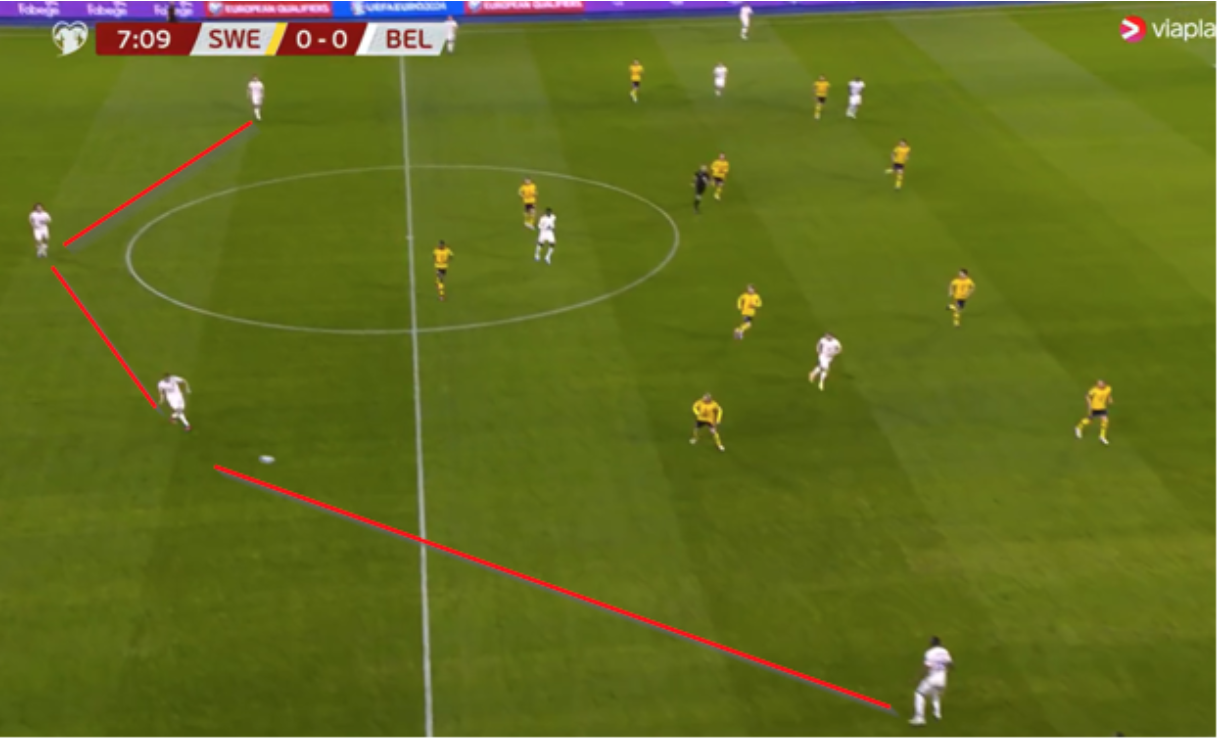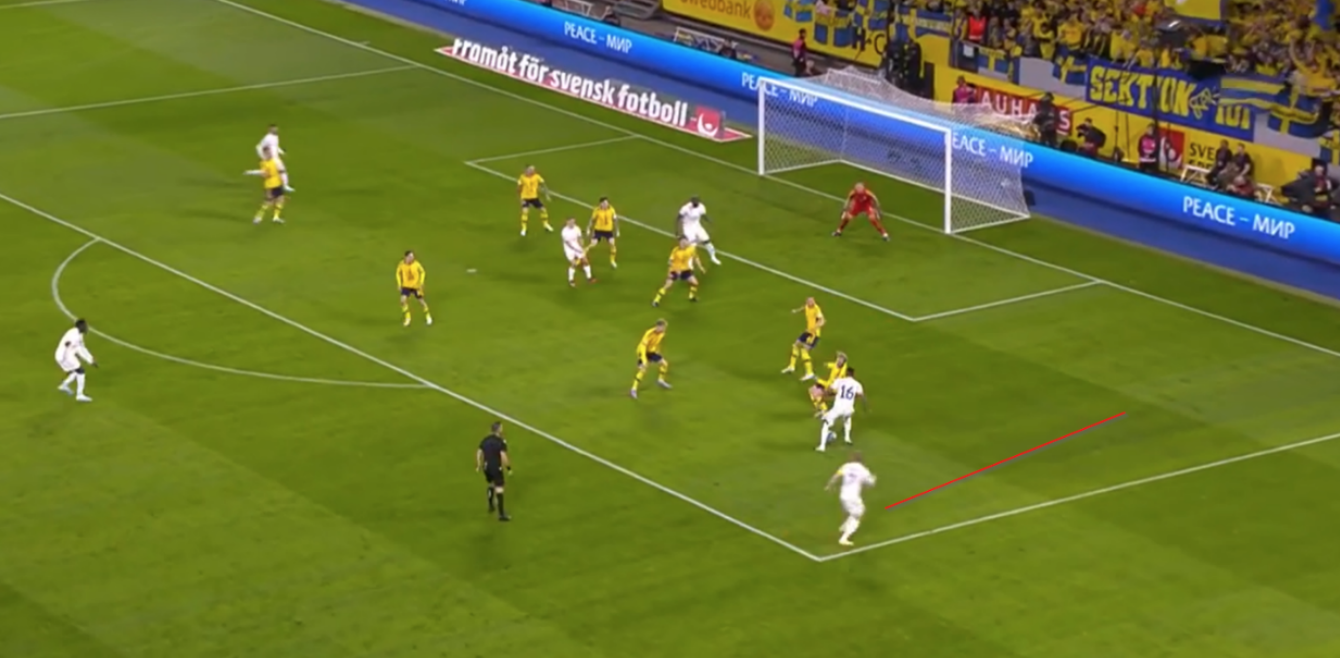 Another example of the progression of play using inverted wing backs, where this time, the back 4 turns into a back 3 as the side of play switches. Castagne takes the RCB position to form the back 3, in which Lukebakio fills in the gap in the right wing by coming short to receive.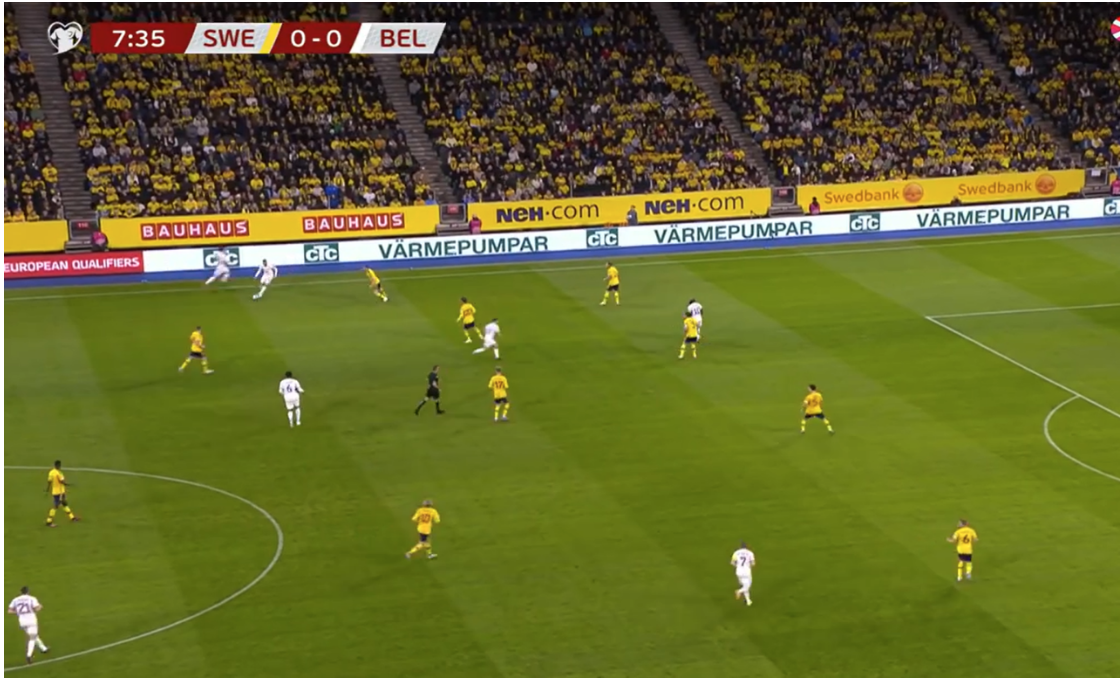 However, the fullbacks do not always stay inverted and in position in the half-space. When needed to progress play, they will perform overlapping runs for that purpose. When playing against such a defensive team like Sweden, any and all players who can attack will be in certain situations such as the above. Here, Vertonghen passes the ball to the open and wide Carrasco, however, he is quickly pressured by the Swedish right winger.
At that moment, Carrasco cuts back inside early and Theate moves to perform an overlapping run which provides him with a lot of space behind the opposition right winger. At that moment Carrasco checks back outside and passes to Theate who progresses play forward, as shown below.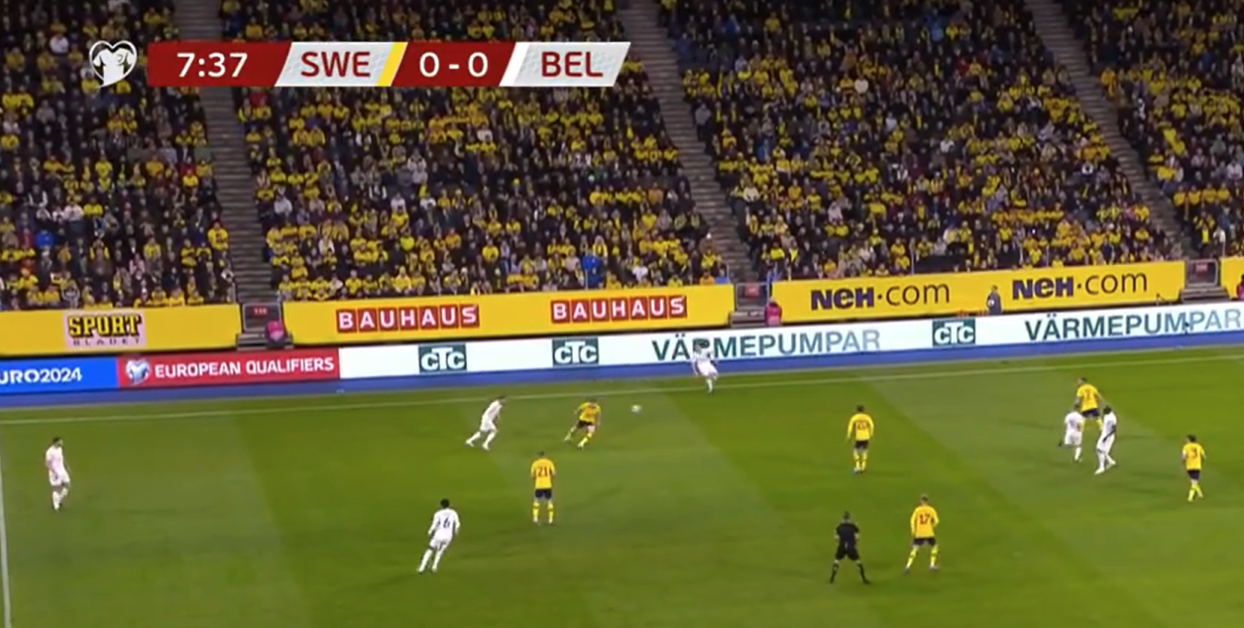 In conclusion, Domenico Tedesco is given the very difficult task of not only reviving this Belgium national team, but also building a new team that can surpass the previous generation of Belgian players who have not won an international tournament. As a relatively young coach, he is also one of the most innovative, and it will be exciting to see the ideas that will be built on the ones explained in this report.
By: @aabousen99
Featured Image: @GabFoligno / Getty Images