The Secret to Atletico Madrid's Success: Balance and Adapting to Luis Suárez
Atlético Madrid have enjoyed a very impressive season in La Liga so far. They have accumulated an impressive 55 points with 17 wins, 4 draws, and only 2 losses. They sit comfortably in first place, three points ahead of local rivals Real Madrid despite having one game in hand, and have conceded 16 goals in their first 23 league matches.
What Makes Diego Simeone's Atlético Madrid So Good Defensively?
While the amazing job that Diego Simeone has done in charge of Atlético since taking charge midway through the 2011/12 season is no secret to anyone, some of the adaptations that he has implemented this season to fit his players' qualities have worked extraordinarily well and are worthy of the praise they are receiving.
Adjusting the Team's Style to the Arrival of Luis Suárez
Although Luis Suárez was 33 years old at the time of his signing, Simeone was very aware of the finishing qualities of the Uruguayan striker. However, knowing that Suárez has been playing at Barcelona for many years with a different style of play he needed to make adaptations to Atlético's game model in order to ensure he would have a smooth transition to his new club.
In a recent interview, Simeone admitted that he needs to change certain aspects of their game to adapt to Suárez's style, and they needed to have more possession in the attacking half and more players around him in order to help El Pistolero do what he does best, find space inside the box and put the ball in the net.
This can be evident by the change in their formation from the usual 4-4-2 that he has implemented for the most part throughout his time in charge of Atlético to a 3-4-3 or 3-5-2 to have better coverage of the field and more players close to Suárez in the attacking half while still being safe during a transition moment.
This has led to Atlético having more possession and play more passes in the opponent's half than what we have seen from them in the past. Some interesting stats according to Wyscout in their La Liga games that show this change in style are as follows:
Possession: 50.86% this season from 47.06% last season.
Averages passes per possession: 5.15 this season from 3.87 last season.
Passes in the attacking 3rd per game: 62.1 this season from 53.13 last season.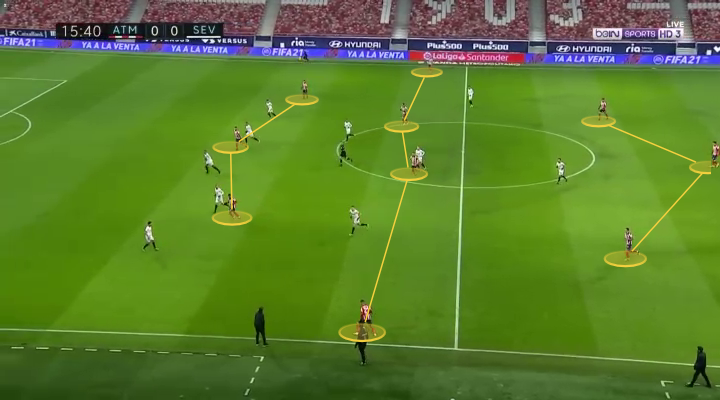 Here we see Atlético's attacking organization in a 3-4-3 where the wingers are more inside closer to Suárez leaving the width to the wing-backs.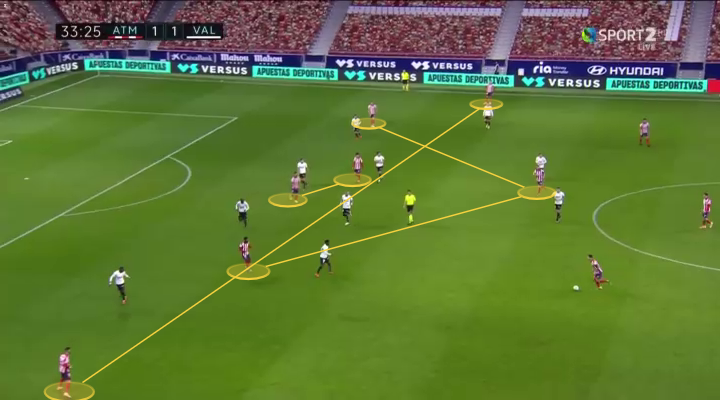 In the above image against Valencia, Atlético's formation is a 3-5-2 formation but we still see many players around Suárez while the width is provided from the wing-backs.
By having so many players around him Suárez can play in his favorite style where he finds spaces and either drops between the lines to help his team keep possession or attacks small spaces in the box to finish chances. He is a player that only needs a bit of time and space to finish a chance and with his impressive goalscoring record of 16 goals in 20 La Liga games he is top of the goalscorers tables at the moment.
Here we see Suárez dropping between the lines to help his team keep possession with many players around him.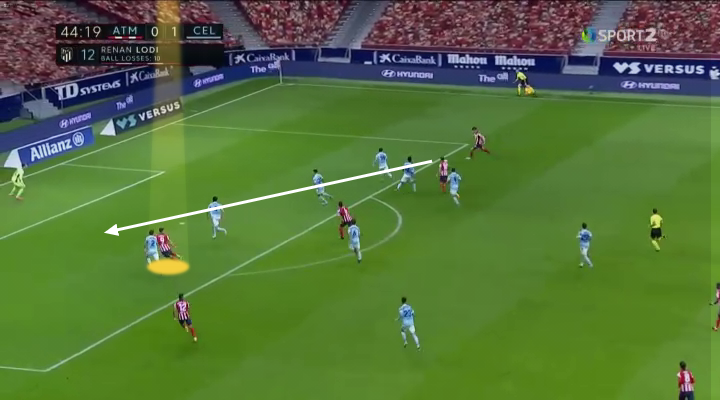 Here is an example of Suárez scoring with a 1-touch finish by finding small spaces in the box.
Despite Atlético changing a bit their style into a more possession-oriented style in the opponent's half, they can still utilize a direct approach when necessary to expose space in the opponent's backline. They often will start a small build-up to attract pressure before sending a direct pass forward to exploit gaps in the opponent's last line of defense.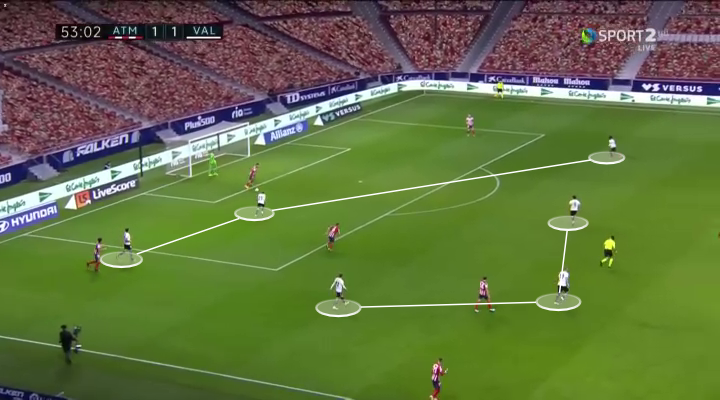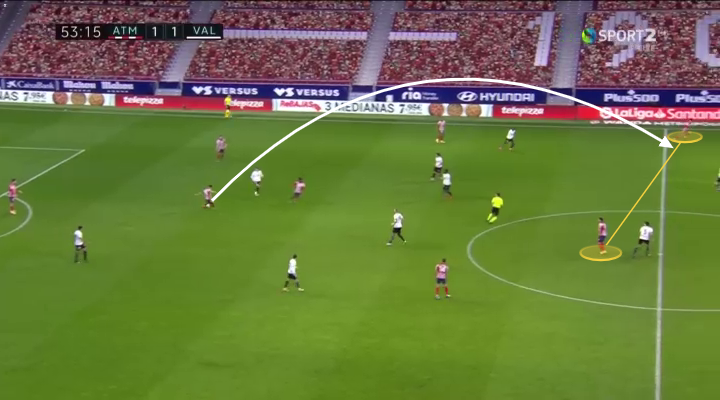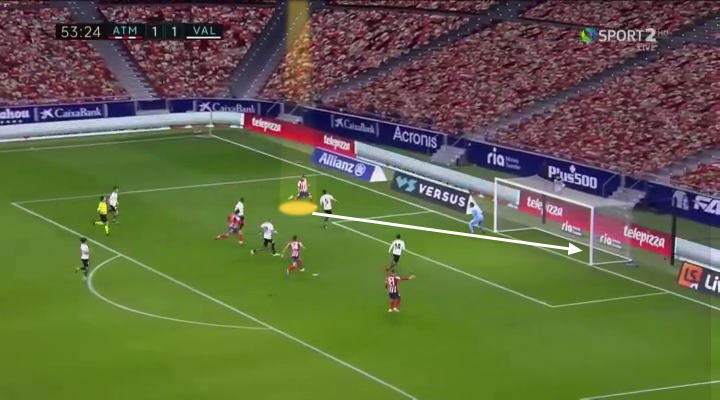 In the images above we see how Atlético attracts pressure in a short build-up and then by recognizing the space in the last line of Valencia, they play forward in a direct way which leads to a goal from Suárez.
Solid Defensive Organization With Less Pressuring From Luis Suárez
The name Atlético Madrid is almost associated with the term solid defense, and this year is no different. After 23 games, Atlético have conceded only 16 goals which is the fewest number of goals a team has conceded in La Liga this season. Even though they are playing a more possession-oriented style that has not translated with a higher number of goals conceded which is quite often the case.
One of the main reasons for this is Simeone's tactical change where he switched to a back 3 to have better coverage in case his team is caught on a counterattack. This change also means that when in their defensive organization in their own half they can sit in a low 5-4-1 or a 5-3-2 defensively which gives them more security especially when they are defending a lead.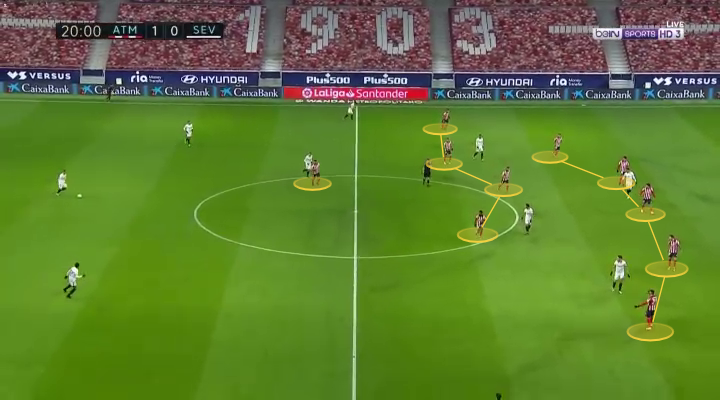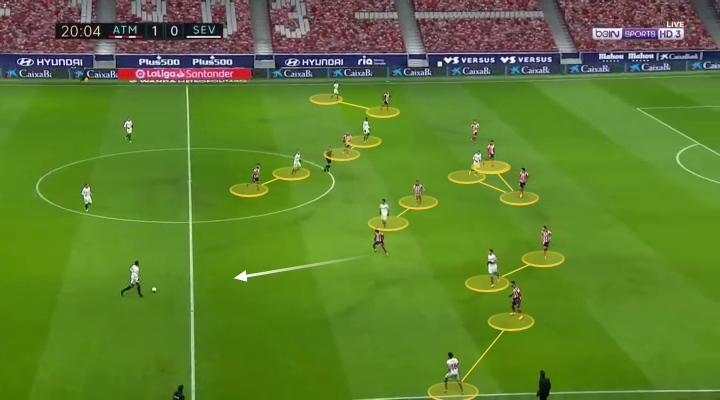 In this situation we see the team defending in a 5-4-1 not high pressing but with Suárez marking Sevilla's defensive midfielder. The pressure instead is coming from Thomas Lemar when Sevilla's right center back takes space forward.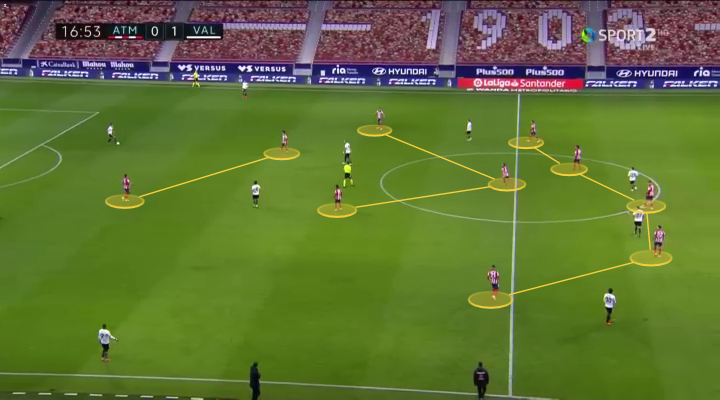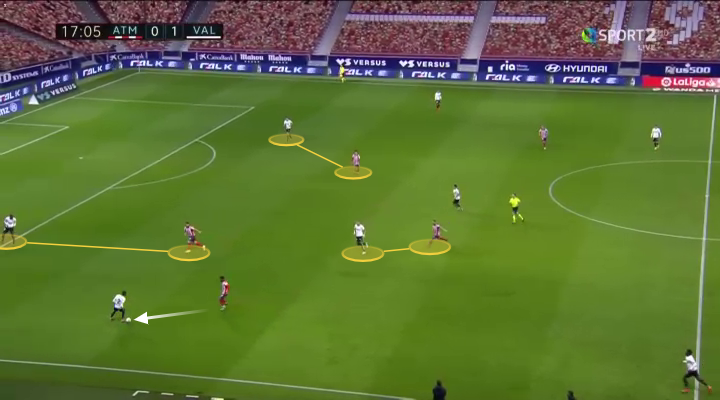 Here we see Atlético setting in a higher line of confrontation quickly starting a high press the moment they anticipate a lateral pass to on of the sides. We still see a man-oriented zonal marking approach.
What we notice in both defensive examples are the perfect balance of Atlético's defense between zonal and man-marking. Where many teams tend to favor one over the other which often can expose them against certain opponents, with Atlético a combination of both is key to their defensive solidity.
They do a great job covering the right zones but at the same time the players are man-oriented in those zones which allows them to pressure immediately a player on the ball and take away many passing options to their opponent's which makes decision-making for the player on the ball hard and ultimately leads to loss of possession.
Another strong aspect of Atlético's defensive game is knowing as a team of when to pressure high and when to sit deeper. This rate of pressure has dropped this year due to Suárez not being given too much responsibility to press, instead he usually shields the defensive midfielder and only presses in certain situations. This is shown on the higher PPDA (passes per defensive action) that they are allowing this season with an average of 12.78 an increase from 10.35 the previous season.
But there are situations when Atlético presses the opponent higher up the field usually on controlled build ups such as goal kicks, they will set up to press the opponent. Some other pressing triggers for them are also when they anticipate the opponent passing backwards or laterally.
Transition Moments
Having a well-balanced style of play with an average of 50% possession and a solid defensive game which recuperates many balls that means in an Atlético game you can expect many transition moments both offensively and defensively.
Simeone opted to switch to a back 3 to give his team a better chance to deal with the defensive transitions that they will face. This has enabled them to have higher wing backs and do a better job controlling possession in the attacking half while being more secure in the back. Furthermore, with their quick aggressive pressure on the ball when they lose it and the work rate that has characterized Atlético all these years with players running back quickly, they will be able to deal with defensive transition moments effectively.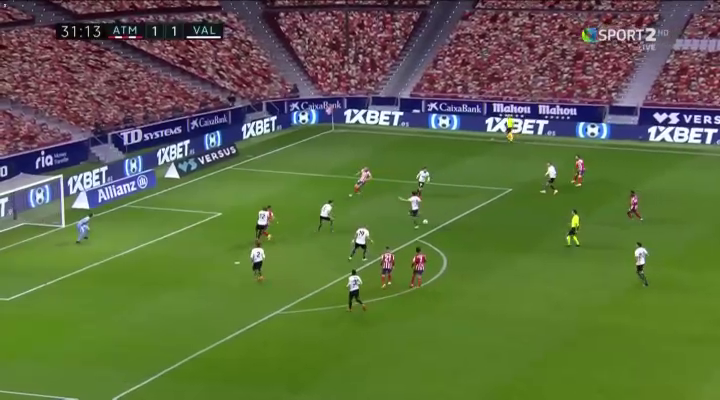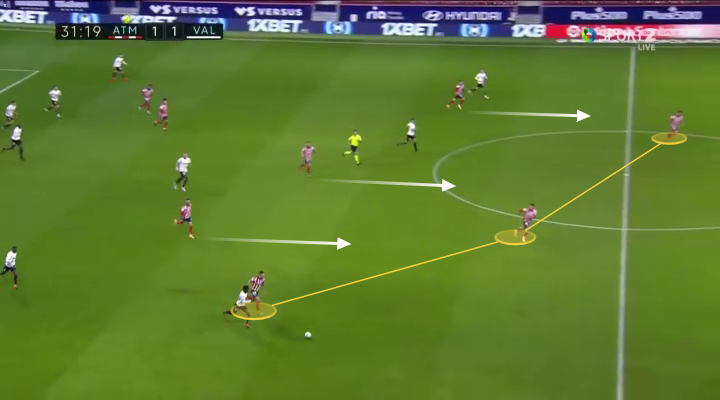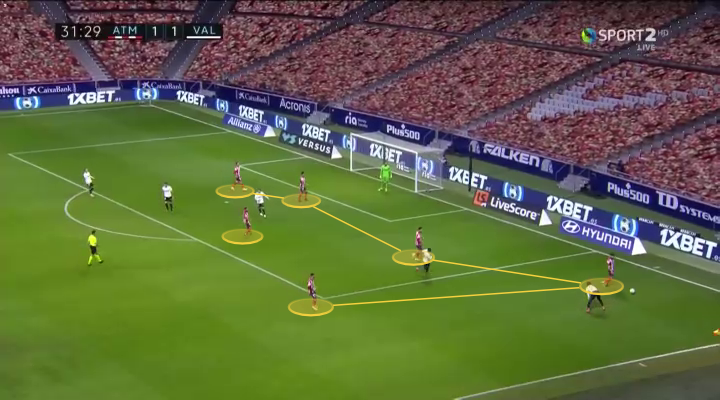 Here is an example of how Atlético Madrid will deal with a defensive transition moment. While there are 6 players around the ball when it is lost, with their back three delaying and the rest of the team dropping we see that by the time the opponent reaches their defensive third there are already 6 players back.
As we are used to seeing over the years, Atlético still wants to take full advantage of their attacking transition moments and they will quickly look to start counter-attacks by looking at options to play forward quick and have many players making forward runs occupying different channels.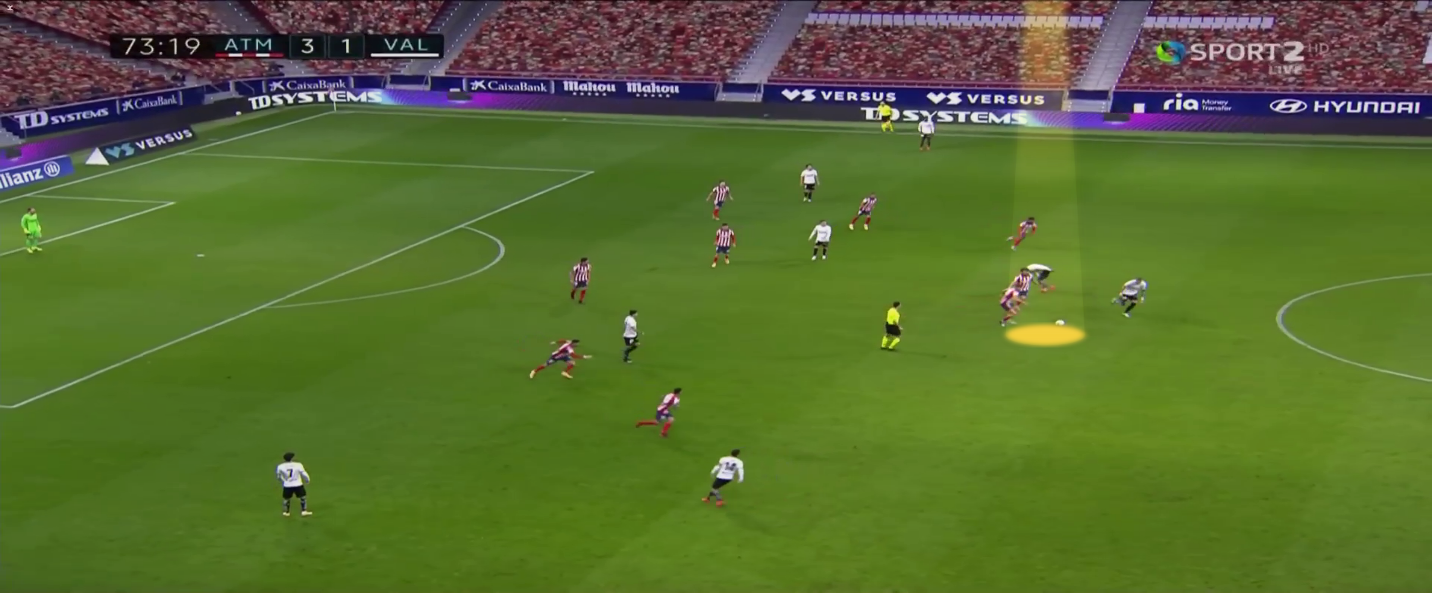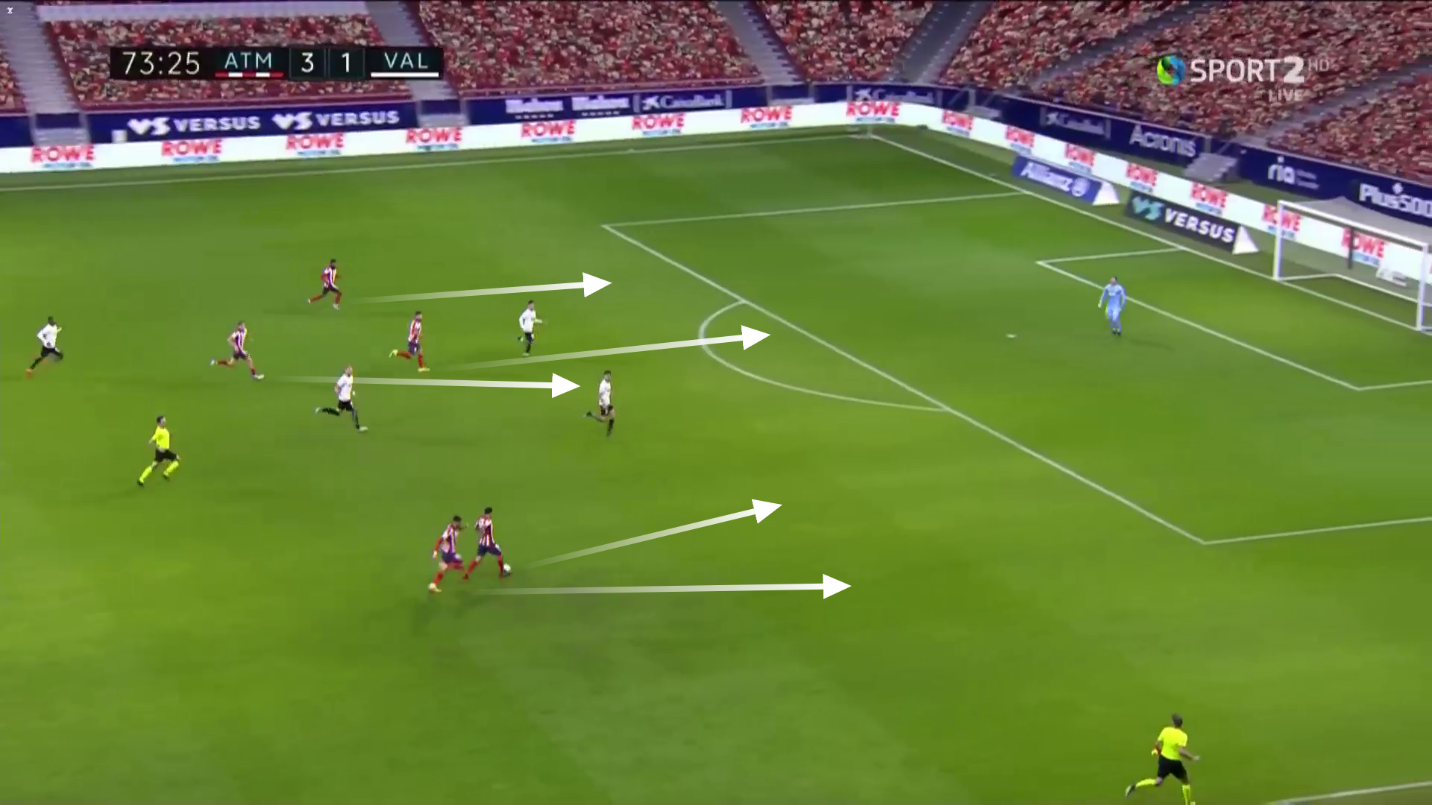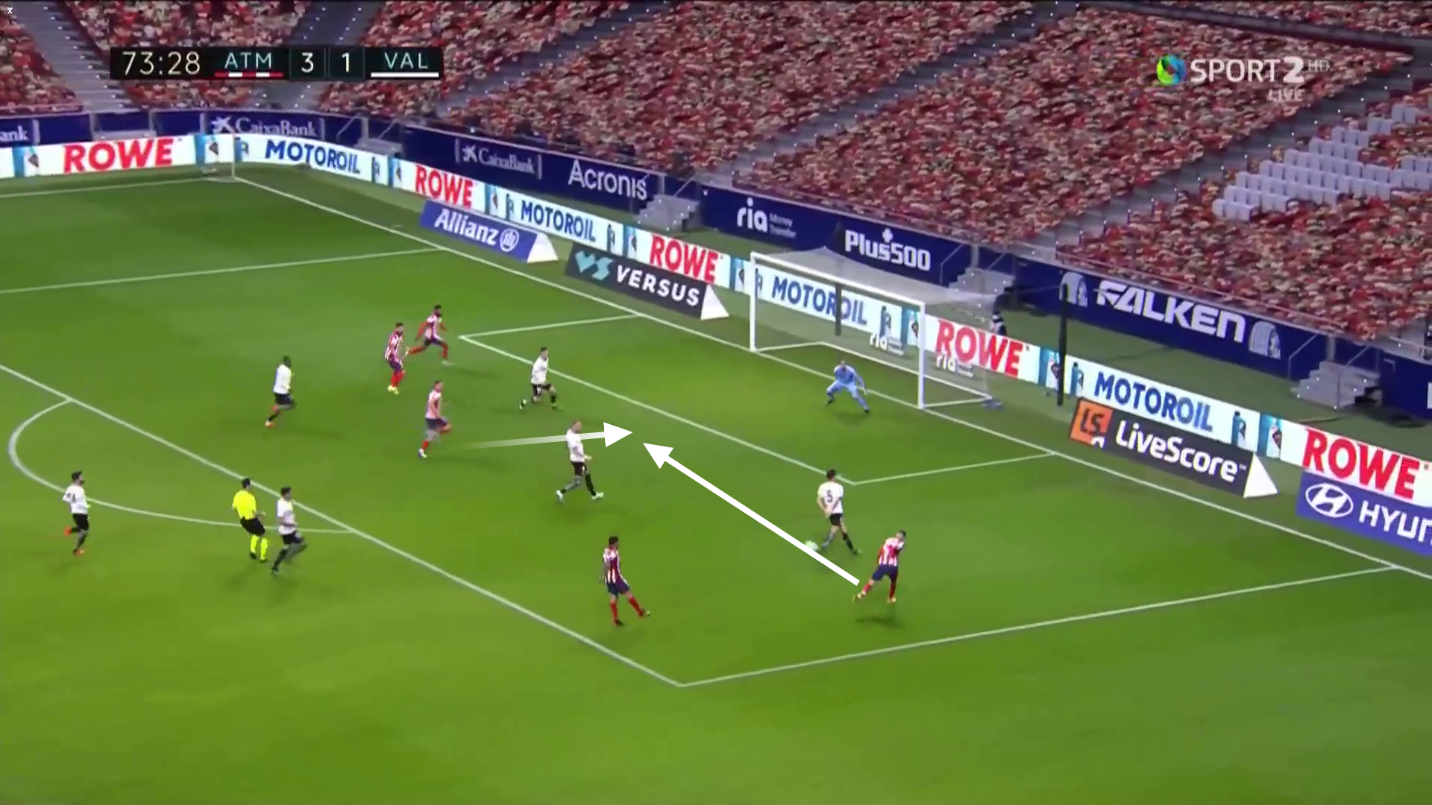 This is a perfect example of Atlético Madrid's counter-attacking game. When they win the ball they quickly look to pass forward and have many runners occupying different channels to make it harder for defenders to mark them.
Conclusion
If there is one word that you can use to summarize this Atlético Madrid team would probably be balance. They have a balanced approach between all phases of play and even in the way they interpret each phase. In the attack, a balanced approach between positional attacks in the opponent's half and direct play forward. On defense a balance between sitting deeper but also pressing in identified moments, in the way they mark a balance between zonal and man-marking.
It is this balanced approach that has created a team that is so difficult to beat and that has rivaled the giants as Barcelona and Real Madrid although with a much smaller budget. Add Luis Suárez into this style and the magnificent way that Diego Simeone is adapting his team to get the best out of him and this Atlético team is well on their way to bring home a second La Liga during Cholo's time and possibly even more trophies.
By: Ridi Dauti / @rdauti88
Featured Image: @GabFoligno / Alexander Hassenstein – Getty Images