Analyzing Bayern's Start to the Summer 2023 Transfer Window
2022/23 was a season like no other with the FIFA World Cup sandwiched in the middle of the season. The ramifications of this World Cup were huge on many different levels. The season went on for considerably longer and tested skill as well as endurance. It was about gradually growing into form at the right time of the season more than ever.
Bayern, to put it kindly, had a very underwhelming season. Losing a 40-goal bank in Robert Lewandowski was never going to be easy. The main theme from Julian Nagelsmann, Oliver Kahn and Hasan Salihamidzic's interviews were that they were not going to sign a striker after being priced out and that new signing Sadio Mane could do a job there. That went horribly wrong.
Nagelsmann knew in his heart of hearts that a striker would be key to this Bayern team's success. The squad was also buttressed by new signings Noussair Mazraoui on a free, Ryan Gravenberch for €18 million, prodigy Mathys Tel and current and future leader Matthijs de Ligt. De Ligt had a solid first season while Mazraoui and Tel showed their quality frequently. 
So, for the 2023-24 season, the two positions Bayern desperately wanted to strengthen were in midfield (especially defensive midfield) and in an out-and-out striker. In this article, I shall talk about why these two positions and Bayern's completed/potential summer business in general.
An important factor was that Salihamidzic, Kahn and Marco Neppe were the ones making the big decisions regarding transfers and squad management. However, after their huge (and eventually appalling) decision to sack coach Julian Nagelsmann; Kahn and Salihamidzic were relieved of their duties in the summer. Uli Hoeness and Karl Heinz Rummenigge returned to the club to plan out the squad along with Marco Neppe. New manager Thomas Tuchel also had a huge role to play regarding transfers. He arguably had the most power of all Bayern managers in recent history due to this upheaval in the board.
Center Forward
Bayern started the 2022/23 season with a hybrid 4-2-2-2/4-2-3-1 system where one of the forwards dropped in to link up. This was to accommodate Mane and Thomas Muller furthest forward, where they could play in half spaces or occupy defenders in the box. This would allow runners (who were Serge Gnabry and Jamal Musiala at the start) space coming from wider areas. There would obviously be constant rotation as all 4 players have played both roles.
However, Bayern quickly found out that vs deeper blocks (Gladbach, Union, Stuttgart and Augsburg for eg), quick, intricate football in the box wouldn't always work. The football in the first 3 of these games was actually fairly good with Bayern creating a myriad of chances but they lacked that clinical edge. These were the kind of games where Robert Lewandowski would score a goal out of a literal half-chance. 

(Scoreline and Xg values via FBRef)
Bayern clearly beat their opposition on expected goals while underperforming their xG by 2.5 in just 3 games. Mane's impact dropped off in this period too. However, after Erick Maxim Choupo-Moting was introduced, Bayern's results picked up immediately. By being that striker, he occupied defenders thus creating space for others and his general hold-up and link-up play was splendid too. Players off the striker received that ball in much better positions with lesser covering defenders around them.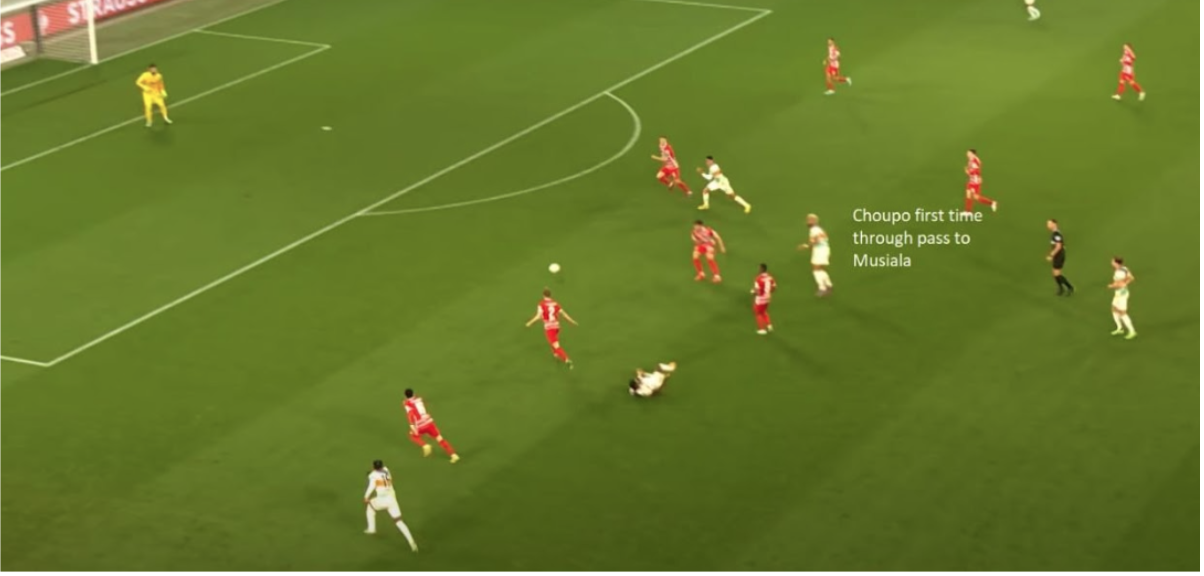 (vs Augsburg: Instance of Choupo-Moting's link-up which was a pre-assist as well)
The impact Choupo-Moting had on Bayern was profound in many ways. With a target man in the side, Bayern no longer had to score the perfect goal to break down opponents. There was always an alternate route to goal by playing it early and direct.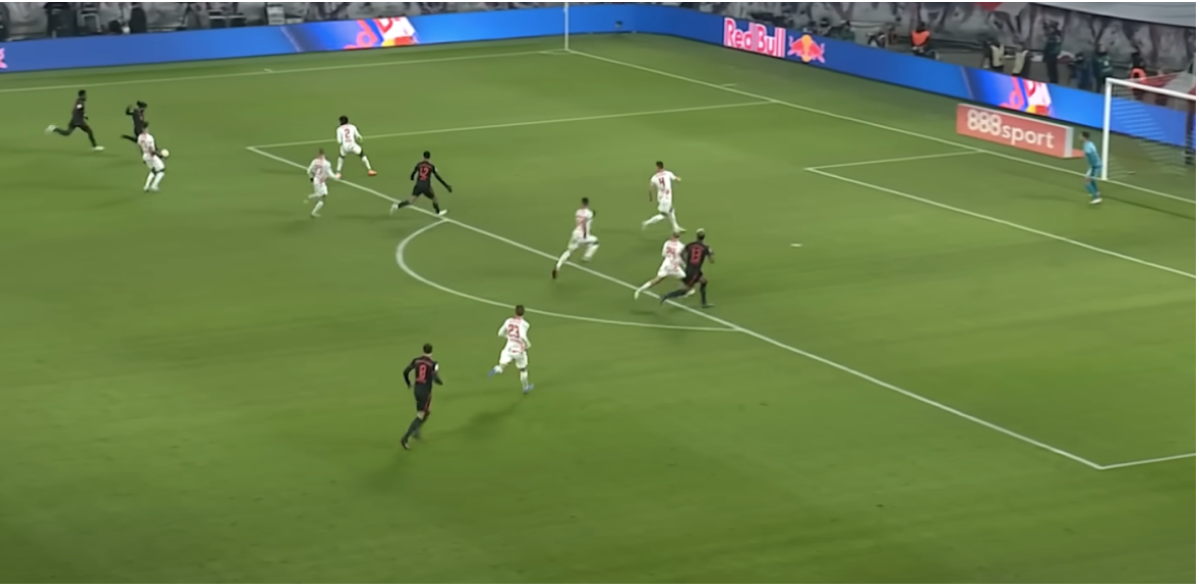 (Leipzig game: Gnabry can play the ball early in aerial instead of having to play it along the turf)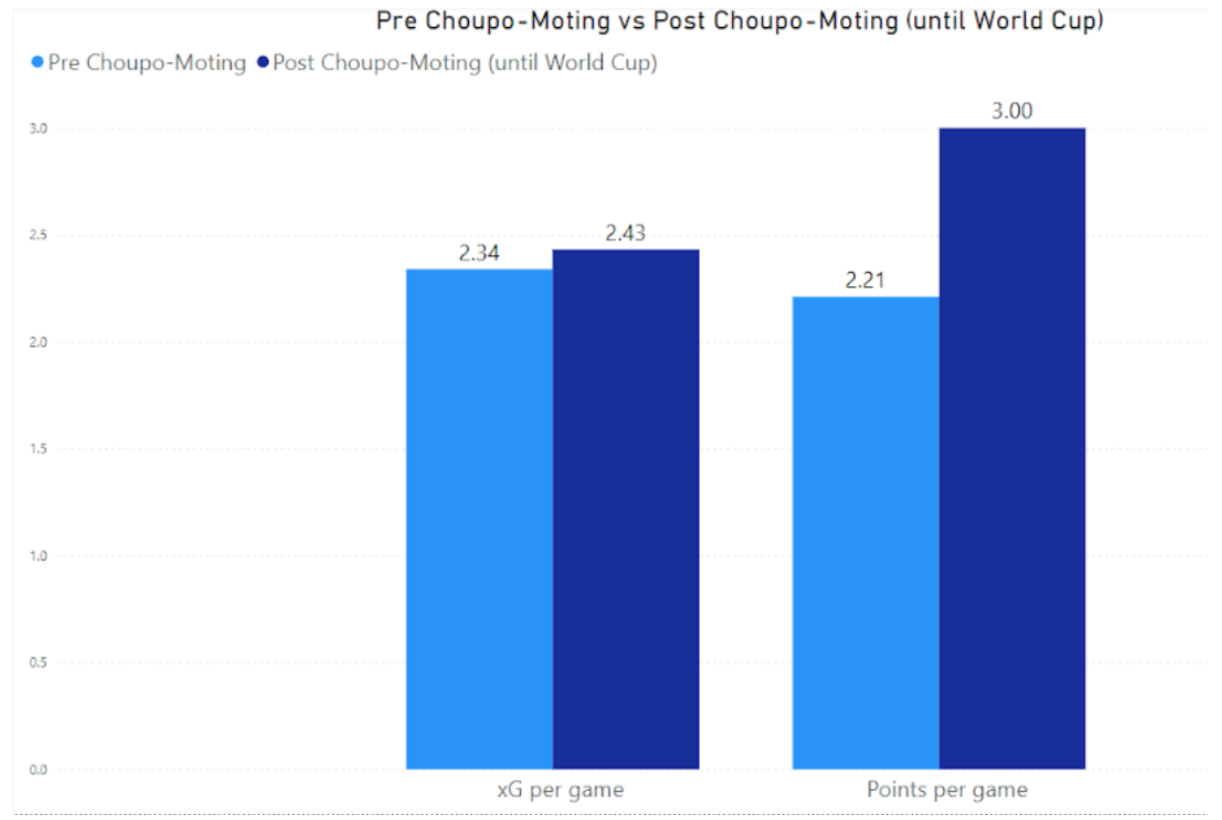 In addition, he became the out ball that Bayern lacked occasionally. So when teams pressed Bayern high up the field, the goalkeeper/defenders could bypass the midfield and press for Choupo-Moting to knock balls down for the oncoming runners thereby beating a huge part of the press. 
The game vs Barcelona at home was the best example of this where in the absence of an out-ball, Barcelona pressed Bayern really high up the field forcing Bayern to play long and lose the ball. Bayern were completely outplayed in that first half and were caught off guard. This is reflected in the high number of long passes and the low completion % of these long passes.

Potential Transfer Targets
With Choupo-Moting turning 34 and increasingly more injury-prone, Bayern had to dip their feet in the market. At the time of writing, it is the priority position when it comes to strengthening. The three big names being targeted are Victor Osimhen, Randal Kolo Muani and Harry Kane. 
Harry Kane
Harry Kane is the #1 target for Bayern at the time of writing. Thomas Tuchel has always been a huge fan of him. Bayern inquired about Kane 2 months back and became a "hot topic". That interest cooled down after Bayern's management became aware of Kane's inclination to stay in England and beat Alan Shearer's Premier League goalscoring record. However, recently Bayern met with Kane's entourage (including his brother) and talks were positive. Kane could see himself in Munich and according to Sky Germany, if Kane is to move abroad then his only preference is Bayern.
Harry Kane is the best striker in the world in the Choupo-Moting mould. He is, without any doubt, England's best #9 and #10. Coming off his joint-best league campaign, it is arguable that 30 goals for this fairly mediocre Spurs side is a bigger achievement than Erling Haaland's 36 goals for treble-winning Manchester City. Kane has the highest overperformance of any player in the Premier League which shows how clinical a striker he is.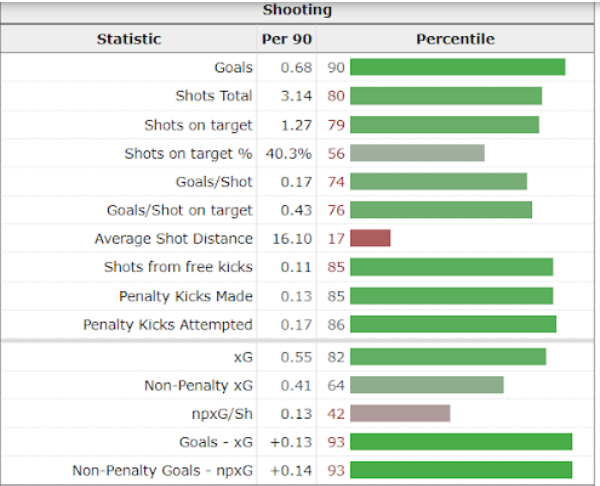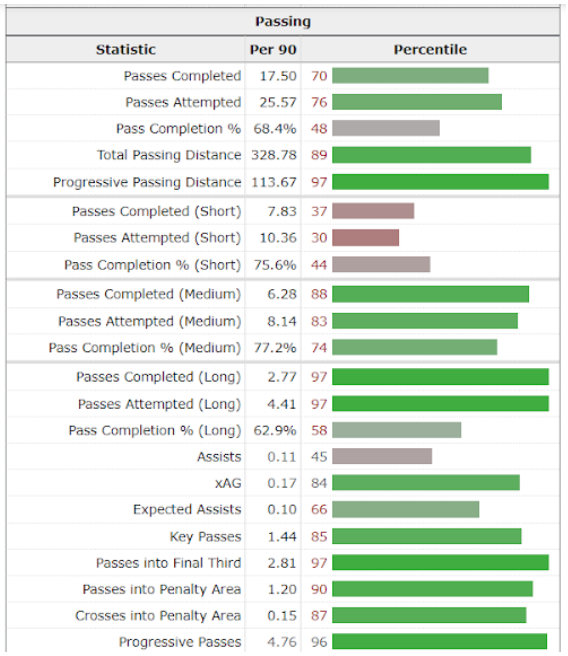 (Numbers on FBRef stack up: This indicates a player who is deadly in terms of finishing chances but also someone who can set up these chances and affect general build-up play, something Bayern are craving for)
(Kane is 10th in the Premier League for xGChain values too suggesting a lot of build-up play he gets involved in bears fruit for his side. Stats – Understat)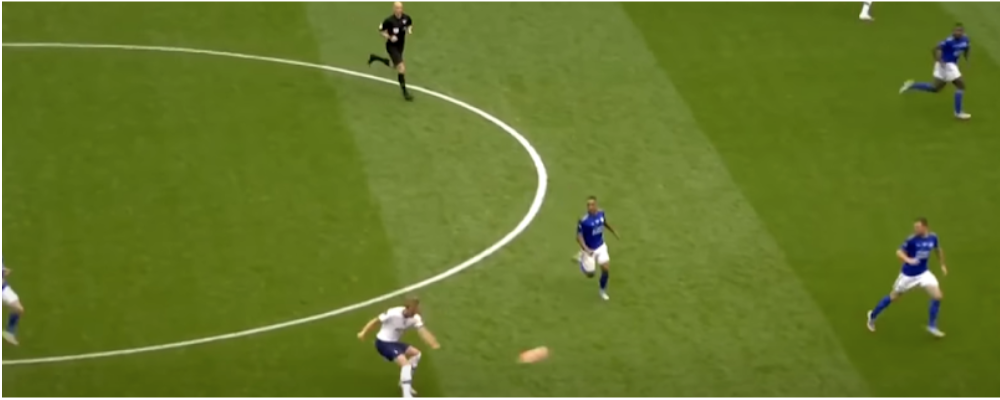 (Instances of Kane dropping deeper and affecting build-up)
Harry Kane is incredibly two-footed and will help solve Bayern's penalty (and potentially right-footed free kick) conundrum too. Since 2016 he has a success rate of 88.5% having taken 61 penalties. However, negotiating with Daniel Levy is going to be challenging. Even though Kane has only 1 year left on his contract, Levy could ask for over 120 million Euros (or may not even sell).
Selling to a different league could reduce that price but it will be an arduous task nonetheless. Kane will be 30 soon, but because he isn't someone who relies on pace and dynamism, the belief is that he can give Bayern 3 years of top service (hoping Mathys Tel can develop further during this period).
Victor Osimhen
After a scintillating season with Napoli, Osimhen is very open to returning to the Bundesliga (after his spell with Wolfsburg). It is a league that would really suit the strengths he has developed since leaving Wolfsburg. Another factor is that he met his girlfriend, Stefanie Kim Ladewig during his days in Wolfsburg and she is eager to return to her homeland. Osimhen is a prolific #9. He has world-class numbers when it comes to most shooting metrics.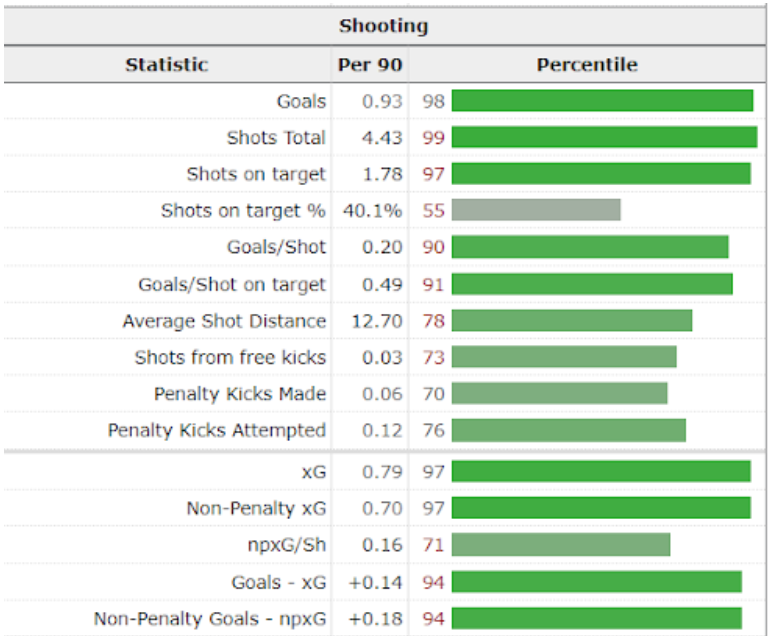 On top of this, he is an absolute monster in the air (be it aerial duels in the middle of the park, knockdowns for runners or to score himself).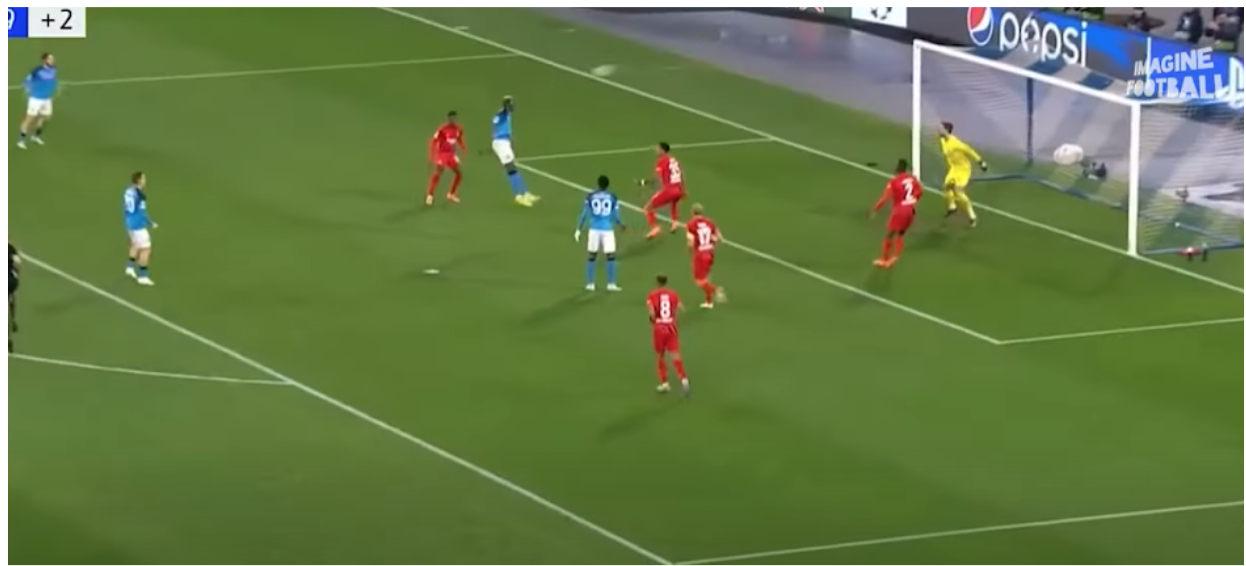 The Nigerian forward is a monster in the air thanks to his height and powerful jumping ability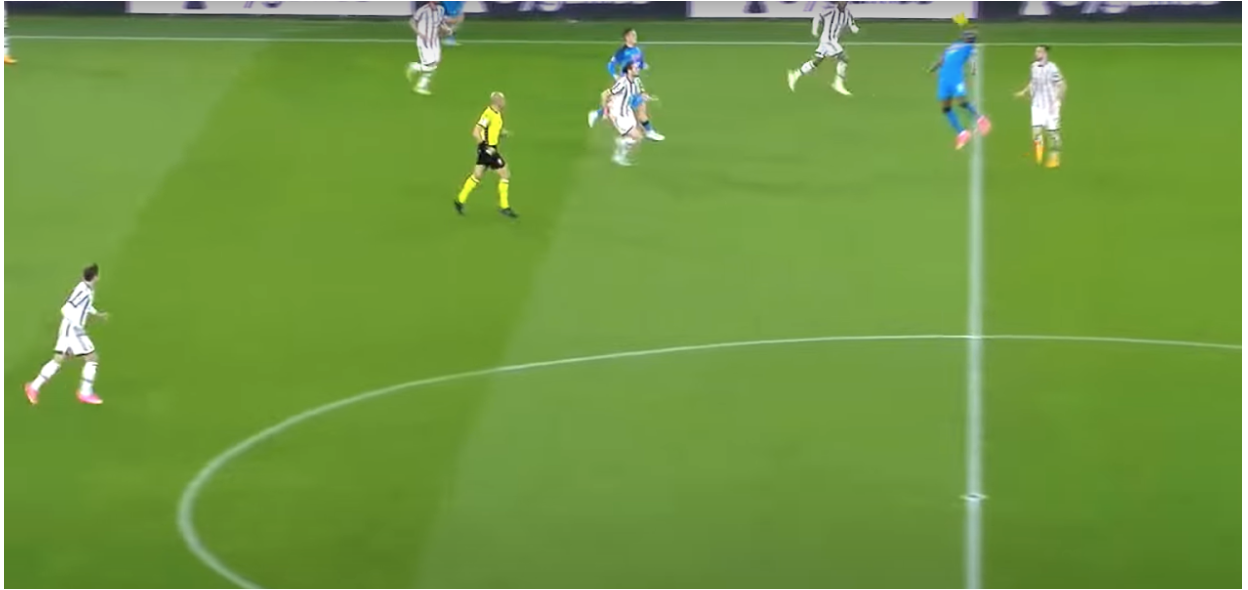 Osimhen routinely near the half line serving as the target for long balls out from the back
Dealing with Napoli president, Aurelio de Laurentiis is tough at the best of times. It is even tougher given the excessive demand for strikers and the scarce supply of them in the market. De Laurentiis reportedly wants above 150 million Euros for the Nigerian which would unequivocally price Bayern out for him. We could have a situation where Osimhen wants Bayern but Bayern just wouldn't be able to afford him. Thus, at the time of writing, he remains a backup if the Kane move fails to materialise. Bayern still maintain contact with Osimhen's agents.
Randal Kolo Muani
The other name spoken about extensively is World Cup runner-up, Randal Kolo Muani. He is coming off a stellar debut Bundesliga campaign with Eintracht Frankfurt with 26 goal involvements (4 more than anyone else). Along with Jude Bellingham, he had a legitimate shout at being the Bundesliga Player of the Season. Bayern and their management on the whole have monitored and liked him for a while.
He has even been Bayern's #1 target at different times. Uli Hoeness in particular was a huge proponent of the Frenchman. The issue is that with a contract running up to 2027, Frankfurt hold all the cards in the negotiations. Hence, Eagles Sporting Director Markus Krosche has slapped a 100 million euros transfer fee on him which Bayern made clear they were not willing to pay.
Kolo Muani's main strengths are carrying the ball from deeper and wider areas, creating a host of chances, getting involved a fair bit in build-up play and being a good presser. He is average when it comes to shot and xG numbers, however. The main issue with the Kolo Muani move is that he prefers to occupy half spaces to create these chances (contrary to a traditional #9). He would be at his best playing with a striker alongside him to enable him to have more freedom to drift around the pitch.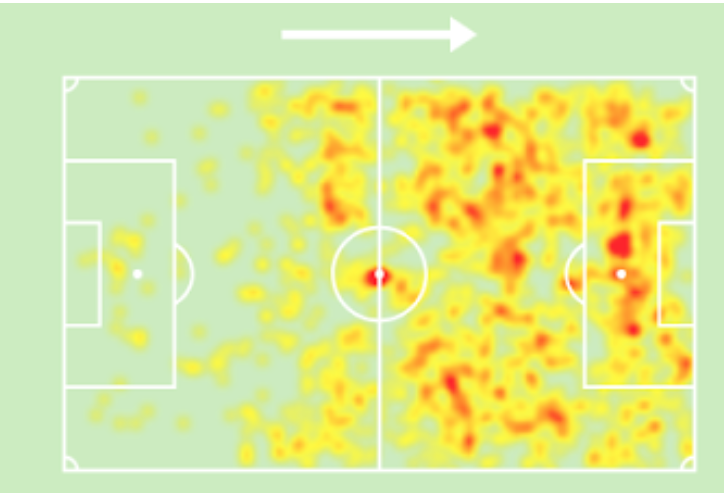 (Kolo Muani spending a fair chunk of time in left half spaces – SofaScore)
Bayern already have Gnabry, Tel, Sane, Muller and Musiala excelling in the role Kolo Muani is best at. The other skepticism (also shared by Salihamidzic) is that he requires too much space to create some of these chances. All in all, he is a terrific player but not the ideal profile of striker for Bayern and especially not at 100 million euros.
Alternative Options
Some names Bayern have been linked with are Dusan Vlahovic (a cheaper option whilst Bayern was pursuing Declan Rice), Rasmus Hojlund (betting on potential), Julian Alvarez (backup in most games to Haaland), Goncalo Ramos (coming off a terrific season), Niklas Fullkrug (cheap and fall back option) among others.
Central Midfield 
Since the departure of Thiago, Bayern have had issues in midfield. Thiago was a proper modern regista who could dictate tempo and his defensive game at Bayern was incredibly underrated. Pair him up with Joshua Kimmich and there's a midfield that could dominate any other midfield in world football at the time. Leon Goretzka also played a very good role in the UCL winning campaign in 2020 as the player who could dominate midfields physically and go box to box when Muller dropped a little deep.
However, what has happened for the past two seasons is that Kimmich as the designated #6 has to drop deep and receive the ball from CBs while Goretzka (while playing as the #8) would be caught too far upfield leaving Bayern very susceptible to quick counter-attacks. This issue was spotted by then manager Julian Nagelsmann and he switched their positions which made a lot of sense as he recognised Kimmich had outrageous creation numbers and wanted him to spend as much time closer to the box as possible while Goretzka had good defensive numbers and was a presence physically.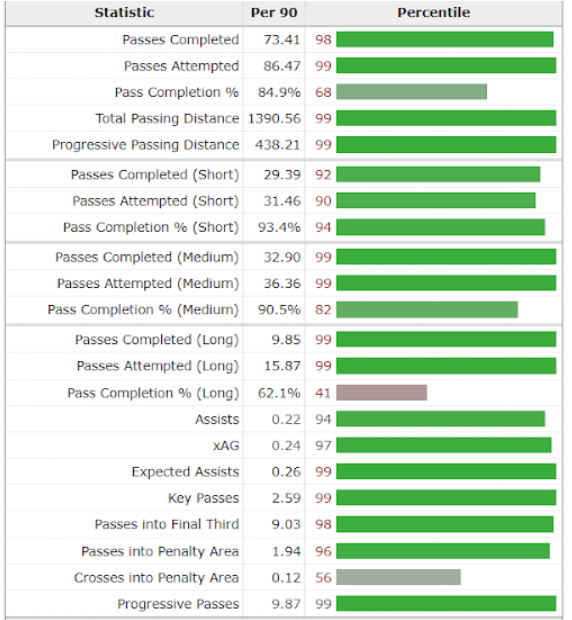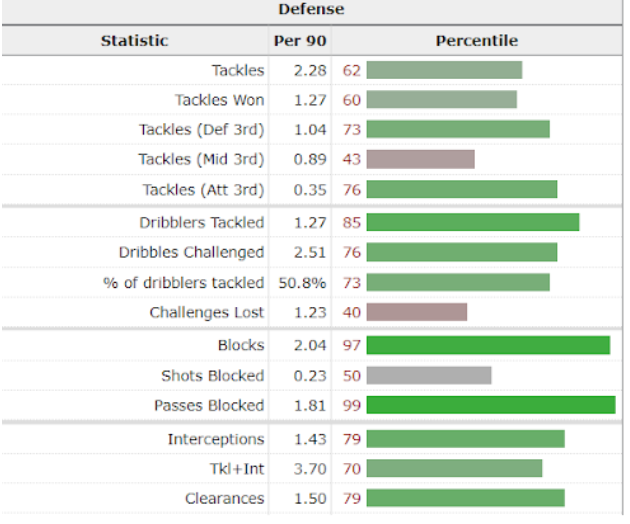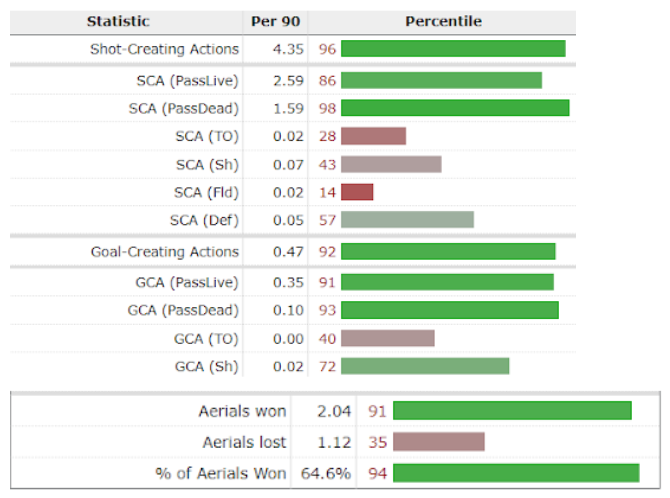 (Left: Stats showing Kimmich's incredible on-ball quality. Right: Stats showing Goretzka's decent enough defensive numbers)
New Bayern coach Thomas Tuchel was not impressed with Goretzka's form, was seen correcting him angrily during games regularly and even subbed him on and off in Bayern's crucial last Bundesliga game. Bayern realised that Kimmich partnered with a more defensive-minded midfielder tended to perform better (and Kimmich at his best is Bayern's biggest asset). This is why the Kimmich – Marcel Sabitzer partnership worked pretty well in the first half of the 22-23 season. It enabled Kimmich to play closer to the box where he can create from tight spots (including with his trademark chipped pass).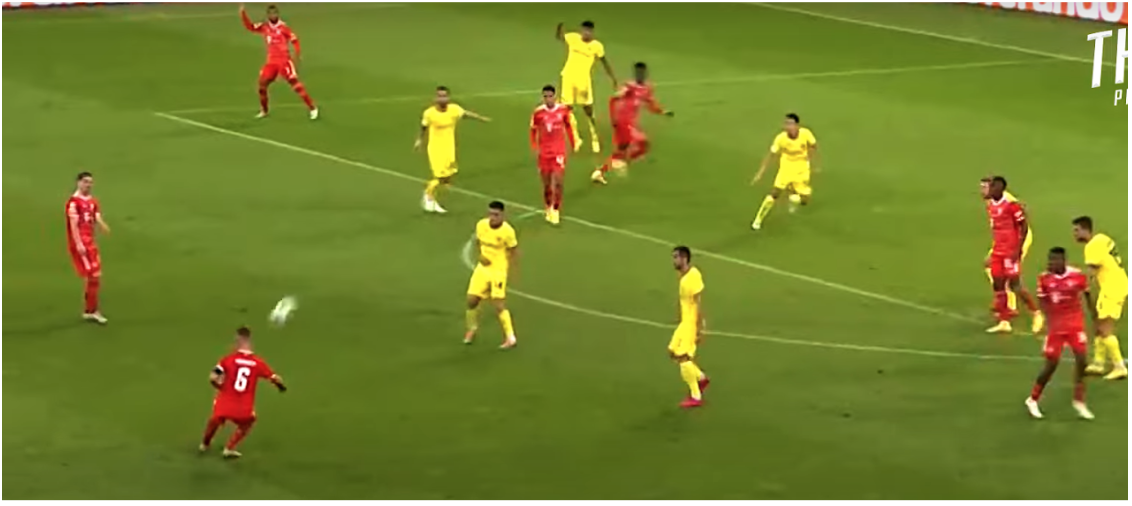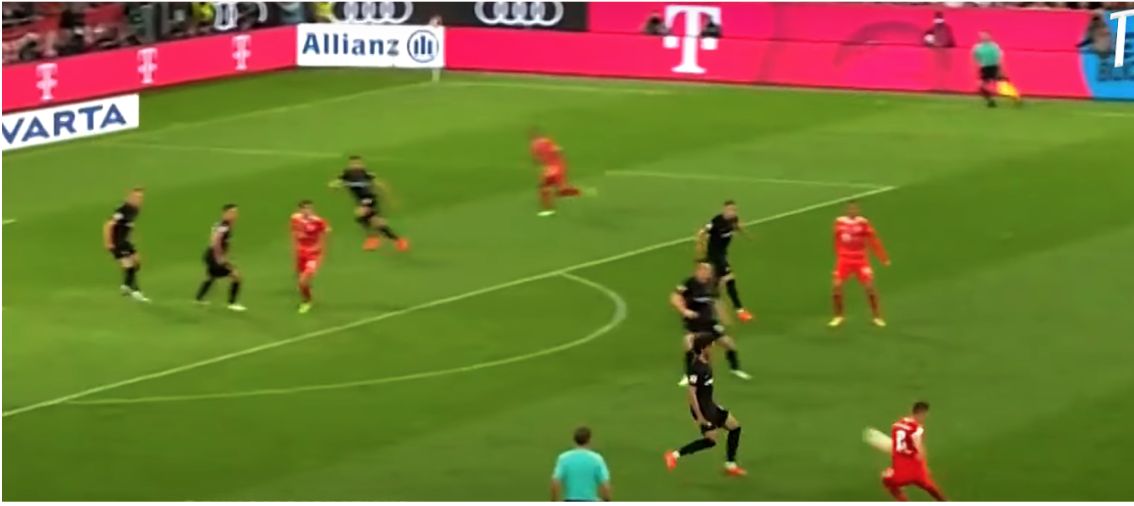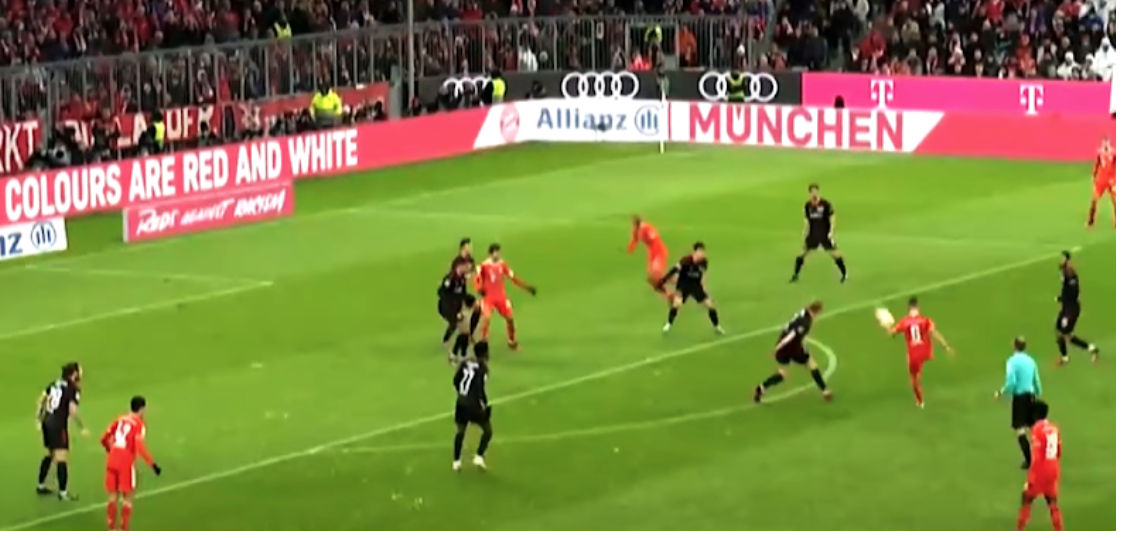 (Illustrations of Kimmich breaking down opposition defences with a chipped pass)
Bayern's Solution
Bayern have added Leipzig's Konrad Laimer into the mix. He is someone who is a livewire when it comes to the press and has pretty good defensive numbers. However, he is one who is best used as box to box runner (very similar to a Goretzka with a lot better pressing) and the bosses don't perceive him to be the #6. He can also deputise at RB, whilst Raphael Guerreiro, who arrived on a free transfer from Borussia Dortmund, is nominally a left back but has nevertheless played as a central midfielder under Tuchel at BVB.
Bayern ideally want someone as the #6 who can control the game from a deeper position, be comfortable in tight spots or someone who is an absolute destroyer in midfield with outstanding defensive capabilities and positional understanding. Having both of these styles in the locker is the ideal scenario. This is why Bayern spent long periods before the transfer window trying to convince West Ham's Declan Rice to join the Allianz Arena. Playing for a subpar West Ham side, he was their go-to man when it came to defensive actions, ball progression and even some chance creation.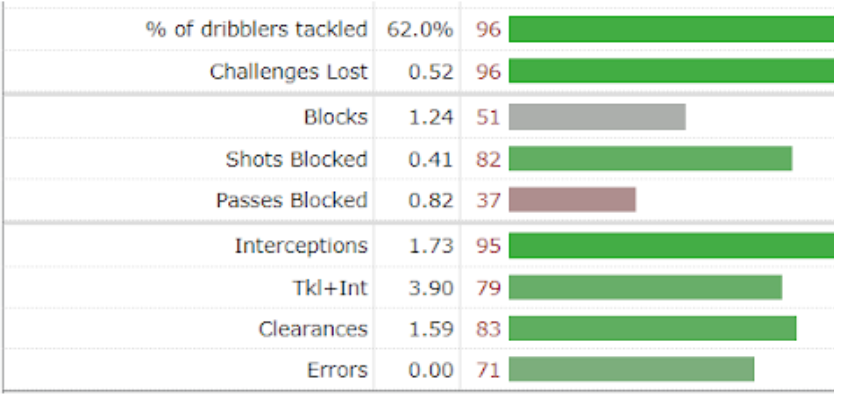 (Rice – defensive and passing stats)
However, once it became clear that two Premier League sides (Arsenal and Manchester City) were getting into a bidding war, Bayern pulled out. Following this, Bayern prioritised the #9 position as there wasn't an obvious name on the market in the minds. At different times other names including Adrien Rabiot (contract expiring), Mateo Kovacic (similar profile to Thiago), Edson Alvarez (destroyer midfielder), Pierre Hobjerg (former Bayern player and valued by bosses), Kalvin Phillips cheaper alternative to Rice) and Khephren Thuram have been linked to Bayern. Personally, I would love Bayern to go for Exequiel Palacios or Florentino Luis.
Centre Back
Not initially a position of worry, the news of Benjamin Pavard not extending his contract and Lucas Hernandez moving to PSG meant Bayern had to strengthen here too. Pavard and Lucas weren't just two good centre backs, but they also provided versatility to the team. Bayern quickly jumped on Kim Min-jae's ~45 million euro release clause. Named the best defender in Serie A, the South Korean is an old-school defender who is very aggressive in his tackles and interceptions from behind (which will mean the covering CB will be extremely important). He is very quick and more importantly agile for a CB. Stylistically, he is a lot more similar to Matthijs de Ligt than Dayot Upamecano as an aggressive defender who is a better defender than a ball player.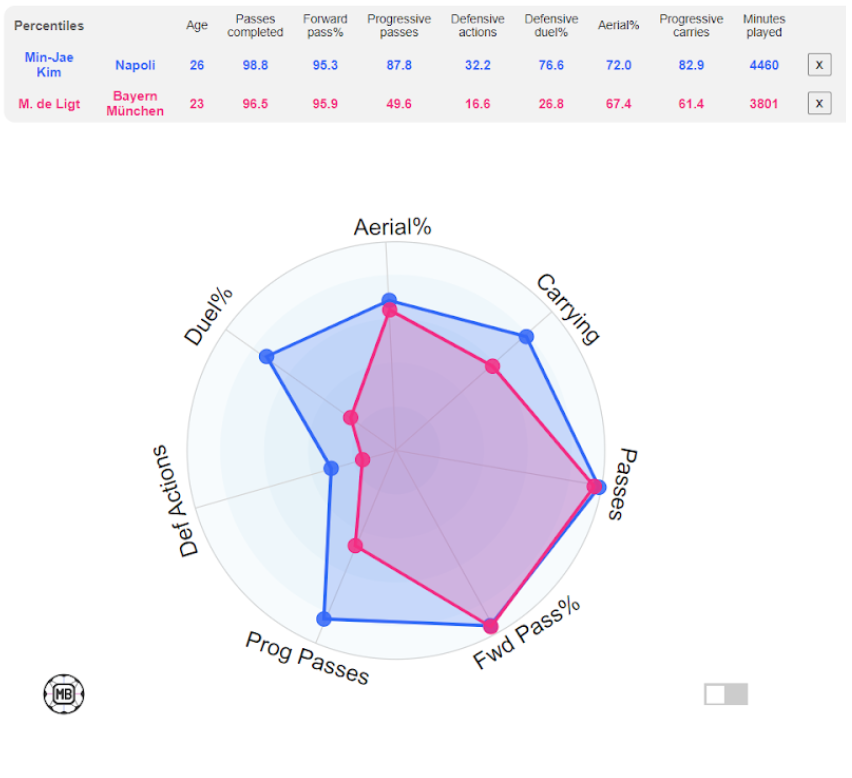 Photo: DataMB
Depending on who the new #6 is, Upamecano could retain his spot as the ball-playing CB. There is a strong possibility that a 3-back system gets used. This means two aggressive defenders (De Ligt and Kim) will have enough cover, maximises new signing Raphael Guerreiro's/ Alphonso Davies' strengths and places lesser defensive responsibility on the new #6.
Goalkeeper
Finally, in the goalkeeping department, Manuel Neuer will return from his freak injury (former GK coach and Neuer confidant, Toni Tapalovic will also return). However, when during pre-season is still unclear. Yann Sommer will likely leave but this uncertainty over Neuer has casted some doubts over that. Bayern have their eyes set on Valencia's Giorgi Mamardashvili. He still has a lot to improve with his feet but he is an excellent shot-stopper. Among the top goalkeepers, he is fairly similar stylistically and frame-wise to Thibaut Courtois. The plan is for him to be a backup to Neuer with the view of him being the #1 within 2 years.
Conclusion
Bayern have a transfer budget of 150 million euros (out of which 50 million has been used up on Kim Min-Jae) and whatever can be made from sales. Whilst they have added Raphael Guerreiro and Konrad Laimer from Bundesliga rivals Borussia Dortmund and RB Leipzig, Bayern still have to cover two of their biggest holes from last season and have their work cut out in order to improve on last season's inconsistencies.
By: Aniket Raman / @SweeperKeeperMN
Featured Image: @GabFoligno / @GabFoligno / DeFodi Images