What's Next for West Bromwich Albion?
The news that Ian Pearce will be West Bromwich Albion's new head of footballing operations and Mark Miles will assume the duties as CEO has left fans uninspired. Miles has worked at the club for 20 years but never in a footballing capacity, leading to concerns over his being underqualified. Pearce has been West Brom's head of recruitment since 2018 and has since overseen the darkest period of the club's modern history.
With this being said, they've made their plans for the upcoming season clear. Miles said in an interview with the club that they will build a squad to "compete for promotion". Pearce explained how they intend to do this in a Q&A with the club where he stated that he will mainly look at signing free transfers, loans, and players from lower leagues. They also made it clear that selling players was imperative to making this happen.
Carlos Corberan's Vision
Another thing mentioned throughout both interviews was the importance of building a squad in head coach, Carlos Corberan's vision. He joined West Brom midway through last season with them 24th in the Championship and instilled a possession-based 4-2-3-1 approach which saw them just miss out on play-offs on the final day.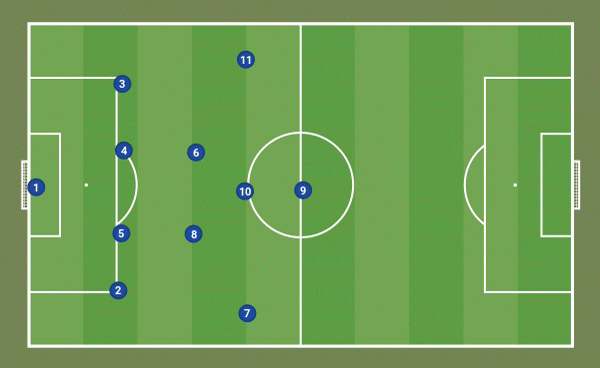 West Brom's out-of-possession structure
Out of possession, West Brom would drop into a  4-4-2 mid-block.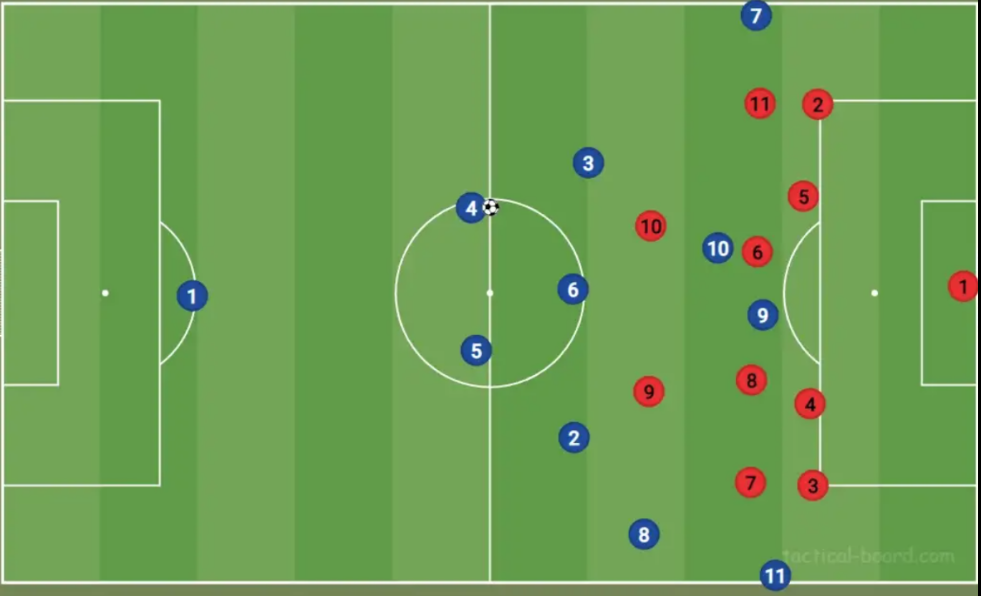 West Brom's in-possession structure
With the ball, they played a 2-3-5 with the "10" given a free role. This system would probably have seen them finish in a playoff position if not for injuries to key players in the run-in. I spoke about it in more detail at the start of the year:
Player Sales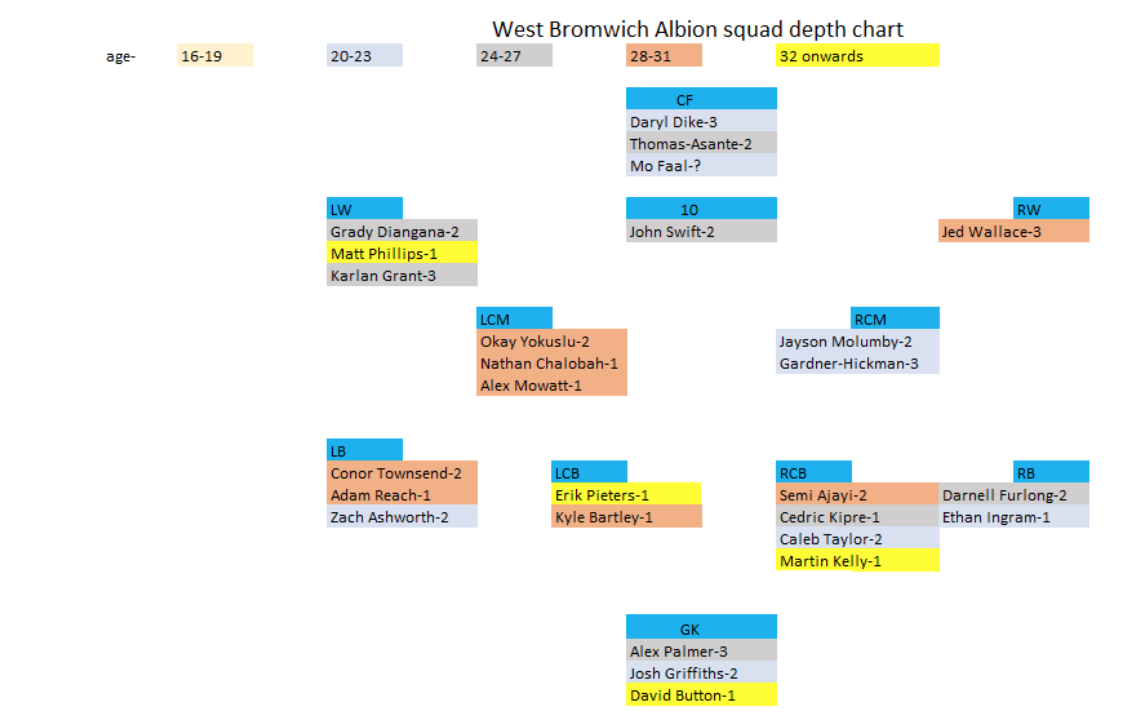 West Brom's squad depth chart pre-transfer window
Going into this window, Dara O'Shea had two years left on his contract. This gave West Brom the choice of keeping him and risking losing him on a reduced fee next season if they aren't promoted or sell him now. His sale to Burnley was West Brom choosing the second option. They'll have these same choices with Jayson Molumby and Okay Yokuslu who also have two years left on their contract.
West Brom must keep the system in mind when selling players. Karlan Grant had a deadline day move to Swansea City fall through at the final hour in January. When on form, he's one of the best forwards in the division but he doesn't fit into the system. He needs a fresh start and West Brom could command a seven-figure fee as he has three years left on his contract.
The average age of West Brom's centre-backs is 29.  This area of the squad remains bloated after the sale of Dara O'Shea and selling Nigerian international Semi Ajayi could help solve this problem. He has a wealth of Championship experience and would thrive in a team that plays an aggressive back three. With two years remaining on his contract West Brom could command a seven-figure fee for Ajayi.
Alex Mowatt has struggled since joining West Brom from Barnsley a couple of seasons ago, but could garner interest after his impressive form in Middlsebrough's run to the play-offs. He only has one year left which means the fee won't be large but, West Brom's precarious financial situation means simply freeing up wages is a positive.
Ethan Ingram has one year remaining on his contract but has only played 135 minutes of professional football in a West Brom shirt. He needs a loan move to prove he is worthy of a new deal next June.
Recruitment Parameters
Ian Pearce has named three markets in which he will look for players in this window. Frees, loans and young players from the lower leagues like Brandon Thomas-Asante. This piece will focus on players from these markets.
Left-footed Centre-back
Corberan showed his preference for a left-footed centre-back last season with his persistent selection of 34-year-old left-back Erik Pieters. Pieters had a good season but picked up a knee injury towards its end which has led to more worries about him being reliable in a 46-match season (at his age). West Brom needs a young and athletic defender who can play through a press in his place next season.
Jonathan Panzo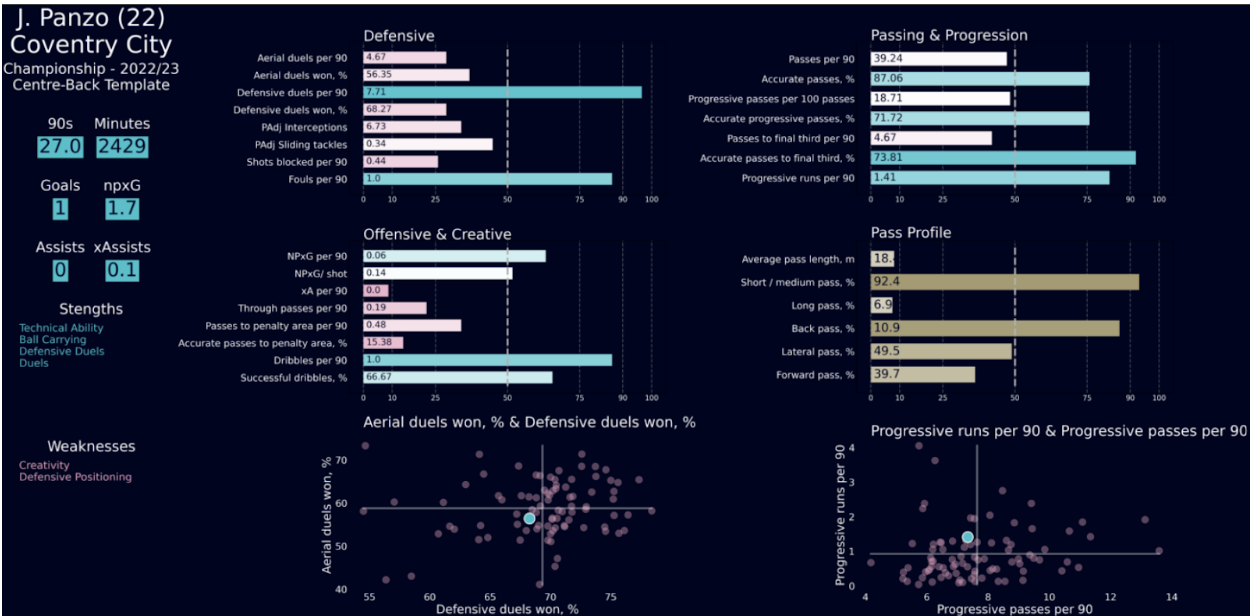 Jonathan Panzo's percentiles compared to Championship centre-backs with 15 or more 90-minute appearances [@analyticswba]
Jonathan Panzo was on loan at Coventry City last season. The 22-year-old defender would offer athleticism to the backline whilst also being able to slot in at left-back. He can break lines with his passing too: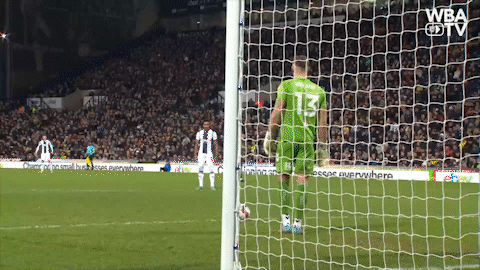 In this situation, most centre-backs pass to the wing-back, but Panzo delays until the West Brom player changes his body position and then passes into midfield.
Concentration is an area of his game that could be improved. In the play-off final, he was subbed on and almost immediately lost the ball to a Luton player who went on to score. It was disallowed, but these mistakes could cost West Brom valuable points if he's signed. He has been linked with Rangers recently but Nottingham Forest would probably be open to another loan to the Championship whilst Panzo could want another chance at promotion.
Auston Trusty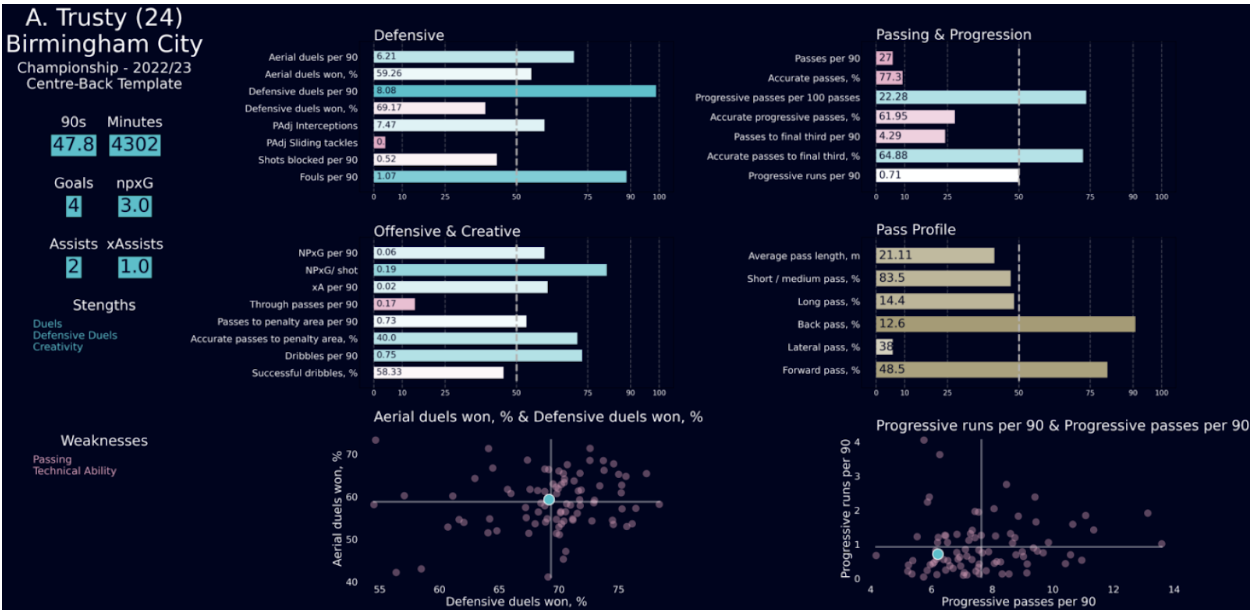 Auston Trusty's percentiles viz compared to Championship centre backs with 15 or more 90-minute appearances [@analyticswba]
Auston Trusty is a 6'3 defender who spent last season on loan at Birmingham City from Arsenal. He excels in most defensive metrics and is a presence in both boxes, he scored four goals last season including this acrobatic finish against QPR: 
What a GOAL this is from Auston Trusty! 😮

DREAM start for Birmingham 🔵⚡ pic.twitter.com/1gNEByTEwQ

— Sky Sports Football (@SkyFootball) October 28, 2022
He isn't a great ball player but his poor numbers in possession would improve in a team that takes more care of the ball and can be partially explained by Birmingham being one of the most direct teams in the league last season. Arsenal are actively looking to get rid of him and he has been linked with Rangers recently, but the opportunity to play at the top end of the Championship could bring Trusty back to the West Midlands.
Replacing Daryl Dike
Daryl Dike will miss at least half of next season after suffering a ruptured Achilles in West Brom's 2-1 win against Stoke City in April. This has left Thomas-Asante as their only senior option up top currently. His replacement should be a physical presence who's capable of both holding up play and stretching defences with runs in behind.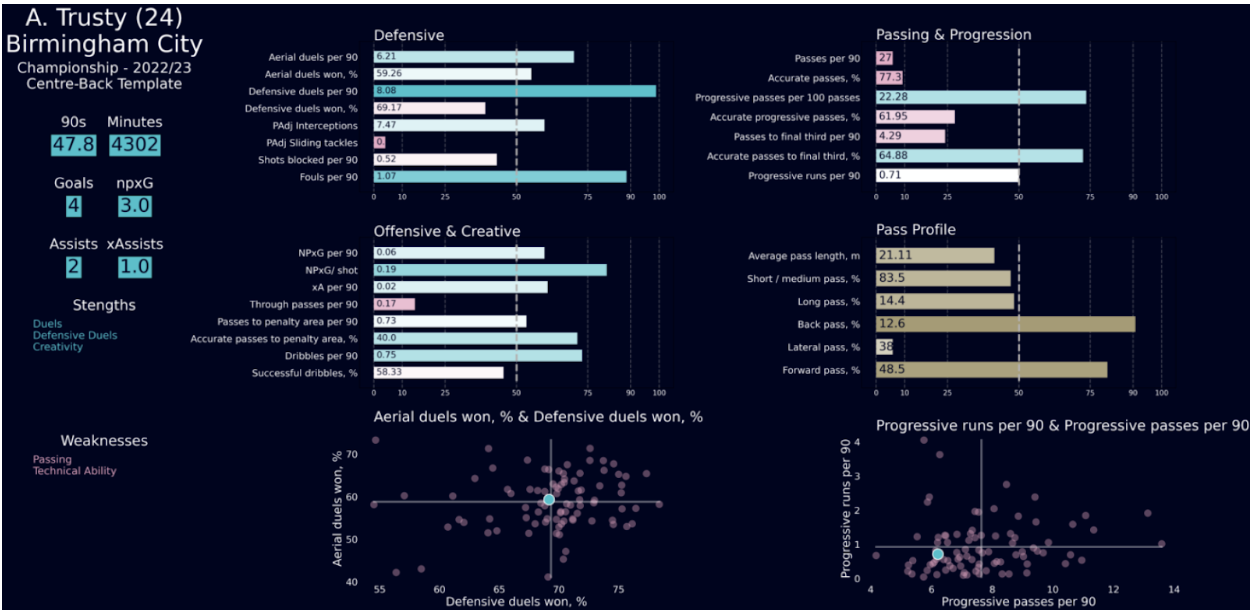 Liam Delap's percentiles compared to Championship strikers with 15 or more 90-minute appearances [@analyticswba]
Liam Delap
Liam Delap spent last season on loan at Stoke City and Preston. Most young players struggle in their first season on loan and Delap is no different. His next move could be the turning point in his career. He's a physical forward with phenomenal ball striking on both feet. The Manchester City loanee is similar to Viktor Gyokeres stylistically, a powerful runner capable of committing defenders with his dribbling.
He thrives with space to run into and is a threat in the air, and he's dangerous at shooting from long range as well. He underperformed his xG by four last season, seemingly due to a lack of confidence, but a move to West Brom could help him rediscover his goalscoring form. City would probably want to send him to a possession-based team in order for him to develop his technical ability, so the deal makes sense. [Note: Since this article was written, Delap has joined Hull City].
Tom Cannon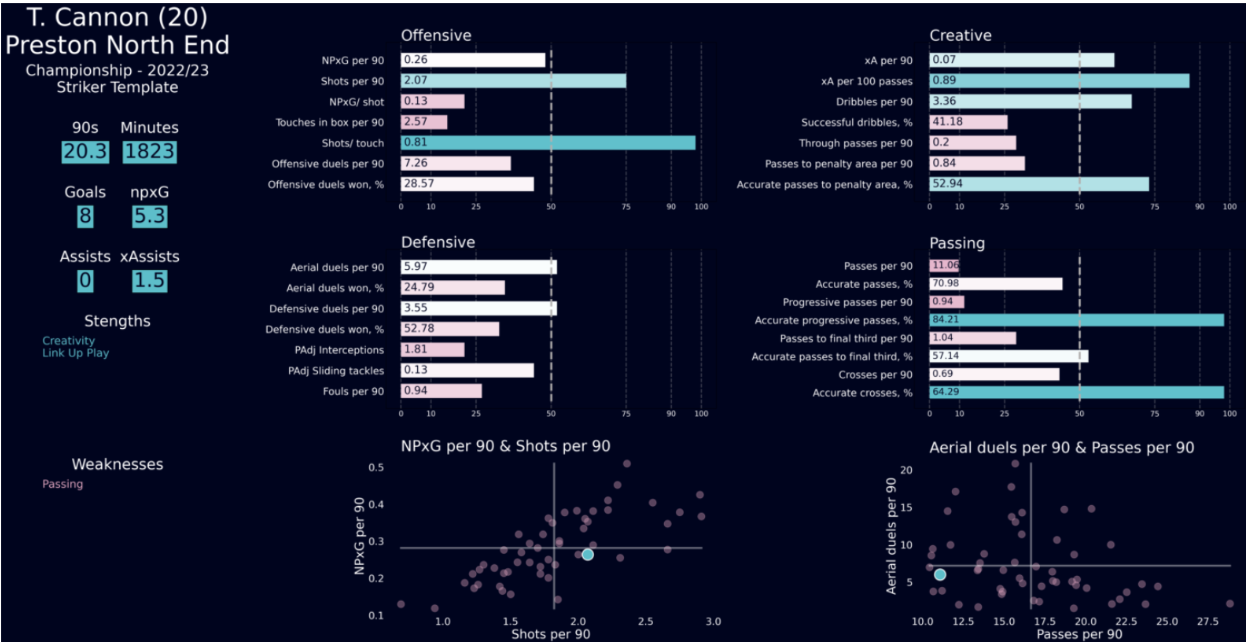 Tom Cannon's percentiles compared to Championship strikers with 15 or more 90-minute appearances [@analyticswba]
Tom Cannon replaced Liam Delap at Preston midway through last season and went on to score eight goals in 20 games. He can stretch the opposition with his blistering pace and willingness to run in behind, whilst his finishing is outstanding and his movement inside the box is dangerous.
His hold-up play leaves a lot to be desired and he's yet to play any professional football as a lone striker. If Everton don't sign a striker, he'll likely be involved in the first team next season, but West Brom could still explore a loan move for the Irishman.
Flexible Fullbacks
Last season, West Brom lacked tactical versatility at right back. Darnell Furlong was good in deeper areas but struggled when he was asked to go further forward. This needs to be addressed in the summer.
Junior Tchamadeu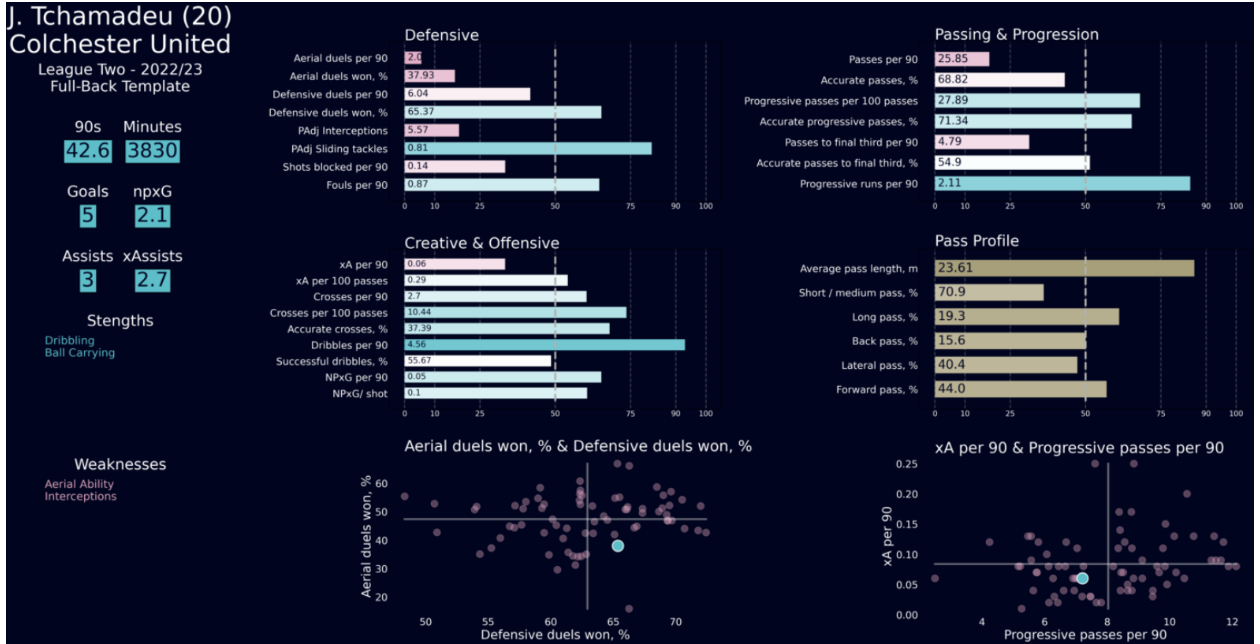 Junior Tchamadeu's percentiles compared to League Two fullbacks with 15 or more 90-minute appearances [@analyticswba]
Tchamadeu was one of League Two's most impressive fullbacks last season. He is an athletic fullback capable of stretching opposition defences with overlapping runs.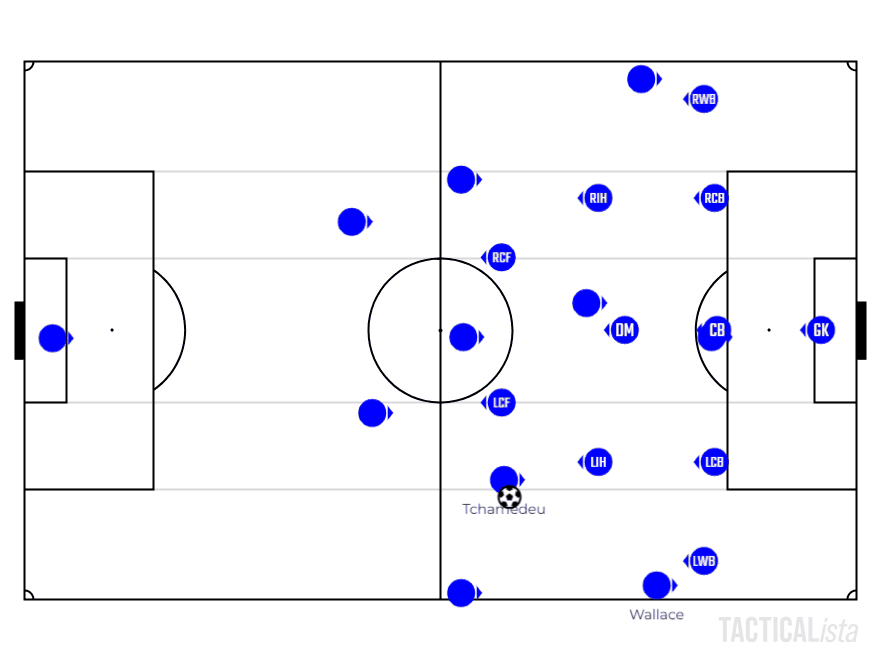 He is a willing dribbler and would offer a different dimension to West Brom's attacking play. He would provide quality out wide when Jed Wallace drifts inside, something Furlong has failed to do consistently. His ball striking is good on his right foot and his tendency to drift inside in the final third earnt him five goals last season.
Colchester United's teenage talent wins a large percentage of his defensive duels which indicates he's a good one on one defender, he can lack awareness at times but this will probably improve with age. He will need time to adapt to a higher level as he has only played in League Two but his physical attributes will see him thrive if he's given time.
Vitinho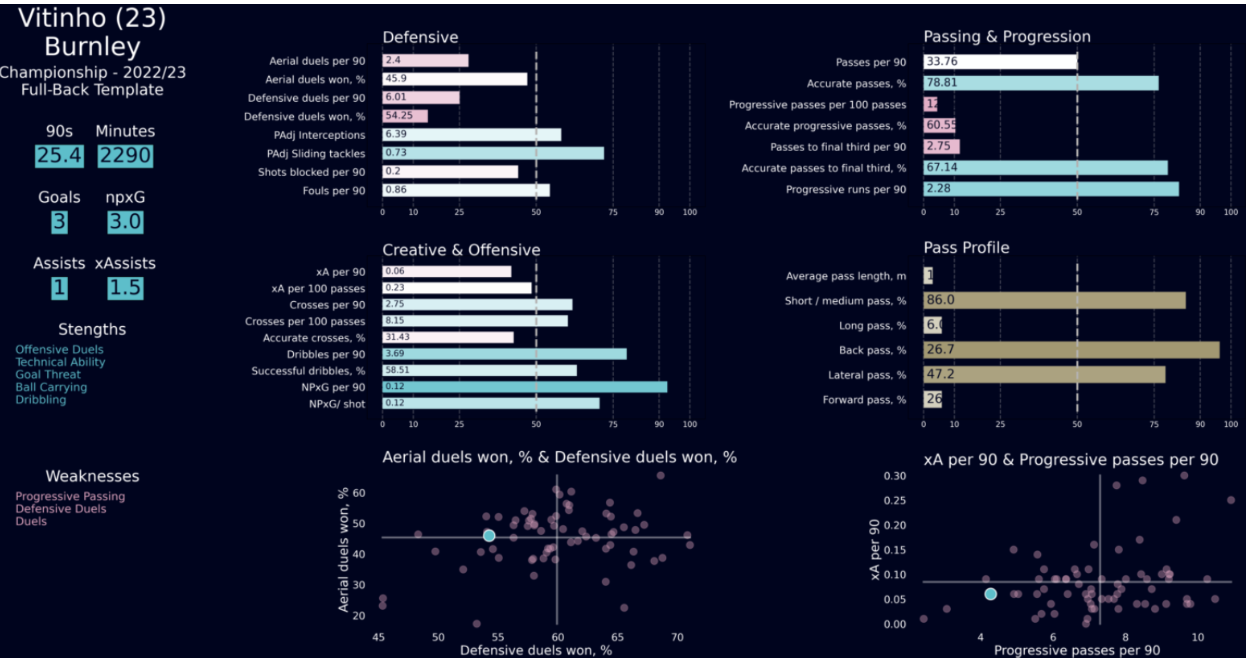 Vitinho's percentiles compared to Championship full-backs with 15 or more 90-minute appearances [@analyticswba]
Having arrived in the summer from Cercle Brugge, Vitinho struggled for game time at Burnley towards the end of last season. The Brazilian can play on either side as a fullback or on the right wing. He is secure in the build-up phase but has the pace to make an impact in the final third too. He offers tactical versatility as he can play high and wide whilst also having the skill set to play narrower. 
His duel success rate is worrying as it indicates he isn't great defensively but this isn't a big problem in teams that see a lot of the ball and are good structurally. He isn't ready for Premier League football which might lead Burnley to loan him out to a Championship side this summer in order to gain experience.
Strength in Depth
West Brom only have two players to cover the right-wing and attacking midfield positions. With funds low, it's sensible to sign a player who can play in both of these positions. The player should be comfortable coming in from the right and rank well in creative metrics.
Matheus Pereira has struggled since leaving West Brom for Al Hilal but the new relaxed foreign player rules would make a return to the Midlands possible. In the 2019/20 season, he assisted 16 goals whilst scoring eight from the right wing and attacking midfield which makes him a perfect fit for this role.
From the right, he likes to cut inside and then play a through ball on the outside of the opposition's centre-back. Al Hilal seemingly are happy to loan him out next season and a move back to the Championship seems likely given how far his stock has fallen during his time in the middle east. He'll be the signing of the summer if any Championship team can get ahold of him.
Jeserun Rak-Sakyi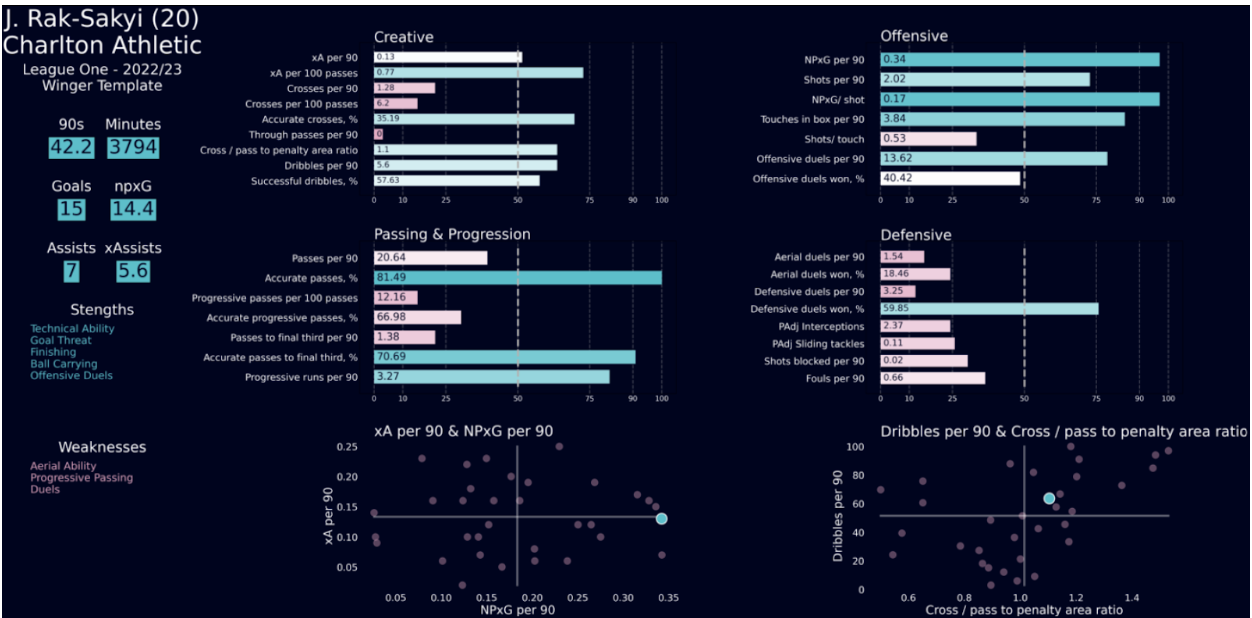 Jeserun Rak-Sakyi's percentiles compared to League One wingers with more than 15 90-minute appearances [@analyticswba]
If they can't sign a winger who can play in attacking midfield, they should look to sign Jeserun Rak-Sakyi on loan from Crystal Palace. He spent last season tormenting League One defences with his trickery and goal-scoring ability, winning Charlton Athletic's Player of the Season award after racking up 15 goals and eight assists for The Addicks.
He thrives on transition and is unstoppable when given space to drive into. When he has the ball on the counter he likes to push the ball on the outside of the defender before cutting inside when he's closer to the goal. He has the tools to help break down low blocks too. His main methods of creating chances are deep crosses from the right half-space and cutbacks, but he has also shown an ability to cross low and with pace from the left wing.
He will be playing Championship football next season but his destination is unclear. He's been linked with Ipswich Town, but playing in a team that consistently faces low blocks like West Brom would be better for his development.
Other Suggestions
So far I've discussed the positions that should be recruited as a bare minimum this window, but the squad could do with investment throughout. Once the crucial positions have been sorted, these are some other players West Brom should look to sign.
Elliot Watt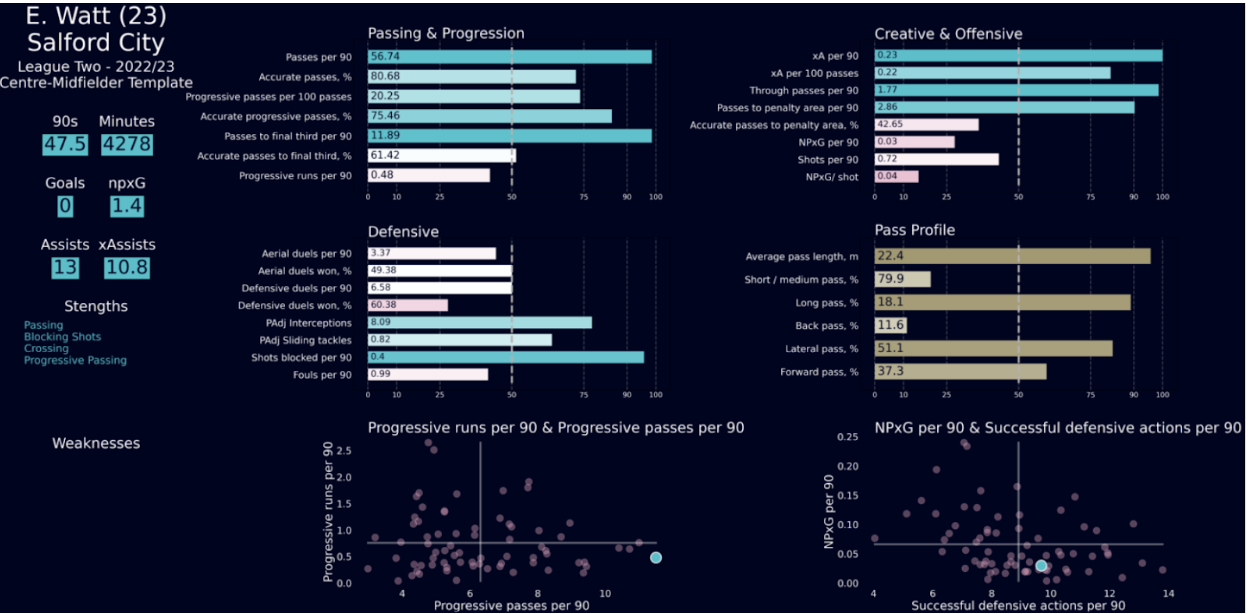 Elliot Watt's percentiles compared to League Two centre midfielders with more than 15 90-minute appearances [@analyticswba]
Watt was the best "6" in League Two last season. He's a good tackler and reads the game well which is shown in his PaDj interceptions per 90 stats. He assisted 13 goals last season. From open play, he is most dangerous from the right half-space. He's an excellent technician and his quality would be more prevalent in a team that dominates the ball as much as West Brom.
Just moments after Stockport hit the bar, Salford take the lead! 💥 pic.twitter.com/49GCkbj9GW

— Sky Sports Football (@SkyFootball) May 13, 2023
Samson Tovide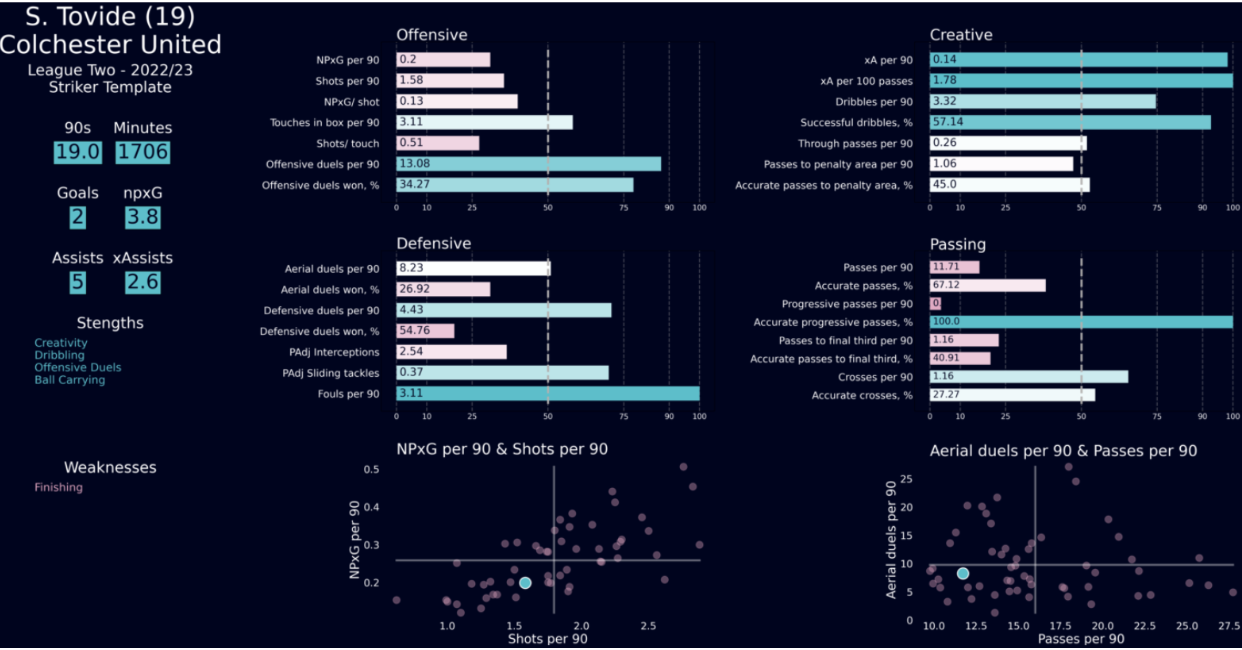 Samson Tovide's percentiles compared to League Two strikers with more than 15 90-minute appearances [@analyticswba]
Tovide is the second Colchester player on this list. He's a physical forward capable of creating chaos with his athleticism and dribbling ability. He's intelligent and he's able to create with little flicks inside the box, like this assist against Sutton United:
Growth of Samson Tovide this season has been great. Yet another off the #ColU conveyor belt to get excited about. pic.twitter.com/dWq9cOeZbI

— Edward Walker (@edward_w97) April 23, 2023
 He's capable of dribbling from deep and committing defenders with his ball-carrying ability. He isn't rash in the box either and has the composure to pick out a teammate when possible. 
A goal made in the @ColU_Official Academy 🙌

🅰️ @TovideSamson
⚽️ Junior Tchamadeu

Two teens with big futures in the game 🌟#EFL | #SkyBetLeagueTwo pic.twitter.com/tGfQO2pDiV

— Sky Bet League Two (@SkyBetLeagueTwo) January 8, 2023
His finishing is a concern and he doesn't look to be a natural goalscorer. He's incredibly raw but I'd be surprised if he isn't a Championship striker in the future.
Josh Wilson-Ebrand
Wilson-Ebrand spent the second half of last season on loan at Coventry City. He is an athletic full-back who could offer 1v1 quality high up the pitch. He is an excellent dribbler but has no professional experience in a back four. This shouldn't be too much of a problem due to Manchester City's youth teams being trained in the same 4-3-3 system the first team uses. He would be available on loan.
Conclusion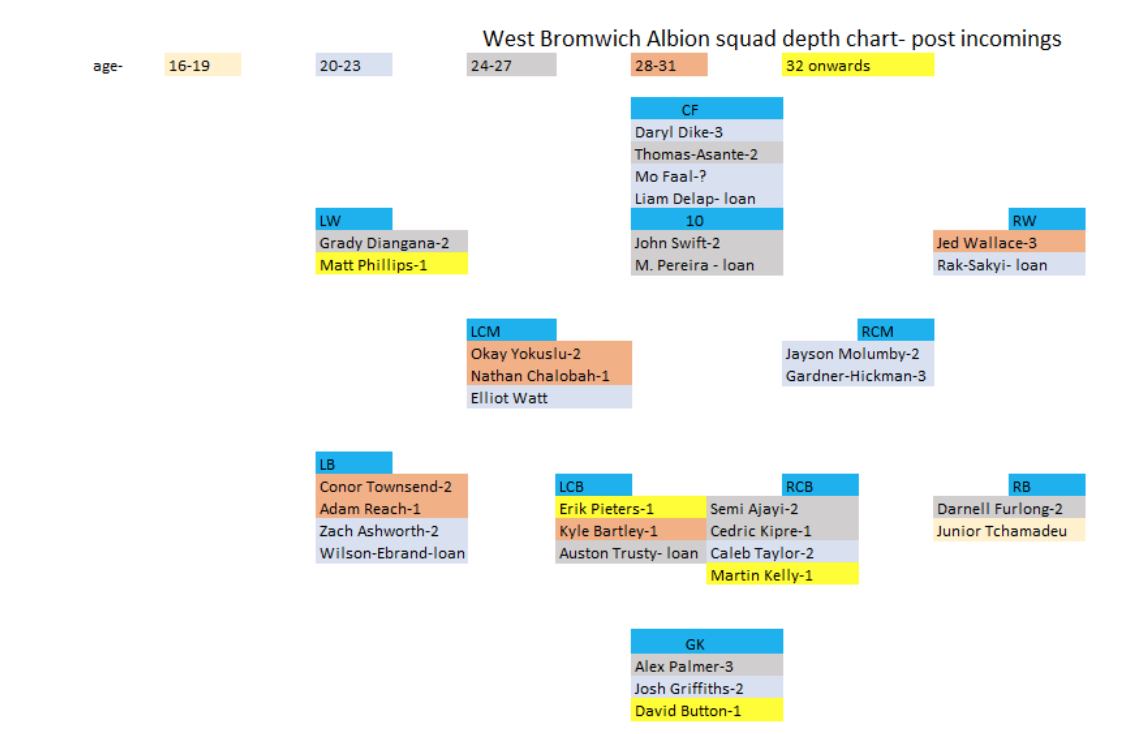 West Broms' squad depth chart with my ideal transfer window
This squad could challenge for playoffs. At least two players in every position would help deal with the problems that arose after injuries to key players last season whilst having a set of profiles that can solve different problems. This window would reduce the squad's average age and improve its quality.
By: Rickylee Griffiths / @rickyleegriffi2
Featured Image: @GabFoligno / Adam Fradgley / West Brom