Coming to Grips with Borussia Dortmund's Misfiring Attack
Sitting second in the Bundesliga table with 2 defeats after 7 gameweeks – 2 points behind league leaders Union Berlin – you'd be hard-pressed to find a Borussia Dortmund fan satisfied with the club's start to the season. For the first time since 2009, Dortmund failed to score more than 8 goals after their first 6 matchdays — they currently have 9 after beating Schalke 1-0 in the Revierderby. With this being the same club that averaged the 4th most goals in all of Europe last season (2.38 per game), it's shocking to see just months later a BVB that, through large stretches of the campaign, can barely get a shot on target. 
Though it may be slightly premature to start ringing the alarm bells, it's time we take a look at some of the attacking limitations which have temporarily put a halt to BVB's quest for Bundesliga glory. This is an adaptation from Adam Khan's German Football Newsletter. Want weekly content from the Bundesliga & Bundesliga 2? Subscribe here!
A Step Too Far for Anthony Modeste?
Anthony Modeste's seemed like a strategic signing when he was announced in August. Following Sébastien Haller's cancer diagnosis, Die Schwarz-Gelben needed a short-term solution in the forward position, and the Frenchman's total package of roughly €10m seemed like a fine price to pay for a guaranteed goalscorer with elite Bundesliga experience.  
In 7 seasons in Germany, the 34-year-old striker has scored 84 times, and his 20 goals in the past campaign were crucial in taking relegation favorites FC Köln into the Conference League. Particularly his aerial threat was considered an elite weapon that BVB could add to their arsenal.  
No player in Europe's top 5 leagues scored more headed goals last season (10), and Die Schwarz-Gelben looked desperate at times for a player with his qualities given that only 4 of their 85 goals in the 2021/22 Bundesliga came from a header out of open play. 
Yes, there was the worry that Modeste would provide a barrier to Dortmund's fluid, attacking, interplay, but on the other hand, a true goal-poacher was precisely what this club needed after years of being accused of over-complicating the game in the final third. 
If everything went to plan, Modeste could pose a lethal threat as a penalty-box scorer, and add an entirely different element to anything which was currently available in BVB's squad. Adaptation, however, has proved difficult.
Across 8 starts and 622 minutes, Modeste has scored just one goal. More often than not, the Frenchman has spent his time on the pitch isolated and out-of-sync with his new teammates, failing to come to grips with the distinct style which has defined the best part of the last decade in Dortmund.
Coming from an FC Köln side that bombarded opponents with one aerial delivery after the next, Modeste has found it extremely difficult to adjust to new surroundings in which crossing opportunities are routinely passed-up-on in favor of another short pass.
Whereas the "Billy Goats" from the Dom Stadt attempted more open-play crosses than any other side in Europe's top 5 leagues last season, Borussia Dortmund were even bad by domestic standards, completing fewer aerial deliveries than the 9 other clubs which finished in the top half of the table. 
Though it's somewhat understandable given that BVB played large stretches of last season without a true number nine, signing a player who has scored almost 30% of his Bundesliga goals with his head should have forced an adjustment, but in 5 matches it's barely made a difference. Dortmund has attempted less than 1 cross more (per 90) than last season, and their success rate has even fallen from 33.2% to 29.4% (data via Wyscout).
As a result of BVB's inability – or unwillingness – to adjust, we've not only seen Modeste's output plummet but also the fluidity of BVB's entire attack. Though the Frenchman has played just over 600 minutes in all competitions, it's safe to say BVB have unsuccessfully replaced a technical and involved, center forward, with a penalty-box poacher going hungry in the current system. 
A Lack of Variability in the Final Third
The absence of Sébastien Haller, the inexperience of Youssoufa Moukoko, and the unremarkable form of Anthony Modeste mean BVB are still searching for an answer at center-forward, but things aren't looking much better across the remaining positions in the attacking quartet. 
Injuries, as so often with BVB, have put a line through Edin Terzić's early plans in either wing position. Jamie Bynoe-Gittens, Karim Adeyemi and Donyell Malen have all missed large chunks of the Bundesliga season, leaving Dortmund's new manager without vital talent that could change the attacking outlook.  
The likes of Julian Brandt, Thorgan Hazard, and Gio Reyna all have undeniable qualities when called upon to take up wide roles, but it often proves too predictable with the entire Dortmund attack looking for the ball to feet, and rarely stretching the pitch with explosive, vertical, movement. 
Coupled with a static number nine still adjusting to life in Dortmund, almost all of BVB's sparks have come from moments of individual genius, quick interplay through the midfield, or bursting runs from deep pockets courtesy of Jude Bellingham, Nico Schlotterbeck, and (sporadically) Niklas Süle. 
Julian Brandt is a prime example of an extremely talented technician who often fails to help his side through his desire to come short in possession. In the clip above, a counter-attacking opportunity is potentially available, but Brandt's decision to come short both slows the game down, and allows Hoffenheim to press without fear of leaving space behind their defensive line. 
Numbers Don't Lie
An out-of-sorts goalscorer and a creative hub overflowing with similar qualities mean Dortmund's attack is as uninspiring as ever. Just 9 goals in 7 matchdays offers the tip of the iceberg, but beneath that, there are countless other statistics that highlight Dortmund's inability to both take chances and create them.  Whereas last season BVB led all of Europe in their ability to turn shots – and shots on target – into goals, this year their attack has fallen flat, not even cracking the top 4 for either statistic in the Bundesliga. 
Anthony Modeste doesn't profile well – needing almost twice as many shots per goal compared to his final season in Cologne – but even the so impressive Judge Bellingham has failed to find his goalscoring form. A brave header mid-week opened his account in the Champions League, but after 7 Bundesliga matchdays, the English international is yet to score. 
Most goals scored by English teenagers in #UCL history:

◉ 4 – Jude Bellingham
◎ 3 – Wayne Rooney
◎ 3 – Phil Foden
◎ 3 – Theo Walcott
◎ 3 – Jadon Sancho

Jude sets the record against an English side. 🏴󠁧󠁢󠁥󠁮󠁧󠁿 pic.twitter.com/Rbzxs3asag

— Squawka (@Squawka) September 14, 2022
As a nominally box-to-box midfielder, Dortmund shouldn't be resting their goalscoring fate on his shoulders, but no BVB player has taken more shots than Jude Bellingham in the Bundesliga (13), and the 19-year-old super talent is underperforming his xG by a larger margin than any other player, bar Thomas Müller.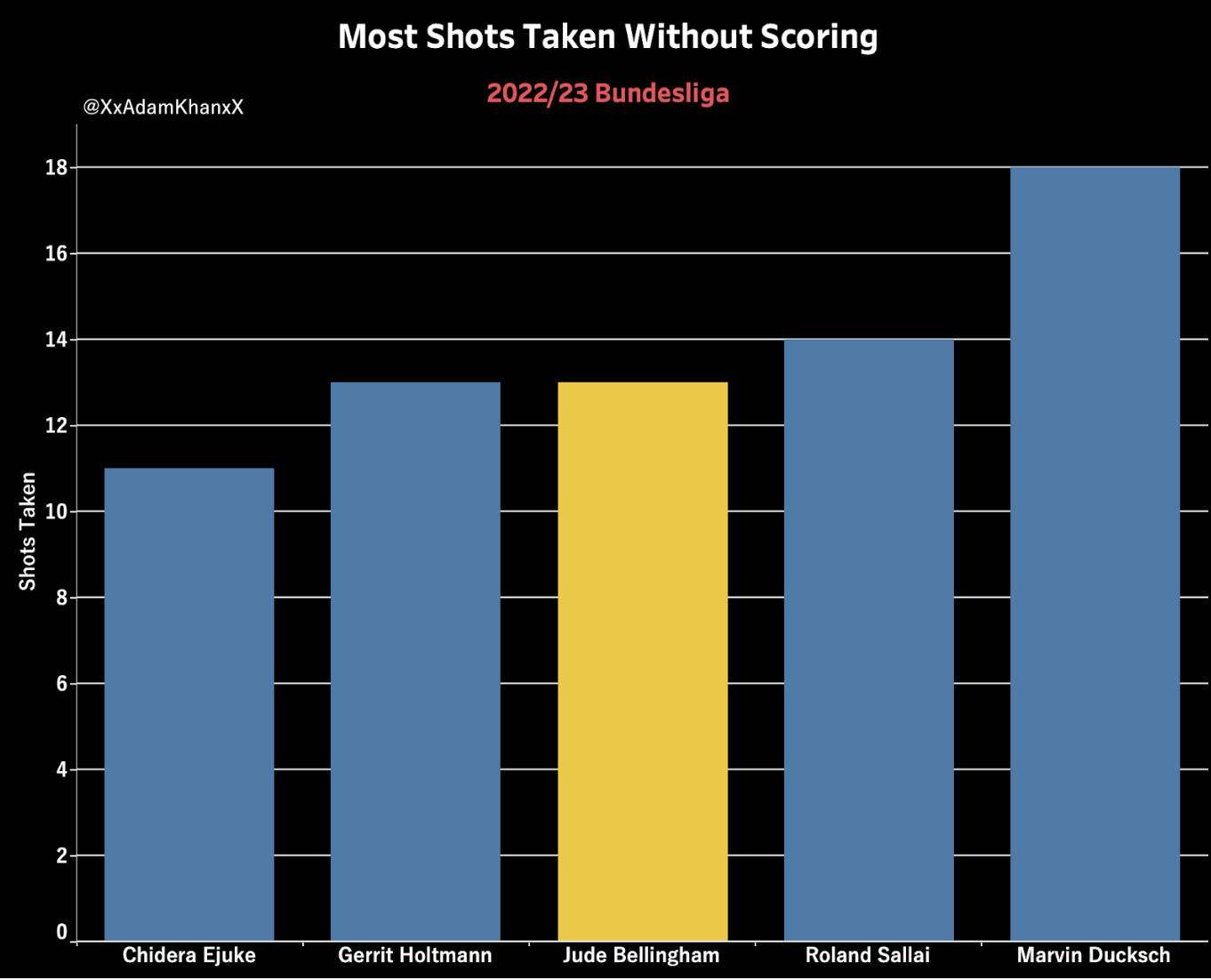 Only two players in the 2022/23 Bundesliga season have taken more shots without scoring than Jude Bellingham
As for chance-creation, again Die Schwarz-Gelben haven't been blessed with an excess of quality that can paper over their wasteful finishing.  After 7 matchdays, 9 Bundesliga sides lead Dortmund in the number of shot-creating actions, while both defeats this season involved some of the most humiliating attacking performances in modern BVB history.
In defeat to Werder Bremen, BVB put up their worst expected goals performance since the 13th of June, 2020, while for the first time in almost 100 matches BVB failed to register a single shot on target in their 3-0 defeat to RB Leipzig on September 10. One of these performances in isolation could be chalked up to a bad day at the office, but two such outings less than a month apart mean there may be some wider issues surrounding Dortmund's mediocre chance-creation.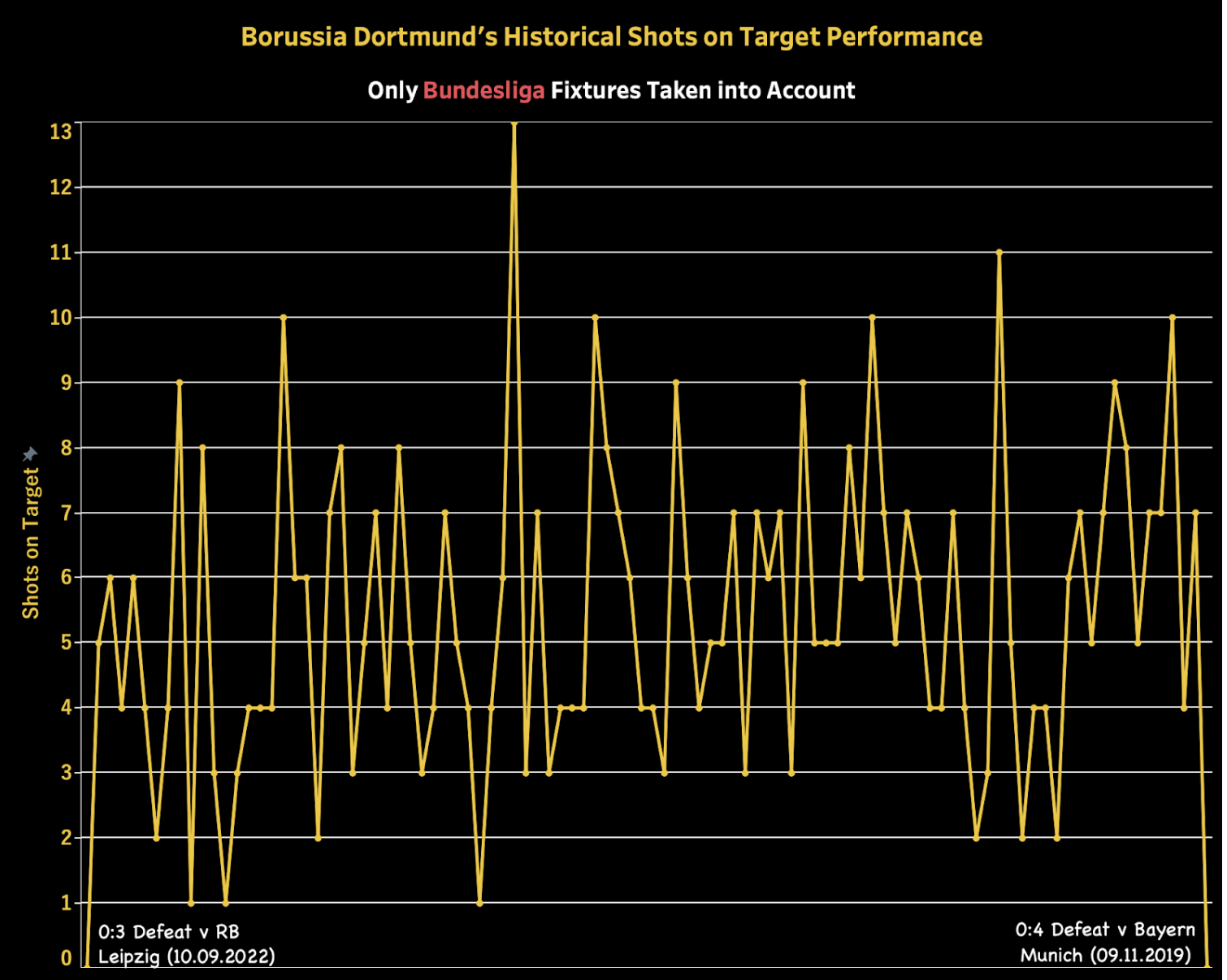 96 games and 1036 days passed between Borussia Dortmund's last Bundesliga fixture without a shot on target, and their most recent one last weekend.  
After losing back-to-back games vs. RB Leipzig and Manchester City, Borussia Dortmund bounced back with a 1-0 victory against Schalke via a goal from 17-year-old talent Youssoufa Moukoko — and after kicking off October with a trip to ninth-placed Köln, they will play Sevilla twice in the Champions League, host a misfiring Bayern Munich and travel to league leaders Union Berlin in what promises to be a hectic fortnight at the Signal Iduna Park.
Enjoyed this article? Subscribe to Adam Khan's German Football Newsletter to get content a week early!
By: Adam Khan / @XxAdamKhanxX
Featured Image: @GabFoligno / @GabFoligno / Andreas Schaad – FC Red Bull Salzburg