You Just Can't Write Off Union Berlin
After thrashing Schalke 6-1 and drawing 1-1 to Bayern Munich, FC Union Berlin are now 12 matches unbeaten in the Bundesliga, level with Bayern in fourth place, and one point behind Borussia Dortmund and league leaders Freiburg.  No Bundesliga club has collected as many points as Union Berlin since April of last year, while only Manchester City, AC Milan, PSG, and RC Lens are longer unbeaten in one of Europe's top 5 leagues. 
The club from East Berlin have consistently defied the odds since earning topflight promotion in 2019, but this year looks set to be their greatest feat yet. Despite the third summer in a row with massive turnover in the playing squad, Die Eiserne have started the new season like a club on a mission. Urs Fischer's side have earned the most points, scored the most goals, and let the fewest in that they ever have after 4 matchdays of a Bundesliga season. 
So even though The German Football Weekly tipped Union to finish in a lowly 10th place ahead of the season, it's about time we stop seeing the capital club's success as a bubble of euphoria waiting to burst, and instead begin to handle them as the true top 4 contenders they've proven to be.
This is an adaptation from Adam Khan's German Football Newsletter. Want weekly content from the Bundesliga & Bundesliga 2? Subscribe here!
Union Berlin are no strangers to a tumultuous off-season. Of the squad which got promoted in 2019, just three players remain at the club today, while only 1 of the 15 signings they made in their first Bundesliga season still features in Berlin. 
Union is now well-established in the top flight as the only club representing former East Germany, but the wages which Die Eiserne are able to pay are still second-rate. According to research by the Swiss Ramble, Union Berlin's wage bill is the second smallest in the Bundesliga, their shirt sponsors net them the least profit, and only Arminia Bielefeld made less last season off of TV revenues.
Unable to throw the same money around as domestic and international rivals, Union Berlin have constantly needed to reconfigure their squad as in-form stars are plucked away. This off-season was no different. 
In Max Kruse, Grischa Prömel, and Taiwo Awoniyi, all three of Union's top scorers from last season are no longer at the club, and Union entered the new campaign with their top Bundesliga goal scorer being centerback Robert Knoche (13 goals in 250 appearances). 
Real question marks throughout the off-season surrounded where the goals would come from, but as so often is the case, managing director Oliver Ruhnert has found the answers through smart recruitment and trusting Urs Fischer to get the most out of what remains of the squad. Sheraldo Becker is a prime example of the latter. 
The Surinamese winger was one of the key additions ahead of Union's first season in the top-flight, but in 3 seasons, 60 appearances, and 3500 minutes, the now 27-year-old only managed 7 Bundesliga goals. Most managers would have given up on Becker after years of inconsistency, but to Urs Fischer's credit, he found a way to keep his talented forward motivated despite patchy form and limited opportunities. 
How Union Berlin Sealed European Football for the First Time Ever
It's something that the Swiss manager has become renowned for in Köpenick – also leaving the likes of Grischa Prömel, and Niko Gießelmann out of his plans before both became integral figures last season – and it's proven effective once more with Becker. 
Moved into a central position off the shoulder of Jordan Siebatcheu, Sheraldo Becker has seen an explosion in form unrivaled across Europe. With 5 goals and 2 assists, Becker leads the Bundesliga scoring charts after 5 matchdays and is the first Union player to score 5 times in the first 5 matchdays of a season.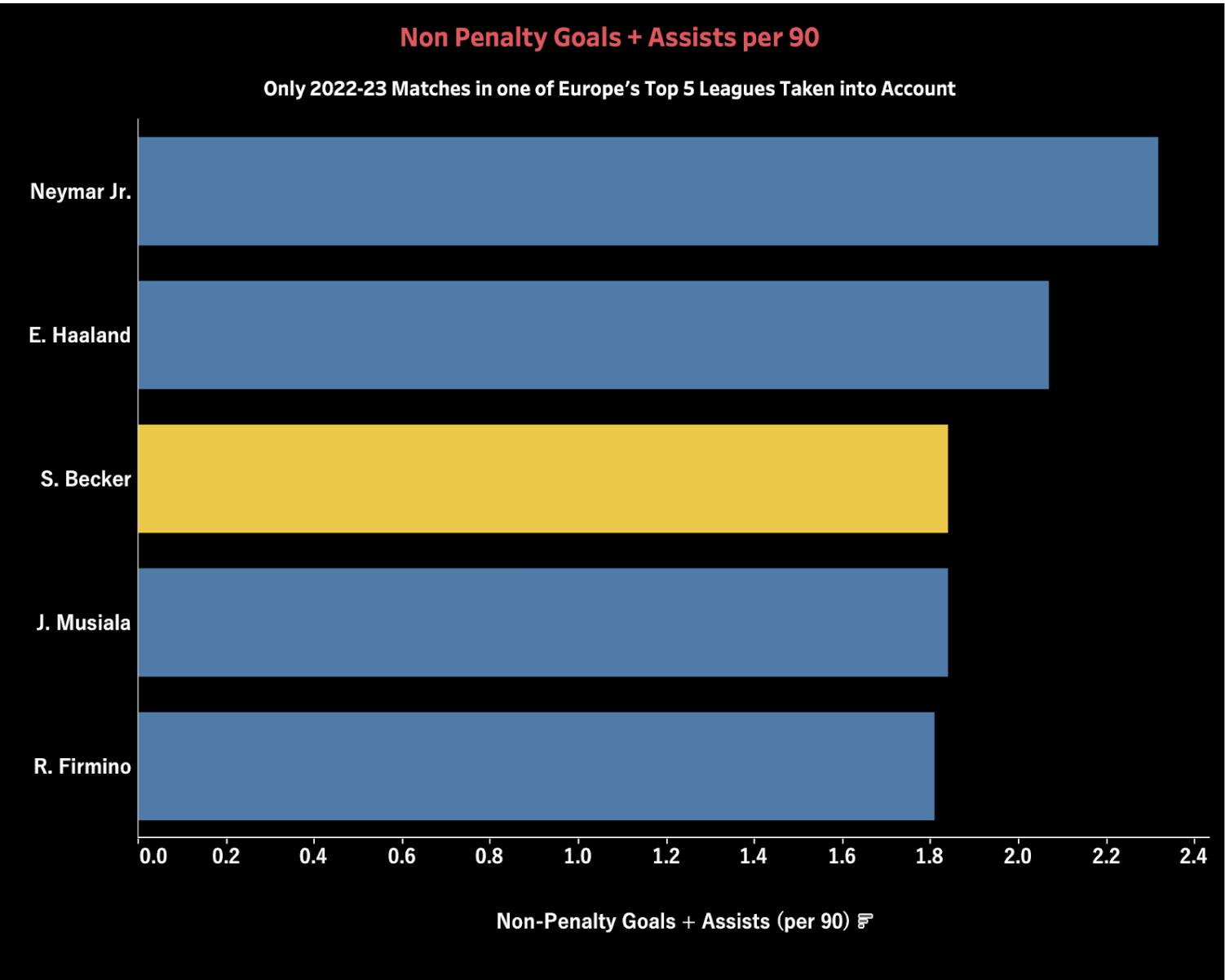 Only Neymar Jr. and Erling Haaland are contributing non-penalty goals and assists at a quicker rate than Becker in one of Europe's top 5 leagues this season. 
Becker has already equalled his best-ever goal-scoring return in a Bundesliga season, highlighting the value of Urs Fischer's long-term coaching and Union's focus on a dying trait in modern football – patience. Though the frustration players can feel at not starting matches is understandable, Fischer has found a way to keep any individual woes from filtering into the atmosphere around the club. 
In his 4 years at the helm, the Swiss manager has kept dozens of players outside of the starting XI hungry and ready to pounce when an opportunity comes their way, and in doing so simultaneously raised the level of the entire squad in the process.
The entire club – from the physio, all the way to the club captain – seem to be pulling on one thread, and the rise of Sheraldo Becker from 12th man to shooting star is just another example of the undeniable unity that has shaped Union's ability to compete far beyond their meagre financial means.  "Undeniable unity", and putting the team before oneself. 
Both of these are markers of Union Berlin's superb start to life in the Bundesliga and are a key reason why Urs Fischer is able to command one of the most physically demanding match plans from his squad. Since promotion in 2019, Union Berlin have always ended the season in the Bundesliga's top 3 for the most distance covered, and in the still young 2022/23 campaign, the capital club lead the division in this valuable running statistic.
Regardless if they are battling relegation as Bundesliga rookies, or chasing glory in the Europa League, Die Eiserne from Berlin set their focus on the bare minimum, and only when that's achieved do they look to develop a more refined match plan.  The same vision of "simplified football" could be used to a lesser extent to describe Union's tactical outlook in and out of possession. 
Union Berlin play an extremely direct game, but not in the traditional sense of the word. Die Eisernen attempted the third-fewest long balls in the division, instead looking to transition through quick, vertical, passes along the floor. Their 2-1 win over Leipzig was a prime example of this, catching Die Rotten Bullen off-guard with two goals that came within 13 seconds of winning possession. 
Just like how Union Berlin isn't direct in the traditional sense, Urs Fischer's side also doesn't press in the manner we have become accustomed to from teams seeking transition moments. Unlike RB Leipzig under Jesse Marsch, FC Köln under Steffen Baumgart, or Borussia Dortmund under Edin Terzić, Urs Fischer's Union don't press with feverish intensity high up the pitch. Instead, they look to lock the opponent into the midfield third before pouncing with a numerical advantage. 
No side in the 2022/23 Bundesliga has completed a higher percentage of their pressures in the midfield third, but not a single club in the division has completed fewer touches than Union Berlin in this zone. What makes Die Eiserne then markedly different from the dozens of other sides operating in a mid-block is how they operate when the ball is won. 
Rather than look to maintain possession in the centre of the park – and leave themselves open to a gegenpressing trigger – Union either immediately recycle the ball back to the defensive third where they can reorganise and set up a controlled attack, or they immediately spring an attack to expose a disorganised opponent stuck in transition. 
Both options highlight the risk-averse and cautious nature of Union's game. Either they bring possession into their own third where they have a substantial numerical advantage, or they look to immediately spring an attack on the opponent's goal in a position where a potential turnover isn't costly. 
While some sides perceive holding possession as a valuable tool to break down opponents, Urs Fischer has come to the conclusion that it needlessly leaves one open to mistake – a position he has come to be vindicated on since arriving in German football.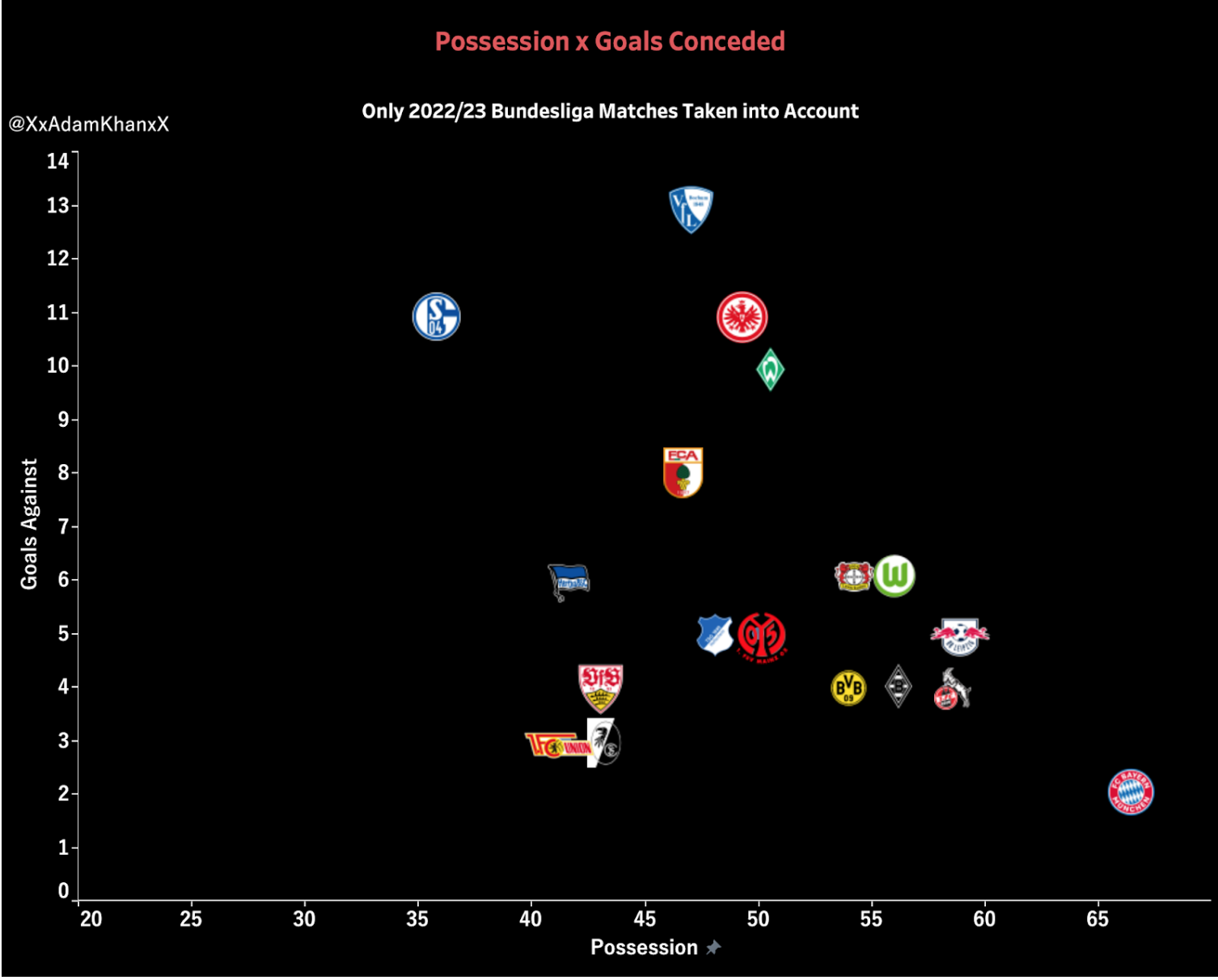 Union Berlin has held only 41.5% possession this season – the second lowest amount in the division – but has conceded just 3 goals all season, only one of which came from open-play. With a stellar defensive record after 4 matchdays, Urs Fischer's cautious game plan is once again proving to be the cornerstone of the iron defence he's built up in East-Berlin. 
Massive physical demands, a cautious game plan, an uninspiring wage bill, and a manager requiring patience from his stars. The Union Berlin project isn't for everyone, and Oliver Ruhnert has needed to make tough decisions in order to maintain the basis Urs Fischer has developed within the playing squad.
For a start, youth development hasn't been a priority. In over 100 topflight matches no teenager has ever scored for Union, in the 21-22 Bundesliga, Fischer was the only Bundesliga manager to not give a single minute to an academy graduate, and with an average age of 28.3, Die Eiserne had the oldest playing squad in any of Germany's top 3 tiers last season. 
Though Oliver Ruhnert isn't opposed to putting his faith in potential, in a well-drilled system that puts absolute importance on limiting mistakes, and physical fitness, Union have needed to slightly forgo talent development in favour of a side that can deliver Fischer's requirements to a tee. 
Even then though, saying it's just experience at the heart of Union's transfer policy would be a massive over-simplification. Instead, it is often players in their prime with a point to prove. Bar the eye-catching enigma of Max Kruse, the signings who have established themselves within Urs Fischer's setup are individuals who view the chance in Berlin as the biggest step in their career. 
The likes of Robert Andrich, Christopher Trimmel, and Grischa Prömel all signed without a single Bundesliga game to their name and developed into some of the league's very finest in Köpenick, while Janik Haberer, Frederik Rönnow, and Robin Knoche all count as integral starters in the current setup after failing to cement a starting spot at previous Bundesliga destinations. 
Unlike other mid-table European outfits who look to pick off ageing stars for one final hurrah, or develop young prospects for a big payday, Union has cornered the German market for overlooked, or lower-league, talent poised to make their mark in the topflight, and they continue to defy the odds in unprecedented fashion. 
Enjoyed this article? Subscribe to Adam Khan's German Football Newsletter to get content a week early!
By: Adam Khan / @XxAdamKhanxX
Featured Image: @Juanffrann – Martin Rose / Getty Images