What's Gone Wrong at Bayer Leverkusen?
Four weeks into the new season, Bayer 04 Leverkusen are the undisputed disappointment in the German topflight. The Bundesliga side formed in 1904 by workers of the pharmaceutical company Bayer AG was kicked out of the Pokal by 3rd-tier SV Elversberg and has picked up just three points in its first four league matches.
It's the first time in over a decade that Leverkusen has failed to advance past the first round of the cup, and only the second time this century that the West-German outfit hasn't taken at least one point from the first three league matches.  Internally, Leverkusen looks to remain calm, but there is no denying that the management will be pulling their hair out after the terrible start to the season. 
Appalling Chance Conversion
Though a shaky defence held Leverkusen back last season, the 80 goals they scored were more than enough to mount a significant title challenge. It is the most Leverkusen have scored in more than 40 seasons in the Bundesliga, with the fine form of Patrik Schick a major factor for their inspired performance.
With 24 goals in 27 Bundesliga matches, Schick ended the topflight season behind only Robert Lewandowski in the scoring charts, and the 1,91m forward needed just one more goal to break the Bayer Leverkusen record set by Stefan Kießling in 2012/13.
Despite countless offers across the continent, Schick prematurely extended his contract to 2027, a major coup that should guarantee goals for years to come. Or so fans hoped… because the early signs from this season are concerning.
After playing every minute across the first 3 Bundesliga fixtures, Schick has still yet to find the back of the net. While any forward will be quick to argue that he is not getting the right service, a glance at the underlying numbers doesn't bode well for the out-of-form Czechian. 
No player in Europe's top 5 leagues has taken more shots without scoring than Patrik Schick (10), while an analysis of his expected goals – a performance metric used to evaluate the probability of a scoring opportunity – also doesn't look great for the once free-scoring forward.
Judging off the position and quality of the shots he has taken, Patrik Schick should have at least 2 goals (1.9 to be exact) this season. No other player in Europe's top 5 leagues is underperforming by such a large margin.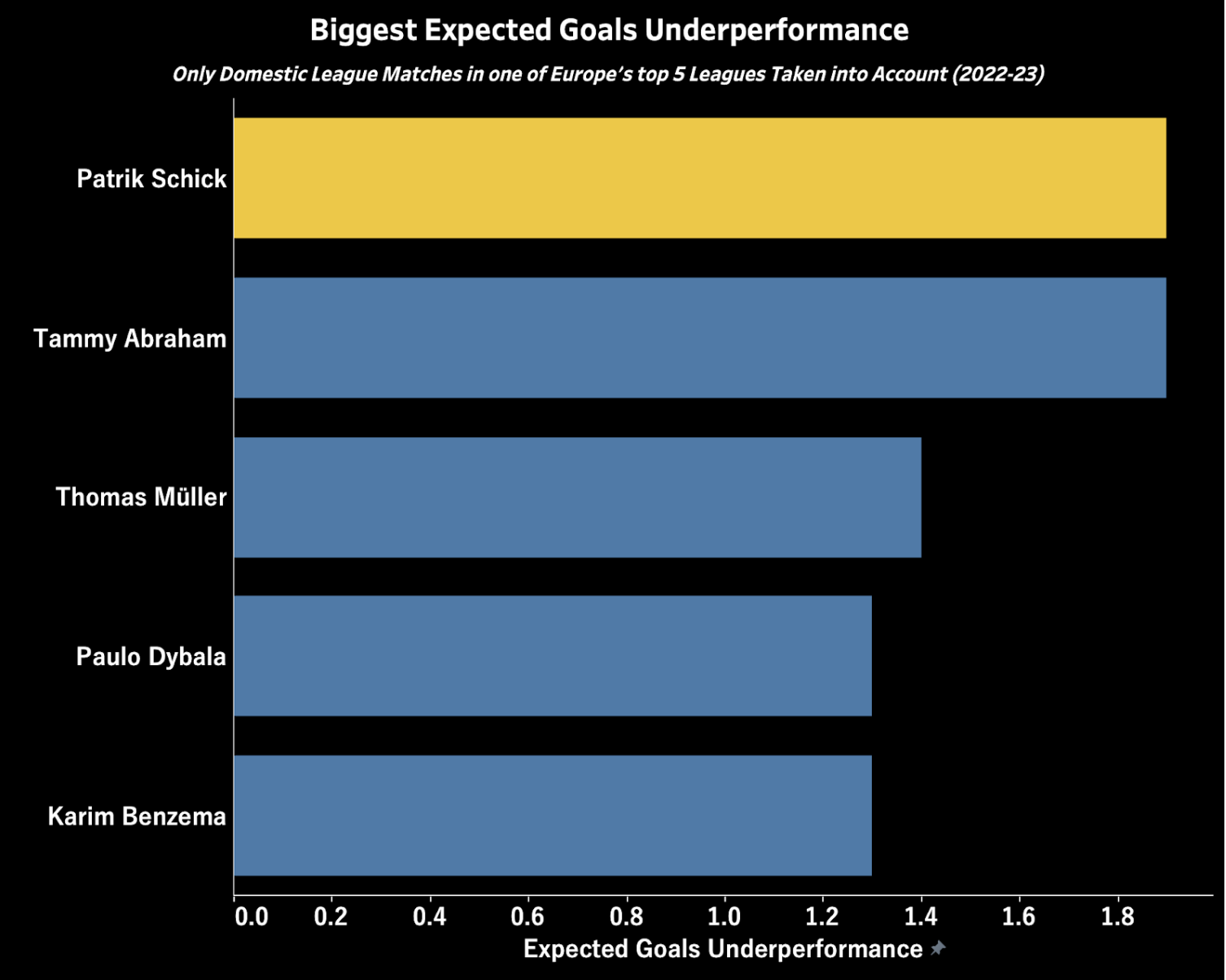 No other player in Europe is squandering as many high-quality opportunities as Patrik Schick this season. Schick may be the most high-profile disappointment, but the issue regarding chance conversion extends far beyond the 26-year-old's poor form.
Despite scoring just 1 goal all season, only 3 sides – F.C. Bayern, RB Leipzig, and F.C. Köln – have taken more shots this season (46). If Die Werkself aren't able to turn their goal-scoring form around, we are in for the worst conversion rate in Bundesliga history! Even newly relegated Greuther Fürth and Arminia Bielefeld converted shots into goals more than three times more successfully than Leverkusen this season.
A Florian Wirtz-Sized Hole
The inability to turn shots into goals should be at the top of manager Gerardo Seoane's to-do list, but it would be small-minded to consider this the only reason why a Champions League contender is bottom of the pile 3 weeks in. 
Florian Wirtz, 19-year-old super-talent and the youngest player in Bundesliga history to reach 50 appearances, is shaping up to be a major blow in the early stages of the season.
Moussa Diaby: The Undervalued Gem of the New Bayer Leverkusen
After a tremendous 2021/22 campaign in which Wirtz was averaging a goal or assist every 97 minutes, everything suddenly came crashing down to earth when a false step prematurely ended his season in March. A torn cruciate the result, Wirtz has now been sidelined for almost 6-months, racing feverishly against the clock in the hopes of returning ahead of the World Cup. 
The German national team will be desperate for another genius midfielder to add to the roster, but it's Gerardo Seoane who could really use Wirtz's supreme ability to unlock defences. With Leverkusen creating more shots from a successful dribble than any other Bundesliga club last season (50), not being able to call upon Wirtz's silky skill and tight control is leaving a massive impact on Die Werkself's chance creation.
The German international was averaging close to 3 carries into the final third every game last season, and three matches into the current campaign nobody in Seoane's squad is posing a competitive alternative.
Of the 7 Leverkusen midfielders and forwards who have played at least 80 minutes in the Bundesliga, not a single one is averaging above 1.76 final third carries, with Wirtz's primary replacement, Sardar Azmoun, particularly woeful with just 0.48 per 90. 
Youthful Naivety & A Lack of Leadership
It's no secret that Bayer Leverkusen are looking to build a young squad. In the last two summer windows, 6 of Leverkusen's 8 transfers were younger than 21, and in the same period, Die Werkself let go of 13 players who combined for an average age of 27.
Building talent is exciting and lucrative, but in a poor run of form, not having a core of experience to fall back on can prove costly. Particularly in defence this issue is accentuated, with Jonathan Tah the only player above the age of 23 to feature in Seoane's back four this season.
Robert Andrich: The Uncapped Midfielder Key to Germany's World Cup Hopes
Teammates like Jeremie Frimpong (21), Edmond Tapsoba (23), and Piero Hincapié (20) have all proven their immense talent in limited Bundesliga minutes, but as of yet, none of them are capable of providing vocal leadership, or consistent performances, to rescue a defence spiralling out of control.    
Tah even touched on this aspect after the latest defeat – "We can't always say we're young. We can't take that as an excuse. We have to be professional and mature," – but it is hard to completely reject Leverkusen's inexperience as a reason why they have found it difficult to turn the tide. 
Compared to last season's top 4, Bayer Leverkusen has far less Bundesliga experience than any of the sides they are meant to compete with. Whereas F.C. Bayern has 12, Borussia Dortmund has 11, and RB Leipzig has 10 players with over 100 Bundesliga appearances, the current Leverkusen squad has just 6.
Once again, this issue is particularly pronounced in defence, with the only player to have cracked a century of matches in the topflight being Jonathan Tah. Bayern, Leipzig, and Dortmund all have at least twice as many defenders who have reached this marker, and on his own, Mats Hummels has featured in just 76 fewer matches than the entire Leverkusen defence combined.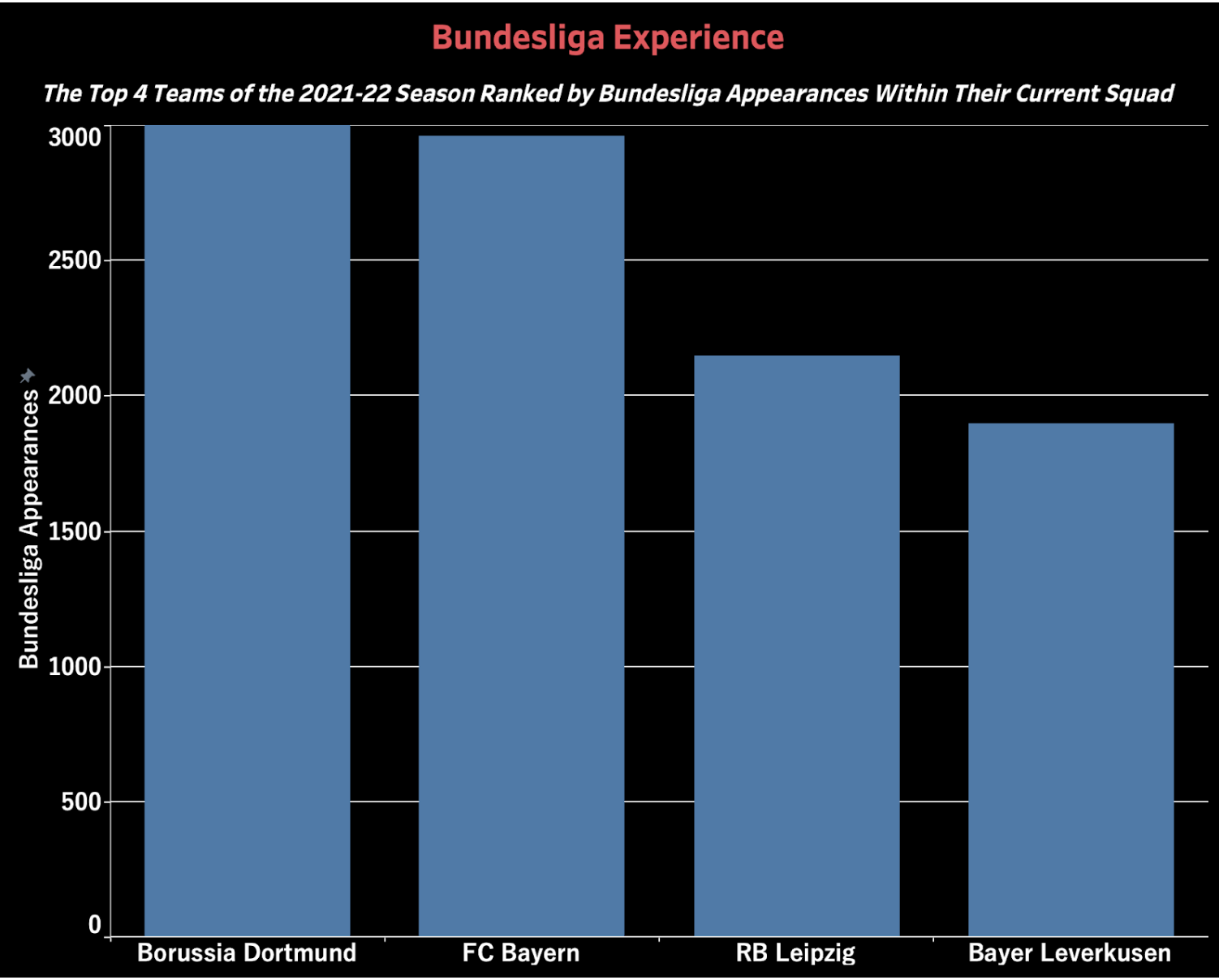 No side in last season's top 4 has less Bundesliga experience than Bayer Leverkusen. FC Bayern and Borussia Dortmund even have over 1000 more top-flight matches within their current setup. Three matches into last season an international break allowed underperforming sides to calmly address their shortcomings. This time around, Gerardo Seoane and Bayer Leverkusen don't have such luck.
Just 7 days after losing 3-0 to Hoffenheim, Bayer Leverkusen bounced back with a 3-0 away win at Bo Svensson's Mainz, who were unbeaten in their first three matches and who had lost just 2 of their 17 home fixtures last season. Having opened their season with defeats to Dortmund, Augsburg, Hoffenheim as well as a cup defeat to third-tier SV Elversberg, they'll be hoping that this win in Mainz will sway the tide in their momentum.
Leverkusen host Freiburg on Saturday before kicking off their Champions League adventure in Belgium, as Die Werkself look to navigate out of a group of Porto, Atlético Madrid and Club Brugge as well as climb out of the bottom half of the Bundesliga table after a rocky start to the 2022/23 campaign.
By: Adam Khan / @XxAdamKhanxX
Featured Image: @Juanffrann / DeFodi Images