Since taking charge of the club two years ago, Ralph Hasenhüttl has taken Southampton from the throes of the relegation zone to a fight for European football. Saints currently sit 7th in the table after 14 matchdays, just three points off second-placed Leicester City, and on the back of Hasenhüttl's energetic, high-pressing 4-4-2 formation, Southampton have become one of the most enthralling watches in the Premier League.
Following the summer departure of Pierre-Emile Højbjerg to Tottenham Hotspur, Hasenhüttl has given the captain's armband to James Ward-Prowse, who has formed a rock-solid double pivot in midfield with Oriol Romeu. Jannik Vestergaard has been ushered back into the heart of defense alongside Jan Bednarek, Theo Walcott has won a starting spot on the right flank opposite Nathan Redmond, whilst Ché Adams partners Danny Ings in attack.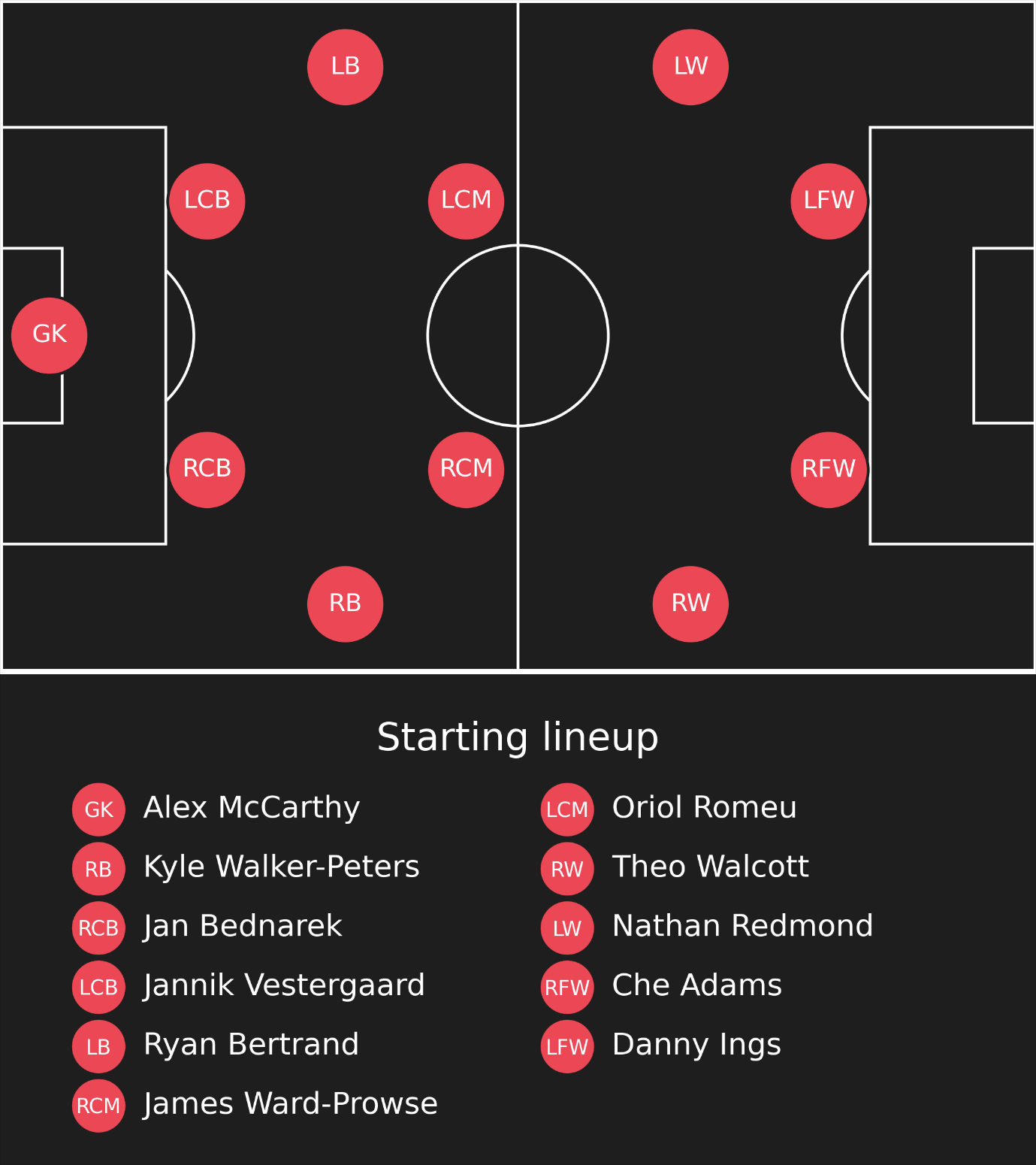 Photo: Twenty3/Wyscout
Ings has won plenty of plaudits for his sensational form following his injury-plagued Liverpool move, scoring 31 goals and 6 assists, but one player who has flown under the radar is Adams. After joining from Birmingham City on a five-year contract for a reported fee of £15 million, Adams struggled to convince during his first few months in the South Coast, and even looked set to join Marcelo Bielsa's Leeds United on loan in the January window.
However, Southampton rejected several offers from Leeds for the English forward, and Hasenhüttl told Adams that he was keen on him remaining at St. Mary's Stadium. Leeds would end up signing Jean-Kévin Augustin on loan from RB Leipzig, whilst Adams gradually rebounded in form; after going 24 Premier League matches without a goal, he scored 4 goals during Project Restart.
At 24 years of age, Adams is playing the best football of his career under the Austrian manager, providing 4 goals and 4 assists in 15 appearances this season and demonstrating his vital assets both on and off the ball for Southampton.
Out of Possession
It is a pre-requisite to be an active defender in Southampton's system, even as a forward. Southampton are amongst the highest pressing teams in Europe, and rank fourth in the Premier League for attacking pressures per 90.
Southampton's front two are often integral to setting their pressing traps, by showing opposition centre backs towards the fullbacks with their body-shape and angle of run, cutting off the other half of the pitch. Their pressing game was on show versus Chelsea in October, shown in the figure below.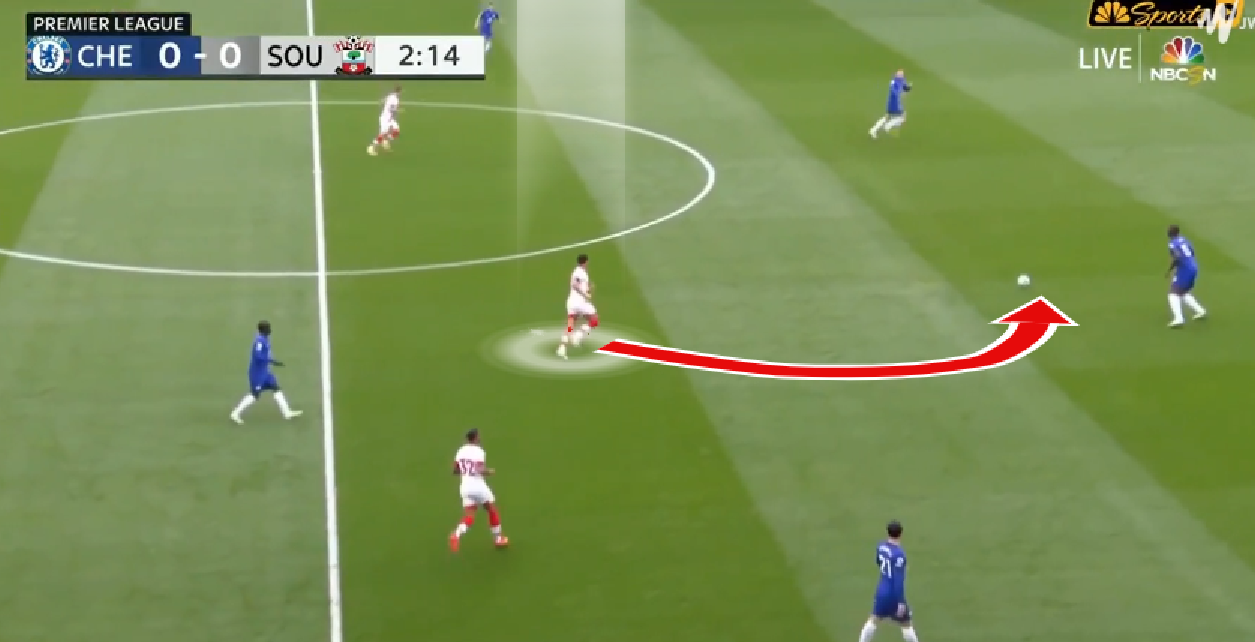 Photo: Adams' role here is to show Kurt Zouma across to the right, blocking off the left portion of the pitch [@Keyframesport]
He is more than just a functional cog in a high-pressing system, he is integral to a high-risk, high-reward style of play. Choosing moments to press or set traps is important to maintain a team's defensive integrity; press too often (or too infrequently) and you risk being too chaotic as a side, with the opposition able to play through you easily.
Adams hasn't shown this decision-making maturity on a consistent basis, which is something he can seek to improve. On numerous occasions versus Chelsea, him and Ings miscommunicated when initiating a press, allowing Chelsea to progress with ease. He has certainly shown an aptitude for pressing and intensity out of possession, so there is no doubt he will refine and improve his game off the ball.
Ball Possession
Ché Adams' unique selling point in this team, and as a player, is his work in possession. His hold-up play is strong, he backs into defenders with an astute body posture, pinning them and protecting the ball. This allows others to play off him, making him a useful asset in an attack that usually consists of two wingers and Ings, who isn't the most physically strong. His passes received network highlights his role perfectly.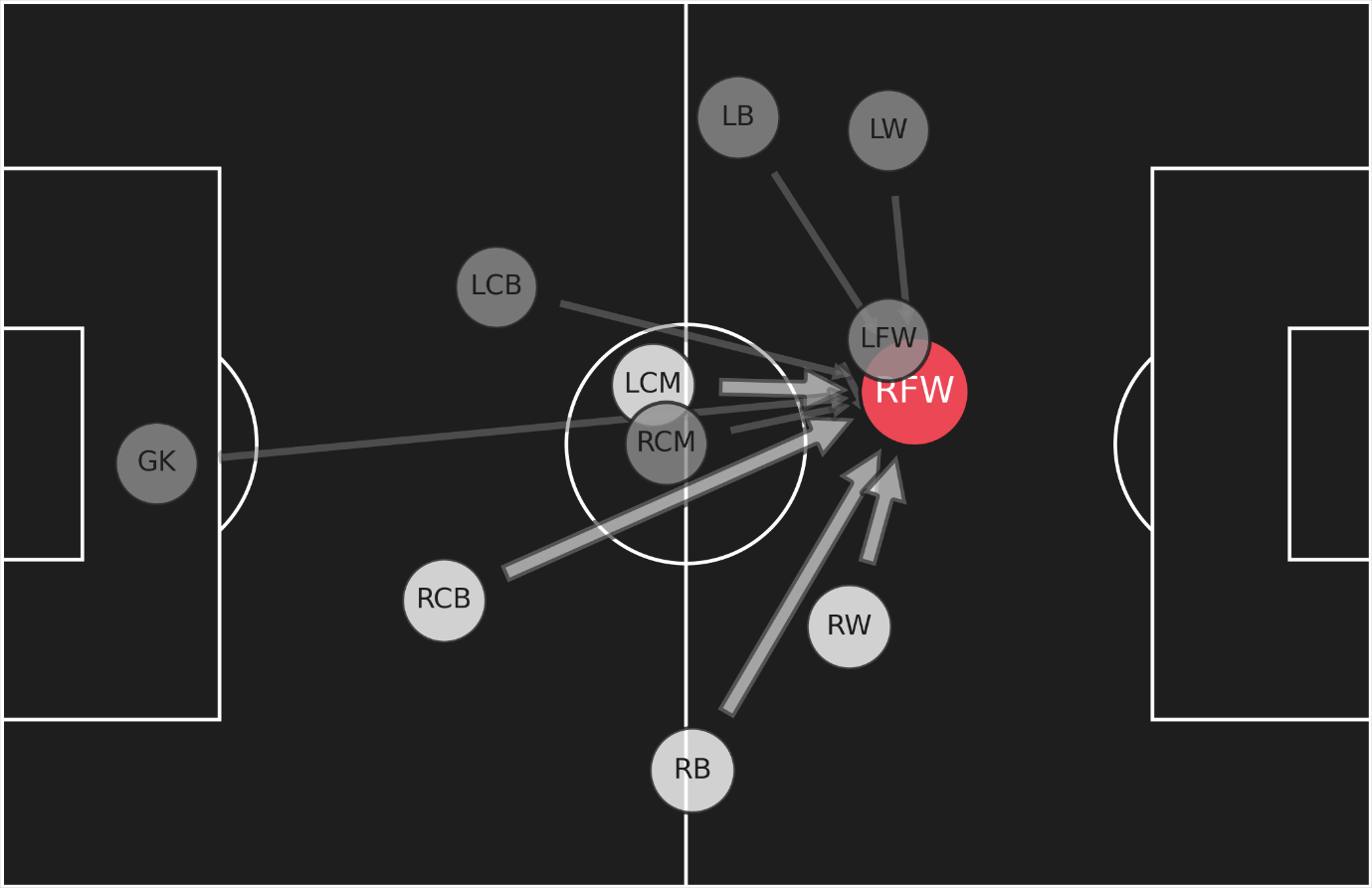 Photo: Twenty3/Wyscout
Adams also uses his hold-up play to hold off a defender and turn into good areas in possession. In a 3-0 victory vs. Sheffield United, he made numerous opportunities dropping off the front line.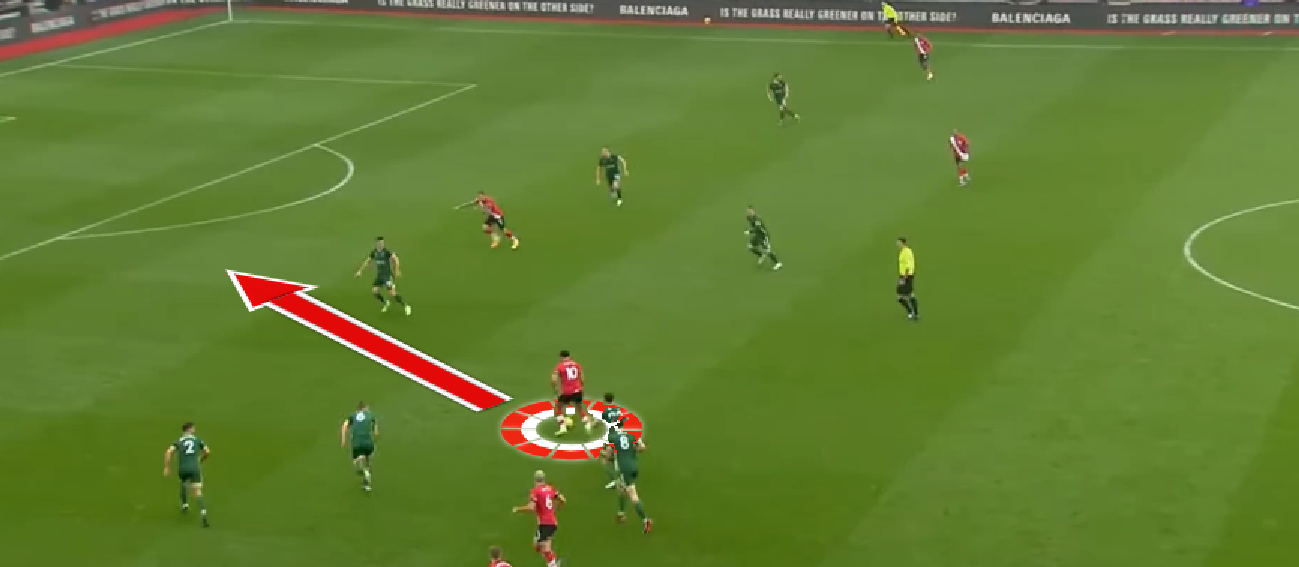 Photo: Having held off a defender, Adams turns into play and slots Ings through on goal. [@Keyframesport]
Adams and Ings' partnership draws a lot of parallels with Harry Kane and Son Heung-min's fearsome duo for Tottenham. It is a symbiotic relationship that allows one member to create, and the other to run off the last line. The opposing vertical movements are incredibly hard to pick up for defending sides, helping to suggest why Southampton have been so prolific this season.
His tendency to drop to receive possession in deeper areas is shown in a pass map below. Most impressively, is where Adams makes his smart passes; centrally, in really dangerous zones.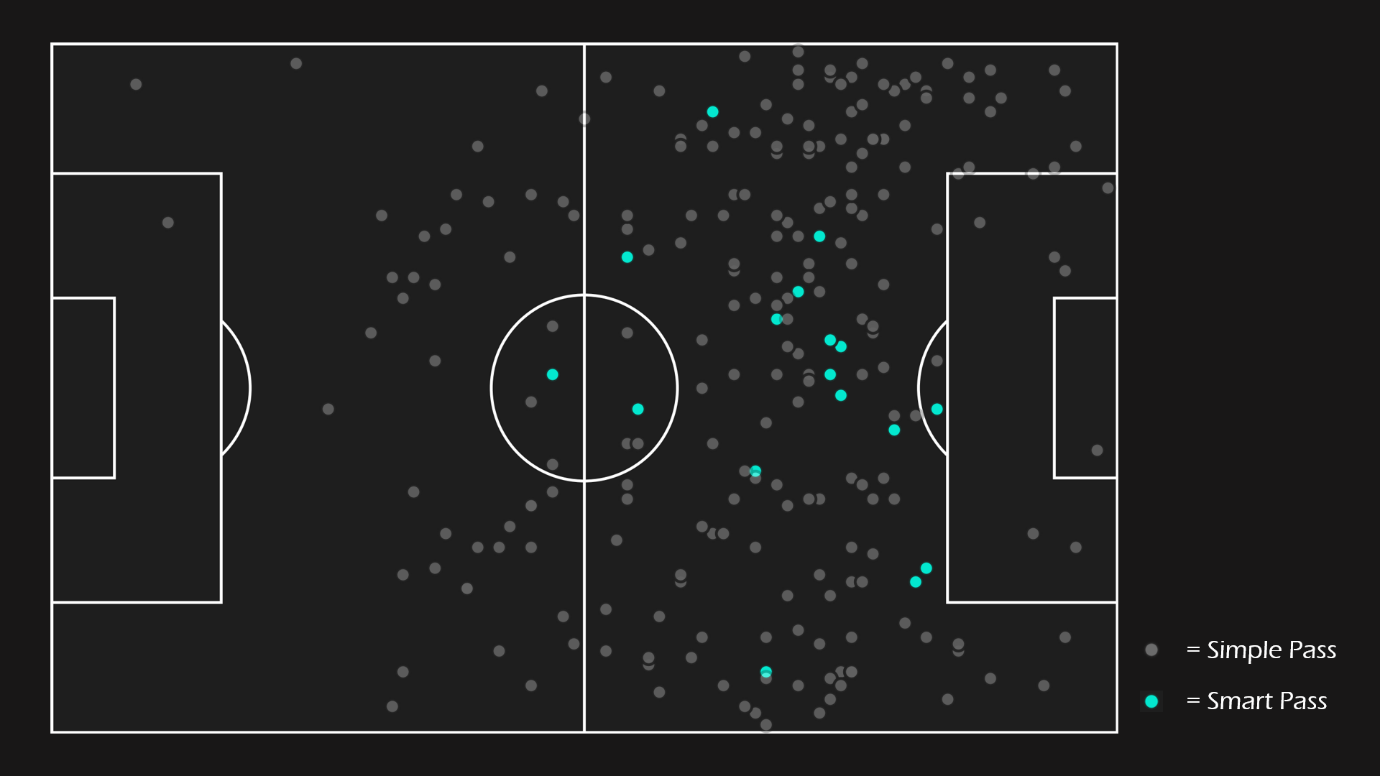 Photo: Twenty3/Wyscout
The importance of Adams dropping deep to create can be exemplified by Southampton's typical passing network below. Southampton are strong at recycling possession in the first phase, but lack someone in midfield areas (mainly because the midfielders play in a flat two) to catalyse attacks with incisive, if risky, passes.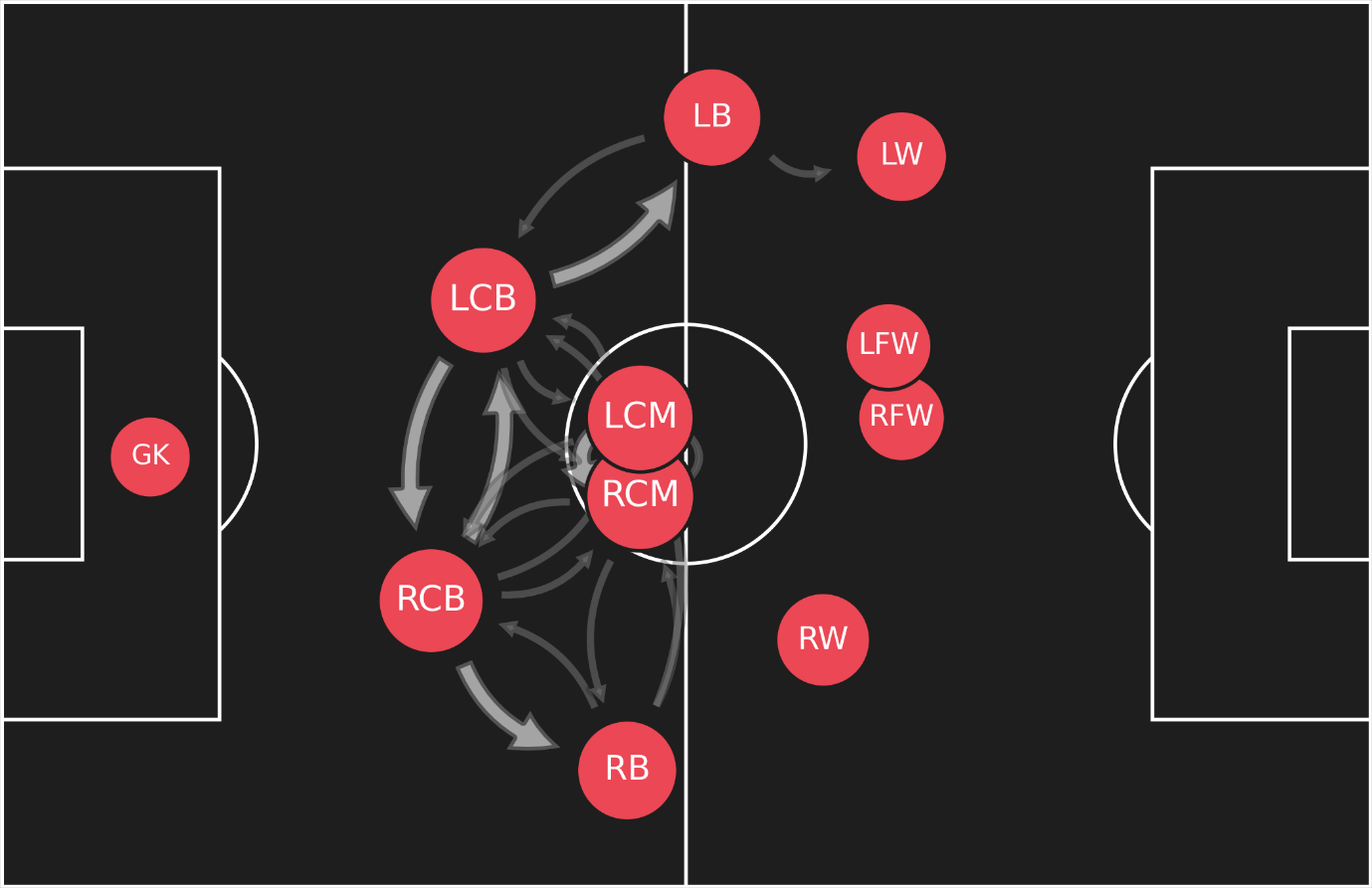 Photo: Twenty3/Wyscout
Finally, his shot creation map is extremely impressive. He has created a plethora of high-quality opportunities for his teammates this season, which has seen him accumulate four assists in the league alone.
The positions from which Adams makes these passes is equally impressive; many are from central zones where play is likely to be congested. He uses his body well to manipulate defenders and create space for himself; enough space to turn and pass. This is an invaluable quality for a team like Southampton, and strengthens comparisons between Adams and Kane; both are very astute in their body-posture on the ball.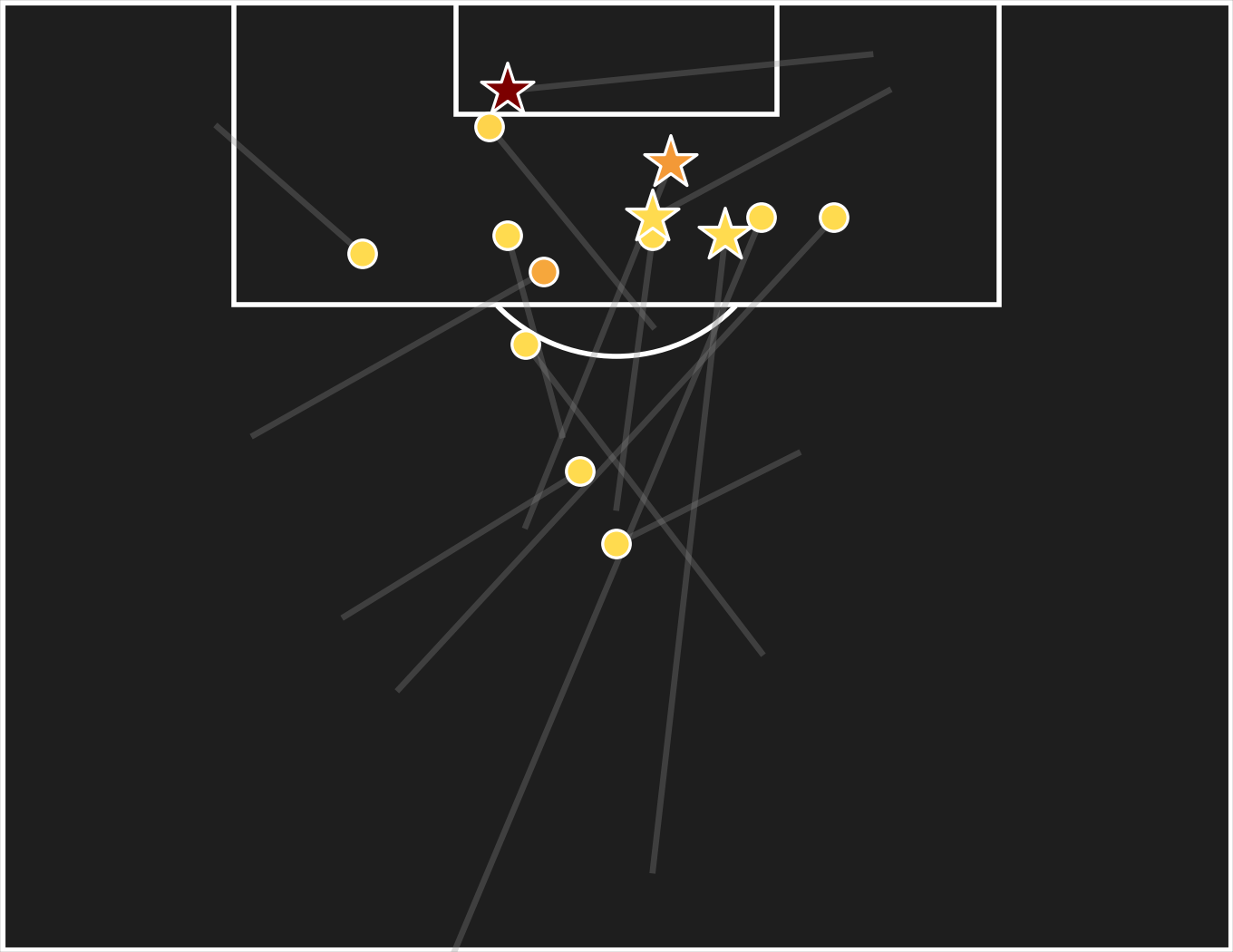 Photo: Twenty3/Wyscout
Goalscoring
Adams has registered four goals in the league this season, having scored against Chelsea, Everton, Newcastle and most recently Sheffield United in a 3-0 win. A scrappy goal, but he exemplified two key traits that are a must for a goal scorer; anticipation to predict a second ball into the box, and concentration, to watch the ball over his shoulder and finish. This was by far from an easy chance.
His output is at a healthy level, with eight goals and assists in the league so far. He is performing at +0.7 non penalty goals to expected goals (per FBref), which is a sustainable level of overperformance; in other words, Adams is finishing well but not at a freakish level this season. He racks up 0.54 expected goals and expected assists per 90 (FBref). His shot map is shown below.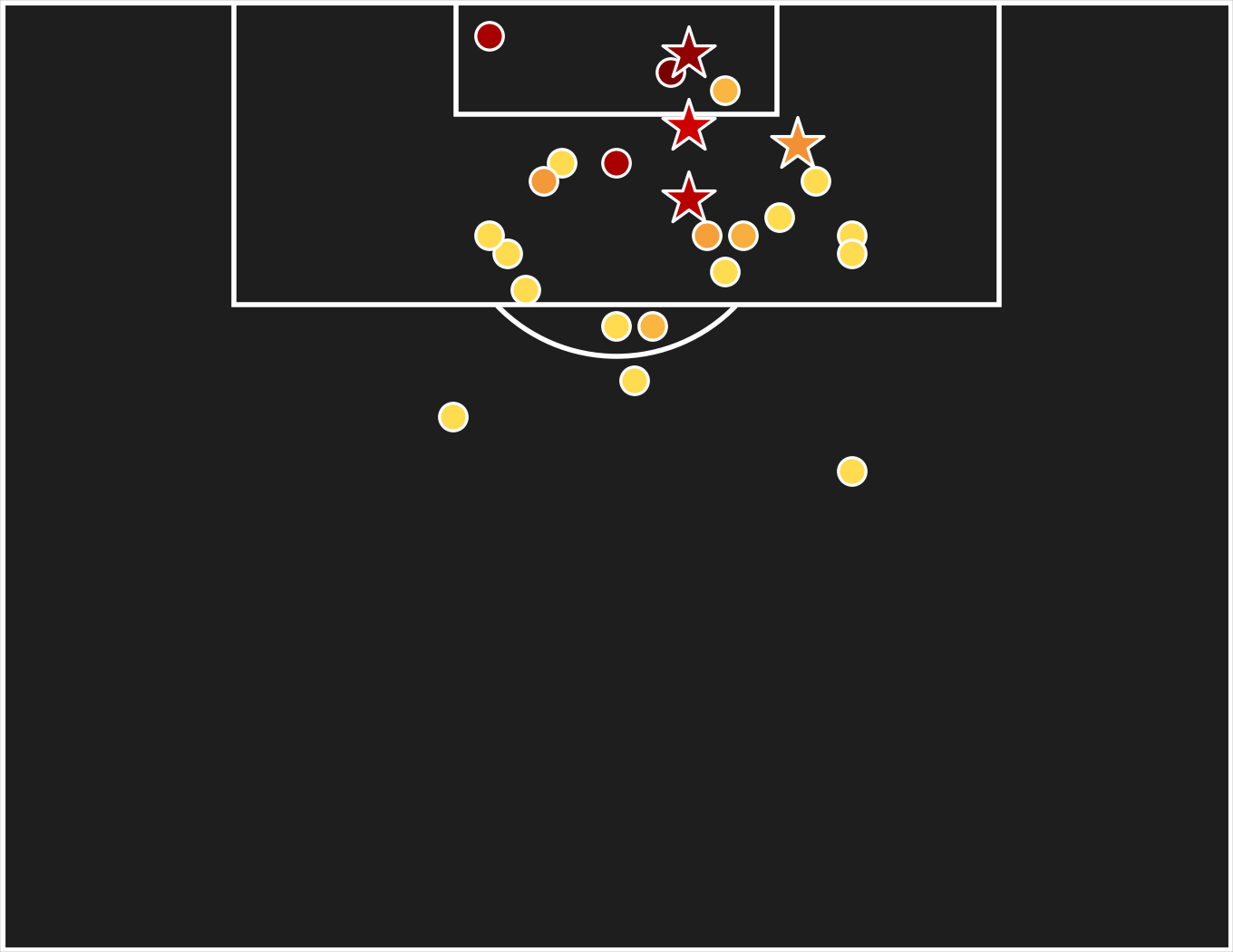 Photo: Twenty3/Wyscout
From the shot map it is clear to see that Adams has no issue getting into, and making space within the penalty box. His movement is adequate (he prefers the feint away – dart in movement to shake off defenders). His four goals have come in very high xG areas, which again, is healthy. His goalscoring is not projected to drop off any time soon.
This is important as Ings recently suffered a hamstring injury that could keep him out indefinitely. The burden of responsibility to be the primary goal scorer for Southampton could be put on Adams' shoulders.
Conclusion
Ché Adams is enjoying a healthy, although not quite prolific, season in terms of output. His work in chance creation is his most important asset in this Southampton side, as Danny Ings predominantly racks up the goals; he is incidentally the main benefactor from his hold-up play and incisive passing.
Adams is diligent and dogged out of possession, but could benefit from more experience leading the line (he only became a frequent starter in June), thus, looks set to refine his game and become a more reliable presser. Questions will be posed over Adams in these next few weeks, regarding if he can step up in the wake of Ings' injury. It will quickly become clear if he can continue the promising start he has made to the season, and continue his upward trajectory as a player.
By: Jamie Scott
Featured Image: @GabFoligno / Naomi Baker – Getty Images