Data Analysis: Gabriel Menino
In just one year, Gabriel Menino has reached heights that most Brazilian youngsters can only dream of. After making his professional debut in a 4-0 victory over Ituano on January 22, 2020, Menino quickly cemented a starting spot for Palmeiras, received a call-up to the Brazilian national team, and reached the Copa do Brasil Final. To cap it all off, he started in the Copa Libertadores Final as Palmeiras defeated Santos at the Maracanã and lifted their first Libertadores trophy since 1999.
Born in Morungaba, São Paulo on September 29, 2000, Menino began his development at Guarani — the only club from the interior of Brazil to have won the first division of the Brazilian Championship and the same club that developed 1978 FIFA World Cup winner Careca. After developing his skills at Guarani, Menino joined Palmeiras's academy in 2017 at the age of 16.
He quickly made a name for himself in Perdizes, winning several regional and national titles including the Copa do Brasil sub-17, while also featuring for Brazil in the 2019 South American U-20 Championship. His breakthrough at the club level, however, would come in 2020.
Rather than splurge on big-name players, Palmeiras decided to invest in the youth sector following the 2019 campaign. This new strategy, combined with the departures of veteran players such as Dudu, Bruno Henrique and Devyerson, saw a wide range of youth players establish themselves in the first-team set-up. Under the management of Vanderlei Luxemburgo, youth players such as Patrick de Paula, Danilo, Wesley, Gabriel Verón and Menino were provided with the patience and responsibility to become key players at the Allianz Parque.
Whilst Menino initially began playing in the midfield double pivot alongside Ramires, Vanderlei decided to experiment with him in an unnatural position of right back. Following the 3-1 victory against Mirassol on February 16, which saw Menino replace Mayke at halftime and provide an assist in Palmeiras's come-from-behind win, he has played in a wide variety of positions from right back, right wing, and central midfield.
His versatility has allowed him to solidify a starting spot under Abel Ferreira, who replaced interim manager Andrey Lopes on October 30 following Vanderlei's sacking two weeks prior. Whilst he announced himself to the Palmeiras faithful in domestic competition, his breakthrough came in the Copa Libertadores, where he started in 13 of 15 matches.
Throughout the tournament, he scored three goals, provided the most shot assists out of the entire Palmeiras team, but never neglected his defensive duties. His standout performance came in Buenos Aires, when the Verdão defeated River Plate 3-0 in the first leg of the Copa Libertadores semifinal. The 20-year-old delivered a mature performance against the likes of Enzo Pérez and Ignacio Fernández, constantly being aggressive without the ball and threading the passes in Palmeiras's dangerous counterattacks.
Whilst the central midfield position is Menino's bread and butter, his versatility is one of his biggest attributes. Similar to RB Leipzig's Konrad Laimer, Menino is a player who covers every blade of grass and who can thrive in various positions and functions, whether that be on the right side or the left side of the pitch. Whereas he was used as a right wingback in the second leg against River Plate, he started on the right side of attack in the Final against Santos.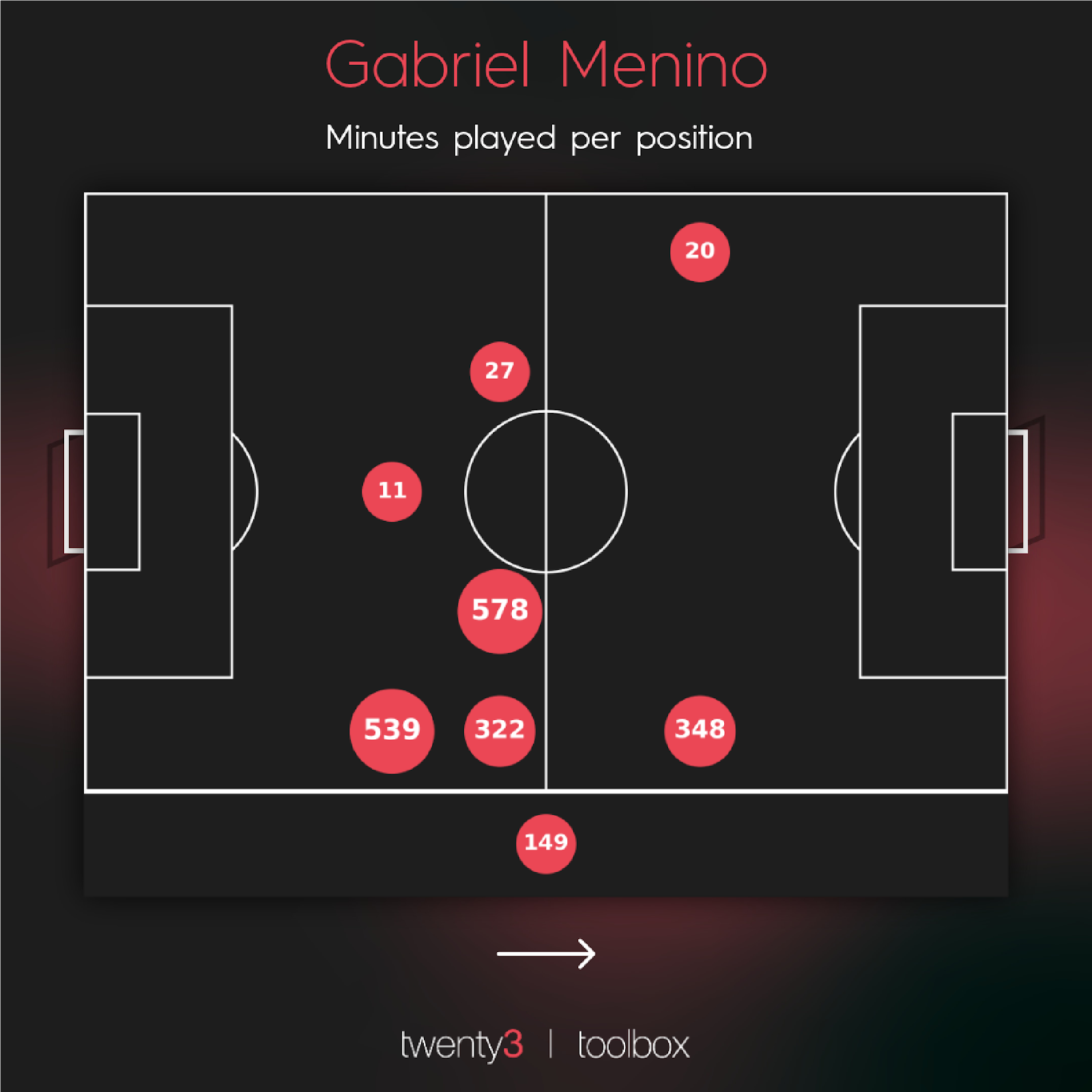 Photo: Twenty3/Wyscout
Although his versatility does harken similarities to Laimer, perhaps the most similar player to Menino in terms of his physical build and technical attributes (save the gape in quality) is Joshua Kimmich. Similarly to Menino, Kimmich is a natural midfielder who has impressed in a wide variety of positions including center back and right back. Given the fact that Kimmich has operated in central midfield over the past year, it behooves us to compare Kimmich's 2018/19 season (when he mainly played at right back) with Menino's previous campaign, which saw him predominantly play at right back.
The Making of Joshua Kimmich: Germany's Finest Midfielder and One of the World's Best
Both players have similar numbers in terms of their attacking actions, crosses, completed dribbles, and progressive runs. These attributes demonstrate Menino's importance in the first phase of build-up, as his ability to retain possession, his skill at dribbling and evading the pressure, his change of pace to gain separation from his opponent, and his passing quality makes him one of the most press-resistant players in Brazil.
While the below radar demonstrates a lower volume of passes and assists, this happens to be one of his biggest qualities and it has allowed him to seamlessly adapt into the right back and midfield positions. Indeed, this aspect of his game could be maximized by a team that maintains a higher rate of possession, as both Ferreira and Luxemburgo have not opted for a possession-heavy approach during their time at Palmeiras.
In terms of the defensive aspect, it is worth noting that he must improve in order to take the next step. Menino has been eyed as the long-term replacement for Dani Alves in the Brazilian national team, but he will not gain Tite's trust as a starter until he increases the level of interceptions and defensive duels won, among other statistical metrics. This improvement is also necessary for Menino to make the step up to a more physically demanding league such as the Premier League or Serie A.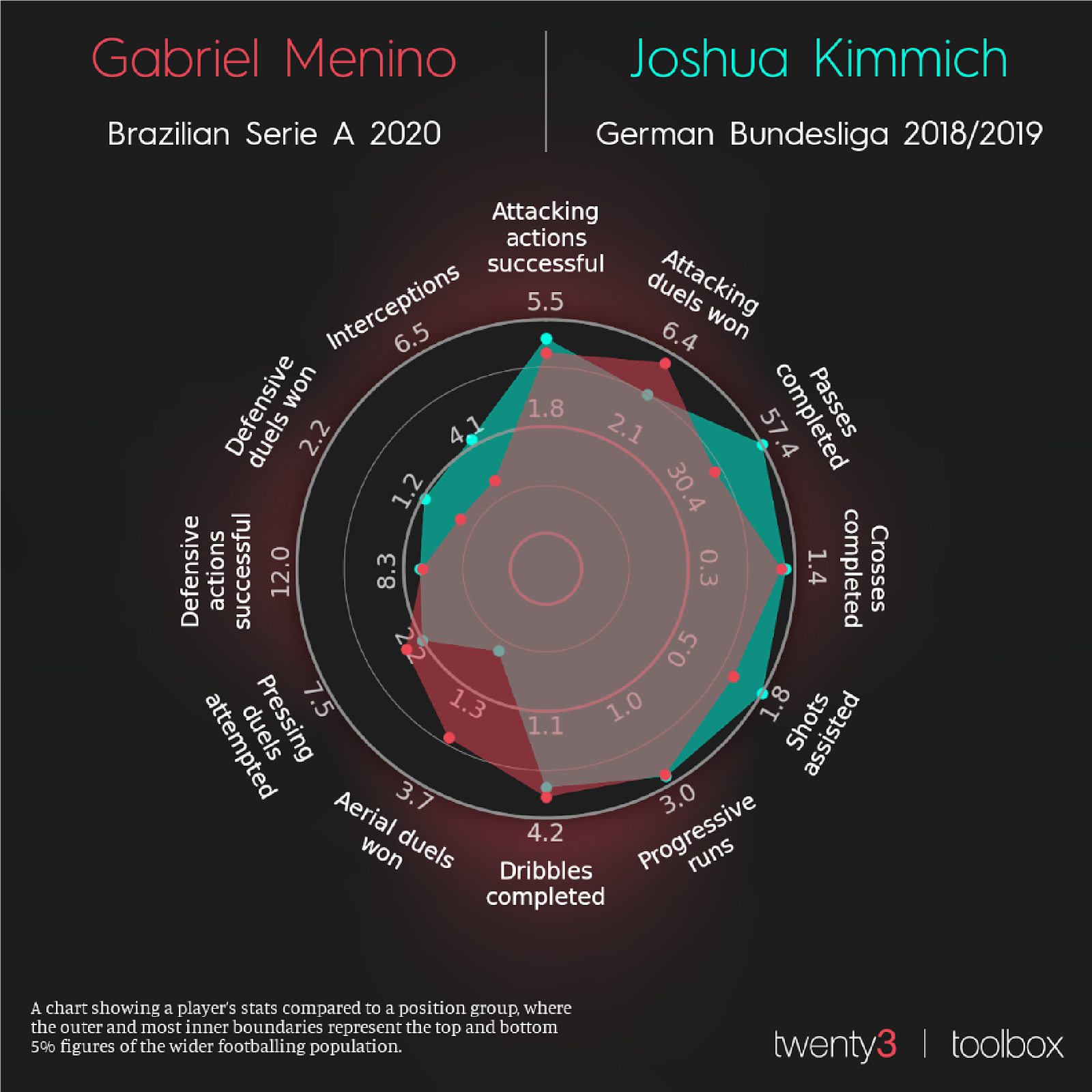 Photo: Twenty3/Wyscout
We can get an even better taste of Menino's versatility by taking a glance at his pass and movement maps when analyzing his various positions. As a right back, Menino offers plenty of valuable attributes in terms of verticality and executing the build-up. Menino provides a constant passing option for the goalkeeper, allowing him to start the first phase of build-up and form triangles in the first phase.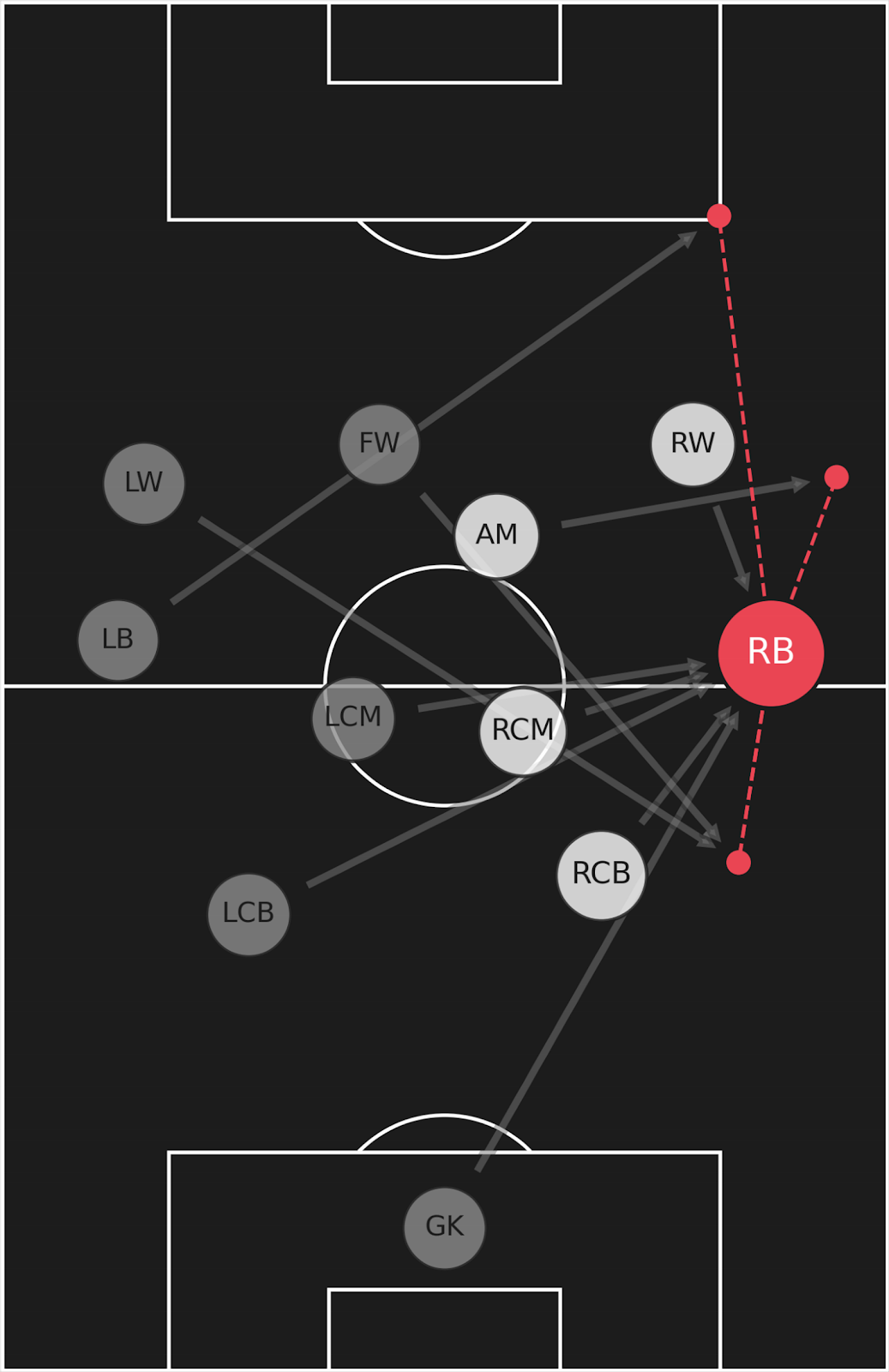 Photo: Twenty3/Wyscout
Menino's profile as a right back is a constant boon for his side in possession, and it could see him land a gig as an inverted fullback for a European club sooner rather than later. The Brazilian tends to not rush to the edge of the box and put in a cross, but rather takes advantage of the spaces on the right side of attack in order to find his teammates in the box.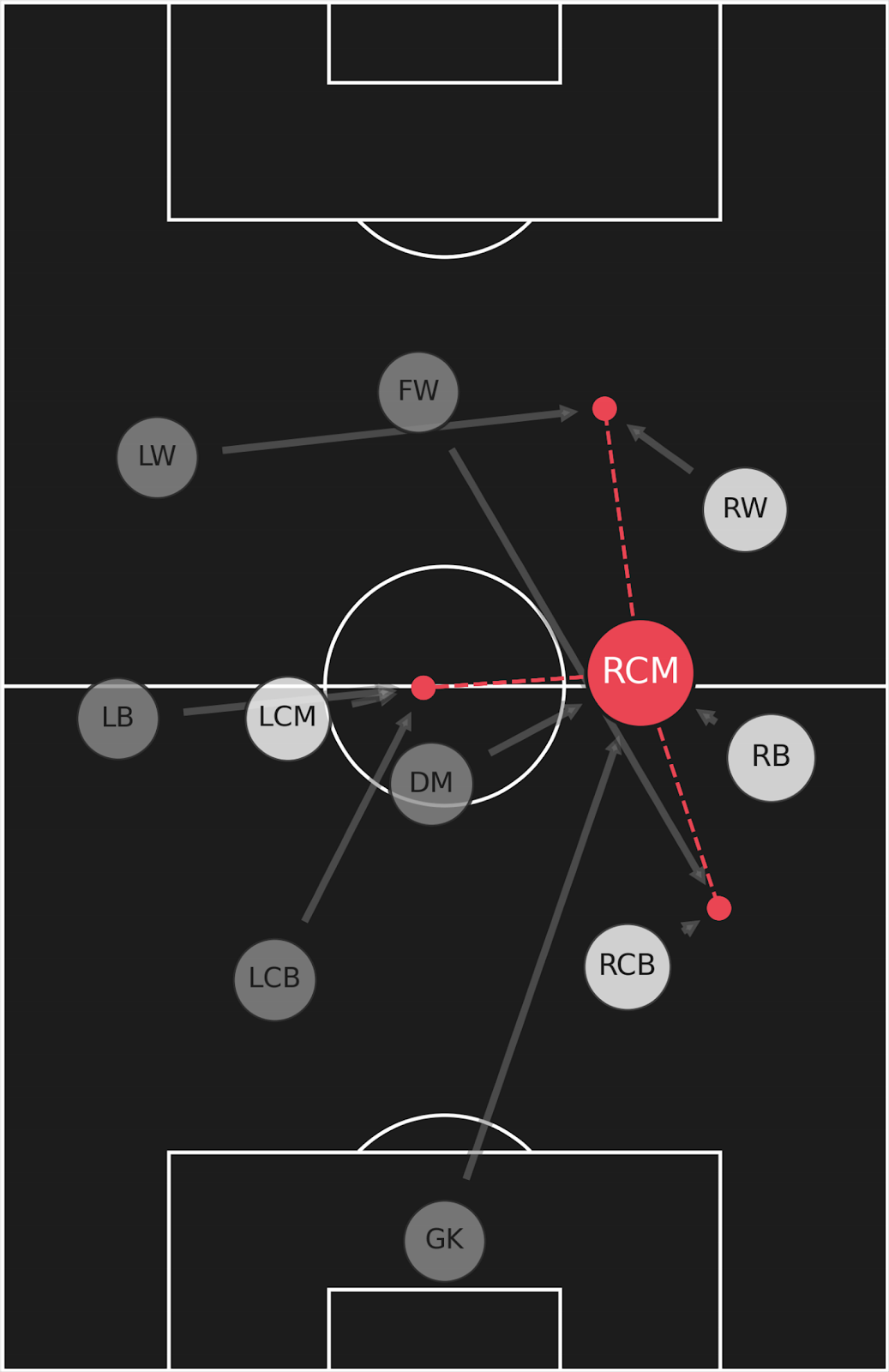 Photo: Twenty3/Wyscout
Whilst operating in his natural position of right-sided central midfielder, Menino continues to present the characteristics that make him such a press-resistant player and that earned him high praise in the youth teams. Not only is he skilled at alleviating the pressure in the first phase of build-up, Menino tends to position himself in the half-space to create space on the flanks that his teammates can then exploit in attack.
When playing in the half-space, Menino has the creative liberty to progress the ball through dribbles and passes, and he is also afforded the time and space to attempt shots from outside the box. We saw an example of this on September 16 when Palmeiras traveled to La Paz, Bolivia to take on Bolívar in the Copa Libertadores. Menino received a pass from Rony before launching the ball from 30+ yards out and firing the shot past Javier Rojas and into the top-right corner of the net.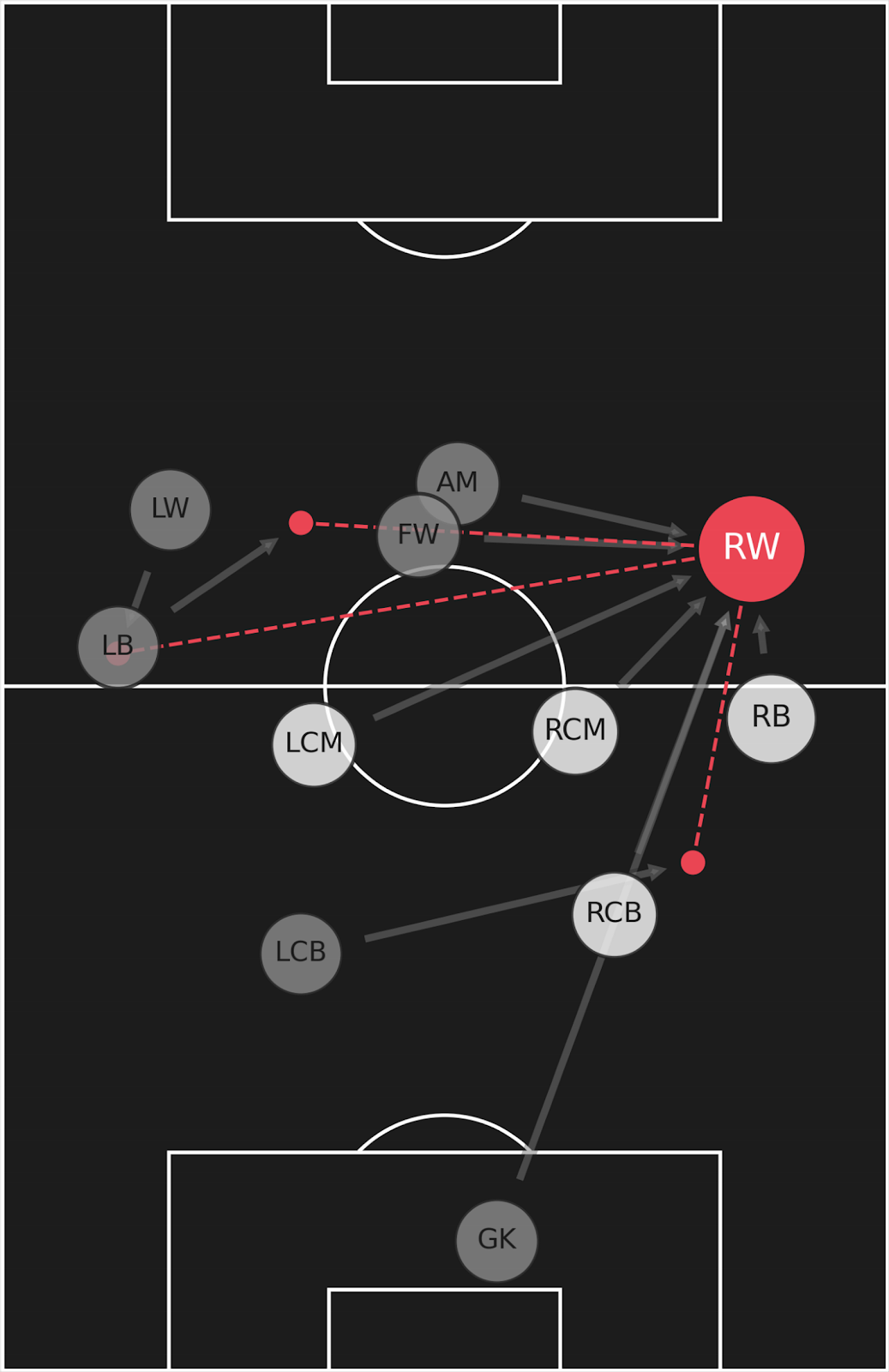 Photo: Twenty3/Wyscout
On the other hand, his function in the team changes when he plays on the right wing. Ferreira played him on the right side of attack in the Copa Libertadores Final with the intention of limiting the potential danger of Felipe Jonathan and Yeferson Soteldo, two talented players who are known for their ability to create goal-scoring situations on the left flank.
The Portuguese manager preferred him in this position over natural attacking players such as Lucas Lima and Gustavo Scarpa, and Menino's wide positioning resulted in Rony playing in a more inverted role on the left flank, something that has become commonplace under Ferreira. Menino lasted 85 minutes before being hauled off for Breno Lopes, who scored the lone goal of the match in the 99th minute and delivered the title to Palmeiras.
At 20 years of age, Menino has already established himself as one of Palmeiras' most dangerous attacking weapons, currently leading the Verdão squad with 6 assists in the ongoing Série A campaign. A large part of these assists has come from dead-ball situations, one of his strongest attributes. Amongst right backs in the Brasileirão, Menino ranks first in terms of Expected Assists, even ahead of Copa América winner and Flamengo right back Mauricio Isla, with nearly one Expected Assist per four games.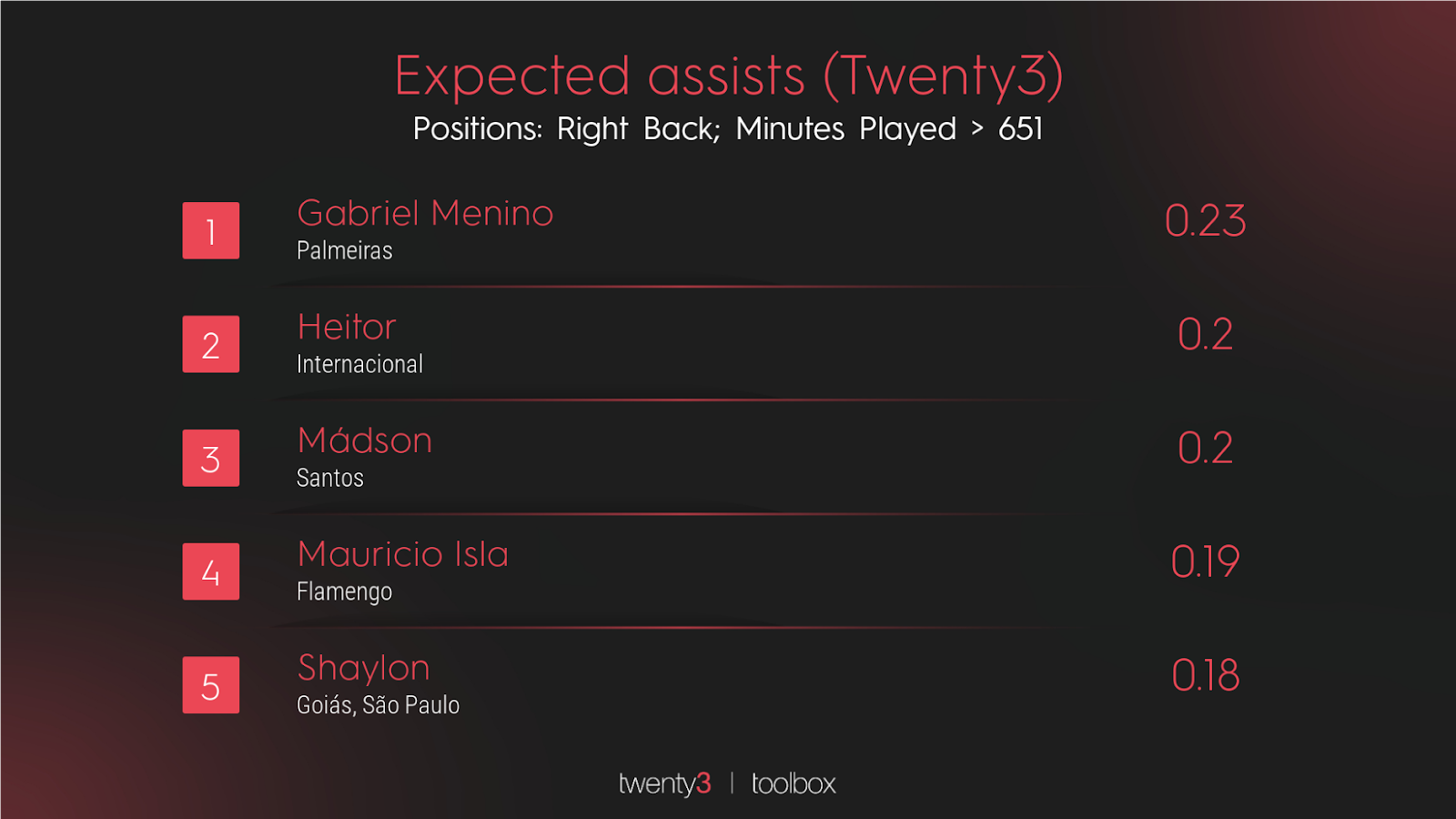 Photo: Twenty3/Wyscout
With just one year of professional football under his belt, it's still too early to determine what Menino's ceiling is and where he can end up, although he has already attracted attention from a number of European clubs. We have compared him with several top-tier players in this analysis such as Joshua Kimmich and Konrad Laimer, but perhaps the one player whose comparison serves the most relevance is Dani Alves.
Brazil have struggled to find a long-term successor for Alves, who turns 38 years old in May. Guga, Marcinho and Emerson have been eyed as potential replacements, but they are still far away from reaching Alves's level that he showed at the 2019 Copa América — let alone his peak. Moreover, at 29 years of age, Danilo has failed to demonstrate the same potential that saw him become a revelation at Santos and Porto, and although he has started in Brazil's recent matches, he clearly isn't the long-term answer.
The successor to Alves' throne could very well be Menino. By comparing Alves' 2017/18 Ligue 1 season and Menino's ongoing campaign, we can catch a glimpse of the similarities between the two players. In his first season at Paris Saint-Germain, Alves was used in a wide variety of positions under Unai Emery such as right back, right wing, and a right-sided central midfielder. Now at São Paulo, Alves mainly plays as a central midfielder.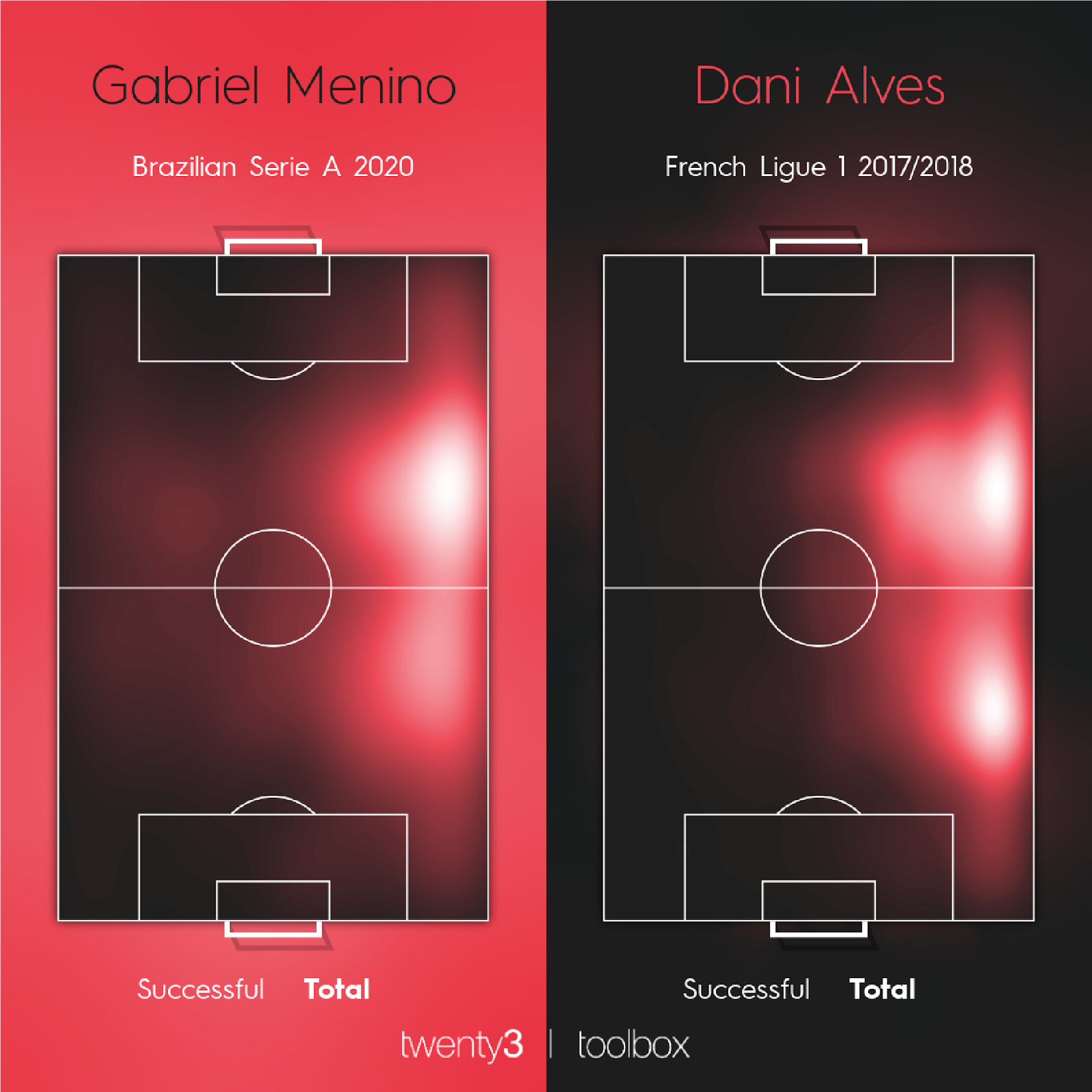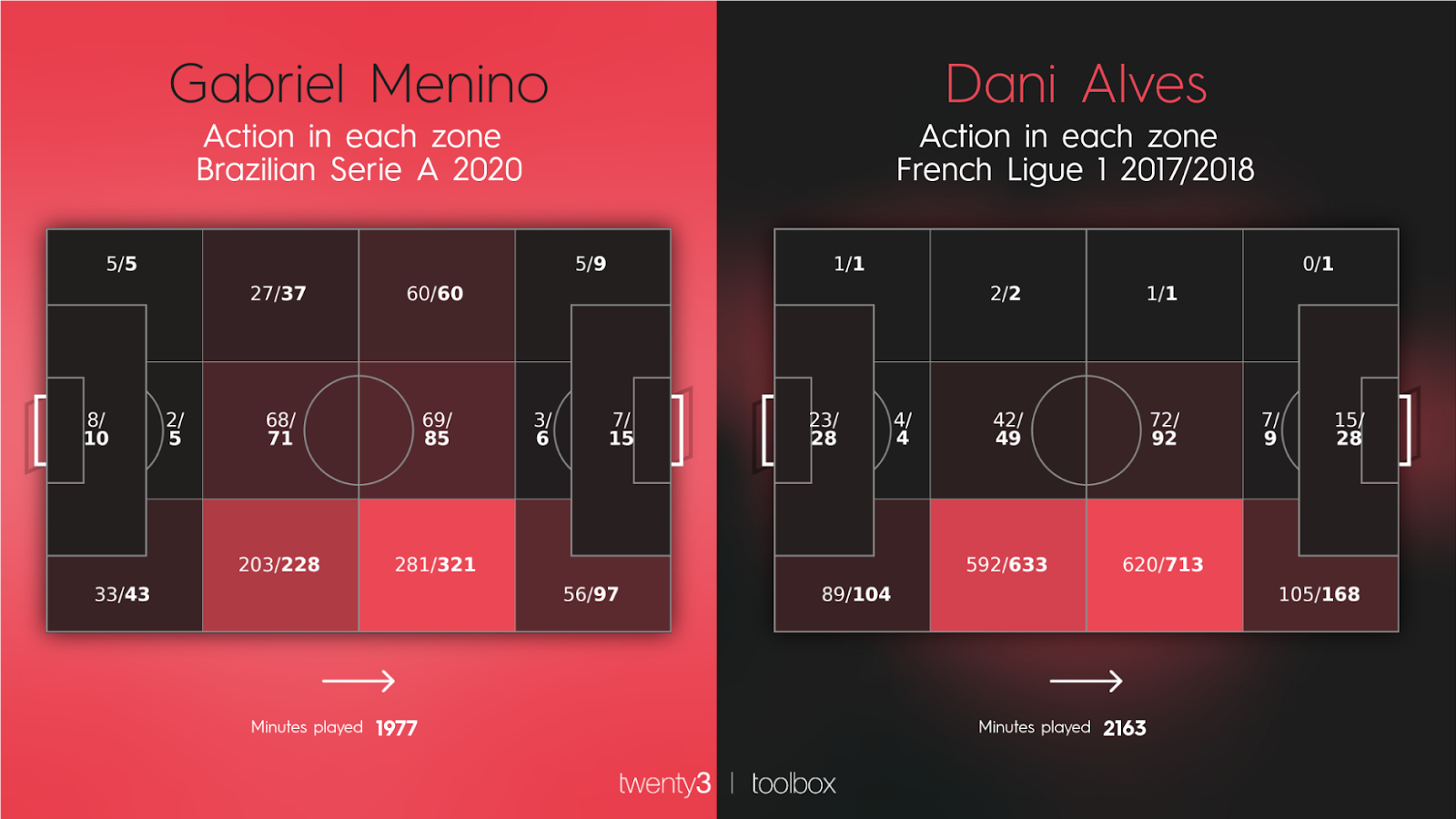 Photo: Twenty3/Wyscout
The heat maps and action maps of the two players help to solidify the comparison. The success rate in zones is incredibly similar, although it's worth noting that Alves played far more minutes in his first season in Paris than Menino did in his first season at Palmeiras.
After joining from Sevilla in 2008, Alves became a hallmark of Pep Guardiola's legendary Barcelona side, establishing himself as one of, if not the greatest right back in football history. Crucial to his success was Guardiola's unique positional play concepts, which saw Alves combine with Lionel Messi on the right flank, operate in the half-spaces, and exploit open spaces. When watching a Palmeiras match, it is clear that Menino shares these unique characteristics with the former Barcelona man.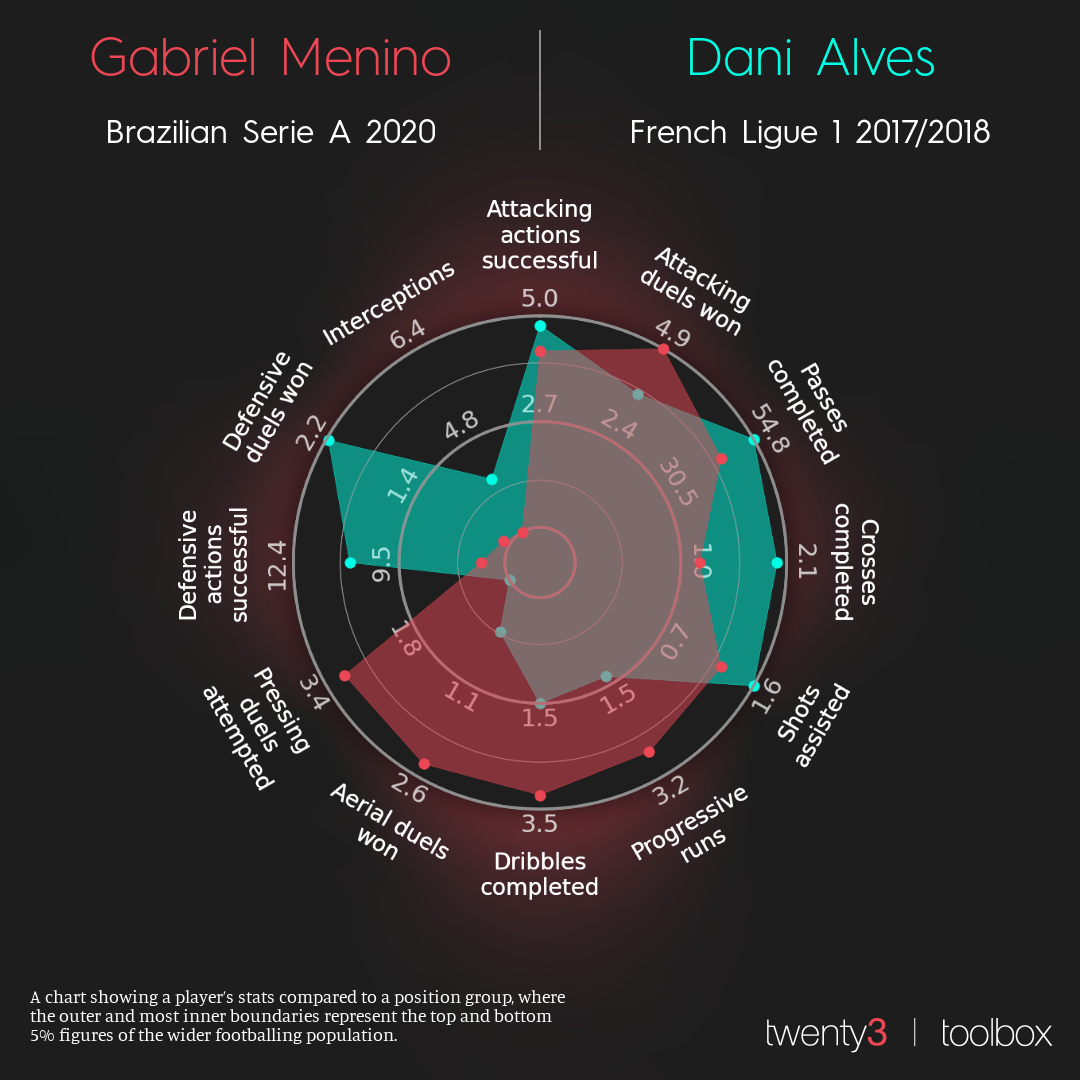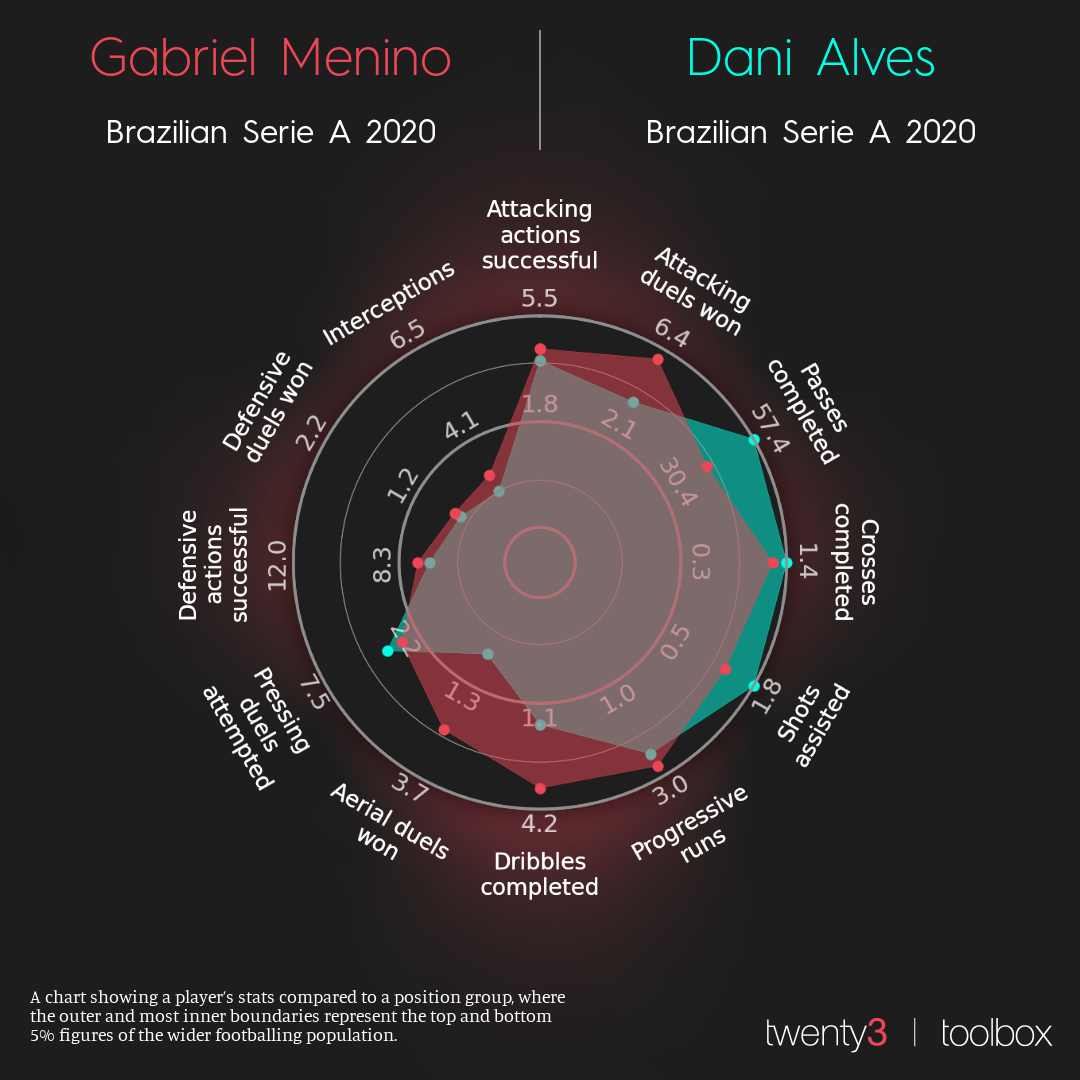 Photo: Twenty3/Wyscout
We can get an even better glimpse of the similarities between Menino and Alves in the above player radar comparisons. The first image compares Alves' debut season at Paris Saint-Germain with Menino's ongoing season at Palmeiras. Alves was often utilized as a right winger under Emery, whereas at São Paulo, he has mainly performed as a central midfielder.
When looking at the Alves of PSG, he has similar numbers to Menino in terms of successful attacking actions as well as passes completed; on the other hand, at São Paulo, their numbers are similar in terms of progressive runs, pressing duels attempted, defensive duels won, successful attacking actions, and crosses completed. This is high praise considering the fact that Alves' arrival has been one of the biggest reasons why the Tricolor have competed for the league title this season.
In one year, Gabriel Menino has emerged as one of the brightest talents in South America, and at 20 years of age, his versatility, unique vision, and ability to evade the pressure should land him a transfer to Europe sooner rather than later. Apart from the Copa Libertadores and Campeonato Paulista, his performances also landed him a spot in the Team of the Tournament alongside the likes of Carlos Tévez, Gustavo Gómez and Gonzalo Montiel.
His adaptability and technical attributes have seen him become one of the first names on Abel Ferreira's team sheet, whether playing at right back, central midfield, or right wing. While he does need to improve in the defensive facets, Menino has everything it takes to follow in the footsteps of Joshua Kimmich and Dani Alves, and become a jack-of-all-trades for one of Europe's top teams.
By: Caio Batatinha
Featured Image: @GabFoligno – David Ramos / FIFA