The Making of Joshua Kimmich: Germany's Finest Midfielder and One of the World's Best
There is no doubt that Joshua Kimmich is one of the most gifted footballers in the world at the moment. While he's in a team consisting of superstars like Robert Lewandowski, Manuel Neuer, Thomas Müller and more, it's fair to suggest Kimmich is arguably Bayern Munich's most important player. He's the one that's been making the team tick under Hansi Flick and whether he's orchestrating from midfield or deputizing at right-back, he's been integral to the Bavarians' success.
Kimmich's rise to becoming one of the world's best midfielders has been relatively quick. Last year, he was a key cog in Bayern's treble-winning machine, playing consistently well in two different positions and earning numerous individual honours along the way, including a spot on the FIFPro World Team of the Year. It's easy to forget that the Rottweil native just turned 26 at the start of February and perhaps, the best is yet to come.
In September 2005, a nine-year-old Kimmich joined the DFB training camp in Aldingen in Baden-Württemberg and it was there that his potential was spotted. "He was actually still a year too young to take part in the units. But because the whole region raved about this player at the time, we tried to obtain a special permit. It was good that we received it," Martin Schneider, his developmental coach, said back in 2016. Schneider recalled that Kimmich was always inquisitive about learning tactics and footballing concepts – a quality which is evident to this day. 
A footballer that has now made nearly 250 appearances for Bayern Munich and was a crucial player under coaches like Pep Guardiola, Jupp Heynckes and Flick, Kimmich's career started off at provincial club VfB Bösingen, where he played as a child until 2007, before moving to one of Germany's most prestigious academies: VfB Stuttgart. The Swabian club was a hub for honing young players and coaches, and Kimmich was no different. The current crop has seen players like Kimmich, Gnabry and Timo Werner go on to have notable careers.
Annually, Stuttgart only accepted 18 new entrants to their finishing school and it was a testament to Kimmich's qualities that he was chosen. He had outgrown his boyhood club and Stuttgart was the ideal stepping stone for him; however, it took some convincing to encourage his parents to send him there. Klaus Hubrich, the Stuttgart youth coach at the time, was so certain of Kimmich's talents that he personally set out on a 120-kilometre trip to Bösingen and an agreement was reached. 
Kimmich's progress was impressive, but in 2013, he was disappointed to not be promoted from the youth team to the senior second team. Fredi Bobic, the club's sporting director at the time, rejected the request and that opened the door for the 17-year-old Kimmich to make a move away from his boyhood club. "Joshua had hoped to be able to start right away in the professional team. But then he realized that in his favorite position we had a player in Rani Khedira, among others, who was two years ahead of him. But there was no waiting for Joshua," Bobic said to 11Freunde.
Ralf Rangnick, the former Stuttgart head coach who worked at the club in the 1990s and revolutionized their playing and coaching philosophy alongside his mentor Helmut Groß, took notice of the situation and decided to bring Kimmich to RB Leipzig, the club where he was now sporting director (and later head coach). Rangnick deployed similar methods at Leipzig, where he focused on developing and promoting younger players, playing attacking football with verticality, and giving players the right time and guidance to fulfill their potential.
He identified Kimmich as a player who could excel in the Leipzig youth-centered environment, and a deal was complete, provided there was a buyback option when the time came. The Leipzig philosophy, coined by Rangnick, was Capital, Concept and Competence – the first being about the economic structure of the club, the second about the on-field plan and the third being about the desire players show. Kimmich was definitely competent and helped the club rise to the second division as their Red Bull-backed project was on the right path. 
His start at the club, however, was difficult. Unable to cope with the increase in pace from youth to senior football as well as finding it tough to adapt to a new, aggressive style of play, Kimmich had doubts about whether he could actually cut it at this level. He was still a teenager at the time, and a situation like that could easily have broken his confidence, but Kimmich persevered. 
A key factor in this was the influence of Tim Lobinger, the former pole vaulter who was the athletic trainer at Leipzig. Often in his career at Stuttgart, Kimmich was told that he would have difficulty at senior level due to his lack of physical presence, so it was Lobinger who he spent plenty of time with, working on his strength on a one-to-one basis, improving his nutrition and also having discussions on life beyond the pitch. Soon, the results would show. 
He became an integral part of the Leipzig midfield, as the club earned promotion to 2. Bundesliga – a destination they were struggling to reach despite the riches they had. The next season, he only got better and formed a good partnership in the midfield with friend Diego Demme. The two spent plenty of time together on the pitch organizing the team, and just as much time off it, admiring midfield generals and heroes such as Xavi and Andrea Pirlo.
It was Guardiola who would be involved in the next big step of his career. In a league game against 1860 Munich, the Spanish coach, then at Bayern Munich, came to watch personally having heard great things about Kimmich from his staff. By the end, he was impressed and very soon, a deal was agreed to take him to the Bavarian giants. It was a giant leap for Kimmich: not too long ago, Stuttgart weren't willing to promote him, but in 2015, Germany's most successful club and one of the best managers of the modern era were fans. 
Rangnick and RB Leipzig didn't stand in his way either. They knew it was coming, and it was a worthy move for a player of supreme quality:
"What should a boy do when his agent tells him that Pep Guardiola really wants him? He watched him in the stadium [against 1860 Munich]. Afterwards Guardiola watched video clips for hours and there was a long personal meeting [between Guardiola and Kimmich]. I knew he wanted to do that [move to Bayern Munich]."
At Säbener Straße, there's a different expectation. Kimmich's rise to this level was rapid and largely unexpected, but it was fully deserved for a player of gleaming qualities. Guardiola recognised that and wanted to hone him into the best player he could be, referring to Kimmich as "his son" at one point. Immediately after a game against Borussia Dortmund in March 2016 where Kimmich deputized at centre-back, the world witnessed one of the most famous snapshot of Guardiola's Munich tenure: the Catalan put his arms around the former Stuttgart man and spoke to him in an animated manner.
Later, it was revealed that Guardiola was merely explaining that he believed Kimmich had the skill to play well in multiple positions. It may have looked like a dressing down, but the German was delighted to be involved in the situation: "In the first moments I was surprised. But, when you know Pep, this is what you get. Pep wants to tell you immediately to make you better. He wants to tell you there and then. Maybe it looked strange but for me it was great. It showed how much he sees and cares."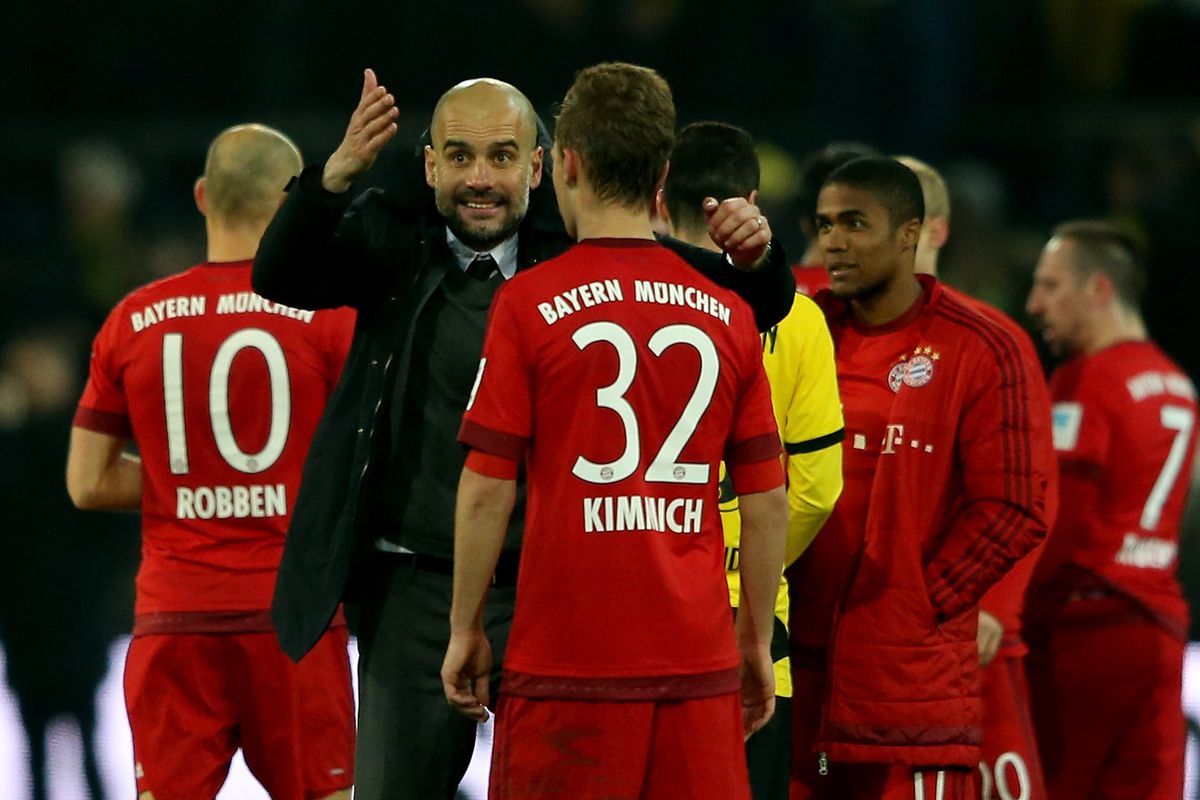 Photo: Lars Baron – Getty Images
By the end of that season, Kimmich had a league winners' medal and was on the plane to the European Championships with Germany, where he established himself as their first-choice right-back as Die Mannschaft went all the way to the last four before losing to hosts France. That tournament was crucial for Kimmich as his fine displays ensured he had a permanent place in the national team set-up. A year later, he was seen as one of the leaders in a young roster that went out to Russia for the Confederations Cup. 
Ahead of the tournament, in the spring of 2017, Kimmich received news that Lobinger, who helped him so much during his time at RB Leipzig, was diagnosed with leukemia and had to undergo chemotherapy. The two had planned a week-long training camp before the Confederations Cup and despite Lobinger's diagnosis, that camp went ahead. They would meet often, discuss football and Kimmich's career and then worked at the Olympic base in Munich. Lobinger used to have a blood infusion in the morning before heading out to the training base and worked with the midfielder.
It was beneficial for both. For Kimmich, it was a chance to improve his game and tune his skills. For Lobinger, it was a distraction at a difficult time. Lobinger is now leukemia-free, having been aided by a stem cell donor. That summer in 2017, though, he was overjoyed to see Kimmich play every game and lift the trophy at the end of it. The Confederations Cup isn't the most significant tournament in football, but with a young German team that was without the usual stars, this meant more to Kimmich for reasons beyond the pitch. 
After Guardiola left for Manchester City in 2016, Kimmich worked under two more greats of the game: Carlo Ancelotti and Jupp Heynckes, both of whom saw the value in having a player like Kimmich amongst their ranks. Although they were able to dominate domestically and continue their dynasty in Germany, the Champions League was missing, and it was a trophy the players were eager to bring back to Munich. The Niko Kovač era wasn't successful in that regard either, and it wasn't until Flick's arrival in 2019 that they were able to take their game to the next level. 
And while he's only gotten better and better on the pitch, going on to win a treble, including the Champions League, at the end of the 2019-20 season, it was his work off the pitch alongside team-mate and friend Leon Goretzka during the first outbreak of COVID-19 that was probably his biggest achievement last season. They launched the We Kick Corona initiative, and as two socially responsible public figures, their work went a long way. To date, they have raised over €5m to date from over 4,000 donors for Germany's most vulnerable. 
Kimmich and Goretzka donated €1m of their own money to the fund, and they were massively helped by other figures in the sporting world and beyond. Footballers like Klaas-Jan Huntelaar and the Bender twins, elite athletes like Alexander Zverev and Dennis Schröder and coaches like Ottmar Hitzfeld and Flick all got involved. Goretzka spoke about the initiative's importance to Welt am Sonntag: "Fritz Walter said all German national team players are foreign ministers in shorts. I like the expression. We footballers should use the attention we get to raise awareness of subjects like this."
Schneider, the man who discovered Kimmich's talent, spoke about his commitment to helping the society, his willingness to keep his feet on the ground and the love for the people that helped shape the great footballer we see today: "Joshua is a real down-to-earth kind of guy. That's why he often comes back to his hometown. When he's here, we see each other every now and then."
Now, Kimmich is undoubtedly one of the world's best and 2020 was an excellent year for him from a personal and collective standpoint. On the pitch, he's a master of his craft and off it, he's a humble, helpful member of society who uses his platform for the right reasons. From Rottweil to Munich and beyond, Kimmich's rise has been exceptional and the acclaim he gets is well-deserved.
By: Karan Tejwani
Featured Image: @GabFoligno / Alexander Hassenstein – Getty Images