Data Analysis: Nico Schlotterbeck
Perhaps no role in modern football is as difficult to perform as a center-back. For most teams, central defenders are the starting point of their attack and need to be accomplished on the ball both through dribbling and passing.
As more teams adopt high-pressing systems, they need to be capable of resisting pressure from the opposition when in deep build-up, mobile enough to cover in behind if the press is broken, and aerially dominant to stop the opposition from playing over the top. 
Given the variety and difficulty of these tasks, talented center-backs are seemingly always in high demand. As such, it's no doubt that various clubs are interested in acquiring Freiburg's 22-year old Nico Schlotterbeck. 
In possession, Schlotterbeck is an effective progressor of the ball both through his carrying and passing.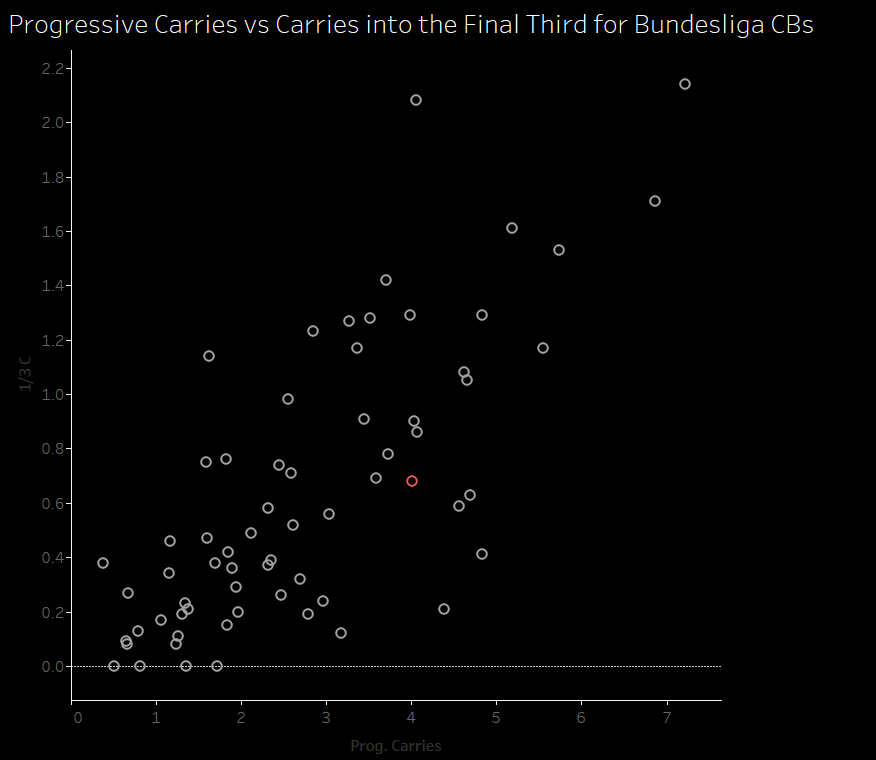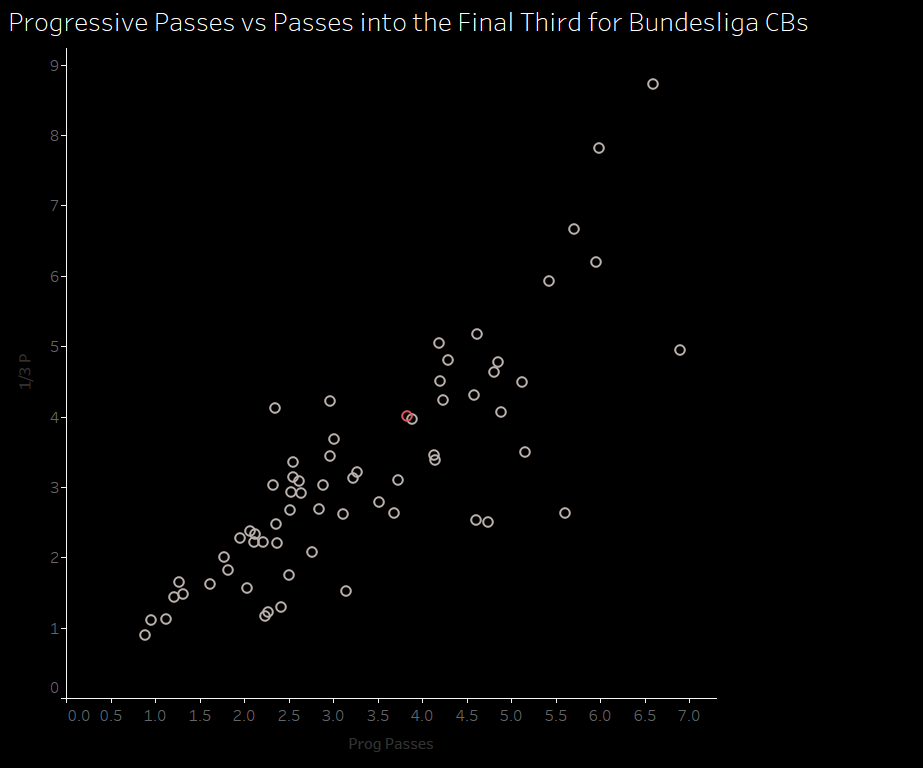 The scatter plots above show Schlotterbeck's performance (indicated by the red dots) in ball-carrying and passing compared to other center-backs in the Bundesliga. While both show him as performing better than most of his contemporaries, he is not in elite company for either metric comparison. 
However, his performance must be seen within the context of his team's style. In comparison to most Bundesliga teams, Freiburg play quite directly and doesn't dominate possession of the ball.
In fact, Andres Andrade Cedeno of Arminia Bielefeld is the only player who outperforms Schlotterbeck in either statistical comparison while playing for a team with less average possession than Freiburg. 
That's not to say that average possession is the only way to contextualize a player's performance with the ball. Nevertheless, it shows how the German is putting up relatively impressive numbers despite having fewer opportunities to use the ball than many of his contemporaries. 
It's worth noting that Schlotterbeck is his team's primary outlet for progressing the play and, in some instances, can even be a creative outlet.
Head coach Christian Streich gives him license to push forwards and underlap as a center-back, much in the way Cesar Azpilucueta does as a right center-back for Chelsea or what Sheffield United managed so successfully under Chris Wilder from 2016 to 2021.
It's why Schlotterbeck ranks above the 95th percentile compared to other center halves in Europe's top five leagues for statistics such as fouls drawn, shot-creating actions, and nutmegs: unusual metrics for a center-back, but more expected of a team's primary force for turning stale possession into genuine attacks.
Schlotterbeck is not just a conventional ball-playing center-back: he is unique in how rounded he can be as a creative weapon. Defensively, it can be difficult to assess center-backs with statistics as their defensive output often depends greatly on their team's relative quality and style.
A good example of this is Virgil Van Djik. His pressures, tackles, interceptions, and blocks — all metrics generally considered good markers of defensive performance– place him in the first, third, seventh, and fifth percentiles compared to other central defenders in Europe's top five leagues.
Van Djik is unquestionably one of the best center-backs in Europe; but due to factors such as Liverpool's domination of possession and their incredibly organized press, the Dutchman doesn't need to make lots of interceptions and tackles to be an effective defensive presence. 
As such, Schlotterbeck's defensive metrics must be understood within the context of Freiburg's style. Playing in either a 3-4-3 or 4-4-2, Streich emphasizes both vertical and horizontal compactness throughout the team, with the main goal of funneling opposition possession out wide to more easily retrieve the ball.
Scouting Report: The Best Performers of the Under-21 European Championship Knockout Stage
While they don't press aggressively — recording just the fifth-highest PPDA (passes allowed per defensive actions in the opposition half) in the league — Streich drills his players well in stepping out aggressively in the center of the pitch to force the ball down the flanks.
They aren't so concerned about crosses and are more eager to stop the opposition from penetrating Freiburg's shape through the lines. Due to this setup, there's a tremendous onus on Schlotterbeck and the other center-backs to be aerially dominant and aggressive in trying to force possession out-wide.
His 3.54 aerials won per 90 is impressive and represents his capacity to fulfill that crucial function in Freiburg's system. However, his standout defensive attributes lie in his aggression.
Particularly when he plays as the left-sided center-back in a 3-4-3, Schlotterbeck excels at stepping out to prevent strikers and other attackers from having time and space to penetrate Freiburg's block through the center.
Schlotterbeck's strength, tackling, and mobility to cover the space behind if needed means he can make this seemingly risky defensive approach extremely fruitful. 
The Best Performers From the 2021 Under-21 European Championship Group Stage
This approach is also why Schlotterbeck's performance for statistics such as tackles, dribblers tackled, and interceptions place him in the 90th percentile and above. While a reflection of his quality to a certain degree, such metrics are indicative of his role with Freiburg's system. 
That should be remembered when teams come calling for Schlotterbeck's signature this summer. His performances will undoubtedly merit attention from Europe's elite, and rightly so.
Elite center-back prospects are incredibly rare in the modern game due to the immense demands placed on the position. Schlotterbeck has a high ceiling and has the raw attributes to become a great center-half. However, teams will need to be willing to adapt their defensive style to facilitate his aggressive approach.
He may be best suited for teams who play a back-three, which naturally affords the outer center-backs more leverage to step out more. Even then, he would need to become used to playing with more possession and in a higher line. 
In sum, it's unrealistic to assume Schlotterbeck could simply slot into any backline in Europe and replicate his same combination of physical, aggressive defending and superb ball progression immediately. His style is unique, and he would take time to fit within another team's setup.
However, if teams are willing to adapt to his traits and enable Schlotterback to adapt to a different defensive setup, he could become one of the best central defenders in European football.
By: Vishnu Anandraj / @vishnua711
Featured Image: @GabFoligno / DeFodi Images