Scouting Report: The Best Performers of the Under-21 European Championship Knockout Stage
About a couple of months after the end of the group stages, the 2021 Under-21 Euros were back, this time for the decisive knockouts. Spain, Croatia, France, the Netherlands, Portugal, Italy, Denmark and Germany were all vying for the trophy, and after lots of drama and exciting action, Germany came home with their third European title at this level.
The Best Performers From the 2021 Under-21 European Championship Group Stage
There were lots of amazing young talents on display in the seven matches that took place in the span of six days, so let us take a look at the best of the bunch in this scouting report by picking an XI of the standout performers from each position:
GK: Justin Bijlow
Country: The Netherlands
Club: Feyenoord
Age: 23
In goal, we have to go for the Netherlands' Justin Bijlow, who was superb in both the quarterfinal and semifinal against power-packed attacking sides such as France and Germany.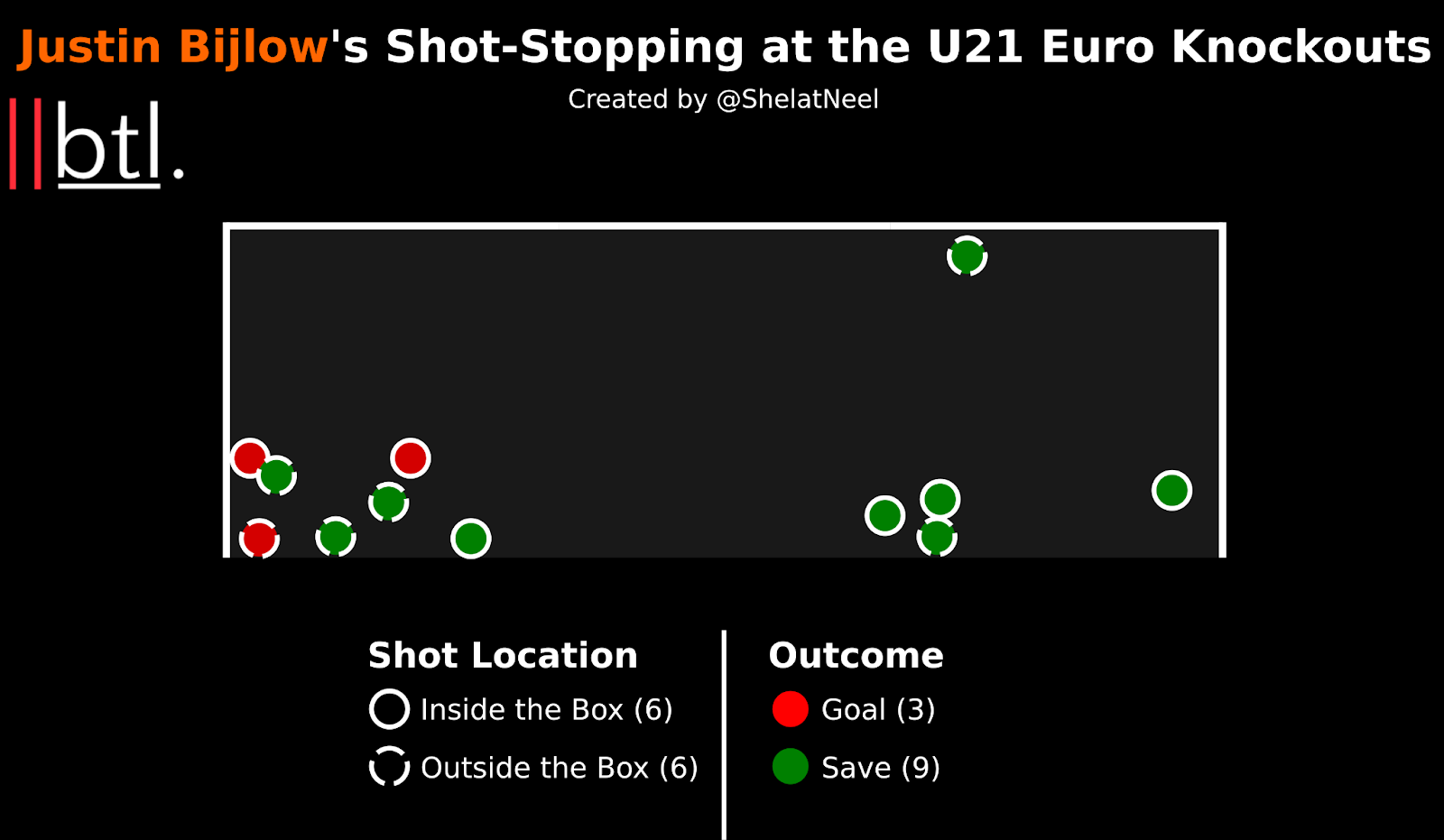 He faced 12 shots in those two matches, stopping nine and letting three in. Of the goals, though, one was a set-piece, one was a close-range tap-in on a fizzing cross, and the other was a well-placed finish from the edge of the box, so it is hard to fault Bijlow for any of them. Barring them, he made a few stunning saves, particularly the one against France which was against a powerful Jonathan Ikoné effort that looked to be going close to the top corner after dipping a fair bit.
The Dutchman was good with his feet too, racking up 70 touches and maintaining a passing accuracy of 80% in the two knockout games he featured in. So, although the Netherlands suffered disappointment as they were knocked out in the semifinals, Bijlow had a good tournament.
He had a mediocre season at Feyenoord in 2020/21 as he failed to feature in 20 matches due to various injuries, so the 23-year-old keeper will be hoping for better luck in that regard next time out. In the long-term, he does seem to have all the necessary characteristics to stand between the senior Dutch side's sticks.
RCB: Perr Schuurs
Country: The Netherlands
Club: Ajax
Age: 21
Bijlow is joined by a teammate in defence, as Perr Schuurs finds a spot in the right centre-back position. The Fortuna Sittard academy graduate was solid in defence, but particularly exceptional with the ball at his feet. He made 9 clearances, 3 blocks and a last-man tackle in his two matches, adding to that a 100% ground duel success rate.
In possession, he maintained a passing accuracy of 93% from 170 attempted passes and came home with 192 touches. Having made 41 appearances for his club this season, Schuurs has established himself as a key player at Ajax and should continue to excel in the Eredivisie on this evidence.
CCB: Diogo Leite
Country: Portugal
Club: Porto
Age: 22
The first Portuguese player to feature in our side is Diogo Leite, who was just as exceptional at centre-back even as his side conceded four times in three matches, as he played every single one of their 300 minutes.
In that time, he racked up some very good defensive numbers – 24 clearances, 10 tackles and interceptions and a 68% success rate in 19 duels. The Porto man was not bad on the ball either, with 234 touches, 166 successful passes with a completion rate of 91% and 13/22 accurate long balls.
Five Players Who Could Replace Pepe for the Portugal National Team
In spite of his terrific performances at youth level, Leite has only played 38% of the maximum minutes at club level this season despite being injury-free, which has to be considered a disappointment. There are no serious transfer rumours surrounding him, though, and with senior centre-backs Pepe and Iván Marcano both comfortably on the wrong side of 30 for Porto, Leite might yet get a clear shot at joining the core squad.
LCB: Nico Schlotterbeck
Country: Germany
Club: Union Berlin (on loan from Freiburg)
Age: 21
Nico Schlotterbeck is the first German entrant in our side, as he rounds up the back-three after playing out all 300 minutes of his nation's knockout action as well.
The 21-year-old centre-backs defending was not the best as his 17 clearances and 8 tackles and interceptions were outweighed by a low success rate of just 52% in 33 duels as well as the fact that he was dribbled past 6 times, but he was very adventurous on the ball. 272 touches, 219 attempted passes at an 85% completion rate, 19/38 accurate long balls and a 100% dribble success rate indicate just that.
Schlotterbeck made just 16 Bundesliga appearances at Union Berlin this season, and with his loan deal expiring at the end of this month, he probably will not return to the German capital again. Freiburg have a fair few centre-back options including Nico's brother Keven, so it will be interesting to see what the future holds for the 21-year-old defender.
RWB: Ridle Baku
Country: Germany
Club: Wolfsburg
Age: 23
The tournament's leader in terms of goal involvement obviously finds a spot in our team, as Ridle Baku set up a couple of his teammates in the knockouts to build on his tally of two goals and an assist from the group stage.
The Wolfsburg man was used both at right-back and right winger by Germany under-21 manager Stefan Kuntz, and it was from the more defensive position that he got his two assists – one each in the semifinal and final. The second one was not only more important, but it was also the better ball too, as he cleverly slipped a pass into Nmecha with the defender caught unaware.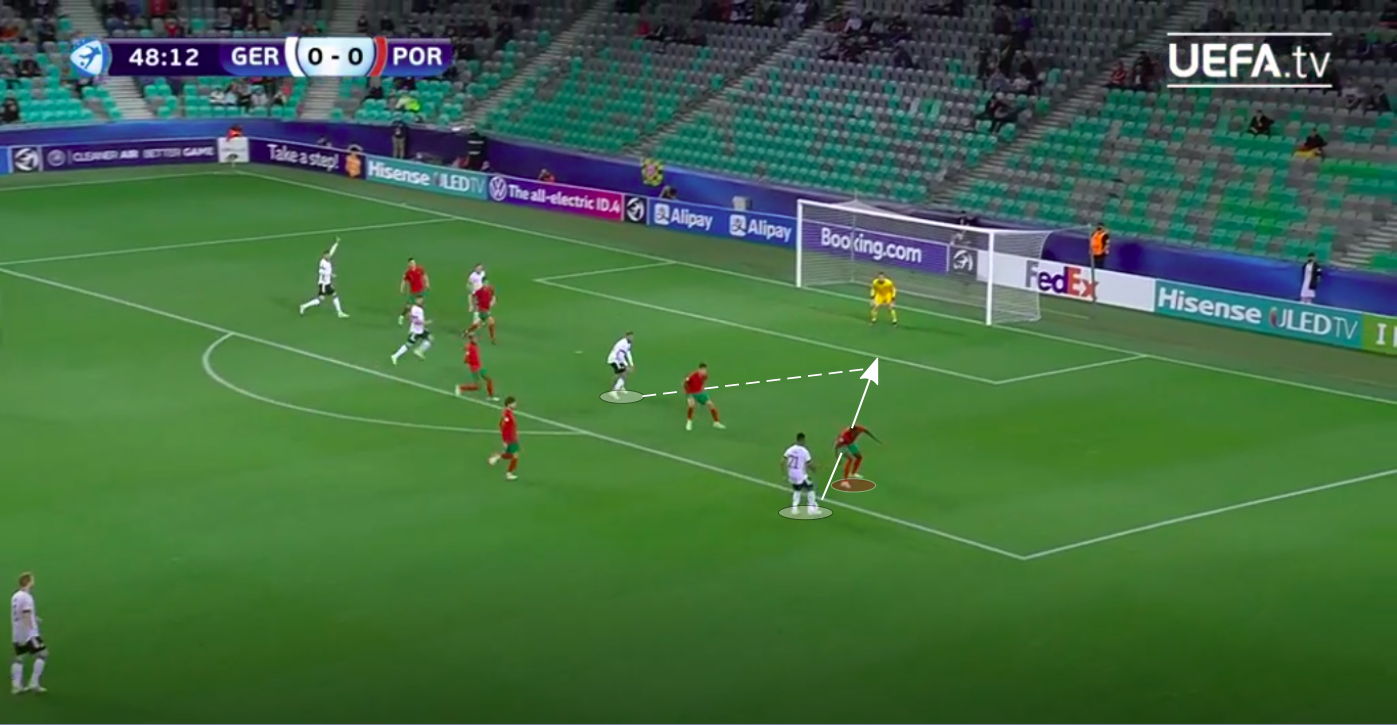 To add to that, he managed 4 key passes, 8 attempted crosses, 166 touches and 9 tackles in his three matches, looking solid both in attack and defence. Having joined Wolfsburg from Mainz this season, Baku played a part in all of his side's 34 league matches (starting all but one) en route to Champions League qualification, so he undoubtedly has more fun times ahead in northern Germany.
RCM: Vitinha
Country: Portugal
Club: Wolverhampton Wanderers (on loan from Porto)
Age: 21
One of the best performers of this tournament overall has been Portuguese youngster Vitinha. Although he took home the runners-up medal after a relatively low-key performance in the final (where his side's low-block did not really suit his style of play), the 21-year-old midfielder had a good run in the knockouts too.
He was simply magnificent in terms of distribution, with 187 attempted passes at an accuracy of 89%, 8/12 long balls and 7 attempted crosses. His dribbling was even better, with 7/7 successful attempts making up a fair few of his 229 touches in about 269 minutes of action.
Some of his memorable moments in the knockouts include a marauding run on the stroke of halftime in the final when he did everything but shoot to score, and this pinpoint long ball in the build-up to the only goal in Portugal's semifinal against Spain.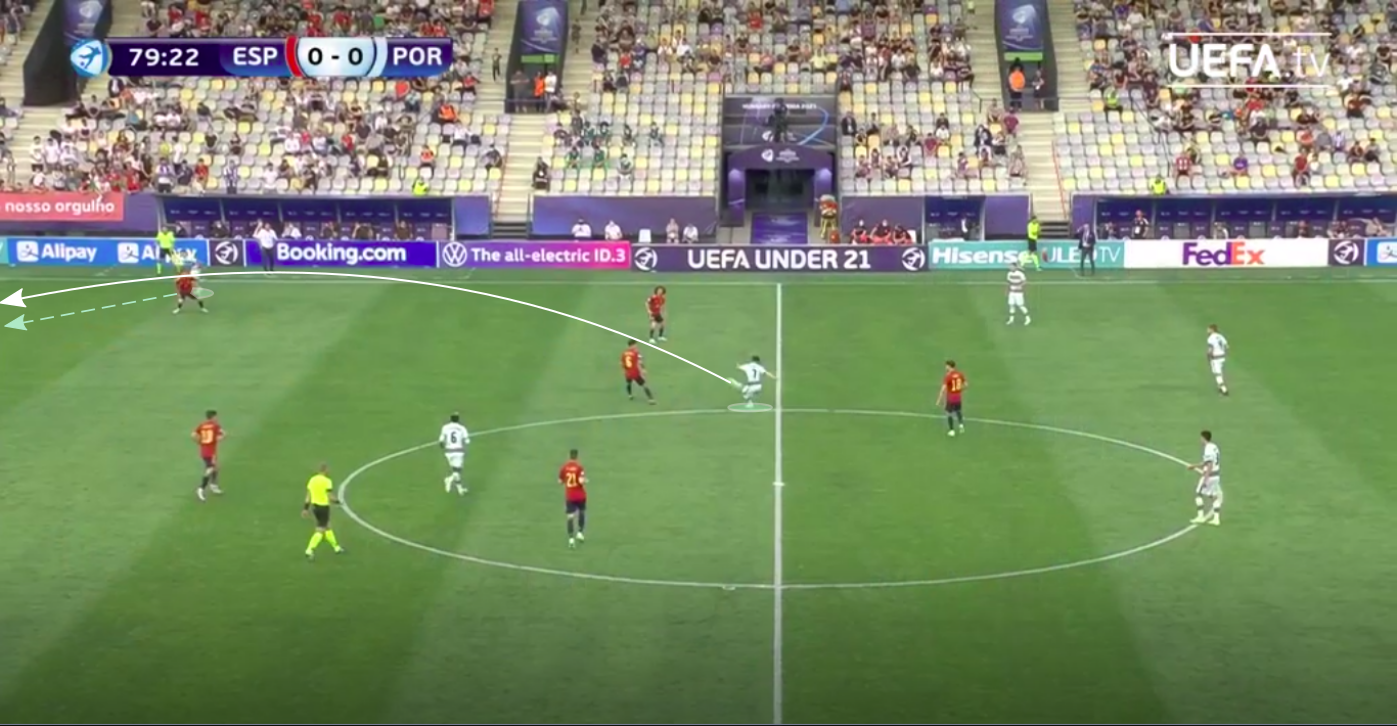 Having played less than 750 minutes in all competitions for the Wolves senior team this season, Vitinha has himself admitted that he would have liked to see more action, but with a new manager inbound and the English side opting to trigger the clause in his loan deal to sign him permanently, the midfielder could yet see much more action in and around the Molineux.
LCM: Niklas Dorsch
Country: Germany
Club: K.A.A. Gent
Age: 23
Niklas Dorsch only featured in the last two of his country's three knockout matches, but his performances were sublime enough to warrant a place in our best XI. He controlled the midfield in both of his appearances, returning with some magnificent statistics – 65 passes attempted with the success rate reading 94%, 12/14 accurate long balls and a couple of chances created.
More importantly, though, he added defensive stability to Germany by screening in front of the centre-backs as the full-backs pushed far forward in attack, making 8 tackles and 3 interceptions while also partaking in 20 ground duels. Dorsch's brilliance has attracted interest from home and abroad are Wolfsburg, Hertha Berlin and Lille are just a few of the club names being used in the same sentence as his, but with his performances in the Belgian Pro League not exactly impressing everyone, his future is very much up in the air.
LWB: Marc Cucurella
Country: Spain
Club: Getafe
Age: 22
The first Spanish player in our side is Marc Cucurella, who, like Ridle Baku, was used both as a full-back and winger in the knockout rounds. He came off the bench to assist the winner in his side's extra time victory over Croatia in the quarterfinal, going on to start the semifinal where Spain were frustrated by a resolute Portuguese defence.
In the two matches, he completed 5 key passes, attempted as many crosses, managed 136 touches and made 8 tackles and interceptions. The La Masia graduate made his loan deal to Getafe permanent prior to the start of this season, and with his contract running until 2024, Cucurella is set to continue with the Azulones as a key player, having played over 3300 minutes this season.
RW: Florian Wirtz
Country: Germany
Club: Bayer Leverkusen
Age: 18
An all-German right wing in our side sees the only teenager we will be selecting – Florian Wirtz – as the first attacker. The Bayer Leverkusen attacker started all three of his side's knockout matches, but his most impressive display came in the semifinal when he scored both of his team's goals to help them beat the Netherlands.
Overall, he managed 114 touches, 9 shots, 5 key passes, and, most impressively, 7/9 successful dribbles. It was his clever footwork that got him his second goal of the tournament, as he skipped past a couple of Dutch defenders before slotting the ball into the bottom corner.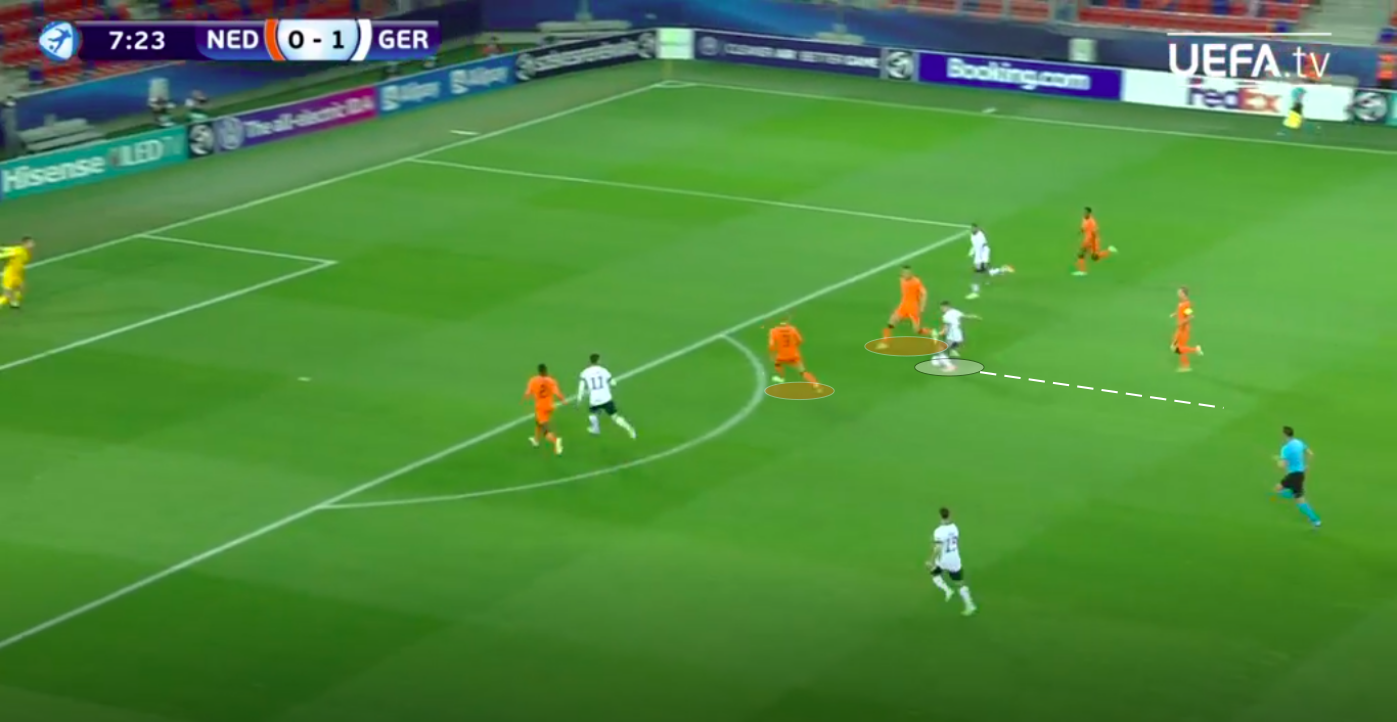 Wirtz has already made a name for himself at Germany, making 37 appearances in this campaign for Leverkusen after becoming the Bundesliga's second-youngest goal-scorer by netting against Bayern Munich at the end of the 2019/20 season. Big things are expected of him, and based on his performances at the under-21 Euros, you can see why.
ST: Lukas Nmecha
Country: Germany
Club: Anderlecht (on loan from Manchester City)
Age: 22
It's no surprise that Lukas Nmecha figures in our team – he was the outright Golden Boot winner with two goals each in either stage. His strikes were crucial to his side's knockout campaign, as he netted a late equaliser in the quarterfinal against Denmark to keep Germany in the competition, before scoring the solitary goal in the final.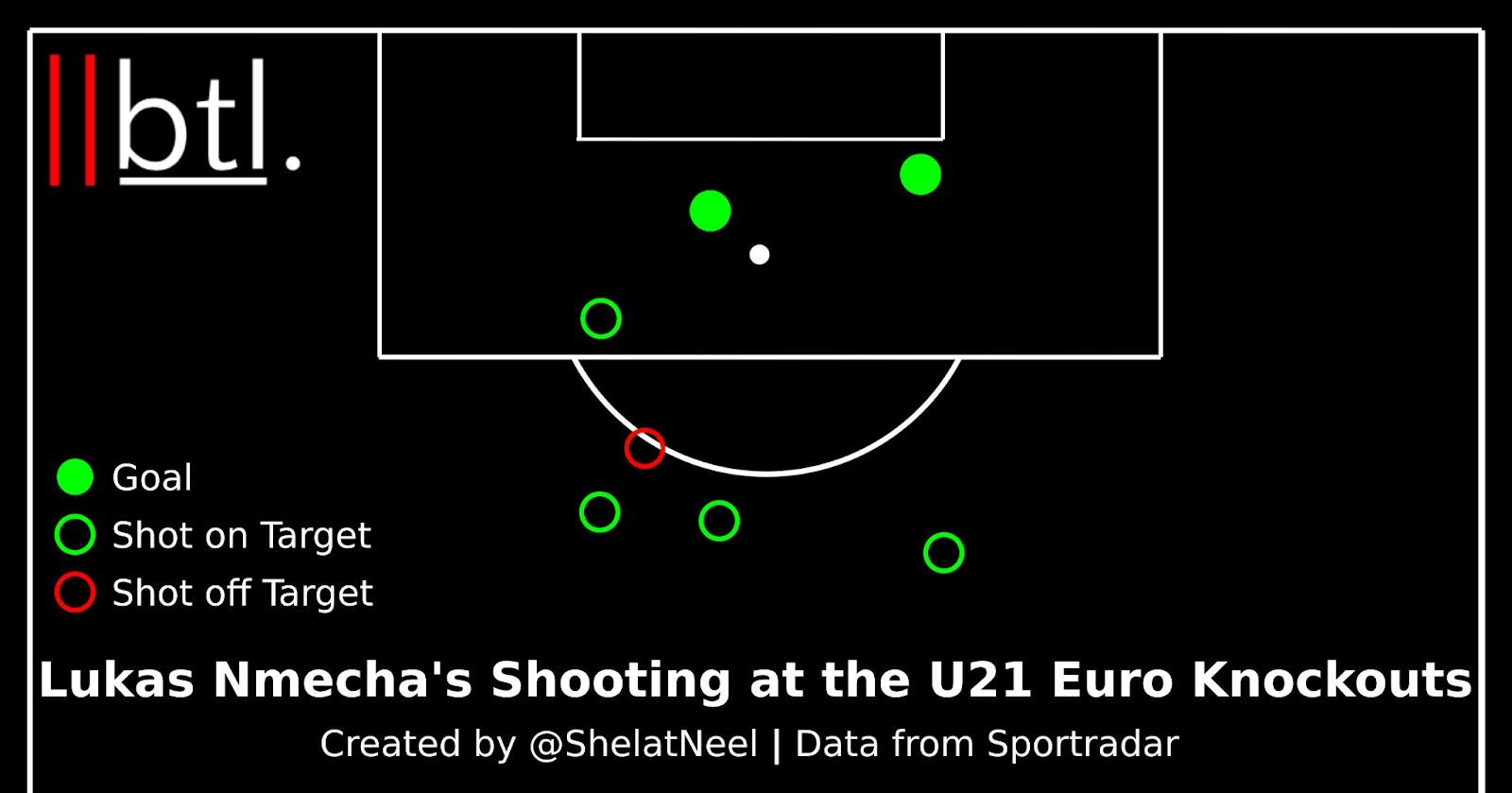 As his shot map indicates, the German was very efficient in the knockout rounds, working the goalkeeper all but once and netting both of his goals from close range. He was helpful to his teammates in other ways too, setting up 2 big chances, getting an assist and contesting 32 duels.
Now entering the last year of his Manchester City contract as his Anderlecht loan deal expires at the end of June, Nmecha is expected to leave the Etihad Stadium for good now, with Portuguese champions Sporting leading the race for his signature.
LW: Bryan Gil
Country: Spain
Club: Eibar (on loan from Sevilla)
Age: 20
The final player in our team makes it an all-Spanish left flank, as Bryan Gil finds a spot in attack as well. The 20-year-old winger featured in just under a match and a half, but he lit up the pitch with his trickery whenever he had the ball with a defender in front of him. In that short span of time, he created 2 big chances, completed 5 key passes, attempted 8 crosses, won 10/14 ground duels and maintained a 100% dribble success rate.
The Barbate-born forward assisted Spain's opener against Croatia, where, as you might have predicted, he did most of the work for the scorer by giving a defender the slip before serving up a low cross on a plate for Javi Puado.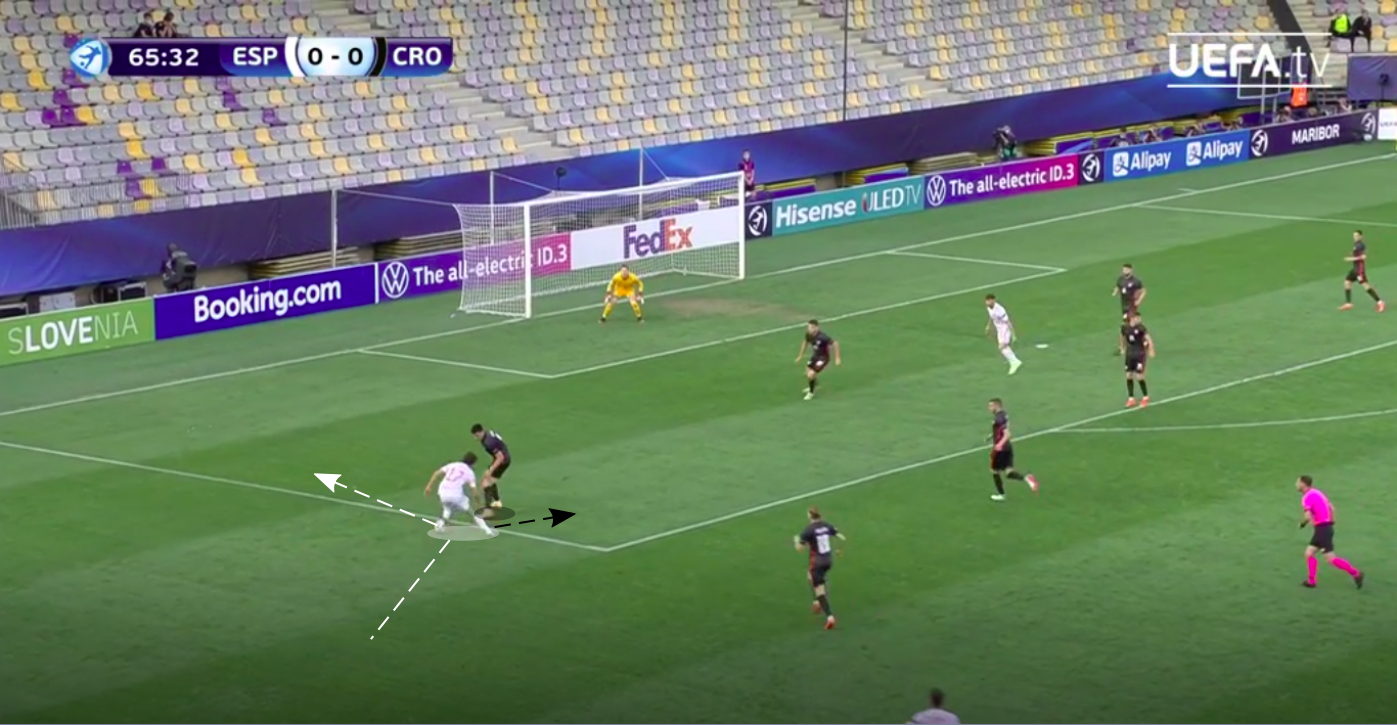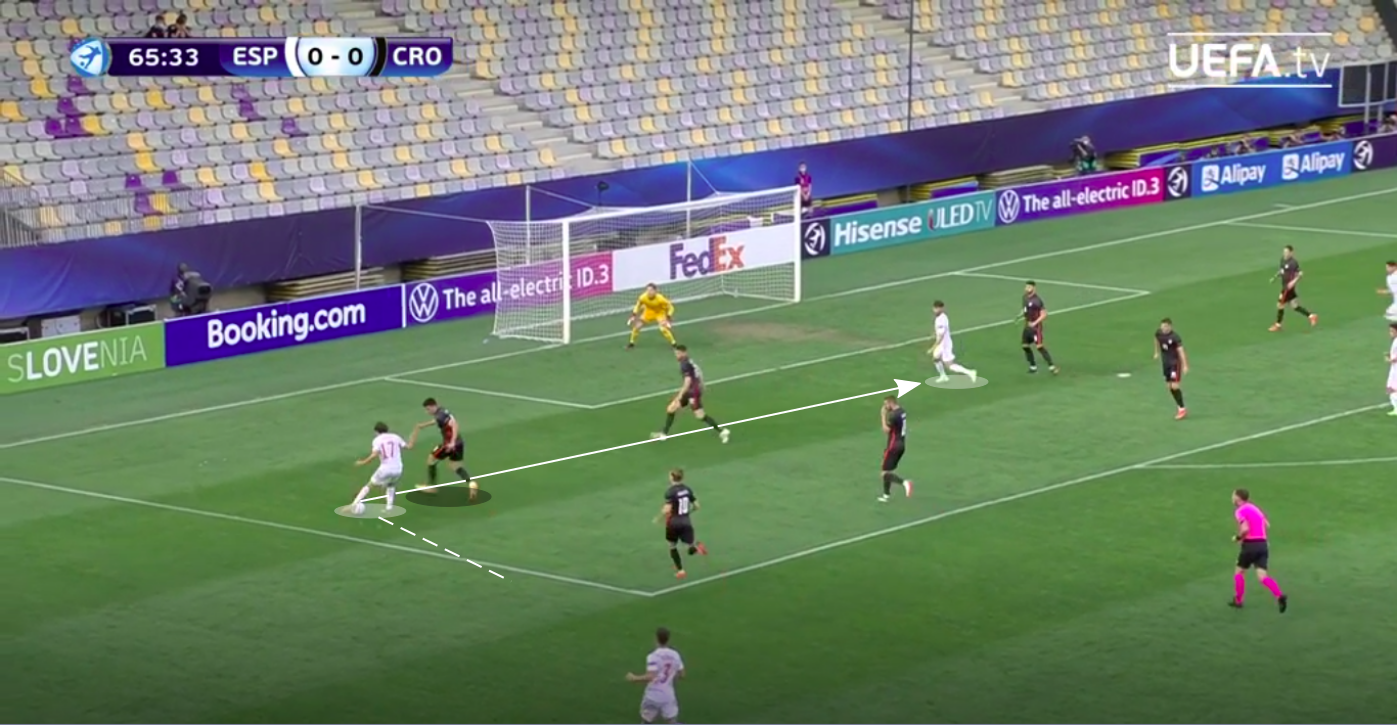 Gil has been an important player for Eibar this season having made 29 La Liga appearances, but with his loan deal expiring this month, all indications are that he will return to Sevilla for good. There have been a few reports linking him to Barcelona lately, but that seems an improbable move at the moment even with a supposed €35 million release clause in his contract.
Conclusion
It is always tough to choose just eleven players, but here is BTL's best XI from the 2021 under-21 Euro knockout stage: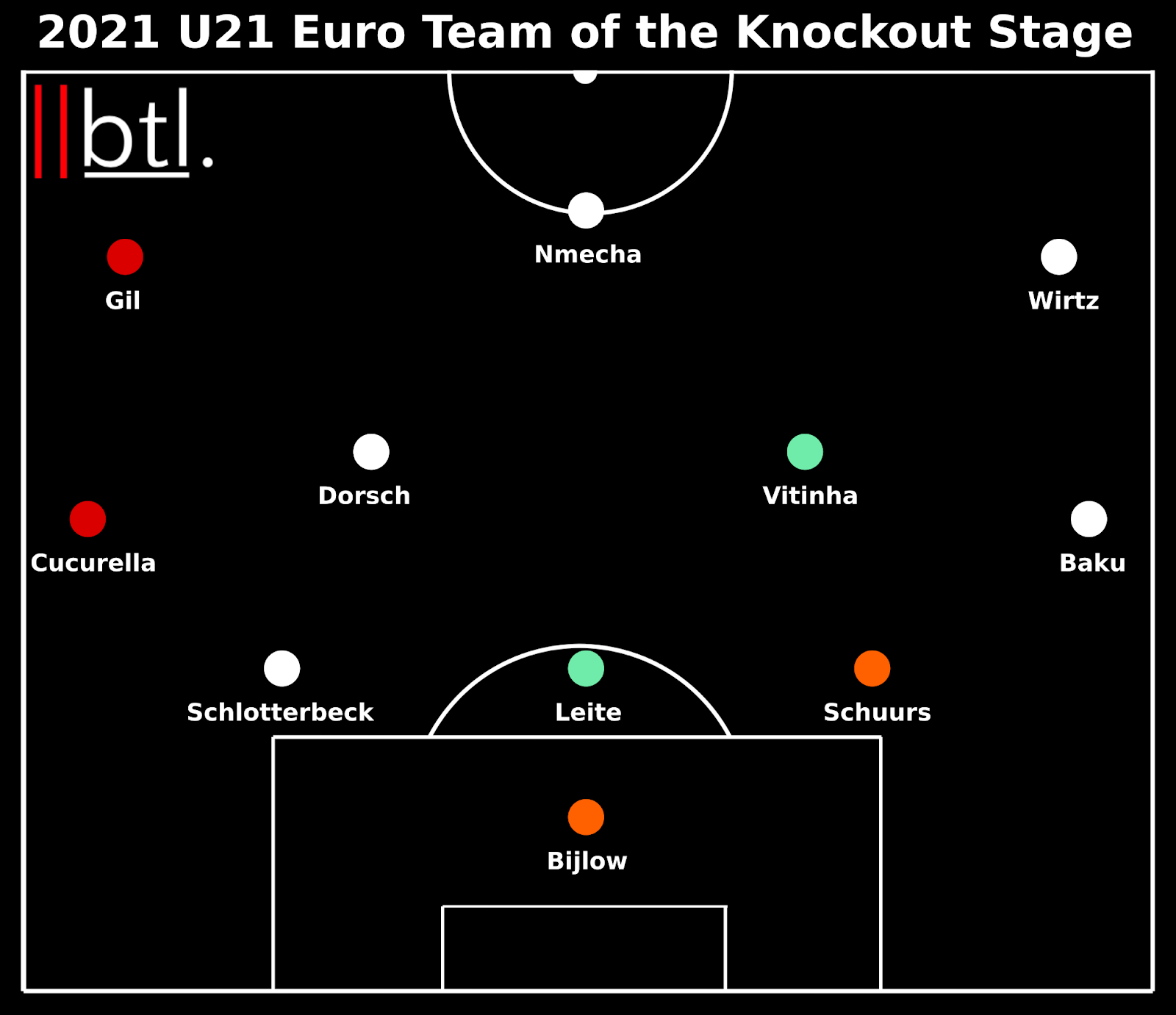 All of them are at top-tier clubs already in some of Europe's best leagues, with a few even set to feature in the Champions League or the other continental competitions in 2021/22. Most of them will probably be too old to return to the 2023 under-21 Euros, though, so we will have a fresh crop of talent to watch in two years' time.
By: Neel Shelat
Featured Image: @GabFoligno / MB Media – Getty Images
Stats courtesy Transfermarkt and SofaScore.