The Best Performers From the 2021 Under-21 European Championship Group Stage
The group stage of the 2021 Under-21 European Championship has drawn to a close, with the Netherlands, Germany, Spain, Italy, Denmark, France, Portugal, and Croatia progressing to the knockouts. Many of the world's top talents, including the likes of Eduardo Camavinga, Jules Koundé, Callum Hudson-Odoi, Emile Smith Rowe and Francisco Trincão were featuring, but many more had the opportunity to display their talents on the world stage. So, in this scouting report, we will take a look at some of the most impressive players from the Under-21 Euros, picking out a few from each position to create our very own 23-man squad.
Goalkeepers
Quality young goalkeepers are becoming increasingly hard to come by, but there were a few who stood out in the under-21 Euros.
Oliver Christensen
Country: Denmark
Club: Odense Boldklub
Age: 22
Three sides got past the group stage without conceding – Portugal, Denmark and Spain. Their goalkeepers were undoubtedly helped by a solid defence, but Oliver Christensen had to work much harder than the others as he made more saves than Portugal's Diogo Costa and Spain's Álvaro Fernández. His 8 saves included this penalty against Iceland, while all but one of the shots he faced came from inside the box. Keep an eye out for him, because clubs in the top European leagues certainly should be doing so.
Andrei Vlad
Country: Romania
Club: FCSB
Age: 20
Romania came agonisingly close to pulling off a shock progression as they finished level on points with Germany and the Netherlands but missed out on goal difference. Andrei Vlad was crucial to their effort, as he made 9 saves and conceded just twice, even keeping a clean sheet against Germany thanks to some stunning saves.
The pick of the bunch was this brilliant diving effort to turn Jonathan Burkardt's shot away.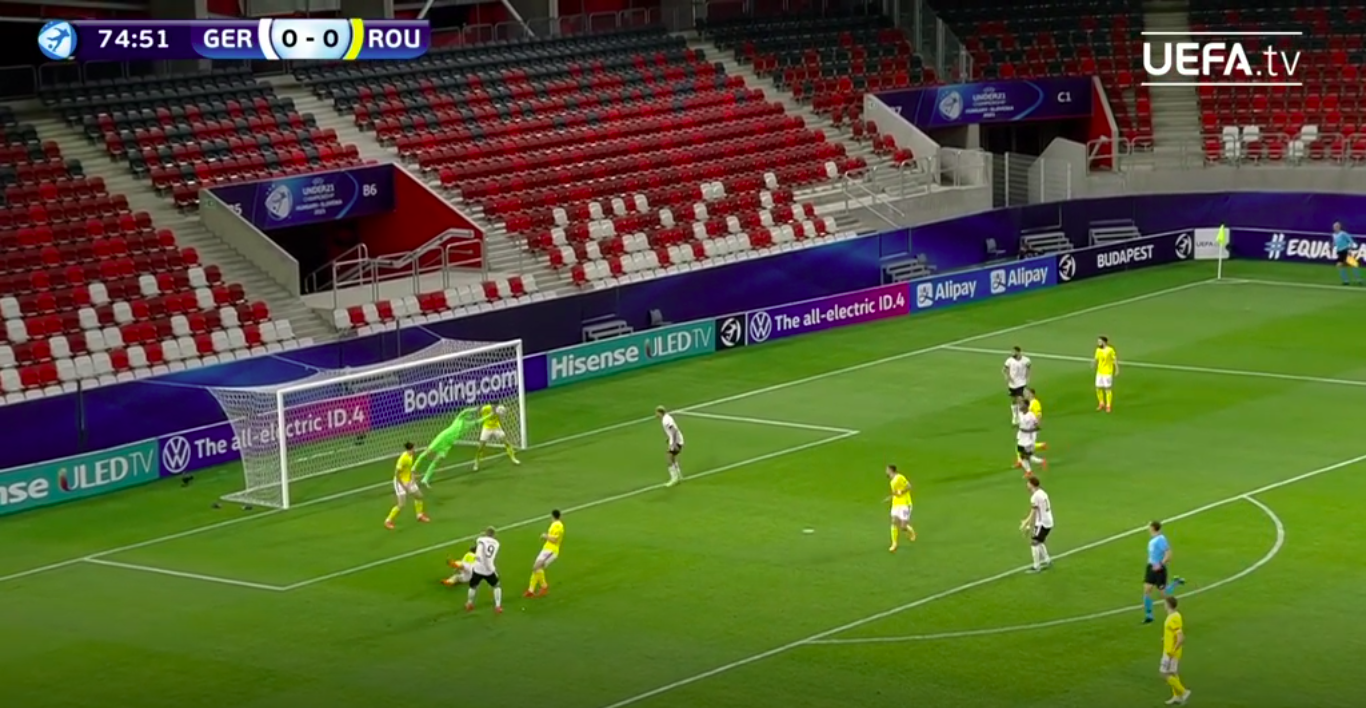 Further, Vlad was not too bad with his feet either, as his passing accuracy of 82.81% was the third-highest in the tournament among goalkeepers. A move away from Romania could be in store for the 20-year-old keeper, who has a bright future ahead of him.
Marco Carnesecchi
Country: Italy
Club: Cremonese (on loan from Atalanta)
Age: 20
Italy were one of the seven unbeaten sides in the group stage, but they did not have a perfect defensive record. Marco Carnesecchi was quite handy in goal, though, as he made 8 saves (6 of which were from shots inside the box) and kept a couple of clean sheets to help his side progress. His stops included a heroic double-save in the dying stages of Italy's 0-0 draw against Spain.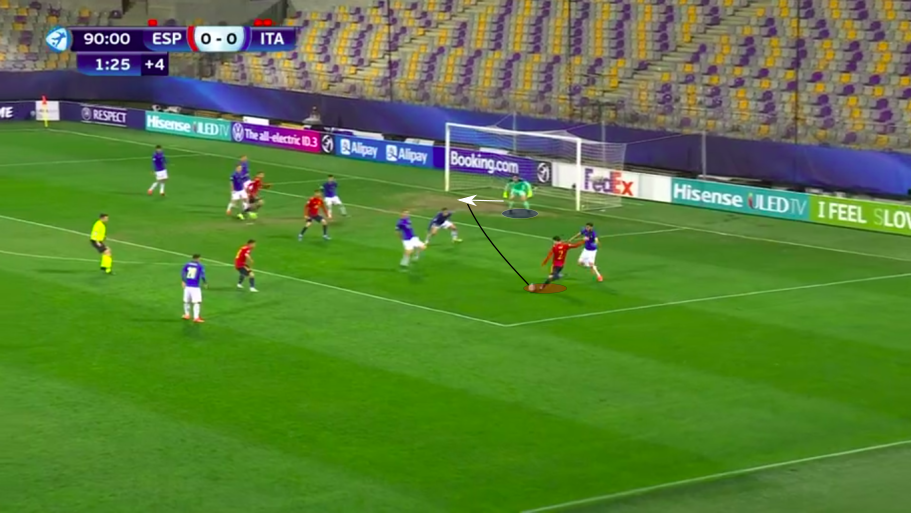 Carnesecchi started off with a smart stop low to his right to keep out a shot from Huddersfield Town right back Pipa.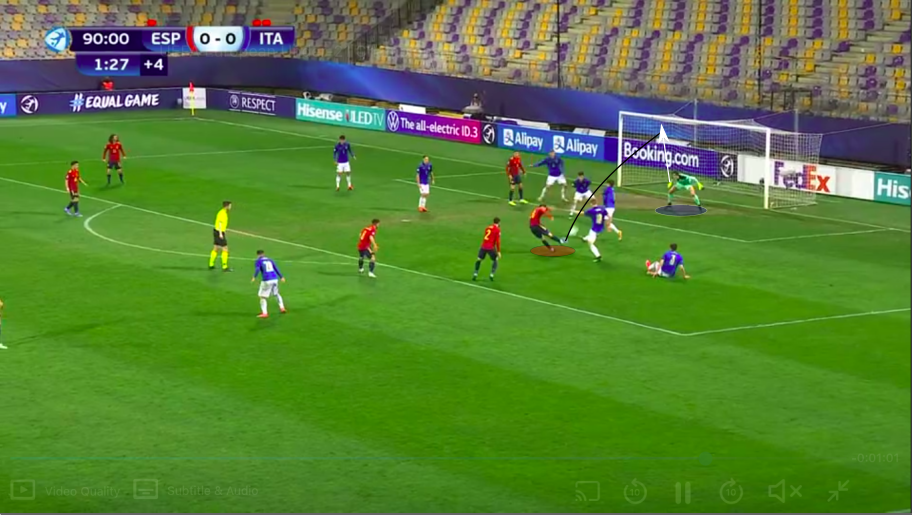 The ball went back into the danger area, though, and Javi Puado let fly. The keeper was well-positioned, though, as he was back on his feet to deal with any new threat to his goal. He kept Puado out as well with an acrobatic save to tip the ball over the bar.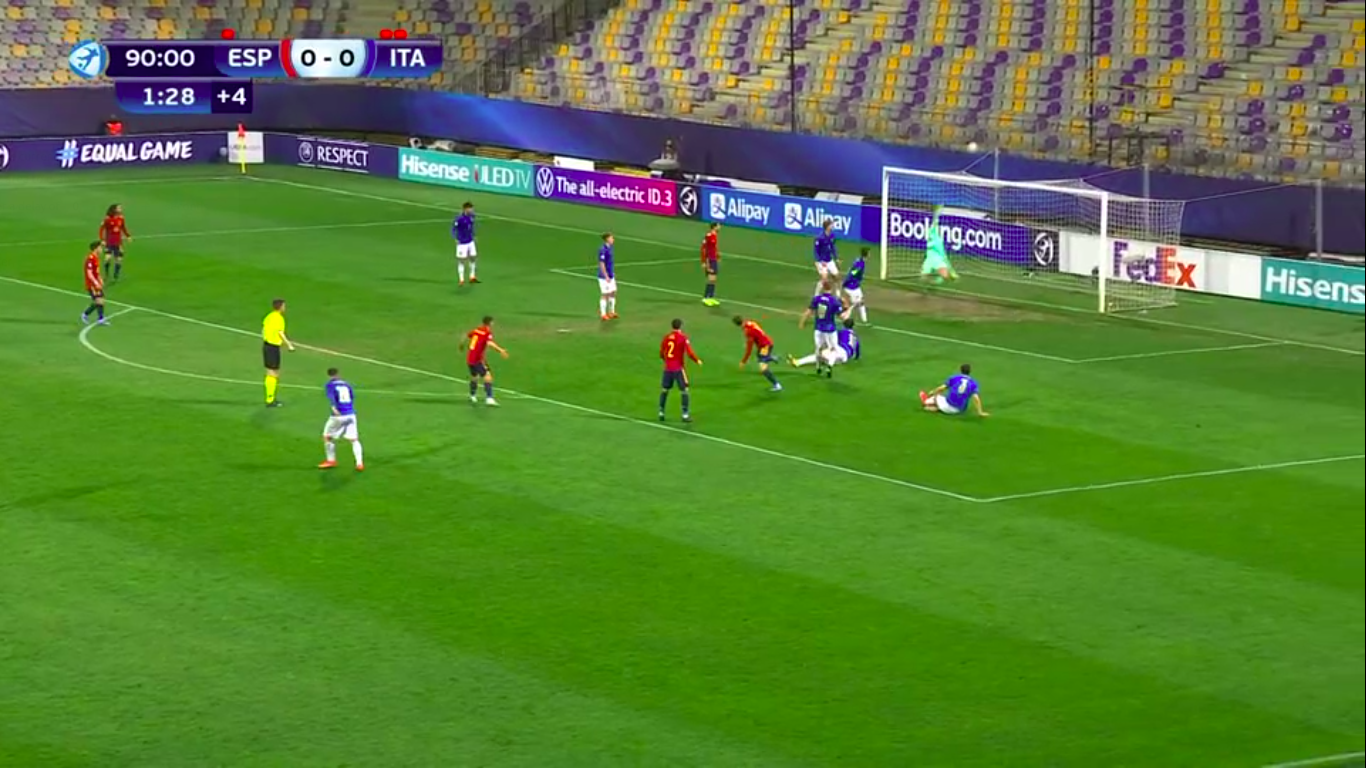 Atalanta seem to have quite a good keeper on their books in Carnessechi, who might be a viable candidate for the position between their senior side's sticks. Both backup goalkeeper Marco Sportiello and third-choice Francesco Rossi's contracts expire this summer, although Atalanta have an option to extend Sportiello for another year, and Carnesecchi could be tough competition for Pierluigi Gollini's starting spot.
Centre-backs
Centre-backs are probably the hardest players to scout individually; especially using conventional methods. Therefore, we will focus on statistics as we try to pick out the best of the bunch.
Benoît Badiashile
Country: France
Club: Monaco
Age: 20
It's no secret that Benoît Badiashile is one of the hottest defensive prospects on the market, having drawn attention from Manchester United and Real Madrid and played a vital role in Monaco's title challenge. Next to the likes of Guillermo Maripán and Axel Disasi, the French defender is proving to be a calming force in Niko Kovač's defense and excelling both on and off the ball.
Benoît Badiashile and Axel Disasi: The Best U-23 Defensive Partnership in Europe?
He reiterated that in his two performances during the group stages, where he managed 212 passes at a tournament-high accuracy (among centre-backs) of 94.22%, 7 clearances and 5 tackles and interceptions, helping his side keep a perfect defensive record in both as he was neither dribbled past on a single occasion nor made an error leading to a shot. Further, his longer-range passing was fairly handy too, as his 26 accurate long balls were not bettered by any other centre-back.
Jules Koundé
Country: France
Club: Sevilla
Age: 22
The mainstay in the French backline was Jules Koundé, who played all 270 minutes and oversaw a perfect defensive record in the process. While his passing accuracy of 88.69% and 23 long balls were not as good as what his teammate managed, he easily outshone him defensively with 5 clearances and 14 tackles and interceptions.
The below radar chart illustrates the dynamic between Badiashile and Koundé quite well – the former was easily more adept at working with the ball at his feet, while the Sevilla man did considerably more work in defence.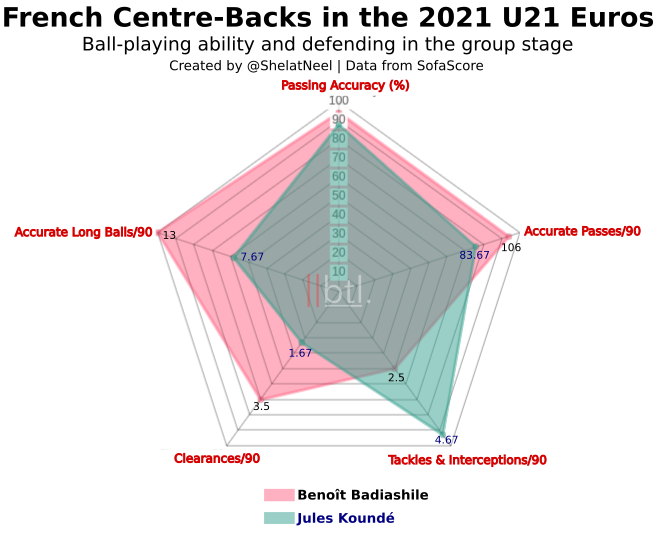 This is not too different from the partnership that Badiashile has formed alongside Disasi at Monaco, which should clearly indicate to any potential suitors that the Limougeaud centre-back works best with a more defensively capable partner. This upcoming duo could well be France's first-choice pairing in a couple of years' time, and they will be quite hard to displace.
Nico Schlotterbeck
Country: Germany
Club: Union Berlin (on loan from Freiburg)
Age: 21
Germany made relatively hard work of progressing to the knockouts with just one win and two draws, but their defence was absolutely solid. They only conceded once in their three matches, and that was entirely down to Finn Dahmen, so their centre-backs were very sound defensively. Nico Schlotterbeck won more duels than any other defender in the competition with 22, while he also managed a respectable 12 tackles and interceptions. To add to this, his 269 accurate passes were not matched by any other player in the competition.
Amos Pieper
Country: Germany
Club: Arminia Bielefeld
Age: 23
Amos Pieper started all three matches on the right of Schlotterbeck, and he was similarly brilliant. He managed just two fewer passes and successful duels than his compatriot while matching him in terms of tackles and interceptions. He was twice as good as far as clearances are concerned with 8, while his passing accuracy of 92.71% was the third-highest among defenders in the competition.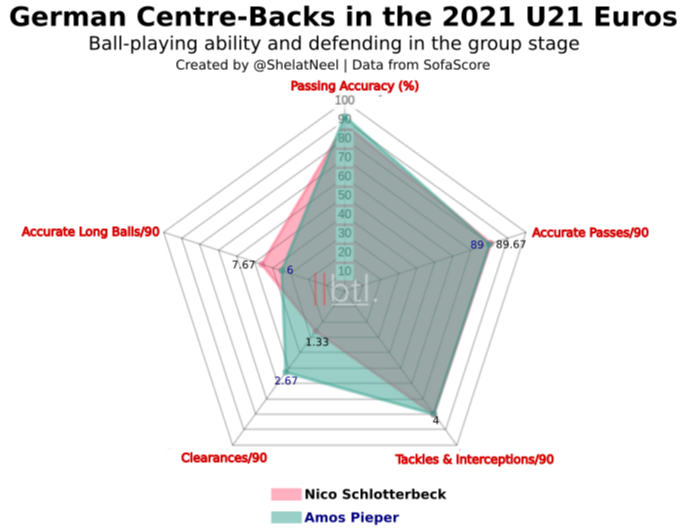 This radar chart shows just how similar (and good) Schlotterbeck and Pieper are; they've pretty much matched each other in all the metrics. Schlotterbeck and Pieper have proven that they can work quite well together, and they could well be doing that for the senior German team in a few years' time.
Diogo Leite
Country: Portugal
Club: Porto
Age: 22
Another reason why centre-backs are quite hard to scout is because their performances can easily be influenced by their partner(s). This is why we have picked out two pairs above, but Diogo Leite can certainly justify himself as the outlier.
His partner in the Portuguese defence, Diogo Queirós, is the only one who can challenge him for this spot as the two helped their side keep three clean sheets together, but the Porto man deserves to be ahead thanks to his superior passing accuracy of 91.34%, 12 clearances, as many long balls, and 7 tackles and interceptions. The fact that Leite is Porto's fifth-choice centre-back is undoubtedly very puzzling, but his name must be in the mix as far as a Pepe replacement is concerned for both club and country.
Five Players Who Could Replace Pepe for the Portugal National Team
Full-backs
A few years ago, you'd take your worst players and throw them at full-back, hoping to get by without too many problems. The modern full-back, though, is one of the most important players on the pitch. He has to defend against tricky wingers, help his side build out from the back and even get up to the other end of the pitch and deliver crosses. It has become quite a fashionable position, and there are many incredibly talented youngsters who want to operate on either side of defence. A few of them were featuring in the Under-21 Euros.
David Raum
Country: Germany
Club: Greuther Fürth
Age: 22
David Raum has been one of the sensations of the 2. Bundesliga this season, with Hoffenheim having already secured his signature for the 2021/22 season and beyond. He has started all 26 of his club's matches so far, racking up a league-high 11 assists. He added one to his season tally with the under-21s in the Euros, while also topping the key passes and accurate crosses charts for full-backs in the competition with 5 each.
Furthermore, his 189 touches and passing accuracy of 85% indicate that he is comfortable with the ball at his feet too. The Nuremberg-born left-back is quite handy in set-piece scenarios too.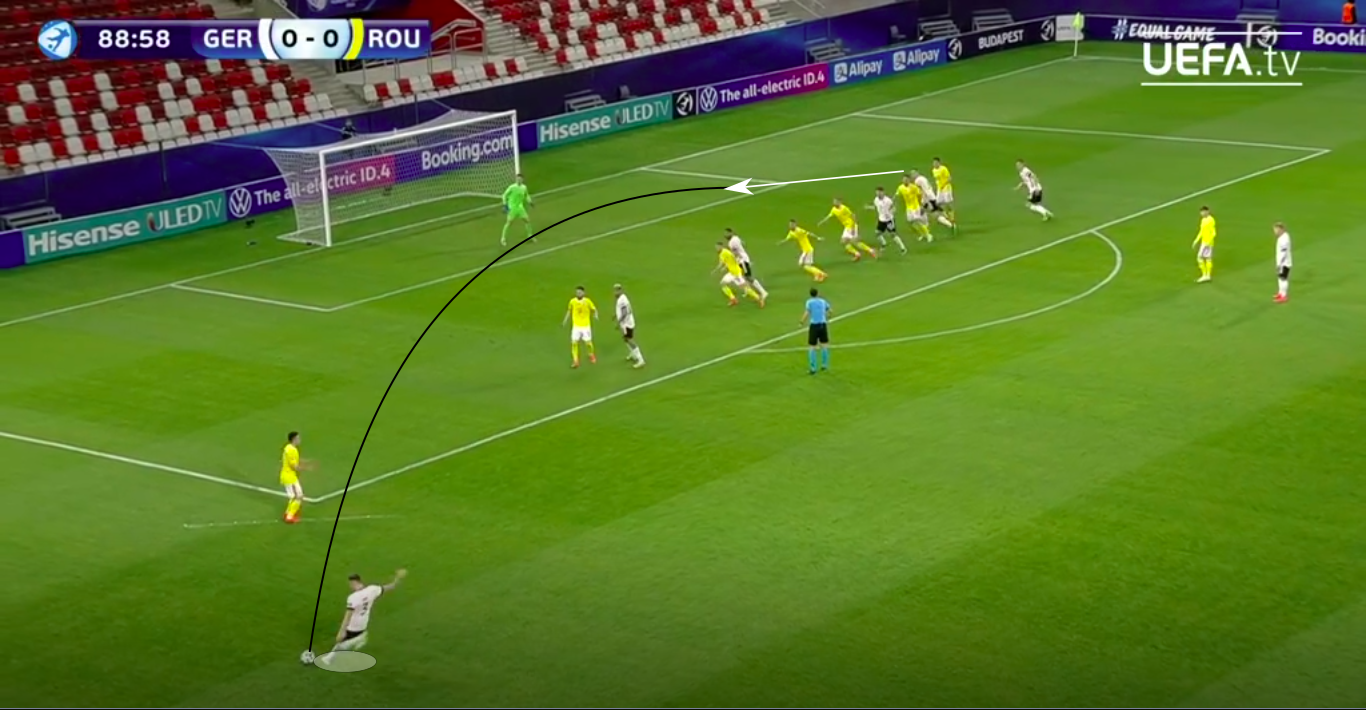 He delivered a pinpoint free-kick in the dying stages of Germany's clash against Romania with scores level, finding Pieper in a great position.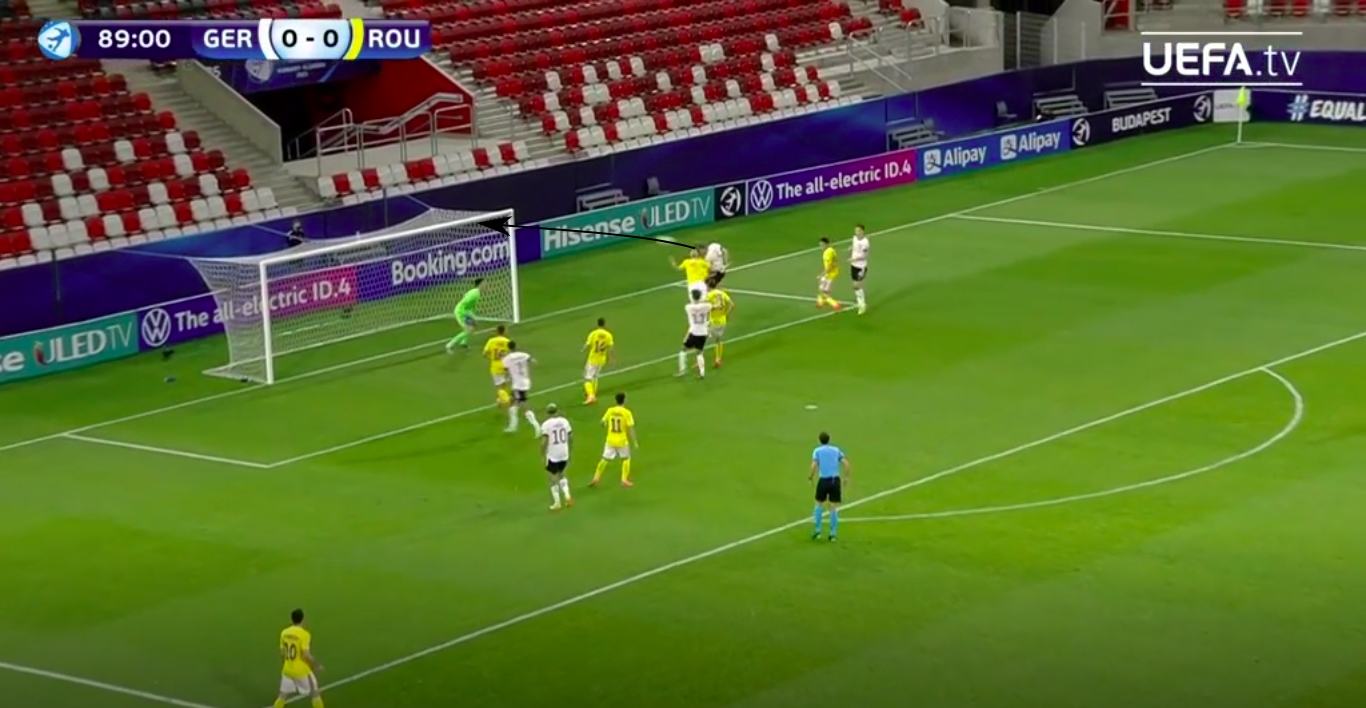 Unfortunately, the Arminia centre-back could only send his header crashing onto the crossbar, but Raum had already collected an assist in a previous match.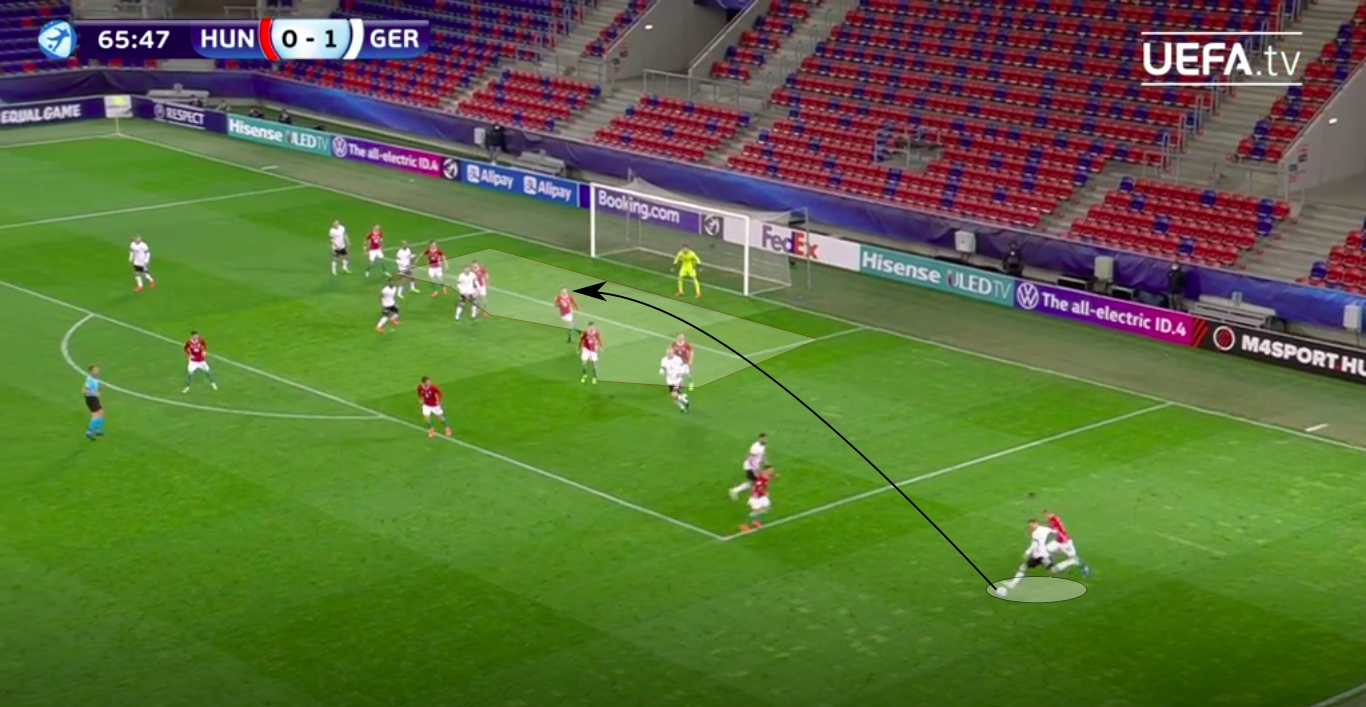 That was against Hungary when he swung in a teasing cross from the second phase of a corner (which he had taken) into an inviting area.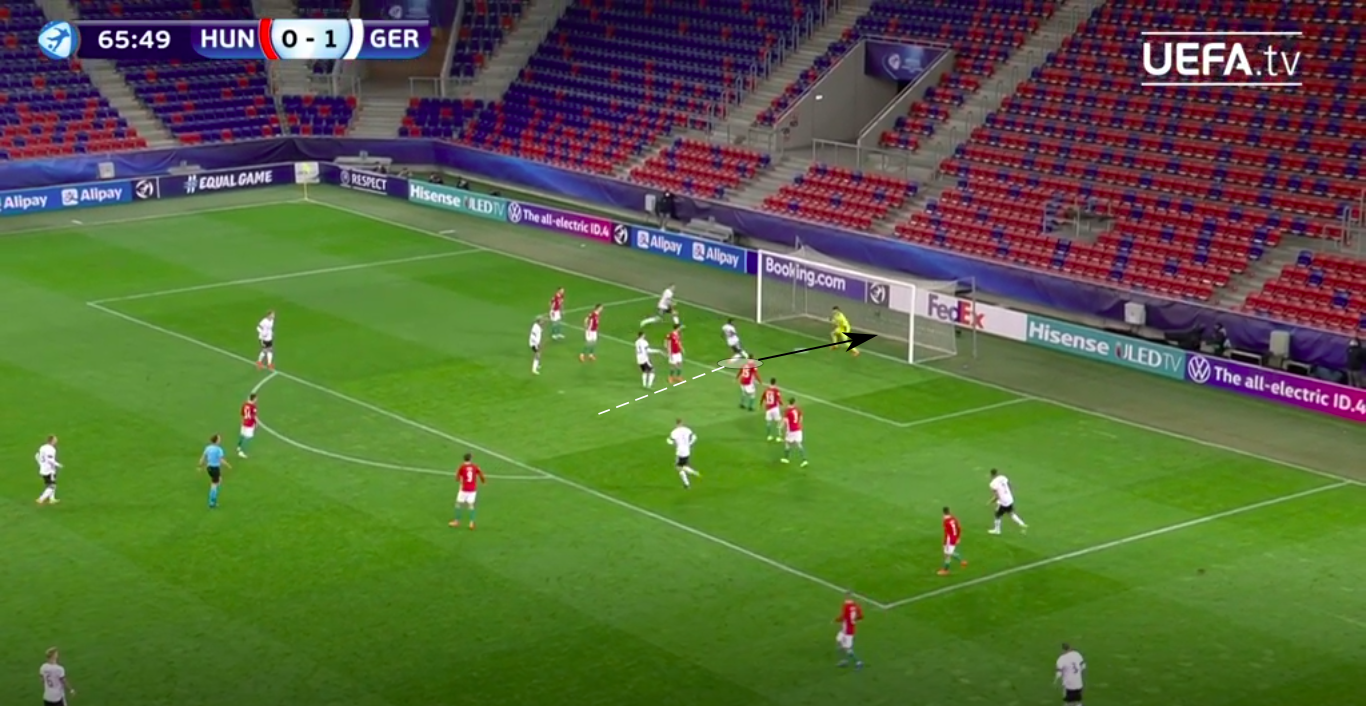 All of this served Ridle Baku on a platter, who poked the ball home without any problems. Raum looks to be quite the player, so Hoffenheim should surely be very happy with their business.
Colin Dagba
Country: France
Club: Paris Saint-Germain
Age: 22
Sylvain Ripoll devised quite an interesting system for France, where the left-back (Adrien Truffert, who irritated many as he had the number 7 on his shirt) advanced a lot further in possession than the right-back, who mostly operated as an auxiliary full-back. Wesley Fofana tried to play this role in the first match against Denmark, but he failed as he was partly responsible for failing to prevent the only goal of the match.
Colin Dagba stepped in for the match against Russia, and he was a lot more successful in this role. His calm passing and solid defending (which included a whopping 11 tackles in just two matches) ensured that France did not concede again. His impressive performance in Szombathely saw him retain his place in the line-up in the final group stage match against Iceland.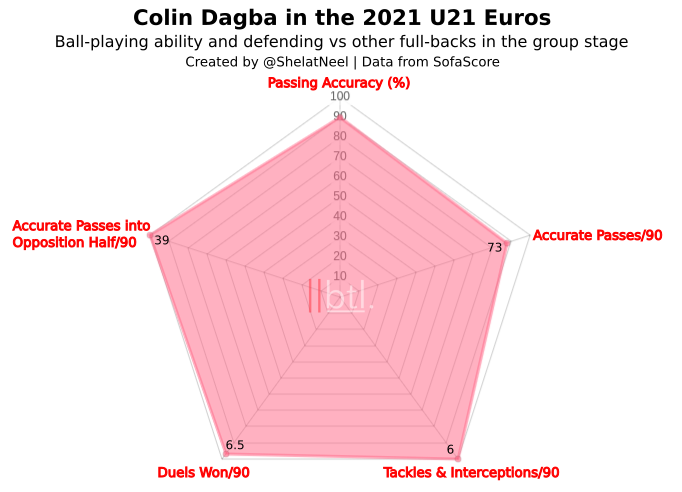 This radar chart clearly indicates that Dagba was among the very best full-backs in the group stage, as he topped the charts in terms of tackles and interceptions and accurate passes into the opposition half (both per 90) while not being too far off in terms of duels won and accurate passes per 90. It's no secret that Dagba is a very talented full-back, and he is undoubtedly capable enough to make the right-back position his own for PSG in the near future.
Thierry Correia
Country: Portugal
Club: Valencia
Age: 22
Portugal's centre-backs certainly deserve a lot of credit for their perfect defensive record, but they unquestionably received a fair amount of help from their full-backs – Thierry Correia in particular. The ex-Sporting right-back won 15 duels, made 7 tackles, as many clearances, and 6 interceptions in a truly remarkable group stage, where he also completed 226 passes at an accuracy of 91%. He has quite a turn of pace too, as seen below against Croatia.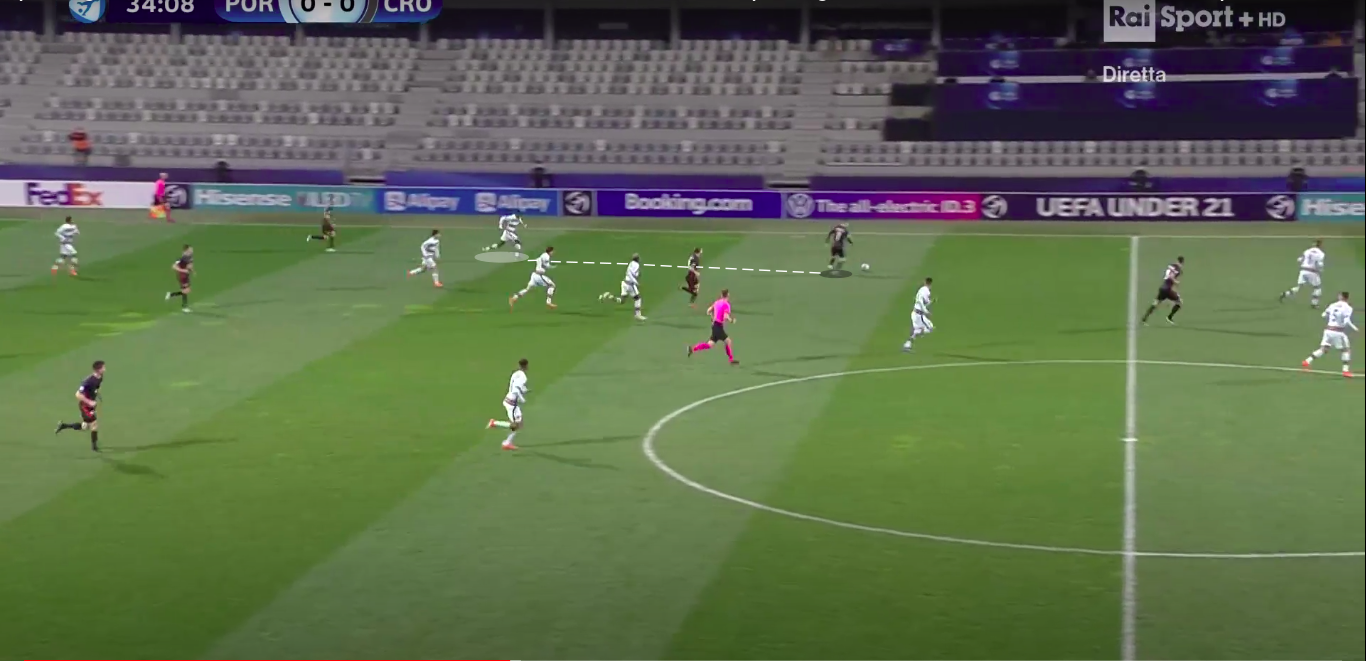 Here, Correia is caught out of position after a set-piece, with the opposition attacking from his flank.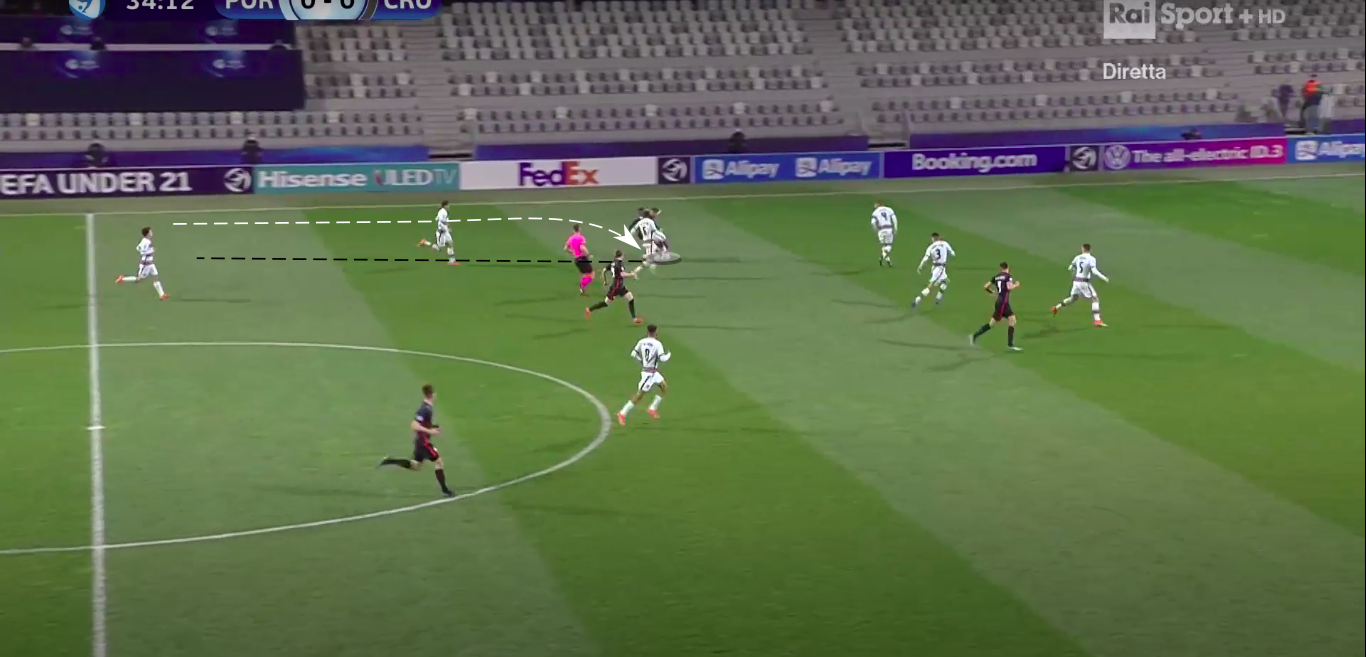 The Valencia man turns on the afterburners and makes up about 10 yards of ground before the opponents can even enter their attacking third. With a clean tackle, he regains possession, and all is calm again for Portugal.
Valencia might not be doing as well as they want to in La Liga, but Correia represents a key part of the very talented squad that they possess, which could well spell greater success in the near future.
Domagoj Bradarić
Country: Croatia
Club: Lille
Age: 21
Domagoj Bradarić had a relatively underwhelming tournament by his standards, but he still managed to impress. He was quite handy defensively, with his 20 duels won being the most of any full-back in the competition. Whilst he has been relegated to benchwarmer status at Lille due to Reinildo Mandava's impressive form, he proved that he is still a promising left back for his country.
To add to this, he made 8 tackles and interceptions, while completing 110 passes at an accuracy of 80%. The 21-year-old left-back saved the best for last, though, as he pulled this off when Croatian needed a goal to secure qualification in the dying stages of their last group match against England.
Lille could surely use more of that from Bradarić when he is called into action if they are to sustain their Ligue 1 title charge.
Midfielders
Football matches can easily be won and lost in the midfield, therefore most sides' key players operate in this region of the pitch. There were a number of extremely talented midfielders on show in the under-21 Euros, so here are the ones that impressed the most:
Niklas Dorsch
Country: Germany
Club: Gent
Age: 23
Niklas Dorsch has had a tough season in the Jupiler Pro League by all accounts, but he put that all behind him for the under-21 Euros. Germany had a tough time as they could only secure qualification on goal difference, but Dorsch was their standout player who helped them get through tough matches against the Netherlands and Romania.
During his days in Germany with Bayern Munich and later Heidenheim, the Lichtenfels-born midfielder was often caught out defensively, but he has massively improved on that aspect of his game now, with his 13 tackles not matched by any other player in the competition, while his 31 duels won were a close second.
Dorsch's possession-play has always been one of his strengths, which should explain his brilliant stats in this regard. His 7 successful dribbles put him joint second-highest among midfielders, but his most impressive numbers are pertinent to touches (243), successful passes (157 – second-highest among midfielders at an accuracy of 90%, which only drops to 84% in the opposition half) and accurate long balls (21 – second-highest among midfielders – at a completion rate of 70%).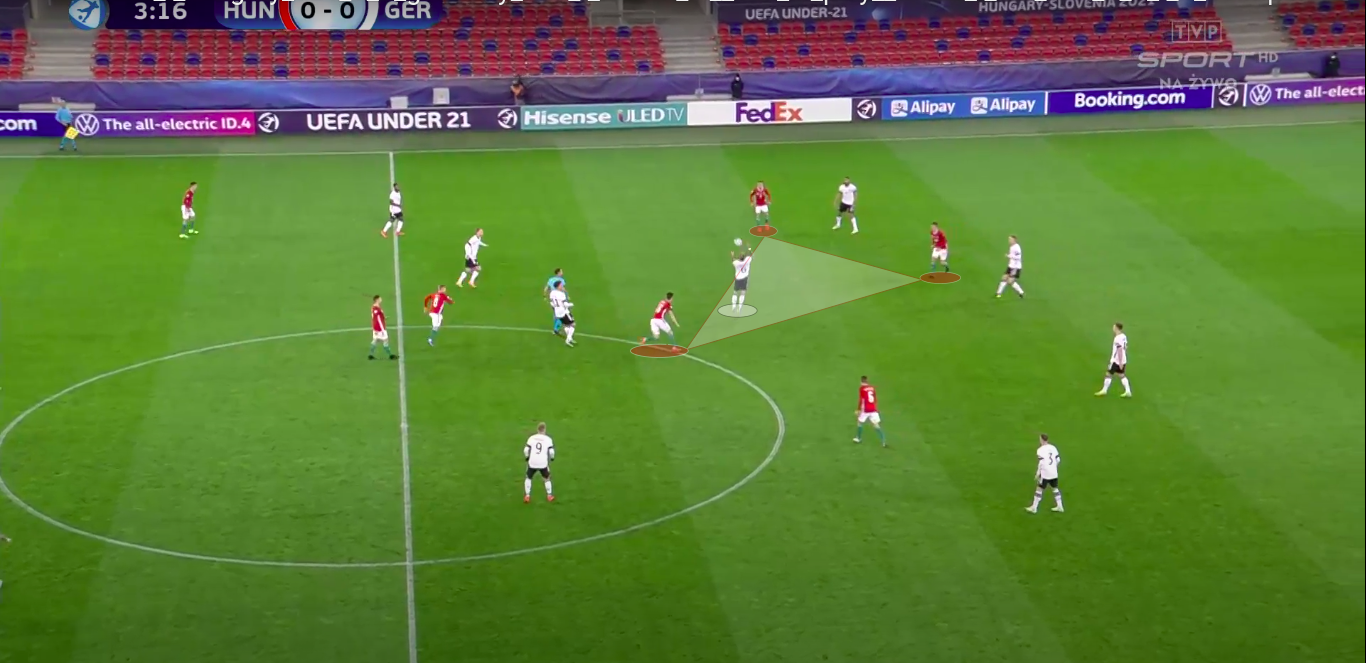 His ball retention proved to be quite important in Germany's possession-based style of play, as seen in the above image against Hungary. We see a good example of Dorsch's control and composure in tight areas, as he is controlling a loose ball with his chest here while three opponents have surrounded him.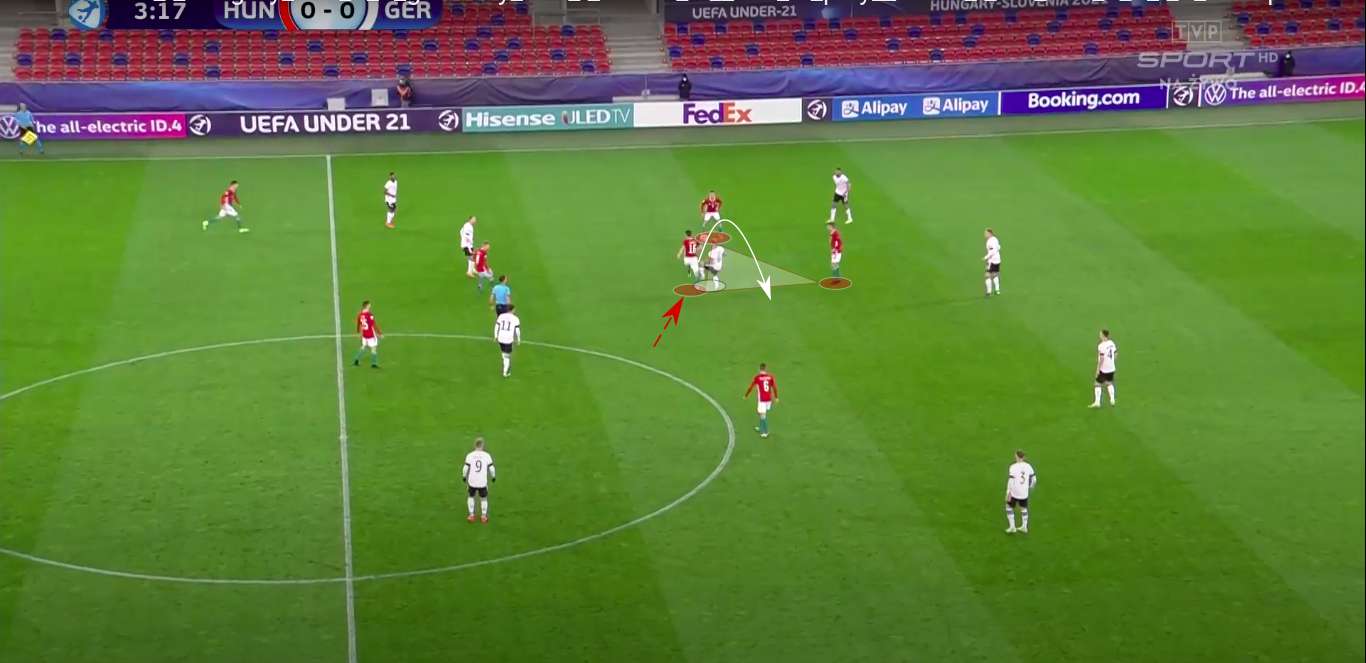 After taking a touch, he decides to flick the ball back over his head, keeping it from one rushing opponent. He had to get this touch perfectly right because there was a man behind him, and the 23-year-old midfielder did just that. This allowed him to bring the ball down in a bit of space, and consolidate the situation from there.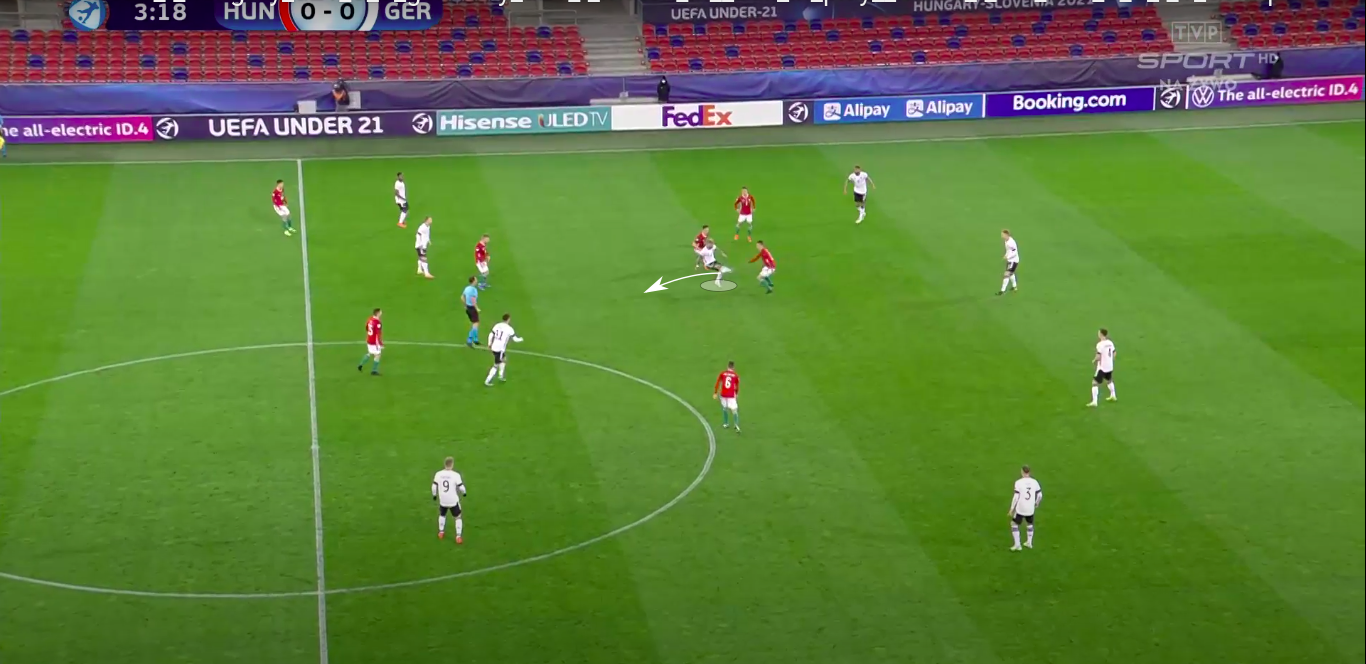 Dorsch looks to be the complete product going by his under-21 Euro performances, so a return to the Bundesliga could well be on the cards for him this summer.
Gonzalo Villar
Country: Spain
Club: Roma
Age: 23
Sergio Busquests, Thiago Alcântara, Rodri, and now, Gonzalo Villar. Spain have a tradition of producing magical holding midfielders, and Roma's 23-year-old star is the next to come out of their talent factory. In keeping with his season for his club so far, Villar was absolutely brilliant for his country's under-21s, pulling the strings from the midfield after starting all three matches.
He was great in possession with 181 touches and 125 passes completed at an accuracy of 86%, while also impressing in defence with 21 duels won at a success rate of 78%. His deep-lying playmaking talents were on public display too, as he created 5 chances for his teammates.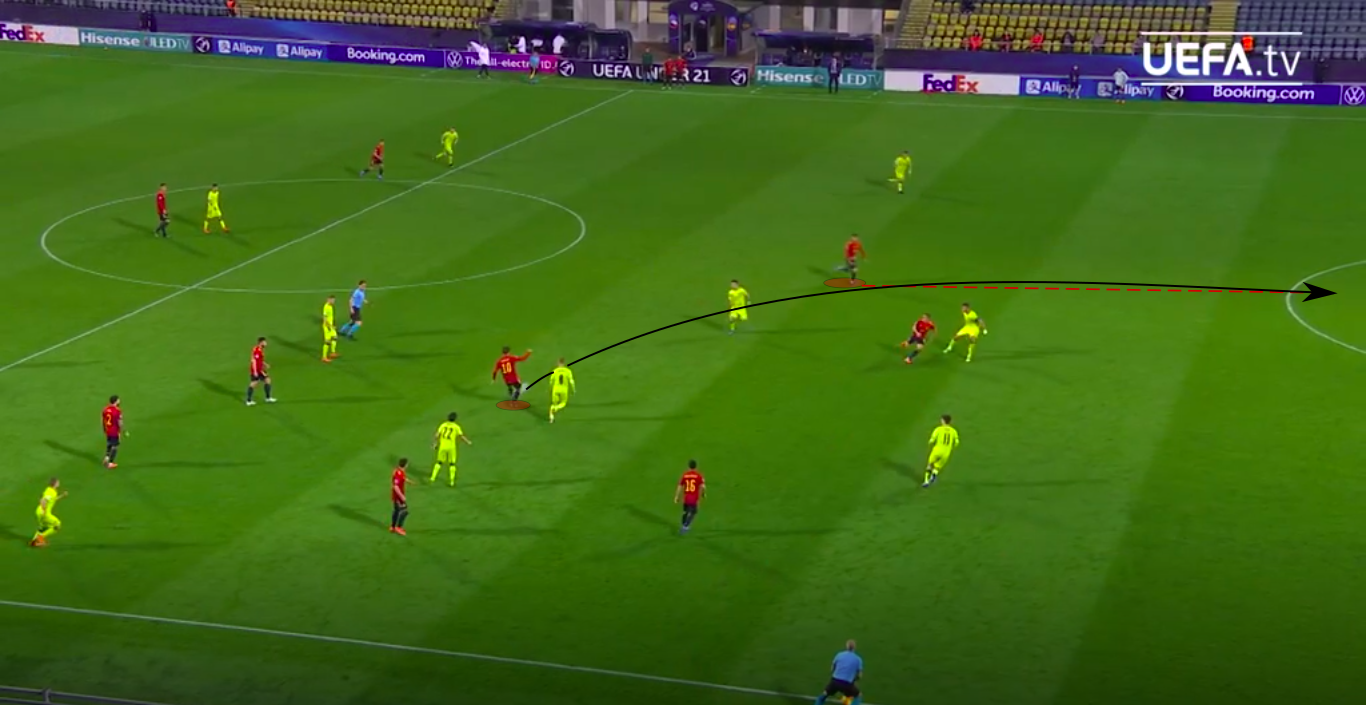 This perfectly-lofted through ball was the pick of the bunch, as it nearly set up a second for Spain against Romania. Javi Puado was the man who got on the end of the pass, but he could only hit the post with his finish.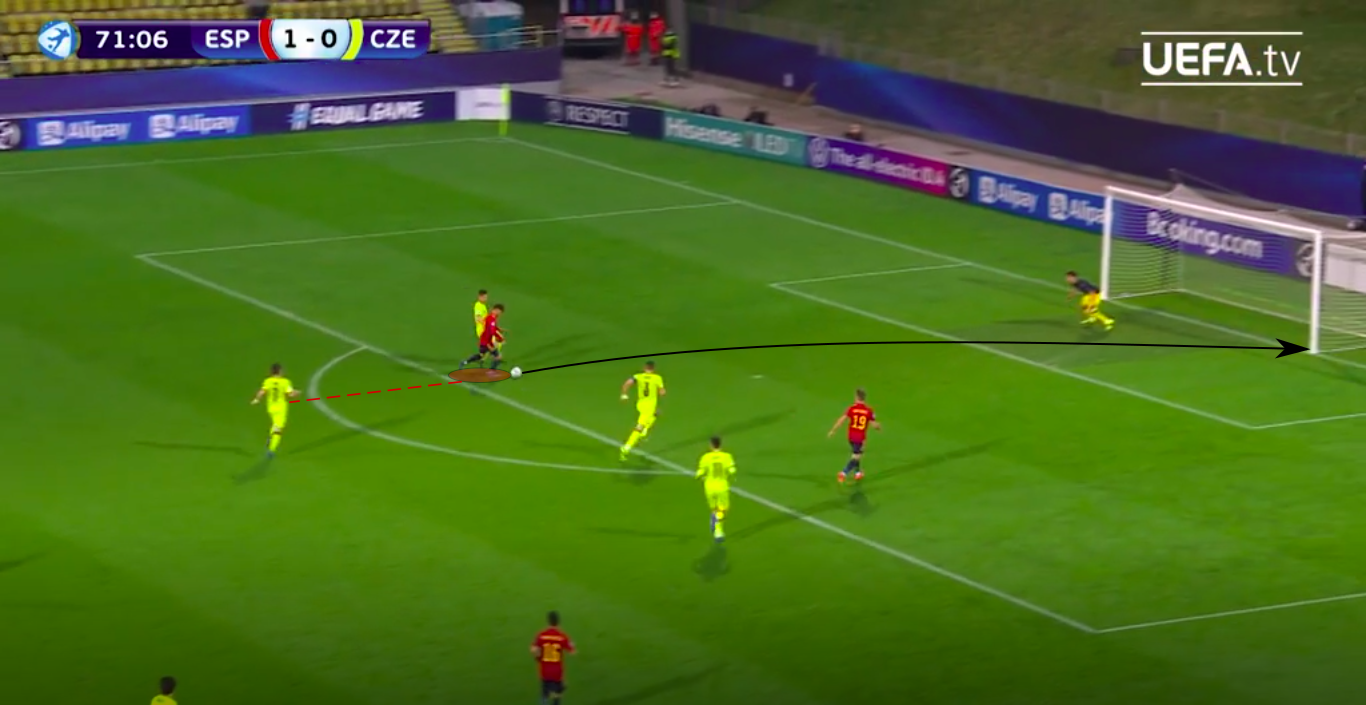 Villar isn't all about creating, though – he is also pretty good at getting on the end of moves. One of his 5 shots went in in the under-21 Euros, which was a slick finish against Slovenia.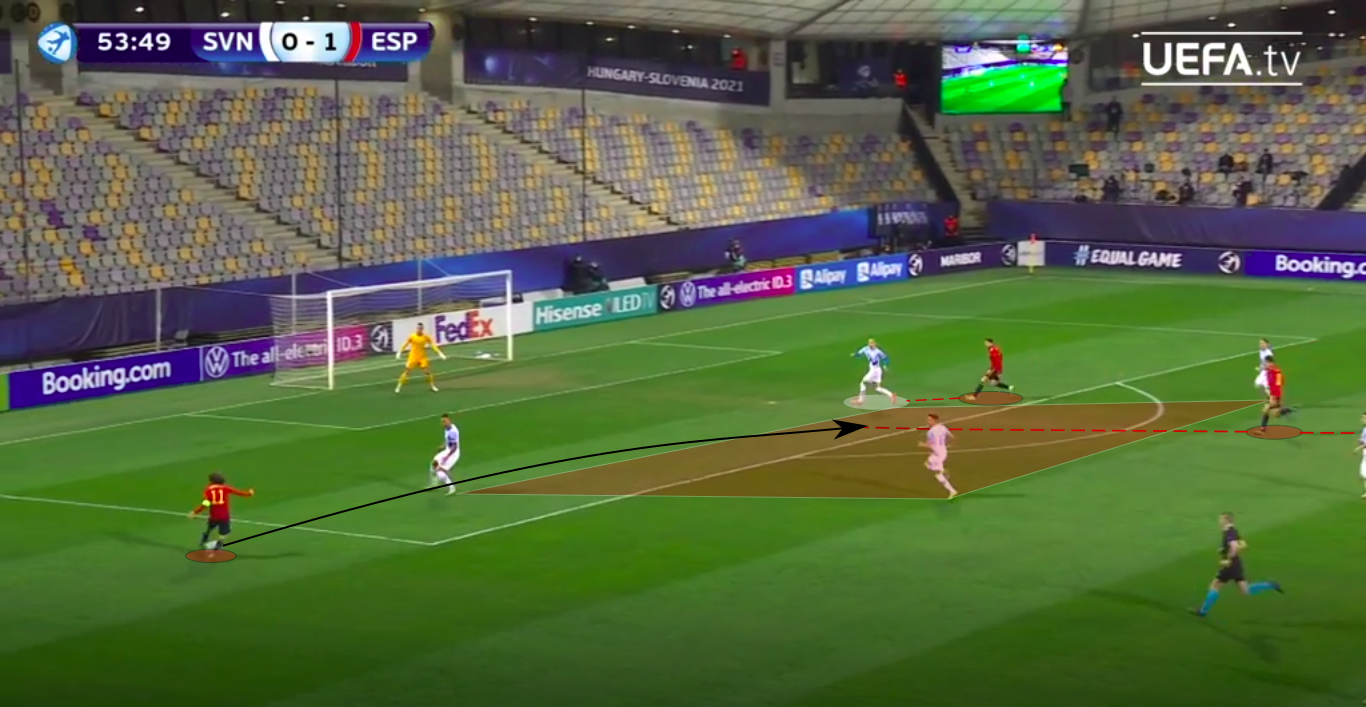 Marc Cucurella was the provider, as he played a square ball into a dangerous area. Abel Ruíz kept one defender occupied and opened up space for Villar, who was at full throttle trying to get on the end of the pass.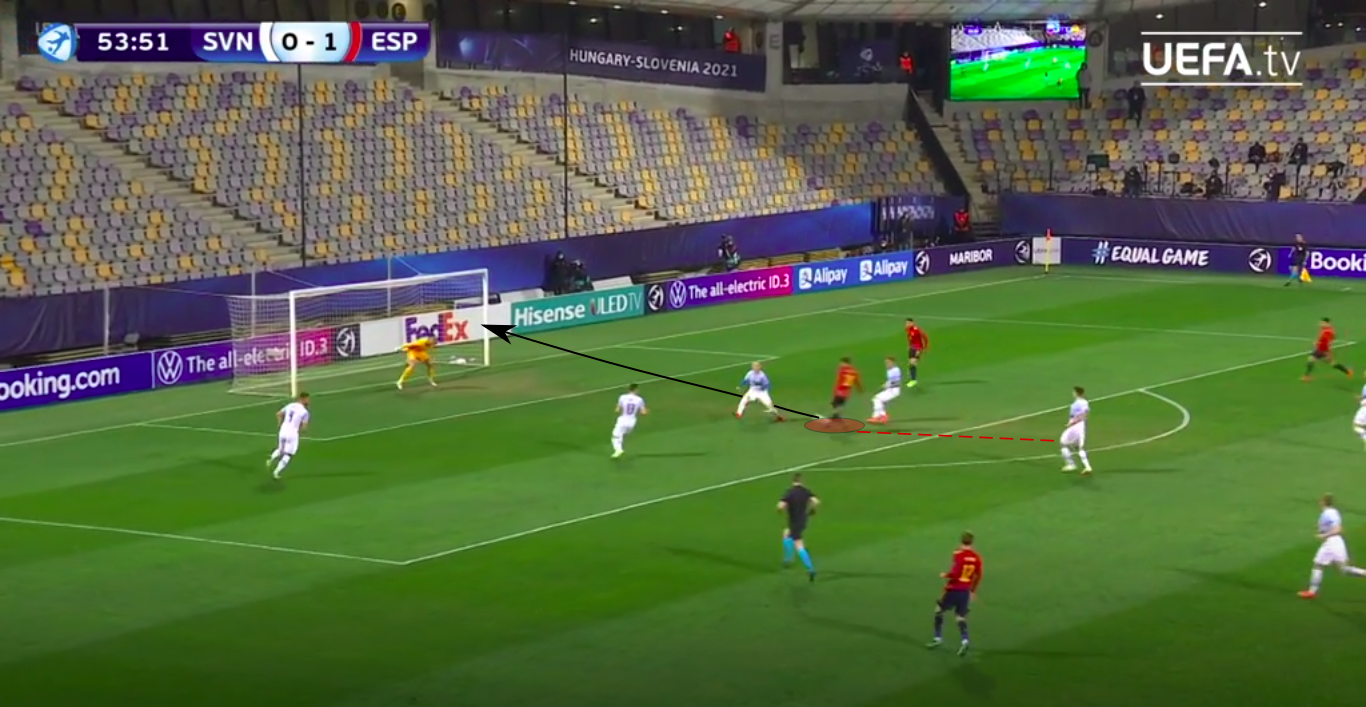 Once he got there, he had a composed first-time finish in his locker to guide the ball into the bottom corner. Roma have a serious talent on their hands in Villar, who will have the world at his feet if he can keep performing like this.
Vitinha
Country: Portugal
Club: Wolverhampton Wanderers (on loan from Porto)
Age: 21
Many of you might have heard of Vitinha before the under-21 Euros, probably because of this:
Although he could not pull off another long-range stunner, he was simply sensational in Portugal's three victories. His numbers are simply out of this world – 301 touches, 238 successful passes (both better than any other midfielder in the tournament) at a completion rate of 93%, 89% passing accuracy in the opposition half, 14 duels won, 7 tackles and interceptions and 6 chances created (highest among midfielders), including an assist.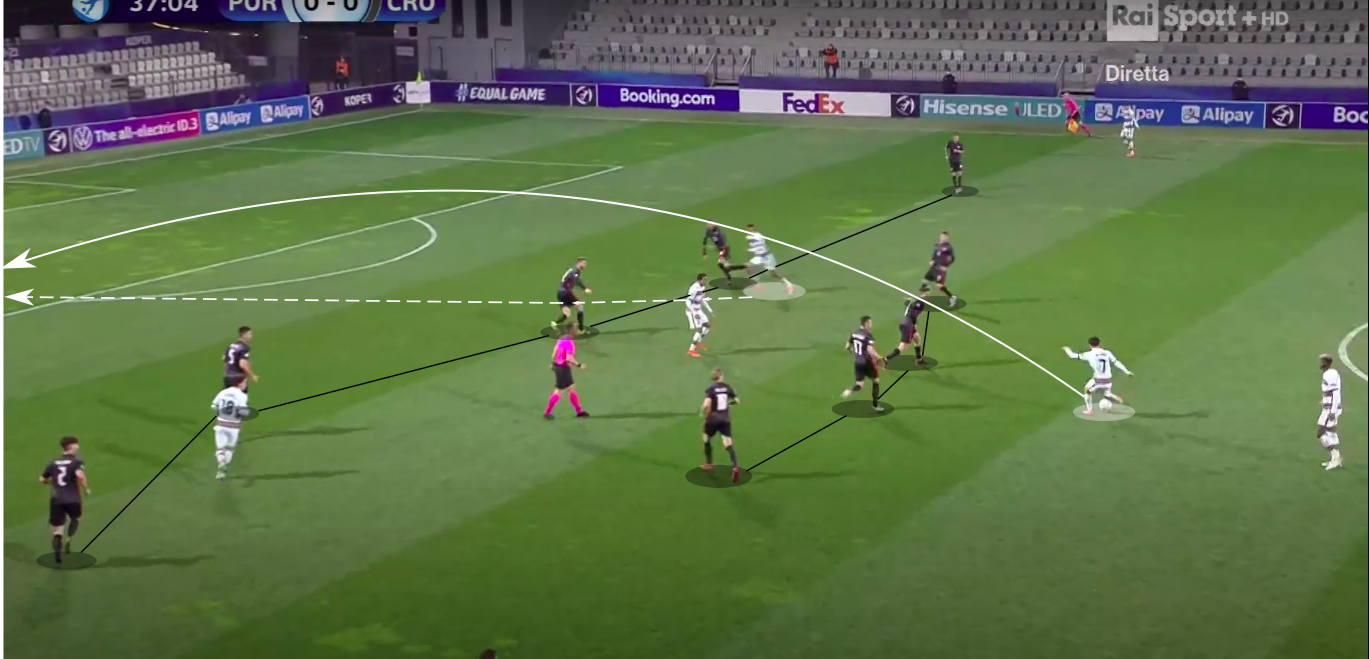 The Porto loanee was not too bad with chipped passes either, as he completed 7 at an accuracy of 62%. He faced some seriously hostile defences, where such balls proved to be key in unlocking them. This is a great example of Vitinha's trademark move – he picks the ball up in a deep position and drives forward, probing for an opening. Once spots it, he picks out the perfect pass to effectively take nine opponents out of the game.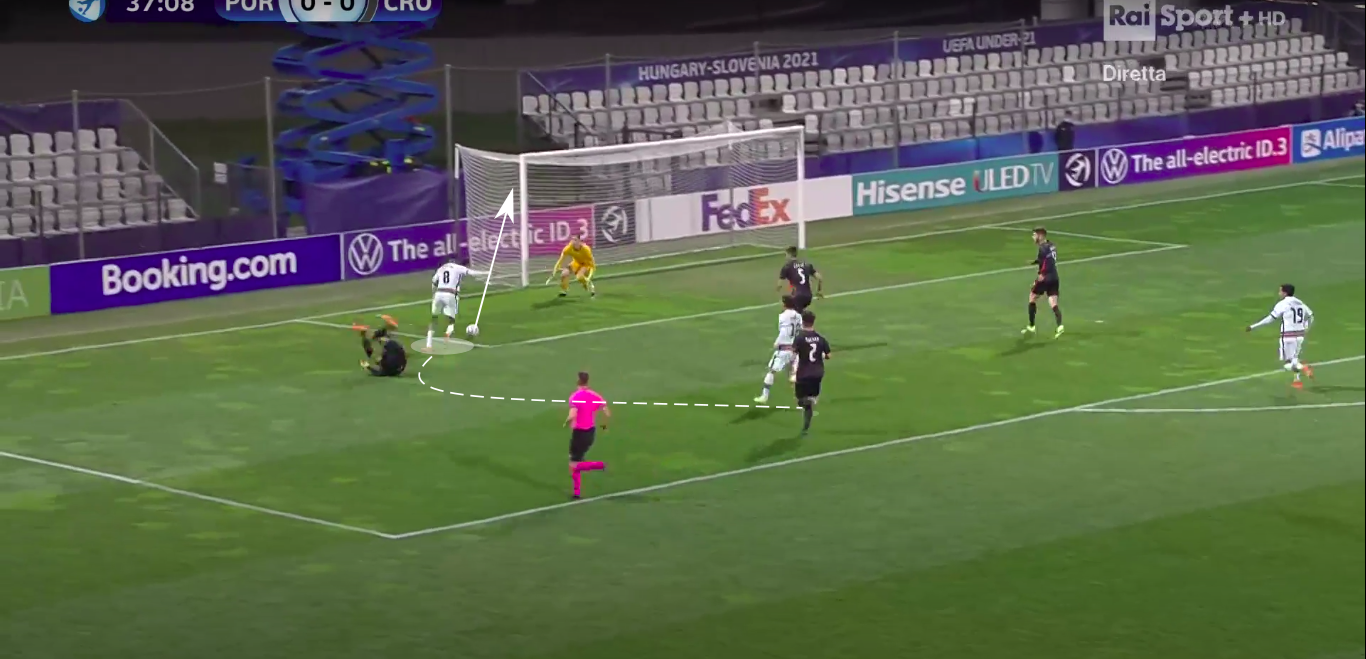 Gedson Fernandes was the beneficiary in this case, but he could only hit the side-netting with his finish. Porto have a real gem on their hands in Vitinha, who has everything to become the next big thing in an increasingly talented Portugal senior squad.
Andrei Ciobanu
Country: Romania
Club: Viitorul Constanța
Age: 23
Here's a name not many would have heard of prior to the under-21 Euros: Andrei Ciobanu. Romania gave Germany and the Netherlands a serious run for their money in Group A, and Ciobanu was probably their best performer. The 23-year-old midfielder worked his socks off as he racked up 224 touches, 141 passes at an accuracy of 85%, 9 shots, 5 chances created, 14 ground duels won and 11 tackles and interceptions.
He was rewarded for his efforts with a goal and an assist. The former was this fantastic free-kick against the Netherlands to earn a point for Romania. His performances must have caught the eyes of some clubs from Europe's big five leagues, so a move away from his homeland could be a possibility for Ciobanu in the summer.
Dani De Wit
Country: Netherlands
Club: AZ Alkmaar
Age: 23
The Netherlands took a stacked squad to the under-21 Euros filled with many Ajax academy graduates, and one of them was Dani De Wit, now of AZ Alkmaar. The Dutch number 10 really put himself out as he featured in all three matches, winning more duels than any other player in the competition with 32. He added to this with 11 tackles and interceptions, while also looking good on the ball as he maintained a pass completion rate of 82%.
Above all, though, the attacking midfielder got into some really good positions at the sharp end as he attempted a tournament-high 11 shots, but his finishing was not great as he scored only once and squandered 3 big chances.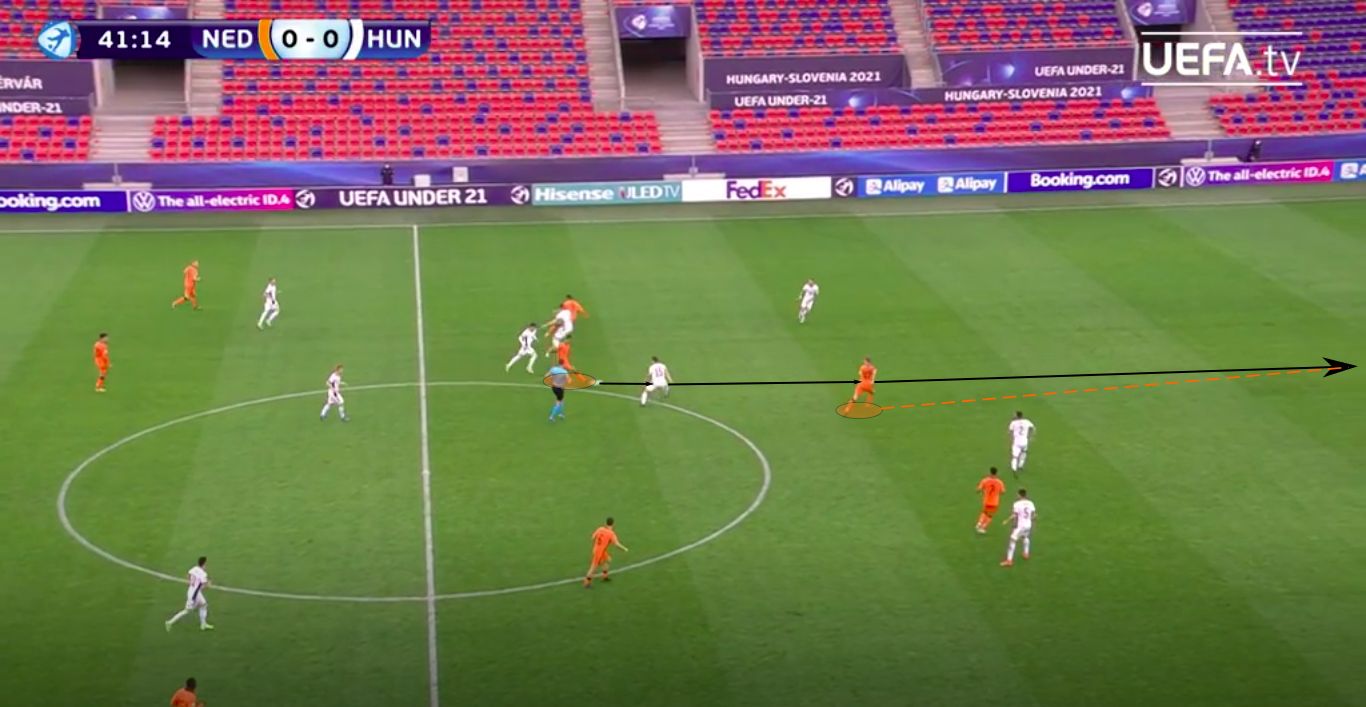 The 23-year-old midfielder was encouraged to get forward when Justin Kluivert was used in a front-two, which is why he was often making runs in behind the opposition defence such as this one. (Also notice Cody Gakpo's assist here – more on him later.)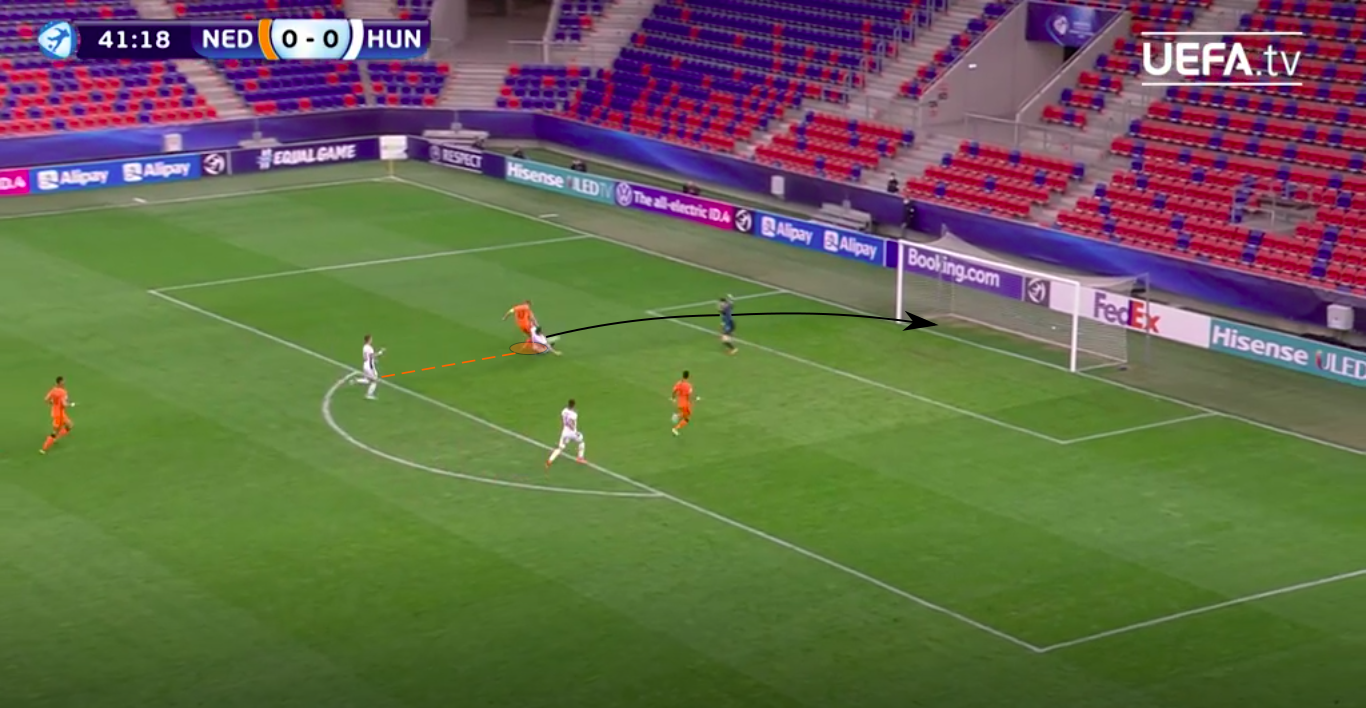 He did end up scoring in this case, but he surely could have improved his tally had he taken some other chances. Either way, De Wit must have impressed many with his work-rate and positional awareness, so be sure to keep an eye out on him in the Eredivisie. Now, we move on to the forward positions.
Wingers
Wingers are arguably the most individually exciting players in the modern game, and as a result the biggest stars. There were some protostars on show in the under-21 Euros, and here are the ones who looked sharpest:

Cody Gakpo
Country: Netherlands
Club: PSV Eindhoven
Age: 21
Some players just need one match to set the world on fire, and Cody Gakpo is one of them. He was on fire against Hungary, where he played a part in four goals as he netted twice, assisted Dani De Wit and won a penalty for another. He had put in a similarly solid performance against Germany (albeit without rewards in terms of goals), so his 13 successful dribbles (at an 87% success rate) were a tournament-high. Further, he managed 133 touches, 5 shots at an accuracy of 80% and 4 big chances created (another tournament-high).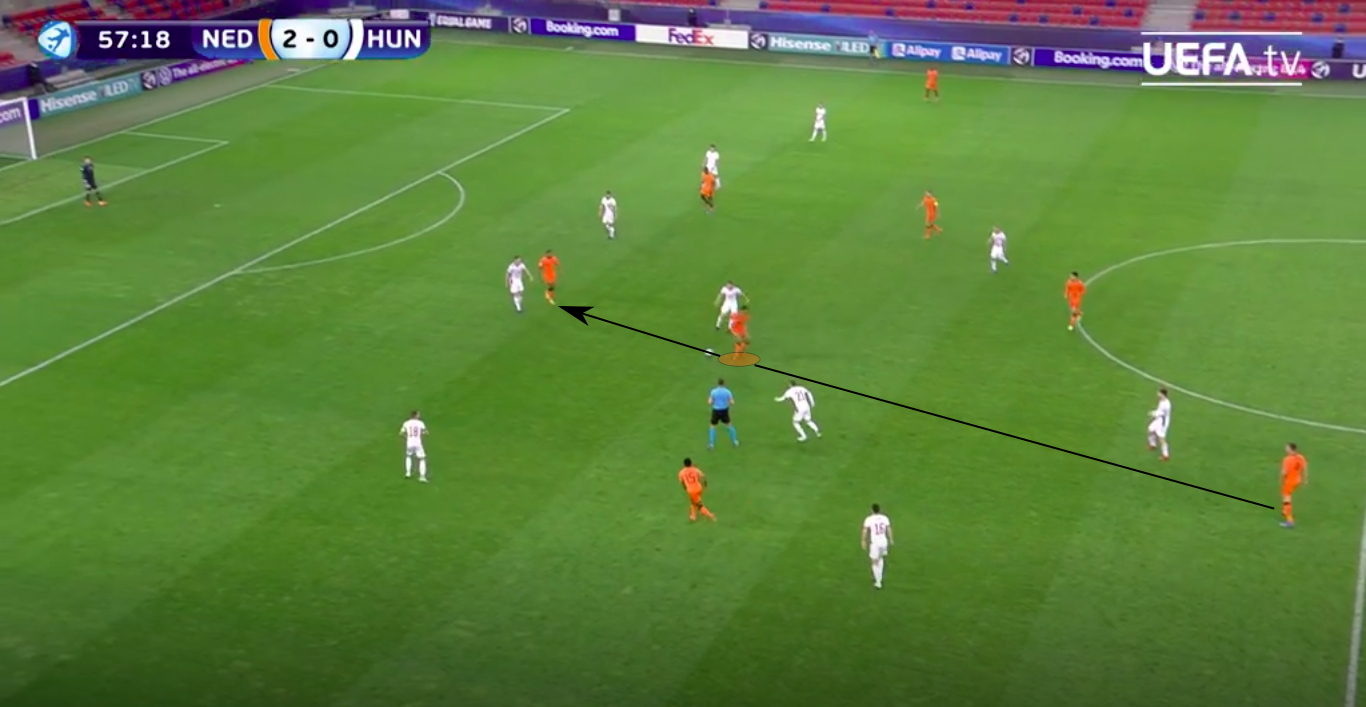 His first goal against Hungary gave a brilliant account of his overall qualities. Gakpo started off by showing good awareness to let a pass roll through his feet and reach a teammate in Myron Boadu.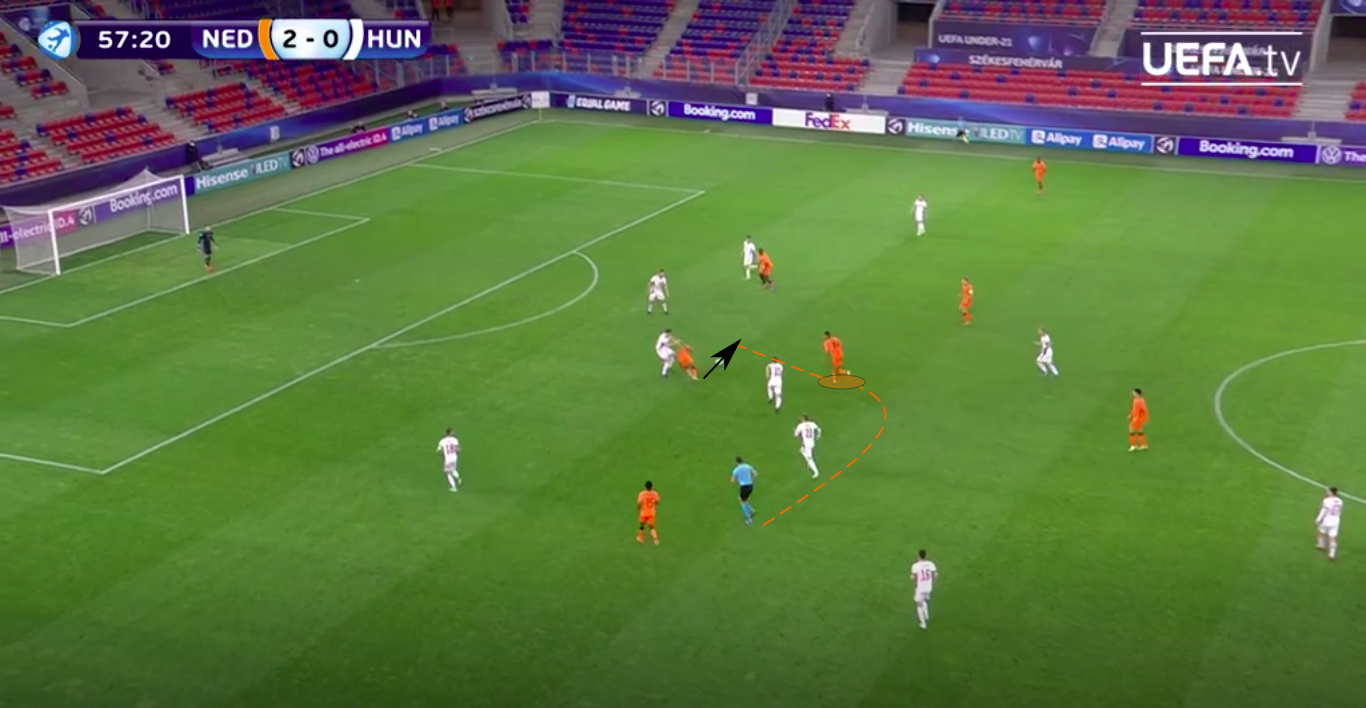 The PSV winger spun away from his man with a quick turn, and Boadu did well too as he held the ball up and nudged it into his teammate's path.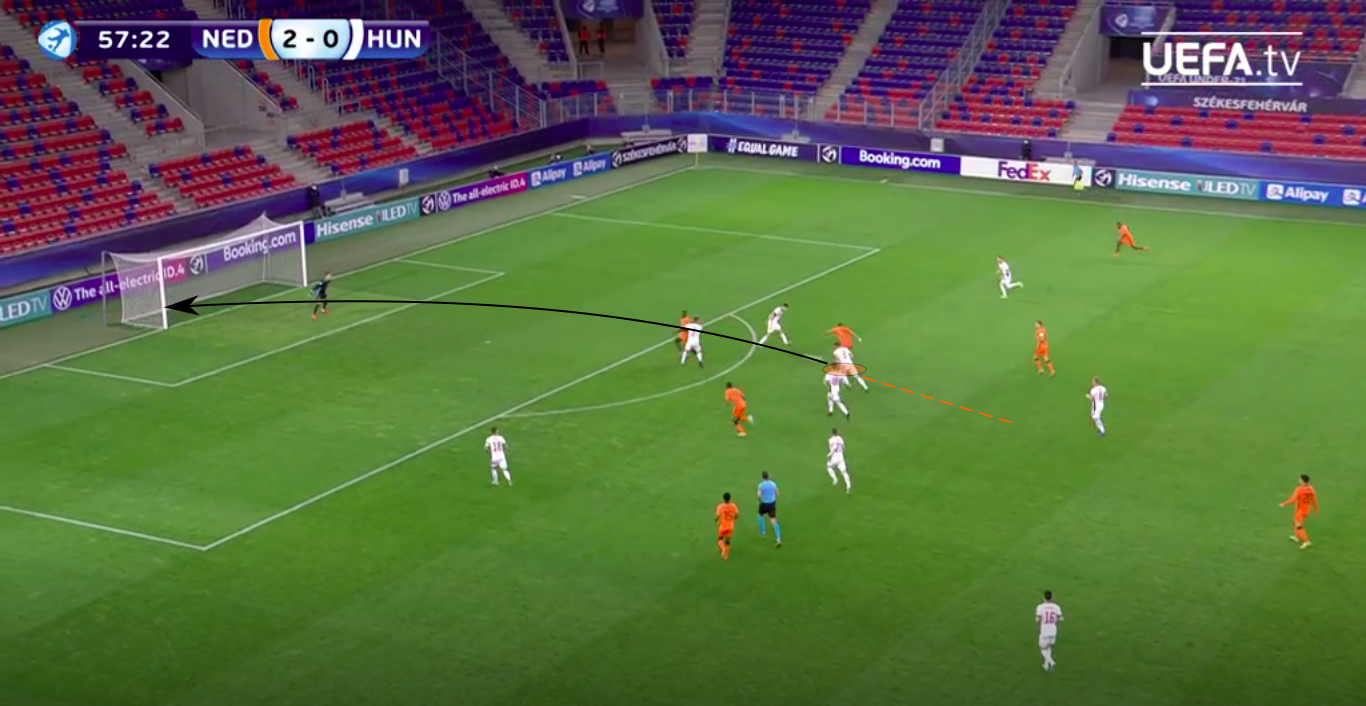 Gakpo took the ball in his stride and pushed forward, before letting fly for the bottom corner from the edge of the box. As aforementioned, he is not too bad in terms of chance creation and dribbling either, and that was evident against Germany too.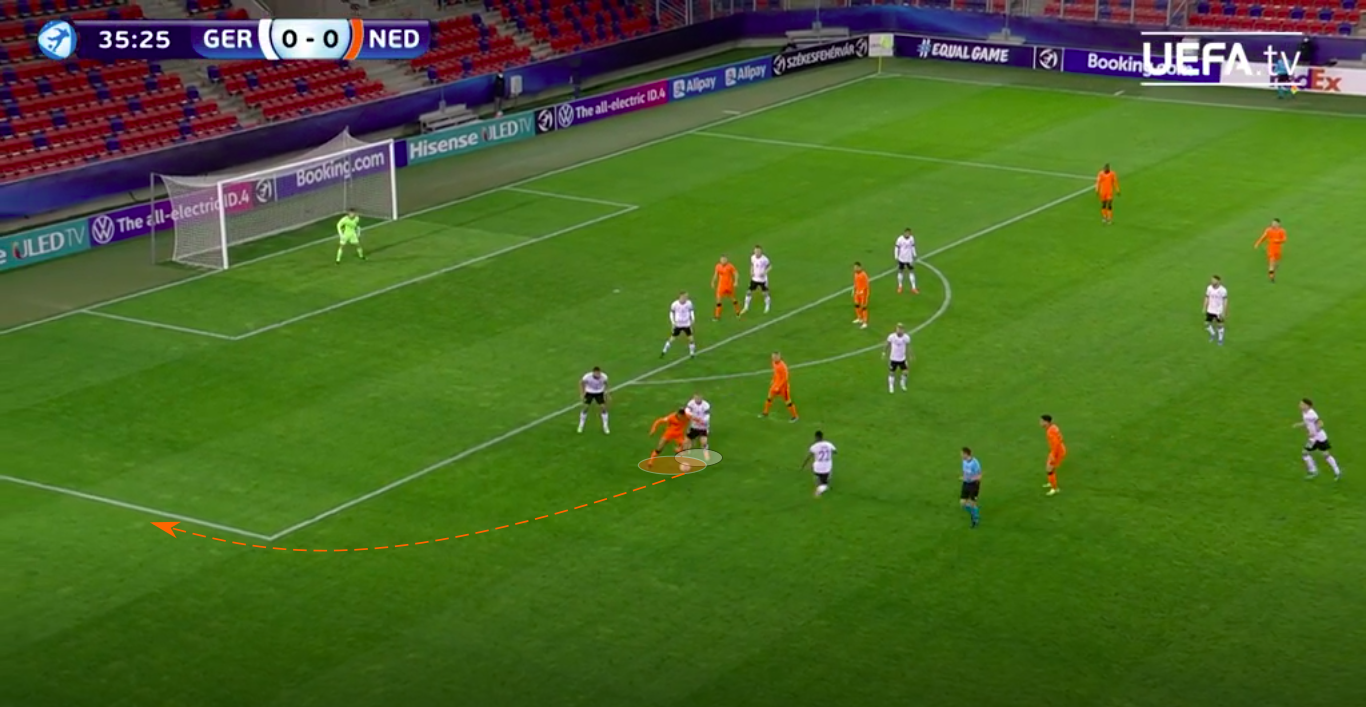 With his back to goal and a defender close by, Gakpo does not seem to be in a good position here, but he makes something out of nothing with a quick turn. After chopping back onto his right foot with a quick change of direction, the PSV winger shrugs the defender off and gets into a crossing position.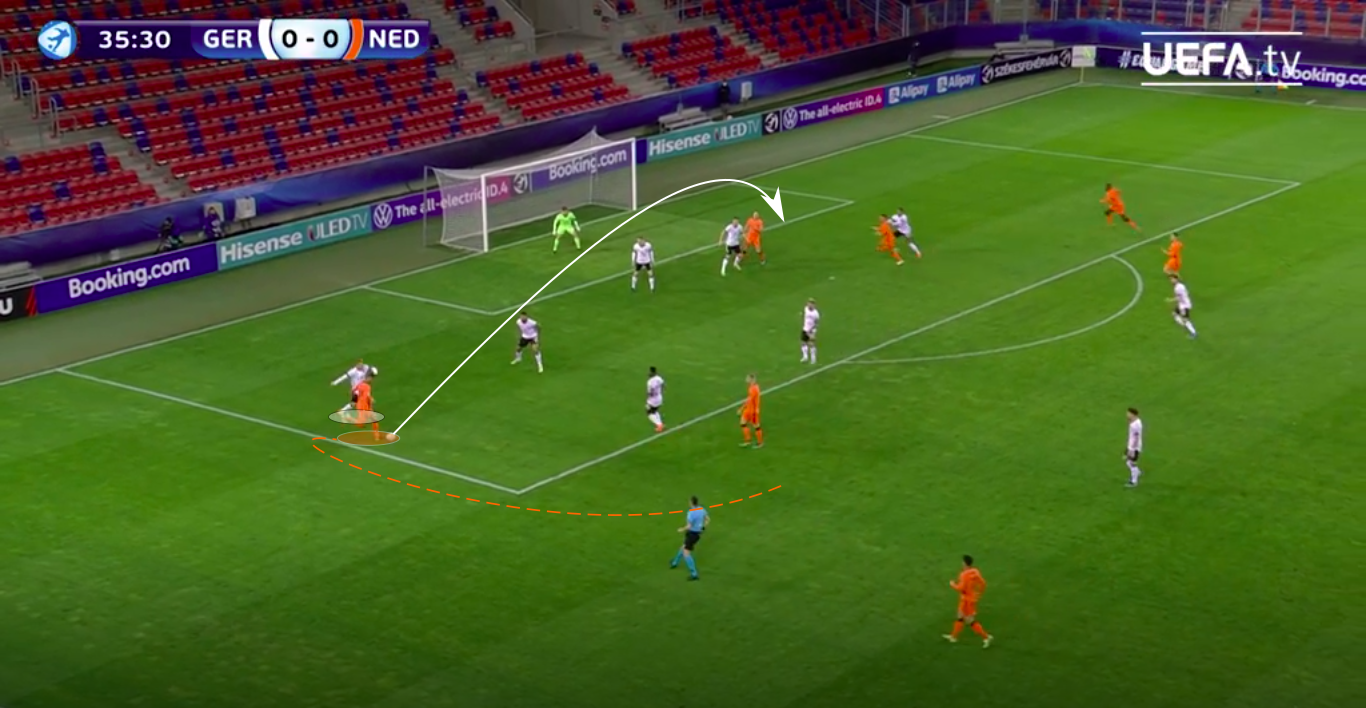 His delivery was pinpoint to the head of Dani De Wit, but the midfielder could only hit the post with his header. The 21-year-old winger certainly has an abundance of talent, but will he be able to show it consistently under Roger Schmidt?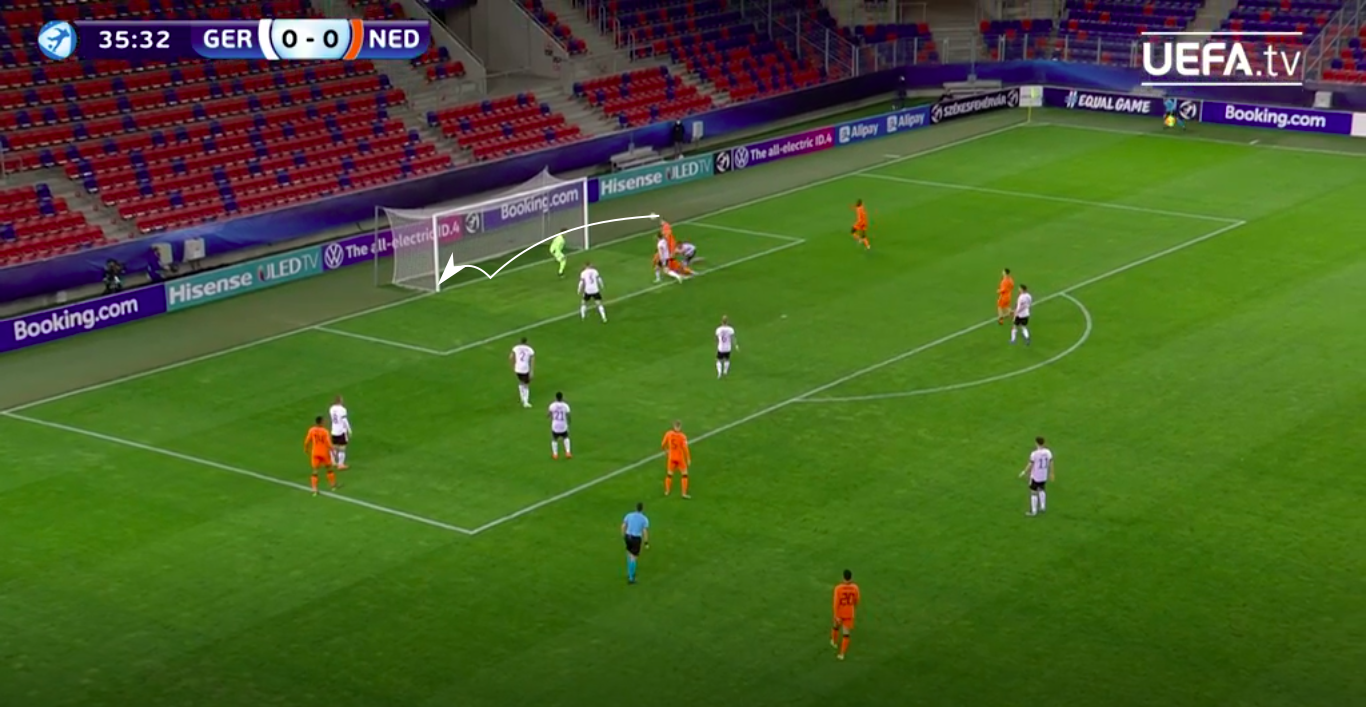 Francisco Trincão
Country: Portugal
Club: Barcelona
Age: 21
If Barcelona are spending around €31 million on a player, he probably is alright. So, Francisco Trincão did not need to shine in the under-21 Euros to show his capabilities, but he was brilliant anyway. He was joint-third in the competition in terms of chances created with 6, while his 2 goals made him a joint-top-scorer. To add to this, the ex-Braga winger's 136 touches and 86% passing accuracy make for very good reading too.
The 21-year-old was deployed on the right of a front-two on occasion, meaning that he got into some unfamiliar situations. Trincão played alongside Tiago Tomás and Pedro Gonçalves on the right flank of a front three against Croatia, and while he was benched against England, he came on for Gedson Fernandes at halftime and scored the second goal. Against Switzerland, he played in a front two alongside Tomás and once again scored the second goal.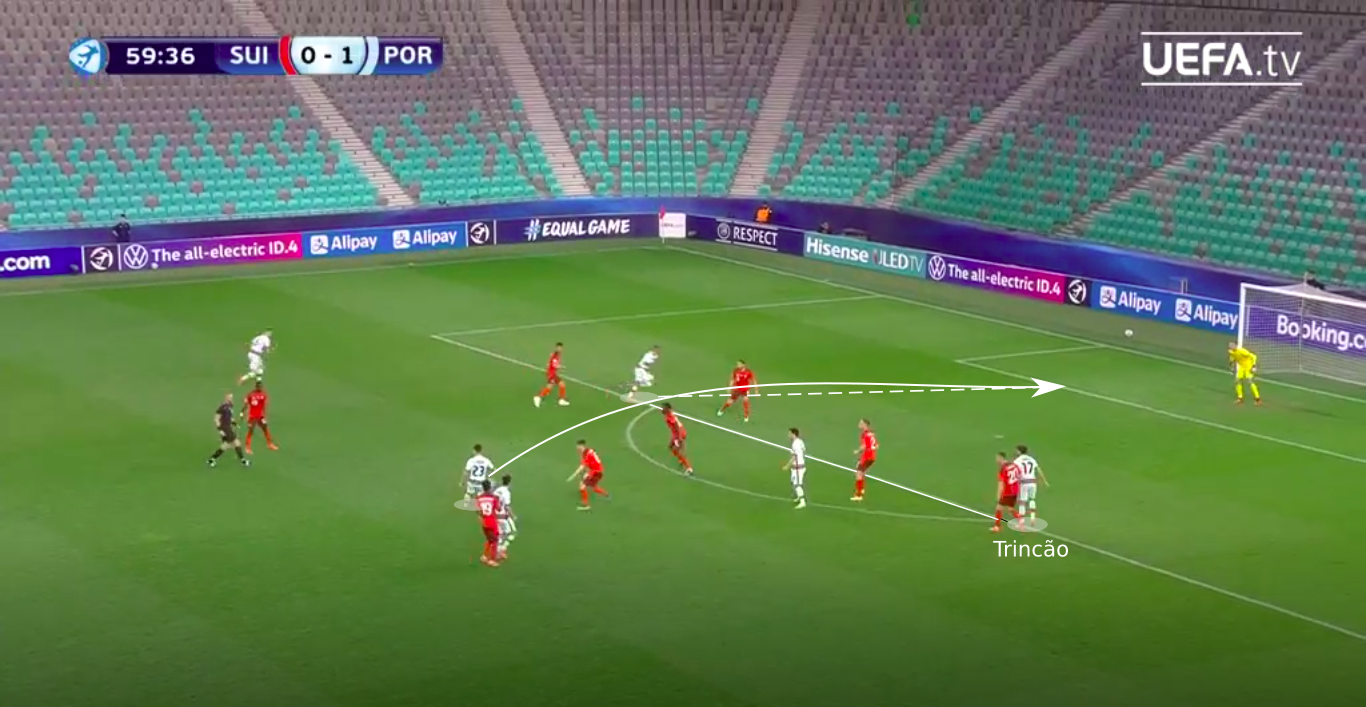 But he made the most of it as his only open-play goal came from that position. For all the money that Barcelona spent on him, though, Trincão has only been handed two La Liga starts so far this season, so he'll hope to significantly improve on that tally after an impressive under-21 Euros campaign.
Ridle Baku
Country: Germany
Club: Wolfsburg
Age: 22
Wolfsburg have impressed many in this season's Bundesliga as they sit in the final podium spot currently, and one of their more impressive players has been summer signing Ridle Baku. His playing time has been split almost evenly between the positions of full-back and winger, but in the under-21 Euros, he was only used in a forward position.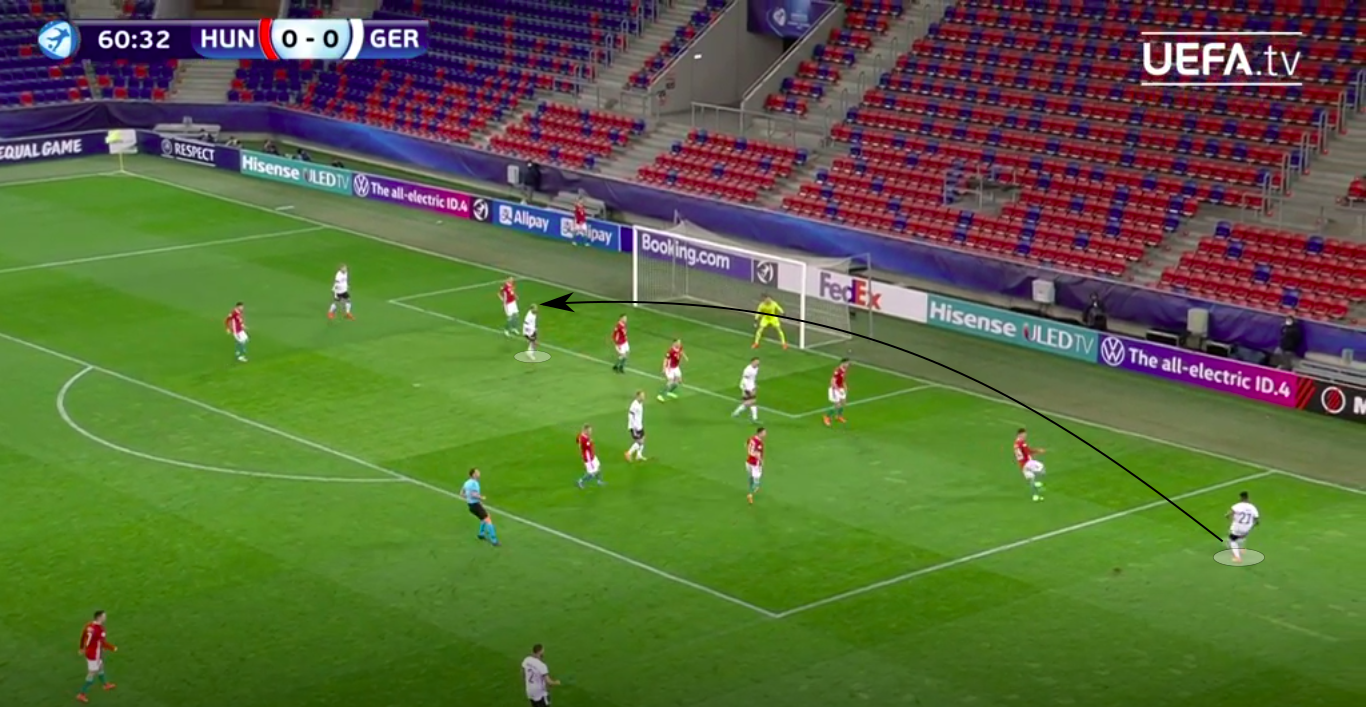 He was the best creator in the tournament as he completed 8 key passes, but he ended up with more goals (2) than assists (1). He racked up 177 touches in the process, completing 80% of his passes too. The Mainz academy graduate delivered a fair amount of crosses with 18, and one of them got him his assist.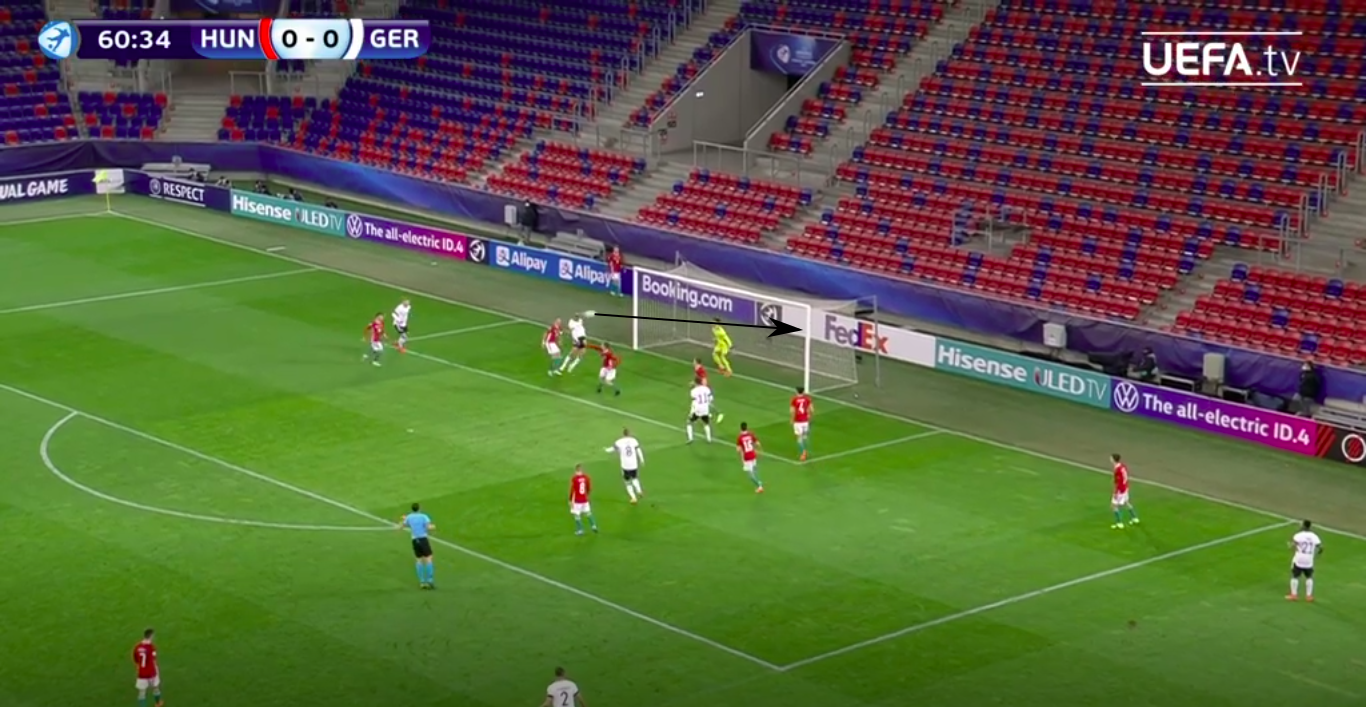 It was a pinpoint ball right to the head of Lukas Nmecha (whose positioning was quite good too – more on this later), who easily turned it in from close range. He may be in his first season at Wolfsburg, but if Baku keeps playing like this, he will surely attract interest from bigger European clubs.
Justin Kluivert
Country: Netherlands
Club: RB Leipzig (on loan from Roma)
Age: 21
Justin Kluivert has been a bit of a puzzling player this season. He certainly has a lot of potential (as was proven in his Ajax days), but he absolutely has not been able to find any form for RB Leipzig, scoring only two goals in 20 appearances. His under-21 Euros campaign was a lot more fruitful, though, as he returned with a goal and an assist.
The 21-year-old winger topped the crossing charts as 7 of his deliveries hit their target at an accuracy of 43.75%, while he came a close second in terms of chances created with 7. Like Trincão, he too was used on the right in a front-two on occasion, but he retained his width a lot more often. Hopefully, this solid under-21 Euros campaign will help Kluivert revive his season in Germany.
Strikers
Having great defenders, midfielders and wingers gets you halfway there, but you need a quality striker or two in your side to finish moves off. Luckily, there were a few brilliant frontmen on display in the under-21 Euros, and here the best of the lot:
Lukas Nmecha
Country: Germany
Club: Anderlecht (on loan from Manchester City)
Age: 22
For the benefit of those who were unsure, Lukas Nmecha missed a penalty in Germany's must-not-lose clash against Romania to prove that although he had not spent a single season with the Manchester City senior squad thanks to four separate loans, his loyalty very much lies with them.
Apart from that, though, he had a very successful under-21 Euros campaign. He scored twice from six attempts, also creating 2 chances for his teammates and completing more dribbles than any other striker with 8, which also placed him fourth overall in the competition.
Above all, though, he impressed most with his positioning and spatial awareness. Both of his goals were simple tap-ins, and both featured some very good movement from the 22-year-old striker. The first one was a header from a Ridle Baku cross which we have already seen, so let's take a look at the second.
As Jonathan Burkardt advanced on the wing, Nmecha followed him centrally, making a run into the box. But, he had a Dutch defender matching every step, who would have to be shrugged off if the striker was to get into a position where he could turn the cross in.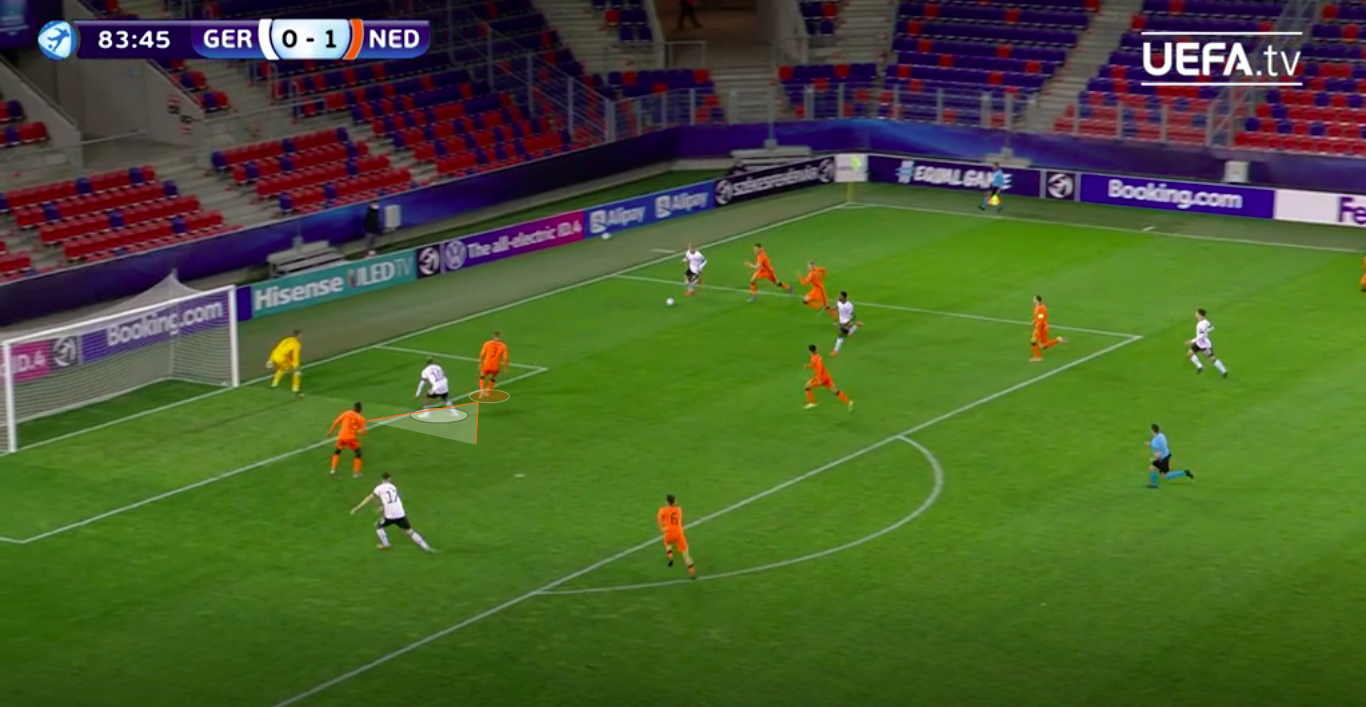 He tried to do so by stopping his run, but the defender matched him and kept him in his cover shadow. But Nmecha made one final move as he stepped forward again, leaving the defender standing and covering shadows.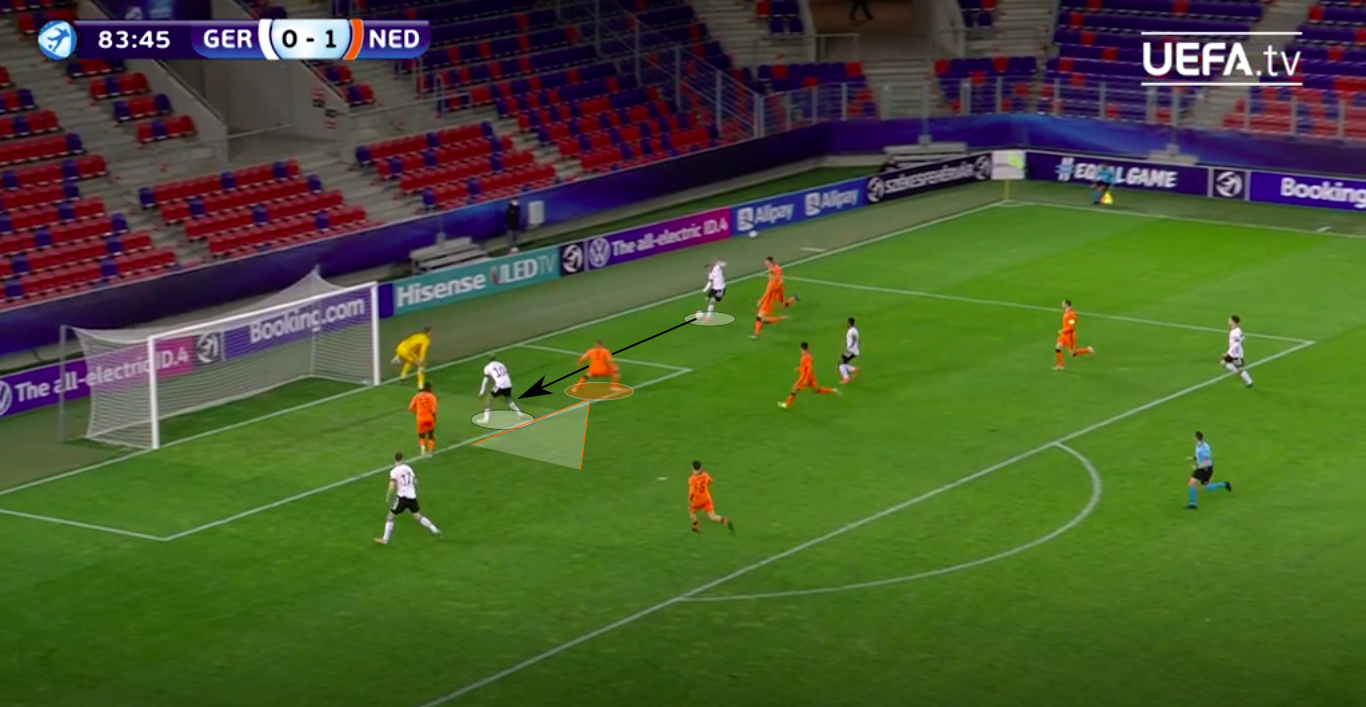 This created the opening that Burkardt needed to find him with a low ball across the box. What remained was a simple redirection for the ball to end up in the net, and the 22-year-old striker did just that. Nmecha's Manchester City contract expires in the summer of 2022, so it is not hard to see him garner interest from other European clubs soon.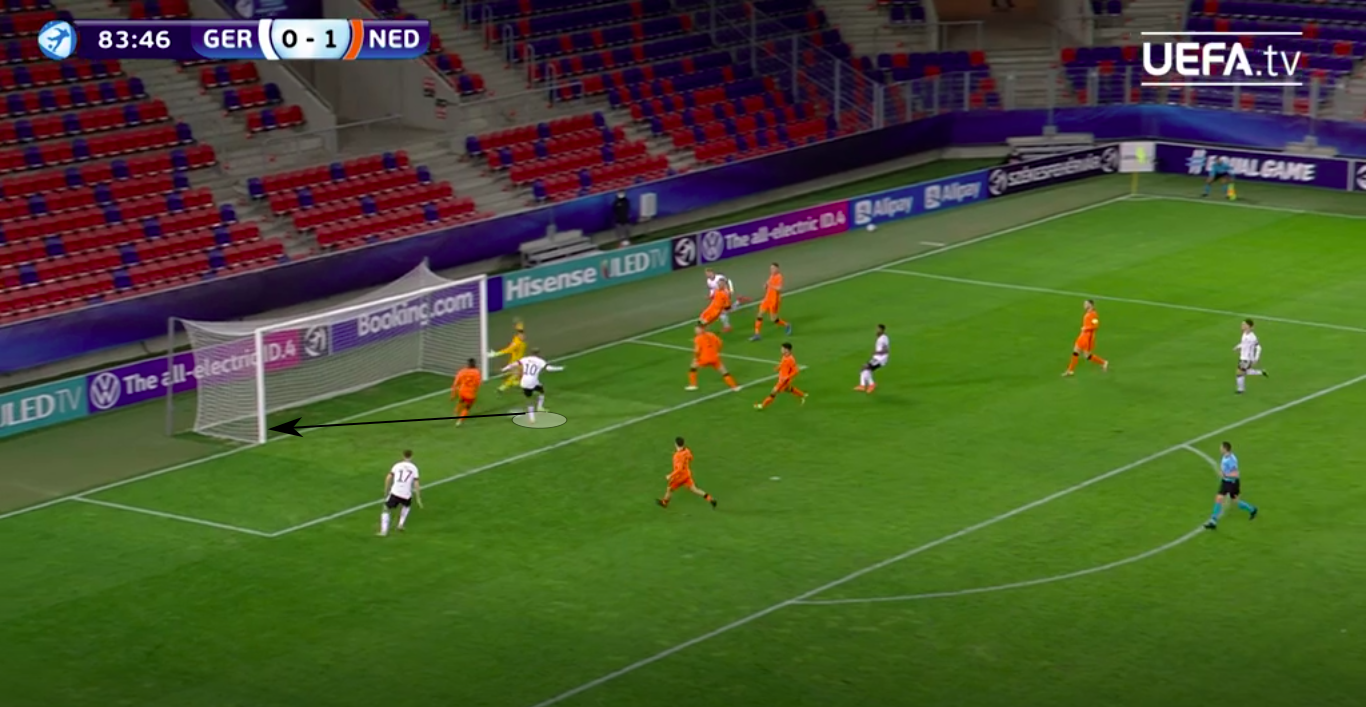 Patrick Cutrone
Country: Italy
Club: Valencia (on loan from Wolverhampton Wanderers)
Age: 23
Perhaps all good strikers miss penalties, as Patrick Cutrone did so too in the under-21 Euros. He too returned with two goals (one of which was a successful penalty), but he added an assist to his tally as well. The ex-Milan man's shooting accuracy was perfect, as all of his 6 shots were on target, one of which was a long-range stunner for his second goal against Slovenia.
His link-up play with Gianluca Scamacca – particularly against the Czech Republic – was quite neat, but we did not get to see all of it as the Genoa striker was sent off in Italy's second group match. The two did combine for the tournament's very first goal, though.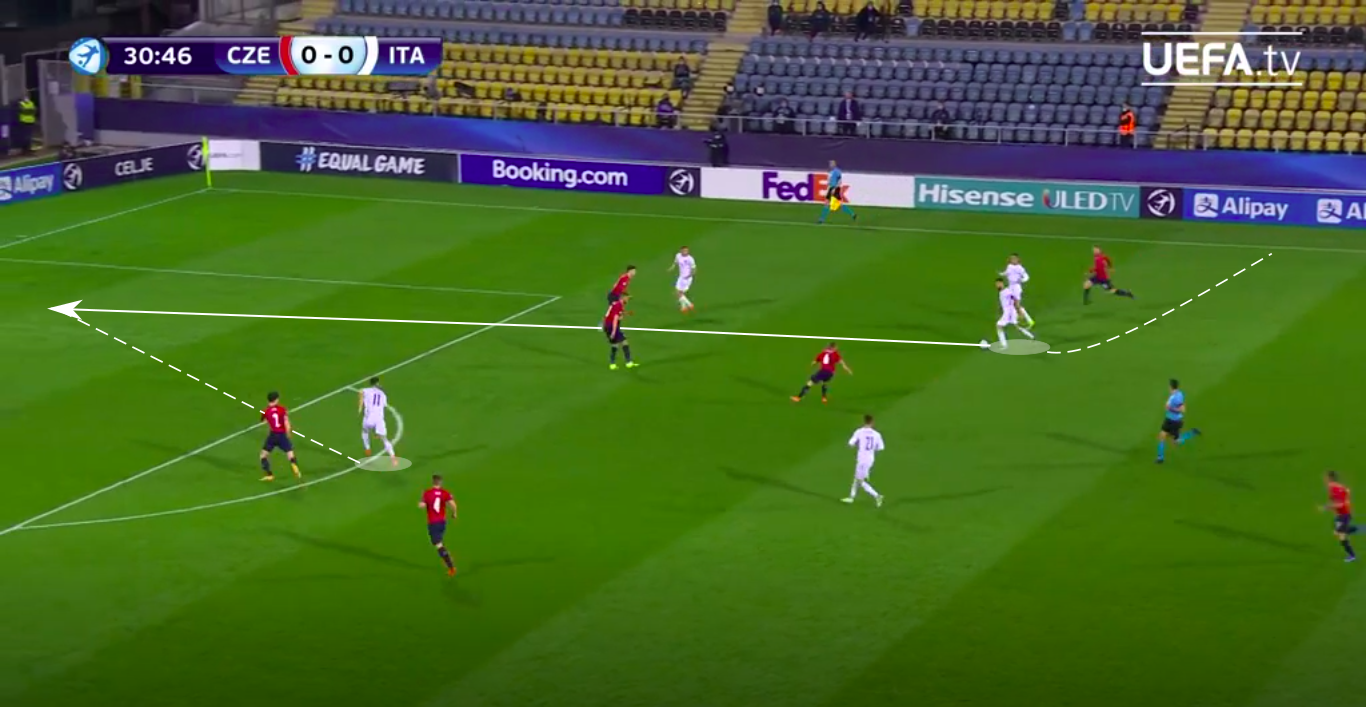 Cutrone was first up, as he received the ball out wide and drifted into the half-space before threading a pinpoint through ball for his teammate. Scamacca had to do the relatively easy bit, as he rounded Martin Jedlička and nudged the ball into an empty net.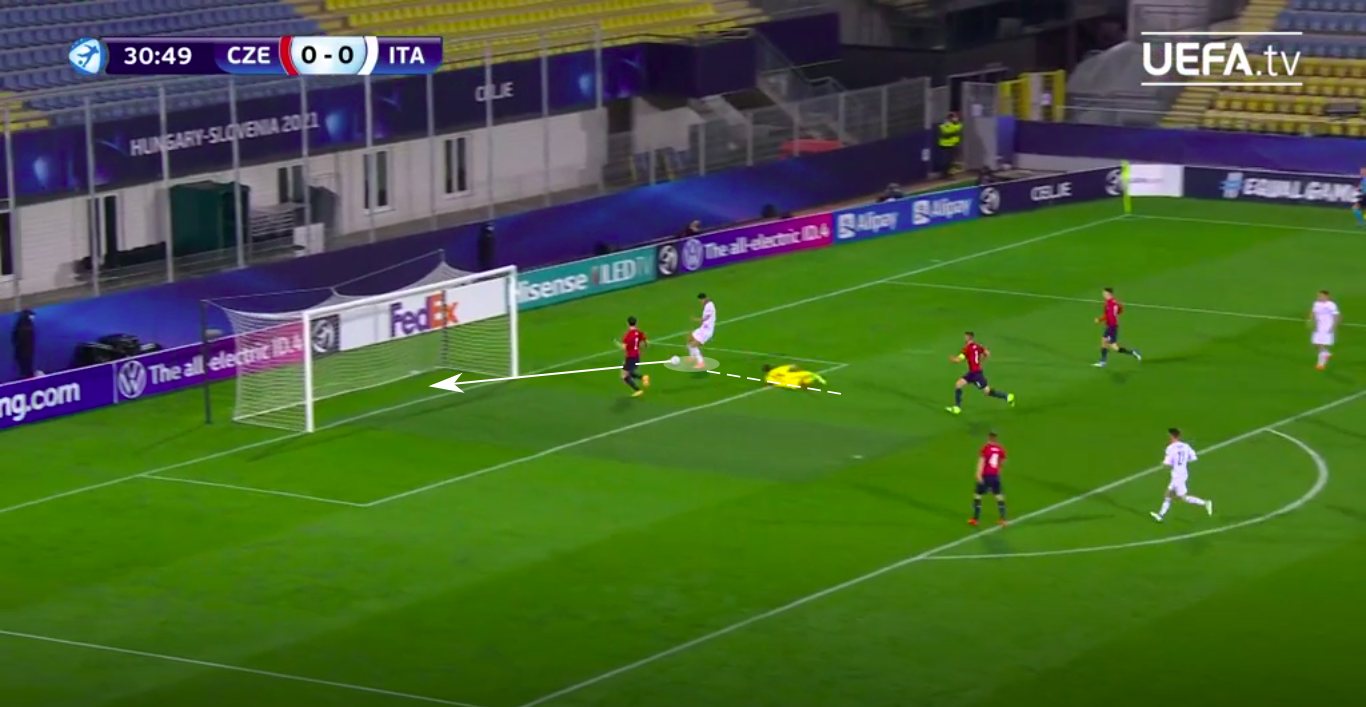 Cutrone has had a tough time this season, having failed to start a single league match for either Wolves, Fiorentina or Valencia, but he will hope to change things with the latter after a decent under-21 Euros campaign. 
Conclusion
The under-21 Euros' group stage was perhaps not as tactically attractive as many would have wanted, but that contributed in a way to help segregate the standout performers. Just three matches are, of course, less than enough to fully judge a player's abilities and strengths and weaknesses, but given the fact that many of these players have already made a name for themselves on the club stage, it is not hard to imagine most of them going on to have very successful careers in the big European leagues.
Most of the players we have picked out will return to Slovenia and Hungary with their respective under-21 sides after the end of the club season to contest in the knockout stages, so we have yet more action in store.
By: Neel Shelat
Featured Image: @GabFoligno / Marcio Machado / Getty Images / Soccrates Images / Getty Images / Icon Sport
Stats courtesy SofaScore, WhoScored and Transfermarkt.