Finding Arsenal's Next Right-Back
10 years after joining the club as a teenager from Barcelona, Héctor Bellerín is set to return to Spain as Arsenal look to cash in on the 26-year-old as he enters the final two years of his contract. Villarreal have reportedly thrown their hat into the ring and made an offer for him, with Unai Emery reportedly keen on a reunion with Bellerín, whilst Real Betis are interested in signing him as well.
The Gunners are reportedly demanding £20 million for Bellerín, and while they may have to lower their price tag due to the economic impact of the pandemic, it is becoming increasingly clear that he has played his last match in North London. Moreover, it underscores a problematic area that Arsenal will be even more desperate to reinforce, with none of the options managing to lock down the starting spot as Kieran Tierney has done on the left side of defense.
Cédric Soares, a traditional right-back, has only played in that position three times since arriving on a free transfer from Southampton last summer, having mainly slotted into the left side of defense with Tierney regularly injured. Calum Chambers has enjoyed a revitalization in fortunes after suffering an ACL rupture in 2019, but he too is no more than a short-term fix. Ainsley Maitland-Niles could be an option there, but he has remained firm that his desired position is in midfield, and he will likely be headed for a permanent transfer after his loan at West Bromwich Albion expired.
With that being said, it behooves us to search for a variety of candidates that could potentially fill Arsenal's void at right-back. Achraf Hakimi has been linked as an option, but with the Gunners missing out on European football, it is nearly impossible that they match the €60 million bids that Chelsea and Paris Saint-Germain have reportedly made for the Moroccan international, with Inter demanding a fee in the region of €80 million.
Whilst they will likely find themselves priced out of a move for Hakimi, who has racked up 37 goal contributions over the past two seasons for Borussia Dortmund and Inter, there are several promising right-backs who could be budget-friendly options for an Arsenal team that will be needing to tighten their pursestrings and simultaneously strengthen various areas of their squad in this summer transfer window.
Takehiro Tomiyasu
A 22-year-old defender from Fukuoka, Japan who has amassed just 2 goals and 0 assists this season, as well as an xG assisted of 0.5, may not seem like a prime choice for the Gunners. Nevertheless, Tomiyasu has been a welcome surprise at Bologna since joining from Belgian side Sint-Truiden in the summer of 2019, and while he still has three years left on his current deal, he could be sold for a profit on the €9 million that the Veltri splurged on him.
A cursory look at few of his games allows us to see that he has been used at the club as a third CB on the right rather than a full back, which clearly explains him being in the 14th percentile of assists across Europe's top five leagues amongst fullbacks. Arsenal's defense on the right has been shaky at times with fullbacks committing forward and being caught off position to make tackles or interceptions. Tomiyasu has done a good job in exactly not doing that.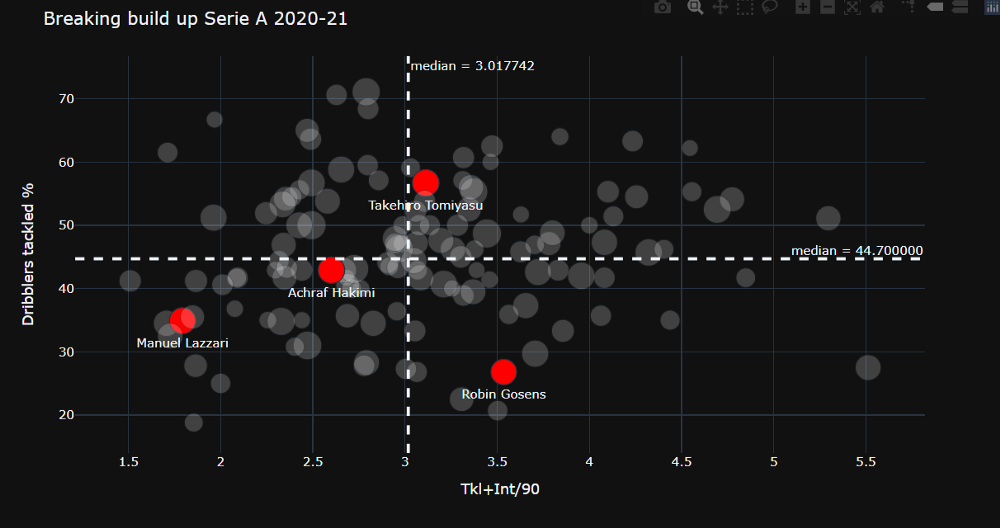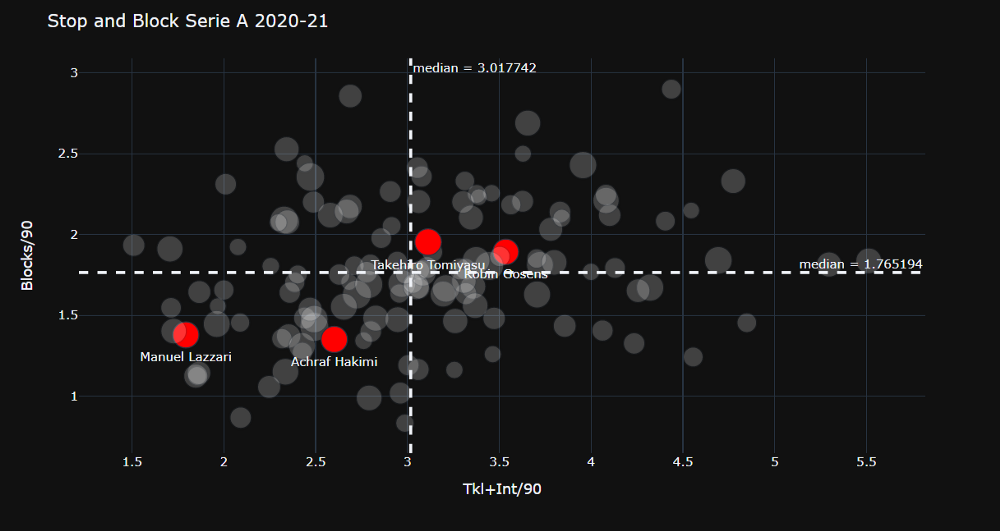 With a 56.7% success in tackling dribblers, the young fullback has been one of the best tacklers for his club having played 2715 minutes of top flight Italian football. He is miles ahead of fellow attacking full backs, Hakimi, Manuel Lazzari, Theo Hernandez and Robin Gosens. In attack, owing to the team's setup, Tomiyasu sends a lot of balls into the final third of the pitch. 4 of every 26 passes he makes in a 90 minute match enters the final third of the pitch.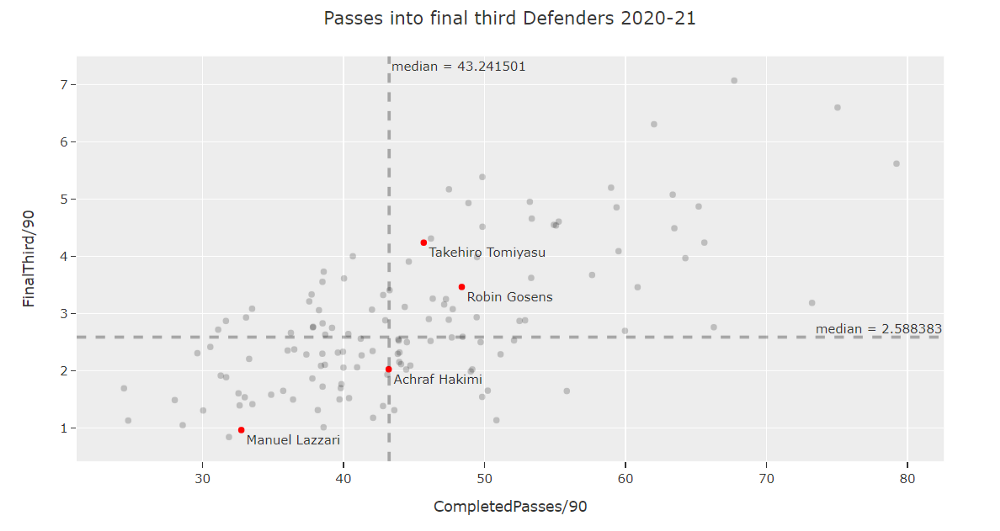 Though not an attacking fullback, the 22-year-old times his progressive runs to gain positive distances in attack. As we see below, Hakimi and Lazzari lead in terms of carrying the ball forward, whereas Tomiyasu tries to ensure more ball time compromising on forward bursts. A full back who likes to keep the ball at his feet, Arsenal shouldn't mind right?
Overall, Takehiro Tomiyasu is a promising fullback who is capable of slotting across a variety of roles in defense, and at 22, he has the potential to be a massive bargain for Arsenal. Whilst Arsenal's previous Japanese signings of Takuma Asano, Ryo Miyaichi, and Junichi Inamoto haven't exactly been home-runs, Tomiyasu has been tried and tested in multiple European leagues and could prove to be a top signing for them this summer.
Stefan Lainer
Arsenal haven't had an Austrian player since Alex Manninger, who served as an understudy for David Seaman from 1997 to 2002 before joining Espanyol, but it's high time that changed. From David Alaba to Marcel Sabitzer, Austria have produced a treasure trove of players in recent years, and after Marko Arnautović and Christian Fuchs, Stefan Lainer could the next Austrian to be a success in the Premier League.
The 28-year-old has spent the bulk of his career at Red Bull Salzburg, but after an impressive campaign under Marco Rose, he followed Rose to Borussia Mönchengladbach in the summer of 2019. Having won the Austrian Bundesliga four times at Salzburg, Lainer has been unable to add to his silverware in North Rhine-Westphalia, and his attacking numbers have decreased as well; after providing 5 goals and 7 assists in 2016/17, he has managed just 3 goals and 10 assists over the past two seasons.
Nevertheless, Lainer has been a key cog on the right flank for Rose, having played nearly 2,768 minutes of Bundesliga football this season. He has been pivotal in this role on both ends of the pitch and is one of the top fullbacks in Germany in terms of carrying the ball forward, having completed 19 of his 36 attempted dribbles this season.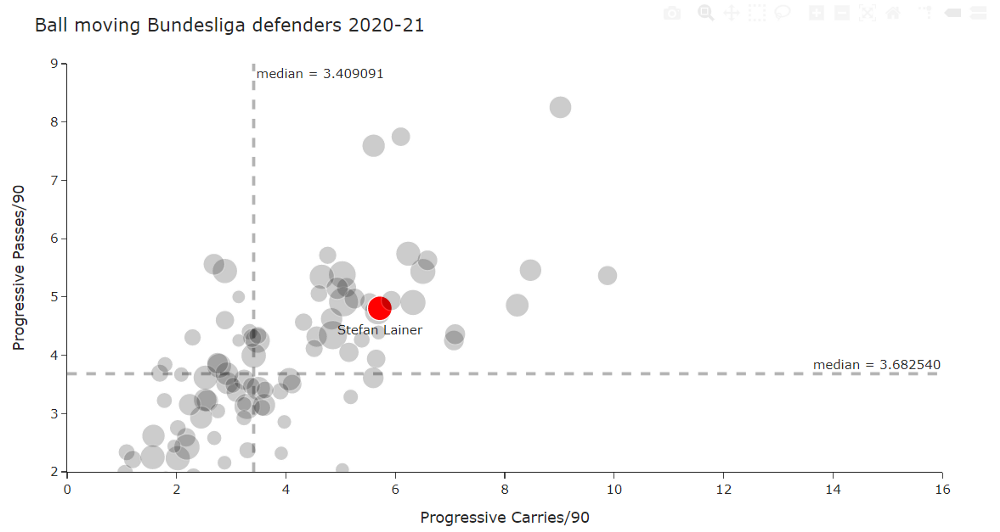 His ball carrying and passing has led him to average 1.89 shot-creating actions per 90 in the Bundesliga this season. To give you an idea of his game, he registered 34 shot-creating actions in 10 Europa League matches with Salzburg in the 2018–19 campaign. Ranked 7th in progressive passes in the Bundesliga, and in completed crosses into penalty area, he has really impressed in attack this season.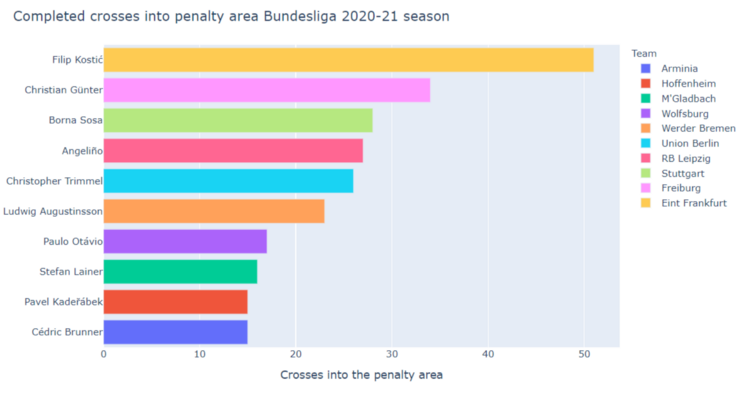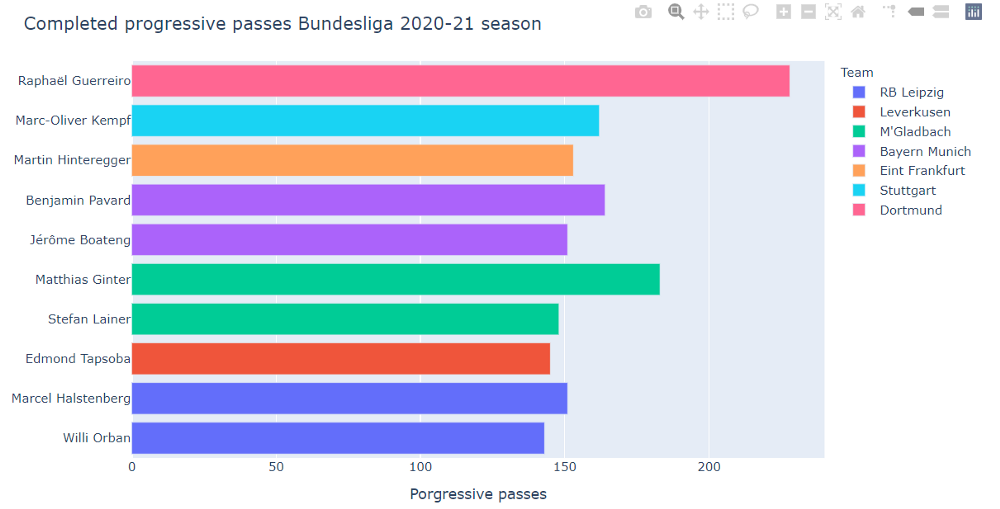 Lainer's forward game means he presses a lot. The numbers tell us the same story. Though not at par with Filip Kostić of Eintracht Frankfurt, Lainer maintains a good 31% success rate while pressuring the opposition in the mid third of the pitch. With Rose leaving the club this summer, he has less of an incentive to stay back in the manager's absence, and Dortmund too does not look like it is in search of right backs at this moment. His defensive capabilities can be a point of concern, though not all bad, he is an average defender to say the least.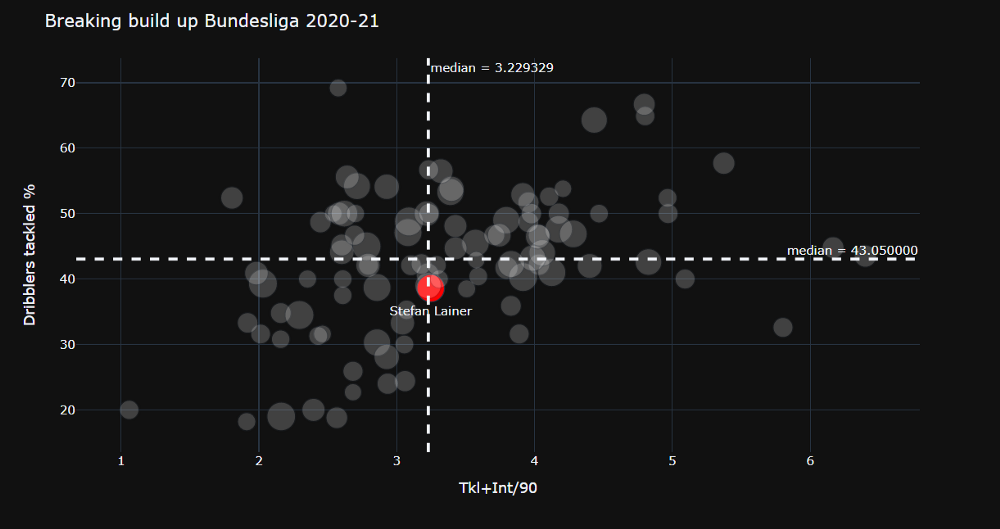 It remains to be seen whether or not Lainer will be keen to stick it out another year in Germany as his compatriot Adi Hütter takes charge of Die Fohlen, but it is clear that his pacy runs and ability to progress the ball would be a welcome addition to Arsenal's backline. If they want to sign him, they best act fast to complete the deal before the Euros — Austria have the potential to be one of the dark horses of the tournament and cause damage to the Netherlands, Ukraine and North Macedonia.
Fabien Centonze
That brings us to the third and my most preferred candidate, Fabien Centonze. Like Tomiyasu and Lainer, he has three years remaining on his contract, and the 25-year-old Frenchman has been a revelation at Metz since joining from Lens in 2019. His attacking runs, defensive hold and flair for the brilliant have been really impressive; while he has only registered one goal over the past two seasons, his underlying numbers speak for themselves.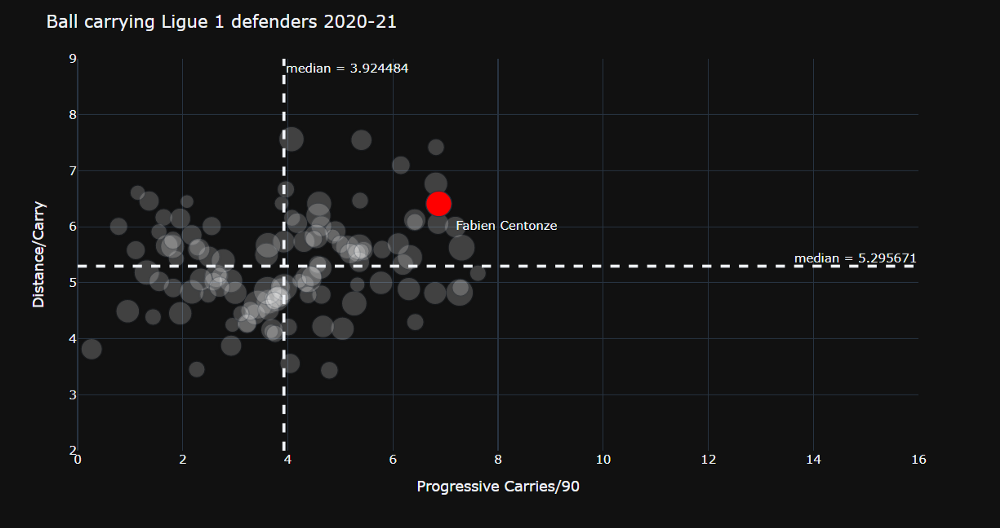 One of the top top carriers of the ball, Centonze has excelled his progression stats this season. Having played 3221 minutes in the Ligue 1 this season, he is also in the top 10 of dribblers in the French top tier league, sharing it with the likes of Neymar, Kylian Mbappé, Memphis Depay and Hatem Ben Arfa.
As compared to Ligue 1 defenders, Centonze stands out when it comes to completing progressive passes. FC Metz are second-lowest in the league in terms of receiving progressive passes this season; below is where the young French stands amongst his defensive peers.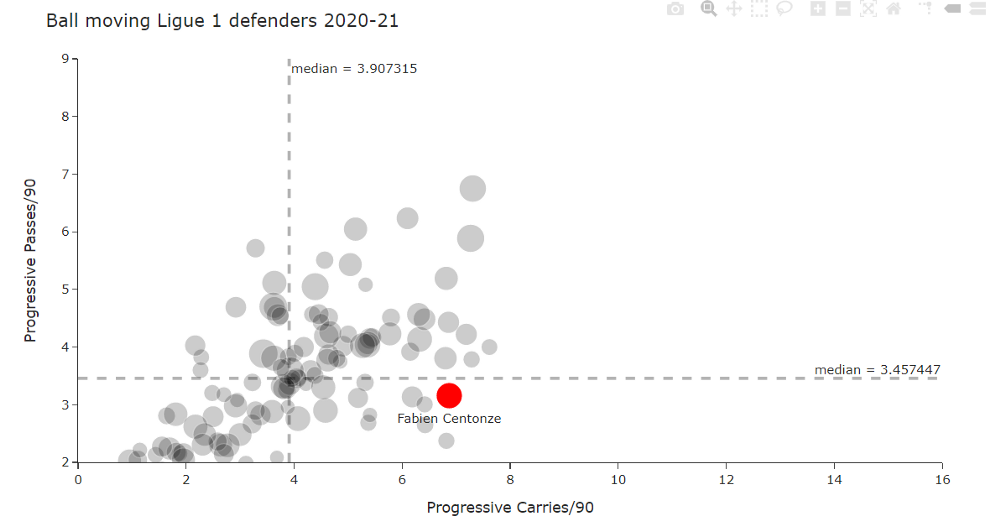 This can be attributed to theMetz forwards' receiving capabilities or his long passing. Apart from this aberration, the fullback has surprised everyone with his defensive capabilities as well, topping Ligue 1 charts in the number of blocks by an player. Averaging 4.86 tackles + interceptions per 90, he is undoubtedly the most important defender on Metz.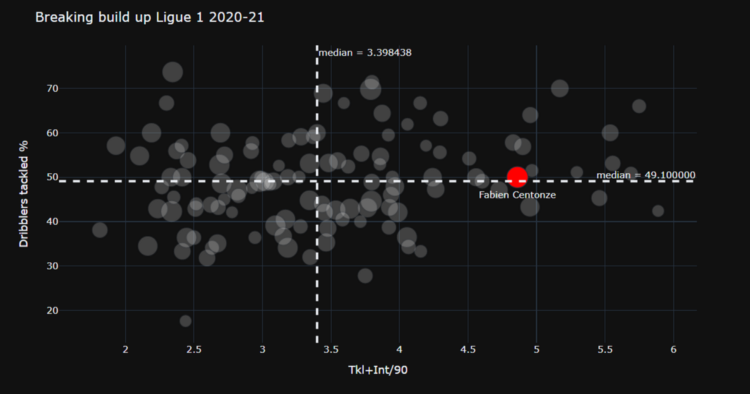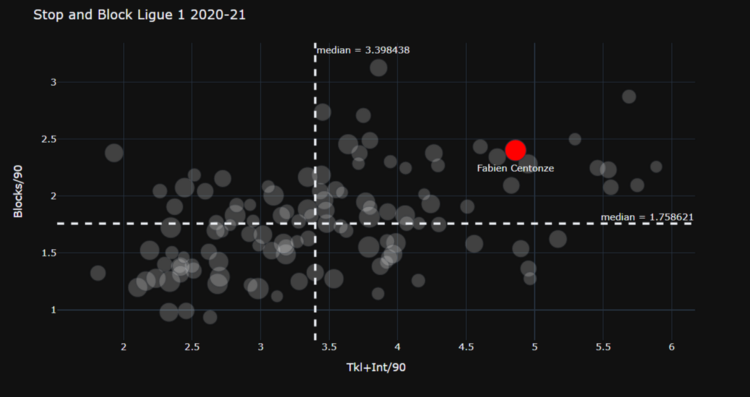 A pivotal man in defense, Centonze also averages 4.86 clearances per 90, putting him in the 99th percentile of all fullbacks in Europe's top 5. It is really exciting to see such young players be involved in the game, both in attack and defense. He will be a prized addition at this Arsenal club or any club for that matter.
The meteoric rise in the importance of full -backs across Europe cannot be understated. The roles, Reece James and Ben Chillwell played in Chelsea's CL final triumph is proof enough, and the rush to sign Achraf Hakimi is obvious. Arsenal cannot afford to neglect the right-back position again this summer, and Takehiro Tomiyasu, Stefan Lainer and Fabien Centonze would all provide plenty bang for their back on the right side of defense.
By: Sandipani Basu
Featured Image: @GabFoligno / Shaun Botterill – Getty Images
Data credits- https://fbref.com/en/