Arsenal's Right-Back Conundrum
The full-back position has recently become one of the most important roles in football, with clubs around the world boasting their crown jewel, from Bayern Munich's electric Alphonso Davies to Liverpool's golden boy, Trent Alexander-Arnold. Teams are now doing everything in their power to secure the future in these positions and improve where possible, but they're not easy to unearth. Not in the slightest.
For Arsenal, the signing of Kieran Tierney has looked to be a shrewd bit of business, as the Scotsman continues to excel at left-back. In contrast, the right-back position remains highly contested. The current crop of players includes Héctor Bellerín, Ainsley Maitland-Niles, Cédric Soares and Calum Chambers.
All four have been unable to nail down their name to the starting line-up with conviction and look unconvincing in their efforts to push the club to greener pastures. The following will analyse all four players and takes a gander at who might be next:
Héctor Bellerín
Héctor Bellerín was courted away from Barcelona's academy, La Masia, by ex-Arsenal scout Francis Cagigao, the same scout responsible for players such as Cesc Fàbregas, Santi Cazorla, and more recently Gabriel Martinelli.
At the time, Bellerín originally played right-wing, but his move to London saw him drop back into defence, as the club felt he could evolve further as an attacking full-back. With that came the learning curve of growing accustomed to the backline and, of course, the small matter of learning to defend, to which he accredits Steve Bould:
"When I first came to Arsenal, I didn't know how to defend. If there was a person who I had to identify as helping me a lot, that would have to be Bould. I was a winger, but from the Under-18s up, I remember him just showing me the basics."
Three years later, on 16th September 2014, Bellerín made his starting debut for Arsenal's first team in the Champions League against Jürgen Klopp's Borussia Dortmund. The Arsenal side was captained by none other than current Arsenal manager, Mikel Arteta.
Alas, it wasn't the dream debut he would've imagined, as a sublime solo goal from Ciro Immobile and a bumbling finish from his current captain Pierre-Emerick Aubameyang had the youngster leaving the yellow-wall in dizzying defeat. Bellerín was not deterred and continued to battle for a starting position against Mathieu Debuchy and Calum Chambers. His persistence paid off as he willed himself into the line-up and finished the season with twenty appearances.
The short stint was all Bellerín would need to establish the position, and over the following three seasons, he would turn that twenty appearances into 114. The youngster brandished eye-watering speed, marauding overlapping runs, deadly low crosses to strikers in-waiting and excellent recovery runs in defence, covering for an ageing Per Mertesacker and an injury-riddled Laurent Koscielny.
Bellerín quickly matured into a reliable professional, earning a place in the 2015/16 PFA Team of the Year and a call up to the Spanish squad for the Euros 2016. Bellerín's public recognition as one of the Premier League's rising stars drew the attention of his parent club, Barcelona. Rather than entertain any offers, Bellerín committed his future to the Emirates, signing a six-year contract in 2016, keeping the European giants at bay.
Brutally, a cruciate ligament rupture stopped Bellerín in his tracks to stardom, leaving the Spaniard out of action for 241 days and a resulting 30 Arsenal games. Throughout his time injured, he would talk candidly about his struggles physically, emotionally and mentally in a nine-part YouTube documentary covering his road to recovery in eventual triumph as he claimed the club's fourteenth FA Cup. However, having successfully returned to the squad, he has been struggling to fully recover and realise the immense prominence that he was once touted for.
Héctor Bellerín's Attacking Skillset
Under Arteta, Bellerín has had to adapt to the new teachings of a coach freshly graduated from Guardiola's camp, a manager who is well-versed in the inverted full-back teachings. Evidence of his success scattered throughout clubs in Europe, with Bayern Munich's Phillip Lahm, David Alaba and more recently Manchester City's João Cancelo. The inverted full-back remains a relatively novel tactic but is becoming increasingly popular in football. 
For Bellerín, the change has been challenging to adapt to, noticeably his heatmap has started to creep further into the midfield. But still, he remains naturally tethered to the touchline, constantly keeping within its vicinity, and mixes his attacking vocabulary with occasional overlapping and underlapping runs to make it harder to predict in defence.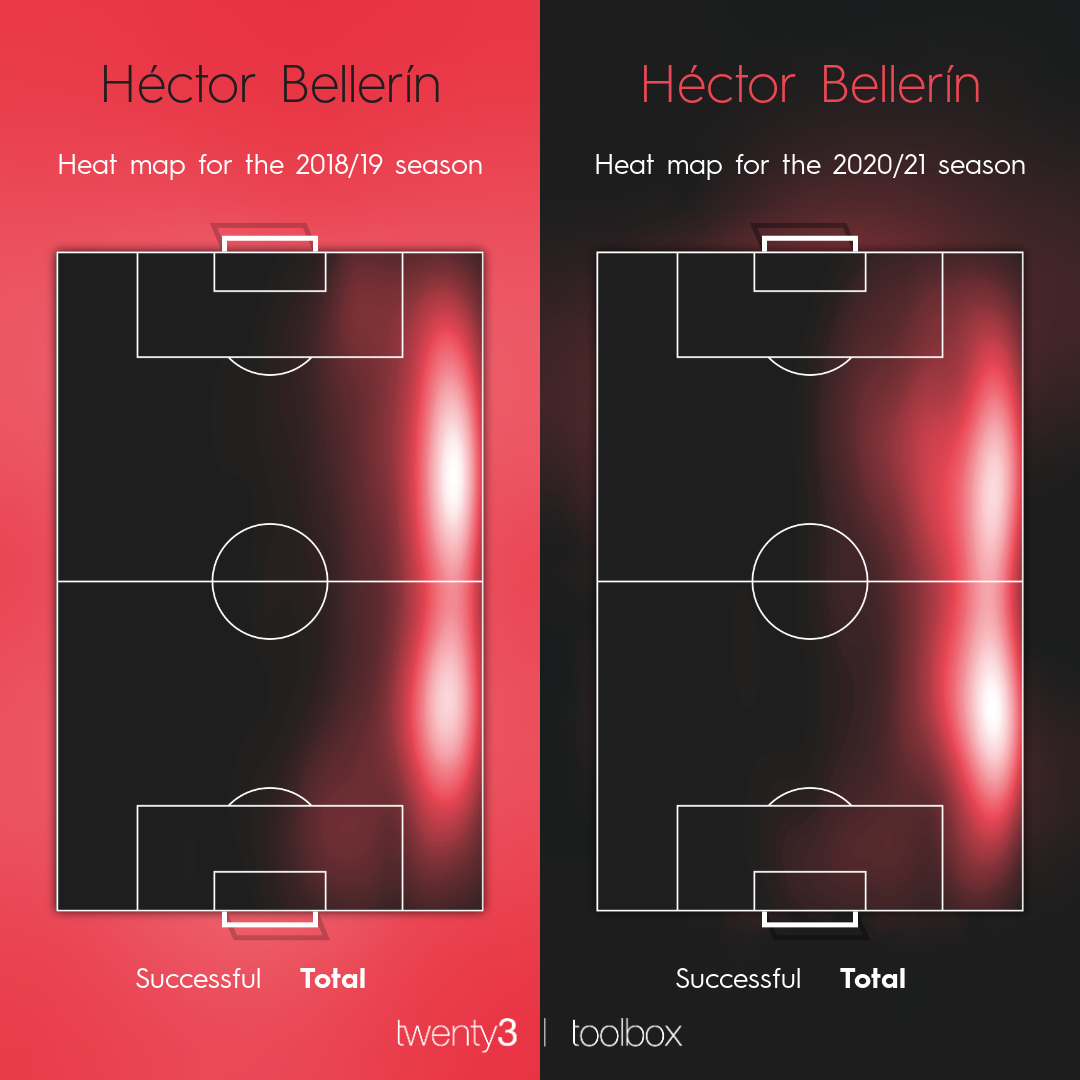 Photo: Twenty3/Wyscout
In the below example from Arsenal's 2-1 victory over Sheffield United, Bellerín shows an understanding of the inverted fullback role.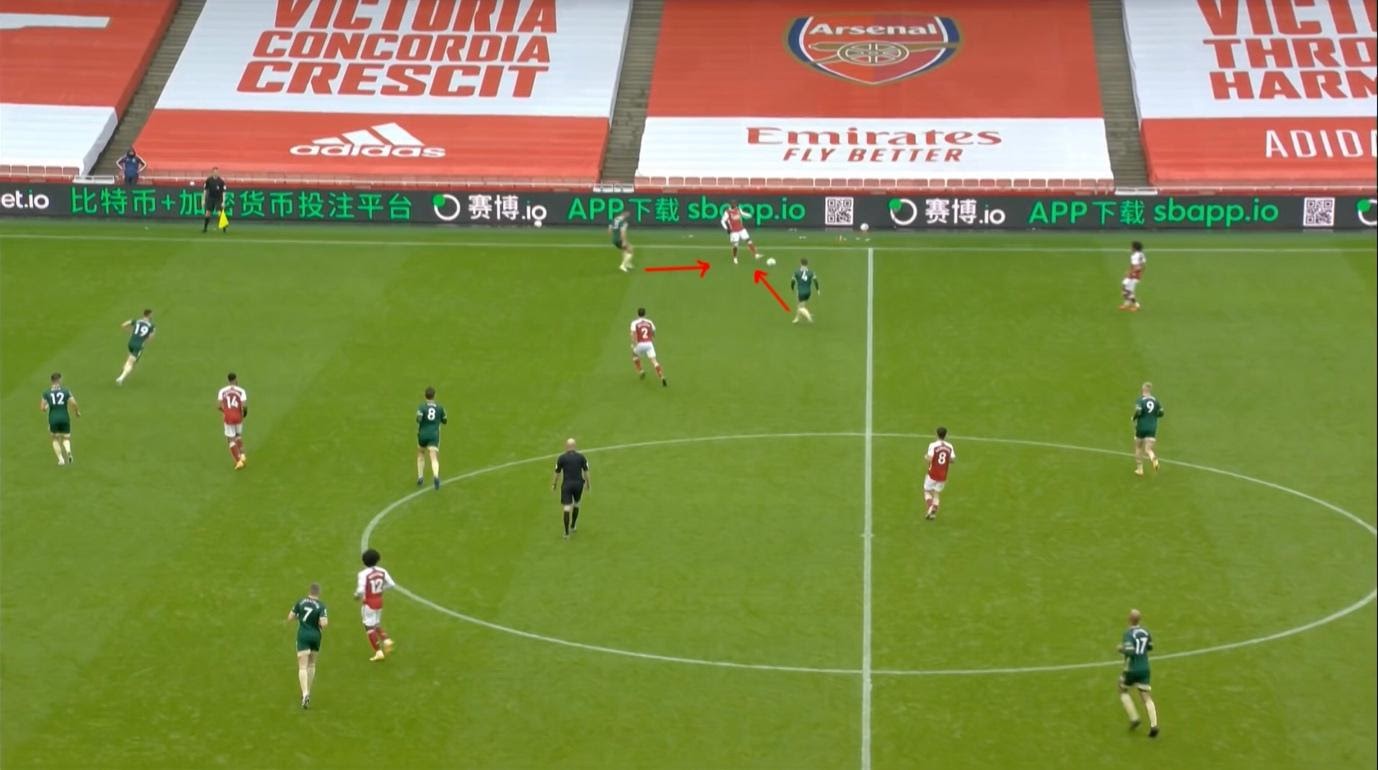 Nicolas Pépé gets pressed by John Fleck and Enda Stevens, and Bellerín moves to create an angle for Pépé to pass into for escape.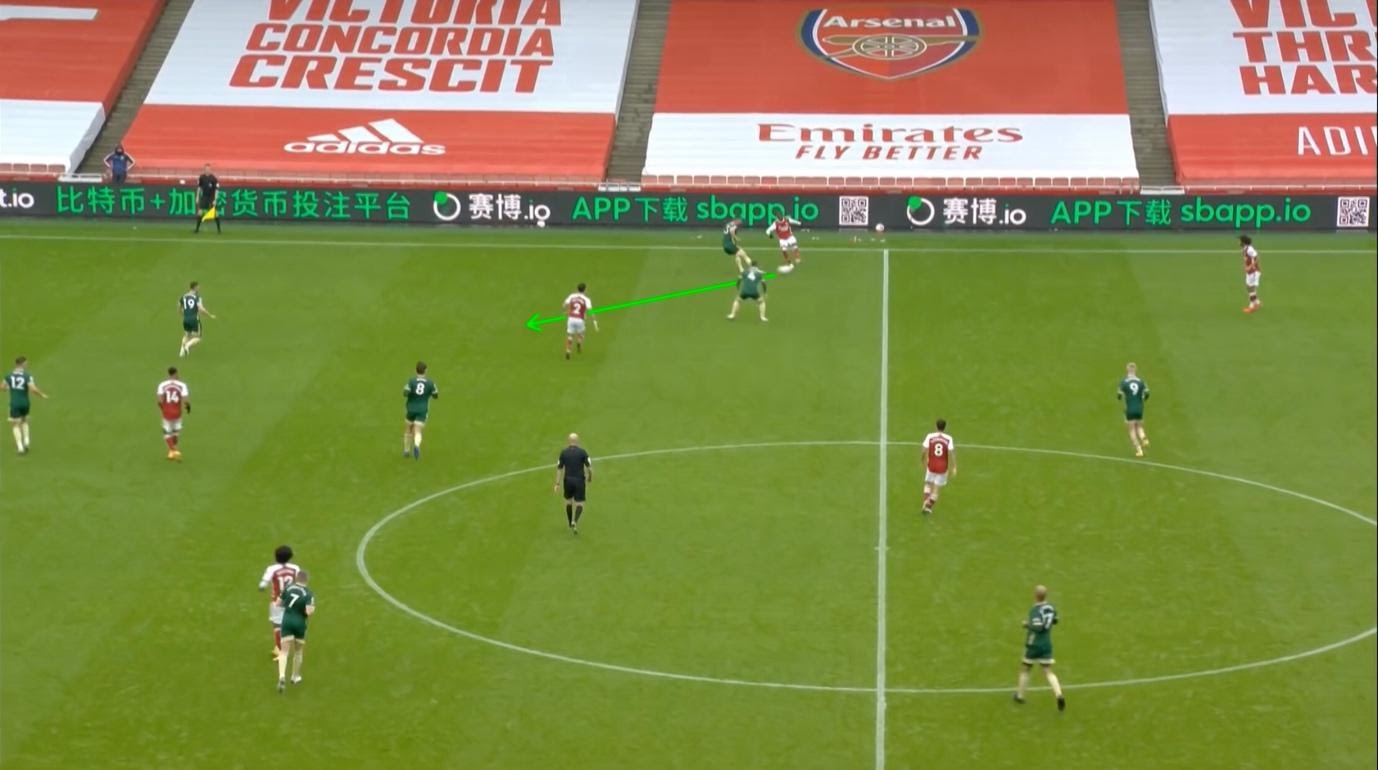 The Ivorian winger, who had been subbed on for Eddie Nketiah on the 58th minute, plays a pass into Bellerín.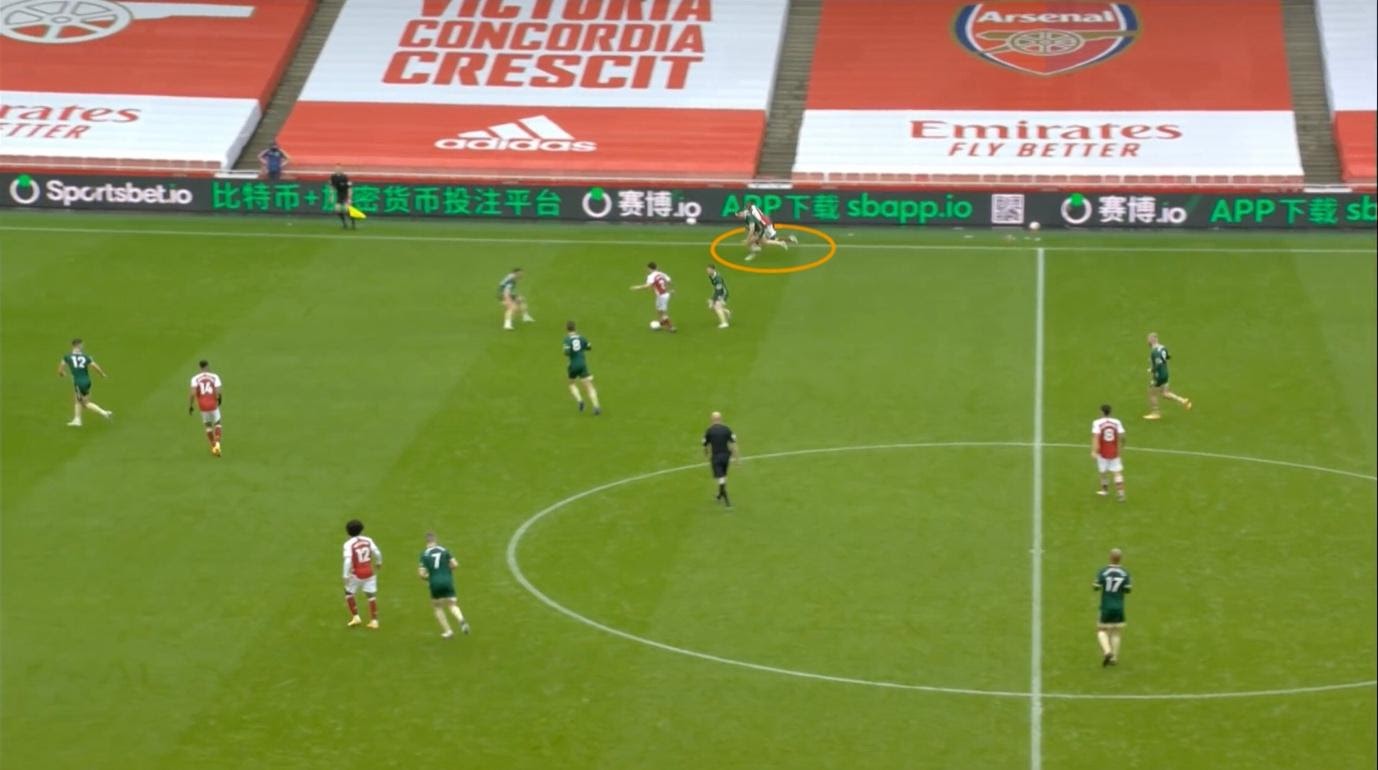 The lack of midfield pressure on Bellerín allows him to turn and face the defence, whilst Pépé overlaps.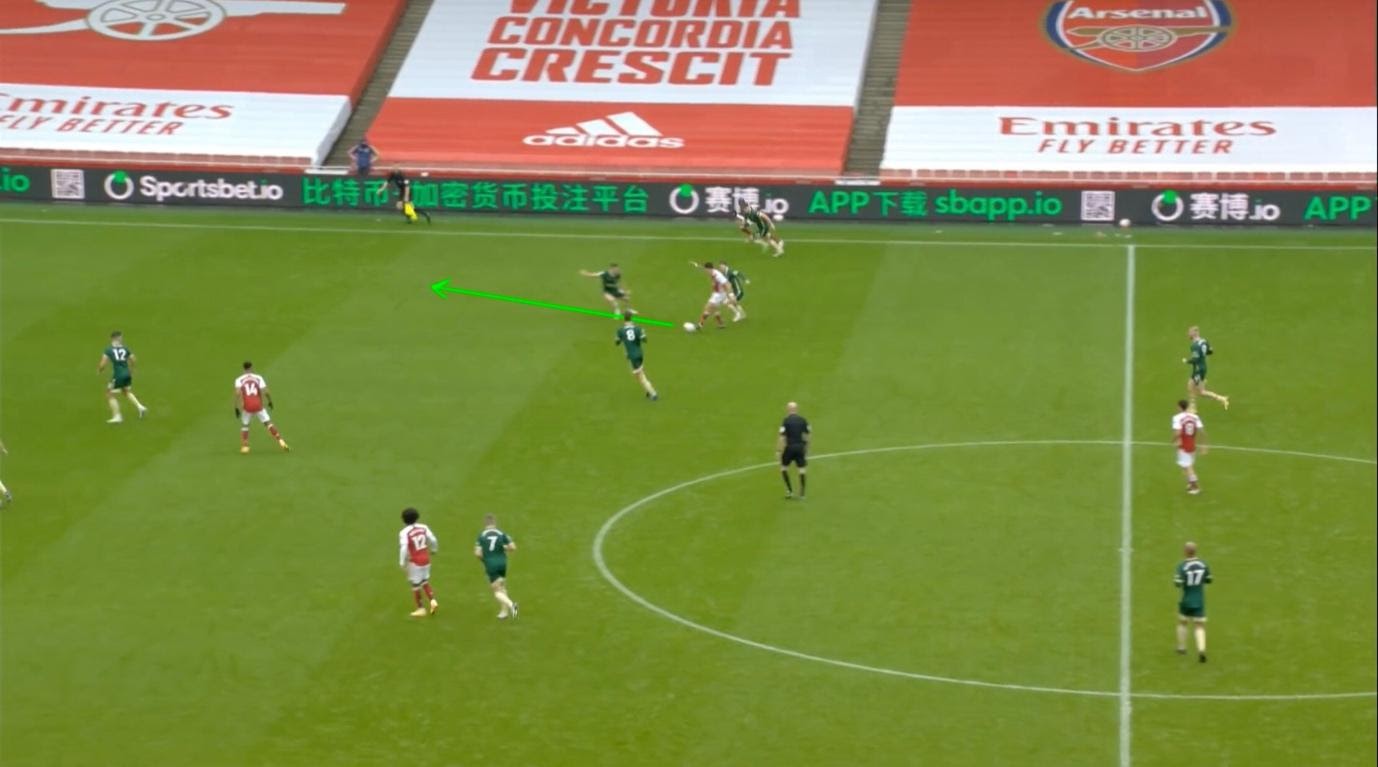 Bellerín pokes a speculative pass into the space in behind Sheffield United's defense, urging Pépé to beat his marker.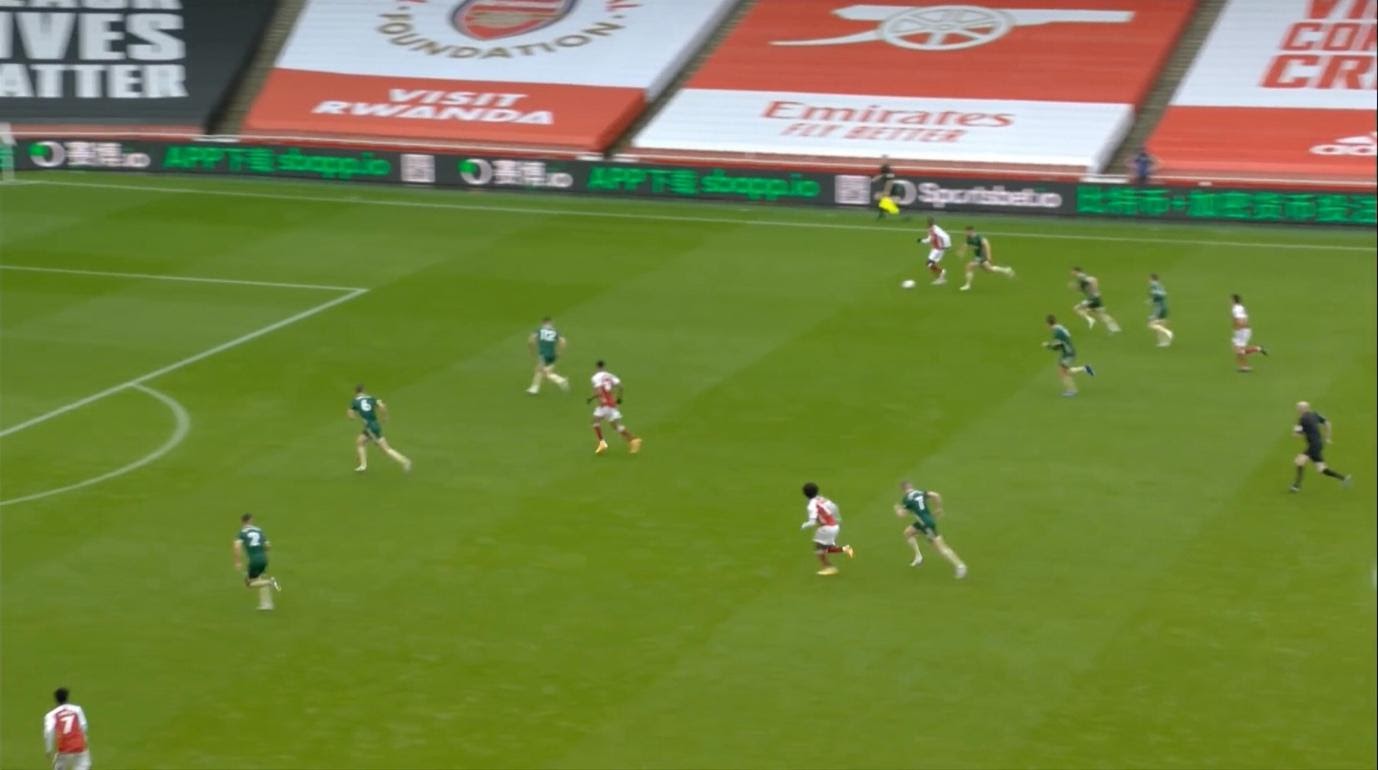 Pépé manages to collect the pass, beating Stevens for pace, and attacks the opposing backline.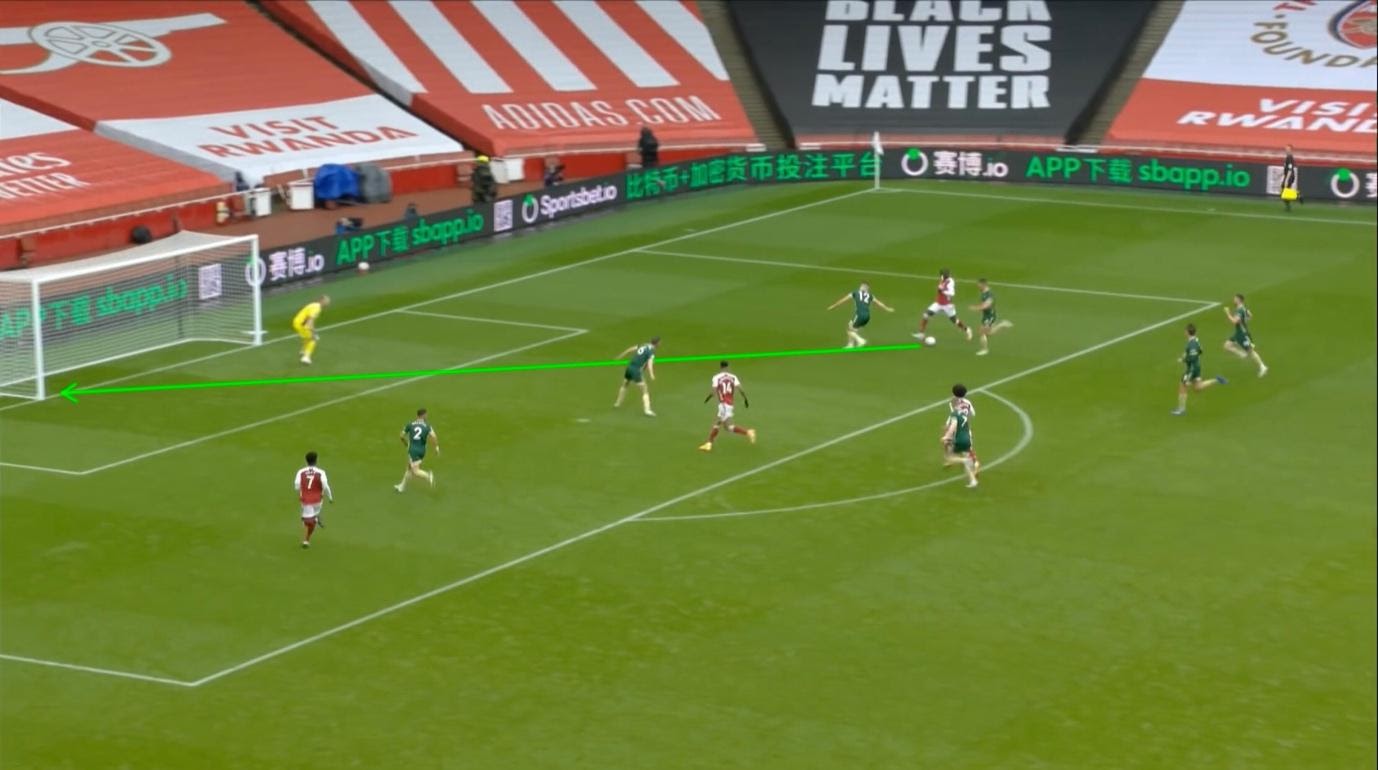 John Egan fails to close down Pépé, allowing him space to shape and shoot. Pépé shoots straight as an arrow beyond the reach of Aaron Ramsdale and into the far corner to give Arsenal a crucial goal to extend their lead to ultimately win them the game.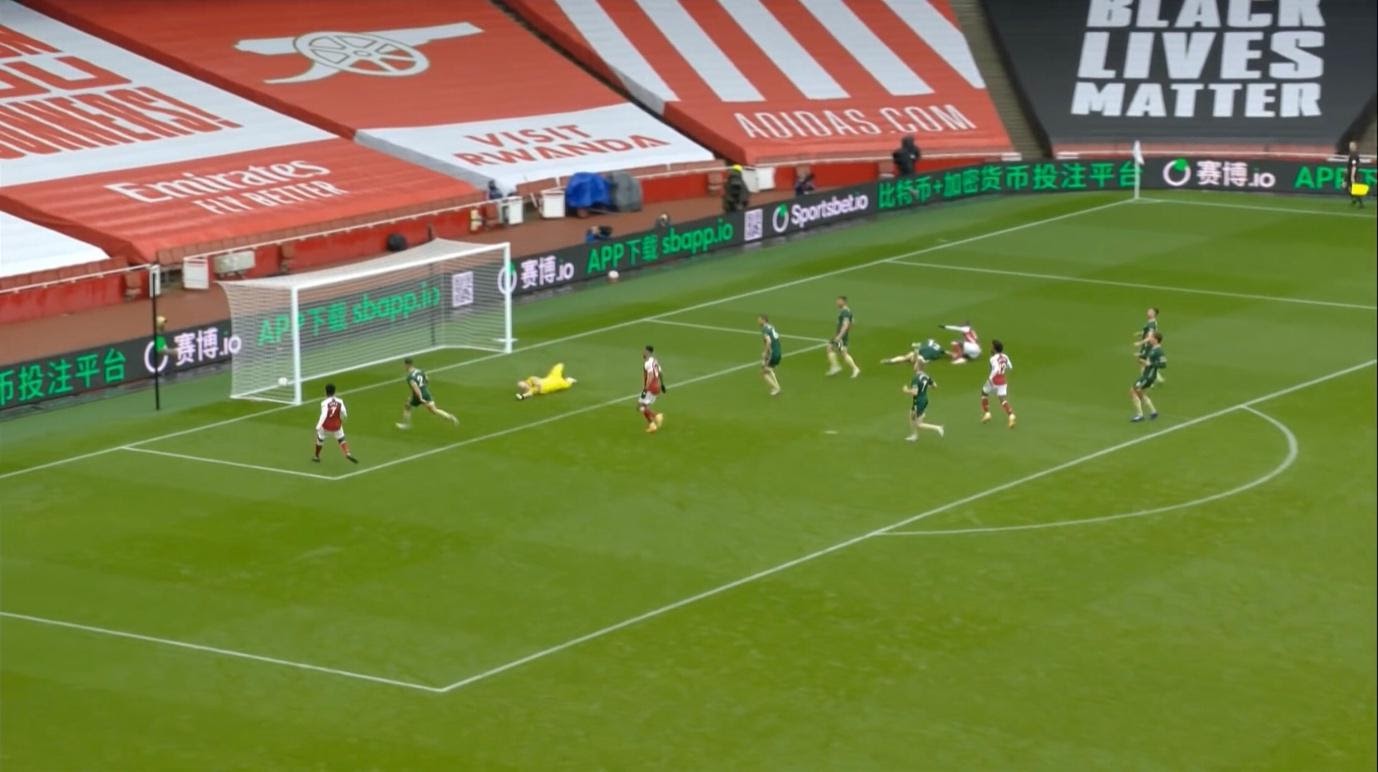 The graph below compares Bellerín in 2020/21 and his season in 2017/18 (prior to injury) in key attacking stats. Post-injury, Bellerín has dropped in almost every statistic, excluding crosses completed and through passes completed. The latter is primarily down to his new role, meaning fewer overlapping runs and increased midfield occupation.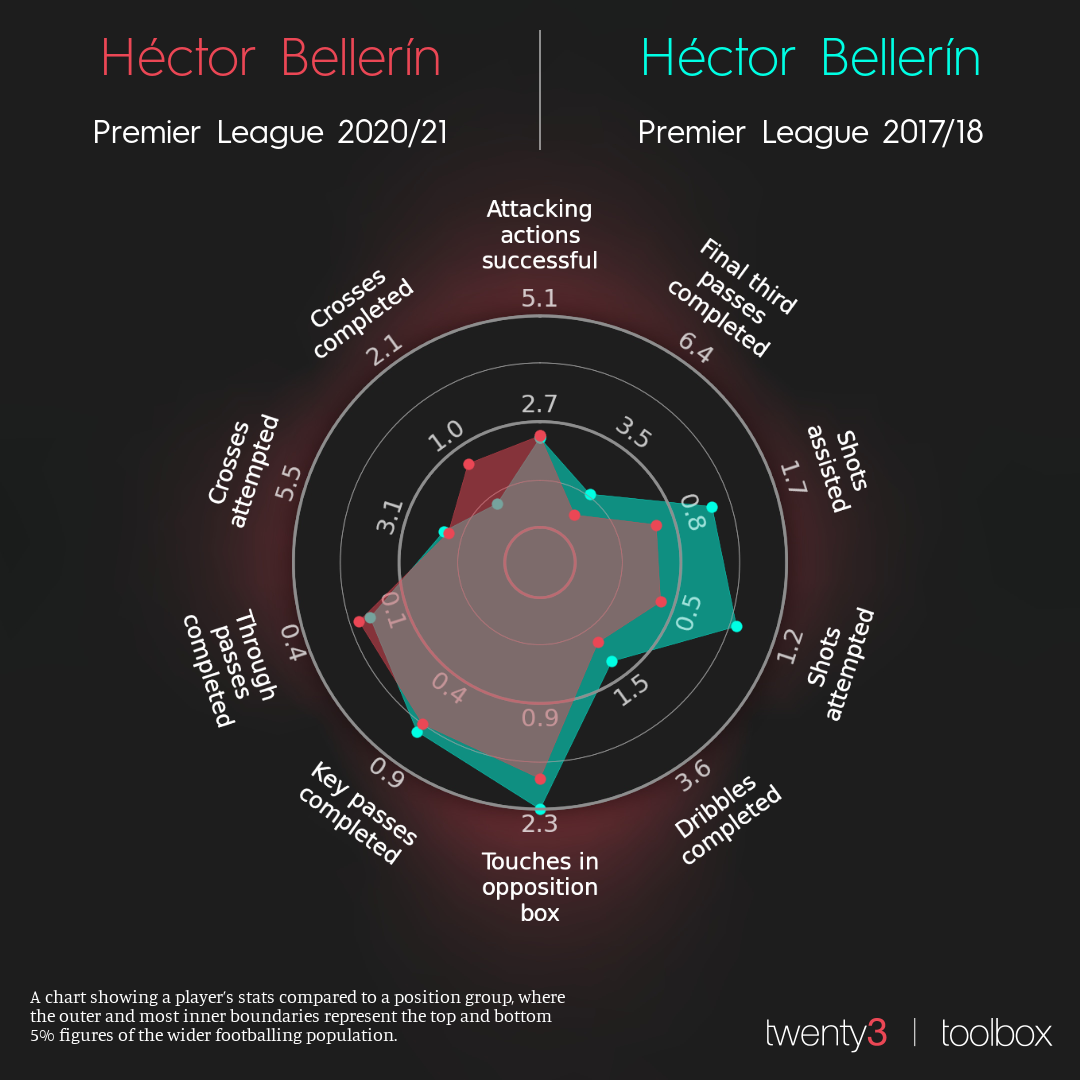 Photo: Twenty3/Wyscout
The welcome improvement in crosses completed has seen him amass three assists so far this season but remains below average compared to the competition. Another noticeable difference is his higher risk aversion in crossing, shooting and attacking actions. The lack of threat offered by Bellerín has consequently restricted the potency of Arsenal's attack on the right-side and shifted focus to the left, spearheaded by Tierney and Aubameyang.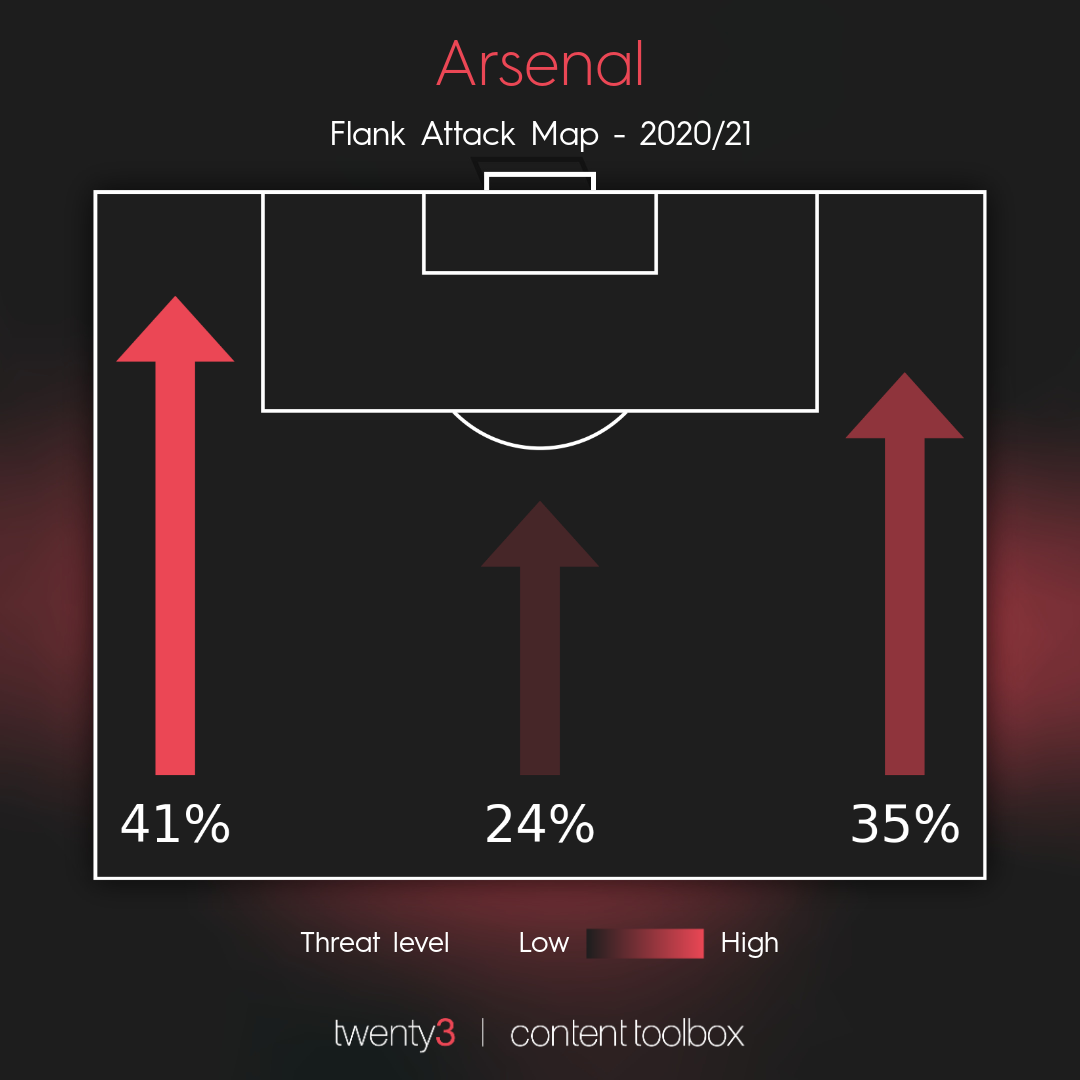 Photo: Twenty3/Wyscout
Héctor Bellerín's Defensive Skillset
Despite all the defensive knowledge which Bould imparted on Bellerín, the player remains unconvincing and inconsistent. He has frequently been caught unaware and out-of-position this season, leaving centre-backs at the mercy of attackers. Previously, what Bellerín had lacked in defensive awareness, he made up for in raw speed; however, post-injury, his pace has waned, exacerbating his defensive fragilities.
One of Bellerín's most recent mistakes came against explosive newcomers to the Premier League, Leeds United, in a 4-2 victory at Emirates Stadium on February 14.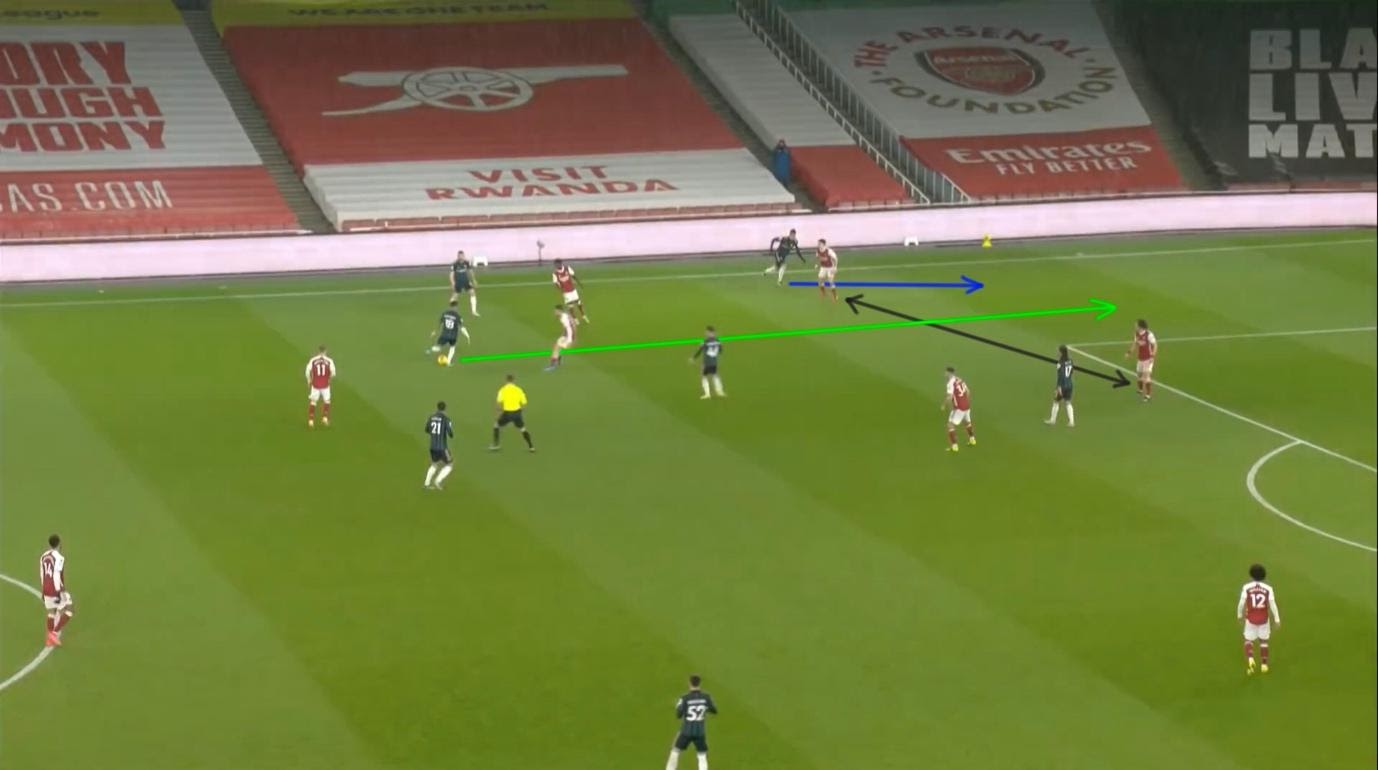 Firstly, Bellerín has drawn too close to Tyler Roberts, isolating himself from the defensive unit. His eyes are entirely focused on the ball rather than the man he's marking, and detrimentally, he leaves a gap for Raphinha to pass into, exposing the space behind. Additionally, Bellerín's body-positioning is far too flat, making it harder to respond to the pass.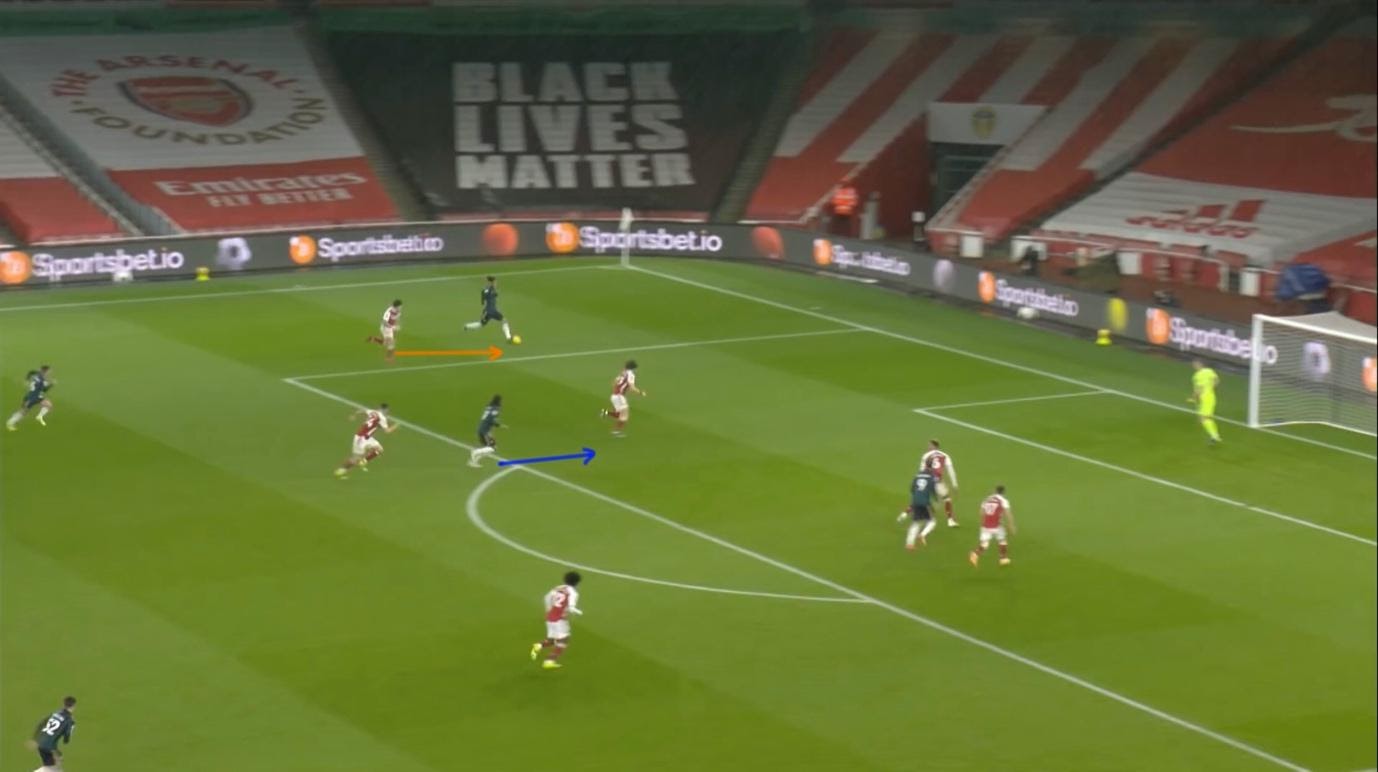 Bellerín is now having to catch-up. David Luiz goes to cover the goal by closing down the space leaving Hélder Costa unmarked.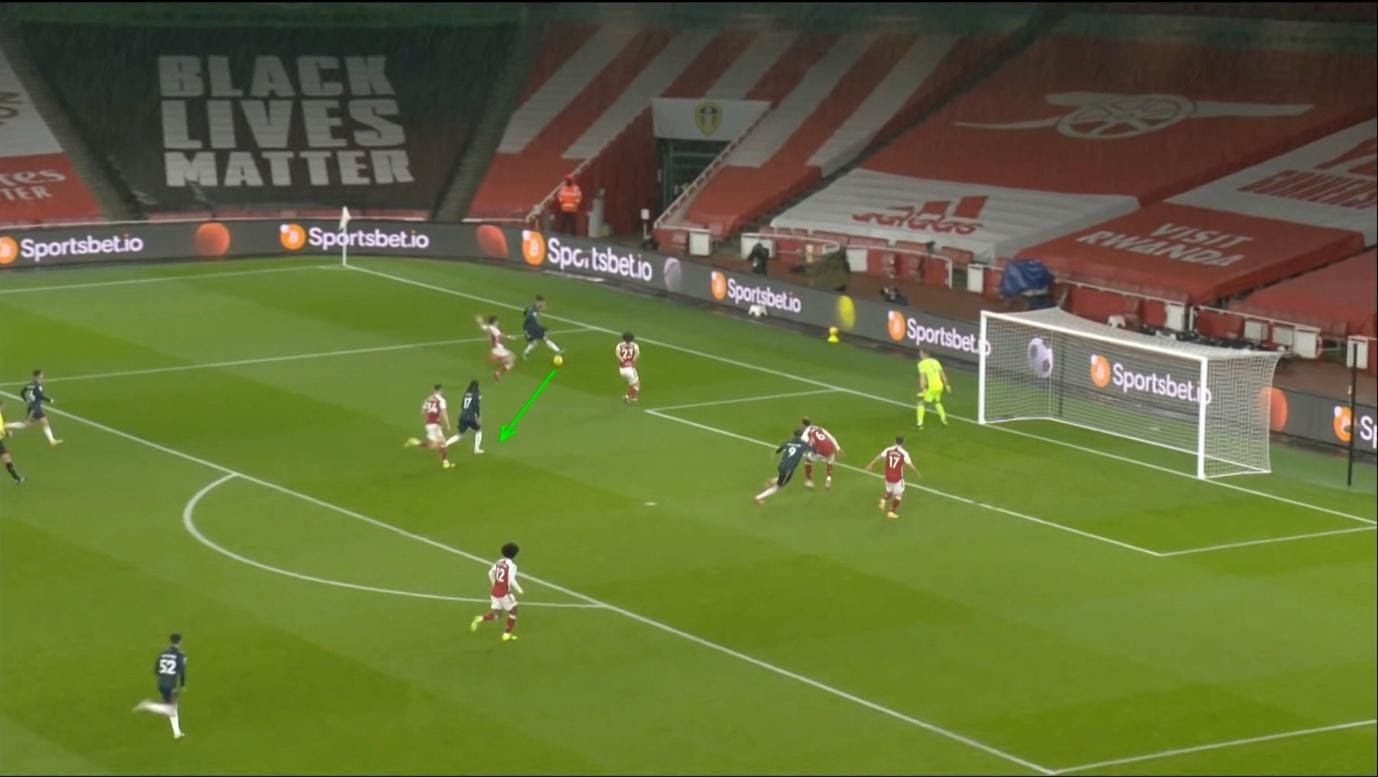 Roberts spots Costa and passes to the Angolan attacker. Costa makes a strong connection on the ball despite pressure from Granit Xhaka diving in. He would go on to halve the scoreline following Pascal Struijk's earlier goal, making for a tense ending to the match that would ultimately see the Gunners go unpunished.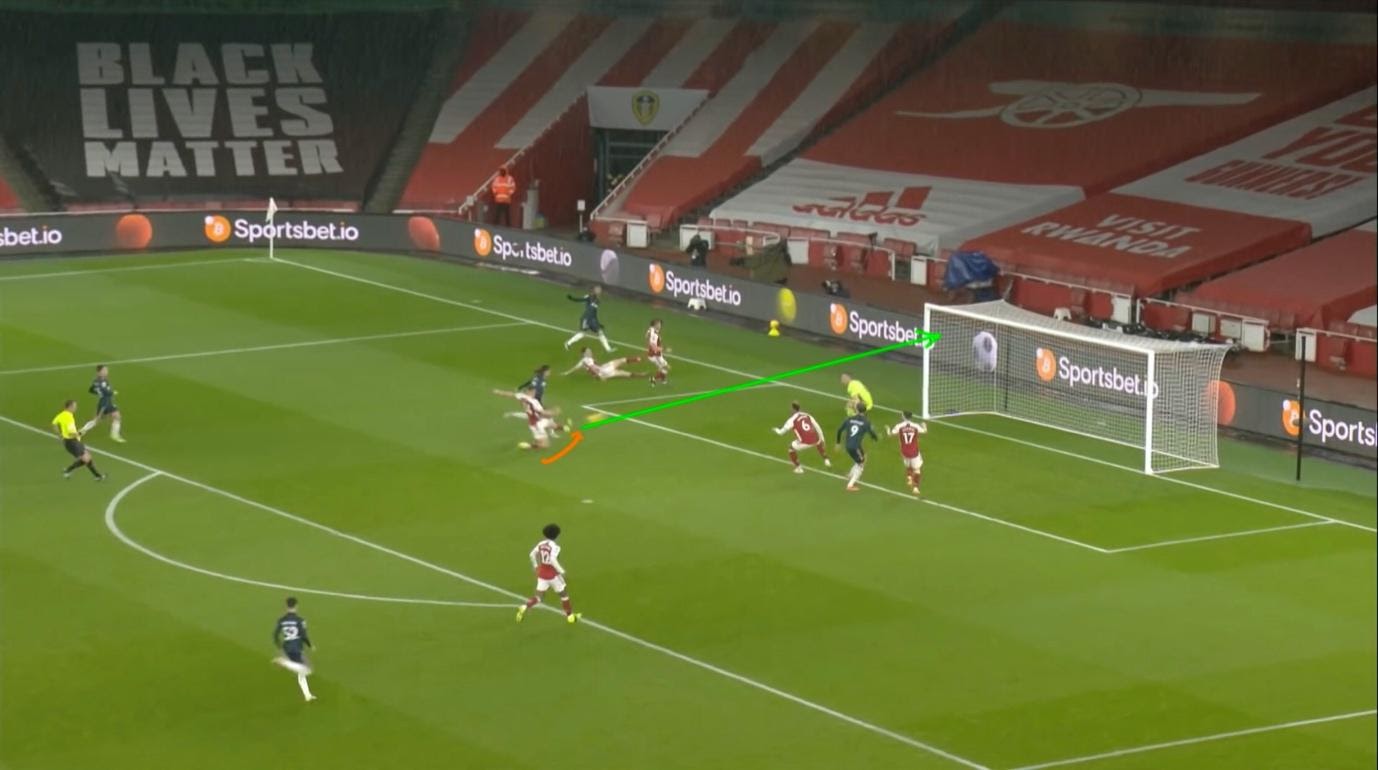 This is just one of the many examples where Bellerín has been targeted in defence. Last season, he was harder to expose due to the back-five employed. Moving forwards, Arteta has hinted to eventually operating in a 4-3-3 formation where defensive strength is imperative.
Conclusion: Héctor Bellerín
Despite struggles on the pitch, Héctor Bellerin's intangibles should not be overlooked. Having been at the club since the age of sixteen, he has immersed himself into the team and emerged as one of its leaders. Welcoming new players, acting as the voice of encouragement and setting an example for Arsenal's academy as a model professional.
Bellerín has also made numerous contributions to Arsenal's local community and the environment, including investment into football's most environmentally friendly team, Forest Green Rovers. Unfortunately, he has not been able to replicate and build-on form achieved prior-to-injury, and as his contract begins to come to a close, rumours have already started to swell. With Arsenal cleaning house, perhaps a move for the 26-year-old is on the cards.
Ainsley Maitland-Niles
Hale End graduate Ainsley Maitland-Niles is a player who has blossomed under the management of Arteta. His cool, calm demeanour in defence and technical strength in possession has provided the Gunners with an option to smother the opponent's craftiest winger or give an impact sub to calm the waters late in a game, acting as the ultimate relief pitcher.
Having been at the club since the age of six, the 23-year-old finally received his chance to flourish towards the end of last season and after a strong finish, curiosity from clubs elsewhere was inevitable. Wolves from Molineux Stadium came wandering, sniffing for a move and tested the waters with a £20 million offer, but Arteta shooed away interest promising the player a more prominent role.
However, the 2020/21 season for Maitland-Niles has been plenty disappointing. Arteta's allegiance to Bellerín, coupled with Cedric's permanent signing, has resulted in a plunge of minutes for the English international. Upon the arrival of the January transfer window, Maitland-Niles' patience had finally expired, and he pushed for a move. Despite reports suggesting interest from Southampton and Leicester, he opted for a loan to West Bromwich Albion as the Baggies promised Maitland-Niles a role in his preferred midfield position.
Ainsley Maitland-Niles' Attacking Skillset
Throughout his career at the youth level, Maitland-Niles has played in midfield for club and country. It was only until Wenger brought him into the starting line-up as a full-back that his potential in the role was hinted at. Maitland-Niles proceeded to develop as a right-back under Emery following the injury of Bellerín and Arteta has continued this theme playing him in both full-back roles, in which he displayed exceptional attacking flashes.
Despite a tall frame, Maitland-Niles has the illusiveness and balance to breeze past defenders with ease. The English international also has the physical stature to protect the ball from prying defenders and plays confidently under pressure. In the following sequence, Maitland-Niles has two promising attacking moments as Arsenal trail 2-1 against Everton in its closing stages.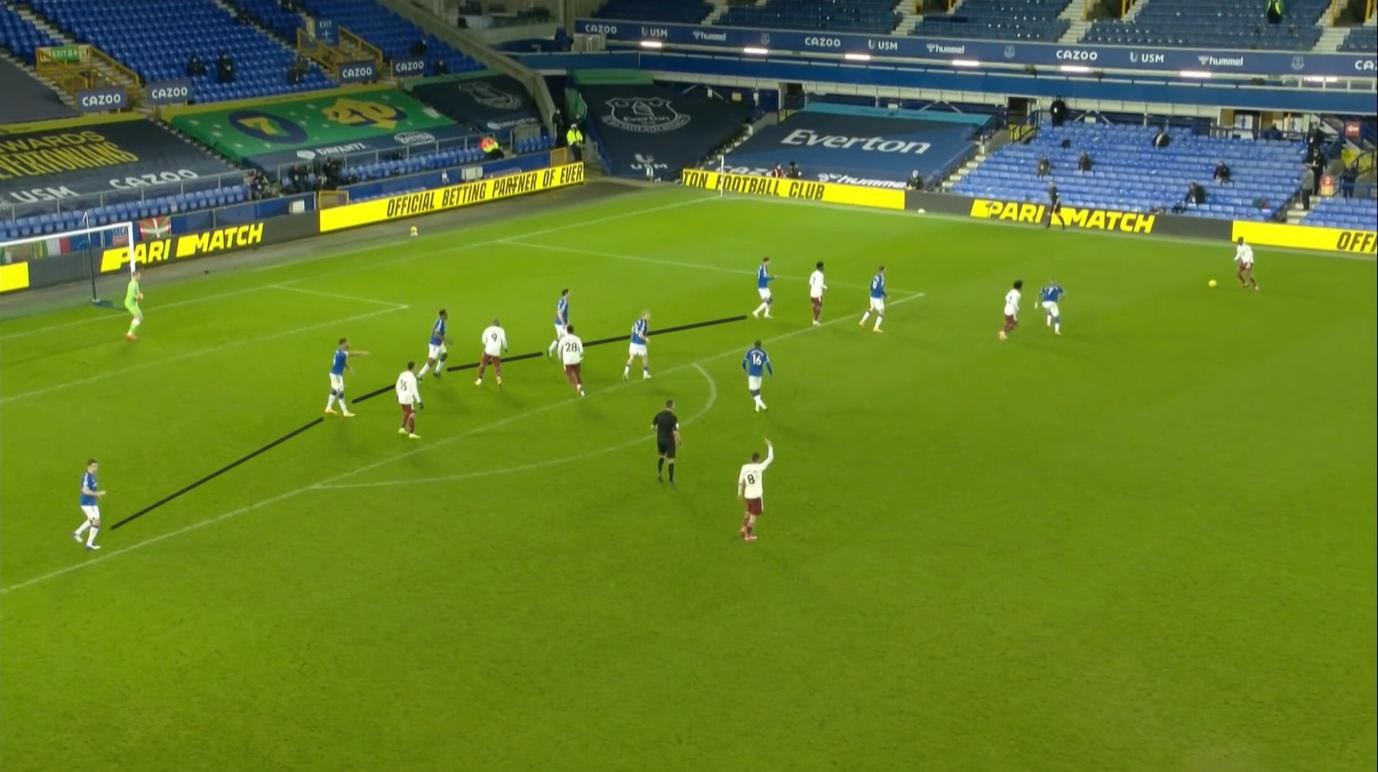 Everton are well-organised in a back five with Alexandre Lacazette, Gabriel Martinelli and Joe Willock all entering the box. Meanwhile, Maitland-Niles receive the ball at a distance, but Everton's lack of pressure allows him the opportunity to scan the field and place a dangerous cross.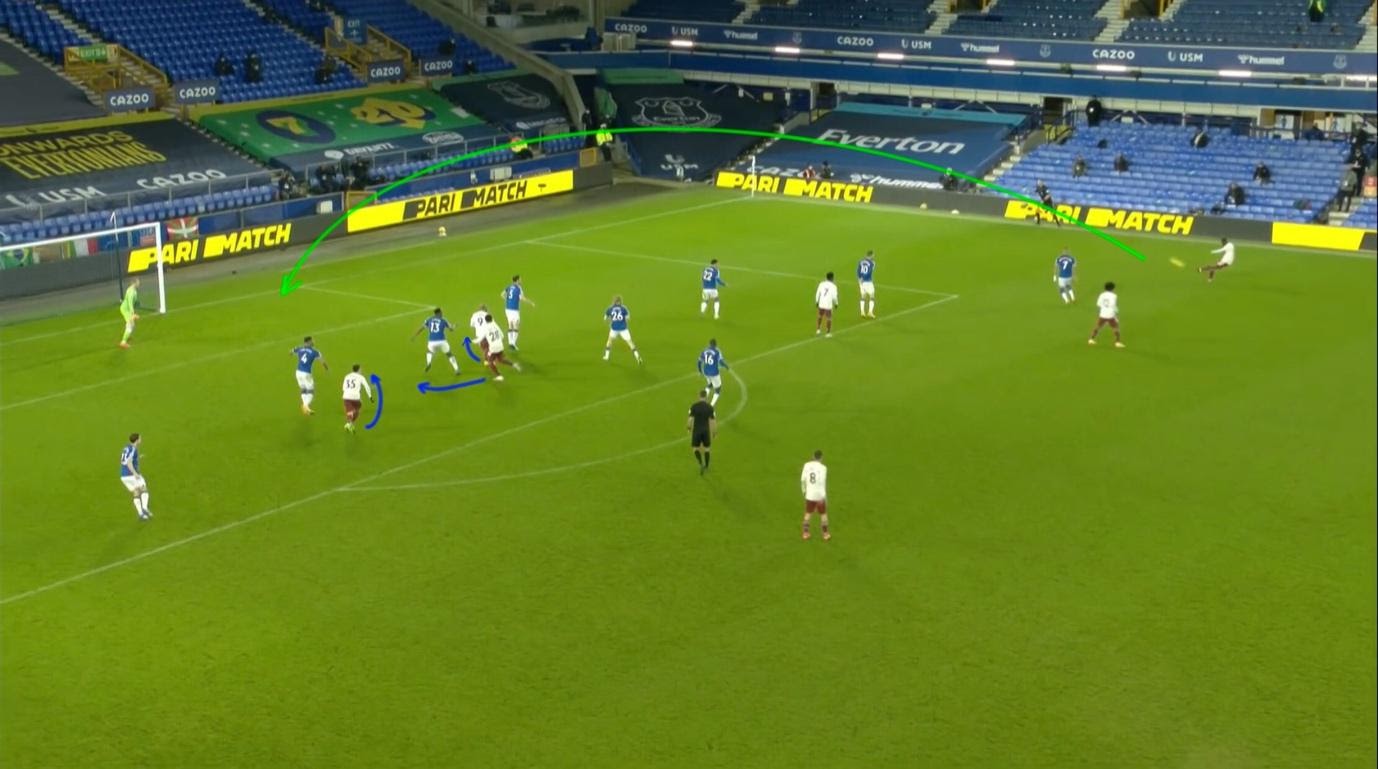 All three Arsenal players begin to attack areas of the box as Maitland-Niles lines up a cross.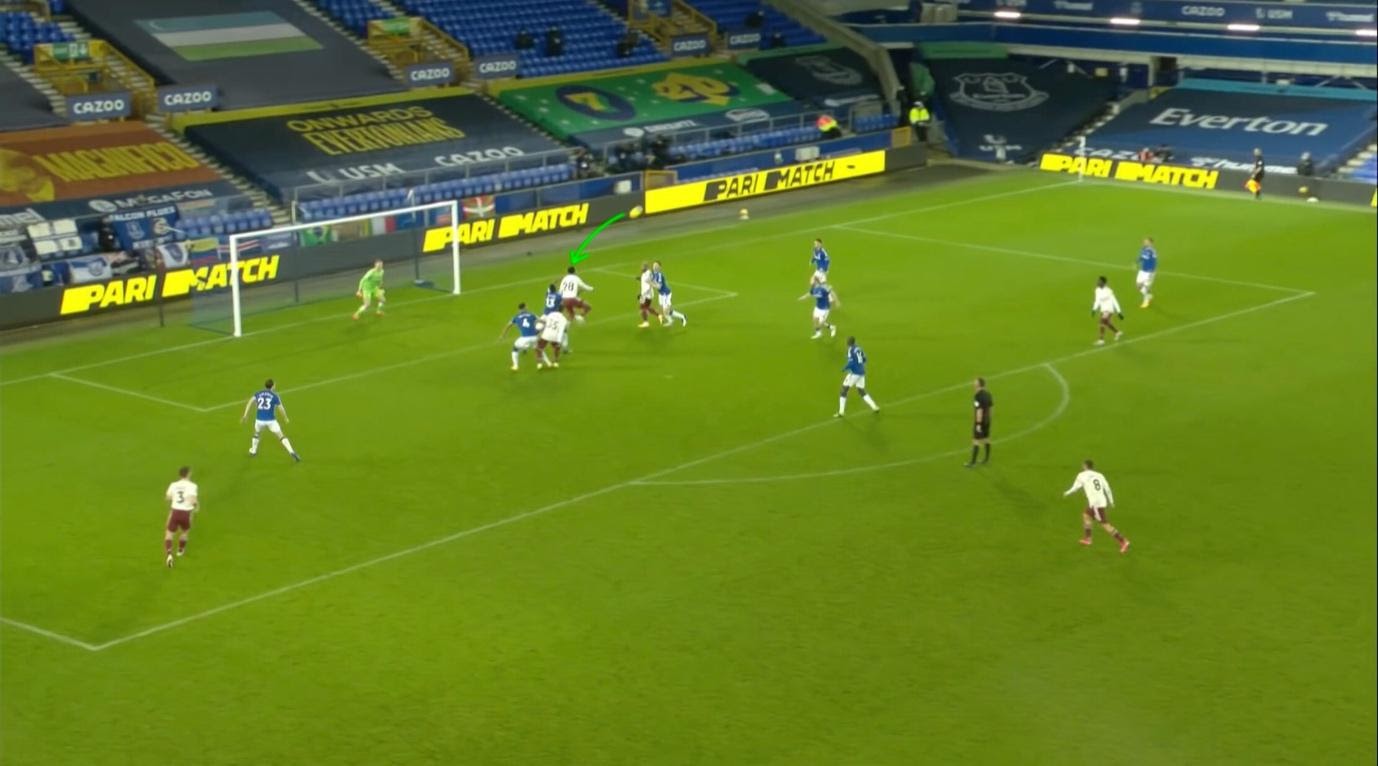 Willock impressively leaps above Yerry Mina, one of the premier aerial defenders, as the ball approaches. However, the English midfielder is unable to direct the header on target and places the shot wide.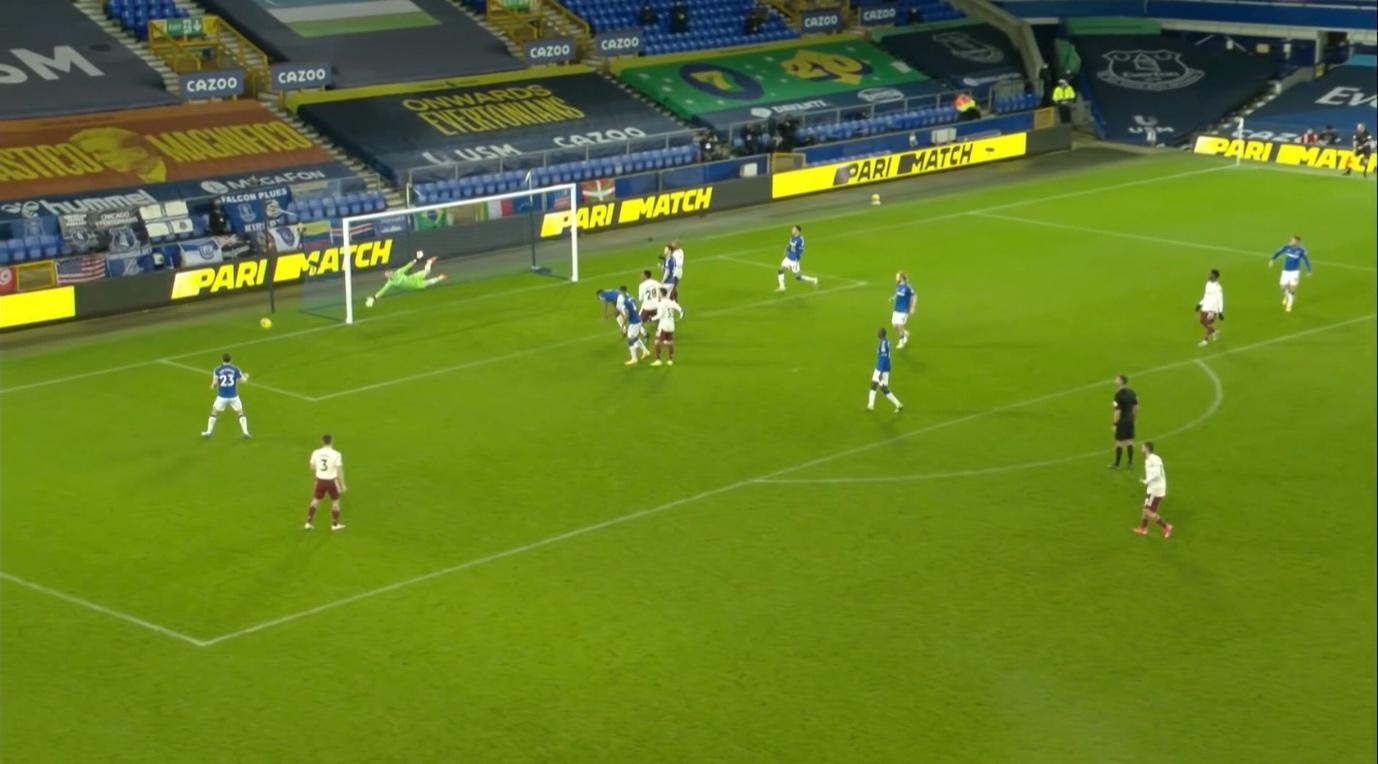 In this second phase, Maitland-Niles picks up the ball in the midfield and creates a chance.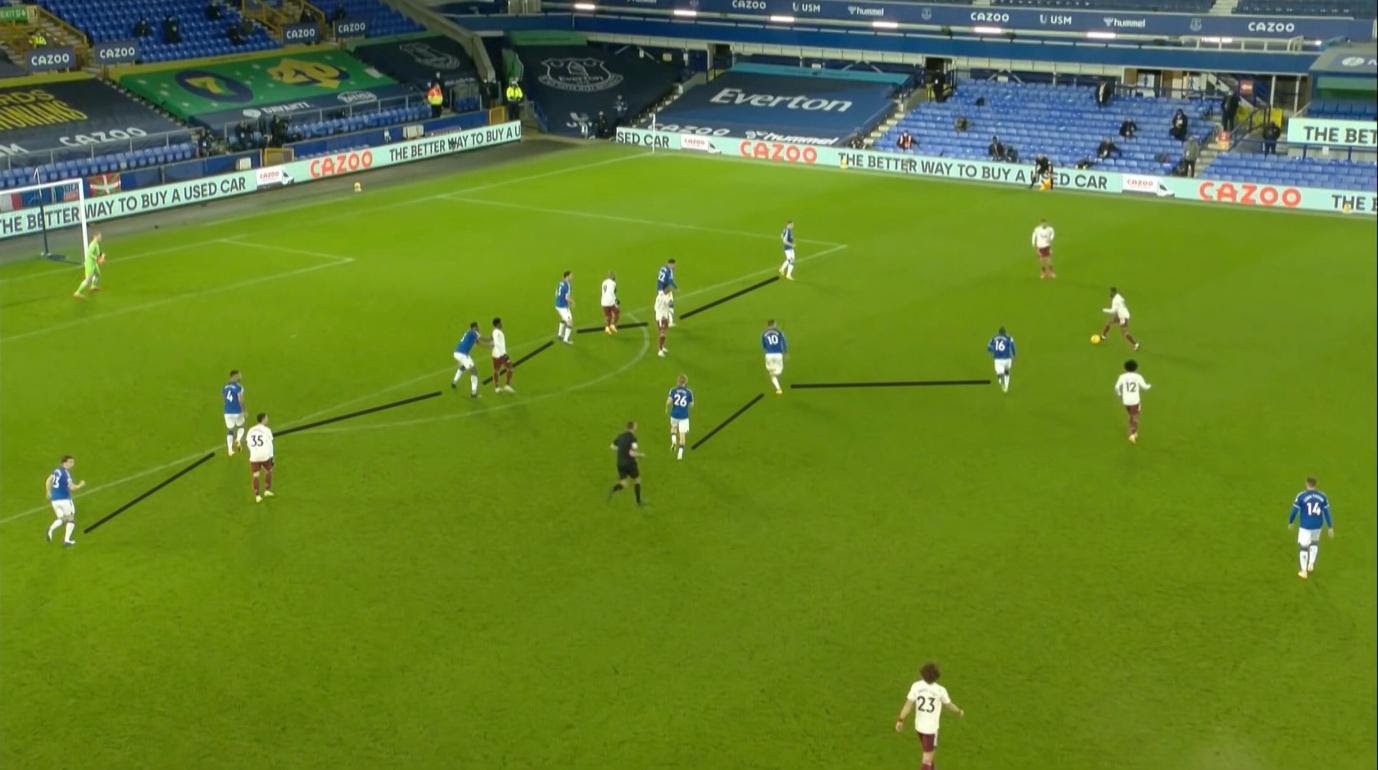 Everton have built a strong defensive unit, this time with six defenders and three midfielders in front.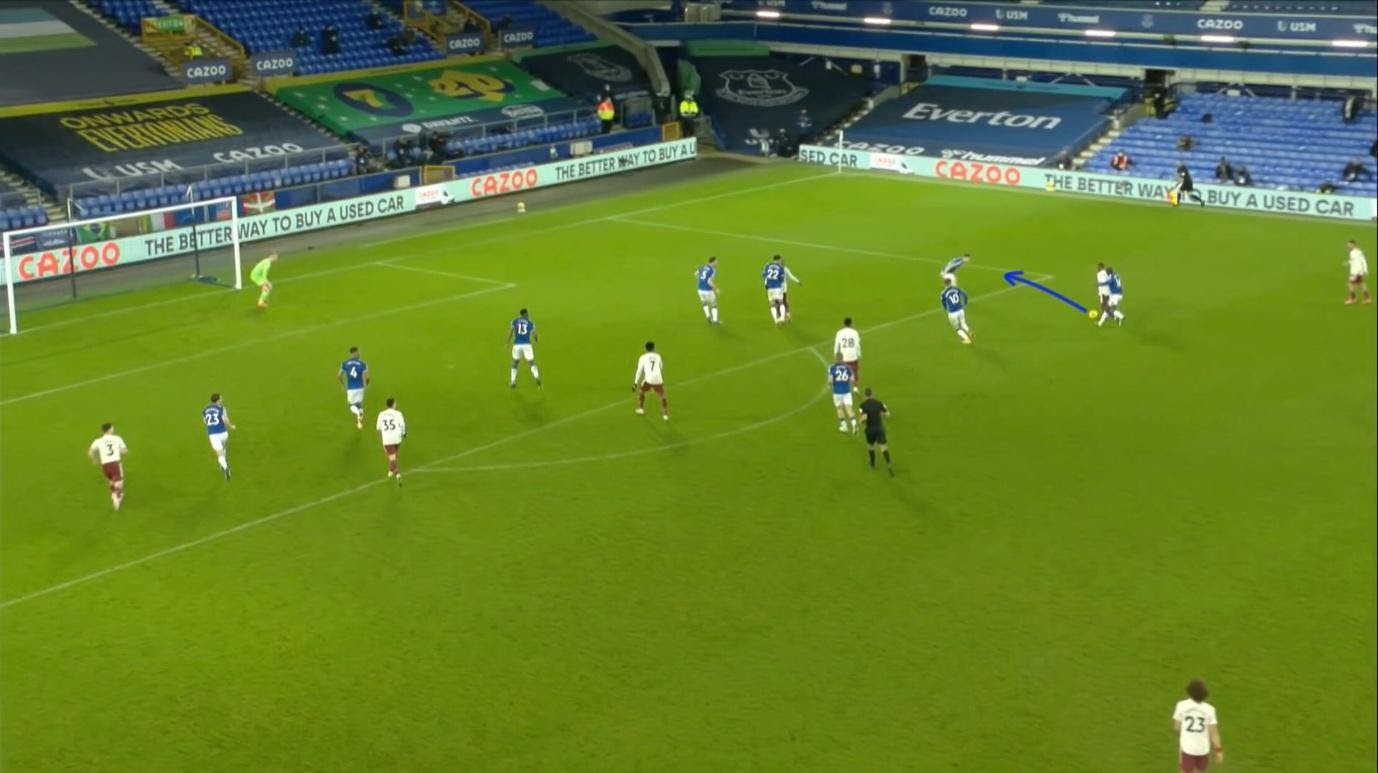 Maitland-Niles breezes past Abdoulaye Doucouré with confidence as he begins to enter the box.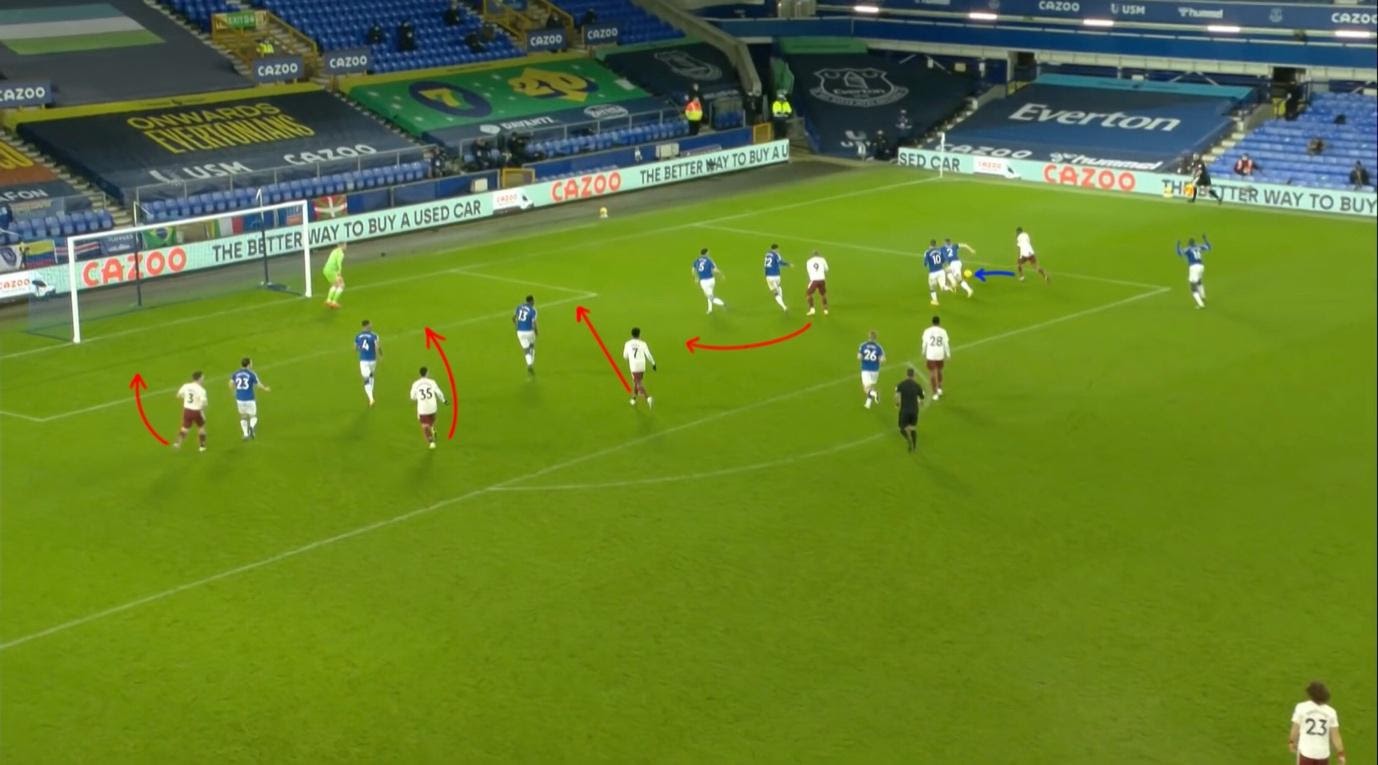 Lucas Digne is aware of the penalty in which Maitland-Niles won earlier in the match, and this hesitancy gives Maitland-Niles enough space to attack down the line. However, no Arsenal player is attacking the six-yard box all Tierney, Martinelli, Bukayo Saka and Lacazette fail to be proactive in their efforts to affect Everton's defensive stronghold.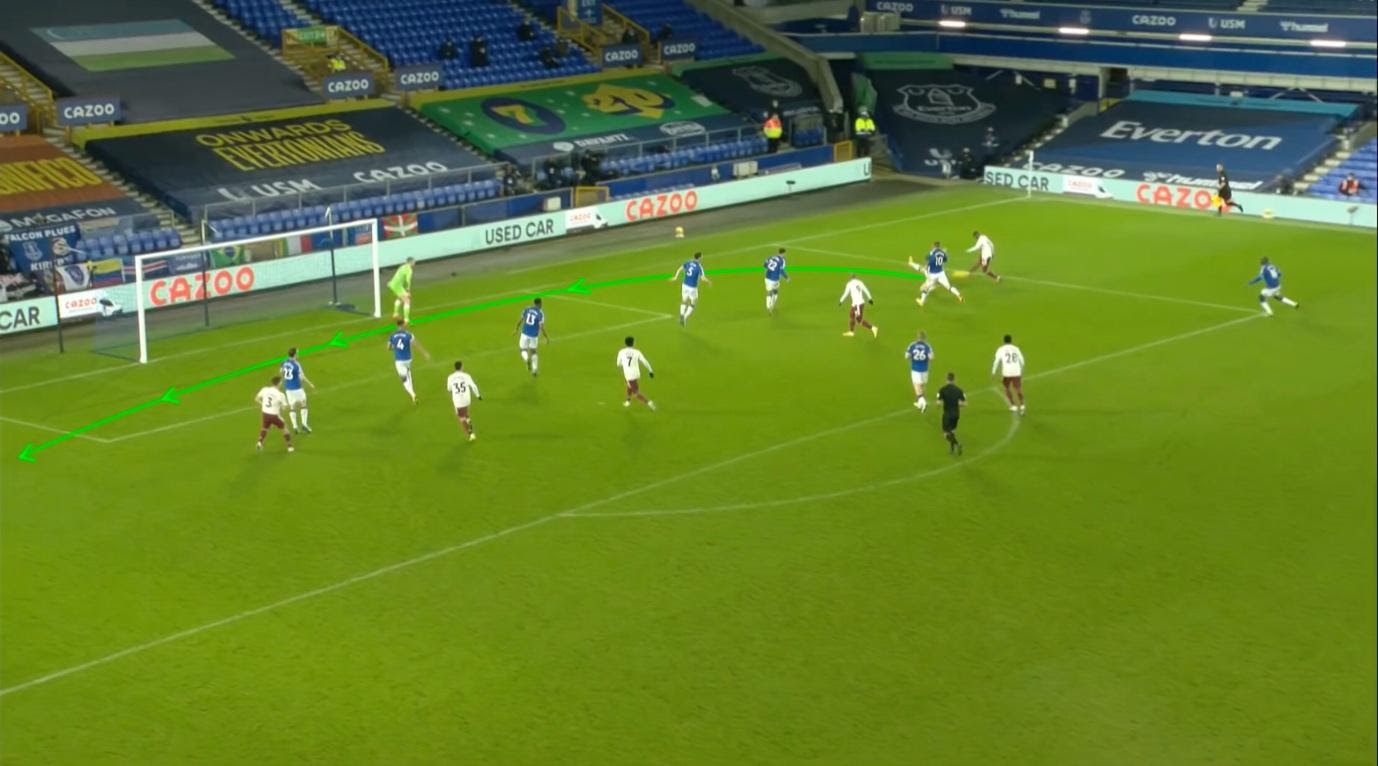 The cross has to be perfect to beat Jordan Pickford and Everton's six defenders; it must also have enough power so any attacker can just make contact to score.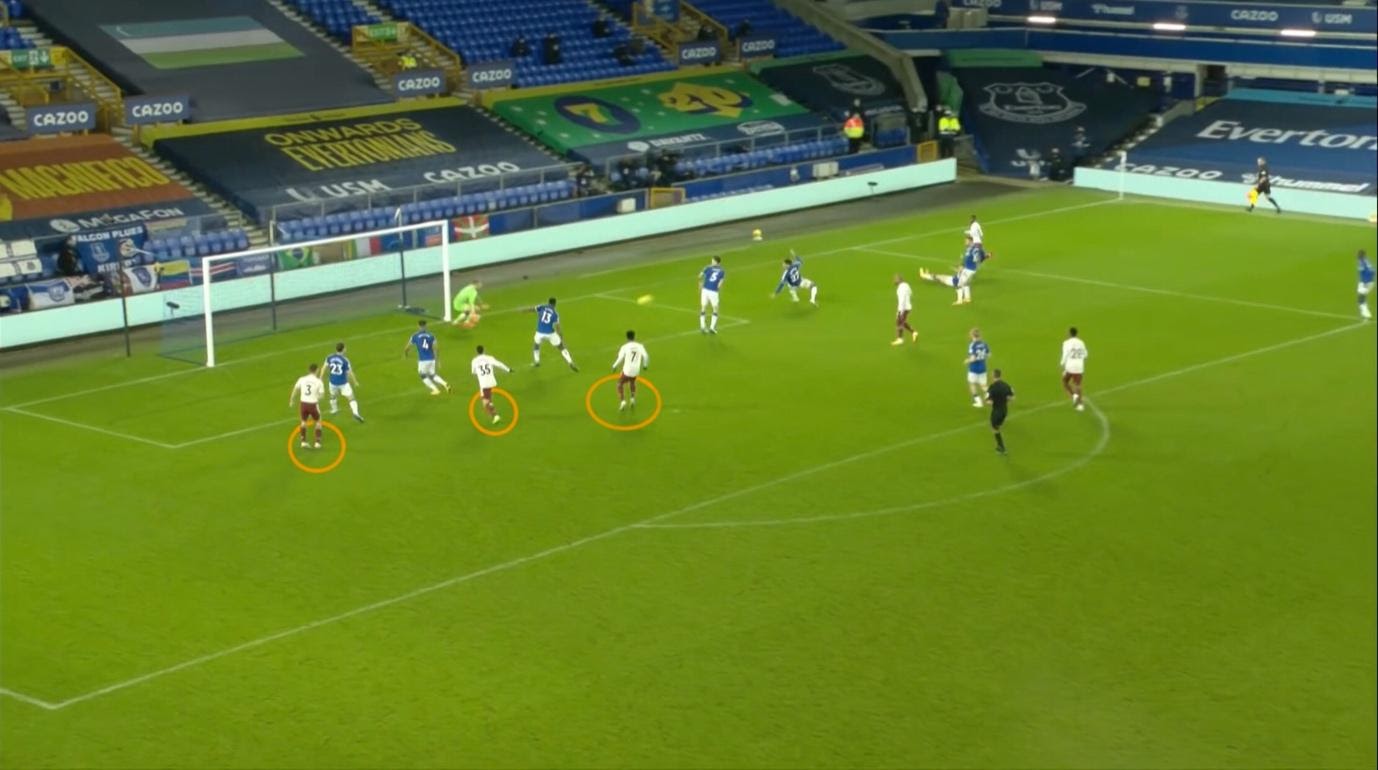 No Arsenal player is in the six-yard box as the ball comes into a dangerous area. The ball beats Pickford and is begging for an Arsenal attacker to finish but nobody is there to finish it off.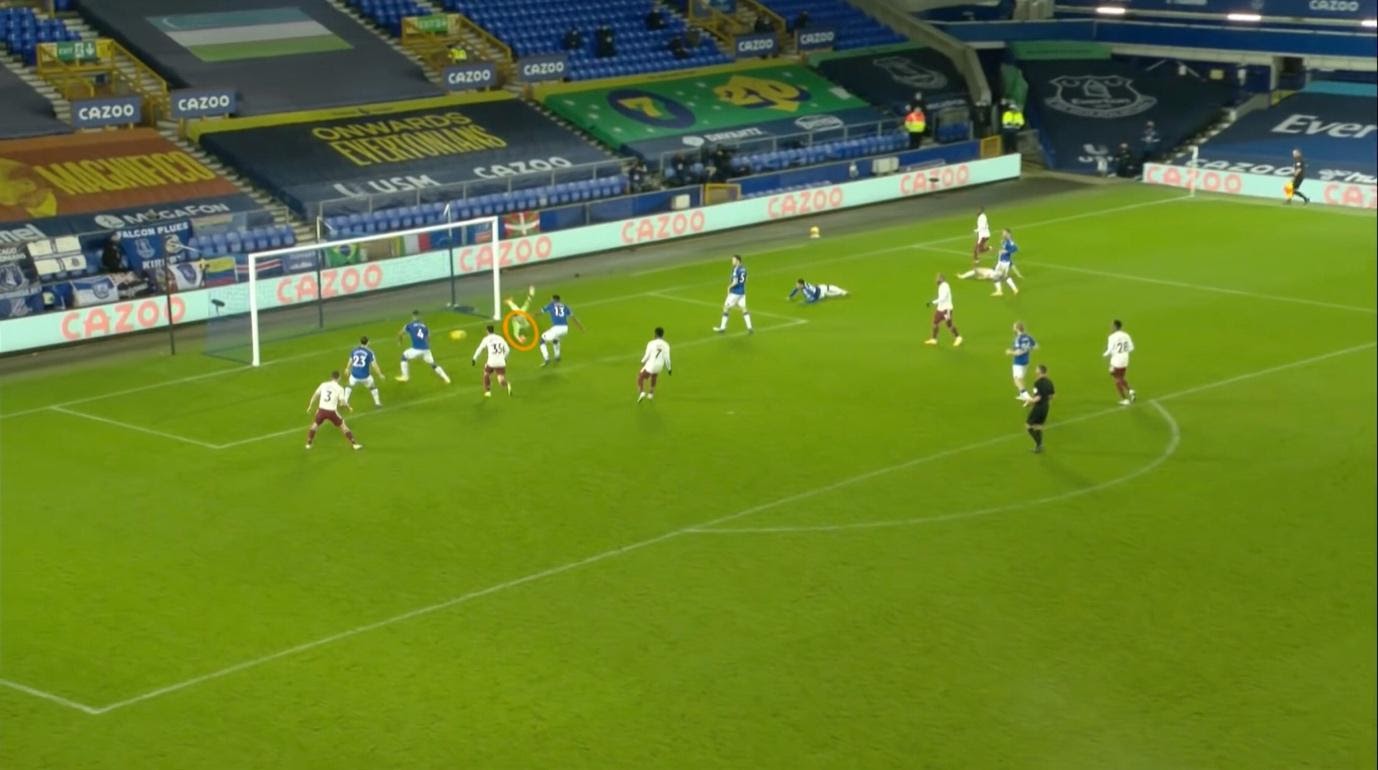 It filters through to the other end of the six-yard box as another opportunity goes unpunished for Arsenal to equalise against an in-form Everton. The Toffees would go on to take a valuable 2-1 victory at Goodison Park, whilst the Gunners blew an excellent chance to close the gap on top four, not for a lack of trying from Maitland-Niles.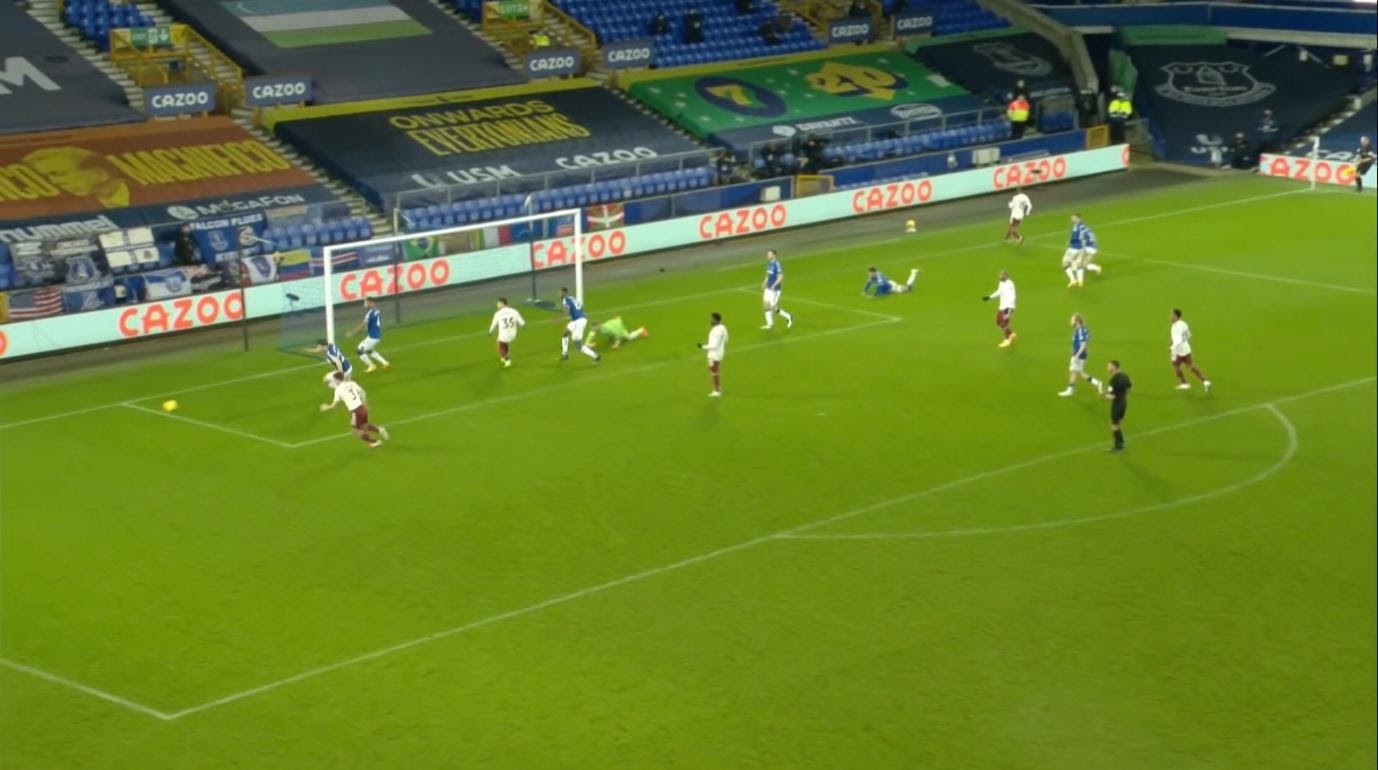 Whilst Maitland-Niles can produce moments of 'magic', he has also been underwhelming at times. His attacking game continues to be hindered by moments of carelessness in possession and a lack of urgency. Subsequently, his on-pitch performance fails to produce the fruitful numbers as seen in the likes of Saka when he was subject to playing left-back.
Ainsley Maitland-Niles' Defensive Skillset
Adama Traore, Riyad Mahrez and Christian Pulisic are all chart-destroying dribblers, a class above the rest. But when facing Maitland-Niles, they have looked ever-so tame. Under immense pressure, his calm character scoffs in the face of such dribbling ferocity. Timing tackles, covering crosses, forcing players down blind alleys and making himself a nuisance wherever possible.
When compared to Bellerín, Maitland-Niles presents a much better option defensively. However, most appearances have come in the form of a back five, offering the safety net of an extra defender covering. Whether Maitland-Niles would be able to translate his defensive solidarity to a back four remains to be seen.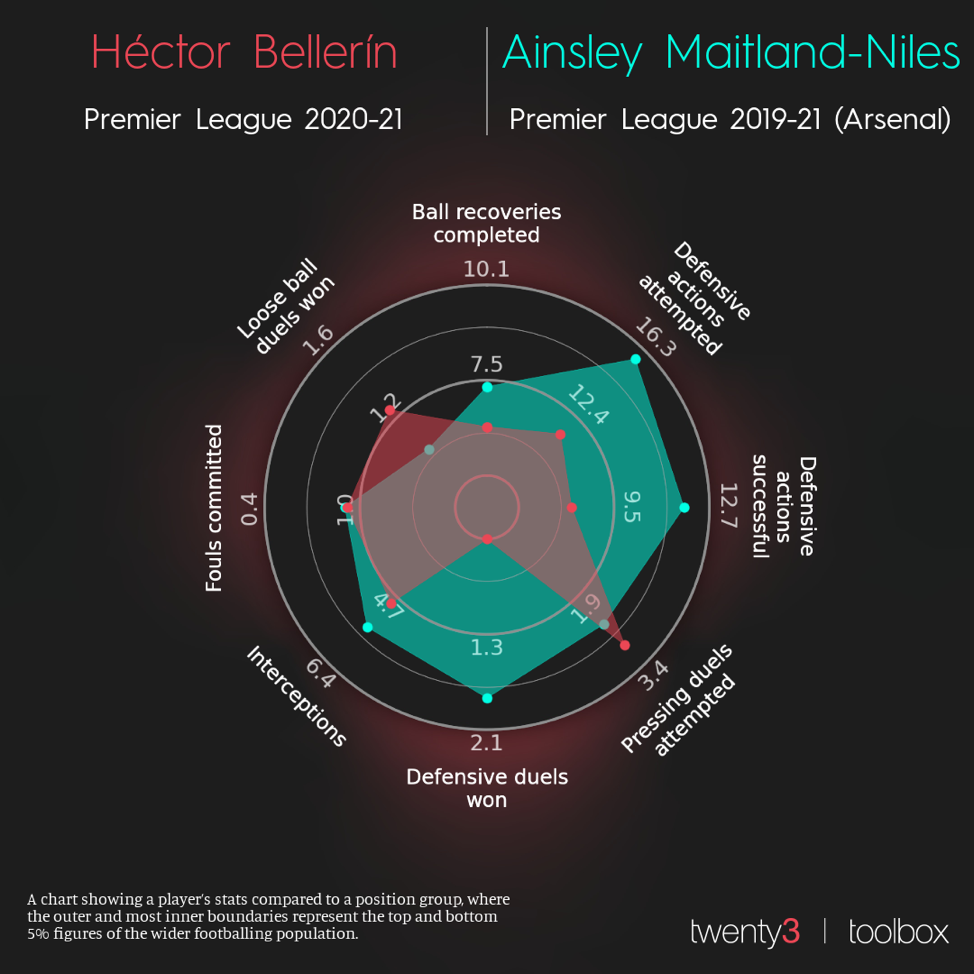 Photo: Twenty3/Wyscout
Conclusion: Ainsley Maitland-Niles
"I want to play in the centre of the pitch because I feel comfortable there and there's a lot of things I can bring by playing in the middle. You can control the game from there and I think my attributes help me do that. This was a chance to show I'm capable in that midfield role rather than sitting on the bench all season," said Maitland-Niles.
As the England international tries to secure his place at the Euros this summer, it will be interesting to see how he develops under Sam Allardyce playing in the midfield. But to continue at Arsenal, Maitland-Niles will likely have to play full-back, and his determined resolve to play in the midfield could ultimately see him to the Emirates' exit door.
Such are the similarities to that of Alex Oxlade-Chamberlain, who was also unwavering in his crave to play midfield and eventually managed a move to Liverpool. Ultimately, the ball is very much in Maitland-Niles' park, to continue at Arsenal with limited minutes or pursue a move elsewhere in his preferred midfield position.
Cédric Soares
Cédric Soares is a Portuguese international formerly of Southampton. Brought in on loan last season and then signed permanently for Arsenal during the summer, raising a few eyebrows in the process. Despite questions asked, Arteta was full of confidence in the deal: "He's a gifted, technical player and is probably the best we have in the final third to make the right decision and attack the box as well."
Promptly, Cédric started to pay back the compliments with a string of solid performances as Tierney struggled to maintain fitness in a turgid season. Subsequently, he has received more opportunities at right-back to state his case for the starting role and is growing stronger in his proposal.
Cédric Soares' Attacking Skillset
Cédric is a clean-cut conventional right-back, sticking to wide areas with the proficient technical ability to support in the unraveling of high-presses but remains streaky in his final-ball delivery. His traditional style has complemented Pépé seamlessly, offering overlapping runs, giving defenders doubts and opening spaces for the Ivorian to attack inside. In the impressive victory over Leicester City, Pépé was instrumental in-part due to the support of Cédric.
The Portuguese fullback's pass map below demonstrates his strong passing range in both full-back positions, but failed passes into the box expresses a lack of dependable end-product in crucial attacking areas. Consequently, his reliability to start throughout a season still comes into inquiry. Cédric still makes for an excellent back-up option to have in the squad for Arteta with the versatility and fitness to play in both full-back positions.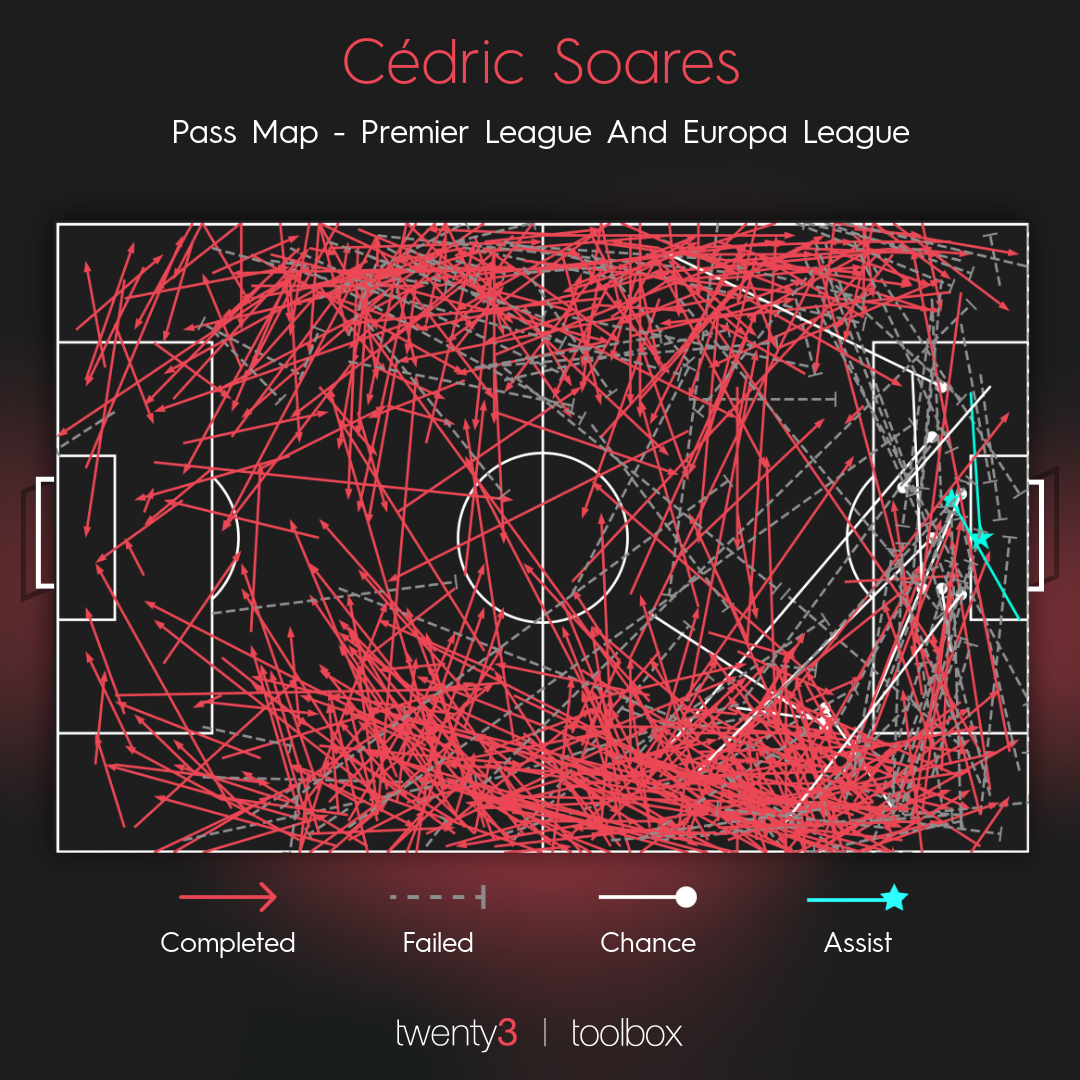 Photo: Twenty3/Wyscout
In the below visual from Arsenal's 3-0 victory over Newcastle on January 18, we can see another example of his high attacking awareness and a moment of technical quality on display to supply attackers in the box.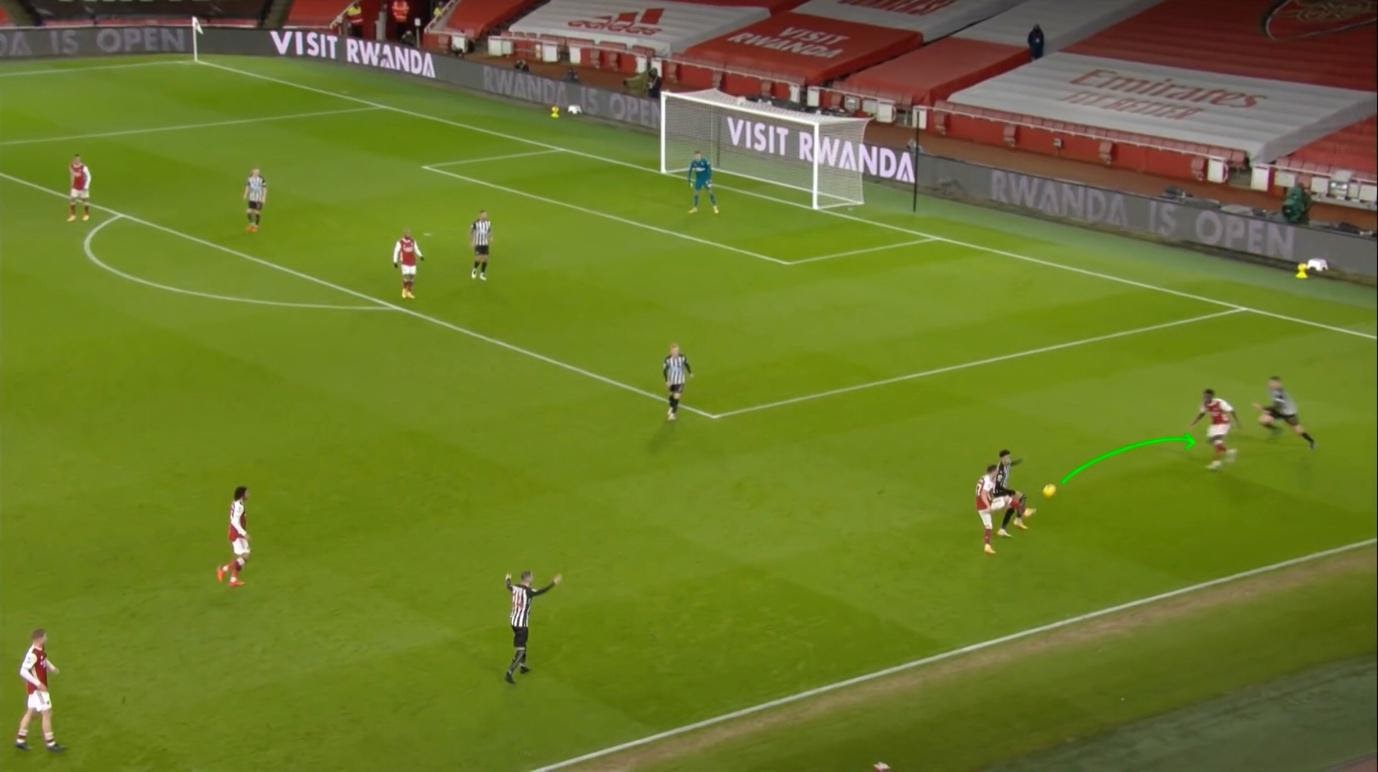 Cédric wins the ball off a high-press, robbing Jamal Lewis of possession, and passes straight into Saka.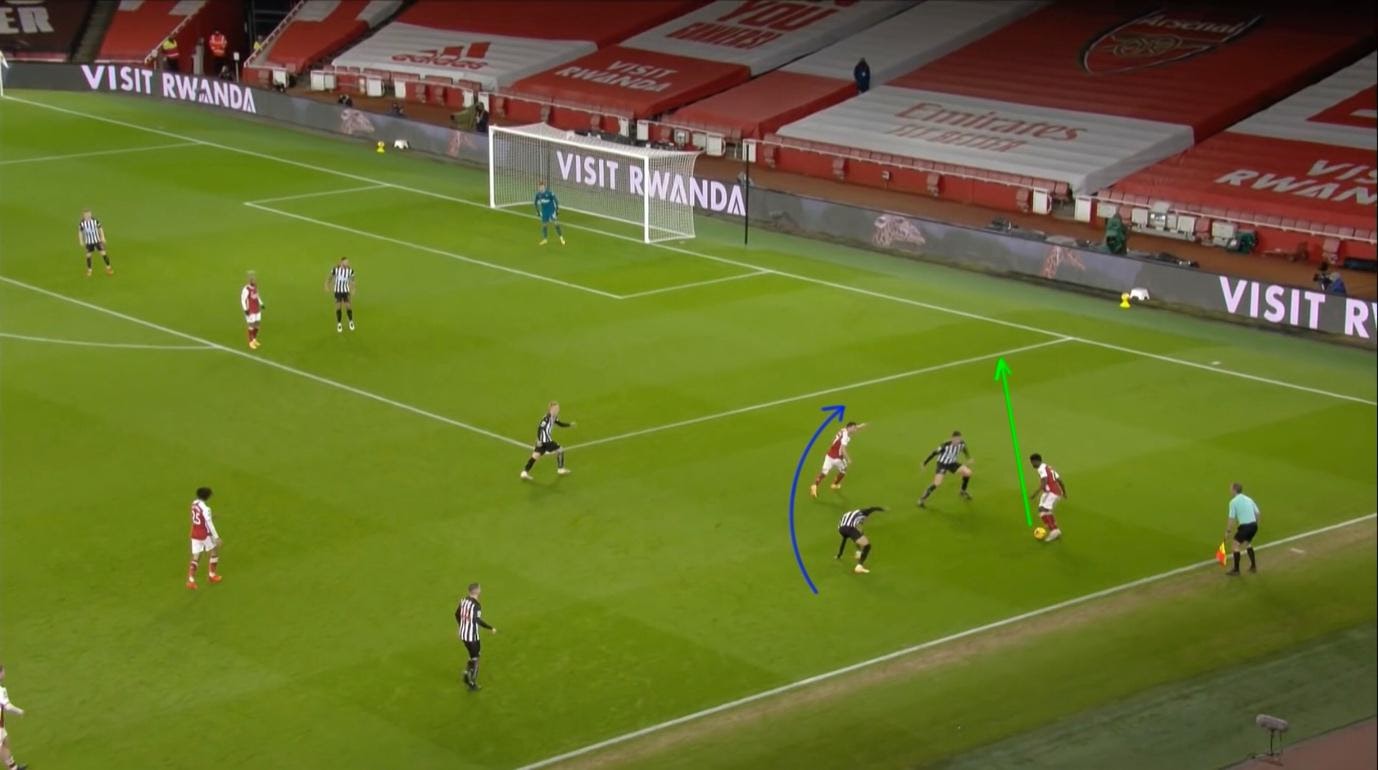 He then makes an under-lapping run, beating Lewis off the ball. Saka notices and disguises his pass to prevent it from being intercepted.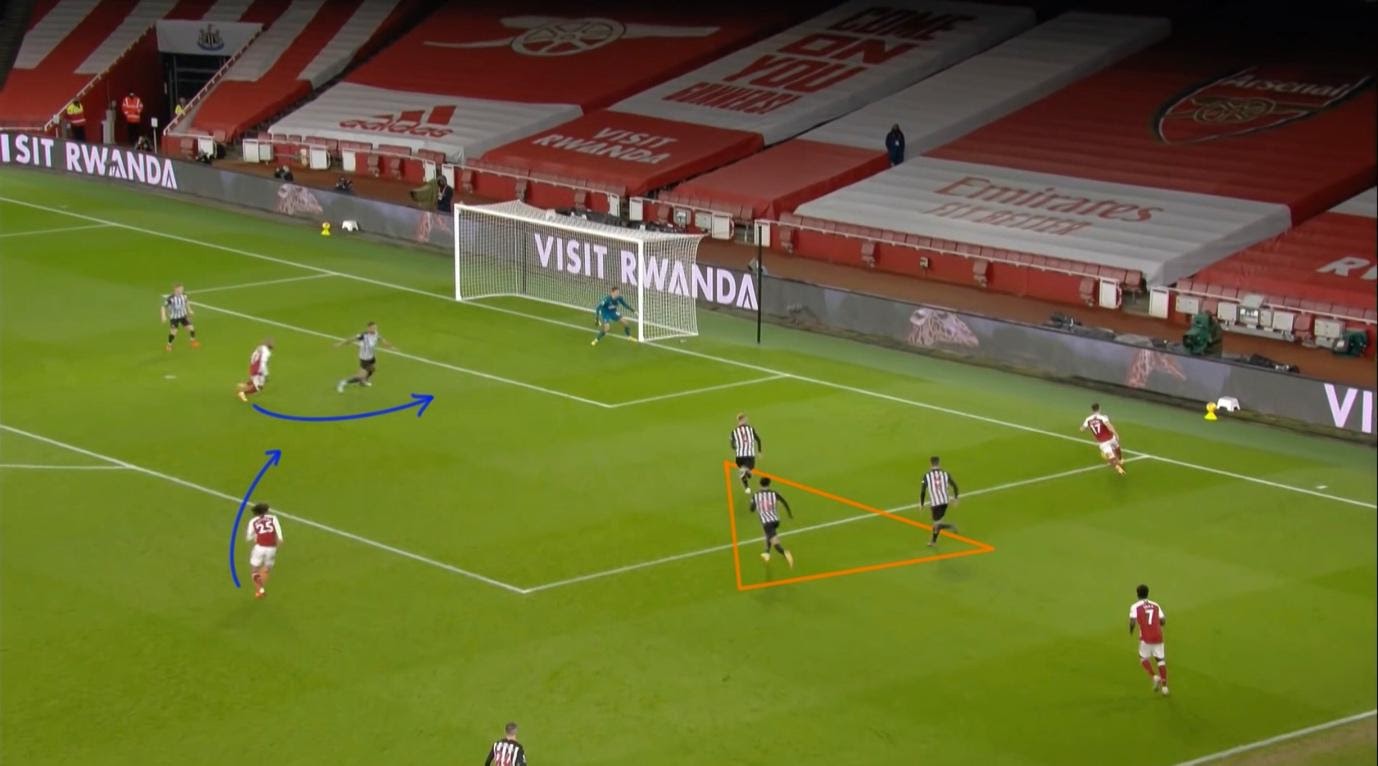 Cédric collects his composure with the three Newcastle defenders out of position (Orange Triangle), Mohamed Elneny and Lacazette start to make attacking runs to beat their respective markers.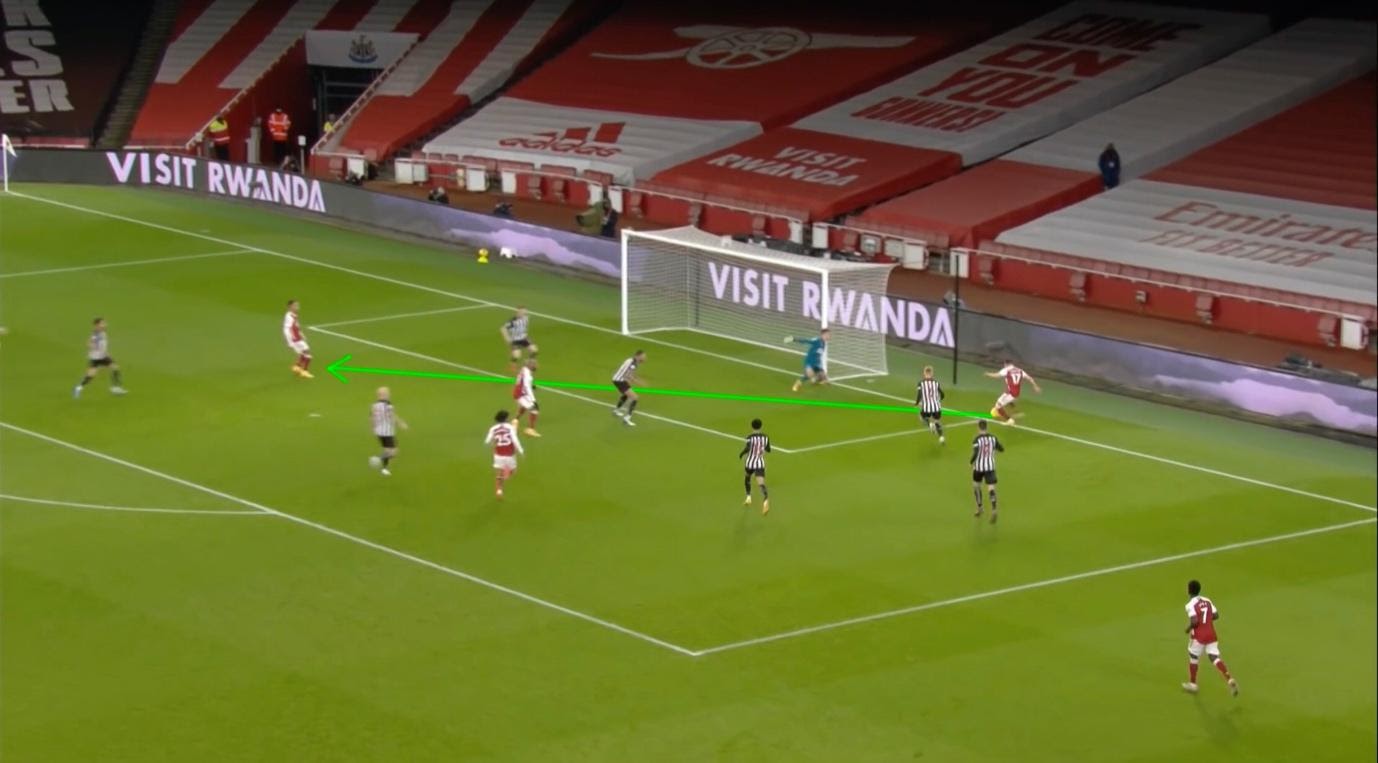 Cédric just about keeps the ball alive and picks a pass to Aubameyang, forcing Newcastle goalkeeper Martin Dúbravka to commit in the process and leave the rest of the net completely open.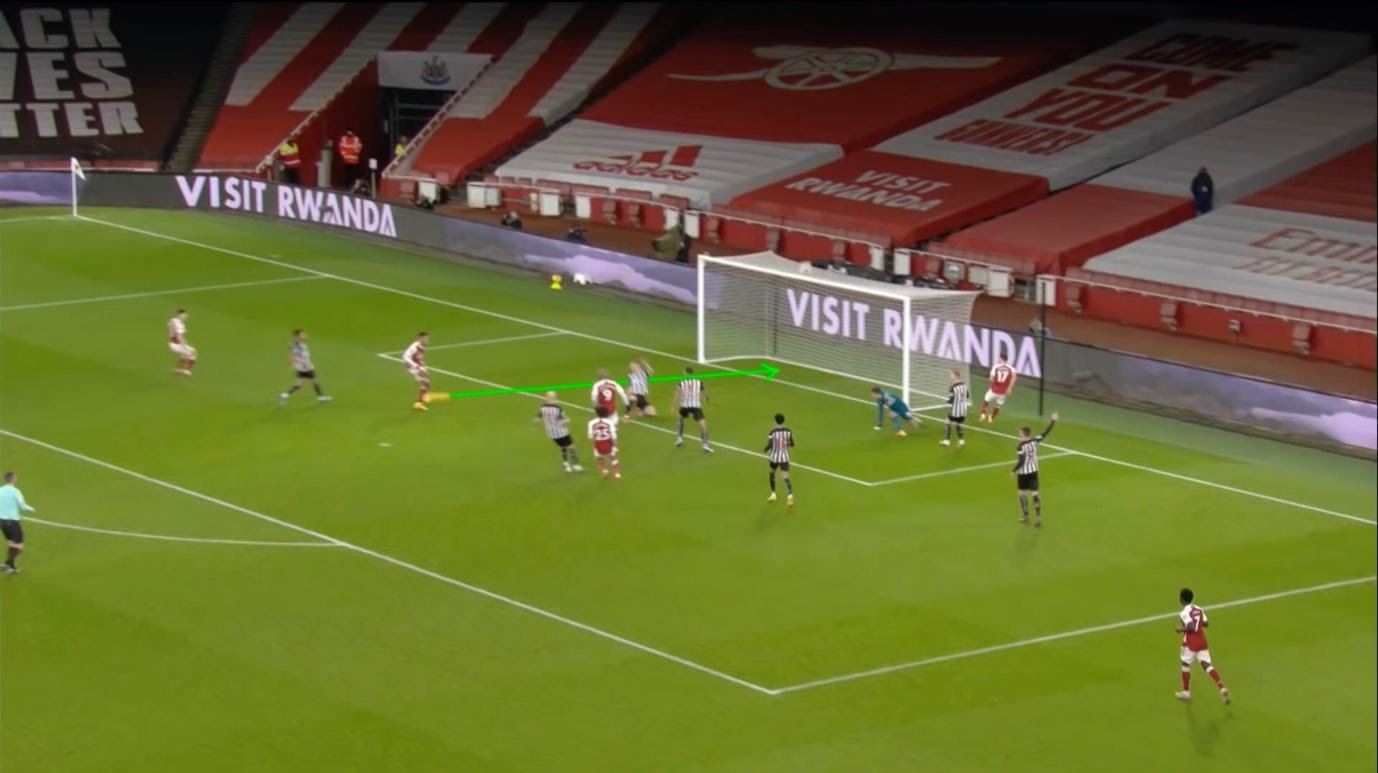 An unmarked Aubameyang is able to pass the ball into an open net thanks to Cédric's expert delivery, completing his brace and scoring the third and final goal of the match.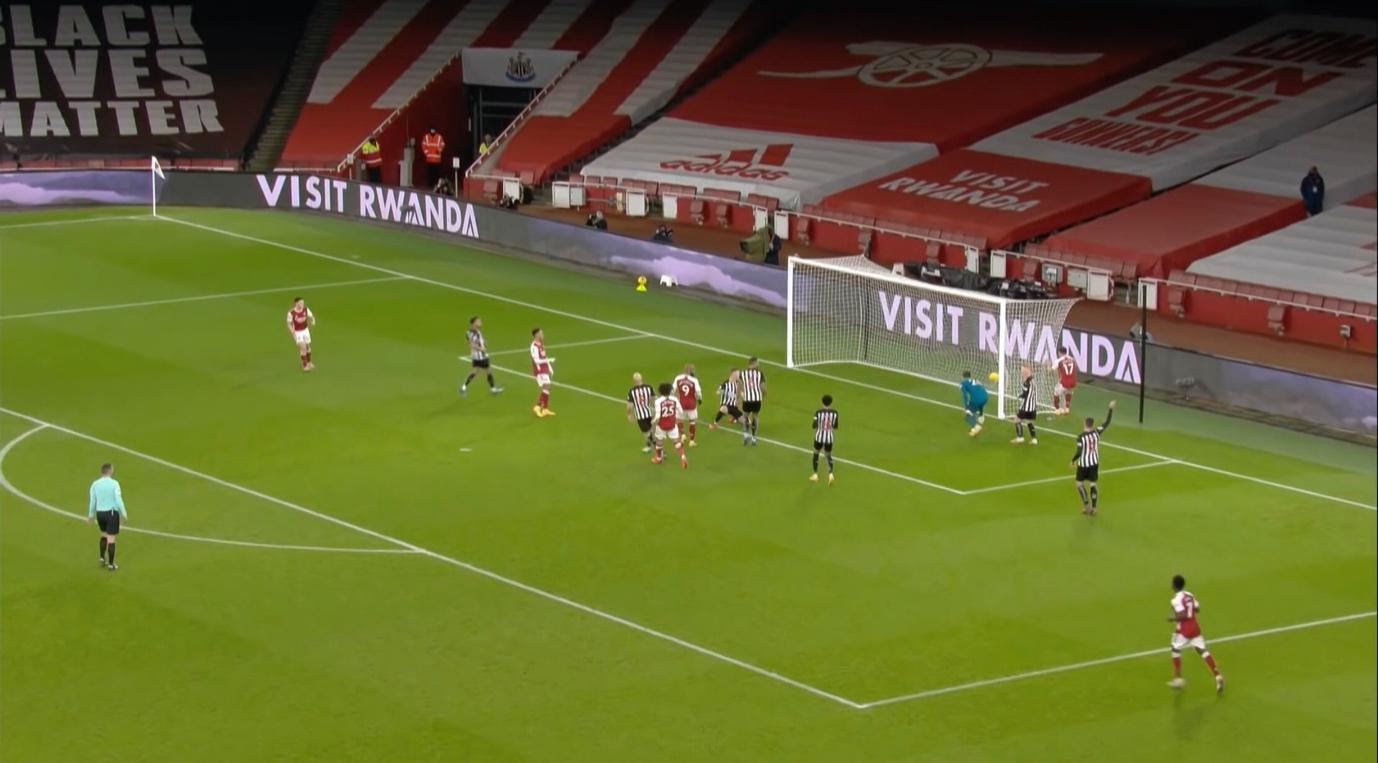 Cédric Soares' Defensive Skillset
Rather than having the pace of Bellerín to cover or the leg reach of Maitland-Niles to stifle attackers, Cédric has to use his vast experience and stocky build to his advantage. By easing players off-balance, Cedric can lessen an attacking player's speed on the ball to force errors. His defensive awareness and adept decision-making keep him well placed in Arsenal's defensive line, recognising when to attack or cover defensively.
Cédric's small stature makes him an excellent aerial victim for attackers, but that doesn't stop him from challenging and causing as much disruption to the attacker as possible. His biggest weakness defensively is one-on-one defending, where he struggles to compete with the more skillful attackers that also have a physical advantage. Notably, his performance against Jack Grealish last season was a match to forget as Grealish helped drag his team to a 1-0 victory to maintain their Premier League status.
Conclusion: Cédric Soares
As the 29-year-old begins to enter the latter stages of his career, his confidence and ability at Arsenal is growing, which is promising for Arteta, who has placed a lot of trust in him. Paired with the recency of his deal and longevity that he provides Arsenal as a strong, experienced back-up hints a sensible move by the Gunners. But whilst Cédric presents a competent squad player as he has showcased this season, does his ability take Arsenal to the level of challenging for major trophies?
Calum Chambers
Finally, there is Calum Chambers, another player plucked from a prestigious academy, but rather than the coast of Spain, he was signed from Southampton. Gareth Bale, Theo Walcott, Luke Shaw and James Ward-Prowse, all players from the Saints academy currently thriving in the Premier League. Wenger signed Chambers in the summer of 2014 for £16 million; since then, he has floated between centre-back and right-back, filling in but never cementing his position in the starting line-up.
How James Ward-Prowse Has Become One of the Best Midfielders Outside the Top 6
A loan spell to Fulham gave him the opportunity for regular minutes but not in his natural position. Instead, Slaviša Jokanović and Claudio Ranieri both deployed Chambers as a defensive midfielder surveying the middle of the pitch. Despite relegation, Chambers managed to win Fulham's player of the season voted by the fans. However, just he started to get his career back on track at Arsenal, he was hit with a devastating blow, cruciate ligament rupture, a total absence of 340 days, and 45 matches missed.
Chambers' recovery journey has been a long process, but he has been biding his time working back to full fitness with the need for his presence in the side less. But following an impressive performance against West Ham he has now been thrust into the conversation for starting right-back.
Calum Chambers' Attacking Skillset
Chambers may not possess quick feet or gut-wrenching pace, but he has shown excellent delivery in the past two Premier League outings. West Ham, in particular, felt the full effects of his distribution as one of his crosses was converted by Craig Dawson in their failure to hang onto their 3-0 lead.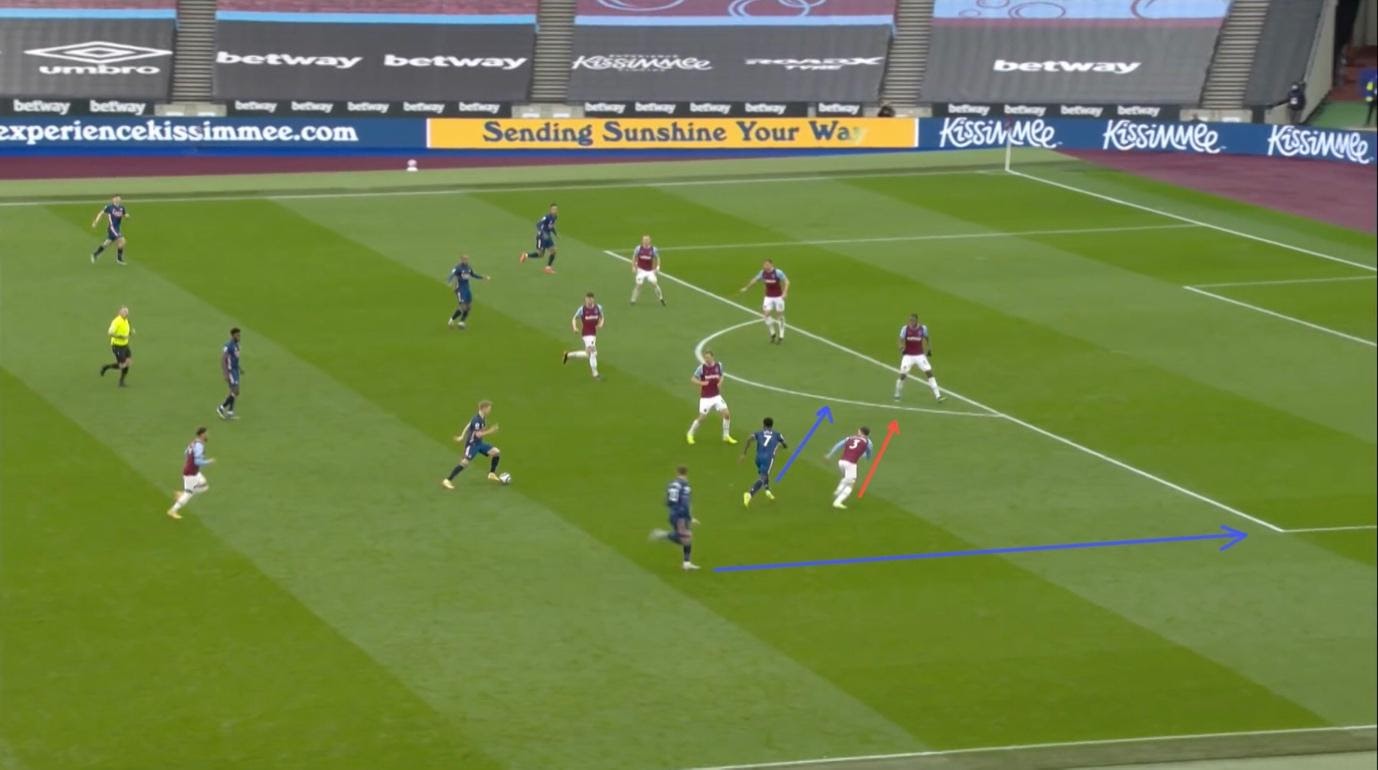 Martin Ødegaard drives with the ball at West Ham's defence. Saka makes a darting run inside to draw Aaron Cresswell from the wings into the centre of the pitch, subsequently creating space for Chambers to run into.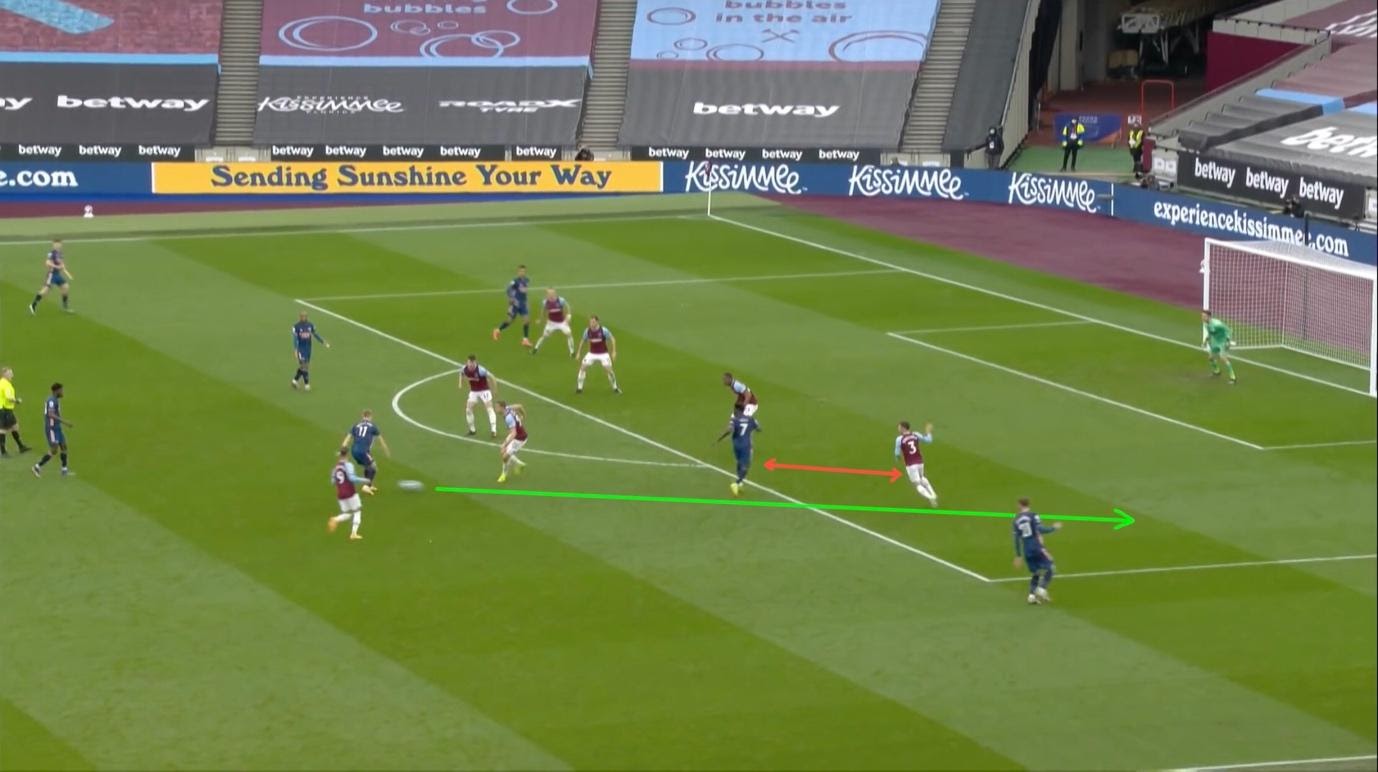 Ødegaard plays a Mesut Özil-esque disguised pass into the path of Chambers, who now has the space to play a first-time cross into the six-yard box.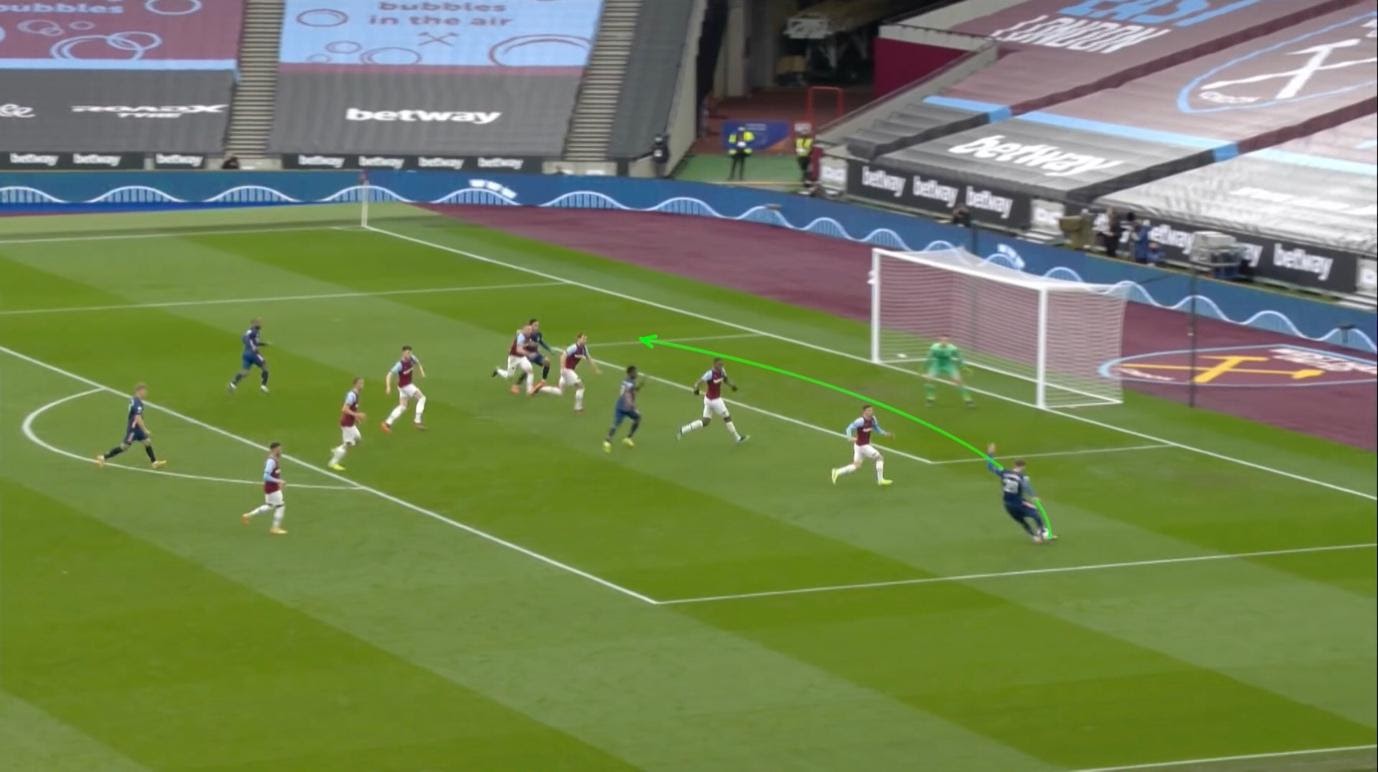 Dawson panics with Aubameyang on his shoulder, and in an attempt to clear the ball, he scores an own goal, the second of the match following Tomáš Souček's own goal before halftime. Lacazette would go on to score a late equaliser to allow Arsenal to emerge with one point from London Stadium.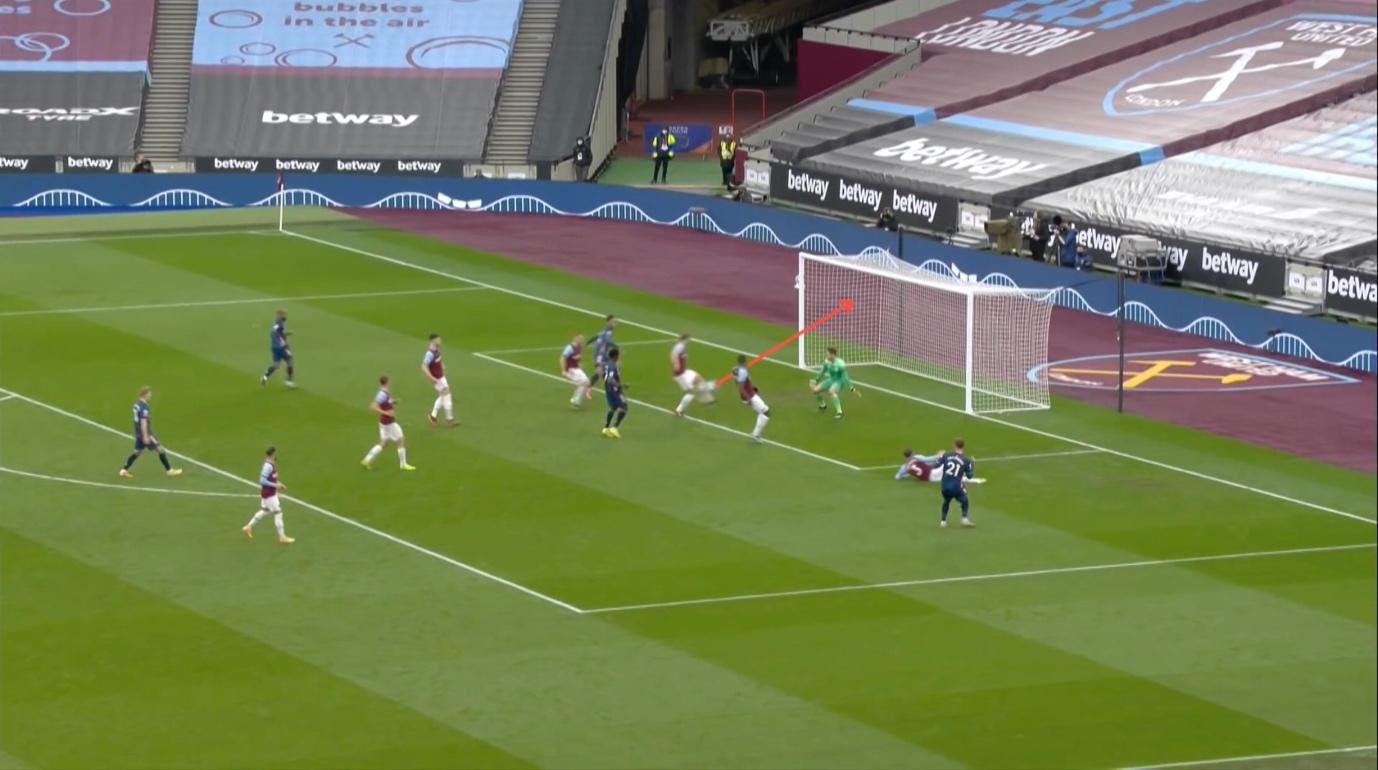 His delivery has been immaculate in the past two games, but Chambers still has a lot to prove on the attacking front. His lack of mobility presents struggles to effectively impact defences, especially in one-on-one situations and against a deep block where a burst of speed is needed in tight spaces. Consequently, his chances to be a regular starter in the team may be limited as Arsenal look to overwhelm opponents with constant attacking brilliance.
Calum Chambers' Defensive Skillset
Chambers stakes the best claim defensively, playing much of his career at centre-half; therefore, his understanding of the defence comes naturally, knowing when to press, drop-off and communication all visible aspects of his game on-pitch. Furthermore, his aerial strength was the cited reason for his start against Burnley, and he certainly does what is seen on the tin with the Englishman winning 5/7 duels.
However, like Cédric, Chambers struggles to handle fleet-footed, fast dribblers of the ball and has been exposed in areas of space, where Arsenal fell victim to West Ham's first goal. Still, more game-time will be needed against some tougher opponents for Chambers' potential to be fully analysed. The 26-year-old has logged just 298 minutes for the senior team this season, with two of his three starts coming against Burnley and West Ham this month.
Conclusion: Calum Chambers
As Calum Chambers enters the final year of his contract, Arsenal will be assessing his end to the season with a keen eye to decide whether he stays. His versatility may just force a new contract with the ability to play centre-back, defensive midfielder or right-back for a more conservative game-plan. But with youngsters Konstantinos Mavropanos and William Saliba both having impressive seasons at their respective clubs, maybe Arsenal will look to move Chambers on to accommodate their returning defensive talents.
Who's Next?
The future surrounding the position at Arsenal remains unclear, with uncertainties around every current right-back at the club, excluding Cédric Soares. Already there are reports of the Gunners scouting Brighton's newfound trailblazer Tariq Lamptey, but with his season-ending injury, are Arsenal still prepared to outlay a significant investment for the youngster? Others reported include Max Aarons, Achraf Hakimi and Emerson Royal.
One intriguing prospect who has gone under the radar is rising Corinthians star, Gabriel Menino who exploded onto the scene in Brazilian football. Displaying exceptional positional versatility, copious amounts of energy, attacking output, and the incredible technical ability ordinarily initiate in Brazilian footballers. His defensive side needs development, but he presents an exciting option for Edu to explore
As for the remainder of 2020/21, the starting position is still all to play for, but with little time, someone will need to take their chance soon to prove to Mikel Arteta that they should be starting and perhaps make a statement for next season too. Otherwise, Arsenal may just dip into the market and continue the search for their crown jewel at right-back.
By: Toby Rathborne
Featured Image: @GabFoligno / David Price – Arsenal FC