How Manchester United Built the Most Potent Attack in Premier League History: Part 3: European Journey and Regression to the Norm in 2008/09
Since their historic treble in the 1998/99 season, Manchester United had fared with varying success in European competition. Despite Ruud van Nistelrooy's prolific scoring, and adapting a 4-5-1 formation to compete tactically, United were typically knocked out by more 'complete' sides such as AC Milan and Real Madrid. In 2005/06, United didn't even progress out of the group stage, scoring only three goals in a group containing Lille, Villarreal and Benfica.
The upturn of form (particularly in the attacking department) saw them reach the Champions League semi-final in 2006-07 whilst simultaneously winning the Premier League. Unfortunately, United crashed out to Milan in disappointing fashion, losing 3-0 in the San Siro a week after winning the first leg 3-2.
Manchester United were unable to lay a glove on Milan; United's attackers barely received the ball in advanced positions, and this stemmed from a lack of midfield control. With the signings of Anderson and Owen Hargreaves in the summer of 2007, Manchester United addressed this issue.
Photo: Getty
Their European journey commenced in the group stage at Cristiano Ronaldo's former team Sporting Lisbon. On the back of three consecutive 1-0 victories in the league, United made it a quadruple when Ronaldo headed home the winner in the 62nd minute. It was a goal that foreshadowed Ronaldo's imminent evolution: from a tricky winger with a consistent enough output to define him as world class, into the world's best player.
Ronaldo would sniff out goalscoring opportunities with such regularity; he he was frequently United's game-changer. And with the margins so fine in European football, this would prove a monumental factor.
A quality finish from Wayne Rooney gave United another 1-0 victory over Roma at Old Trafford. United followed this up with four-goal victories away and at home to Dynamo Kyiv, as Ronaldo's goal tally rose to four in four. United's goalscoring form mirrored that of their league form, as demonstrated below.
It seemed as though Ferguson was prioritising solidity and points on the board, with stable defensive performances until United's attackers collectively regained some form. Fortunately for United, their new signings all made a positive impact on the team in the European front once United were finally up and firing.
Photo: Man Utd via Getty
Carlos Tevez in particular looked as though he could be a top addition for United's tactics tailored to 'big' European games, and he scored his first European goal in the home victory over Kyiv. United capped off their table-topping group stage with a 2-1 home victory over Sporting and a 1-1 draw in Rome.
Most notable again was Ronaldo's decisiveness in big games, as he scored the winner versus Sporting in the 92nd minute with a sublime free kick. United looked confident in Europe, with their attacking unit buoyed by improved defensive solidity from Rio Ferdinand and Nemanja Vidić, plus the newfound composure that Hargreaves added to the midfield.
In the Round of 16, United encountered a tricky Lyon side containing Juninho and rising stars Karim Benzema and Hatem Ben Arfa. They managed a 1-1 draw in France thanks to an 87th minute Tevez equaliser, which cancelled out Benzema's 20-yard finish. Tevez's ability to sniff out scrappy (yet vital) goals was proving to be a crucial improvement for them in contrast to last season.
United proceeded to the quarter finals a fortnight later, as Ronaldo yet again proved the difference with a good finish, leaving United 1-0 up. The ability of Michael Carrick and Hargreaves to lay solid foundations for United to kill the game off, combined with Anderson's high-octane approach, was another factor where they had improved significantly from the previous campaign; they were able to control games in far more ways.
Photo: Phil Cole / Getty
It seemed like fate that Manchester United once again faced Roma. Firstly, it would be their fifth and sixth meetings in the last year. Secondly, Luciano Spalletti's tactics at Roma was to a degree, what Sir Alex Ferguson's aim was with United; to play without a conventional striker.
This was a tactic that suited Roma perfectly, especially with their talisman Francesco Totti operating best as a false 9 or a #10. Roma then loaded their team with willing runners from midfield, looking to outfox the confused opposition back-line. Having beaten Roma 8-3 on aggregate last season in this round, United may have expected an easy progression. Roma, however, had previously defeated Real Madrid over two legs and were in good fettle.
The away leg saw United line up in a completely unconventional manner, with a combination of players unseen before. Ronaldo played as a genuine false 9, flanked by Rooney and Park Ji-sung. A midfield of Paul Scholes, Hargreaves and Anderson provided a stable foundation behind the attacking players.
Ferguson's new-look midfield was a direct step up from last season where United were often playing a 4-2-4 at times, with Carrick and Scholes holding. This could produce waves of brilliant form, such as in the 7-1 defeat of Roma last season, but also saw United overrun by Milan in the San Siro; they couldn't sustain any pressure on an experienced Rossoneri side.
The Red Devils ran out comfortable 0-2 winners in the Stadio Olimpico after essentially beating Roma at their own game. United's midfield helped aid their defence to shut out Roma, whilst also creating phases of sustained possession.
United took the lead in the first half through Ronaldo. Having dropped deep to combine, Scholes made a run into the space vacated by Ronaldo to combine with Rooney and float a good cross in. Ronaldo himself came steaming in to meet it, with an athletic leap and powerful header across Doni in goal.
This goal encapsulated everything United aimed to do; soaking up pressure with resolute defending, building momentum through central play and Ronaldo dropping as a false 9, using runners into space with Scholes, and then supplying Ronaldo's late runs into the box. United scored a second through Rooney midway through the second half to put one foot in the semi-final.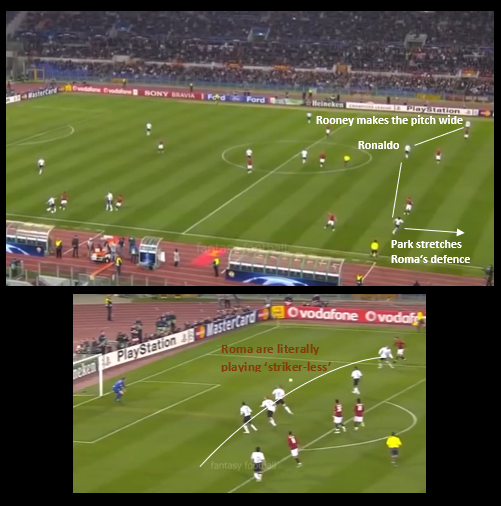 United's gain is Roma's pain: United don't forget to load dangerous areas such as the box when attacking, despite being 'striker-less', while Roma lacked a cutting edge in this regard.
Despite fielding a subpar XI in the reverse fixture, United progressed to the semi-finals, where they would face Frank Rijkaard's Barcelona. Tevez fittingly scored the only goal in the second leg; it was becoming a knack of his to score these vital goals when United weren't at 100% strength.
Against Barcelona, United again kept the game under a reasonable level of control throughout both legs, using their midfield's ability to retain possession and dictate the tempo of games. This is what world class players like Hargreaves and Scholes provided; while Carrick was a more than capable deputy, and Anderson a high-energy wild card.
At the Camp Nou, United opted for another solid approach, typical of their rethought Champions League line-ups. Ronaldo again started as the main striker, flanked by Rooney and Tevez, neither of whom were afraid to track back such was the intensity to their play.
Hargreaves slotted in at right back due to a defensive reshuffle, which only aided United's ability to retain possession and prevent phases of Barcelona's pressure. Carrick and Scholes were the primary midfielders, with Park the auxiliary one in what could be a fluid 4-5-1 at times (see part 2).
United shut out Barcelona, but their approach would have come to full fruition had Ronaldo converted a penalty that he won by evoking a handball in the area. Nevertheless, United were able to say that they'd certainly progressed since their feeble surrender at the San Siro last year.
Photo: Clive Brunskill / Getty
In the return leg, it was much of the same from United, who utilised a solid foundation of control and stability to give the attacking players every chance of bringing home a victory. On this occasion however, it was Scholes who was the difference maker, with an iconic 25-yard drive into the top corner, handing United a 1-0 victory on aggregate and progression to the Final in Moscow.
It is worth noting that both teams enjoyed moments of attacking play in this game, which is unsurprising given the likes of Thierry Henry, Lionel Messi, Ronaldo, Rooney, Tevez and Samuel Eto'o all being on the same pitch. United gave themselves the best chance of victory, however, with their controlled approach.
While at times in the league, United exemplified some of the most free-form, unpredictably brilliant attacking football, solidity was prioritised in the Champions League. Game-specific plans such as utilising Ronaldo as a false 9 or striker, Rooney as a wide creator and Tevez as a wide poacher all contributed to United's journey to the Final.
And all these tactics saw United reach the 2008 Champions League Final versus Chelsea, at a drenched Luzhniki Stadium. Both teams effectively had full rosters to choose from, although Chelsea opted for Michael Essien at right back (in a not dissimilar role to what Hargreaves played for United).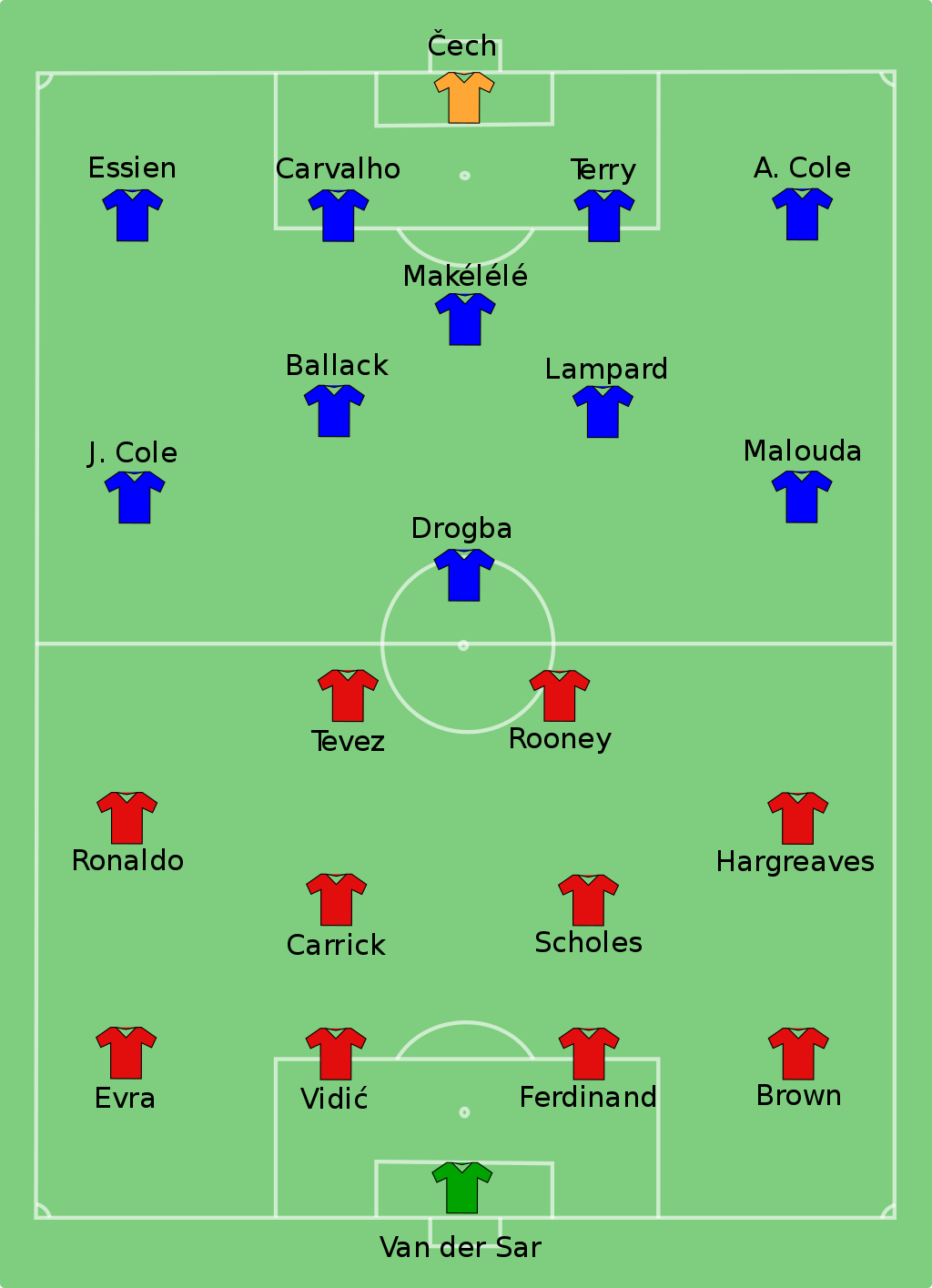 The key factor, however, was the rotation and flexibility of United's front three. One could hypothesise that Ronaldo was again being geared towards his specialist false 9/auxiliary striker role, flanked by Rooney and Tevez, but he instead predominantly played on the left to expose Essien's lack of 1v1 defensive nous.
This flaw was exposed perfectly when Ronaldo out-jumped Essien to head in the opening goal for United in the 24th minute. For 20 minutes after the opening goal, United were in the ascendency, using their midfield trio of Scholes, Hargreaves and Carrick to screen the defence, but more importantly spray magnificently accurate passes up to the front three on the counter.
Even a back-line of Chelsea's pedigree was unable to deal with the rotation and movement of United's attackers in this phase. Avram Grant's side were unable to live with the decoy runs and poacher's instincts of Tevez, or the vision, crossing ability and combination play of Rooney, or pretty much any facet of Ronaldo's elite game.
An inspired Petr Čech kept United at bay though, and more importantly, kept the scoreline at just 1-0. Chelsea made United pay for their missed chances when Frank Lampard stole in to equalise against the run of play just before the half-time mark.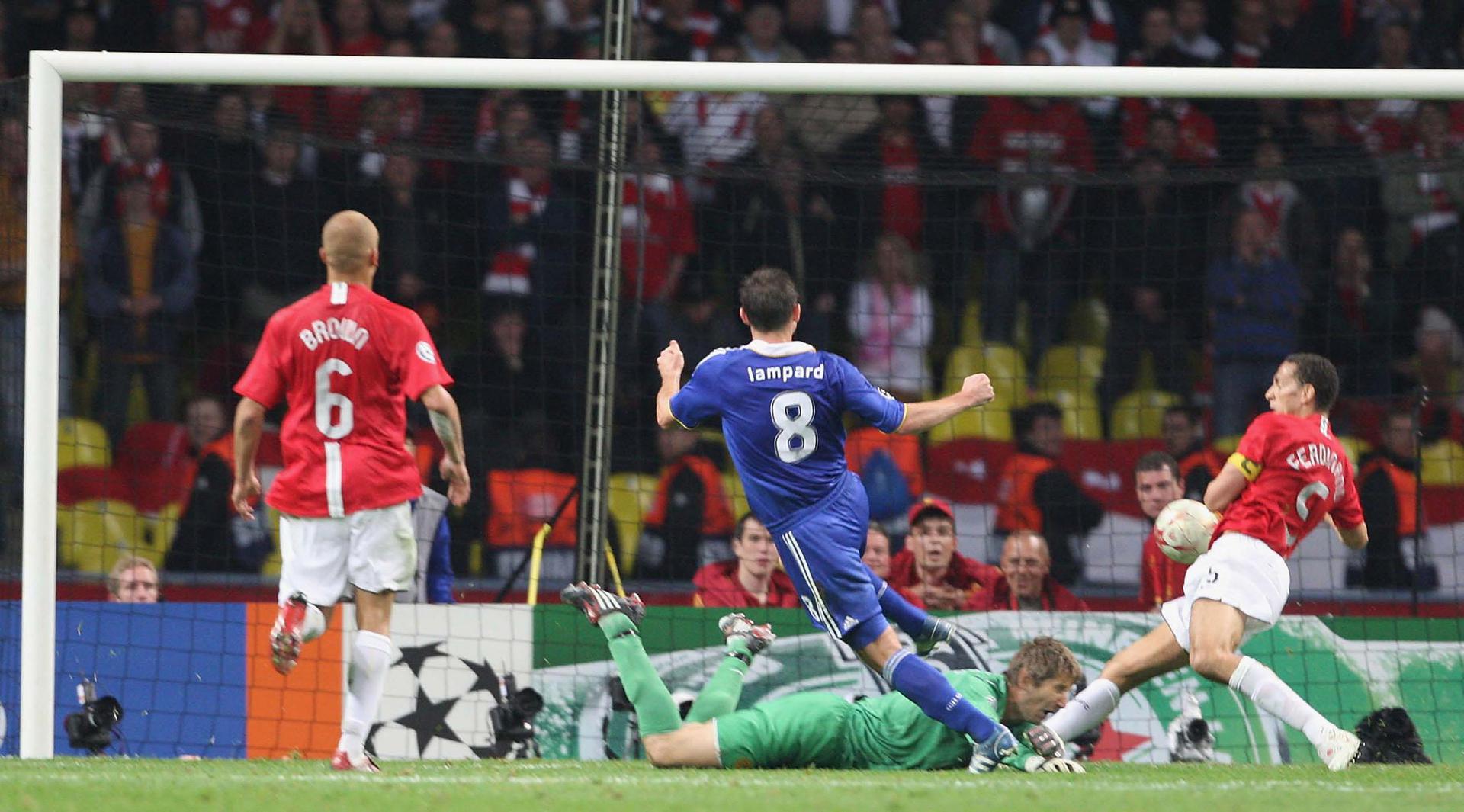 Photo: Man Utd via Getty
For the rest of the final, both teams remained steadfast, unwilling to throw away the hard work and defensive consistency that saw them reach the final. The score stayed level past the 90 and through extra time (despite Didier Drogba hitting the post from 25 yards, and then seeing red for slapping Vidić).
There isn't too much to say from a tactical perspective; both teams had world class defenders and elite midfielders, as well as experienced managers who weren't willing to gamble for a more attacking approach. If United were to make it 2-0 before Lampard's goal, there is no doubt they could've sealed the win in the 90. 
But football is rarely that simple, and it took a dramatic 6-5 penalty shootout win for United to regain their European crown; nine years after their last, and 50 years after the Munich air crash. It was a fitting commemoration from Ferguson's United.
The 2008/09 Season
United were crowned Premier League Champions for the third consecutive season in May 2009 after grinding out a stalemate against Arsenal. Despite the signing of Dimitar Berbatov from Spurs the previous summer, the football that United produced was largely functional, if not unspectacular compared to the 2007/08 approach.
Photo: News Group Newspapers Ltd
Of course, the bar was extremely high, and it is no insult to say that United never reached those heights again. Perhaps nerves settled in, given that United were in a race with Liverpool for the title, and for the most titles. After United won the title, they leveled their total to 18, the same as Liverpool's.
Perhaps Ferguson appreciated the fact that the scintillating level of attacking football in 2007/08 was not sustainable in the longer term, particularly with injuries to key attackers and speculation regarding Ronaldo's future.
Both Tevez and Ronaldo departed United in the following summer of 2009 to Manchester City and Real Madrid, respectively, perhaps suggesting that Ferguson was pre-empting how United would have to play without their key men. This approach could be described as overly solid on occasion.
After a 2-1 defeat at the Emirates left United 4th in the league at the start of November, they enjoyed a run of 14 league without conceding, which, unsurprisingly, is still the record to this day. Tellingly, their results read: 5-0, 0-0, 1-0, 1-0, 0-0, 1-0, 1-0, 3-0, 1-0, 1-0, 5-0, 1-0, 1-0, 3-0; underlining their ice-cold ruthlessness and efficiency when picking up points, a complete U-turn from the sporadically brilliant attacking performances of 2006/07.
This was exemplified by some of the attacking combinations; strategic third man runs and premeditated combinations were more prominent than moments of genuine unpredictability. Even the technical genius of Berbatov was somewhat diminished into more of an efficient goalscorer.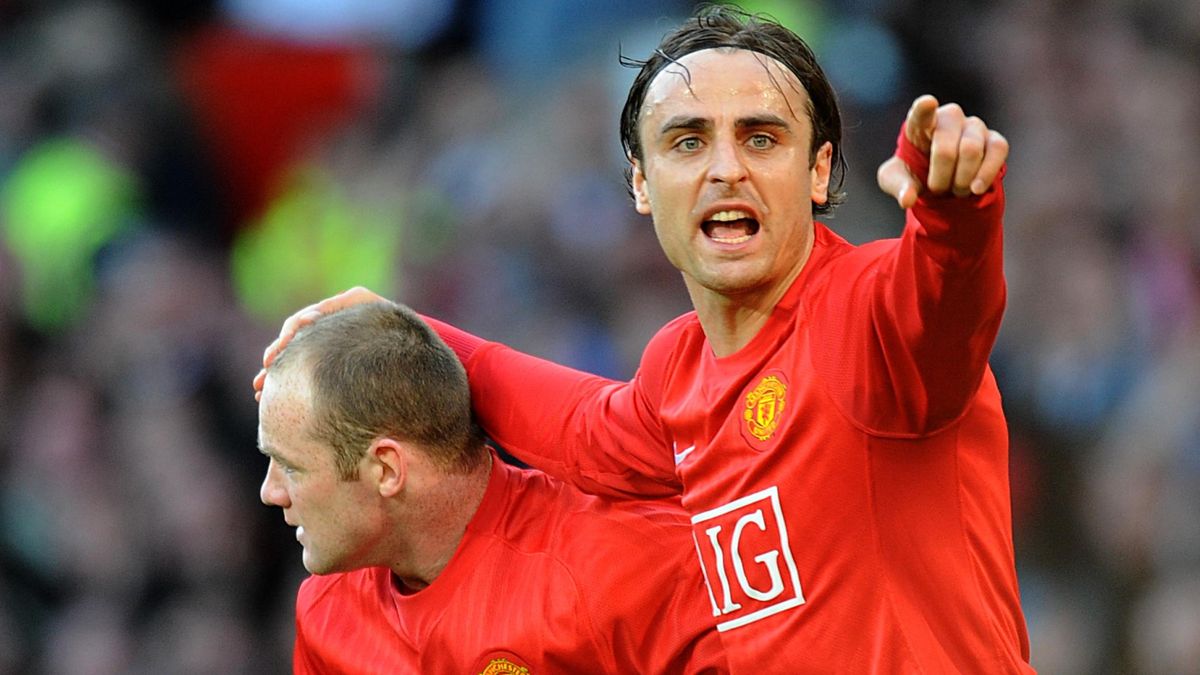 Photo: PA Photos
Ronaldo's form depreciated somewhat too, which obviously contributed to United scoring less freely than the season before. Rooney endured minor injuries too, as did Scholes and Hargreaves. Ferguson made United harder to beat, and less spectacular in order to compensate for their attacking shortcomings, and it worked.
United again reached the Champions League Final in 2008/09, coming up short to Pep Guardiola's Barcelona. Despite a flurry of early chances, United fell behind to an opportunistic Eto'o goal, and never quite recovered.
Their road to the final in Rome exemplified their approach better, however. United topped a group of Villarreal, Celtic and Aalborg BK with two wins and four draws, and were drawn against José Mourinho's Inter in the Round of 16. They grinded out a stalemate at the San Siro, breaking Ajax's 19-match unbeaten streak from 1996, before eliminating Inter at Old Trafford via goals from Vidić and Ronaldo.
Jesualdo Ferreira's Porto managed an impressive 2-2 draw at Old Trafford in the first leg of the quarterfinals, meaning that United had to either win or draw with more than three goals scored in order to progress. The sole goal at the Estádio do Dragão came in the sixth minute, when Ronaldo rocketed a shot from 40 yards out into the back of the net. Ronaldo would go on to win the Puskas Award for his strike.
They reached the semifinals where they would face Arsenal, who had eliminated Manuel Pellegrini's Villarreal in the previous round. United won the first leg 1-0, with John O'Shea converting a cross from Carrick after Arsenal failed to clear a corner. They won the second leg in London with remarkable ease and composure, becoming the first defending champion since Marcello Lippi's Juventus to reach the Champions League Final again.
The football on display as United romped Arsenal 3-1 at the Emirates to progress to the Final epitomised United at their best: a devastating affair of solid defending and territorial control, before dismantling Arsenal on the counter. The third goal was particularly devastating; one of the best counter-attacks of all time.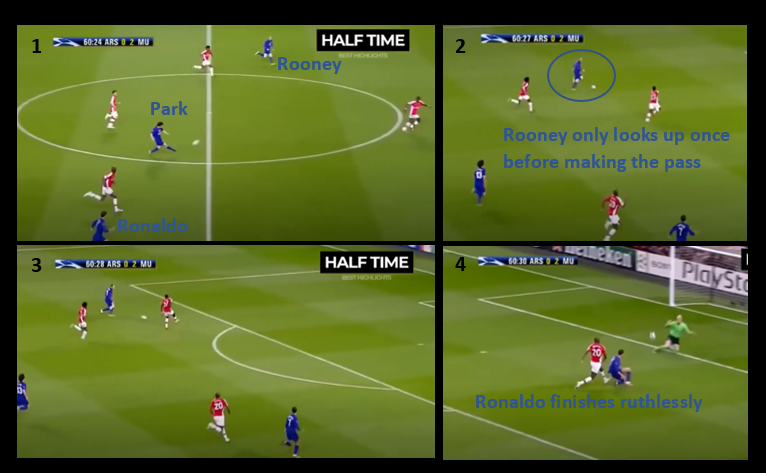 United's attack is clinical on the counter, highlighting their more ruthless (if unspectacular approach in 2008/09.
Conclusion
Manchester United were never going to maintain the 2007/08 level of attacking football, but credit must go to Ferguson for pre-empting this and ensuring that defensive solidity would help maintain United's dominance for another year, whilst mingling with Europe's elite teams.
Ultimately, the 2007/08 season is about as perfect as it gets in almost every regard, and many United fans look more fondly upon that season than the 2008/09 season, which was slightly underwhelming by comparison.
One can only wonder where United would have been post-2008/09 had they retained Ronaldo and Tevez, but every supporter must also appreciate how privileged they were to experience the triumphs United achieved between 2006 to 09. It was a special time to be a fan of Manchester United.
By: @utd_Visionary
Featured Image: @GabFoligno