Domenico Tedesco: Profiling Leipzig's Manager
At 36 years of age, Domenico Tedesco has already amassed a coaching resume that is paralleled by few, if any of his age mates. Born in Rossano, Italy, Tedesco's family emigrated to Germany when he was two years old, with Tedesco completing his vocational training as a wholesale merchant and earning a bachelor's degree in business engineering and a master's in innovation management.
Having played for ASV Aichwald in the German amateur leagues, Tedesco began working as an assistant coach in VfB Stuttgart's youth department under Thomas Schneider on July 1, 2008. He was the under 17 team's assistant coach in 2013, before being promoted to head coach during the course of the season.
He left Stuttgart at the end of the 2014–15 season to become the youth manager of Hoffenheim. Prior to the 2016–17 season, he was promoted as under 19 coach. He was the top student in the class of 2016 at the Hennes-Weisweiler-Akademie, Germany's football coaching institution.
Tedesco got his first professional job in March 2017, taking charge of Erzgebirge Aue, who were rooted to the bottom of the second tier. He earned 13 points from his first five matches and ended the season in 14th place, staving off the threat of relegation and racking up six wins, two draws, and three losses.
This drew the attention of Schalke who, following a disappointing 10th-place finish under Markus Weinzierl, appointed Tedesco on a two-year contract in June 2017. After going down 0-4 at halftime to Borussia Dortmund, Schalke would go on to draw the Revierderby 4-4, a superb comeback that would set the tone for the rest of the season.
Tedesco was able to get the most out of players such as Leon Goretzka, Weston McKennie, Thilo Kehrer, Breel Embolo, Max Meyer and Yehven Konoplyanka as Schalke finished second in the league behind Bayern Munich, an astonishing eight points above Dortmund, Bayer Leverkusen and Hoffenheim, whilst also reaching the DFB-Pokal semifinal.
Despite a lack of elite finishers, Schalke were able to return to the Champions League thanks to a stellar defense that kept 13 clean sheets in the league and conceded 37 goals in 34 games, behind only Bayern Munich.
Tedesco organized his team in a 3-4-3 formation, with the back 3 offering a solid base for his defense. Wingbacks Bastian Oczipka and Daniel Caligiuri would often drop back and change to a 5 man midfield if needed, making Schalke one of the hardest teams to break down in the Bundesliga.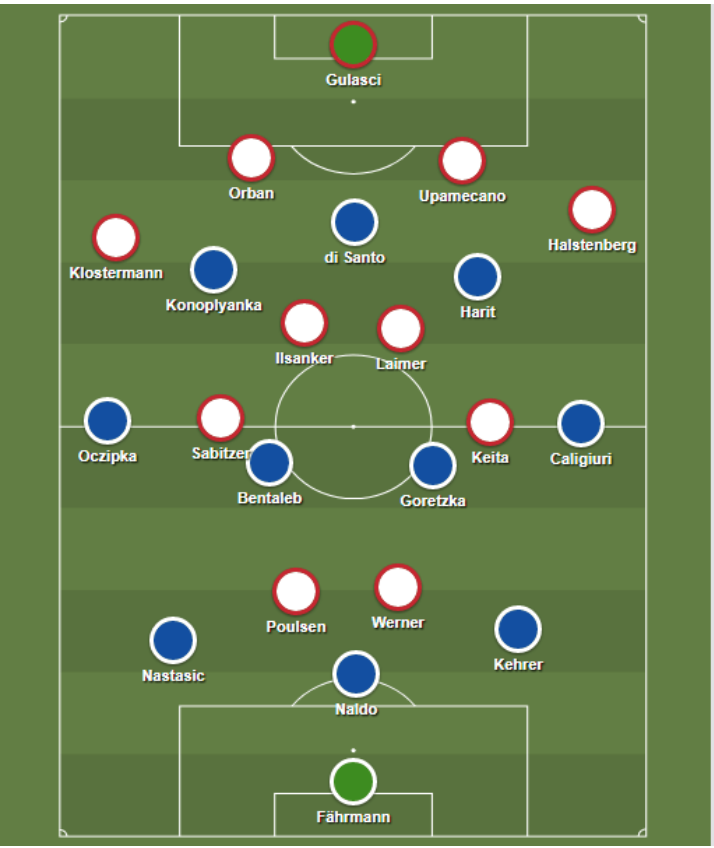 His team would defend deep when out of possession, and his midfield would never press aggressively. Only when an opposition team would be at the edge of the box would they press aggressively, consisting of the back three and the two midfielders.
When an opposition side was brought into Schalke's low press they left themselves vulnerable to being counter-attacked. This would then allow space from the other team, allowing Schalke's front three to exploit the defensive organization of the opposition team.
But he did change the play style of this team further on in the season, becoming a high pressing team to disrupt a more compact defensive structure. He created a pentagon of five players to press as a unit, and win the ball in high areas of the pitch.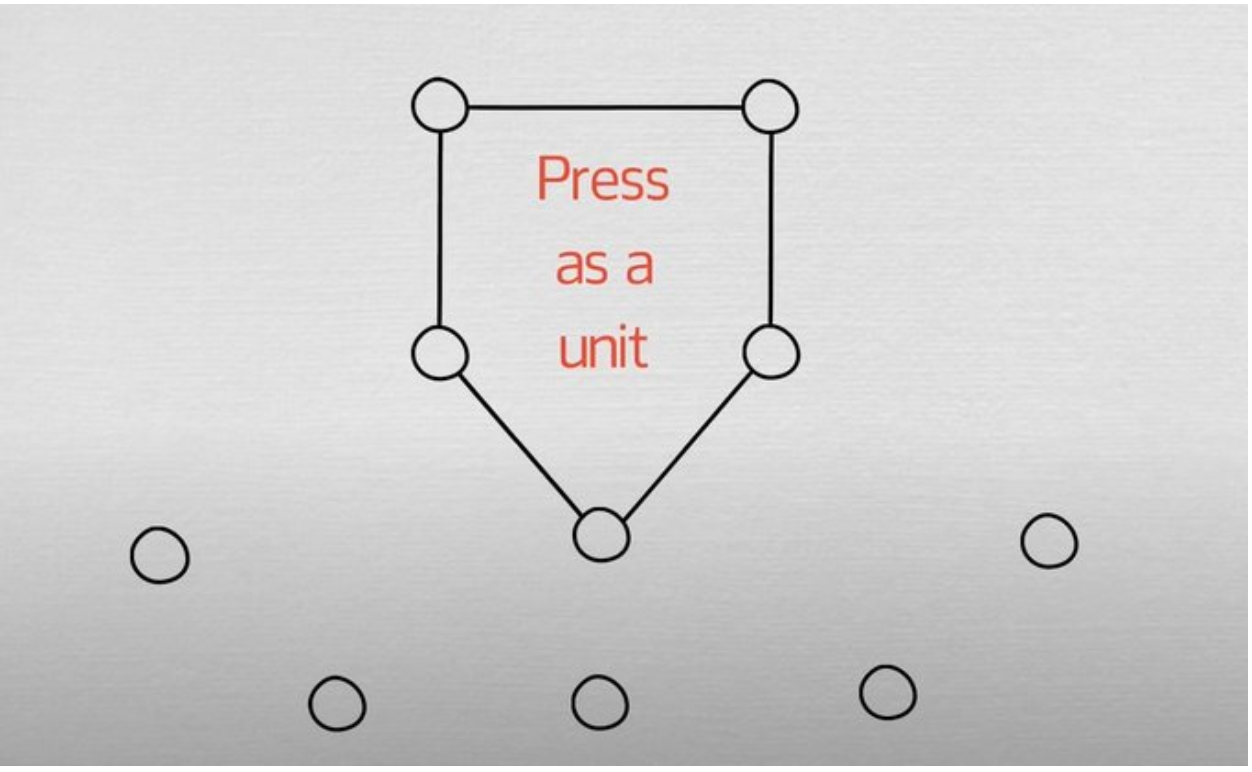 Leon Goretzka under Domenico Tedesco played as an advanced midfielder to get the best out of him. He used his vertical runs into the box and the knockdowns from the two strikers in front of him to create shot-creating actions.
After a sensational second-place finish in Tedesco's debut season, Schalke suffered two hammer blows in central midfield when Goretzka and Max Meyer departed to Bayern Munich and Crystal Palace on free transfers, whilst they also sold defender Thilo Kehrer for €37 million to Paris Saint-Germain.
These departures took a toll on Schalke's form and caused Tedesco to get the boot in March 2019 after losing 7-0 to Manchester City in the second leg of the UEFA Champions League Round of 16. Schalke narrowly stayed up after appointing Huub Stevens, before finishing a slightly better 12th the following campaign under David Wagner, but they were relegated in 2020/21.
Tedesco did not remain unemployed for long and took a position as Spartak Moscow's manager in October 2019, finishing 7th in the league table and advancing to the Russian Cup semifinals. The following season, they finished second — eight points behind Zenit — and secured passage to the Champions League qualifiers.
After two seasons in Russia, Tedesco chose to not renew his contract due to the impacts of the COVID-19 pandemic and wanting to spend more time with his family. Once again, he quickly found a new opportunity with RB Leipzig, who, after losing wunderkind manager Julian Nagelsmann to Bayern Munich, had pulled the plug on Jesse Marsch's brief tenure.
RB Leipzig had a dismal start to the Bundesliga season, with a poor defense and a sluggish attack. After a defeat to Union Berlin dropped them seven points out of the top four, Marsch was sacked and replaced by Tedesco, with the Wisconsin native later replacing Marcelo Bielsa at Leeds.
Tedesco has rescued what looked to be a sinking ship of a campaign and has taken them to fourth in the league, level with Freiburg, and through to the Europa League qualifiers.
Similar to his set-up at Schalke, Tedesco uses a back three/five in his build-up play with two pivot players staying narrow. The wing-backs provide width, the two strikers occupy their opponent's last line of defense and the number 10 sits behind them.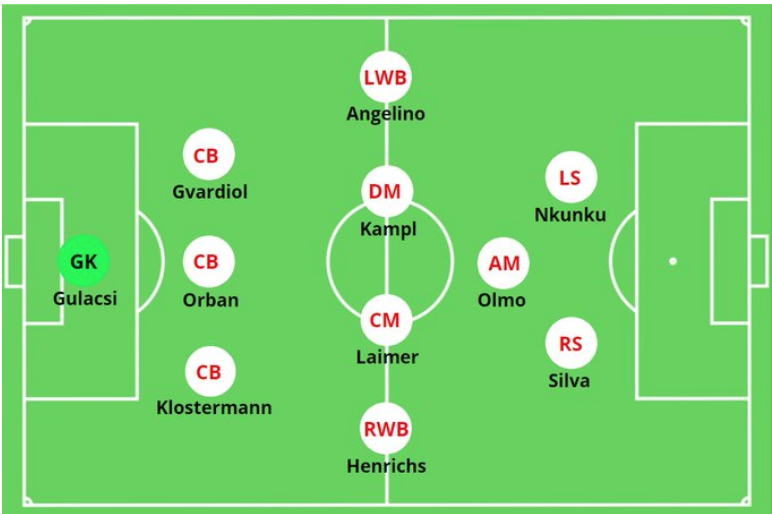 Tedesco's three center backs and two midfielders provide the team with a wide range of passing choices, solid receiving pass angles to circulate or progress the ball, and the opportunity to use the wing-backs by diagonal passes onto the wings thanks to their build-up play.
The fluidity of Leipzig's front three is an intriguing part of their style. Tedesco employs versatile players like Andre Silva, Christopher Nkunku, and Dominik Szoboszlai who can go from a 1+2 (a number 10 with two strikers) to a 2+1 (two number 10s with one lone forward).
The most significant difference is the amount of consistency Tedesco has brought to the team while still enabling his players to express themselves creatively and freely in their movements.
When it comes to pressing, he combines classic Red Bull characteristics with his disciplined football philosophy. This implies switching from a tight man-to-man marking system to a zonal one for this Leipzig team, which Nagelsmann also utilized when coaching the team.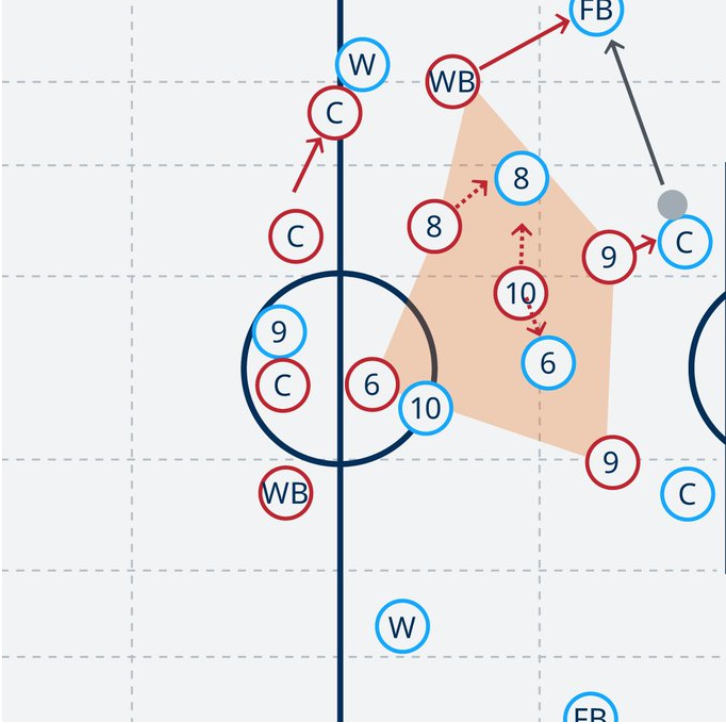 This zonal technique has the advantage of allowing the side to defend not only high up the pitch, but also in the mid and low blocks (defending in the middle of the pitch or deep in your own half).
Andre Silva, who under Marsch didn't always appear like he belonged in the game, is one of the biggest beneficiaries. Silva is not just employed as a striker under Tedesco, but also as part of their attacking link up play, with the Portuguese securing most second balls.
The formations range from 5-3-2 to 3-4-3, with the team being able to use the identical pressing routes and actions in both. Leipzig's wing-backs, for example, may always defend forward while the rest of the back line shifts to the wing where the ball is.
Josko Gvardiol and Mohamed Simakan are two other players who have profited from Tedesco. The new defensive strategy has given the duo a new lease on their style of play and improvement.
Tedesco has completely restructured Leipzig from a struggling side from mid table form into top four contenders. They are also still in two cup competitions including, the semi final of the DFB Pokal and the last 8 of the Europa League. There's a chance Tedesco can get hold of his first piece of silverware. And take RB Leipzig to their first ever major piece of silverware.
He's shown adaptability and different ideas to his teams, and is still only 36 years of age. I would be intrigued to see what he can do at Leipzig, due to the investments he can make at the club. And maybe progress in the future to a bigger club.
By: @Joe_BW6
Featured Image: @GabFoligno / Stuart Franklin / Getty Images