TSG Hoffenheim: German Football's Emerging Force
Following the 3-1 win over FC Augsburg on January 8, TSG Hoffenheim extended their unbeaten streak to 7 matches in the Bundesliga.
No other Bundesliga team is on a longer unbeaten streak right now, whilst in Europe's top five leagues only Chelsea, Manchester City, Inter Milan, and PSG have gone longer without a defeat in their domestic topflight. (Since the article's publication, Hoffenheim lost 2-1 to Union Berlin on Saturday)
Since the final week of October, Die Kraichgauer have quietly risen from mid-table mediocrity to one of the protagonists in this season's race for top four. Today, we look at how Sebastian Hoeneß has transformed the TSG in his second season in the dugout. 
This is an adaptation from Adam Khan's German Football Newsletter. Enjoy this content? Make sure to SUBSCRIBE HERE, to never miss the release of another issue!
Though the plaudits will eventually go to the former Bayern II manager for the impressive performances this season, perhaps the most compelling reason for the uptick in results is one completely out of his control.
Last season, TSG Hoffenheim were absolutely decimated by injuries and a COVID-19 outbreak. Of the 30 players who featured in the Bundesliga last season, only Ihlas Bebou was declared fit for all 34 matchdays, whilst 6 defenders alone missed more than 10 matchdays.
On 241 separate occasions a TSG Hoffenheim player wasn't declared fit or available for one of the 34 Bundesliga matchdays, averaging out to a staggering 7 absentees each week – the most in the Bundesliga and at least 4 more on average than any of the 10 sides who finished above them last campaign.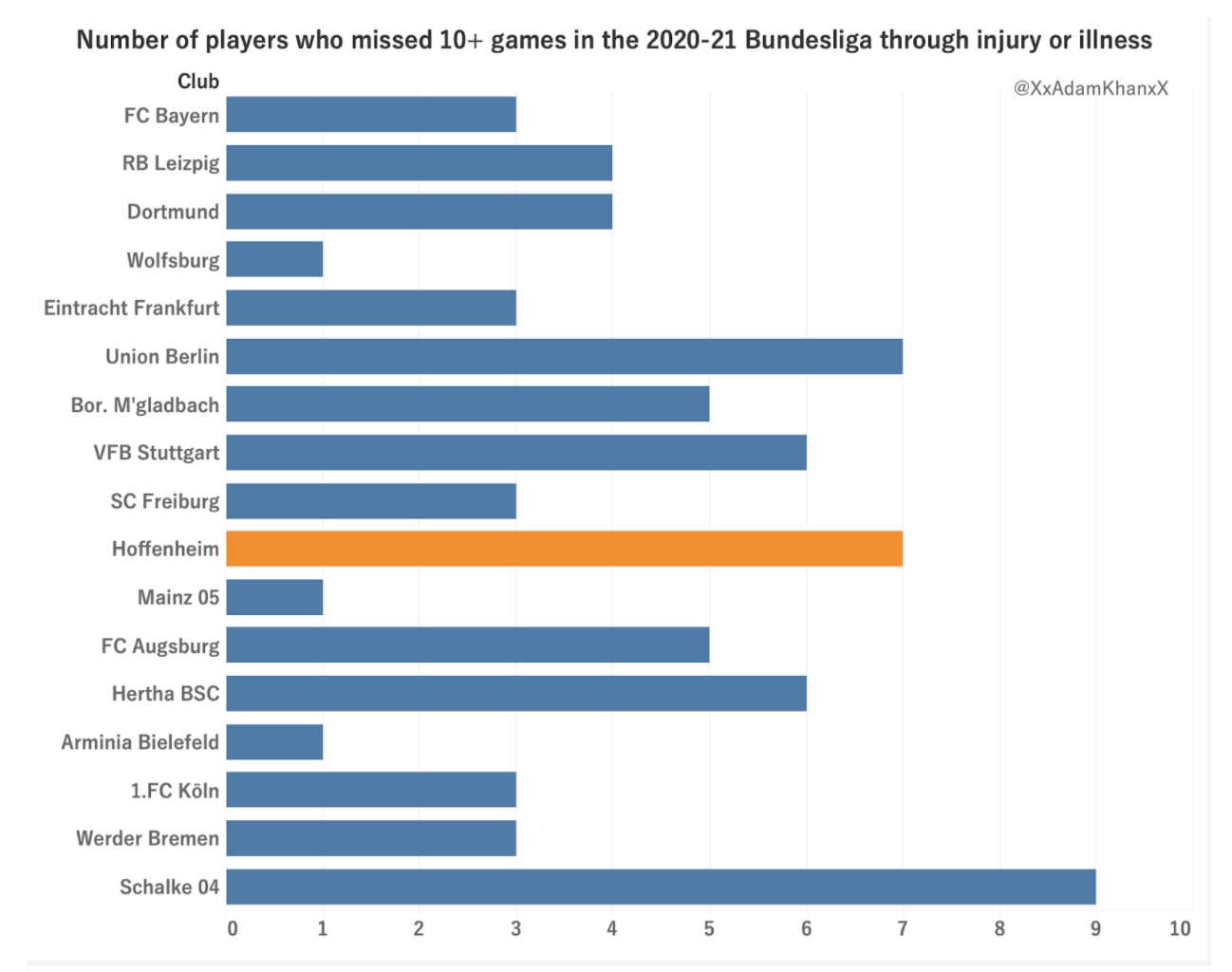 The number of long-term injuries in the Hoffenheim squad provides further evidence of the primary issues which plagued Sebastian Hoeneß in his first season as a Bundesliga manager. The fact that 6 of these 7 absentees were defenders meant that Die Kraichgauer could never form reliable defensive partnerships, and ended up keeping just 2 more clean sheets than bottom-dwellers Schalke.
On top of the constant chopping and changing required from the never-ending injury crisis, the fixture congestion from their Europa League participation only made things worse.
Between the 3rd of October and the 22nd of December, TSG Hoffenheim didn't experience a single week without either a midweek fixture or international break.
Despite the obvious prestige and financial incentives of competing in the Europa League, the distant away trips and onslaught of fixtures left a drastic toll on the side's domestic form.
Only once last season were Hoffenheim able to win the Bundesliga fixture which directly followed their match in the Europa League group stage, and, after starting the campaign with wins over Köln and Bayern, Hoeneß's side picked up just 6 more points before the new year.
Now that Hoffenheim doesn't have European football to contend with, Sebastian Hoeneß has been afforded a full week to prepare for each opponent, whilst the squad has up to 6 days to recover from each match.
This factor has undoubtedly had an influence on Hoffenheim's performances, particularly in the latter stages of matches in which tired minds lead to needless mistakes and costly errors.
Whereas over the entire last season Hoffenheim managed just 10 goals in the final 15 minutes, this year, Die Kraichgauer already have 13 to their name – the most of any side in this 2021-22 Bundesliga.
An additional freshness in decisive moments means that they are now able to use the dying minutes to turn tight matches in their favor, highlighted in David Raum's 93rd-minute decider on Saturday, or Chris Richards' even later winner 3 matchdays earlier.
In fact, in Hoffenheim's last 4 matches, Hoeneß's side has scored 5 goals in the final 15 minutes, rescuing an additional 4 points in the process. 
In addition to Hoffenheim's superior fitness and injury track record, Hoeneß has also been able to call upon a more well-rounded attack compared to their previous campaign.
In 2020-21, Die Kraichgauer were almost entirely reliant on Andrej Kramaric for goals. The 30-year-old scored 20 goals, accounting for 38.5% of the club's total output, and more than twice as many as Hoffenheim's second top scorer – Ihlas Bebou (9).
In fact, if we take both goals and assists into account, Kramaric had a direct hand in 50% of his Die Kraichgauer's goals, going through long stretches of the season as the solitary goal threat in an otherwise timid attack.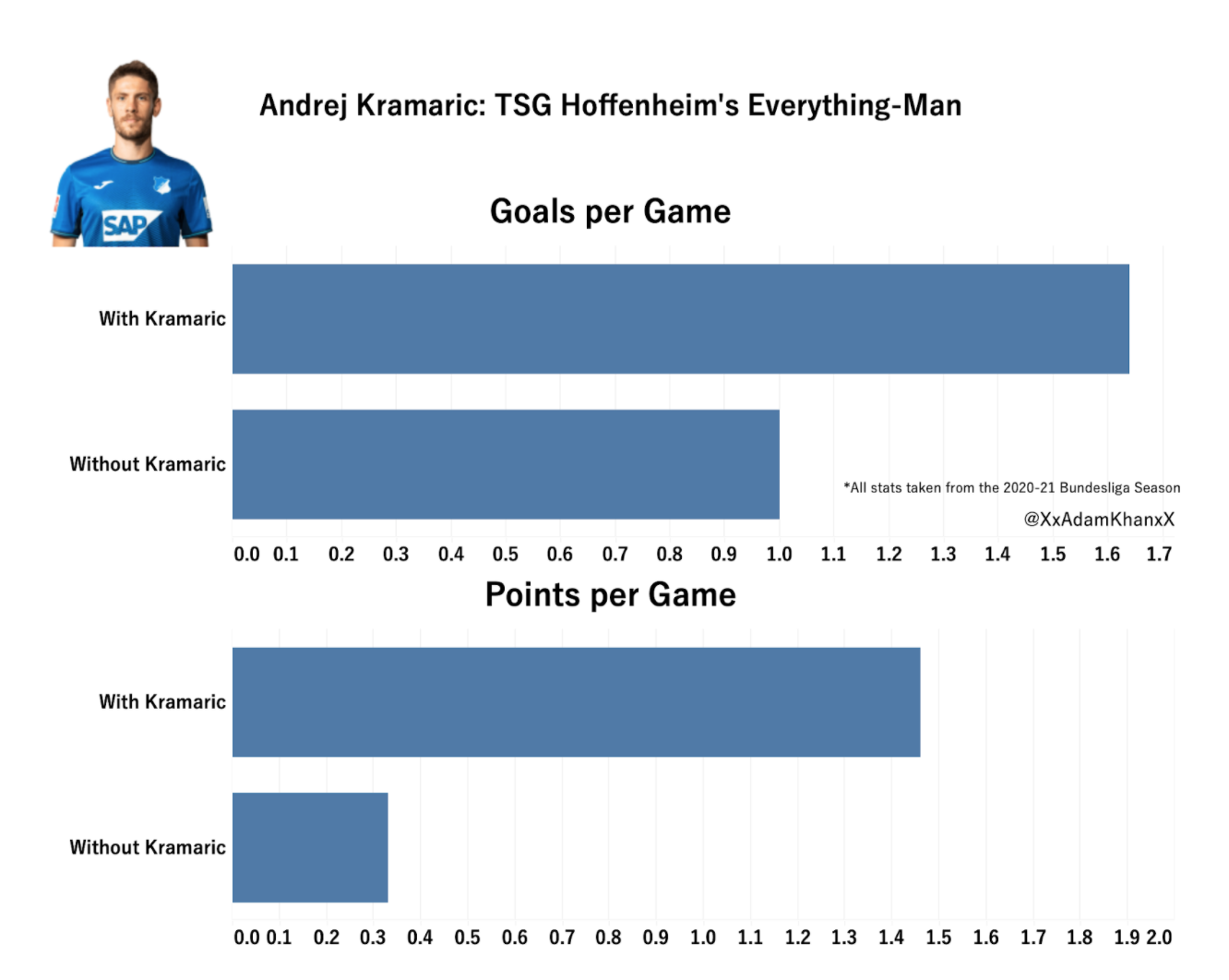 Andrej Kramaric's importance to the 2020/21 iteration of TSG Hoffenheim is highlighted in how ineffective their performances were without him in the side. The Croatian international missed 6 Bundesliga matches last season, and in that sextet Hoffenheim's attacking threat plummeted.
This season, however, Kramaric has just two goals after 18-match days, his worst record at this point in the season since joining the Bundesliga in 2016.
Last season, such a dramatic drop-off would have been fatal for Hoffenheim's hopes of scraping mid-table, let alone returning to Europe, but this year it has been compensated by the impressive output of the rest of the side.
Following Angelo Stiller's near-post finish against Leverkusen in late December, Hoffenheim drew level with Chelsea as the side with the most different goalscorers in Europe's top 5 leagues.
In the entirety of last season, Hoffenheim had just 13 different players find the back of the net, but with barely more than half the season gone, 16 have already made it onto the score sheet this campaign.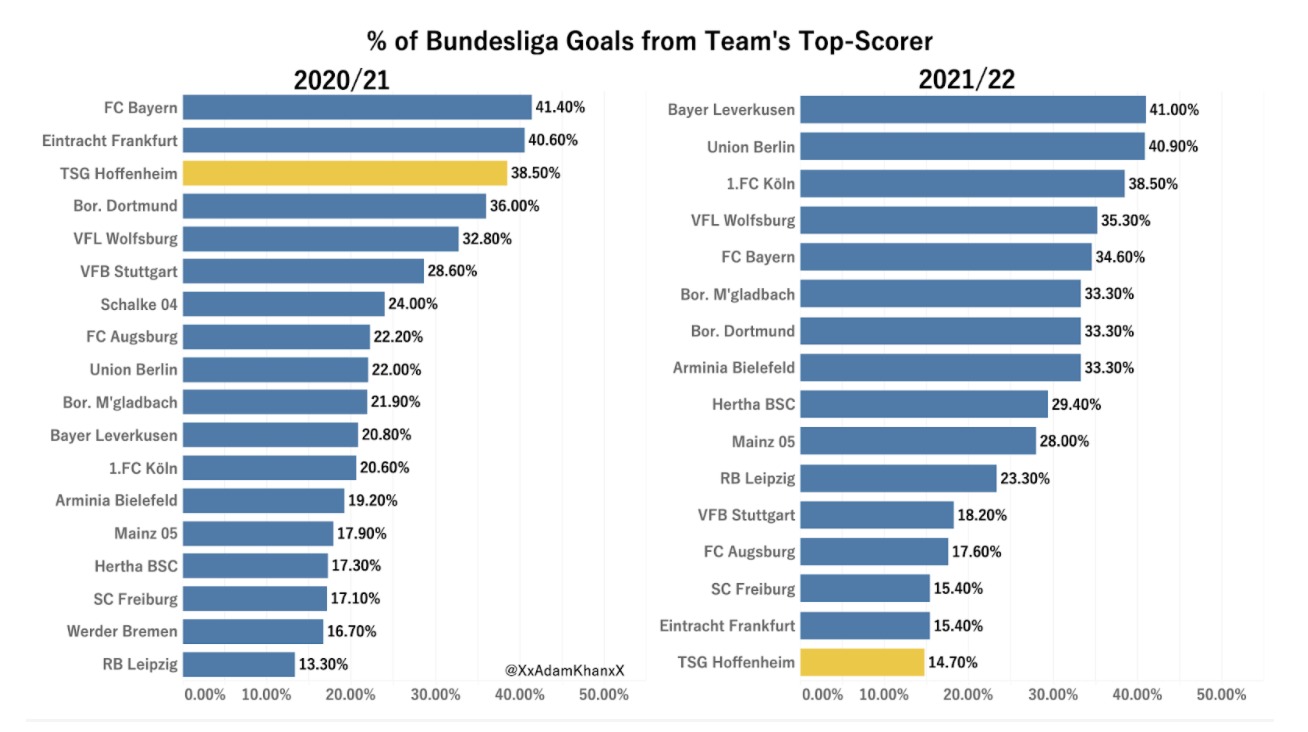 The final point to examine in Hoffenheim's revival is the development of Sebastian Hoeneß's tactical outlook. Though we often only look at how players progress throughout their careers, doing the same with managers is fundamental to understanding key stylistic changes, and the development of a team's identity.
At 39-years old, Hoeneß is still in his infancy as a head coach, and it's easy to forget that the Hoffenheim job is just his first experience coaching a senior topflight outfit.
After a first season in which inconsistency and embarrassing defeats left a sour taste in the mouth of majority-investor Dietmar Hopp, Hoeneß now looks to have come out the other end as a more well-rounded and results-driven manager.
For example, whereas last season Hoffenheim were grasping at chances and rushing shots from outside the box, this year Hoeneß has demanded either fast-paced counters or a more patient approach in the final 1/3rd. This has allowed the TSG to not only create more chances, but also those of a higher quality.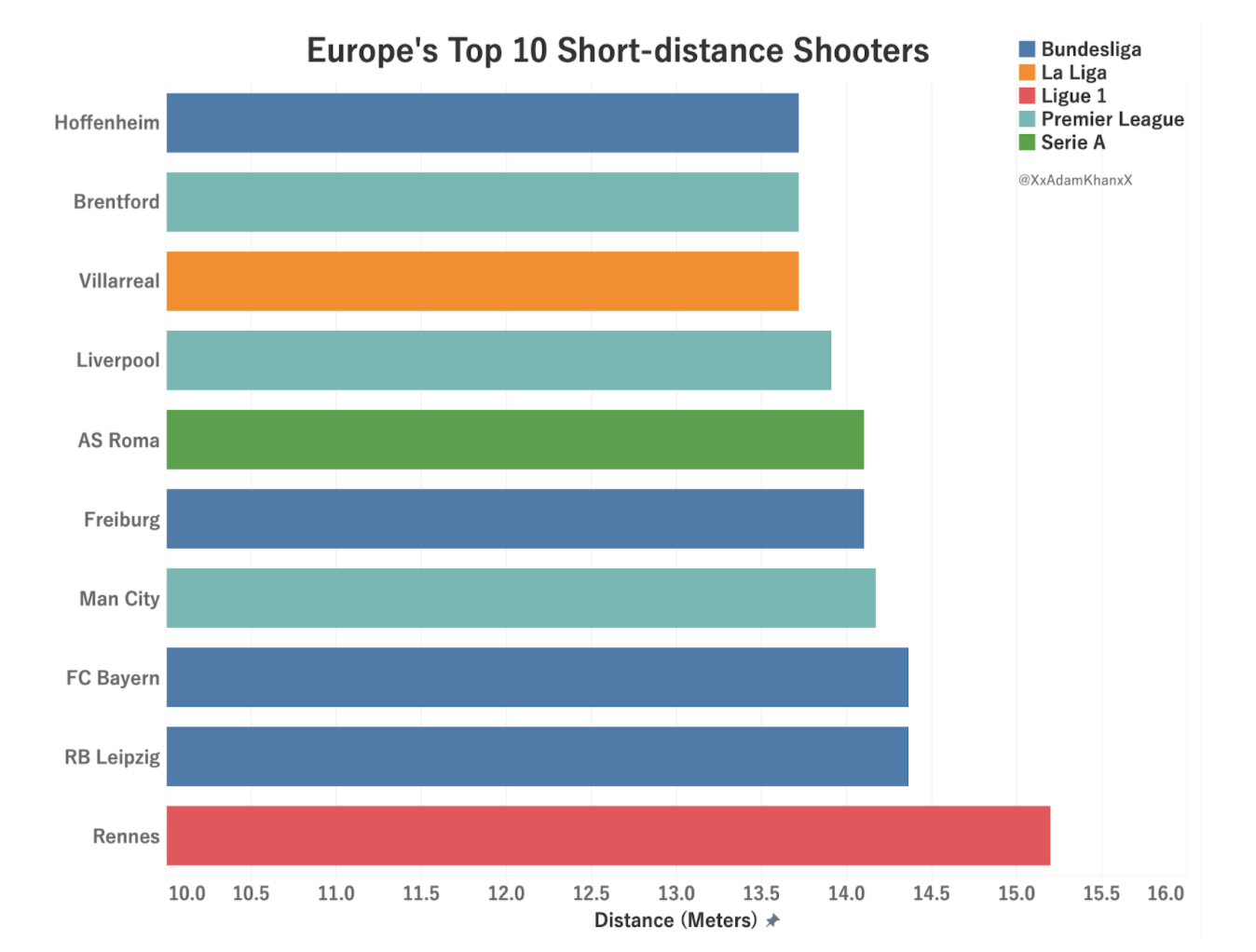 A great measure of a side's shot-selection and intelligence in final-third possessions is the average distance they take their open play shots from. Not only are Hoffenheim significantly closer to goal compared to last season (1.64 meters to be exact), but no side in Europe's top 5 leagues are taking shots nearer to goal than Sebastian Hoeneß's TSG Hoffenheim.
On top of their superior shot-selection, Hoffenheim are also quietly developing into a solid set-piece outfit, boasting the eighth-most corner-kick goals of any side in Europe's top 5 leagues (6), and the joint-most in the Bundesliga this season.
What's even more impressive than their statistical dominance though, is how varied the set pieces are. No two corners are alike, with goals coming from near post flick-ons, front & back post headers, quick thinking on loose clearances, and my personal favorite, well-worked short routines (pictured below).  
Having already scored more corners this season than in the entire previous campaign, the boring work on the training pitch and the acquisition of dead ball specialist David Raum are clearly paying off.
As set pieces are looking likely to increase in importance as more and more teams acquire specialist coaches and an analytical approach, Hoffenheim's leading outlook after 15 matchdays is a positive sign for the future. 
On the other end of the pitch, Hoffenheim have looked equally, if not more, impressive when defending set-pieces.
Alongside Bayern, Hoeneß's side are the only topflight outfit who have yet to concede from either a direct free-kick or a penalty. Particularly the penalty statistic is worth further examination, with long-time number 1 Oliver Baumann keeping 4 of the last 6 penalties out of the net.
Baumann's penalty save against his former teammate Vincenzo Grifo helped pave the way for December's victory at the Europa-Park Stadium. With his 13th penalty save in his Bundesliga career, Baumann moved up to 15th in the all-time rankings, and is now level with Wolfsburg's Kuen Casteels for the most amongst active-Bundesliga keepers.
With another impressive victory last weekend, TSG Hoffenheim moved up to 3rd in the Bundesliga table.
We are still a long way off the dazzling post-promotion haze under Ralf Rangnick, but with numerous European candidates unsettled after a summer of managerial turnover, the continuity and faith in Hoeneß's tactical identity have allowed TSG Hoffenheim to grow into a starring role in the race for European football this season.
Enjoyed this article? Then make sure to subscribe to Adam Khan's Free German Football Newsletter for similar content every Friday!
By: Adam Khan / @XxAdamKhanxX
Featured Image: @GabFoligno / Alex Grimm – Getty Images