Michael Duff: The Manager to Lead Barnsley Back to the Championship?
As a stalwart center-back for Burnley and Cheltenham Town, Michael Duff was everything that epitomised the previous age of footballers, with an unmatched loyalty, a battle-hardened style and the toughest of mentalities. It's quite common that a player's attributes can influence their managerial characteristics, but in Duff's case, his teams embody the spirit of his playing career.
During his three-year reign at Cheltenham Town, he brought the town together and created a good footballing culture at Whaddon Road. But once again, Duff is ready to begin a project, and this time, he is tasked with repairing the disconnect between Barnsley FC and its fans..
Born in Belfast, Duff took the scenic route to the top of English football and was spotted by Cheltenham as a player whilst making his trade playing for step six outfit Carterton Town. The streaky 16-year-old was spotted playing in the Hellenic League by the Robins' scouts and was invited to sign for their youth set-up.
Malcolm Ebiowei – The Tricky Winger Awaiting His Premier League Wings
He also went on loan to Cirencester Town before returning to play under Steve Cotterill, and quickly became a cult hero on the staircase to becoming a legend. 242 appearances at Whaddon Road followed, along with 15 goals including one to promote the club back to the football league. A towering header from a free-kick settled a 3-2 victory over Yeovil Town sent the Robins back into the top-92.
Duff's time in Gloucestershire was ended by a £30,000 switch to Lancashire as he joined Burnley, a club ready to take his ambitions to the top of English football. He became a stalwart in the Clarets back-line, despite usually playing at centre-back, the defender switched to right-back for the majority of his time at Turf Moor.
The international plaudits came with his resilient performances on the right of Burnley's defence, making his Northern Ireland debut prior to joining, but playing a part in two of their most historic victories. He was a late substitute in their iconic 1-0 win over England in 2006 and also played a huge part in the Green and White Army's 3-2 victory over Spain later that same year.
However, an injury the following season during a game against Crystal Palace would break up a large part of his Clarets career. Suffering cruciate ligament damage in the match with the Eagles, Duff spent over a year on the sidelines and was only able to return on Boxing Day of 2009.
During his spell out, he'd missed the Clarets promotion and would therefore play his football, for the first time in the Premier League. In doing so, he completed the rare feat of playing in each of the top eight tiers of English football.
From the Hellenic league with Carterton Town to the Premier League with Burnley, in fact just the one promotion wasn't enough for Duff and he went on to win a second and third, becoming the first player to win three promotions to the top flight with the same club.
Michael Beale – The New QPR Boss Ready to Transition From Assistant to Head Coach
Duff retired in 2015 after helping them to the third promotion and would find another role in football not long after. Only seven games into the 2018/19 League Two season, Michael Duff returned to Cheltenham Town to become their new manager.
The task on hand was a difficult one as he was left to pick up the pieces of poor recruitment during Gary Johnson's final summer at the club. Duff immediately aimed to implement some of his traits from his playing days and demanded that his players had 'sweat on their shirts'.
In the meantime, a results-based approach was applied and a resilient 4-4-2 was chosen amid a slightly more direct style. However, the former defender eventually changed to a 3-5-2, which proved to be good news for a certain Ben Tozer, who had been signed as a central midfielder and didn't quite hit the ground running.
Tozer instead, when converted by Duff into the middle of the back three looked completely at home when marshalling the defence and was to lead the Robins to League Two promotion as captain only three years later. But before that Duff instilled hard work and graft into the side and had lifted standards throughout the club despite only finishing two places higher than when he had arrived.
The following campaign brought with it a change in Duff's initial direct style, encouraging his players to build from the back particularly using Tozer as a focal point. Amid 'project restart' the Robins finished fifth and qualified for the play-offs and were pitted against Northampton Town in the semi-final. Charlie Raglan and Conor Thomas grabbed the goals in the first leg to give Duff's side their 2-0 lead, leaving them placed seemingly comfortably heading into the home tie.
After Returning to the Premier League, How Can Scott Parker's Cherries Beat the Drop?
However, the Cobblers stunned Cheltenham, bagging three goals to take themselves to Wembley and to condemn the Whaddon Road residents to another season in the fourth tier. And that season was the one that would mark their return to League One for the first time since 2008/09.
A triumphant promotion campaign followed despite the difficulties facing teams in the lower leagues during the pandemic which lead to them being crowned champions in front of an empty Whaddon Road after a 4-1 victory over Harrogate Town on the final day of the campaign.
Often winning by tight margins, Duff's men battled to the title and proved to have a winning mentality and a knack of scoring from long throws.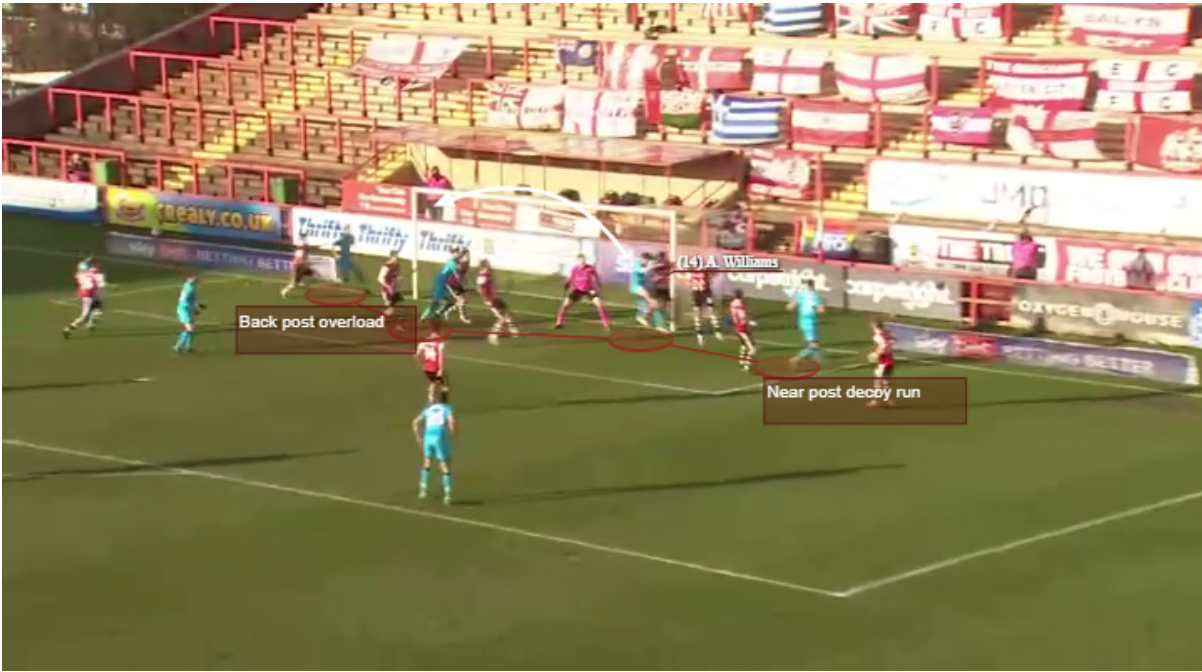 Priding themselves on aerial threat and overloads at both posts during these situations, Duff's side were unstoppable from throw-ins. Despite being outscored by another six sides in the division, Cheltenham conceded the second-lowest amount in League Two.
His influence on striker Alfie May proved to be huge during their promotion season and as they moved up a division. Finding space inside the opposition penalty area proved to be May's niche, gathering a poacher's instinct completely contrasting to the hot and cold form he'd produced at his previous club Doncaster.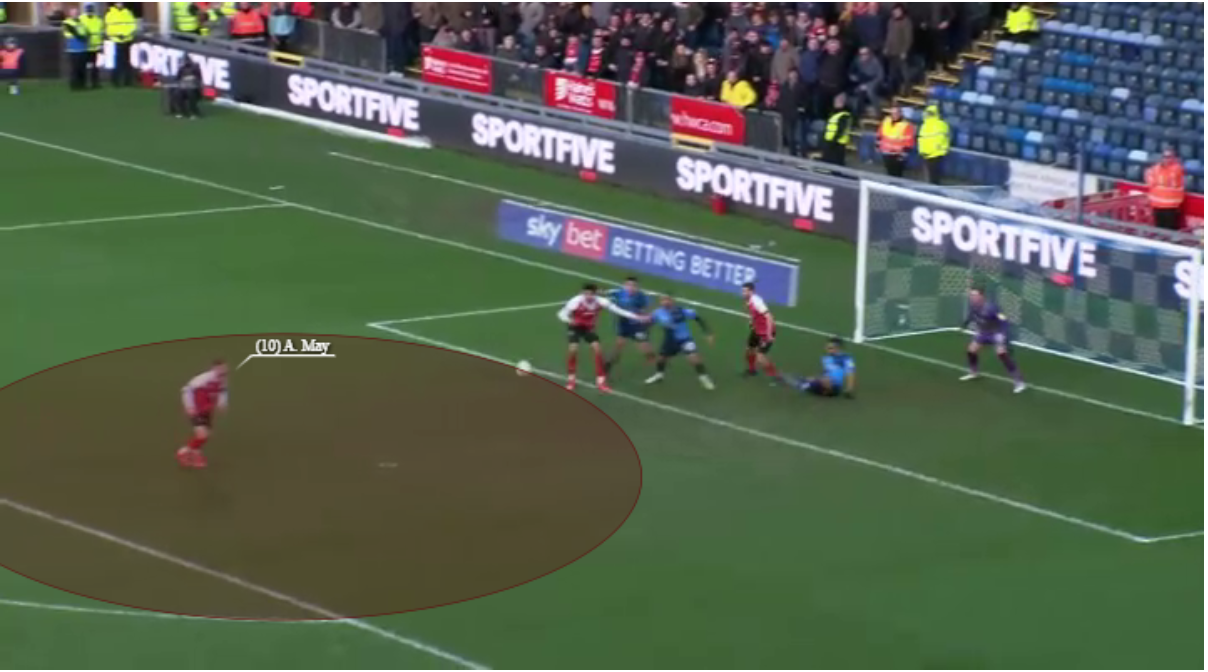 Considering he joined the Robins for a cut fee of just £5,000, the striker's 23-goal season in League One has meant those in the Championship have taken an interest in the 28-year-old. May also bagged against Premier League champions to be, Manchester City during an FA Cup third-round clash where they conceded three in the last 10 minutes to eventually be downed by Pep Guardiola's side.
Their resilient performance for 70 minutes acted as a springboard for the Robins to win their first EFL title. Duff's robust 3-5-2 continued to be effective as they forayed into the third tier after their promotion, using it to stifle the opposition by shuffling in their three banks side to side and hitting on the break when the ball was recovered.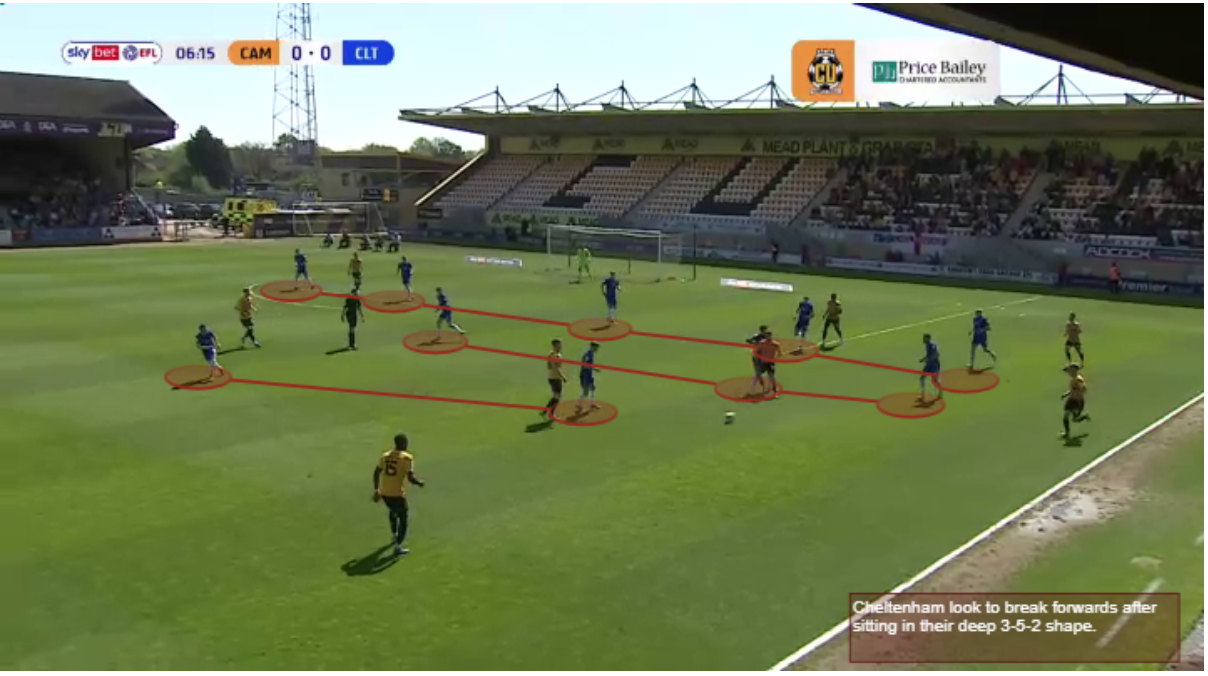 Duff's adaptation to the division and insistence on his players' commitment to the cause meant they finished in their highest ever League One position, despite the boss claiming they'd conceded too many goals that season.
His only ambition was to survive relegation back to the fourth tier, but the 44-year-old did much more than that, uniting a town once again and stabilising the football club along with his legacy.
"It's a natural progression. If you look at the size of the club, look at the attendances, look at the history." – Michael Duff on joining Barnsley.
Duff faces a similar task as he arrives at Barnsley, charted with reuniting a disconnect between the fanbase and the club after a dismal Championship campaign where they were relegated, finishing below two sides who had point deductions.
He's likely to be given some backing at the Tykes with the new board in place after their predecessor's profit over results policy caused their ultimate downfall.
But after giving up their second-tier status too easily for the fans' liking, Duff will have a job on his hands to restore the sweat back to the Barnsley shirt and pride back to a previously unified town.
By Louis Bent / @louisbent_
Featured Image: @GabFoligno / Nick Potts – PA Images
Analysis and data via WYSCOUT