The Transfer Market post-Covid 19: The Art of the Swap Deal
The COVID-19 pandemic has decimated football clubs' finances, forcing clubs to tighten their pursestrings and put off big-money transfers until next summer. Under normal circumstances, Europe's elite clubs would be readying the accounts for a summer spree, calling agents, working on potential deals, and so on. However, the current financial and footballing climate is anything but normal.
With football set to return, Europe's elite are still lining up deals, but in a unique way. After years of growing inflation, this summer is different; clubs are no longer able to bankroll hundreds of millions of pounds in transfer fees, because they simply don't have the money for it.
Football clubs are painted as cash cows, multinational corporations with hundreds of millions of dollars stashed up at any given time, but this reality could not be further from the truth. According to The Guardian's 2018 financial reports, out of the 20 clubs in the Premier League, only two recorded profits of over 100 million pounds for the fiscal year, Liverpool Football Club and Tottenham Hotspur Football Club. Out of the remaining 18 teams, only 10 recorded profits, all of them under 80 million pounds.
For a corporation with the stature of Premier League clubs, profit margins of 30-50 million pounds isn't exactly a lucrative business. This is primarily because the profits recorded more often than not are reinvested by owners and board members back into the squad in the form of incoming transfers. Furthermore, in light of social distancing and limiting the spread of COVID-19, stadiums are closed to fans.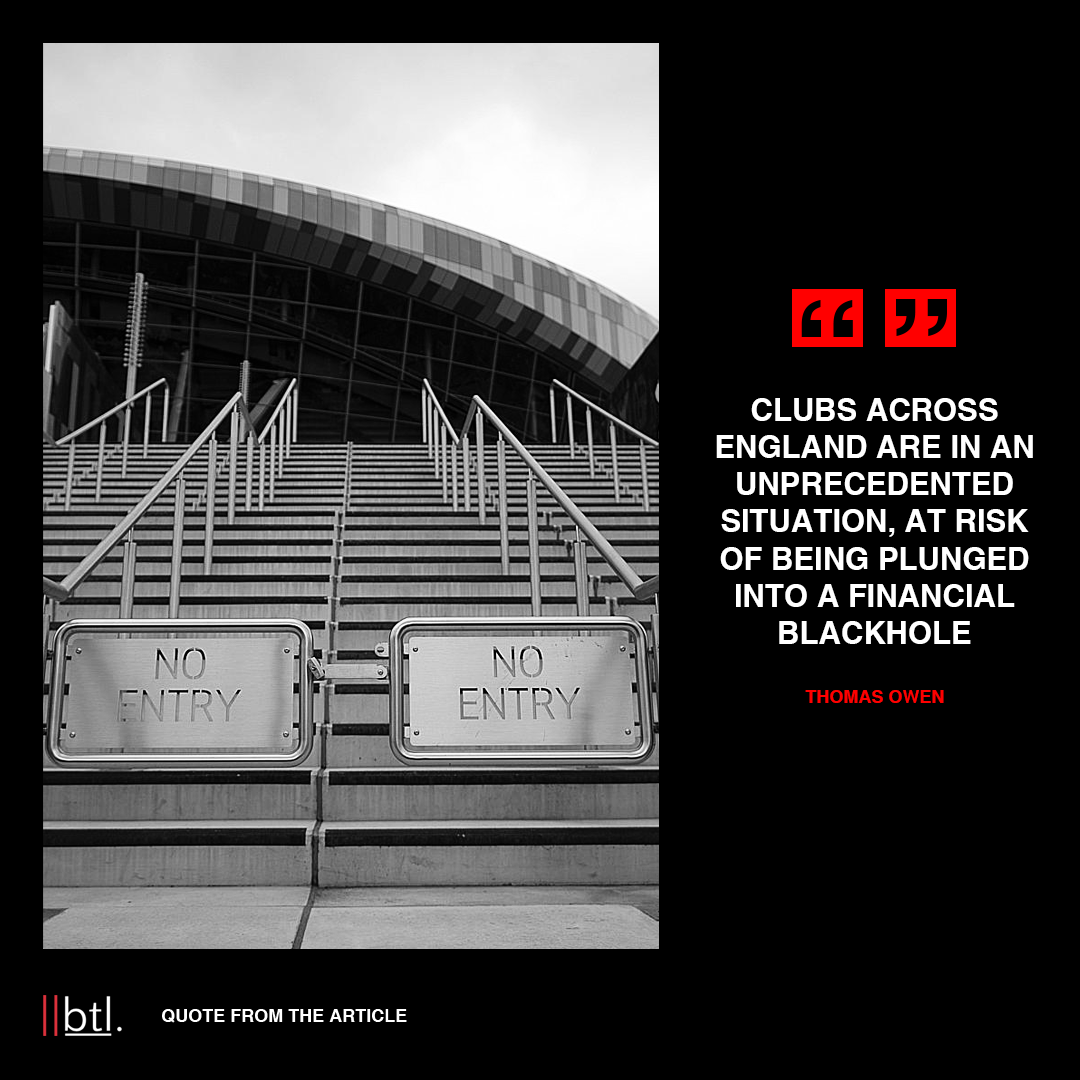 Playing matches behind closed doors slashes a club's earnings anywhere from 5 million pounds (Brighton and Hove Albion) to 100 million pounds (Arsenal Football Club) per annum. Clubs are paying the same amount of expenses, yet are missing out on valuable income. As such, the transfer of a prized player such as Jadon Sancho or Lautaro Martínez will most likely have to wait until next summer.
Furthermore, as Manchester United's chief operating officer Ed Woodward has previously hinted at, given the global economic hardships that COVID-19 has wreaked, it would be an abhorrent act for a club to bankroll such extravagant sums on shiny new football players. "I cannot help feeling that speculation around transfers of individual players for hundreds of millions of pounds this summer seems to ignore the realities that face the sport," Woodward told a United fans' forum in a conference call in April.
The public perception of a club holds plenty of weight, even more so when the commercial revenue accounts for roughly half of Premier League clubs's earnings annually, per The Guardian. The European elite will still make splashes in the transfer market, but they likely won't dip into nine figures as seen in previous years with the signings of Antoine Griezmann and João Félix. Signings such as that of Mauro Icardi to Paris Saint-Germain for 50 million euros, will become the norm rather than the exception, at least for this summer.
As economists would say, "the bubble has popped," referring to a situation when the market reaches its capacity due to inflation, and buyers don't have the same purchasing power as before. Given these economic implications, more teams will be attempting to pull off swap deals, whether that be player for player swaps or player plus cash swap deals. However, finalizing a swap deal is easier said than done.
Photo: Getty
The laws pertaining to transfers differ from country to country; the tax systems of England and Italy are completely different, both from a corporate tax and personal income tax perspective. These varying regulations make it more difficult to pull off a swap deal with the same success as in American sports, as different clubs have different wage structures and tax laws to comply with. Nevertheless, as clubs find themselves more reluctant than ever to spend cash, we will likely be seeing an unprecedented amount of swap deals in European football.
When a transfer is finalized, clubs typically amortize the incoming player's transfer fee over the length of their contract. For example, when Jorginho was signed for Chelsea in a stunning 57 million pound deal, Jorginho's total fiscal output was his 57 million pound fee plus his wages divided by his contract length. His four-year deal saw him bank 110,000 pounds-a-week; given this, we can estimate that Jorginho's total fiscal output would be roughly 19.5 million pounds a year. 
Less than two years after his arrival in London, there are rumors that Jorginho will be on the move this summer. Chelsea, with their notoriously  ferocious negotiator Marina Granovskaia, are intent on breaking even on their initial outlay so that the books don't record a loss. Given that Jorginho has played at Chelsea for two seasons, Chelsea still owe 33 million pounds to Napoli and Jorginho over the next two years as a result of his transfer fee and wages being amortized over the length of the contract.
Here is where a swap deal might come in handy. If Juventus want to reunite Jorginho with Maurizio Sarri, they must place a package worth at least 33 million pounds on the table, so that Chelsea can record either a profit or break even, rather than record a loss.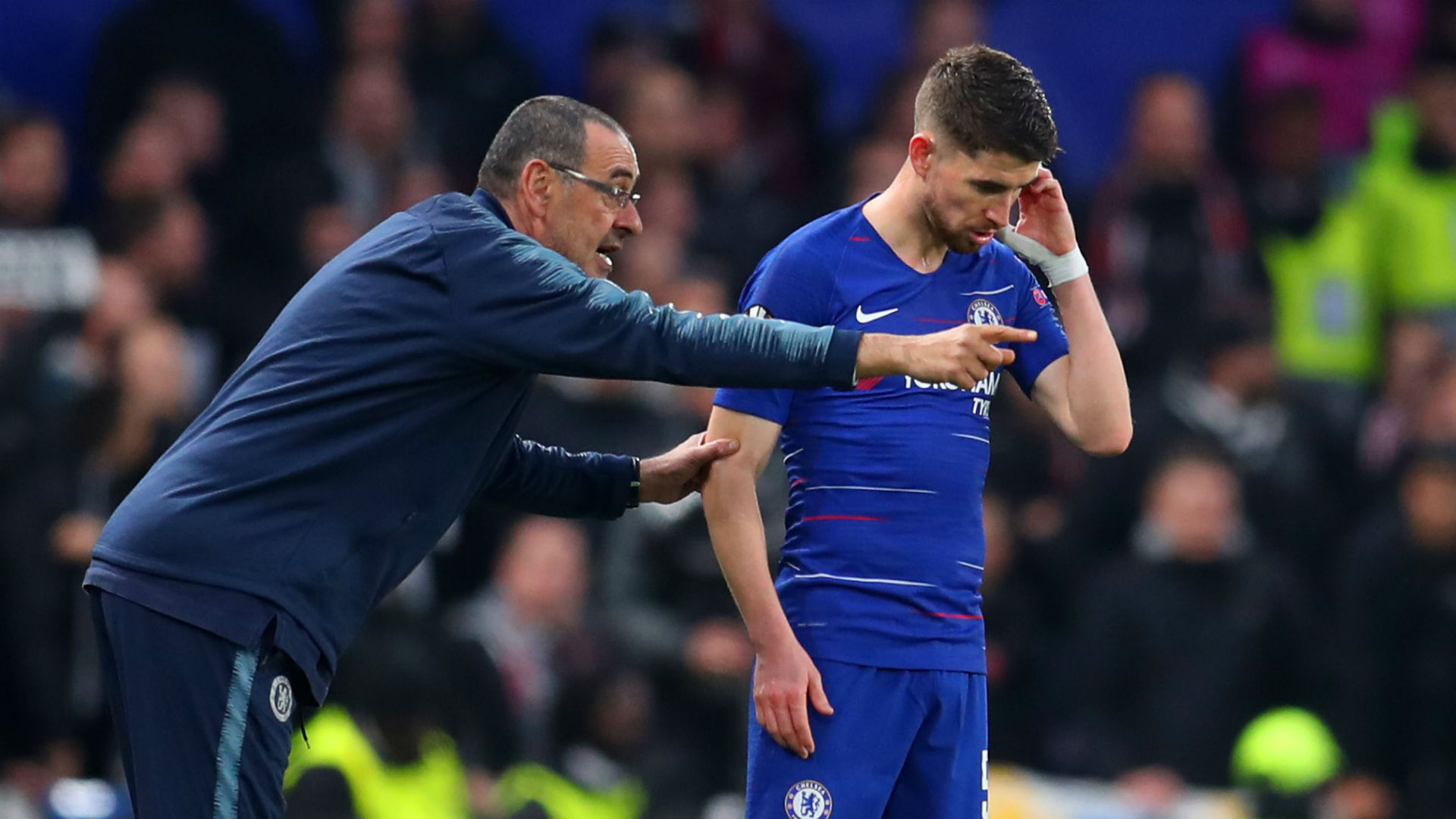 Photo: Catherine Ivill
This is where it gets even more tricky. Due to Juventus's bloated wage bill, they will be inclined to include a player in the deal, such as Douglas Costa, Adrien Rabiot, or Federico Bernadeschi. However, unlike American sports leagues such as NBA and NFL, teams cannot absorb players' existing contracts. Instead, they have to re-negotiate a new deal with the new club.
This is why player swap deals in European football are rare — it not only requires both clubs to value a player or several players as financial equals, but it also relies on players from both sides being open to the move. If Chelsea and Juventus were to reach a financial agreement that would see Rabiot and Bernadeschi join Chelsea with Jorginho heading to Turin, and if Bernadeschi and Jorginho both agreed to the move, but Rabiot refused to join Chelsea, then the entire operation would fall apart.
In effect, a swap deal requires multiple agreements with multiple parties all at once. Swap deals are rare and for good reason, they require the perfect storm to come to fruition. They take time, patience, and a lot of intricate details lining up at once, and it remains to be seen if they will come to fruition as widely expected.
By: @MedianoEra
Photo: @GabFoligno