How Hungary Exposed All of England's Lurking Problems in 4-0 Defeat at Molineux
Suddenly, an 'irrelevant' Nations League game became incredibly relevant. It felt like a fever dream: the squad of Hungary players at full-time raced away to their section, dancing away, covered in smiles, scarcely believing the magnitude of what they had just done, or, more likely, how easy it was to pull it off. 
What a huge mess. Gareth Southgate was well aware that he needed a dramaless three points to restore a sense of tranquillity after a woeful start to the Nations League, which had brought two points and one goal from the penalty spot. Instead, what was served up was a sickening blow — the heaviest defeat of his England tenure, the country's worst home loss since 1928, and a revolt at the Molineux.
For the first time since his appointment, the spotlight began to shine on Southgate. Despite tournament success, there have been long-form complaints about his lack of a tactical identity, or his negative one at that. 
For what England have always lacked in free-flowing attacking football, they have made up for in being hard to beat — this is probably why they have done well in tournaments, so kudos to Southgate for that. However, if they're not even that anymore, that's a huge problem before Qatar. 
Hungary ripped England apart, almost in disbelief at the amount of space they were being offered. So, what exactly happened in the massacre?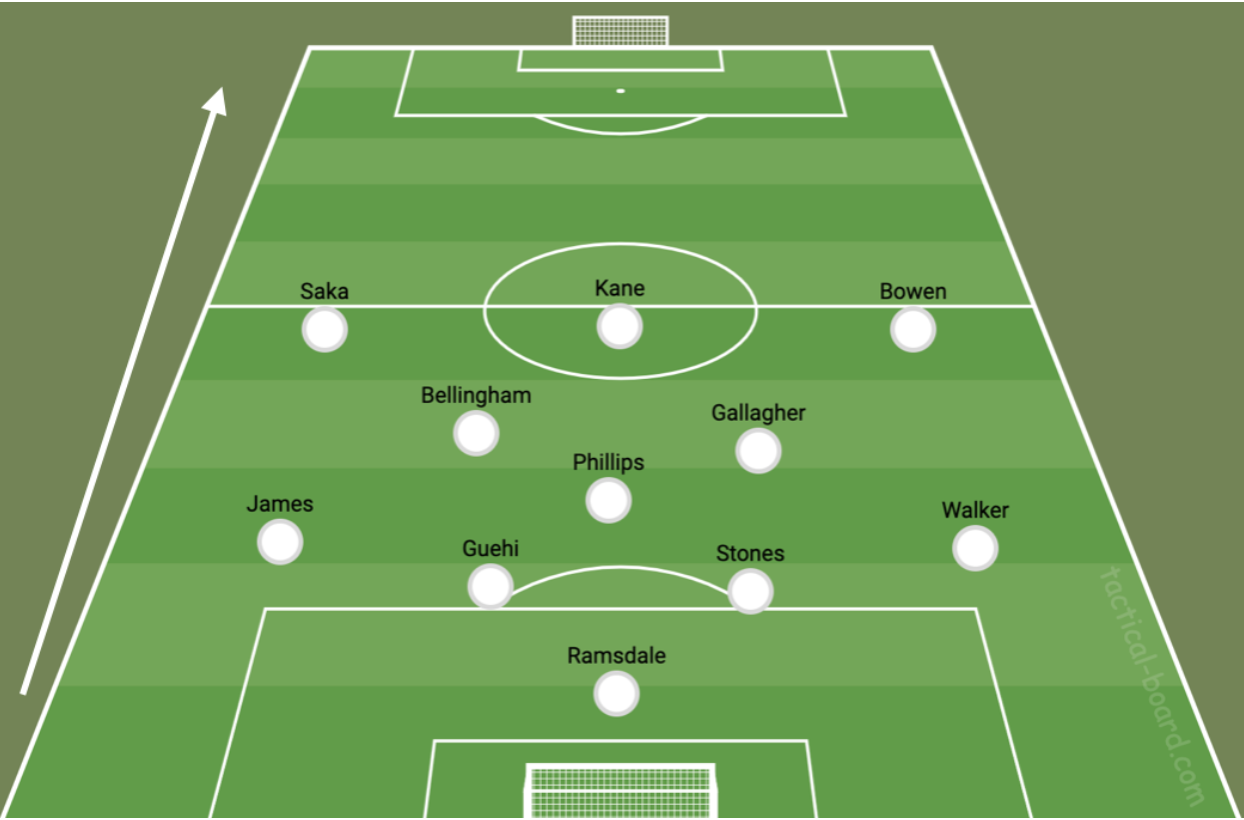 For all the talk of England being slow in possession, Southgate opted for a positive selection. Kalvin Phillips was the lone six, which is generally dangerous given his excellent passing range. Jude Bellingham and Conor Gallagher as auxiliary eights, which should, on paper, give England some creativity mixed with good off-the-ball work. 
Reece James at left-back was probably the most interesting pick of the bunch and England's front-line had 40 Premier League goals between them. As you can see, this is how England shaped up in early build-up (a common sight given how much possession they had). It's nothing major: the only thing of real note was Reece James pushing up to try and spread the pitch and create passing sequences with Saka and Bellingham. 
While Walker, as he does for City, doesn't vacate his position as often, forming a back three in possession. However, this is usually a result of trying to stop quick counter-attacks with his recovery speed. This is the first stereotypical 'Southgate could've been braver' line: maybe try and play Walker higher to spread the pitch on both sides?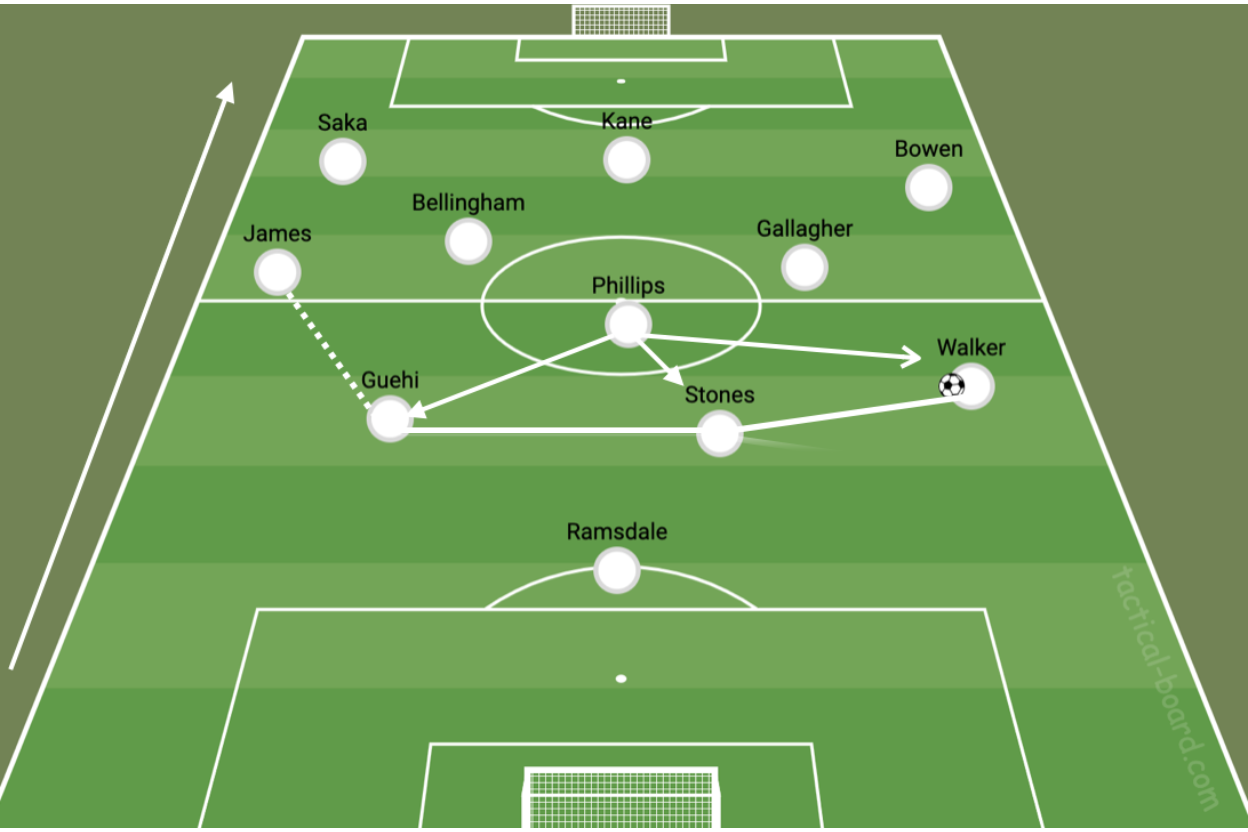 Southgate sensed he wasn't getting the desired effect with this lopsided full-back system, so, at half-time, he brought on Sterling for Bowen. This pushed James back over into right-wing back,  and Saka into left wing-back.
You can, for sure, count the James at left-back experiment a failure. Phillips would rarely try and break the first line of press with his positioning. He would come close to the centre-backs to recycle possession and keep the ball rolling. It was a night to forget for the Leeds midfielder: his lazy touch lost the ball for Hungary to score their second of the evening. 
The final third antics were simple: Bellingham and Gallagher were tasked with trying to find space higher up the pitch (easier said than done with Hungary's deep block), and Saka and Bowen to provide an outlet on the flanks. 
England, in possession, were disjointed and really messy. Bellingham and Gallagher just could not locate any dangerous areas, and Phillips was often not involved enough in progressing play. Below is a random example, and perhaps a harsh one, but it felt necessary to point out. 
Gallagher was just in a duel by the corner flag so England were a man short in midfield, hence the huge space not vacated by a player, making central progression impossible. This sums up England's bravery and lack of innovation in possession — someone needs to offer themselves up, jump in a space, don't let the team fall into predictable patterns and allow Hungary to stay organised in a 5-3-2 shape out of possession.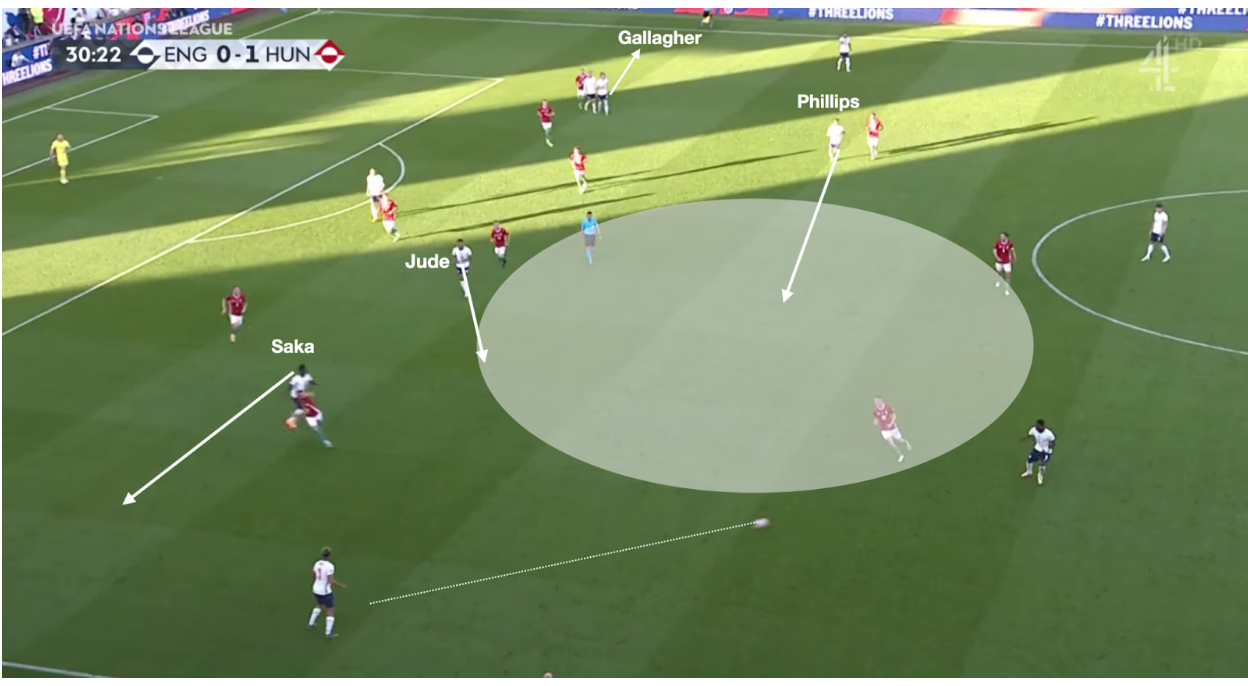 England's midfield has fantastic individuals but lacks fluidity and ball progression into the final third at the moment. This could be due to a lack of settled structure. In this international break, Southgate has used a 3-4-3, 4-2-3-1, 4-2-3-1, and a 4-3-3. 
This creates a lack of identity, which forms a lack of understanding, and the midfield is the biggest sufferer of this because the defence have worked up an understanding: John Stones, Kyle Walker, and Harry Maguire have been consistently in the side since 2019, and so have Harry Kane and Raheem Sterling. 
Whereas the midfield has never settled upon favoured personnel or set of roles. The constant change up of systems means there have been three-man set-ups with two sixes and one eight, or one six and two eights. Furthermore, Southgate has played a two-man midfield with wing-backs either side, or just a standard double pivot. 
The personnel has also constantly changed. In 2018, Jordan Henderson, Eric Dier (whose transformation into centre-back was already underway), and Fabian Delph were the central midfielders. 
Declan Rice and Kalvin Phillips' development in the years after that were too hard to ignore, and the two actually formed the most compatible and tactically stable midfield pairing England have had in years. Throughout the Euros they provided the team with a stable platform, but, if we're being picky — Italy's midfield in the final seized control of the second-half & pinned England's midfield back into their own half.
Now, with Jude Bellingham, Connor Gallagher, and James Ward-Prowse all knocking on the door to threaten this partnership, it looks like England will have to adjust again. Although you do feel that Rice has secured a position in the starting line-up, so it is about finding a partner he has a relationship with (apart from Phillips) which is impossible given there are only two games until Qatar.
On the ball, England obviously did work themselves into some good positions but they were not sharp enough to make them count. In the first-half, after a corner was cleared, Bowen had the space of Birmingham and Kane was racing clear to his left for a certain goal,, but he lost all momentum and the racing Hungary defenders caught up to him. Before that, Kane slipped in Saka in the box but his first touch just took the chance away. 
The only genuine joy they got was in the second-half, mainly through accurate crosses into Kane. James, back on his favoured right-foot, whipped one in a dangerous area that the captain was inches away from. Mason Mount, on the left-hand side, put a ball into Kane but his well-guided looped header was only met by the crossbar.
There is a huge case that if this game is mid-season, those vital bits of play are getting dealt with with more vigour. However, back into the match, and for all England lacked in progression and fluidity in midfield, they were equally as awful in many defensive aspects. 
Tottenham's Left Wingback Situation: Perisic the Master and Sessegnon the Apprentice
The first goal was simple: it was bad defending from a set-piece. Stones lost the first header, Kane didn't clear the knock-on, and it fell to Roland Sallai. 
The second goal, however, was a chain of defensive mistakes: Phillips showed zero composure and lost the ball in a dangerous position, Stones then did not show any instinct for emergency last-ditch defending and Aaron Ramsdale's reactions were far too slow. 
As you can see below, Phillips loses the ball in a dangerous position. There are three Hungary players closing in, with a huge space between Walker and James to exploit (this is where the goal is eventually scored).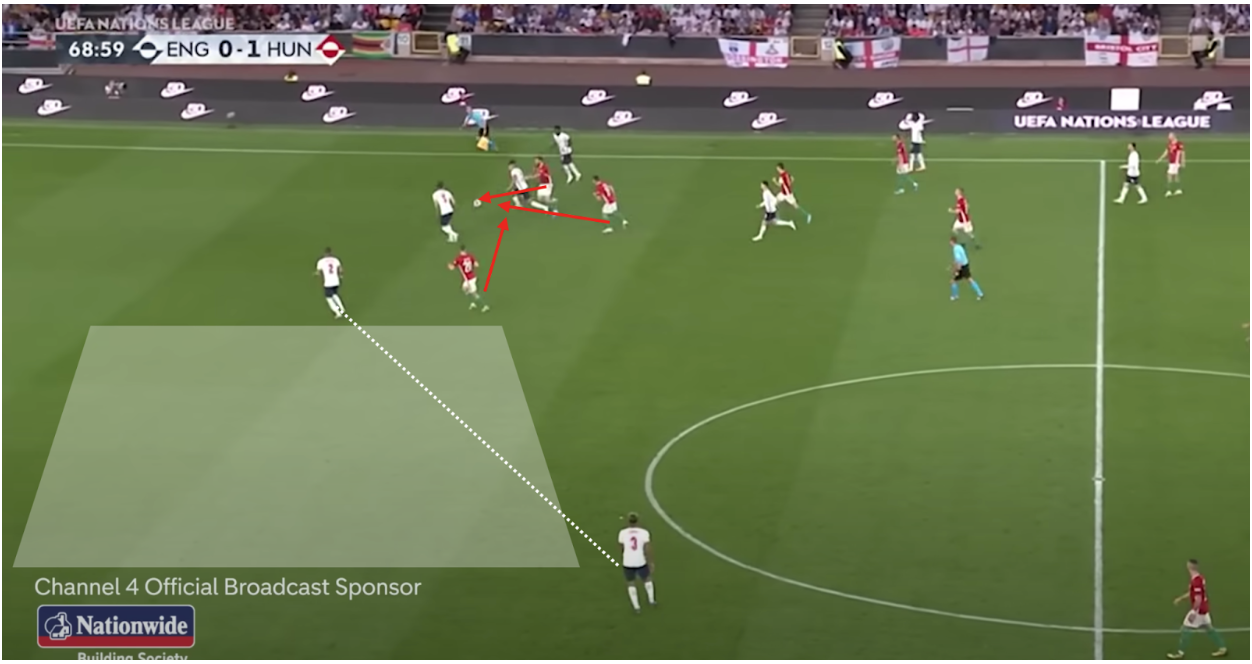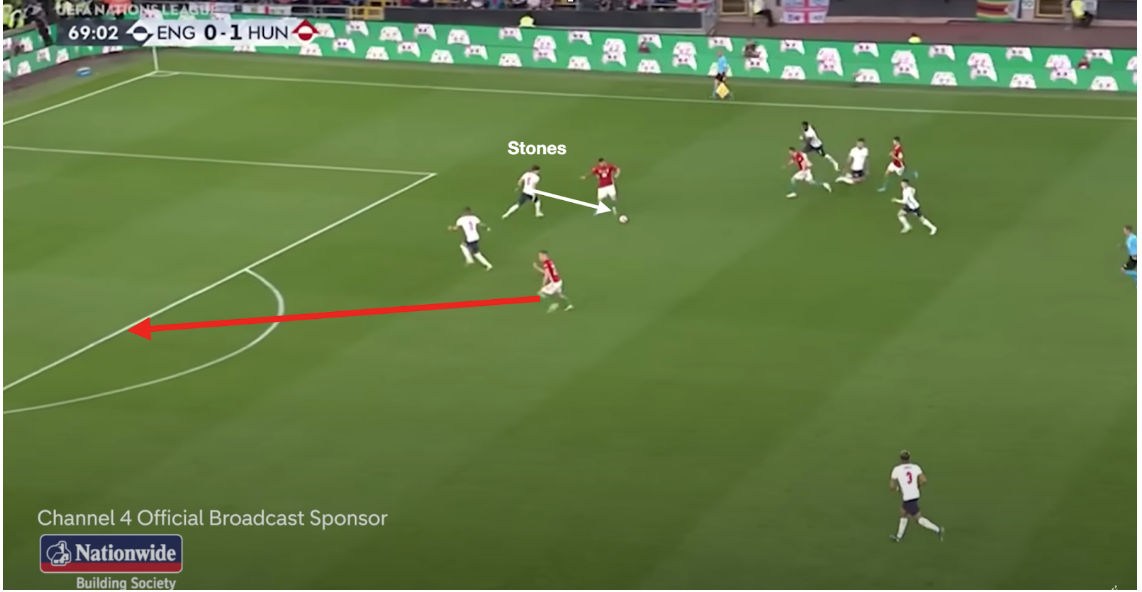 With Hungary in a dangerous position: Stones has to stop this move now. Commit yourself to winning the ball, foul the man, anything: do not allow this pass to happen. 
The pass does happen; Stones' emergency defending had to be better and you could argue that Walker should be more alert to the player behind his shoulder. 
 However, just after this, Ramsdale's was not proactive and was too rooted to his line — he made the shot far too easy hence why it probably goes through his legs. If he rushed out to squeeze the angle, it's a much harder chance. 
As a side note, this is not an article to pin the blame on individuals. It is just an example to show the mistakes England made as a team and individually, as a lot of them represent some wider issues with the squad. By no means are Stones, Phillips, and Ramsdale the route of any problems. 
For the third goal, England's shape is all over the place. Granted, they were going gung-ho for a way back into the game but the point remains.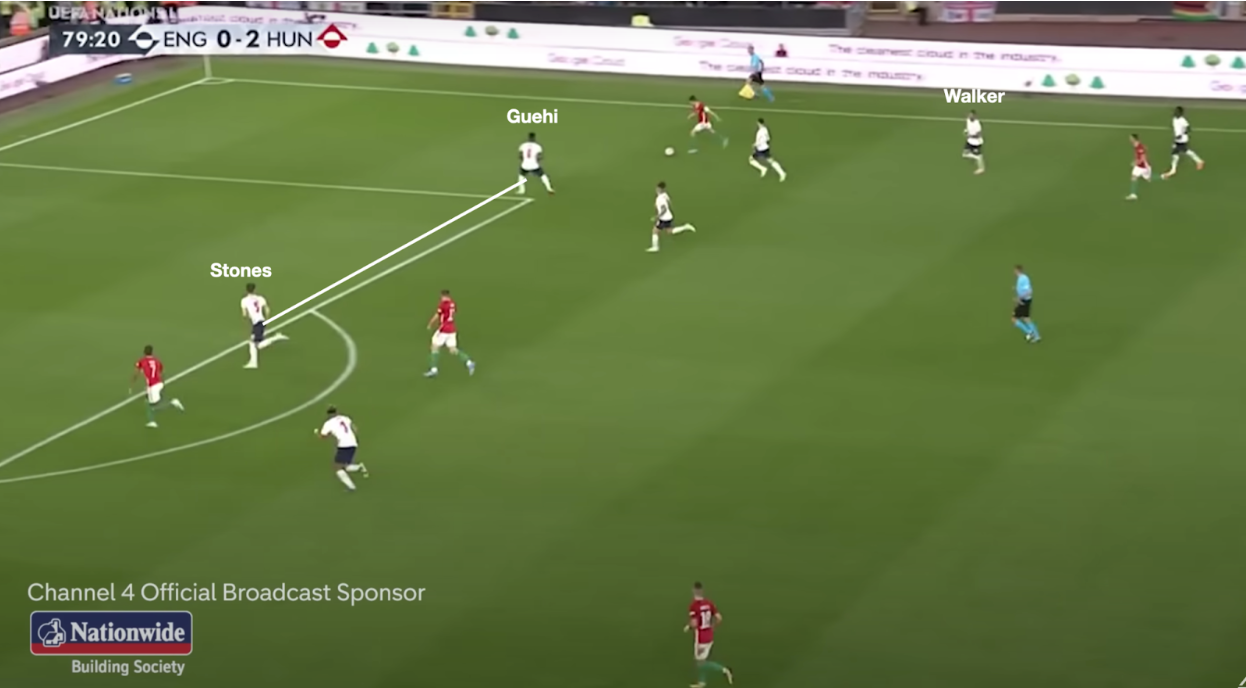 The gap between Guehi, who has rushed out to try and stop the cross, and Stones is striking. Walker, right centre-back, is high up on the left-hand side (Foden and Phillips are both deeper). James hasn't noticed this quick enough and isn't slotted behind Stones. The ball comes in, and eventually it is set up  to Zsolt Nagy who, with a crazy amount of space, powered in a great finish past Ramsdale. 
The fourth is hard to analyse: the game has been plunged into a frenzy and a ten-man England were just split apart through the middle again. Ramsdale perhaps could've been a tad quicker off his line again. 
In short, it was a total mess and this sort of result was coming. This international break has been appalling, England have been glaringly bad on and off the ball. The Hungary game was a perfect showcase for the problems that are lurking for Southgate, which, for good reasons, have been overlooked because of tournament success.
These games should never have happened, but unfortunately for Southgate they did and England were awful — tired or not. 
It may be time to rethink the system, and lay one done one that is actually recognisable to players and fans alike. If this doesn't happen, the more tactically-structured nations have an automatic advantage going into Qatar. 
By: By: William Furness / @W_Furness1
Featured Image: @GabFoligno / Robbie Jay Barratt – AMA / Getty Images